Oklahoma Sooners:

Willie Martinez
February, 3, 2012
2/03/12
5:00
PM CT
By
SoonerNation Staff
| ESPN.com
Before the Sooners' 31-14 win over Iowa in the Insight Bowl, Jake Trotter and Brandon Chatmon analyzed each Oklahoma position group. Now, the SoonerNation staff is giving each position a grade for its performance in 2011.
Grade: B-
The Big 12 is a tough league to defend, but a No. 55 ranking in total defense is unacceptable at OU. The defense had some phenomenal performances (Florida State, Texas and Kansas State). But it will be remembered for how it fared against Texas Tech (41 points), Baylor (45 points) and Oklahoma State (44 points).
- Jake Trotter
To continue reading this article you must be an Insider
January, 26, 2012
1/26/12
9:00
AM CT
Three thoughts this morning:
1.
As signing day quickly approaches, the impact of Willie Martinez' departure from Oklahoma's football program has become more and more apparent. So the question for Sooner fans is this: Is it worth losing recruits in the 2012 class for a potential long-term gain? DeVante Harris (Mesquite, Texas/Horn) and
Kevin Peterson
(Wagoner, Okla./Wagoner) each pointed to Martinez departure as a reason for their de-commitments. Mike Stoops' ability to coach defensive backs is well-chronicled and the Sooners appear to be in good position to land either
Gary Simon
(St. Petersburg, Fla./Gibbs) or
Zack Sanchez
(Keller, Texas/Central) to help replace Harris and Peterson. And we learned in 2011, that talent only gets you so far, particularly if that talent keeps getting caught out of position or using poor fundamentals.
2.
It sounds like
Jamell Fleming
is having a solid showing
at the Senior Bowl
in Mobile, Ala., this week. The former Sooners cornerback was a difference maker on defense as a senior. Fleming has impressed scouts with his coverage and ability to turn and run with receivers. He was overshadowed by Nebraska's
Alfonzo Dennard
on the North squad heading into the week. Not anymore.
3.
OU fans get the opportunity to see a rare athlete when Brittney Griner visits Norman on Thursday night. The Sooners host No. 1 Baylor at 7 p.m. CT at the Lloyd Noble Center. Griner, the lone collegian to play for Team USA this summer, is averaging 22.7 points and 10.3 rebounds per game this season. With Joanna McFarland out, sophomore Nicole Griffin, with plenty of help from her teammates, will be given the task of trying to handle Griner.
To continue reading this article you must be an Insider
January, 15, 2012
1/15/12
1:00
PM CT
During his recruitment process, junior college cornerback
Kass Everett
(Philadelphia/Pierce College) kept using one term to describe how he would make his college choice: business decision.
After graduating from high school in Philadelphia, spending one year at the University of Delaware and then playing a season at Pierce College in Woodland Hills, Calif., Everett brings perspective that high school graduates simply don't have.
So when Everett, an Oklahoma signee who is arriving on campus this weekend, heard about Mike Stoops coming back to OU to be the co-defensive coordinator, he didn't bat an eye.
To continue reading this article you must be an Insider
January, 13, 2012
1/13/12
3:12
PM CT
It's official.
Mike Stoops is coming back
to Norman.
Oklahoma announced the hiring in a release Friday. Stoops will serve as
co-defensive coordinator
and secondary coach along with Brent Venables. OU also announced that secondary coach Willie Martinez has resigned.
"Mike and Brent were out the door recruiting together within two hours of Mike's hiring so we're off to a good start," coach Bob Stoops said in a statement. "Mike and Brent have a long history and comfort level working together, and have together led some great defenses."
Clemson reportedly has made a push to hire Venables to be its defensive coordinator. The Tigers fired defensive coordinator Kevin Steele this week.
OU hasn't announced yet whether Venables or Mike Stoops will call the plays.
If Venables stays, he and Mike Stoops will be co-coordinators for the second time in their careers. The two coordinated the OU defense from 1999-03 until Stoops took the head job at Arizona. Mike Stoops was fired from that job after the Wildcats got off to a 1-5 start this season.
"We feel very fortunate to have Mike on our staff. Over the past few months, because of the reputation he has built among his peers, he was a highly sought-after coach," Bob Stoops said. "People across the country recognize his tremendous knowledge of the game and great energy. He will have a very positive impact on our program."
Bob Stoops said that Martinez will pursue "attractive options" at other schools.
"I appreciate all of Willie's work here," Bob Stoops said. "He represented our program in the right way and will continue to do well in our profession."
January, 13, 2012
1/13/12
10:18
AM CT
Jake Trotter answers readers' questions about Oklahoma football in his mailbag every Friday. Got a question for Jake?
Submit it here.
Matt in Soonerville, U.S.A., writes:
Would [defensive backs coach Willie] Martinez have been cut even if he didn't accept another job? Were they unhappy with his job performance? Am I right in thinking he did a much better job in 2010 than 2011?
Jake Trotter:
Probably. Once Bob Stoops made the decision to bring his brother back that was it for Martinez. I agree that Martinez was solid in '10. But his unit was nowhere good enough in '11 to persuade Stoops from hiring Mike back.
---
Tosh in Dallas writes:
Could the Mike Stoops hiring cause big-time defensive recruits to second guess their original commitments and put OU on the radar?
Jake Trotter:
This late in the process I doubt it. OU fans hold Mike Stoops in much higher regard than 17-year-old kids do. Mike could make an impact on uncommitted recruits. And he certainly will make an impact in 2013. But I would be surprised if he got a big-time committed prospect to flip this close to signing day.
January, 11, 2012
1/11/12
3:23
PM CT
In five seasons with Mike Stoops coaching the secondary, Oklahoma had five defensive backs named All-America.
Since? The Sooners have had just one.
[+] Enlarge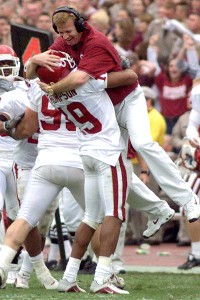 AP Photo/J. Pat CarterMike Stoops will return to Oklahoma as the secondary coach and co-defensive coordinator.
Sources have told ESPN's Joe Schad that
Stoops will rejoin the OU staff
, with an announcement coming as soon as today. The former Arizona coach will return to his old title of secondary coach and co-defensive coordinator where he served the Sooners from 1999-2003.
Current secondary coach Willie Martinez is expected to take a job elsewhere. Martinez has been connected to jobs at Kansas, Illinois and Auburn.
The Sooners are counting on Stoops to bring some bite back to a secondary that has been up and down since he left.
Just last season, Oklahoma ranked No. 79 in pass defense. The Sooners also surrendered a school-record 616 yards in the loss to Baylor, including 485 through the air.
After 1999, the Sooners never finished lower than No. 25 in pass defense under Stoops, and in his final season in '03, OU ranked No. 2 against the pass, allowing only 146 yards per game.
Of course, Big 12 offenses have changed since Stoops left OU. The spread has made the Big 12 perhaps the top passing league in college football.
But in the pass heavy Pac-12, Arizona ranked No. 45, 34 and 23 nationally against the pass entering this season. The Wildcats finished this season ranked No. 119, but Stoops was fired after a 1-5 start midway through the season.
In Norman, Stoops will have some cogs already in place in the secondary. But he'll have some work to do, too. The Sooners have a trio of foundational pieces in nickelback Tony Jefferson, safety Aaron Colvin and cornerback Demontre Hurst. All three players have performed at a high level as starters the last two seasons.
The trick for Stoops will be shoring up the rest of the secondary by finding another reliable corner and safety.
After Jamell Fleming got hurt, Texas Tech exploited OU's lack of depth at corner and torched Fleming's backup Gabe Lynn en route to a 41-38 win.
Safety Javon Harris, meanwhile, got beat time after time at Baylor, as Robert Griffin III threw for four touchdowns to give the Bears a 45-38 victory.
Stoops could give both Lynn and Harris another chance this spring. Or he could turn to others such as junior-college cornerback
Kass Everett
or up-and-coming safety Quentin Hayes.
Whatever the case, there's no doubting Stoops is an excellent secondary coach and defensive mind. Roy Williams, J.T. Thatcher, Brandon Everage, Antonio Perkins and Derrick Strait all thrived under his tutelage.
Chances are, Jefferson, Colvin, Hurst and the others will, too.
January, 9, 2012
1/09/12
9:00
AM CT
Three thoughts this morning:
1.
It didn't take long for
de-committed
cornerback
De'Vante Harris
to pick up offers from some of the name programs in college football, including Ohio State, TCU and Oregon. Harris is scheduled to visit the Ducks this weekend. Initially, I thought the Sooners could get back in the mix for Harris even if/when Mike Stoops replaces Willie Martinez, Harris' primary recruiter from OU. But reading Harris' Twitter page, it seems as though he's moved on. The Sooners probably will have to as well.
2.
I can't remember the last time a Bedlam basketball game arrived with such little fanfare (
the two schools play tonight for those who didn't know
). It wasn't that long ago Bedlam basketball was one of the main sporting events in Oklahoma. I doubt either game sells out, including tonight's bout in Stillwater. Despite the injuries, OSU has the more talented team and the home-court advantage, but OU is playing better despite the 0-2 start in-conference. The Sooners hung tough with Kansas on Saturday, before getting outclassed in the second half. If the Sooners can keep Keiton Page from bombing 3s and exploit OSU's problems at point guard, I like their chances.
3.
Our Bob Przybylo pointed something out very interesting. Wide receivers coach and co-offensive coordinator coach
Jay Norvell
began following several University of Florida Web sites and reporters on Twitter over the weekend on. Coincidence? Probably so. But at one time Norvell was rumored to be a candidate for the offensive coordinator job with the Gators. Boise State assistant Brent Pease is believed to be Florida's top choice, but Pease is also being interviewed at Alabama this week. If Pease ends up taking a job with the Crimson Tide, could Florida circle back to Norvell? It's something worth keeping an eye on. Norvell is happy at OU, but he also wants to be a play-caller. Just last week, Norvell spoke with Wisconsin officials about their offensive coordinator position, but opted not to pursue the job. Norvell has done a terrific job recruiting for the Sooners this class; blue-chipper
Durron Neal
even
telling SoonerNation he would have de-committed
from OU had Norvell left.
To continue reading this article you must be an Insider
January, 7, 2012
1/07/12
4:44
PM CT
One day after Oklahoma secondary coach Willie Martinez was rumored to be leaving for a jobs at either Illinois or Kansas, cornerback
De'Vante Harris
, the Sooners' top defensive recruit,
de-committed
.
It's not difficult to connect the dots.
Harris has not yet given his reasons for
disclosing Saturday via Twitter
that he is no longer committed to the Sooners. But something dramatic must have occurred to lead Harris to make such a stunning announcement.
To continue reading this article you must be an Insider
December, 28, 2011
12/28/11
11:45
AM CT
Oklahoma junior cornerback Demontre Hurst was asked to grade the defensive backs this season.
"Average. Right at a 'C,'" Hurst said. "Overall, the first half of the season, we played very good. But in the second half, against profound offenses that like to throw the ball, we didn't step up to the challenge.
[+] Enlarge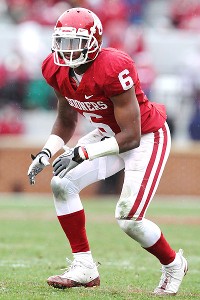 Matthew Emmons/US PresswireCornerback Demontre Hurst said the Sooners defense gave up too many big plays in 2011.
"We weren't as good as we thought we were. But not as bad as everyone is saying."
The secondary gave up more than 400 yards passing and four passing touchdowns in losses to Texas Tech and Baylor. The "Sharks" played better against Oklahoma State, though didn't force any big plays, either.
"Coach (Willie) Martinez has told us we dominate 85 percent of the game, 68 plays out of 75," Hurst said. "But we give up big plays and yards in those eight-nine plays, and it destroys the defense, the whole momentum of the secondary. We played 85 percent of the game good. But not the other 15 percent."
When the Cowboys went up 44-3 in the third quarter, a couple of OSU linemen put shark fins to their foreheads, mocking the OU secondary. Later, the Boone Pickens P.A. played the theme to "Jaws."
Hurst both saw the former and heard the latter.
"Yeah, I seen all that. They kinda got out on us on that one," Hurst said. "When you put yourself out there, you really have to back yourself up. We didn't live up to high expectations."
But despite the disappointing season, Hurst said the secondary will be keeping the "Sharks" moniker in 2012.
"We started with it, so we gonna finish with it," he said. "We always going to be sharks, gonna scream sharks 'til we outta here. We're gonna ride with it and prove that we really are sharks."