Oklahoma Sooners:

Tyreek Hill
April, 11, 2014
Apr 11
10:30
AM ET
We've been doing something different with Friday's Big 12 mailbag. From now on, we'll be including Twitter questions with the regular mailbag submissions. To submit a mailbag entry via Twitter, simply include the hashtag #big12mailbag. You also still can send in questions the traditional way
here
, too.
To the 'bag...
@Jake_Trotter best newcomers this spring?

— Eric Bowman (@E_ROCK12) April 10, 2014
Trotter:
So far, Oklahoma State running back/receiver
Tyreek Hill
, TCU safety
Kenny Iloka
and Kansas receiver
Nick Harwell
. With his speed, Hill could lead the league in all-purpose yards. Iloka is going to be a key piece in the best secondary in the Big 12. And Harwell should finally give the Jayhawks that go-to receiver they haven't had since Dezmon Briscoe.
---
@Jake_Trotter this far out if you had to pick this year's Paul Rhoads upset special who would it be

— Ted Flint (@TedFlintKansas) April 10, 2014
Trotter:
The Cyclones get K-State in Ames the second week of the season, which could be a dangerous game for the Wildcats, who might get caught looking ahead to that Thursday night clash with Auburn. Another team that must pay heed is Oklahoma. The Sooners go to Iowa State the week before hosting Baylor in a game that could determine the Big 12 crown. OU can't afford to be looking ahead, either.
---
@Jake_Trotter What's your over/under on Kansas conference wins this coming season? #big12mailbag

— Michael Nichols (@mdn_13) April 10, 2014
Trotter:
I'm going to set it at 1 1/2, and I think I would actually bet the over. The Jayhawks are going to be better this season, and quite possibly good enough to steal two conference wins.
---
@Jake_Trotter @ESPN_Big12 what is TTU going to do with all these young QBs? Webb, Mahomes, Stidham #big12mailbag

— Matt McNicoll (@Matt_McNicoll) April 10, 2014
Trotter:
Right now, the Red Raiders have one on campus, and that's well below the national average. I don't see an issue. The way
Davis Webb
has improved in the last five months, he's going to be the guy the next three seasons barring something unforeseen. That would still give
Jarrett Stidham
three seasons of eligibility to be the starter, if he redshirted next year.
Patrick Mahomes
will get this chances, too. Seems like what TTU is going to do is be really good at quarterback the next six years.
---
@Jake_Trotter you think OU/TX will have a 2:30 kickoff? It's hard for us college students to make the noon kickoffs, heck hard for anybody — Konnor Lohman (@konnorlohman) April 10, 2014
Trotter:
I have no inside info here, but if the game is at 11 a.m. again, hit me up in the fall and I'll share with you my shortcut to the Texas State Fair.
---
@Jake_Trotter how do you see the Daniel Sams move to WR working out for #KState? — Corbin McGuire (@CorbinMcGuire1) April 10, 2014
Trotter:
It was a move that had to be made. Sams is too talented to be standing on the sidelines. He's not going to instantly become an All-Big 12 receiver. But if they can devise ways to get Sams the ball in space, the move could work out well. I see Sams getting a lot of his touches through flares, screens, reverses and maybe a handoff or Wildcat formation here or there. If they can get Sams the ball 10 times a game, that will only help the K-State offense. Think
Trevone Boykin
in TCU's offense late last year. That's how I see Sams best fitting in.
---
@Jake_Trotter Do you see Kenny Williams starting on both sides of the ball next year?

— Michael Bates (@BatesTheDoulos) April 10, 2014
Trotter:
Playing? Yes. Starting? No. I think Williams ultimately favors one side of the ball. The most likely scenario is he still keeps a major role at running back, then gives coordinator Matt Wallerstedt 15-20 plays at outside linebacker, which is more than I would have predicted at the beginning of the spring. Williams can really help the defense, but not at the expense of playing 130 snaps.
---
@Jake_Trotter which big 12 coach's job is the most secure and who has to win right now?

— David Leake (@DavidLeake) April 10, 2014
Trotter:
Bob Stoops, Art Briles, Mike Gundy, Bill Snyder and Gary Patterson have ironclad job security. Paul Rhoads and Kliff Kingsbury have nothing to worry about, either, and Charlie Strong is too new to have to worry (though in Austin, that could change fast). That leaves Charlie Weis and Dana Holgorsen, whose seats are warmest among Big 12 coaches. I think Weis just has to show improvement this season. He can't go 0-12. Holgorsen is the most interesting to watch. Considering the brutal schedule, it's very possible West Virginia is better than last year and still goes 5-7, which might not be enough for Holgorsen to keep his job. But if the Mountaineers go, say, 7-5 against that slate, then I would think Holgorsen would be deserving of another year. West Virginia has been recruiting at an impressive clip, and the schedule will line up more favorably in 2015.
---
jrodxc07 in Dallas writes:
Jake, love the blog, nice work sir. I think you could make a case for incoming Baylor receiver
K.D. Cannon
as Offensive Newcomer of the Year. Can you explain why you left him off your list?
Trotter:
Appreciate it, sir. Cannon was actually on the poll for Offensive Freshman of the Year two weeks ago. The newcomer poll was for transfers, which is why you didn't see him there.
---
I only care about the Big 12 writes:
Please go ahead and give us your way-too early power rankings? That is, if you haven't already...
Trotter:
I actually released a power poll in January that went this way: OU, Baylor, K-State, Texas, Oklahoma State, Tech, TCU, Iowa State, West Virginia, Kansas. I'll be updating it, though, after spring ball concludes.
April, 4, 2014
Apr 4
10:30
AM ET
We've done something different with Friday's Big 12 mailbag. From now on, we'll be including Twitter questions with the regular mailbag submissions. To send a mailbag question via Twitter going forward, simply include the hashtag #big12mailbag. You can also still send in questions and comments to the mailbag
here
, too.
To the 'bag...
@Jake_Trotter both TCU QB commits have attended most of the spring practices. Chances Sawyer or Muelstein takes the reins right away? #mbag

— mk (@mulloy_k) April 3, 2014
Trotter:
Right away? Very little chance. The TCU coaching staff seems to be relatively content with the way
Trevone Boykin
has performed in the new offense this spring. Down the line, Foster Sawyer or Grayson Muehlstein could get a shot, especially if Boykin struggles or the offense bogs down like it did last year. But I feel fairly confident Boykin will open as TCU's starter.
@Jake_Trotter going into the spring game at OU, who is the biggest sleeper we should pay attention to on offense?

— Sean Holmes (@seanathon09) April 3, 2014
Trotter:
I don't think there's any doubt that running back
Alex Ross
has created the most buzz this spring among the young offensive players not named
Trevor Knight
. The assumption around Norman was
Keith Ford
would swiftly win the starting job after contributing to the running back rotation ahead of Ross last season despite being a year younger. But Ross has turned heads in the Sooners' closed scrimmages, and is carving out a role in the OU backfield, whether he starts or not.
@Jake_Trotter @ESPN_Big12 A lot of big recruits have Tech pretty high on their list. What's the likelihood that Tech can grab some of them?

— Stephen Borcik (@SBorcik) April 3, 2014
Trotter:
I got out of the business of predicting verbal commitments a long time ago. But I will say this: having
Jarrett Stidham
, the nation's No. 1 dual-threat QB, already on board is going to make a huge difference for the Red Raiders in a bunch of these battles. He will prove to be an invaluable recruiter, and should sway several high-profile prospects out there to give Texas Tech a second and third look it might not get otherwise.
@ESPN_Big12 if Walsh starts against FSU and OSU loses do you see daxx or Rouldoph take the starting position first?

— Gerald Tracy III (@GeraldTracyIII) April 3, 2014
Trotter:
Odds are the Cowboys lose to the defending national champs no matter who they start at quarterback. I doubt
J.W. Walsh
would lose the job (assuming he starts) based on that one game alone.
Daxx Garman
has been impressive this spring, and I love the potential of
Mason Rudolph
. But it could take a while for either to unseat Walsh, whose experience trumps all right now.
@Jake_Trotter @ESPN_Big12 Other than Flowers, which OU freshman do you see having the most immediate impact next year?

— Carter J (@carterj1982) April 3, 2014
Trotter:
The three guys I'd be watching for would be safety
Steven Parker II
, slot receiver
Michiah Quick
and running back
Joe Mixon
. The Sooners are in good shape at safety, but blue-chip true freshmen like Parker II have a history of playing immediately in the secondary in the Bob Stoops era.
Sterling Shepard
is going to need help at receiver, and Quick has the explosiveness to break into the rotation right away. Mixon was one of the best running back recruits in the country, and is probably too talented to redshirt.
YK Lee in Fort Wort, Texas, writes:
On College Football Live, comments were made that the Big 12 champ (if OU or Baylor) would be in trouble for the playoffs due to non-conference schedules. But no mention was made of Alabama's non-conference schedule, which includes an FCS team. Why does ESPN seem to have a bone to pick against the Big 12?
Trotter:
Are we seriously going to do this every week? To recap from last Friday, here's who else Alabama has scheduled out-of-conference the last five years: West Virginia, Virginia Tech, Michigan, Penn State and Clemson. Alabama also plays in the toughest conference in college football. There's just no comparison between Alabama's schedule and Baylor's. And while I didn't see it, I'm sure the gist of the College Football Live segment was to point out that a one-loss Baylor has virtually no shot of advancing to the College Football Playoff against, say, a second SEC team with the same record, due to the Bears' lackluster non-conference scheduling, which includes just one opponent (Duke) from the Pac-12, SEC, Big Ten or ACC up to 2019.
ImFasterThanYa writes:
Will a Big 12 ref throw a flag when I run through the end zone after scoring a touchdown because it takes several steps for me to turn off the engines?
Trotter:
Tyreek Hill
could score as many touchdowns as Forest Gump did that one year for Alabama. As you imply, the Oklahoma State transfer can flat out fly.
Katie in Sugar Land, Texas, writes:
I love the new Big 12, but I feel we need more rivalries. Texas-Oklahoma is a staple of the conference. But what else is there? After all, great rivalries are the major mark of a great conference.
Trotter:
Bedlam has become a great rivalry. But you're right, conference realignment has pretty much destroyed all the other notable ones in the league (Texas-Texas A&M, Oklahoma-Nebraska, Kansas-Missouri, Texas Tech-Texas A&M, Kansas State-Nebraska). This has really hurt the league, but what can be done? College football rivalries aren't forged overnight.
March, 4, 2014
Mar 4
10:00
AM ET
Across the Big 12, teams are looking for instant impact from their recruiting classes. Several of those potential instant impact players have enrolled at their schools early, looking for a chance to play right away.
Below is a breakdown of all the Big 12 early enrollees, and their outlooks for the spring:
BAYLOR
Juco
OG Jarell Broxton:
Could grab a starting role with All-American guard Cyril Richardson gone.
CB Chris Sanders:
Was a favorite to start, but is out for the spring after shoulder surgery.
CB Tion Wright:
Less highly-touted than Sanders, but has an opportunity with Sanders out.
LB Grant Campbell:
With All-Big 12 LB Eddie Lackey gone, Bears hoping Campbell can fill a starting role alongside
Bryce Hager
.
High school
WR Davion Hall:
Recruited as a receiver, Hall is a powerful athlete who gives Baylor another potential dynamic playmaker.
RB Terence Williams:
A bruising runner destined to someday fill the role held last season by Glasco Martin.
TE Jordan Feuerbacher:
Baylor lost tight ends Jordan Najvar and Jerod Monk off last season's team so there's an opportunity for Feuerbacher.
IOWA STATE
Juco
LB Jordan Harris:
Harris was the No. 5 juco ILB in the country, and will help ease the sting of losing All-Big 12 LB Jeremiah George.
S Devron Moore:
The Cyclones graduated both Jacques Washington and Deon Broomfield so help is needed here.
DE Gabe Luna:
Luna is one of three juco DEs the Cyclones signed, but the first to arrive on campus.
KANSAS
Juco
OG/C Keyon Haughton:
Charlie Weis calls him "a bad muchacho," and the Jayhawks will need him to play right away.
CB Ronnie Davis:
The Jayhawks return starting cornerbacks
Dexter McDonald
and
JaCorey Shepherd
, but you can never have enough corners in the Big 12.
S Anthony Smithson:
Adds depth and versatility to an already deep and experienced secondary.
KANSAS STATE
Juco
WR Andre Davis:
All-Big 12 WR
Tyler Lockett
needs someone to emerge on the other side, and the No. 5-ranked juco WR has a great chance to do just that.
OT Luke Hayes:
Could answer the call at a key spot vacated by departing All-Big 12 OT Cornelius Lucas.
CB Danzel McDaniel:
One of the top juco corners in the country, McDaniel could lock up a starting role quickly.
Grayshirt
TE Dayton Valentine:
Adds depth as a blocking tight end.
OL Bryce Fitzner:
Will have time to fill out his 6-7 frame.
OKLAHOMA
Juco
TE Isaac Ijalana:
The No. 1 juco TE in the country, Ijalana could help stabilize a position that has given the Sooners trouble the past couple seasons.
LB Devante Bond:
Bond adds depth to what potentially could be one of the best linebacking corps in the country.
High school
QB Justice Hansen:
Will be the third-team QB with
Blake Bell
moving to TE and
Baker Mayfield
ineligible until 2015.
FB Dimitri Flowers:
The Sooners need a replacement for departing all-conference blocking fullback Trey Millard.
OKLAHOMA STATE
Juco
LB Devante Averette:
The hard-hitting Averette has an opportunity to nail down a starting role this spring with All-Big LBs Caleb Lavey and Shaun Lewis gone.
WR Tyreek Hill:
Hill is running track this spring and has already broken several records; he gives the Cowboys a speedy playmaker to help ease the early loss of Josh Stewart.
High school
QB Mason Rudolph:
One of the highest-rated QBs ever to sign with the Cowboys, Rudolph will battle
J.W. Walsh
immediately for the starting job.
RB Devon Thomas:
Thomas was the highest-rated running back from the state of Oklahoma, and adds depth to a position that could use some help.
TCU
Juco
S Kenny Iloka:
Iloka has already impressed, and pads a deep and talented safety rotation at TCU.
OG Frank Kee:
Will be asked to fill a starting job inside on the TCU offensive line.
TEXAS
Juco
TE Blake Whiteley:
The nation's No. 2 juco tight end, the Longhorns signed to fill a position that's been inconsistent for them.
High school
OLB Andrew Beck:
With Texas' depth at LB, Beck most likely is a redshirt candidate.
OG Alex Anderson:
Recruited by Joe Wickline when still at Oklahoma State, Anderson was a late addition to the class.
TEXAS TECH
Juco
S Josh Keys:
The nation's No. 5 juco safety, Keys could step into the spot vacated be departing veteran Tre' Porter.
DT Keland McElrath:
Has been dealing with a foot stress fracture, but the Red Raiders need help at DT with Kerry Hyder and Dartwan Bush gone.
WR Devin Lauderdale:
Was a four-star player coming out of high school and will give QB
Davis Webb
another weapon on the inside.
WEST VIRGINIA
Juco
QB Skyler Howard:
Has a chance to make a move on the QB competition, especially with
Clint Trickett
out for the spring.
S Keishawn Richardson:
Opened up the spring as the second-string cornerback behind
Daryl Worley
, who started as a true freshman in 2013.
LB Edward Muldrow II:
Currently backing up returning starter
Isaiah Bruce
as the Sam linebacker.
OT Sylvester Townes:
The Mountaineers have two holes at tackle, giving Townes a chance to make an instant impact.
High school
DE Davonte James:
The ESPN 300 signee brings speed to West Virginia's D-end position.
WR Ricky Rogers:
Rogers is a redshirt candidate with the entire West Virginia WR rotation back from last season.
February, 27, 2014
Feb 27
3:00
PM ET
As we await the start of spring ball, we've been examining and ranking the
positional situations of every team in the Big 12
. Thursday, we close this series out with special teams.
1. TCU:
Honorable mention All-Big 12 place-kicker
Jaden Oberkrom
was 13 of 14 on field goals inside the 50 last season and drilled a 56-yarder late in the fourth quarter at Kansas State.
B.J. Catalon
was second in the league in kickoff returns and took one to the house in the opener against LSU. Freshman
Cameron Echols-Luper
took his first punt return 51 yards and had a 41-yarder in the season finale against Baylor.
Brandon Carter
has had moments in the return game in the past as well.
Ethan Perry
will be a three-year starter at punter, rounding out a formidable special teams unit.
2. Baylor:
Corey Coleman
led the league in kick returns, and
Levi Norwood
scored twice off punt returns. The Bears are loaded with potential game-breakers in the return game and welcome back All-Big 12 punter
Spencer Roth
. If
Kyle Peterson
proves to be a reliable replacement for departing kicker
Aaron Jones
, this special teams unit will have no weakness.
[+] Enlarge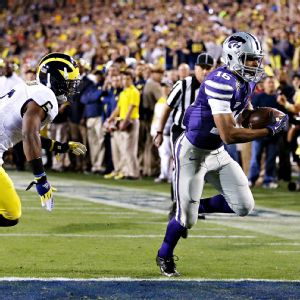 Christian Petersen/Getty ImagesAlong with being a top-flight wide receiver, Kansas State's Tyler Lockett can also provide big plays in the return game.
3. Kansas State:
The Wildcats feature one of the best kickoff return men in the game in
Tyler Lockett
, who doubles as an All-American WR candidate.
Jack Cantele
, the younger brother of All-Big 12 K-State kicker Anthony Cantele, only missed two field goal attempts as a sophomore and nailed a 41-yarder as time expired to beat TCU. Defensive tackle
Travis Britz
also returns after leading the nation with four blocked kicks.
4. Texas Tech:
The Red Raiders will feature a lethal one-two punch in the return game in
Jakeem Grant
and
Reginald Davis
, who took a kick back for a touchdown in the bowl game. Receiver
Jordan Davis
also has return experience. Kicker
Ryan Bustin
returns after garnering honorable mention All-Big 12 honors last year.
5. Oklahoma:
The Sooners lose the most explosive return duo in the league in
Jalen Saunders
and
Roy Finch
.
Sterling Shepard
and
Alex Ross
could be among the players who replace them. Oklahoma boasts the league's most efficient returning place-kicker in
Michael Hunnicutt
, who nailed 24 of 27 field goal tries last season. The Sooners have a secret weapon in
Nick Hodgson
, who led the league in touchback kickoffs last season.
Jed Barnett
, fifth in the Big 12 in punting average last season, returns as well.
6. Iowa State:
The Cyclones had four players make first- or second-team All-Big 12 last season, and departing punter
Kirby Van Der Kamp
was one of them. Replacing his production won't be easy, though incoming three-star freshman
Colin Downing
will try.
DeVondrick Nealy
,
Jarvis West
and
Aaron Wimberly
all had several dynamite moments returning kicks.
Cole Netten
was 13-of-18 on field goals as a freshman,
7. West Virginia:
Nick O'Toole
leads the Mountaineers on special teams. The "Boomstache" was 15
th
nationally in punting last season. The Mountaineers have all their returners back in
Wendell Smallwood
,
Mario Alford
and
Jordan Thompson
, though more big plays are needed from this group -- the Mountaineers ranked last in the league in both punt and kick returns in 2013.
Josh Lambert
comes back after making 17 of 23 field goals as a freshman. The Mountaineers also enjoy a luxury in
Michael Molinari
, who can do a little bit of everything.
8. Texas:
The Longhorns lose their punter and their kicker in consensus All-American
Anthony Fera
. That hurts.
Nick Jordan
, who made nine of 15 field goals in 2012, could reclaim his job.
Daje Johnson
-- who returned a punt for a TD against Oklahoma --
Duke Thomas
,
Quandre Diggs
,
Marcus Johnson
,
Kendall Sanders
and
Jaxon Shipley
all have experience returning.
9. Kansas:
Return men
Connor Embree
(punts) and
JaCorey Shepherd
(kicks) both come back. The Jayhawks also return kicker
Matthew Wyman
, who connected on a game-winning 52-yard field goal to beat Louisiana Tech. The freshman, however, only made two field goals after that and eventually lost that job to departing senior
Ron Doherty
.
Trevor Pardula
was third in the Big 12 in punting as a junior and received votes for Big 12 Special Teams Player of the Year.
10. Oklahoma State:
After enjoying All-Americans Dan Bailey and Quinn Sharp the last few years, the Cowboys were finally mediocre in the kicking game last season.
Ben Grogan
struggled as a freshman, making just 11 of 18 field goals while missing two critical attempts in the early-season loss at West Virginia. The Cowboys were also last in the league in punting. Oklahoma State signed three-star kicker
Zach Sinor
with hopes of curing some of those ills. The Cowboys were still dynamic in the return game, but with
Justin Gilbert
and
Josh Stewart
both gone, Oklahoma State could lean on juco transfer and track star
Tyreek Hill
for a jolt on returns.
February, 20, 2014
Feb 20
4:30
PM ET
As we wait for the start of spring ball, we'll be examining and ranking the positional situations of every team, continuing Thursday with receivers (and tight ends). Some of these outlooks will look different after the spring. But here's how we see them at the moment:
[+] Enlarge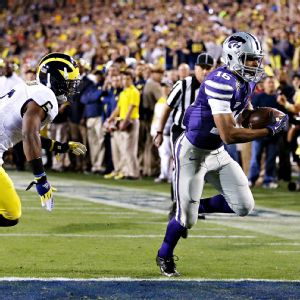 Christian Petersen/Getty ImagesTyler Lockett had seven games with more than 100 yards receiving and two games with more than 200.
1. Baylor:
Antwan Goodley
hauled in 1,339 receiving yards last year and is back for his senior campaign.
Levi Norwood
filled in well as a second option after Tevin Reese's injury, and, like Goodley, can also fly. The Bears are also about to enjoy the fruits of back-to-back monster recruiting classes in the position, including five ESPN 300 players in the last two years. The best of those, incoming freshman
K.D. Cannon
, has the talent to be Baylor's next great receiver.
2. Kansas State:
The Wildcats have the Big 12's finest receiver in
Tyler Lockett
, which warrants them a high ranking even if the supporting cast isn't tantalizing. Lockett was basically uncoverable downfield last season, and exploded once QB
Jake Waters
got more comfortable.
Curry Sexton
has turned into a reliable possession target. The Wildcats also welcome one of the best juco receivers in the country in
Andre Davis
. If Davis pans out, this has a chance to be among the best receiving corps Bill Snyder has ever had.
3. Texas Tech:
The Red Raiders lose an ultra-productive player in
Eric Ward
and a superstar in tight end
Jace Amaro
, but this position remains stocked with talent. Jitterbug slot man
Jakeem Grant
was sixth in the league last year in receiving, and showed in the Holiday Bowl how dangerous he can be when 100 percent focused.
Bradley Marquez
and
Jordan Davis
are reliable pass-catchers, but the player to watch here is
Reginald Davis
. A former high school quarterback, Davis has gradually picked up the nuances of playing receiver. But as he flashed in a kickoff return touchdown against Arizona State, Davis is a playmaker with the ball in his hands, and could be a major factor.
4. Oklahoma State:
The Cowboys lose their top three receivers, but outside Baylor, no team in the Big 12 has more WRs ready to contribute in 2014 than Oklahoma State.
Jhajuan Seales
and
Marcell Ateman
combined for 61 receptions as freshmen, and will give the Cowboys a physical presence on the perimeter.
Brandon Sheperd
and
David Glidden
were also part of the regular rotation, and
Austin Hays
, who started nine games in 2012, would have been had he not missed virtually the entire season with injury. The two to watch here, though, have yet to play a down, but will bring major speed. Former ESPN 300 recruit Ra'Shaad Samples redshirted last year, but reportedly ran a 4.3-second 40 last summer. That might seem slow compared to
Tyreek Hill
, the nation's No. 4 juco recruit, who doubles as a track phenom.
5. Texas:
Jaxon Shipley
isn't his brother Jordan, but he's still a quality college receiver. Even with all of Texas' QB issues, Shipley already has 159 career receptions. The Longhorns have speed and playmaking elsewhere in downfield burner
Marcus Johnson
,
Kendall Sanders
and the versatile
Daje Johnson
. The Longhorns also signed one of three best incoming WRs in the Big 12 in
Armanti Foreman
. This group could really thrive with an uptick in QB play.
[+] Enlarge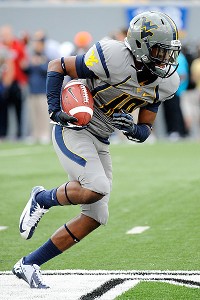 AP Photo/Chris BernacchiJordan Thompson showed near the end of the season the type of weapon he can be in West Virginia's offense.
6. Oklahoma:
The Sooners graduate
Jalen Saunders
, who was "Mr. Everything" for the OU offense. But
Sterling Shepard
seems primed to take over the No. 1 role after hauling in 51 passes and seven touchdowns. Who will surround him?
Durron Neal
is the only other player on the roster with much experience. But the good news for the Sooners is they've recruited superbly at the position. Among many options, the player to keep an eye on is freshman
Jordan Smallwood
, who was turning heads last summer, until a foot fracture forced him to redshirt.
7. Iowa State:
Quenton Bundrage
is one of the more underrated receivers in the league despite ranking third in the Big 12 in touchdowns. With Amaro gone,
E.J. Bibbs
becomes the best receiving tight end in the league after hauling in 39 passes last year. Iowa State's standing here, though, is contingent on incoming freshman
Allen Lazard
, one the most highly touted WRs Iowa State has ever signed. If Lazard can make an immediate impact, like the Iowa State coaching staff is banking on, this could become one of the better units in the league.
8. West Virginia:
There's no corps in the Big 12 that could move up more spots than West Virginia's. The Mountaineers didn't have a receiver rank in the top 15 in the Big 12 in receiving last year, but
Kevin White
,
Mario Alford
and
Daikiel Shorts
all ranked in the top 20. All three are back, too, as is the diminutive
Jordan Thompson
, who finally came alive the second half of the season. Former ESPN 300 recruit
Shelton Gibson
, who redshirted, will also join the rotation. The Mountaineers rank eighth for now, but they are closer to Kansas State than to Kansas.
9. TCU:
This week, TCU kicked receiver
LaDarius Brown
off the team. Considering Brown tied for the team lead in receptions last year, it's a tough loss. This unit is obviously better with
Trevone Boykin
, but he might have to play QB, at least until someone else emerges there. The Horned Frogs desperately need
Brandon Carter
to become a No. 1 receiver. After a promising sophomore year, Carter was basically a non-factor, before showing signs of bouncing back the last month of the season. TCU needs him in a big way in 2014.
10. Kansas:
The Jayhawks didn't have a receiver with more than 11 catches last year. Some of that was the quarterbacks. Some of it was, well, the receivers. The group had little overall impact, which put tremendous pressure on
James Sims
and the running game. With Sims gone, the receivers have to elevate their game significantly for Kansas to have a chance of taking a step forward. The Jayhawks do have a solid tight end in
Jimmay Mundine
, who had five TD catches. And
Tony Pierson
could play more receiver this year. But somebody else needs to emerge.
February, 7, 2014
Feb 7
9:00
AM ET
Below, we address what signing day means for the 2014 season:
Which incoming freshman QB will play most in 2014?
[+] Enlarge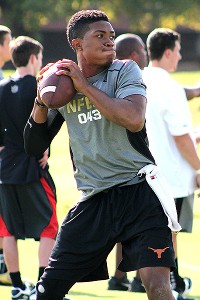 Max Olson/ESPNNot saying he will, but QB Jerrod Heard has the skills to make some noise for Texas this fall.
Brandon Chatmon:
Is none of the above an option? Even though the quarterback play in the league was lackluster in 2013, I don't expect any true freshman to have a major impact on the level of Texas Tech's
Davis Webb
during the upcoming season. If I have to pick, Texas quarterback
Jerrod Heard
gets the nod. He's a talented dual-threat quarterback who led his Denton (Texas) Guyer squad to two straight titles during his prep career. In other words, he's a consistent playmaker and a winner. Two traits the Longhorns haven't seen at the quarterback spot in a while.
Max Olson:
Don't sleep on the two quarterbacks that TCU signed on Wednesday.
Foster Sawyer
and
Grayson Muehlstein
walk into a situation that could be pretty wide-open entering the spring. The Frogs not only need a replacement for
Casey Pachall
, but one who will be comfortable and competent in the Oklahoma State/Texas Tech style offense they'll install for 2014. We know
Trevone Boykin
is capable of playing a number of roles in this offense, but can one (or both) of these rookies come in and do what Webb and
Baker Mayfield
did for Texas Tech?
Jake Trotter:
I'm already hearing good things about four-star QB
Mason Rudolph
, who is already enrolled at Oklahoma State and will participate in spring ball. Rudolph's skill set is a better fit for the Oklahoma State's offense than
J.W. Walsh
, who struggled getting the ball downfield last season, which in turn allowed opposing defenses to stack the line of scrimmage. Rudolph might not be the starter in the opener, but coach Mike Gundy has shown he's not afraid of playing a true freshman quarterback.
Which non-QB freshman will make the biggest splash?
Chatmon:
Iowa State receiver
Allen Lazard
is an elite talent who will have every opportunity to emerge as a major part of a Cyclones offense searching for playmakers at the skill positions. At 6-foot-5, 208 pounds, Lazard brings terrific size and athleticism. The No. 148 player in the ESPN 300 will become a valuable asset for Paul Rhoads' squad in 2014.
Olson:
I hate to feed the hype machine, but I have to go with
Joe Mixon
. Oklahoma managed the lure the No. 1 running back in California by convincing him he can play from Day 1, which is obviously a reasonable promise with OU's top three backs from 2013 all gone now.
Trotter:
I think this ultimately could come down to a pair of blue-chip wide receivers in Baylor's
K.D. Cannon
and Lazard. Both players should be in their receiving rotations from Day 1; either could wind up starting before long, too.
Which juco player will make the most significant immediate impact?
Chatmon:
TCU defensive back
Kenny Iloka
fits the mold of a Gary Patterson safety. He's athletic, aggressive and physical so he should be among friends on TCU's defense. The Horned Frogs return several talented secondary players, including
Sam Carter
,
Derrick Kindred
and
Chris Hackett
, but Iloka should force Patterson to find a spot for him.
Olson:
You didn't hear about him much on Wednesday because he's already on campus, but
Tyreek Hill is a name you must know. The Oklahoma State signee will be one of college football's fastest players in 2014. Hill is a former elite track athlete who will line up at slot receiver and also tote the rock on sweeps and handoffs. He's an absolute home run threat and he's going to get the ball a lot.

Trotter: This spring, Paul Millard will be playing baseball and Clint Trickett will still be injured, at least at the outset. With Ford Childress also gone, plenty of snaps will be available to juco QB Skyler Howard, who enrolled for the spring at West Virginia. Howard was the No. 3-ranked dual-threat juco QB. With West Virginia's QB situation completely in flux, Howard will have an opportunity this spring of laying claim to the job.

Who is the recruit nobody is talking about that will be talked about a lot in the fall?

Chatmon: Although the opportunity will be there with three senior cornerbacks moving on from Baylor, I'm not ready to say cornerback Verkedric Vaughns will immediately be an impact player in the Bears secondary in 2014. Nonetheless he is a name to know that went largely unnoticed on signing day and a guy to keep an eye on this fall, particularly if he makes a smooth transition to the demands of college football. I wouldn't be the least bit surprised if Vaughns ends up outperforming several highly rated cornerback prospects who signed with other Big 12 schools on signing day.

Olson: Lots of very talented receivers signed with Big 12 schools on Wednesday, and I'm tempted to say Baylor's Ishmael Zamora is the choice here. Instead, let's go with a guy who the Texas Tech coaching staff absolutely loves: Ian Sadler. The do-everything athlete led Argyle (Texas) High to a state championship as a receiver/quarterback, rushing for three touchdowns and returning a punt for a fourth score in the title game. He has the kind of playmaking ability and polish needed to see the field early, and I don't doubt he'll elicit comparisons to Wes Welker from the fan base.

Trotter: Keep an eye on Kansas State wide receiver Andre Davis. QB Jake Waters loves throwing the ball downfield, and Davis, one of the top receivers coming out of the juco ranks, has the ability to get downfield. When other teams focus their attention on Tyler Lockett on the other side, Davis should have plenty of opportunities to make plays in one-on-one coverage.

February, 4, 2014
Feb 4
9:00
AM ET
National signing day is now just 24 hours away. To get you ready, we checked in with our ESPN.com recruiting experts for their takes on the major storylines in the Big 12.
Senior national recruiting writer Jeremy Crabtree and Big 12 recruiting reporter Damon Sayles took time from their extremely busy schedules this week to address a few questions:
Oklahoma is closing strong here. With a few blue-chip players still in play, could the Sooners end up with the top class in the Big 12
To continue reading this article you must be an Insider
January, 13, 2014
Jan 13
12:00
PM ET
December, 17, 2013
12/17/13
8:00
AM ET
Consider the countdown a go.
With 50 days from national signing day, a lot of questions about star players have been answered. Some questions, however, are still left to be answered.
Here are 10 signing day storylines that could affect recruiting classes throughout the Big 12:
To continue reading this article you must be an Insider
December, 6, 2013
12/06/13
9:00
AM ET
Bedlam. Normally, it's the hottest ticket in Oklahoma.
This year, it'll be one of the coldest. Literally.
With temperatures in Stillwater, Okla., expected to be in the teens -- and wind chills making temperatures feel below zero -- Saturday's battle between Oklahoma and Oklahoma State will be one to watch. For many recruits, watching it in person may not be an option this year. Several areas around the region are expecting icy roads, and for those getting around, many will be focused on competing in a playoff game.
Still, the show must go on, and when the Sooners and Cowboys collide, fireworks are expected. The game arguably is bigger for Oklahoma State than Oklahoma, as the Cowboys clinch the Big 12 championship with a win. Here are five players who will be keeping an eye out on the results:
ESPN 300 CB Adoree' Jackson (Gardena, Calif./Serra):
The No. 7 player in the country has Oklahoma high on his list. While LSU, Tennessee, USC and Florida State are also up there, the Sooners can make an impression in a big rivalry game -- particularly as the road team.
RecruitingNation's Hot Board
has Jackson headed to Oregon, but the Sooners have a good reputation of landing elite players from the west coast.
To continue reading this article you must be an Insider
December, 3, 2013
12/03/13
4:30
PM ET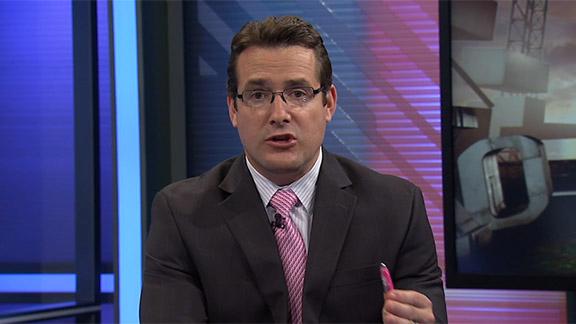 Several programs in the Big 12 have long searched the junior college ranks for quick fixes for their football program. Others are just warming up the idea. Here is a look at the top five junior college players in the
ESPN JC 50
that Big 12 programs are going after for 2014: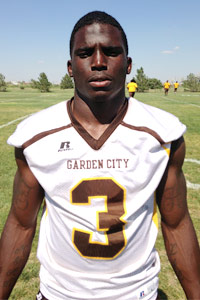 Jeremy Crabtree/ESPNTyreek Hill, who came to Oklahoma State from Garden City (Kan.) CC, might be a track star, but he'll admit football is his first love.
ATH Tyreek Hill (Garden City Community College):
Oklahoma State's future at running back is set with the commitment of Hill, who gave his verbal pledge to the Cowboys on Sept. 30. Mike Gundy and his coaching staff have to feel really good about landing Hill, as they fended off several top programs, including Alabama, Florida State, Arizona State, Baylor, Kansas State, Nebraska, Oklahoma, Tennessee and USC. Hill was a Georgia high school sprinting champion, who, as a senior at Coffee High School in Douglas, Ga., won the 100- and 200-meter dashes at the Georgia 5A state meet.
To continue reading this article you must be an Insider
October, 9, 2013
10/09/13
2:00
PM ET
Each Wednesday, ESPN RecruitingNation updates its
national class rankings
. For an in-depth look at the Big 12 conference, check out our conference rankings:

1. Texas, 24 commits:
The Longhorns check in at No. 7 in the RecruitingNation class rankings with the headliners being No. 79 overall
Derick Roberson
(San Antonio, Texas/Williams J. Brennan High), No. 119
Armanti Foreman
(Texas City, Texas/Texas City High) and No. 138
Jerrod Heard
(Denton, Texas/John H. Guyer High). Texas, which currently has seven ESPN300 commits, has its sights set on No. 31 overall
Solomon Thomas
(Coppell, Texas/Coppell High), No. 13
Tony Brown
(Beaumont, Texas/Ozen High) and No. 25
Jamal Adams
(Lewiville, Texas/Hebron High).
To continue reading this article you must be an Insider
October, 7, 2013
10/07/13
8:00
AM ET
The weekend of Big 12 football featured another Baylor massacre, Texas Tech and Oklahoma both staying undefeated with the Bears and a controversial finish between Texas and Iowa State. From a recruiting standpoint, Oklahoma was the talk of the conference -- and the West Coast.
Here are some of the highlights from the weekend.
To continue reading this article you must be an Insider
Spring Game Wrap-Up
BIG 12 SCOREBOARD
Saturday, 8/30
Sunday, 8/31