Oklahoma Sooners:

Troy Aikman
July, 17, 2012
7/17/12
10:00
AM ET
Monday, Merv Johnson
discussed his time as an assistant at Notre Dame
. In the final half of his Q&A, OU's director of football operations and color analyst for the Sooner Radio Network spoke with SoonerNation about his role in getting Troy Aikman to Norman, the best player he ever coached and his thoughts on the upcoming season:
Jake Trotter
: You were the first one at OU to realize how special Troy Aikman was. How did that come about?
Merv Johnson
: He was a kid from a small town over in Henryetta that really was a fine-looking specimen, all-around athlete, all sports and everything. Found out, we got him to agree to come to camp. I told Barry [Switzer], you need to look at him. Barry watched him throw, and that was it. There was no arm twisting. He watched him throw the football, and he was 100 percent sold.
Rick Stewart/Getty Images
Merv Johnson was the first OU coach to see Troy Aikman throw the football.
Trotter
: How did you hear about Aikman?
Johnson
: He was kind of a local phenom over there, we get those things all the time. But once you go and eyeball him and see what a physical specimen he is, his personality, then you really get excited.
Trotter
: Aikman is one of many Oklahoma kids who went on to great college careers. OU obviously has taken a more national approach to recruiting in recent years. But how important is it to still recruit the Oklahoma kids?
Johnson
: It's critically important. It's hard. You want to recruit the best player available. When you break down the number of scholarships you have, it's not very many. And then you count the positions on a team, it's 22 positions and two kickers, basically. And you may be able to recruit only one linebacker, or two, as an example. And you want the best you can find. The best athlete, best player, the guy that you think can project the furthest. That guy might be off somewhere else, and there might be a pretty good one in Oklahoma. But you can only take one of them. It's hard, it's hard – the superstar that you've seen really makes you feel like you've got a shot. You hate to say, well, we can't take you because we want to recruit this Oklahoma guy. By the same token, after a very short time, the way recruiting is so accelerated, the youngster in Oklahoma may say, well, they're not interested in me, I' going to go somewhere else. And so, it comes down to evaluation, and you can't do a lot of that, because there's only so many times you can go to their campus or their games. You have to do a lot of it by video. But you've got to collectively as a staff study that player, and make sure you're OK if you can't take the Oklahoma kid. You need those kind of guys that always love the program. But if their talent level is not the same, you have to get the best talent you can.
Trotter
: So if the Oklahoma kid is even with the national kid, you suggest going for the Oklahoma kid?
Johnson
: I think you'd go on it. It didn't take them long to go on [Sam] Bradford, and guys like that. And I think they had an opportunity with camp here and him being nearby to see Bradford, the coaches recognized what a great future he had. That's what you have to do. You can't just let it slip by you that easily.
Trotter
: Which OU team you've been around was the best?
July, 9, 2012
7/09/12
9:00
AM ET
As part of our Red River Rivalry in July, we look at five plays from the Red River Rivalry that Longhorns fans would rather forget. Check out five memorable plays from a
Texas perspective here
. Vote for your
favorite play on our forum
.

Superman takes off
In Oklahoma, they still call it the "Superman Play." In Texas, they call it a nightmare. Late in the fourth quarter of the 2001 Red River Rivalry, Texas had the ball at its own 2-yard line after an ill-advised punt return attempt by Nathan Vasher. The Sooners had dominated quarterback Chris Simms and company all afternoon. Still, the Longhorns trailed just 7-3 with enough time to put a game-winning drive together. Turned out, Texas' drive would last one play.
Utilizing the media timeout, the Stoops brothers dialed up a Roy Williams blitz, termed "Slamdogs." Earlier in the game, Williams leaped on Slamdogs and was upended, allowing Simms to scramble for a first down. Defensive coordinator Mike Stoops cautioned Williams not to leave his feet this time. Thanks goodness for the Sooners, Williams didn't listen. He
vaulted over Texas running back Brett Robin
and into Simms' chest. The ball popped into the arms of OU linebacker Teddy Lehman, who walked into the end zone for the game-clinching touchdown.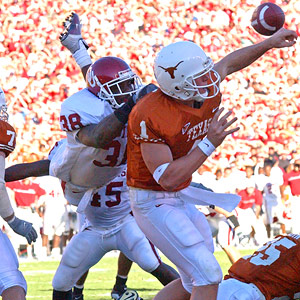 AP Photo/Tim SharpSafety Roy Williams' "Superman" dive clinched the Sooners' win over Texas in 2001.
Joe kicks Texas deep
Wishbone halfback Joe Washington is remembered most for his silver shoes and sweet moves – and the longest punt in OU-Texas history. In 1975, both the Sooners and Longhorns were loaded. The Sooners, led by Washington on offense and Outland winner Lee Roy Selmon on defense, entered the Cotton Bowl ranked second after winning the 1974 national championship. Texas, spearheaded by running back Earl Campbell, was ranked fifth.
The Sooners led by 10 into the fourth quarter, but Texas hung tough. After the Longhorns trimmed the deficit to 17-14 on a 30-yard run, they recovered an OU fumble on the ensuing drive, and Russell Erxleben nailed a 43-yard field goal to tie the game. OU regained the lead 24-17, then forced Texas to punt. Problem was, Erxleben's punt traveled 65 yards to the OU 8-yard line.
After two plays, including a Washington fumble the Sooners fortunately recovered, OU faced third-and-eight from the 10. With still almost three minutes to go, the Longhorns almost certainly would get the ball back with excellent field position and a chance to tie. Instead, Barry Switzer signaled in the "quick kick" – a play that would totally stun the Longhorns. Out of the Wishbone, Washington got the direct snap, turned sideways and belted the ball with a sweeping kick. The Longhorns had no one deep, and when the ball stopped rolling, it had traveled 76 yards. Game over. Propelled by the victory in Dallas, OU went on to defend its national title.
Collins sprints in untouched
Few defensive performances rival what Oklahoma did to Texas in 1985. Despite losing All-American nose guard Tony Casillas on the third play of the game due to a knee injury, the Sooners completely obliterated the Texas offense. The Longhorns were held to four first downs and 70 total yards of offense – including negative 24 in the second half. The only time Texas got the ball deep in OU territory came on a Lydell Carr fumble, which the Horns returned seven yards for a touchdown.
Yet, even with the Sooners defense dominating, the score was 7-7 in the fourth quarter. The Sooners were in danger of tying Texas for the second straight year. Then in a flash, they weren't. Troy Aikman flipped the ball to halfback Patrick Collins running left. Collins cut the corner, turned upfield and raced 40 yards into the end zone virtually untouched. The Sooners won 14-7, catapulting them to their sixth national championship.
Allen salvages his career, OU's season
By any reasonable measure, John Blake's first season in Norman was an unmitigated disaster. The Sooners opened the 1996 season with losses to TCU, San Diego State, Tulsa and Kansas by an average margin of 17 points, and would finish the year with a record of 3-8. The only redeeming element of the season came in the Cotton Bowl. Thanks to the will of written-off running back James Allen.
Allen previously was OU's most ballyhooed running back recruit since Marcus Dupree. But after he was stopped at the goal line of the 1994 loss to the Longhorns, Allen's career began to tailspin. By 1996, he had lost his job to freshman DeMond Parker. But against Texas, Blake rode his senior, who rallied the Sooners from a 10-point fourth quarter deficit to send the game to overtime. In overtime, after Texas settled for a field goal, Allen ran like a man possessed. And after rushing OU to 2, he dove across the goal line for the game-winning touchdown, handing the Sooners a dramatic 30-27 win.
Dupree goes the distance
Ignorance sometimes is bliss. OU fans had no idea their love affair with once-in-a-lifetime running back Marcus Dupree would soon come to an end. In 1982, Sooner Nation believed it was watching the first of many touchdowns Dupree would score against the Longhorns. OU was stuck in its only losing streak against Texas in two decades with Barry Switzer as coach.
But early in the first quarter, Dupree entered the game and carried for seven yards. Then he took the ball from quarterback Kelly Phelps, faked a reverse handoff to Steve Sewell, slipped through a tackle, cut left and dashed down the right hash 63 yards for a touchdown. Dupree finished with 96 yards on just nine carries, and the Sooners racked up 384 yards on the ground on their way to the 28-22 win.
Dupree, however, would never score against Texas again. He suffered a concussion against the Longhorns the following season, as Texas rolled 28-16. Dupree split town the following day, never to return to the team.
Stoops, Players Want To Effect Change
BIG 12 SCOREBOARD
Thursday, 9/3
Friday, 9/4
Saturday, 9/5