Oklahoma Sooners:

Trey Hopkins
May, 12, 2014
5/12/14
4:30
PM ET
Seventeen Big 12 players heard their names called during the 2014
NFL draft
. Many other Big 12 alums will have a chance at the next level as undrafted free agents.
Below is a list of undrafted players who reportedly have agreed to free agent deals. This is not a final list, as teams are still working to sign undrafted free agents. But these are the players we know of so far.

Baylor

Iowa State

Kansas

Kansas State

Oklahoma

Oklahoma State

TCU

Texas

Texas Tech

West Virginia
May, 8, 2014
5/08/14
1:30
PM ET
The NFL draft is here.
It all begins tonight at 8 p.m. (ET) and the draft will continue through Saturday. Several Big 12 players should be selected in the next three days, so here is a team-by-team NFL draft primer, which includes each school's top prospect, one sleeper/value pick and a list of each potential draftee. All projections are courtesy of
ESPN Insider's draft board

, and the potential draftees listed are players with an ESPN.com Scouts Inc. ranking of 31 or above. All draft projections are listed by day, i.e. Day 1 (Round 1), Day 2 (Rounds 2 and 3) and Day 3 (Rounds 4, 5, 6 and 7).
Baylor

Top prospect:
G
Cyril Richardson
. The Bears' All-American guard is projected to be an early Day 3 selection and could provide quality depth (or even start) during his first NFL season.
Sleeper pick:
WR
Tevin Reese
. Slated as a late Day 3 selection, Reese could surprise with his speed and take the top off NFL defenses, particularly on a team with a strong running game.
Other potential draftees (projected selection):
RB
Lache Seastrunk
(Day 3), S
Ahmad Dixon
(Day 3), CB
Demetri Goodson
(Day 3).
Iowa State

Top prospect:
LB
Jeremiah George
. The Cyclones' undersized but athletic linebacker didn't wow scouts with his measurables but it would be unwise to brush him off as a player unable to make an impact on Sundays. He's projected to go late on Day 3 and could, at the very least, carve out a special teams role.
Sleeper pick:
None.
Other potential draftees:
None.
Kansas
No Jayhawk is projected to be drafted or has a ESPN.com Scout's Inc. rating of 31 or above.
Kansas State

Top prospect:
S
Ty Zimmerman
. He was extremely productive during his time at KSU and is projected to go late on Day 3.
Sleeper pick:
OT
Cornelius Lucas
. Projected to be a late Day 3 selection, Lucas would be worth taking a flyer on for most NFL teams due to his mammoth size (6-foot-8, 316 pounds).
Other potential draftees:
None.
Oklahoma

Top prospect:
CB
Aaron Colvin
. Projected to come off the board early on Day 3, Colvin would be drafted much higher if he hadn't torn his ACL during Senior Bowl practices. It's quite possible some team will eventually get Day 1 or Day 2 production from Colvin if they're patient with his recovery.
Sleeper pick:
FB
Trey Millard
. Another Sooner coming off an ACL injury, Millard is the type of guy who won't get any headlines this weekend but will end up playing 10 years in the league as a key contributor on offense and special teams. He projected to be drafted on Day 3.
Other potential draftees:
WR
Jalen Saunders
(Day 3), RB
Damien Williams
(Day 3), C
Gabe Ikard
(Day 3).
Oklahoma State

Top prospect:
CB
Justin Gilbert
. Gilbert is projected to go in the first round and is considered one of the top cornerback prospects in the draft. He's likely to be the first Big 12 player selected.
Sleeper pick:
WR
Josh Stewart
. His physical attributes aren't going to make NFL scouts drool, but Stewart seems to consistently find ways to make plays and could initially make an impact as a returner. He's projected to be a late Day 3 selection.
Other potential draftees:
None.
TCU

Top prospect:
CB
Jason Verrett
. The elite cover cornerback sits right alongside Gilbert among the draft's top cornerbacks. He's projected to join Gilbert as a first-round selection.
Sleeper pick:
None.
Other potential draftees:
None.
Texas

Top prospect:
DE
Jackson Jeffcoat
. He finished his Texas career with an extremely productive senior season. He's projected to be an early Day 3 selection.
Sleeper pick:
WR
Mike Davis
. He has a bunch of talent and upside but never really became a difference maker in the Big 12. Davis is projected to be selected on Day 3 and could be a steal if his NFL team can push him to maximize his potential.
Other potential draftees:
OG
Trey Hopkins
(Day 3), DT
Chris Whaley
(Day 3).
Texas Tech

Top prospect:
TE
Jace Amaro
. The Big 12's biggest mismatch creator could transition into an individual matchup nightmare in the NFL as well. He's projected to go early on Day 2 and will give some NFL team a unique weapon.
Sleeper pick:
DT
Kerry Hyder
. The former foundation of the Red Raiders' defensive line is expected to be drafted late on Day 3. He's the type of player NFL teams can draft and hope for the best because he does have some NFL traits that could earn him a spot on a roster.
Other potential draftees:
None.
West Virginia

Top prospect:
HB
Charles Sims
. It's quite possible Sims would be projected to go higher if the overall value of running backs as a whole was not trending down. One of the most versatile running back prospects, Sims is projected to be selected on Day 2.
Sleeper pick:
DE
William Clarke
. The lanky defensive end prospect is projected to be drafted early on Day 3. His athleticism and instincts could make in him Saturday steal.
Other potential draftees:
None.
February, 3, 2014
2/03/14
4:30
PM ET
As we close in on national signing day, it's an appropriate time to look back at how the top Big 12 recruits from four years ago performed.
2010 was a banner year for the Big 12 in recruiting, as the league
collectively landed 23 from the ESPN 150
.
A few, such as
Jackson Jeffcoat
,
Ahmad Dixon
and
Shaun Lewis
, became stars. Others washed out before their careers ever got off the ground.
[+] Enlarge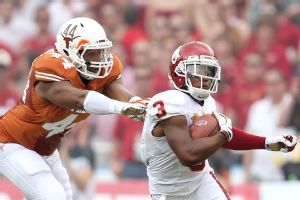 Matthew Emmons/USA TODAY SportsFormer five-star prospect Jackson Jeffcoat finished his career as the best defensive end in the Big 12.
Below is a closer look at what happened to
ESPN 150
players who signed with Big 12 schools:
No. 2: Jackson Jeffcoat, DE, Texas –
Though he never reached a high level of team success, Jeffcoat had a great individual end to his career, earning Big 12 co-Defensive Player of the Year honors and leading the league with 13 sacks.
No. 4: Jordan Hicks, LB, Texas –
Hicks has been good when he has played. Because of multiple injuries, that hasn't been often. Hicks missed most of last season with a torn Achilles, just a year after also being knocked out with a hip flexor injury. After getting a medical redshirt from his 2012 season, Hicks has one more year of eligibility remaining.
No. 13: Mike Davis, WR, Texas –
Davis finished in the Big 12's top 10 in receiving the last two seasons, compiling 200 career catches and 18 touchdown receptions.
No. 14: Taylor Bible, DT, Texas
– Bible never played a down at Texas, leaving after his redshirt freshman season because of issues with grades. Bible ended up at Carson-Newman.
No. 15: Ahmad Dixon, S, Baylor –
Dixon had a tremendous tenure with his hometown school, earning All-Big 12 and All-American honors as a senior as Baylor captured its first Big 12 title in 2013.
No. 18: Demarco Cobbs, ATH, Texas
– The Tulsa, Okla., native has appeared in 29 games on special teams and as a defensive reserve. He missed all of the 2013 season with a knee injury.
No. 20: Darius White, WR, Texas
– After making just six catches his first two seasons, White transferred to Missouri. He caught just seven passes this season for the Tigers, but has another year of eligibility left.
No. 21: Tony Jefferson, S, Oklahoma
– In his first season, Jefferson was the Big 12 co-Defensive Freshman of the year, and he was a three-year starter before leaving early to go pro.
No. 46: Ashton Dorsey, DT, Texas –
After serving as a reserve throughout his career, Dorsey was projected to start this season, but he transferred out days before Texas' season opener.
No. 48: Austin Haywood, TE, Oklahoma –
After getting playing time as a third tight end early in his career, Haywood unexpectedly quit in the middle of the season, tried to earn his way back on the team, failed and ended up transferring to Central Arkansas. After getting suspended there, Haywood gave up football.
No. 62: Corey Nelson, LB, Oklahoma –
Nelson shined early this season after finally getting a chance to be a full-time starter. That, however, was short-lived, as Nelson tore his pectoral muscle in an early October win over TCU and sat out the rest of his final season.
No. 65: Blake Bell, QB, Oklahoma –
The "Belldozer" starred his first two seasons as a situational, short-yardage QB. But in the preseason, Bell was beaten out by
Trevor Knight
for the starting job. Bell, however, still had his moments this season because of injuries to Knight. He led OU to a win at Notre Dame, then quarterbacked OU's game-winning touchdown drive at Oklahoma State.
No. 72: Reggie Wilson, DE, Texas –
He appeared in 51 games as a defensive reserve. Wilson had 19 tackles and a sack as a senior.
No. 73: Chris Jones, WR, Texas
– Jones transferred out after one year, and never played.
No. 75: Shaun Lewis, LB, Oklahoma State –
Lewis made an immediate impact, earning Big 12 co-Defensive Freshman of the Year honors along with Tony Jefferson. Lewis was a four-year starter and a big piece in Oklahoma State's defensive turnaround this season.
[+] Enlarge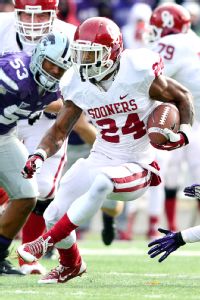 Jasen Vinlove/USA TODAY SportsFormer ESPN 150 recruit Brennan Clay was a solid, not spectacular, tailback for the Sooners.
No. 77: Quentin Hayes, S, Oklahoma –
After serving a year-long suspension, Hayes returned to win a starting job this past season. He has another year left.
No. 86: Tevin Jackson, LB, Texas
– Jackson has been a backup linebacker for the Longhorns and will be part of the team's great depth there in 2014.
No. 103: Adrian White, CB, Texas
– Played in 17 games, then joined the mass transfer exodus from this Texas class.
No. 109: Ivan McCartney, WR, West Virginia
– McCartney never became a No. 1 receiver, though he did contribute on West Virginia's explosive offenses in 2011-12. He only had 12 catches this past season as a senior, however.
No. 114: Aaron Benson, LB, Texas
– The cousin of former Texas running back great Cedric Benson has only been a contributor on special teams.
No. 122: Carrington Byndom, S, Texas
– One of the few players from this Texas class to pan out. Byndom made 39 career starts and was a second-team All-Big 12 selection this past season.
No. 129: Brennan Clay, RB, Oklahoma –
Clay proved to be a reliable and steady force in the OU backfield. He finished his career with 1,913 rushing yards, including 957 in 2013.
No. 134: Adrian Philips, ATH, Texas –
Phillips
settled in the Texas secondary, collecting 28 career starts there. He was second on the team this past season with 82 tackles.
No. 141: Trey Hopkins, OG, Texas –
Hopkins became a stalwart up front, making 42 career starts along the offensive line. He was a two-time, second-team All-Big 12 selection.
No. 142: Justin McCay, ATH, Oklahoma
– McCay transferred to Kansas after two years in Norman. He had nine receptions and a touchdown, which also was the first scoring catch by a Kansas wide receiver in almost two full seasons.
December, 23, 2013
12/23/13
9:10
AM ET
Four underdogs.
Three by double digits.
And only two favorites.
With this bowl season comes a prime opportunity for the Big 12 to earn national respect. Yet also, an opportunity for calamity.
This year, even though Baylor remained undefeated until the final month and Oklahoma State had just one loss until the final game, the Big 12 was never a factor in the national championship race.
[+] Enlarge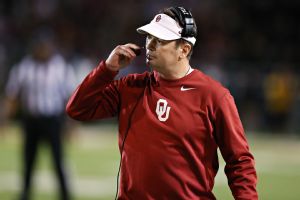 Matthew Emmons/USA TODAY SportsBob Stoops said his focus is on the Sooners playing in 2014, not the talented ones who are ineligible.
One reason why is no Big 12 team opened in the preseason top 10. And that was due in part to a lackluster bowl showing from the conference in 2012.
Big 12 co-champ Kansas State couldn't hang with Oregon in the Tostitos Fiesta Bowl.
Johnny Manziel
wiped out the Big 12's other co-champ, Oklahoma in, the AT&T Cotton Bowl.
All told, the Big 12 went 4-5, with its only impressive victory coming courtesy of Baylor in the Holiday Bowl.
In the spring, despite the poor showings at the top, Sooners coach Bob Stoops championed the depth of the conference. But unable to fill out its quota this year with bowl-eligible teams, the Big 12's depth argument has dissipated.
And another poor bowl showing from the conference will do nothing but widen the Big 12's national perception gap with power conferences like the SEC.
Of course, with several premier matchups, the chance is also there to narrow the gap -- starting with a pair of matchups against top teams from the SEC.
Oklahoma gets defending national championship Alabama in the Allstate Sugar Bowl, and Oklahoma State faces SEC East Division champ Missouri in the Cotton.
Sweeping those would be a huge step forward for the Big 12, as college football transitions into next year's College Football Playoff, where perception will play a major part.
But if the Bedlam schools get waxed the way K-State and Oklahoma did last year it would do major damage to the Big 12's case for de facto annual inclusion into the four-team tournament.
"There's always a lot of talk because there has to be because newspapers have to be filled and air time has to be filled," said Stoops, when asked about carrying the Big 12 banner in New Orleans. "You have to talk about something, but we don't concern ourselves with it."
Yet whether Stoops cares to admit it, his Sooners will in fact be carrying the Big 12 banner as two-touchdown underdogs against college football's preeminent program of the last five years.
"Being a competitor and going up against a team like this is going to be a challenge, but it's going to be a lot of fun, as well," Oklahoma cornerback
Aaron Colvin
said. "We're pretty anxious and we're just excited to get out there and play."
The Cowboys will be carrying the banner against the SEC, too. Even though they'll be playing a team that was in the Big 12 just two years ago.
"We've always had a lot of respect for Missouri," Oklahoma State coach Mike Gundy said. ""It's interesting that they made the change of going into the SEC and having tremendous success right away."
[+] Enlarge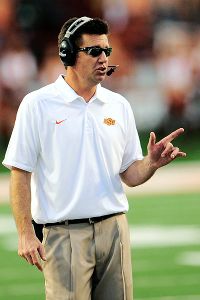 Stacy Revere/Getty ImagesMike Gundy and the Cowboys have drawn former Big 12 rival Missouri in the Cotton Bowl.
"It certainly makes us feel good about ourselves being in the Big 12."
Missouri might be a former Big 12 team proving its chops in the SEC. But style points the Tigers rack up count for their current conference, not their previous one.
And as only one-point underdogs, Oklahoma State might have the best opportunity of any Big 12 school to land the conference a landmark bowl win.
"With as many games as they've won and their current ranking," Gundy said, "they're talked about as a really good football team."
The Big 12 has opportunity elsewhere to garner respect by toppling a pair of "name" teams.
Like fellow Big 12 flagship Oklahoma, Texas is a two-touchdown underdog to Oregon in the Valero Alamo Bowl, even though the Longhorns will be playing just 80 miles from their Austin campus.
Texas rallied to defeat Oregon State in the Alamo last year. But the challenge here will be far greater in coach Mack Brown's final hurrah. The Ducks ranked second in the polls for much of the season, and despite some midseason struggles still boast one of the top offenses in college football.
The Longhorns averaged 31 points per game. Oregon scored that few only twice all season.
"They are someone you definitely have to keep up with or you'll get left behind quickly," said Texas guard
Trey Hopkins
. "It will be a big challenge for us against a talented opponent."
K-State is back in the desert for the postseason, this time the Buffalo Wild Wings Bowl. Even though it's not a BCS bowl, the Wildcats can also give the Big 12 a big win over a big name.
"As a kid growing up, Michigan is one of those poster programs that you see all over TV, you watch them growing up," said K-State receiver
Curry Sexton
. "You kind of almost idolize them – one of those programs that every kid in the country likes to watch play."
Arizona State might not be idolized the way Michigan is. But this season, the Sun Devils are more talented, and were a fringe top 10 team late in the season. That's a difficult National University Holiday Bowl challenge for a Texas Tech team that closed out the season on a five-game losing streak and lost starting quarterback
Baker Mayfield
to transfer two weeks ago.
Which is why for the Big 12 it's incumbent Baylor prevails as the conference's only comfortable favorite in the Fiesta over Central Florida.
Tough matchups abound elsewhere. Which is an opportunity for the league to prove its playoff mettle. But also one to lose precious ground in college football's perception wars.
"It always helps," Stoops said of beating the likes of an Alabama. "It's definitely something that could boost you."
October, 14, 2013
10/14/13
11:00
AM ET
Taking stock of Week 7 in the Big 12:
Team of the week:
Texas. Not only did the Longhorns pull off the biggest Red River upset in 17 years, they completely reversed the outlook of their season. At 3-0 in the Big 12 standings, Texas is right in the middle of the conference race. The Longhorns also finally found an identity in Dallas, which could make them a tough out during the second half of the season. The Longhorns ran the ball with authority between the tackles behind their experienced offensive line, which took pressure off quarterback
Case McCoy
. Defensive coordinator Greg Robinson, meanwhile, disguised his defenses beautifully and utilized Texas' speed in timely blitzes. Baylor remains the favorite to win the Big 12 crown. But Texas, which travels to Baylor in the regular-season finale, could be a factor. What a difference a week makes.
[+] Enlarge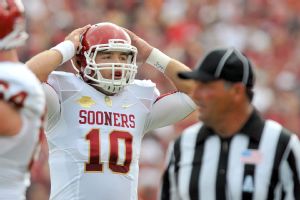 Jackson Laizure/Getty ImagesBlake Bell had one of the worst performances statistically by an OU QB since 2005.
Disappointment of the week:
Oklahoma. While Texas found its identity in the Cotton Bowl, the Sooners seemingly lost theirs. The defense's Achilles' heel resurfaced from last season, as Oklahoma couldn't stop the run. That made the Sooners vulnerable against deep passes, which McCoy capitalized on with a pair of long touchdowns. As much as the defense struggled, the offense looked completely lost.
Blake Bell
took four sacks, threw two interceptions and was utterly miserable on third down. Bell's QBR on third down, in fact, was 0.1 percent (he had been 89.8 on third downs coming into the game). Bell wasn't much better the rest of the game with an Adjusted QBR of 2.8, which was the fourth-worst single-game adjusted QBR of any FBS quarterback this season. Curiously, Bob Stoops said the offensive staff didn't feel comfortable running Bell in this game. And the Sooners couldn't figure out which running back to feature, with no back receiving more than seven carries. This is a team that doesn't look like it knows who it is all of a sudden.
Big (offensive) men on campus:
The Texas offensive line, Kansas State quarterback
Daniel Sams
and Texas Tech tight end
Jace Amaro
.
The most experienced offensive line in the Big 12 blocked like it at the most opportune of times.
Kennedy Estelle
,
Mason Walters
,
Dominic Espinosa
,
Trey Hopkins
and
Donald Hawkins
paved the way for
Johnathan Gray
and
Malcolm Brown
to become the first Texas duo to top 100 rushing yards apiece in the same Red River game. The Bevos up front also kept McCoy upright, as the Texas quarterback was not sacked all day and barely pressured, either.
In Manhattan, Sams played valiantly in K-State's 35-25 loss to Baylor. He rushed for 199 yards and three touchdowns and almost single-handedly kept the Wildcats scoring with the high-powered Bears. Sams' late interception that effectively ended the game was a huge mistake. But his 86.1 Adjusted QBR was 13th-best in college football for the week. Sams now is second in the Big 12 in Adjusted QBR (86.5) for the year, trailing only Baylor's
Bryce Petty
(95.1).
Amaro continues to be a security blanket for Texas Tech's true freshman quarterbacks. Against Iowa State, he had his best game yet with nine receptions for 143 yards. Amaro leads the Big 12 with 47 receptions. Teammate
Eric Ward
is second with 34.
Big (defensive) men on campus:
Kansas State defensive end
Ryan Mueller
, Baylor safety
Ahmad Dixon
and Texas defensive ends
Jackson Jeffcoat
and
Cedric Reed
.
Along with Sams, Mueller was a major reason the Wildcats were in the game in the fourth quarter. In what might be the defensive highlight of the season in the Big 12 so far, Mueller stripped Petty while simultaneously recovering the fumble to set K-State with field position in the third quarter that would turn into a go-ahead touchdown. Mueller finished with seven tackles, two sacks and a pass breakup.
Dixon, meanwhile, came up with the defensive play of the game, as he beelined to the sideline to intercept Sams with four minutes to play. Off the turnover, the Baylor offense sealed the victory with a touchdown that put the Bears up two scores.
Jeffcoat and Reed, meanwhile, were terrific against the Sooners. The swarming defensive end duo totaled three sacks and kept the Oklahoma running backs from bouncing much of anything outside.
[+] Enlarge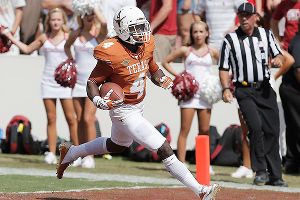 AP Photo/Brandon WadeDaje Johnson delivered Texas' first punt return for a touchdown since 2009.
Special-teams players of the week:
Texas returner
Daje Johnson
, Texas kicker
Anthony Fera
and Iowa State returner
Jarvis West
.
Johnson delivered the dagger to the Sooners with a weaving 85-yard punt return touchdown late in the third quarter, which put the Longhorns ahead 30-13. It was Texas' first punt return touchdown since Jordan Shipley did it in 2009. Fera came up big on special teams, too. He nailed a 43-yard field goal right before halftime that stymied the Sooners' momentum from a long
Roy Finch
kick return that led to a touchdown the previous drive. Fera also nailed 50- and 31-yard field goals to be perfect on the day.
West kept the Cyclones above water in the first half as the Iowa State offense struggled. His 95-yard kickoff return -- Iowa State's first non-onside kick return for a touchdown since 1994 -- tied the game in the first quarter 7-7. West later added a 38-yard punt return, and he finished with three receptions for 36 yards.
Play of the week:
With the Red River Rivalry tied 3-3 in the first quarter, Texas'
Adrian Phillips
came off the edge untouched on a third-down zone blitz and slammed into Bell. The hit caused Bell's pass to flutter behind intended receiver
Jaz Reynolds
and into the arms of defensive tackle
Chris Whaley
, who rumbled 31 yards for the touchdown. The Longhorns never gave up the lead the rest of the way.
Stat of the week:
Bell's QBR against Texas was the lowest by an Oklahoma quarterback since Rhett Bomar posted a 1.6 against Tulsa in 2005.
Quote of the week:
"We love the guy. We're playing for the guy. You all keep writing those articles bad about him. We'll keep playing for him." -- McCoy on coach Mack Brown
July, 18, 2013
7/18/13
8:00
AM ET
What if you combined the 2013 rosters of Oklahoma and Texas? Who would start? Who would ride the pine? SoonerNation and HornsNation have teamed up to answer that question:
OFFENSE
QB: Blake Bell, Oklahoma
July, 10, 2012
7/10/12
2:00
PM ET
October 13, 2012: vs. Texas (in Dallas)
2011 record
: 8-5 |
2011 conference record
: 4-5 (Big 12)
OU's all-time against Texas
: 42-59-5
Top returners
: QB
David Ash
, RB
Malcolm Brown
, WR
Marquise Goodwin
, WR
Jaxon Shipley
, WR
Mike Davis
, OT
Trey Hopkins
, OT
Josh Cochran
, C
Dominic Espinosa
, DE
Jackson Jeffcoat
, DE
Alex Okafor
, DT
Ashton Dorsey
, LB
Jordan Hicks
, CB
Quandre Diggs
, CB
Carrington Byndom
, S
Kenny Vaccaro
Key losses
: FB
Cody Johnson
, RB Fozzy Whittaker, G David Snow, DT Kheeston Randall, LB Emmanuel Acho, LB Keenan Robinson, S Blake Gideon, S Christian Scott, K Justin Tucker
2011 statistical leaders
(*returners)
Rushing
: Malcolm Brown* (742 yards)
Passing
: David Ash* (1,068 yards)
Receiving
: Mike Davis* (609 yards)
Tackles
: Emmanuel Acho (131)
Sacks:
Jackson Jeffcoat* (7)
Interceptions
: Quandre Diggs* (4)
What they're saying
: "I think we're back more to '08." – Texas coach
Mack Brown
, comparing this year's squad with the one in 2008 that went 12-1.
Three things to watch
:
1.
For Texas to contend for a Big 12 title, David Ash must play like an upper-echelon Big 12 quarterback. Ash has the talent, and he's shown flashes. But he's yet to perform at that level on a consistent basis. QB play is the biggest reason why Texas has endured back-to-back mediocre seasons. But Ash takes care of the ball and makes his share of plays, the Longhorns will be dangerous.
2.
The Longhorns, potentially, have the best defense in the Big 12, and one of the best in the country. Ends Jackson Jeffcoat and Alex Okafor, who combined for 15 sacks last season, will give Texas a lethal presence off the edge. The Horns also have a pair of lockdown cornerbacks in Carrington Byndom and Quandre Diggs. Defense hasn't been Texas' problem, and this season, it figures to be a massive strength.
3.
The battle of the oranges in Stillwater on Sept. 29 will be critical for both Texas and Oklahoma State, giving the winner the inside track to compete with OU, West Virginia and TCU for the conference crown. Should Texas lose that game, the Longhorns could slip into a free fall, with back-to-back games against the Mountaineers and Sooners looming next.
To continue reading this article you must be an Insider
Big 12 2015 Recruiting Overview
BIG 12 SCOREBOARD
Thursday, 9/3
Friday, 9/4
Saturday, 9/5