Oklahoma Sooners:

Torrodney Prevot
April, 5, 2013
4/05/13
12:00
PM ET
The Nike Football Training Camp series will continue outside of Dallas on Sunday. Athletes will trek to Allen, Texas, the home of one of the most impressive high school stadiums in the country. Allen Eagles Stadium, a $60-million facility, opened last year and featured nearly 22,000 fans watching Texas powers Allen and Southlake Carroll clash.
Here are five storylines to watch on Sunday.
Talented DBs aplenty
It's been said on multiple occasions that the 2014 class may be one of the strongest in years at producing big-time defensive backs in the region. The battle for defensive back MVP has the potential of being extremely competitive with players such as
Laurence Jones
(Monroe, La./Neville),
Jamal Adams
(Lewisville, Texas/Hebron),
Tony Brown
(Beaumont, Texas/Ozen),
Steven Parker
(Jenks, Okla./Jenks) and
Arrion Springs
(San Antonio/Roosevelt) expected to be in attendance.
Chris Hardeman
(Houston/Alief Taylor) has committed to LSU, while
Dylan Sumner-Gardner
(Mesquite, Texas/West Mesquite) and
Armani Watts
(Forney, Texas/North Forney) have pledged to Texas A&M.
Deionte Thompson
(Orange, Texas/West Orange-Stark), a 2015 prospect, has verbally committed to Alabama. All of the DBs will have their shots in one-on-one drills against equally talented ESPN Watch List receivers such as
Malachi Dupre
(River Ridge, La./John Curtis),
K.D. Cannon
(Mount Pleasant, Texas/Mount Pleasant) and Texas commit
Lorenzo Joe
(Abilene, Texas/Cooper).
December, 12, 2012
12/12/12
1:01
PM ET
Houston Alief Taylor defensive end
Ogbonnia "Obo" Okoronkwo
said he knew he wanted to flip his commitment from Oklahoma State to Oklahoma following his official visit to OU last month.
But he waited. He didn't want to make a hasty decision, and he wanted to give OSU a chance. Things never worked out for Okoronkwo and the Cowboys and their Bedlam rival was there to swoop up Okoronkwo on Wednesday afternoon.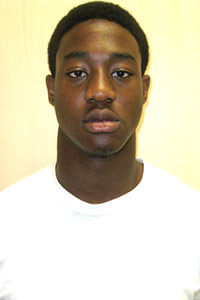 Max Olson/ESPN.comThree-star prospect Ogbonnia Okoronkwo is Oklahoma's third defensive end commitment for the Class of 2013.
Okoronkwo, who is 6-foot-3 and 220 pounds and a three-star prospect, was able to visit Norman, Okla., last month for OU's victory against Baylor. The plan had always been to see Stillwater first and then compare and contrast the two schools and make a decision.
OSU and Okoronkwo could never get on the same page for the visit and Okoronkwo said he told the OSU staff Sunday he thought it was time to go separate ways.
That didn't necessarily mean he was automatically a Sooner, but that was solidified Wednesday during an in-home visit by OU coaches Bob Stoops and Tim Kish.
"Coach Stoops talked with my dad and Coach Kish talked with my mom for about an hour, and my parents really liked what they were saying," Okoronkwo said. "They were happy with everything so he didn't see a point in waiting."
Okoronkwo said his mother was especially interested in the graduation rates and the academic help he would receive. The answers Stoops and Kish gave her satisfied her and everybody was on the same page.
Okoronkwo has never been a first option for schools looking at Houston Alief Taylor. Playing alongside ESPN 300 USC defensive end commit
Torrodney Prevot
, the attention went toward Prevot.
December, 11, 2012
12/11/12
8:00
AM ET
There is one glaring hole in Oklahoma's defensive recruiting for the 2013 class. But it's a big one. The Sooners are faring well or at least decently at every other spot, but OU is lacking defensive tackles.
Worse than lacking at them is the fact OU has been involved in several tight battles at the position only to have never come out on top.
With less than two months until national signing day, here is a position-by-position breakdown of OU defensive targets.
Defensive end
No problems in this department. In fact, OU has probably had too many viable targets. The Sooners got started with a bang with two of their first three commits being ESPN 300 defensive ends in
Matt Dimon
(Katy, Texas/Katy) and
D.J. Ward
(Moore, Okla./Southmoore).
OU turned down a potential commitment from three-star recruit
Dimarya Mixon
(Mesquite, Texas/West Mesquite), who ended up committing to Missouri.
The Sooners might have a third commit in Norman (Okla.) North's
Jordan Evans
. A three-star prospect, Evans could play either end or linebacker.
The only recruit the Sooners would accept a commitment from is USC pledge
Torrodney Prevot
(Houston/Alief Taylor). Prevot is considering an official visit to OU this weekend.
Defensive tackle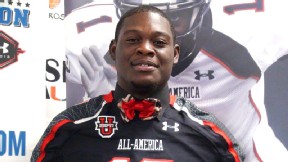 Jeff Peoples/IntersportDefensive tackle Maquedius Bain is a top priority for the Sooners to finish their 2013 recruiting class.
It's not pretty. And it's not getting any better. Last week was a gut-punch when Sooners legacy
Justin Manning
(Dallas/Kimball) picked Texas A&M over OU. But all the Sooners can do is move on.
Viable targets are out there, but it's up to defensive tackles coach Jackie Shipp to seal the deal. No. 1 on that list is ESPN 150 recruit
Maquedius Bain
(Fort Lauderdale, Fla./University School).
Bain took an official visit to OU for Bedlam and had an in-home last week. He is expected to visit LSU this weekend, which should give a better indication of where he stands.
OU is also targeting Hutchinson (Kan.) CC teammates
Toby Johnson
and
Ben Bradley
and has made in-home visits with both of them.
Johnson
visited Georgia last weekend
and the Bulldogs are a natural fit since he is from Georgia. Bradley is a Tennessee commit whom OU only recently started to turn its attention toward.
Then there is
Quincy Russell
(Athens, Texas/Trinity Valley CC). Russell also made an official visit to OU for Bedlam, but Nebraska feels like the leader in the clubhouse.
The Sooners have gone all out with Russell in the last two weeks, and it looks like if Bain is No. 1, then Russell is No. 1a for OU's list of priorities.
Another name to be on the watch for is ESPN 150 recruit
Keith Bryant
(Delray Beach, Fla./Atlantic Community). Bryant has talked about visiting OU but so far that's all there has been. No date has been set or discussed.
Linebacker
It's looking a lot better here than it did a couple of months ago. The Sooners are still set with ESPN 300 prospect
Jordan Mastrogiovanni
(Dallas/Jesuit). After flirting with A&M, Mastrogiovanni appears to be good with OU.
OU looked in-state for answers, too, in the form of Evans and three-star athlete
Dominique Alexander
(Tulsa, Okla./Booker T. Washington).
Linebackers coach Tim Kish has wanted Baylor commit
Raaquan Davis
(Heath, Texas/Rockwall-Heath) for a long time, but Davis has been solid with the Bears.
Ohio State has made a big move to get ESPN 150 linebacker
Mike Mitchell
(Plano, Texas/Prestonwood Christian) so the Sooners are making a move of their own on ESPN 300 Florida State commit
E.J. Levenberry Jr.
(Woodbridge, Va./Hylton).
Levenberry made an official visit to OU in October and visited the campus twice as a junior. With FSU's recent coaching changes, OU is pressing hard to flip him.
And don't count out ESPN 150 prospect and UCLA commit
Deon Hollins
(Fort Bend, Texas/Marshall). Hollins and Kish have quietly still been talking often during the season and his father is a fan of Kish and Bob Stoops.
Cornerback
To continue reading this article you must be an Insider
November, 19, 2012
11/19/12
8:00
AM ET
Three-star defensive end
Ogbonnia Okoronkwo
(Houston/Alief Taylor) is a good example of why college coaches are so persistent in wanting recruits to visit their campus before making a decision.
Okoronkwo, who committed to Oklahoma State in June, has been on the radar of Bedlam rival Oklahoma since the season started.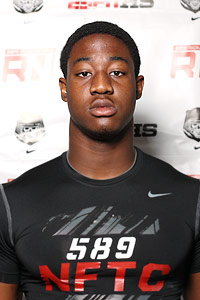 Tom Hauck for ESPN.comThree-star defensive end Ogbonnia Okoronwu has not taken a visit to Oklahoma State, despite being committed to the Cowboys since the summer.
Going into his official visit to Norman, Okla., for the Baylor game, Okoronkwo had an idea of what to expect. Turns out, it was the wrong idea.
To continue reading this article you must be an Insider
November, 15, 2012
11/15/12
8:00
AM ET
It's not like Oklahoma isn't set at the defensive end position for the 2013 class. Two of the Sooners' first three commitments were at the position and both
D.J. Ward
(Moore, Okla./Southmoore) and
Matt Dimon
(Katy, Texas/Katy) are ESPN 300 prospects. Ward is No. 110, while Dimon is No. 284.
But the thinking all along has been OU wants three at the position. And the biggest targets for OU defensive ends coach Bobby Jack Wright had been a couple of committed prospects.
To continue reading this article you must be an Insider
October, 14, 2012
10/14/12
3:45
PM ET
Like most people, three-star defensive end
Ogbonnia Okoronkwo
(Houston/Alief Taylor) was expecting another great battle between Oklahoma and Texas in the Red River Rivalry.
But that's not to say Okoronkwo was disappointed with the 63-21 dominating victory for the Sooners, OU's third consecutive win in the rivalry.
"I had heard about the Sooner Nation, and I wanted to see what it was all about," Okoronkwo said. "Now I know. It was a very impressive performance."
To continue reading this article you must be an Insider
July, 31, 2012
7/31/12
8:00
AM ET
Every weekday morning, a member of the SoonerNation gives his take on three things happening in the Sooner sports world.
1.
Monday night was a tough one for OU fans as Delray Beach (Fla.) American Heritage-Boca Delray running back
Greg Bryant
decommitted from the Sooners. It's a major blow even though OU does have the commitment of the third-ranked RB in the nation in Cypress (Texas) Ranch back
Keith Ford
. Where might OU turn? Two names stick out in
Adam Taylor
(Katy, Texas/Katy) and
Derrick Green
(Richmond, Va./Hermitage). And one incredibly dark horse name to keep tabs on is in-state back
Diquon Woodhouse
(Altus, Okla./Altus), who fared well at OU's camp in June. With no favorites, the search is back on for Cale Gundy.
2.
With USC taking the commitment of ESPN 300 defensive end
Torrodney Prevot
(Houston/Alief Taylor) on Sunday, the Trojans are officially out of scholarships. The Trojans have used up their 18 scholarships and 16 of their 18 commits have OU offers. The good news for OU is with USC out of the way, there are a lot of west coast products that have the Sooners on their short list. And OU can no longer be beaten in a head-to-head battle with USC.
To continue reading this article you must be an Insider
July, 6, 2012
7/06/12
8:00
AM ET
Every weekday morning, a member of the SoonerNation gives his take on three things happening in the Sooner sports world.
1.
Congratulations are in order for a pair of Oklahoma royalty. Quarterback
Landry Jones
, OU's career passing leader, is marrying All-Big 12 point guard
Whitney Hand
today. They were engaged last summer.
2.
Several elite prospects made their way to Beaverton, Ore., on Thursday to participate in
The Opening
. During the registration period, a few recruits
chatted with readers on ESPN.com
. Probably the biggest news from an Oklahoma perspective is that
Torrodney Prevot
(Houston/Alief Taylor)
didn't list the Sooners
in his top six.
To continue reading this article you must be an Insider
March, 23, 2012
3/23/12
9:45
AM ET
It won't be the most eventful weekend on Oklahoma's campus, but there are going to be a bevy of OU targets on display in Texas.
An
Elite 11 quarterback camp
will be at Cowboys Stadium in Arlington, Texas, on Saturday night, followed by a
Nike Football Training Camp
event Sunday at the Cowboys' practice facility. About 300 prospects are expected to participate in the event.
Here are 20 recruits with OU interest to keep an eye on:
To continue reading this article you must be an Insider
March, 16, 2012
3/16/12
9:00
AM ET
Every weekday morning, a member of the SoonerNation gives his take on three things happening in the Sooner sports world.
1.
It could be an eventful weekend regarding Oklahoma recruiting despite the fact not many known visitors are expected to be on campus. Saturday is LSU's second junior day and features a lot of familiar prospects. OU offers defensive tackle
Justin Manning
(Dallas/Kimball) and
Torrodney Prevot
(Houston/Alief Taylor) and potential OU offers wide receiver
Eldridge Massington
(Mesquite, Texas/West Mesquite) and safety
Kameron Miles
(Mesquite, Texas/West Mesquite) are among some of the recruits expected to be in attendance. LSU's first junior day was the same date (Feb. 4) as OU's so it's possible even more OU junior day attendees end up in Baton Rouge, La., on Saturday.
2.
OU continues to slow play some of the top in-state prospects, but the interest is picking up for the state's best elsewhere across the country. OU junior day attendees defensive back
Stanvon Taylor
(Tulsa, Okla./East Central) and defensive end
Dalton Rodriguez
(Tulsa, Okla./Union) both picked up offers from top schools this week. Taylor from Kansas State and Texas Tech, while Rodriguez earned an Oregon State offer. 2014 quarterback prospect
Justice Hansen
(Edmond, Okla./Santa Fe) also earned an Arkansas offer this week. The Sooners approach has irked some but don't expect a change anytime soon.
3.
If you want to track the top 2013 Oklahoma basketball prospects, you might as well just follow the Athletes First AAU team. The squad, as of now, will feature OU offers point guards
Stevie Clark
(Oklahoma City/Douglass) and
Jordan Woodard
(Edmond, Okla./Memorial). Potential OU offer power forward
Shaquille Morris
(Edmond, Okla./Santa Fe) and 2014 prospect guard
Omega Harris
(Oklahoma City/Putnam City West) said Thursday he'll be on the team this summer. 2015 prospect
Allonzo Trier
is also on the club.
To continue reading this article you must be an Insider
March, 6, 2012
3/06/12
1:00
PM ET
By
SoonerNation staff
| ESPN.com

Alief Taylor (Houston, texas) defensive end Torrodney Prevot became the third athlete this year to earn an invitation to "The Opening" after putting on a show at the Houston NFSC.
February, 27, 2012
2/27/12
7:14
PM ET
Deon Hollins Jr.
(Fort Bend, Texas/Marshall) would've thought about committing to Texas had UT coaches given him an offer this weekend.
Instead, Hollins Jr. is starting to read the writing on the wall. The linebacker/defensive end was planning to speak with Texas coaches Sunday night, but he opted to hold off.
"When I saw
(Deoundrei) Davis
commit and
Daeshon Hall
and
Torrodney Prevot
get offered, I didn't even call because both said they were heavy Texas leans," he said.
To continue reading this article you must be an Insider
February, 17, 2012
2/17/12
10:30
AM ET
The Sooners extended several new offers to 2013 prospects this week. Bob Przybylo breaks down the most recent Oklahoma offers by position:
• Former Oklahoma defensive coordinator Brent Venables let it be known that he loved to get his cornerbacks from the Dallas Metroplex area.
Davide De Pas
California cornerback Johnny Johnson Jr. has offers from coast to coast.
With Venables gone, time will tell if OU still pursues the top Dallas-area defensive backs. But with linebackers coach Tim Kish and defensive coordinator Mike Stoops very familiar with the West Coast, it is clear the two are trying to land the top targets out west.
This week's recruiting was highlighted by OU looking out to Arizona and California to try to find cornerbacks. As of last week,
Kendall Fuller
(Olney, Md./Good Counsel) was the only cornerback offered.
But that's not the case anymore. OU offered three cornerbacks recently in
Cole Luke
(Chandler, Ariz./Hamilton),
Priest Willis
(Tempe, Ariz./Marcos De Niza) and
Johnny Johnson Jr.
(Fresno, Calif./Central East).
Johnson was the latest offer, getting the word from the Sooners on Thursday afternoon. It punctuated an exciting week for the 5-foot-10, 175-pound prospect. He was offered by USC at its junior day on Sunday and was also recently been offered by Notre Dame.
Johnson's athletic ability makes him such an intriguing prospect. With Willis and Luke, it's a lot more obvious why OU is so interested. Both have the size and physicality of what Stoops likes in his secondary.
Willis is 6-foot-1 and 195 pounds and has offers from USC, Nebraska and Oklahoma State, among numerous others. Luke has thought about the Sooners for a long time and was excited about getting the Sooners offer. He is 6-foot and 165 pounds and has offers from several Pac-12 schools.
• OU is not wasting any time when it comes to defensive ends. The Sooners offered
Joe Mathis
(Upland, Calif./Upland) late last week and followed that with an offer to
Torrodney Prevot
(Houston/Alief Taylor) on Thursday.
Mathis has listed OU in his early top five although USC is in the lead. He is going to decide between going to the OU or Nebraska spring game on April 14. We'll be able to find out more regarding OU's chances with Mathis with that decision.
To continue reading this article you must be an Insider
February, 16, 2012
2/16/12
9:00
PM ET
Torrodney Prevot
(Houston, Texas/Taylor) scored a huge trifecta Thursday.
The talented defensive end woke up Thursday morning with three offers. He scored three more within roughly a 90-minute span by early Thursday afternoon, as Texas, Oklahoma and Baylor all put themselves in the running for Prevot's services for 2013. Prevot had offers from LSU, Texas A&M and Utah, which he picked up earlier this week.
"It's amazing," said Prevot, a 6-foot-4, 220-pound end. "I'm just trying to stay humble and keep focus."
To continue reading this article you must be an Insider
Green-Beckham's Waiver Request To Play In 2014 Denied
BIG 12 SCOREBOARD
Saturday, 8/30
Sunday, 8/31