Oklahoma Sooners:

Terrell Burt
May, 15, 2014
5/15/14
10:30
AM ET
Earlier Thursday, we concluded our 22-round draft of current Big 12 players. Below are the three lineup outcomes of that draft, and as you can see, each of us went in different directions.

Like the St. Louis Rams, Max and Brandon built up their defensive lines before worrying about the rest of their rosters. While I grabbed the best quarterback in the league and surrounded him with protection and weapons.
After each lineup, read our final takes on our teams. Then, decide who drafted best in the weekly Big 12 poll.
BRANDON CHATMON'S TEAM
OFFENSE
DEFENSE
What Brandon says about his team:
"Offensively, as soon as Petty was gone with the first pick I knew I wouldn't take a quarterback until my final pick. Knight could be the steal of the draft. Versatility is the name of the game with the rest of the offense. We can put Pierson and Smallwood in the backfield and go read option or really ruin your Saturday and throw Daje back there in the Diamond. When you bring more guys in the box, you leave Seales and Lockett one-on-one. Or we can just go five wide and you can try to cover running backs who run routes like receivers with your linebackers. And an experienced offensive line will be the foundation of it all. Defensively, it would be wise for opposing quarterbacks to tell their families to stay home when facing this group. We're going to man up and have our mail forwarded to the opposing backfield and make you want to take your ball and go home. And with a secondary full of coverage guys, I'm not concerned about the back end of the defense holding up. We'll win more battles than we lose. By the final whistle, my team will have earned the moniker 'Chatmon's chaos creators' with Tapper, Reed, Brown, Hunter, Alexander and Robertson living in your backfield."
MAX OLSON'S TEAM
OFFENSE
DEFENSE
What Max says about his team:
"You do not want to play against my team. That was my goal going in, and I constructed exactly the team I wanted. I have a great QB in Webb who gets to throw to Goodley, one of the nation's best receivers, and he'd help Jaxon Shipley put up Jordan Shipley numbers. I have the two-back punch of Linwood and Gray. I have Hill, who can do everything, and a good line. We're going to spread the ball around like crazy. Good luck stopping that. On defense, you have Fields, Oakman and Grissom all rushing the passer. That's deadly. We can go three-man fronts or even put Oakman in the middle, letting the 6-foot-8 stud swat your passes down. And while you're worrying about him and Grissom, you have the Big 12's best defensive player [Fields] coming after you. Hager and Shannon will hold it down at the second level, and the secondary is full of playmakers. This is a fun team, plain and simple, and one that can frustrate the heck out of anybody."
JAKE TROTTER'S TEAM
OFFENSE
DEFENSE
What Jake says about his team:
"Max and Brandon are good at talking smack. I'll give them that. But my players do their talking on the field. Once I was fortunate to land reigning Big 12 Offensive Player of the Year Bryce Petty as my quarterback, my goal was two-fold: to keep him upright from pressure off the edge; and, to surround him with firepower. I accomplished both ends, and then some. I wasn't able to get either of the two elite receivers in the league in Goodley or Lockett. But I put together the best overall receiving corps in Grant, Shepard and Bundrage, who could all deliver 1,000-yard receiving seasons in 2014. On top of that, I snagged the best pass-catching tight end on the board in Bibbs, as well as Brown, so that we can pound the ball between the tackles when we need. Speaking of tackles, aware that Brandon and Max were focused almost solely on their pass rush in the early rounds, I also added two of the most reliable pass-protecting bookends in the league in Drango and Williams. Defensively, I can bring pressure, too, with Mueller and Striker, who last season respectively placed second and fourth in the Big 12 in sacks. Castleman and Britz are roadblocks, Heeney and Dawson are tackle machines and my entire secondary has All-Big 12 potential. We don't talk. We just dominate."
May, 15, 2014
5/15/14
9:00
AM ET
Following up on NFL draft weekend,
we've been conducting our own draft
, picking from current Big 12 players to fill out three 22-man lineups.
Below is a recap of the first 15 rounds of the draft from the past two days, followed by rounds 16-22.
As another reminder, this is NOT a Top 25 player ranking. It's only an exercise in determining where the value of the league lies, and the different strategies to putting a team together from the league's present talent pool.
Jake Trotter:
Brandon Chatmon:
Max Olson:
Round 16
[+] Enlarge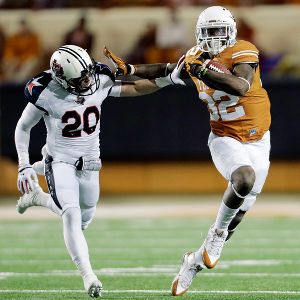 AP Photo/Eric GayGetting potential Big 12 rushing leader Johnathan Gray in the 17th round could be a big steal for Max Olson.
Round 17
Round 18
Round 19
Round 20
Round 21
Round 22
March, 3, 2014
3/03/14
10:00
AM ET
Spring ball kicked off in the Big 12 over the weekend, as Baylor, TCU and West Virginia all had their first practices. This week, most of the other Big 12 schools will join them.
With spring practice off and rolling, plenty of questions surround the league's programs. And while many of those won't be fully answered until the season begins in the fall, here are some of the biggest ones Baylor, Kansas, Kansas State, Iowa State and Oklahoma will face this spring:
How will Baylor replenish its secondary?
[+] Enlarge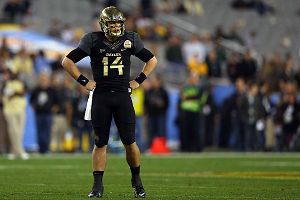 Ronald Martinez/Getty Images Bryce Petty is back so Baylor's offense should be in good shape. Its defense, however, has some question marks heading into the spring.
The Bears won their first Big 12 championship last season, thanks in part to a secondary that ranked second in the league in pass defense. Safety
Terrell Burt
, however, is the only returning starter from that defensive backfield, meaning rebuilding the secondary will be priority No. 1 for the Bears this spring. But as if that job wasn't going to be challenging enough, both Burt and juco cornerback
Chris Sanders
, who is supposed to vie for a starting role, will miss the spring following shoulder surgeries. With QB
Bryce Petty
back, the Bears figure to be formidable again offensively in 2014. But to defend its Big 12 title, Baylor will need several inexperienced players to begin emerging in the secondary this spring.
Can Mangino turn Iowa State's offense around?
As a big part of their disappointing 3-9 record last season, the Cyclones ranked ahead of only Kansas in Big 12 scoring offense. As a result, Paul Rhoads fired offensive coordinator Courtney Messingham and brought in Mark Mangino to revive the Iowa State attack. Mangino was offensive coordinator during Oklahoma's national championship season, and he took Kansas to the Orange Bowl. His track record as an offensive mind is not in dispute. But can he turn around an offense that hasn't ranked higher than ninth in the Big 12 in scoring since 2005? Mangino will have some pieces to work with. Wideout
Quenton Bundrage
, running back
Aaron Wimberly
and quarterback
Grant Rohach
all had moments in 2013. Whether Mangino can put them in position to produce a lot more of those moments will go a long way in determining if Iowa State can bounce back.
Can Harwell fill Kansas' go-to WR need?
Kansas' lack of production at receiver the past few seasons has been astounding.
Justin McCay
caught a touchdown pass in the 2013 opener to become the first Kansas receiver to catch a touchdown in almost two full seasons. But Kansas receivers would catch only two more touchdowns the rest of the season (for context, Baylor receivers totaled 35 such grabs). Senior transfer
Nick Harwell
, however, could be the answer to that woeful drought. Two years ago at Miami (Ohio), Harwell led the Mid-American Conference with 7.6 receptions and 96.7 receiving yards per game while earning All-MAC honors. Going into his final college season, Harwell already has 229 receptions for 3,166 yards in his career. Oh yeah, he has 23 touchdowns over those three years, too. The Jayhawks have desperately been in search of a go-to receiver. They'll find out this spring whether they can stop that search.
What will K-State do with Sams?
Daniel Sams
proved to be one of the league's best playmakers last season, leading all Big 12 quarterbacks with 807 rushing yards and 15 total touchdowns. Sams' role, however, diminished late in the season, as
Jake Waters
emerged as the majority-of-the-time quarterback. Sams is too dynamic with the ball in his hands to watch games from the sidelines. But Waters isn't going anywhere at quarterback, either. Before the bowl, Sams hinted that he'd like to try another position to get onto the field more. K-State whiffed on signing a quarterback last month, so Sams will still have to keep ties with his old position for depth purposes. But the spring will also give the Wildcats the opportunity to experiment using Sams elsewhere -- like receiver -- if they so choose.
How will Oklahoma build on the Sugar Bowl?
By beating Alabama, the Sooners notched arguably the program's most significant win since defeating Florida State all the way back in the 2000 national championship game. After struggling at times during the 2013 season, the Sooners suddenly have the look of a preseason top-five team going into 2014. Yet, in many ways, this is still a very young team. QB
Trevor Knight
has only five career starts, two of which he left early due to injury. Projected starting running back
Keith Ford
has loads of potential, but only 23 carries in his college career. And of the returning receivers, only
Sterling Shepard
delivered more than 13 catches last season. In the Sugar Bowl, OU flashed its capability. And the Sooners have tons of momentum, underscored by their furious recruiting finish. But to be a legitimate national title contender this fall, the Sooners can't rest on their laurels of besting the Tide. And OU's young players have to continue building off that experience.
December, 18, 2013
12/18/13
9:00
AM ET
Baylor, Oklahoma and Oklahoma State leaned on defensive improvement in several statistics to finish in the top half of the Big 12 while several stats reveal why Kansas, Iowa State, TCU and West Virginia didn't reach bowl eligibility.
Here is one stat from each Big 12 team that helped define the season:
[+] Enlarge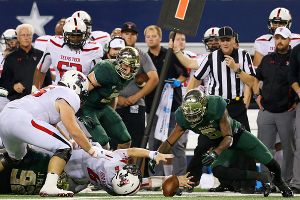 Ronald Martinez/Getty ImagesBaylor's offense got most of the pub, but the Bears' defense -- led by senior safety Ahmad Dixon -- was one of the stingiest when it comes to yards allowed per play.
Baylor's yards per play allowed:
The Bears offense has been explosive and high scoring for the past several seasons, so seeing it again in 2013 was nothing new. But, this season, their defense more than held up their end of the bargain allowing 4.53 opponent yards per play, leading the Big 12 and ranking sixth among FBS teams. A defense laced with veterans, including safety
Ahmad Dixon
, helped BU's unit rank among the nation's best, and the athletes that have become commonplace on the Bears offense are starting to surface on the defensive side of the football with talented young guys such as defensive end
Shawn Oakman
and safety
Terrell Burt
.
Iowa State's sacks allowed:
The Cyclones allowed 37 sacks in 12 games, an average of 3.08 per game. ISU finished last in the nation and tied for No. 113 among FBS teams in the category. The trouble protecting the passer speaks volumes about the injury struggles Paul Rhoads' team had along the offensive line. Ten different ISU offensive linemen started games this season, with nine different starting lineups starting the first 11 games. All of ISU's offensive problems began up front.
Kansas' yards per play:
It's amazing to think how bad Charlie Weis' offense was this season. The Jayhawks ranked among the worst in the nation in several categories, but their 4.28 yards per play was No. 120 among FBS teams. KU entered the season with much higher expectations for this offensive unit, particularly with BYU transfer
Jake Heaps
as the triggerman. Yet the Jayhawks never really found any consistency, as Weis and company tried several different things to jump start the unit. KU scored more than 20 points twice this season, letting down a defense that was much improved over last year's group.
Kansas State's yards per play:
When you think of the top offenses in the Big 12, it takes a while to get to Kansas State. Yet the Wildcats featured a surprisingly explosive offense despite losing uber-productive quarterback Collin Klein off last year's squad. This year's K-State offense averaged 6.3 yards per play, second to only Baylor in the Big 12 and No. 28 among FBS teams. Bill Snyder's ability to find harmony while using
Jake Waters
and
Daniel Sams
in a two-quarterback system led to 33.4 points per game by an offense that didn't enter the season expected to be among the Big 12's best.
Oklahoma's yards allowed per game:
The Sooners allowed just 336.3 yards per game to lead the Big 12 and finish No. 13 in the FBS. OU entered the season with a lot of questions and concerns about a defense that was embarrassed by
Johnny Manziel
in last year's Cotton Bowl and was losing a bunch of starters, yet the Sooners defense improved thanks to several young players, including defensive end
Charles Tapper
and Big 12 defensive newcomer of the year
Dominique Alexander
. OU's defense was the foundation of the Sooners' 10-2 season and Sugar Bowl berth.
Oklahoma State's opponent third down conversion rate:
The Cowboys defense was among the Big 12's best in its first season under Glenn Spencer. Their third down production was superb, allowing opponents to convert just 31.3 percent of their third down attempts to lead the Big 12 and finish seventh among FBS teams. OSU's veteran defense and willingness to be more aggressive on third downs under Spencer played a key role in its success in those situations and eventual 10-2 finish.
Texas sack percentage:
The Longhorns' ability to get after the quarterback played a key role in their success. UT featured two of the Big 12's top pass rushing threats in
Jackson Jeffcoat
and
Cedric Reed
. That duo helped UT sack opposing quarterbacks on 8.6 percent of passing plays, ranking No. 1 in the Big 12 and No. 9 among FBS teams while finishing with 37 total sacks, including 35 during Big 12 play, helping UT to a 7-2 conference record.
TCU third down conversion rate:
The Horned Frogs converted just 32 percent of their third down attempts this season, ranking eighth in the Big 12 and No. 113 among FBS teams. It's easy to see why the Horned Frogs have brought in former Houston offensive coordinator Doug Meacham to take over their offense. TCU's defense was good enough to be in the Big 12 title race, its offense was not.
Texas Tech passing yards per game:
It was a terrific debut season for head coach Kliff Kingsbury's offense despite some musical chairs at the quarterback position. The Red Raiders averaged 392 passing yards per game to lead the Big 12 and rank second among FBS teams despite having true freshmen
Baker Mayfield
and
Davis Webb
running the offense. Without one of the nation's elite passing offenses, it's unlikely the Red Raiders earn a bowl bid with a 7-5 record.
West Virginia's opponent third down conversion rate:
The Mountaineers allowed opponents to convert 42.7 percent of their third down attempts, ranking last in the Big 12 and No. 91 among FBS teams. WVU's inability to get off the field in those important moments was one reason the Mountaineers' defense allowed 455 yards per game, leading to the team's 4-8 finish.
December, 1, 2013
12/01/13
9:00
AM ET
Recognizing the best of the best from the Big 12 in Week 14:

Baylor Bears defense:
Yes, Baylor gave up 38 points against a TCU team that finished 4-8. But the Bears wouldn't have won this game without four critical takeaways from its opportunistic defense. Two were interceptions for touchdowns by
Orion Stewart
and
Eddie Lackey
. Another was a goal-line fumble recovery to set up a 1-yard touchdown. So that's 21 points.
Terrell Burt
clinched the win when he picked off a deflected pass in the final minute.
QB Grant Rohach, Iowa State:
What a memorable way for Rohach to end his redshirt freshman campaign. In a three-overtime, 52-44 victory at West Virginia, he threw for a career-high 331 yards and four touchdowns, added a 54-yard touchdown run and led a gigantic comeback from down 31-7. Not bad at all for Rohach's third career start.
DE Jackson Jeffcoat, Texas:
The Longhorns got creative in their use of Jeffcoat in a 41-16 win against Texas Tech, lining him up as a linebacker/end hybrid. That move paid off big on his senior night. Jeffcoat racked up three sacks and seven tackles and was flat-out unblockable at times, making a tough night for Tech QB
Baker Mayfield
even tougher. Jeffcoat now has 10 sacks on the year, all of them coming in Big 12 play.
RB John Hubert and S Dante Barnett, Kansas State:
Barnett grabbed two interceptions and recovered a fumble in Kansas State's 31-10 win over Kansas, while Hubert paced the Wildcats offense by rushing for a for career-high 220 yards in his final Big 12 game. K-State looks destined to end up at the Holiday Bowl, which is certainly an impressive feat after starting the season 2-4.
RB Charles Sims, West Virginia:
Lots of others who merit helmet stickers this week, but we'll honor Sims after another big game to end his college career. Sims rushed for 149 yards and two touchdowns against ISU and finished with 1,095 yards and 11 TDs in his only season in Morgantown. He'll receive some All-Big 12 honors this month.
Freshman Quarterbacks A Growing Trend?
BIG 12 SCOREBOARD
Thursday, 9/3
Friday, 9/4
Saturday, 9/5