Oklahoma Sooners:

Teddy Lehman
January, 13, 2014
1/13/14
10:00
AM ET
After 16 years, the BCS era is finally over. Next season, college football will have a playoff instead.
With the BCS done, we've come up with our Big 12 all-BCS era team (1998-2013) below:
Offense
[+] Enlarge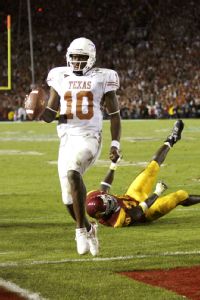 Scott Clarke/Getty ImagesWith Vince Young at the helm, Texas won a national title and Rose Bowl.
QB: Vince Young, Texas (2003-05) --
Young led Texas to its first national title in 35 years with an unforgettable performance in the Rose Bowl against USC. The Heisman runner-up also became the first QB in college football history to throw for 3,000 yards and run for 1,000 in the same season.
RB: Ricky Williams, Texas (1998) --
Williams was part of the BCS era for only one season, but what a season it was. He rushed for 2,327 yards and won the Heisman Trophy going away. Only Wisconsin's
Ron Dayne
has more career rushing yards than Williams (6,279).
RB: Adrian Peterson, Oklahoma (2004-06) --
Despite battling injuries throughout his career, Peterson still was a beast in college. After rushing for 1,925 yards while leading the Sooners to the national title game, he finished second in the '04 Heisman voting, even though there was still a stigma then in voting for a freshman.
WR: Michael Crabtree, Texas Tech (2007-08) --
Crabtree became the first two-time winner of the Biletnikoff Award, given to the nation's top receiver. In '08, he and QB
Graham Harrell
led the Red Raiders to an upset of Texas and a No. 2 ranking in the polls.
WR: Justin Blackmon, Oklahoma State (2009-11) --
Blackmon became the second and only other two-time winner of the Biletnikoff. In his final two seasons, he finished with 233 receptions, 3,304 receiving yards and 38 touchdowns, and he helped propel the Cowboys to their first Big 12 title in '11.
TE: Chase Coffman, Missouri (2005-08) --
Coffman had a monster statistical college career for a tight end with 247 catches for 2,659 receiving yards and 30 touchdowns. He won the '08 Mackey Award, given to the nation's top tight end. Missouri won 37 games during the four years Coffman was in the lineup.
OT: Jammal Brown, Oklahoma (2001-04) --
Brown was a unanimous All-American and a three-time All-Big 12 selection. He became the fifth Sooner to win the Outland Trophy, awarded to the nation's top interior lineman.
OT: Russell Okung, Oklahoma State (2007-09) --
In Okung's final two seasons, Oklahoma State led the Big 12 in rushing yards. The Cowboys were also third in the country in '07 in fewest sacks allowed with Okung at left tackle. He was a unanimous All-American and Outland finalist in '09 and became the sixth overall pick in the '10 NFL draft.
OG: Cyril Richardson, Baylor (2010-13) --
Richardson became Baylor's seventh all-time unanimous All-American. The Outland finalist was also a key piece on the nation's highest-scoring offense this season.
OG: Justin Blalock, Texas (2003-06) --
Though a guard in the NFL, Blalock actually started 50 games for Texas, most coming at right tackle. He was a three-time, first-team All-Big 12 selection and a consensus All-American in 2006.
C: Dominic Raiola, Nebraska (1998-2000) --
Raiola was the inaugural winner of the Rimington Award, named after former Nebraska center Dave Rimington, which recognizes the best center in college football. He was an Outland finalist and a consensus All-American.
APB: Darren Sproles, Kansas State (2001-04) --
One of the most prolific all-purpose performers in college football history, Sproles finished his career with 6,812 all-purpose yards. Among his 39 consecutive starts, his most memorable performance came in the '03 Big 12 championship, when he had 235 yards rushing and 88 receiving, as K-State upset top-ranked Oklahoma 35-7.
Defense
DE: Brian Orakpo, Texas (2005-08) --
Orakpo captured the '08 Nagurski Award as the most outstanding defensive player in the country, and the Lombardi Award, given to the best college lineman or linebacker. He also was the Big 12 Defensive Player of the Year and a consensus All-American while piling up 11 sacks his senior year.
DE: Von Miller, Texas A&M (2007-10) --
Out of a hybrid defensive end/linebacker role, Miller led the nation with 17 sacks in '09. He was a two-time All-American and won the Butkus Award in '10 as the nation's top linebacker.
DT: Ndamukong Suh, Nebraska (2005-09) --
There was no more dominant defensive player in college football during the BCS era. Suh finished fourth in the Heisman voting in '09 and won several national awards, including the Outland, Lombardi, Nagurski (most outstanding defensive player)and Bednarik (defensive player of the year). He was also a unanimous All-American and the Big 12 Defensive Player of the Year.
DT: Tommie Harris, Oklahoma (2001-03) --
Harris was a force from the beginning as a freshman on the OU defensive line. He won the Lombardi his junior year, and he was a two-time consensus All-American, garnering unanimous honors in '03.
LB: Derrick Johnson, Texas (2001-04) --
Johnson was a menacing linebacker for the Longhorns, earning consensus All-American honors in '03 and unanimous honors in '04. He was also a three-time, first-team All-Big 12 selection, and won the Butkus (best linebacker) and Nagurski awards as a senior. Johnson finished his career with 458 tackles.
LB: Rocky Calmus, Oklahoma (1998-2001) --
Calmus played a major role in OU's resurgence under Bob Stoops. He won the Butkus in '01 and was a finalist for the Nagurski and Bednarik. A three-time All-Big 12 pick, Calmus led the Sooners in tackles in all three of those seasons.
LB: Teddy Lehman, Oklahoma (2000-03) --
Lehman too won the Butkus, beating out Johnson for the award in '03. He also was Big 12 Defensive Player of the Year, captured the Bednarik, was a unanimous All-American and played in two national championship games.
[+] Enlarge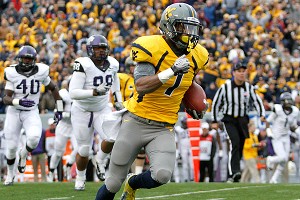 Justin K. Aller/Getty ImagesWest Virginia receiver and returner Tavon Austin had a huge 2012 season.
CB: Terence Newman, Kansas State (1999-2002) --
Newman was a solid player for Bill Snyder his first three seasons, then broke out as a senior. Newman was the Big 12 Defensive Player of the Year, a unanimous All-American and the Thorpe winner, given to college football's top defensive back.
CB: Derrick Strait, Oklahoma (2000-03) --
A four-year starter, Strait finished with a school-record 52 career pass breakups. He also won the Thorpe, and was a unanimous All-American.
S: Roy Williams, Oklahoma (1999-2001) --
Nicknamed "Superman," Williams was the Big 12's most dominating defensive player until Suh came along. He won the Thorpe and Nagurski in '01, and was the Big 12 Defensive Player of the Year and a unanimous All-American the same season. He also famously skied over the Texas offensive line to force the game-clinching interception to earn his moniker.
S: Michael Huff, Texas (2002-05) --
Huff became the first Longhorn to win the Thorpe, and was the leader of the '05 national championship defense. He was also a unanimous All-American that season.
Special teams
K: Mason Crosby, Colorado (2003-06) --
Crosby was three-time, first-team All-Big 12 selection, and twice was a consensus All-American even though he never won the Lou Groza Award, given to the nation's top kicker. He was also the Big 12 Special Teams Player of the Year as a junior, and converted 66 field goals in his career.
P: Quinn Sharp, Oklahoma State (2009-12) --
Sharp became the first three-time All-American in Oklahoma State history, and he earned All-American honors both as a punter and a kicker. He was twice named the Big 12 Special Teams Player of the Year. In his career, he made 50 of 59 field goals, averaged 45.9 yards per punt and missed only one extra point.
KR: Tavon Austin, West Virginia (2012) --
Austin was in the Big 12 only one season, but he was unstoppable that one season. On top of being one of the most dangerous kick returners in the country, Austin had 1,289 yards receiving and 643 rushing, and finished second in the country in all-purpose yards.
PR: Ryan Broyles Oklahoma (2008-11) --
On top of being a prolific punt returner, Broyles was one of the most efficient receivers in college football history. He finished his career with an FBS-record 349 receptions, and was a two-time consensus All-American before a knee injury cut his senior season short.
May, 9, 2013
5/09/13
8:00
AM ET
On Tuesday,
Oklahoma's Rod Shoate was selected to the College Football Hall of Fame
and will be inducted in December. One of the players Shoate edged out was fellow former OU linebacker Brian Bosworth, who was also nominated.
In honor of Shoate's selection and one of college football's most tradition-rich programs for the position, SoonerNation ranks the top 10 linebackers in OU history:
July, 9, 2012
7/09/12
9:00
AM ET
As part of our Red River Rivalry in July, we look at five plays from the Red River Rivalry that Longhorns fans would rather forget. Check out five memorable plays from a
Texas perspective here
. Vote for your
favorite play on our forum
.

Superman takes off
In Oklahoma, they still call it the "Superman Play." In Texas, they call it a nightmare. Late in the fourth quarter of the 2001 Red River Rivalry, Texas had the ball at its own 2-yard line after an ill-advised punt return attempt by Nathan Vasher. The Sooners had dominated quarterback Chris Simms and company all afternoon. Still, the Longhorns trailed just 7-3 with enough time to put a game-winning drive together. Turned out, Texas' drive would last one play.
Utilizing the media timeout, the Stoops brothers dialed up a Roy Williams blitz, termed "Slamdogs." Earlier in the game, Williams leaped on Slamdogs and was upended, allowing Simms to scramble for a first down. Defensive coordinator Mike Stoops cautioned Williams not to leave his feet this time. Thanks goodness for the Sooners, Williams didn't listen. He
vaulted over Texas running back Brett Robin
and into Simms' chest. The ball popped into the arms of OU linebacker Teddy Lehman, who walked into the end zone for the game-clinching touchdown.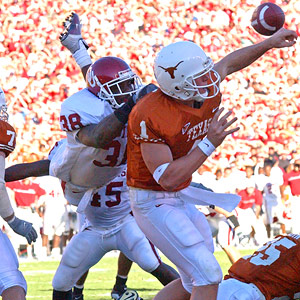 AP Photo/Tim SharpSafety Roy Williams' "Superman" dive clinched the Sooners' win over Texas in 2001.
Joe kicks Texas deep
Wishbone halfback Joe Washington is remembered most for his silver shoes and sweet moves – and the longest punt in OU-Texas history. In 1975, both the Sooners and Longhorns were loaded. The Sooners, led by Washington on offense and Outland winner Lee Roy Selmon on defense, entered the Cotton Bowl ranked second after winning the 1974 national championship. Texas, spearheaded by running back Earl Campbell, was ranked fifth.
The Sooners led by 10 into the fourth quarter, but Texas hung tough. After the Longhorns trimmed the deficit to 17-14 on a 30-yard run, they recovered an OU fumble on the ensuing drive, and Russell Erxleben nailed a 43-yard field goal to tie the game. OU regained the lead 24-17, then forced Texas to punt. Problem was, Erxleben's punt traveled 65 yards to the OU 8-yard line.
After two plays, including a Washington fumble the Sooners fortunately recovered, OU faced third-and-eight from the 10. With still almost three minutes to go, the Longhorns almost certainly would get the ball back with excellent field position and a chance to tie. Instead, Barry Switzer signaled in the "quick kick" – a play that would totally stun the Longhorns. Out of the Wishbone, Washington got the direct snap, turned sideways and belted the ball with a sweeping kick. The Longhorns had no one deep, and when the ball stopped rolling, it had traveled 76 yards. Game over. Propelled by the victory in Dallas, OU went on to defend its national title.
Collins sprints in untouched
Few defensive performances rival what Oklahoma did to Texas in 1985. Despite losing All-American nose guard Tony Casillas on the third play of the game due to a knee injury, the Sooners completely obliterated the Texas offense. The Longhorns were held to four first downs and 70 total yards of offense – including negative 24 in the second half. The only time Texas got the ball deep in OU territory came on a Lydell Carr fumble, which the Horns returned seven yards for a touchdown.
Yet, even with the Sooners defense dominating, the score was 7-7 in the fourth quarter. The Sooners were in danger of tying Texas for the second straight year. Then in a flash, they weren't. Troy Aikman flipped the ball to halfback Patrick Collins running left. Collins cut the corner, turned upfield and raced 40 yards into the end zone virtually untouched. The Sooners won 14-7, catapulting them to their sixth national championship.
Allen salvages his career, OU's season
By any reasonable measure, John Blake's first season in Norman was an unmitigated disaster. The Sooners opened the 1996 season with losses to TCU, San Diego State, Tulsa and Kansas by an average margin of 17 points, and would finish the year with a record of 3-8. The only redeeming element of the season came in the Cotton Bowl. Thanks to the will of written-off running back James Allen.
Allen previously was OU's most ballyhooed running back recruit since Marcus Dupree. But after he was stopped at the goal line of the 1994 loss to the Longhorns, Allen's career began to tailspin. By 1996, he had lost his job to freshman DeMond Parker. But against Texas, Blake rode his senior, who rallied the Sooners from a 10-point fourth quarter deficit to send the game to overtime. In overtime, after Texas settled for a field goal, Allen ran like a man possessed. And after rushing OU to 2, he dove across the goal line for the game-winning touchdown, handing the Sooners a dramatic 30-27 win.
Dupree goes the distance
Ignorance sometimes is bliss. OU fans had no idea their love affair with once-in-a-lifetime running back Marcus Dupree would soon come to an end. In 1982, Sooner Nation believed it was watching the first of many touchdowns Dupree would score against the Longhorns. OU was stuck in its only losing streak against Texas in two decades with Barry Switzer as coach.
But early in the first quarter, Dupree entered the game and carried for seven yards. Then he took the ball from quarterback Kelly Phelps, faked a reverse handoff to Steve Sewell, slipped through a tackle, cut left and dashed down the right hash 63 yards for a touchdown. Dupree finished with 96 yards on just nine carries, and the Sooners racked up 384 yards on the ground on their way to the 28-22 win.
Dupree, however, would never score against Texas again. He suffered a concussion against the Longhorns the following season, as Texas rolled 28-16. Dupree split town the following day, never to return to the team.
March, 12, 2012
3/12/12
1:35
PM ET
Teddy Lehman and Dusty Dvoracek once pounded opposing running backs as star defenders for the
Oklahoma Sooners
. Today, the two are pounding the airwaves. After stints in pro football, Lehman and Dvoracek have returned to Norman as co-hosts of "The Rush" on SportsTalk 1400am.
Lehman, who won the Butkus Award with the Sooners in 2003, spoke with SoonerNation about his new gig, life without Brent Venables and the return of Mike Stoops.
Jake Trotter
: How did you get into having your own radio show?
Teddy Lehman
: It kinda started when I was in the USFL (in Las Vegas). Me and a friend there started doing a show on ESPN radio Las Vegas. I liked it a little bit, and wanted to do more. Dusty, who was with an Omaha team, had interest in doing something similar. My wife happened to work out with (SportsTalk 1400 owner Randy Laffoon) every morning at 5:30 a.m. I told her to tell him, me and Dusty are interested in doing a show, and if we could at least meet with him and pick his brain to see if he wanted to pursue that. They had a full lineup, and I got a call from Randy saying he was not looking to hire anyone, but they had some guys taking time off around the holiday season and asked if would we be interested in filling in for some shows in November and December. I guess he liked us, and booked a couple times. Soon, we negotiated a deal to be full-time.
January, 20, 2012
1/20/12
2:46
PM ET
NORMAN, Okla. -- Brent Venables was a terrific recruiter for Oklahoma.
His recruiting prowess wasn't his only asset. The Sooners former defensive coordinator, who left this week to
take over Clemson's defense
, was superb as a position coach developing of linebackers once they arrived in Norman.
Here are some of the most productive linebackers during Venables' tenure at OU:
Torrance Marshall (1999-2000)
An athletic linebacker who was a key contributor to the Sooners' national championship team in 2000, he finished his career with 202 tackles including 34 tackles for loss and 12 sacks in two seasons.
Originally slated to go to Miami (Fla.) after high school, Marshall came to OU after two years at Kemper Military Academy and Miami Dade Community College and went on to a multi-year NFL career with the Green Bay Packers after being named MVP of the Orange Bowl in the title game win over Florida State.
Stoops, Players Want To Effect Change
BIG 12 SCOREBOARD
Thursday, 9/3
Friday, 9/4
Saturday, 9/5