Oklahoma Sooners:

Sterling Korona
September, 14, 2012
9/14/12
8:00
AM ET
By
Bob Przbylo
| ESPN Insider
It has been evident for a while that offensive tackle is one of Oklahoma's major needs for the 2013 recruiting class. Entering the season, though, it looked like OU had two commits in Tulsa (Okla.) Union's
Dalton Rodriguez
and San Antonio Regan's
Matt Beyer
.
But it's possible the Sooners don't have any commits at the spot. Beyer, a four-star prospect, said earlier this week
he has to give up football because of a neck injury
.
Rodriguez, a three-star prospect, has not played offensive tackle in high school. If he cannot put on the weight needed to be a tackle, he will most likely stay at his more natural defensive end position in college.
OU is looking for at least three offensive linemen in this class. Where are the Sooners going to find that help? Here is a look at the prospects who have had the most recent contact with the OU coaching staff:
Caleb Benenoch (Katy, Texas/Seven Lakes, 6-foot-6, 321 pounds, No. 19 OG, Uncommitted)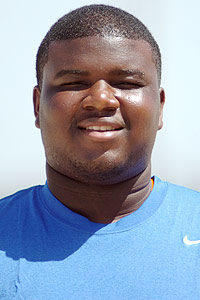 Max Olson/ESPN.comCaleb Benenoch will take an official visit to Oklahoma next weekend.
Why OU is in the mix
: Because ever since Benenoch decommitted from Michigan State, it has felt like a two-horse race between OU and Texas.
Texas A&M made a strong impression on Benenoch following his visit last weekend, his brother plays at Baylor and he is \ intrigued by what UCLA has to offer after the Bruins' recent interest.
OU offensive guards coach James Patton has made a strong connection with Benenoch throughout the summer, and Benenoch is going to be one of many top-ranked recruits taking his official visit to OU next weekend for the showdown against Kansas State.
Why OU is out:
Benenoch is not bashful about saying he grew up a huge Longhorns fan. And no matter how good of an impression some of the other schools make, it's going to be tough to top Texas in this pursuit.
Rob Boyd (Vian, Okla./Vian, 6-4, 285, No. 39 OG, Committed to Tulsa)
Why OU is in the mix:
Because if history has taught us one thing, it's that the Sooners can come in as late as they want to and snatch up a top in-state prospect.
OU can show minimal interest initially, but once it decides to get in the race, the Sooners are usually successful.
Boyd has admitted to wanting to play for the Sooners and is the best offensive lineman prospect in the state.
Why OU is out:
Boyd has remained adamant that he is a man of his word. He has committed to Tulsa, and he is done with the process. There is no way to guess how things will go if OU makes the offer, but the first part of that statement has to happen. The Sooners have still not offered Boyd.
Aaron Cochran (Atwater, Calif./Buhach, 6-8, 364, No. 24 OT, Uncommitted)
Why OU is in the mix:
The Sooners offered Cochran in May. Though not much was reported during the summer, he and tackles coach Bruce Kittle kept in steady contact.
It has been that relationship that has helped the Sooners not only stay in the race but also made them a legitimate candidate in trying to land Cochran.
He is hoping to make an official visit to OU sometime this fall and is eyeing Nov. 9 as his target date. The Sooners host Baylor that weekend.
Why OU is out:
Could the Sooners really steal a quality West Coast prospect like this? Especially one who has an older brother that plays for California? Cochran said distance is not a concern at all for him, but what happens if it comes down to UCLA, Cal and OU?
Sean Dowling (Fallbrook, Calif./Union, 6-6, 260, No. 58 OT, Committed to UCLA)
Why OU is in the mix:
Dowling has been pretty honest about how much he enjoys talking with Kittle. The encouraging part is most of it doesn't have to do with football.
Dowling has been so intrigued about Kittle's life experiences that he said he has felt a different type of bond with Kittle than some of the other coaches.
He promised OU that his first official visit would be with the Sooners. He has kept his word and will be in Norman on Oct. 19, the weekend of the Kansas game.
Why OU is out:
Because the Bruins haven't done anything to make Dowling look elsewhere. Dowling was among several UCLA commits that took a lot of pride in the victory against Nebraska last weekend. It appears he likes OU but it also appears that he hasn't soured on UCLA either.
Sterling Korona (San Antonio/Reagan, 6-7, 260, No. 69 OT, Committed to Duke)
Why OU is in the mix:
With all the time the OU staff spent getting to know Beyer, they didn't forget about his teammate. Kittle started to increase his interest in the summer and has already contacted Korona in the last two weeks.
No offer has officially been made, but the Sooners would be in the mix if one is extended.
Why OU is out:
Because the offer isn't there and Korona is firmly committed to Duke. He is taking an official visit to see the Blue Devils this weekend, which could reaffirm his commitment to Duke or make him start to think about looking elsewhere. That question can't be answered yet.
Kenny Lacy (Phoenix/Mountain Pointe, 6-5, 260, No. 42 OT, Committed to UCLA)
Why OU is in the mix:
The relationship between the OU coaches and Lacy goes back a while, especially with Mike Stoops and Tim Kish back when they were at Arizona.
This spring, Lacy got comfortable with James Patton and Bruce Kittle so he has a good feel about the OU coaching staff and likes what he has heard and talked about with them.
Despite his recent commitment to the Bruins, he said he is still going to take his official visit to OU for Bedlam weekend. The Sooners visit is the last of his five officials and will give OU a chance at a great last impression.
Why OU is out:
Nobody thought Lacy was going to make his commitment before taking all five of his official visits. The atmosphere and the coaching staff at UCLA must have been something special for him to make that call less than 48 hours after the visit.
Christian Morris (Memphis, Tenn./East, 6-6, 293, No. 74 OT, Committed to UCLA)
September, 13, 2012
9/13/12
2:00
PM ET
Every Thursday, SoonerNation releases the Sooner Intel, a sneak peek inside Oklahoma Sooners football recruiting with news and notes on the latest happenings around the program. Talk about it on our forum. A few things discussed in this week's update:
• More on what happened with an OU commit who has been forced to give up football.
• OU's lone official visitor talks more about his trip for the Florida A&M game.
• Two 2014 DEs talk about their Sooners interest
• Where will OU look now at offensive tackle? We talk with a few targets.
• More from OU's newest basketball commit.
Read the Sooner Intel after the jump.
Teammate reflects on Beyer's impact
It's the first of OU's two bye weeks so you knew it would be a busy week in recruiting. And it has been with several new offers being handed out.
But nothing stands out more this week than the news on Monday morning when OU offensive tackle commit
Matt Beyer
(San Antonio/Reagan) let the world know he will have to give up playing football.
Beyer tweeted Monday morning, "Thank you for all the memories guys! Football has truly been great to me! I love you all! It was just time for me to hang up the pads."
Beyer, understandably, has not answered text messages or answered phone calls this week. But I did have a chance to catch up with his teammate,
Sterling Korona
.
Korona said Beyer addressed the team Monday morning and let it know he was being forced to give up the game because of a neck injury.
Beyer did have a serious back injury, too, but tweeted Wednesday that was not why he is forced to give up the game.
Beyer suffered an incomplete fracture of the L5 vertebrae and was forced to watch most of the 2011 season from the sidelines.
To continue reading this article you must be an Insider
September, 12, 2012
9/12/12
4:33
PM ET
Oklahoma offensive tackle commit
Matt Beyer
(San Antonio/Reagan) tweeted on Wednesday afternoon that a neck injury has forced him to give up playing football.
Beyer, who is 6-foot-6 and 270 pounds, is a four-star prospect who committed to the Sooners in July.
Speculation started Monday following a Beyer tweet Monday morning: "Thank you for all the memories guys! Football has truly been great to me! I love you all! It was just time for me to hang up the pads."
It was originally believed to be a back injury. Beyer suffered an incomplete fracture of the L5 vertebrae and missed most of the 2011 season.
But Beyer set the record straight with
this tweet Wednesday afternoon
: "I didn't quit football. I choose to leave because of a neck injury that I had no control over. The risk out weighed the rewards #hadnochoice."
Beyer addressed his San Antonio Reagan teammates Monday morning to tell them the news. Following his announcement, individual players spoke to Beyer.
The last one to speak with him was offensive tackle
Sterling Korona
. A three-star prospect himself, Korona is committed to Duke.
"We're losing part of our identity," Korona said. "He was the biggest, but he was also the quietest. He was a silent leader, a leader by example.
"Matt has been out there coaching the younger guys as if nothing is wrong," Korona said. "He has handled this a lot better than I would. He is still a part of this team in every sense of the word."
Beyer has not returned phone calls or text messages to comment further on the situation.
OU freshman quarterback
Trevor Knight
was a driving force in getting Beyer to commit to OU. Since Knight committed to OU in July 2011, he had been trying to get his former teammate to come with him.
In fact, it was Knight who broke the news of Beyer's commitment. He tweeted it out before Beyer had even told anybody.
The loss of a Beyer is yet another top prospect whose OU career has been cut short by injury before seeing the field. The Sooners suffered the same fate for 2012 tight end signee
Laith Harlow
. A back injury forced Harlow to quit football although OU has honored his scholarship.
The 2011 class also had a major loss, as a pectoral injury ended the career of tight end
Max Stevenson
.
August, 23, 2012
8/23/12
10:00
AM ET
Every Thursday, SoonerNation releases the Sooner Intel, a sneak peek inside Oklahoma Sooners football recruiting with news and notes on the latest happenings around the program. Talk about it on our forum. A few things discussed in this week's update:
• A three-star defensive end isn't ruling out the Sooners.
• OU offers a junior college teammate of a 2012 signee.
• Are the Sooners targeting an offensive lineman from a school with a Sooners commit?
• Why a four-star prospect including OU in his top six wasn't a shock to one OU commit.
• There's another in-state defensive end to keep an eye on in the 2014 class.
Read the Sooner Intel after the jump.
Mixon not ruling out Sooners
There was a strong feeling that OU was going to be done with its defensive end recruiting after it offered Arizona State commit
Dimarya Mixon
(Mesquite, Texas/West Mesquite) in late May.
Tom Hauck for ESPN.com
Dimarya Mixon is committed to Arizona State but will likely take other official visits.
Mixon committed to the Sun Devils earlier that month but had expressed a big interest in OU. But it's almost September now and Mixon remains committed to ASU.
"Right now I'm really trying to just focus on my senior season," Mixon said. "As we get closer to signing day or when the season ends, I'll think about it more."
That's not to say the three-star prospect has forgotten about the Sooners. He said there was something special about getting the OU offer, and he has had contact with Bobby Jack Wright throughout this summer.
"Last time I spoke to him was probably two weeks ago," Mixon said. "I think I have a pretty good relationship with him. I need to get on the phone more, but we still talk a lot."
ASU, OU, West Virginia and Missouri were the schools Mixon mentioned when discussing the possibility of official visits. He is not sure who the fifth one will be.
One thing the Sun Devils have in their favor is that first-year coach Todd Graham is a native of Mesquite, Texas, which allowed Mixon and Graham to build an immediate rapport with each other.
There was some thought OU might consider moving Mixon to defensive tackle, but he said that's not the case right now. Also, he said he hasn't put on weight like he did last summer. He said he is a comfortable 250 pounds heading into his senior season.
Gregory excited by OU offer
If OU cannot turn Mixon into a commitment, maybe the answer is in the junior college ranks. The Sooners offered
Randy Gregory
(Yuma, Ariz./Arizona Western CC) on Monday.
Gregory signed with Purdue for the 2011 class but didn't qualify academically. He is once again committed to the Boilermakers but said it's an honor to be noticed by OU.
"It's great. It's really exciting," Gregory said. "The coaching staff here said they had talked to OU a couple of days ago and said the offer might be coming. They came to a couple of spring practices so I already have a good start with Coach Wright."
It's a good start, but right now it's not enough to sway Gregory away from West Lafayette, Ind. The OU offer is illustrating something to Gregory that he wanted to see during the recruiting process this time around.
Coming out of high school in Fishers, Ind., Gregory was viewed more as a regional prospect. With offers now from Utah, OU, Ole Miss and several others, Gregory is seeing coast-to-coast attention. And attention is going to mean a lot to Gregory.
"I need a school to show me a lot of love," Gregory said. "I can't even talk about official visits yet because I'm not sure which schools are the most serious about everything. We play our games Saturdays, too, so it's going to be tough to plan those visits."
Gregory said he sees both sides of the story regarding distance. He would love to come back home so his family could watch him play at Purdue. But he has also enjoyed the college life of being on his own.
One thing he focused on was getting his weight up. It worked.
"I played last year around 215 pounds," Gregory said. "This year I'm at least 240, put on more than 25 pounds. But I have a real quick first step, and I move real well for as big as I am."
Gregory said he has watched OU on TV for years and knows the Sooners have had a lot of success sending defensive players into the NFL. But he admits to knowing nothing about the campus and said he would need to visit if anything is going to change.
Gregory is a former teammate of OU running back
Damien Williams
. Gregory said Williams had nothing but great things to say about OU the last time they spoke to each other.
Korona an option at tackle
OU coaches are trying to make things easier for themselves. It seems like they have found a school in San Antonio Regan that they want to keep targeting.
And why not? OU found its 2012 quarterback in
Trevor Knight
. The Sooners have the commitment of 2013 four-star offensive tackle
Matt Beyer
. Now OU might be targeting Beyer's counterpart in three-star tackle
Sterling Korona
.
To continue reading this article you must be an Insider
Stoops, Players Want To Effect Change
BIG 12 SCOREBOARD
Thursday, 9/3
Friday, 9/4
Saturday, 9/5