Oklahoma Sooners:

P.L. Lindley
July, 11, 2014
Jul 11
11:00
AM ET
During the summer, ESPN.com is taking a closer look at each scholarship player on Oklahoma's roster in our Crimson Countdown series. Each day, we analyze each player's impact on the program since arriving on campus, his potential impact this fall, and his long-term projection. Starting with No. 1 Dominique Alexander, the series follows the roster numerically through No. 98 Chuka Ndulue.
No. 40 P.L. Lindley, defensive end, 6-foot-2, 262 pounds, junior
Impact thus far:
Lindley has made an impact but has not been a major difference-maker during his first two seasons on the field. Last season saw his biggest impact with 10 tackles and one fumble recovery in 10 games played (two starts). As a redshirt freshman in 2012, Lindley played in seven games as a special teamer and finished with four tackles.
Impact in 2014:
Lindley could continue the role he carved out in 2013 as a option for the Sooners with his bulk and strength against run-heavy offenses. He can easily slide into OU's 3-4 look when the Sooners need to get bigger and stronger, but other players will be vying for that role this fall, so he will have to fight to keep his spot.
Long-term upside:
If he wants his role to expand he will need to prove he can excel against any offense, not just offenses looking to run the ball.
Evaluation grade for Lindley:
B. Initially brought in as a linebacker, Lindley moved to defensive end as OU looked to get faster and more athletic. He might not have been a great evaluation at linebacker, but he has shown versatility and enters his junior season having started a pair of games as a sophomore which cannot be overlooked.
Development grade for Lindley:
A. The move to defensive end has been great for Lindley and the Sooners even though the position is littered with talent. Lindley still fought his way into playing time even if it was a specialized role. He would have been unlikely to do the same if he had remained at linebacker.
January, 23, 2014
Jan 23
11:00
AM ET
In the next few weeks leading into signing day it's a great time to take a position-by-position glance at Oklahoma's returning roster. This series, called State of the Position, will look at the playmakers, up-and-comers and current commitments or targets at each position for the Sooners as recruiting really heats up during these final weeks before signing day on Feb. 5. On Thursday, we take a closer look at the defensive end position.
Starter/contributors: Charles Tapper (Jr.), Geneo Grissom (Sr.), P.L. Lindley (Jr.), Matt Dimon (So.)
[+] Enlarge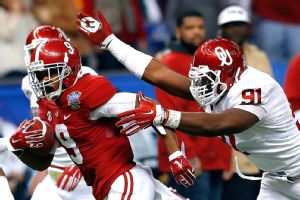 Kevin C. Cox/Getty ImagesCharles Tapper's blend of size, strength and speed -- and yeah, just ask Bama WR Amari Cooper about his speed -- makes him nearly unstoppable.
Tapper is no longer a future star, the "future" no longer applies. He earned All-Big 12 honors as a sophomore and will be a core contributor on OU's defense in 2014. The Baltimore native brings a combination of size, strength and speed that is tough to match. Watching him chase down Alabama receiver
Amari Cooper
in the Sugar Bowl should tell you all you need to know about the Sooners' defensive end.
Grissom was the
Trevor Knight
of the defense in the Sugar Bowl, taking his game to another level against the Crimson Tide. He's another guy who went from potential to production in 2013. If he gets even better in 2014, OU's defensive line could be devastating.
Lindley brings good depth, size and strength to the defensive end spot. His ability to slide into OU's defense against certain offenses makes him a valuable asset.
Dimon provides quality young depth as a player who earned himself a role in the defense immediately. He played in his first-ever game and carved out a special teams role during his first year on campus. He's one reason OU should be excited about the future in 2014 and beyond.
On the cusp: Mike Onuoha (So.), D.J. Ward (redshirt freshman)
Onuoha redshirted as a sophomore but he brings a skill set that nobody else along the defensive line possesses with his length and athleticism. That unique ability leaves his chances of making an impact in 2014 within his hands more than anyone else's.
One of OU's top signees in 2013, Ward redshirted last fall. He is talented but there's so much talent ahead of him it would be a slight surprise for him to rise into the defensive line rotation immediately.
On the recruiting trail: Dwayne Orso Jr. (Birmingham, Ala./Homewood)
Orso is a solid prospect in the mold of former Sooner Frank Alexander. He should bring versatility and upside to an already stacked defensive end group.
Overall Grade: A+
What more do you want?
January, 1, 2014
Jan 1
12:00
PM ET
November, 21, 2013
11/21/13
10:00
AM ET
NORMAN, Okla. -- Mike Stoops' decision to make Oklahoma's defense more versatile, athletic and faster has paid off this season.
The Sooners' defensive coordinator has OU among the nation's top 20 in points allowed (No. 19 at 20.1), yards per game (No. 13 at 326.4), passing yards per game (No. 10 at 182.8) and passing yards per attempt (No.10 at 5.8).
But this defense wasn't built for Kansas State.
OU's offseason changes were made with the spread offensive attacks run by the Baylors, Texas Techs and Oklahoma States of the Big 12 in mind.
[+] Enlarge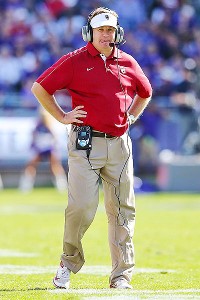 Kevin Jairaj/USA TODAY SportsOU defensive coordinator Mike Stoops knows his defense will have its hands full against K-State.
The Wildcats will take the field with a physical running attack that will test OU's defense in ways it hasn't really been tested this season. KSU ranks third in the Big 12 in rushing (193.3), but it is the way it rushes and its use of big personnel that will make OU's preparation more difficult. KSU uses its tight ends in ways the rest of the league does not, although with quarterbacks struggling around the league, offensive coordinators have turned to more big packages this season with the hope of leaning on their running games instead.
"We're seeing more bigger sets this year than we have in a long time," Stoops said. "Compared to last year, it's almost like a [180] the reemerging of the tight end is becoming the focal point of all offenses, now you have to bring bigger people in. We'll have to make some adjustments to their big people and physical sets. It's something we need to look at."
OU will have to alter its base three-man front, bringing in bigger bodies like defensive end
P.L. Lindley
to help make the Sooners' defense bigger and more physical, essentially making it a four-man defensive set to try to offset the size disadvantage.
"P.L. is a guy that we have to continue to define, he's a good player," Stoops said. "He's a guy that makes us more physical at the point of attack in bigger sets. That's where we try to implement a more physical player and that's what we need to do. He's going to be a guy that's able to do those things as we move forward with what we're doing."
More importantly the Sooners will need to play solid, assignment football and must have freshman linebacker
Dominique Alexander
to continue to exceed expectations and fellow linebacker
Frank Shannon
to play well. Alexander and Shannon will need to show their versatility. Two weeks ago, they were dealing with the space and athletes that make Baylor so potent. Saturday, they'll have to deal with fundamentally sound KSU offensive linemen looking to drive them deep into the Sooners' defensive backfield.
"It's not a 180. Football is football," Alexander said. "They're either going to run or pass it, and they're going to do both on Saturday. They're a strong and powerful team, but we're going to prepare well for them and execute."
Adding to the quandary is K-State's use of quarterbacks
Daniel Sams
and
Jake Waters
. Both quarterbacks can make you pay with their arms and legs, yet are quite different in their approaches. Sams is the better runner, Waters the better passer but both have the proven ability to take advantage of defensive game plans that focus on stopping one or the other.
"It gives you a lot more to work on," Stoops said of the two-quarterback approach. "It's like they have two different offenses. It will take a lot more practice time and attention to detail to get familiar with the two different ways that they are trying to move the ball."
OU's defense has been the foundation of the majority of the Sooners' success this season. If they hope to continue that trend, they will have to prove they could be more versatile than ever.
"It's going to be fun," Alexander said. "I like physical play. I like smashmouth football. That's how I was raised playing. So it's going to be fun playing the run and the pass. Like I said, it's just football."
June, 11, 2013
6/11/13
12:00
PM ET
Over the summer months, SoonerNation will take a closer look at each player on Oklahoma's roster in our Crimson Countdown series. We will analyze each player's impact on the program since they arrived on campus, their potential impact this fall and their long-term impact in the daily series. Starting with No. 1 Kendal Thompson, the series will go in numerical order until our final analysis of No. 99 Chaz Nelson.
No. 40 P.L. Lindley
Defensive end, 6-foot-2, 249 pounds, redshirt sophomore
September, 9, 2012
9/09/12
6:00
PM ET
Oklahoma got things back on track with a
69-13 win over Florida A&M
at Owen Field on Saturday.
Damien Williams
showed his explosive speed for the second straight week and the Sooners defense dominated except for one bad play. Here's a closer look at five key plays during the Sooners victory:
OU receiver Kenny Stills' 23-yard reception with one hand in the first quarter
This play is important for several reasons.
It was eerily similar to the third-down drop against Baylor late last season when Stills didn't extend for a pass against the Bears. On Saturday, the junior used one hand to secure the catch and take the punishment, which resulted in a 15-yard penalty against FAMU.
These are the exact type of plays Stills will have to make, every week, if he hopes to fulfill his goal of being considered one the nation's top receivers.
It was another sign that Stills and quarterback Landry Jones are on the same page and starting to develop chemistry.
On the play, Stills was in the slot and faded toward the sideline early in his route, creating the needed space in the middle of the field behind the linebackers and between the safeties. Jones read it immediately and anticipated Stills being open by the time he completed his drop and fired a perfect pass above the linebackers and between the safeties.
Brett Deering/Getty Images
Safety Javon Harris was solid for the Sooners against Florida A&M.
Jones was protected well on the play and trusted Stills, who made him look good by making a terrific play on the football. Sooner fans should be excited about the progression of the Jones-to-Stills connection.
OU safety Javon Harris' interception
The Rattlers had three receivers lined up in a bunch formation on the right side of the field on 3rd-and-9. Sooners defensive end
P.L. Lindley
, returning from injury, stunted inside and got into the face of FAMU quarterback
Damien Fleming
, who just threw the ball up toward the right side of the field.
Harris was waiting to make the catch at the 50-yard line.
Lindley's pressure was the key to the play as it forced Fleming to throw early and under duress. The Sooners coverage was excellent as well as cornerback
Demontre Hurst
and Harris were both in the area where the ball was thrown. Hurst played it particularly well, allowing a FAMU receiver who was not in position to catch the ball and get the first down to go free so he could eliminate the Rattlers deep receiver on the play.
It was a terrific example of understanding down and distance by the Sooners secondary.
OU receiver Justin Brown's 51-yard reception in the second quarter
With the Sooners facing third-and-10 at their own 25-yard line, Jones found Brown along the right sideline after drawing the Rattlers offside prior to the snap.
The Sooners quarterback had ample time in the pocket and, like a veteran should, took a shot deep knowing that the Rattlers had been flagged for being offside. Brown was not open, and yet he wanted the ball more than the two FAMU defenders. He used his size to outmuscle the cornerback, then used his athleticism to out-fight the safety for the football.
It was a great sign for the Sooners because of the competitiveness Brown displayed on a single play. Without question, his name will be among the top newcomers to the Big 12 Conference in 2012.
Travis Harvey's 75-yard touchdown in the second quarter
With the Rattlers facing 3rd-and-7 at their own 25-yard line, Harvey got behind Hurst and outraced the rest of the Sooners secondary to the endzone.
The play was made at the line of scrimmage thanks to Harvey's terrific release. The Rattler receiver was already past Hurst within four yards of the line of scrimmage.
Meanwhile, safety
Jesse Paulsen
-- who had subbed for
Tony Jefferson
because of Jefferson's ankle injury -- was caught in no-man's land. As Fleming released the ball, Harvey was already past Paulsen, who hesitated just after the snap, dooming his chances to make a play.
Brett Deering/Getty Images
Roy Finch got his first action of the season and scored on a 15-yard touchdown.
At that point, the Sooners lone hope was that Harvey dropped the ball. He did not. Fifty yards later, OU's defense had surrendered its first touchdown of the season.
It was one play, one major mistake in a game full of good defensive play by OU. Nevertheless, the Sooners know one play can cost them a game in the future.
Williams' 89-yard touchdown run
After a penalty had pushed the Sooners back to their own 11-yard line, Williams cruised untouched into the endzone.
Much like last week's long touchdown, the rest of OU's offensive unit deserves the credit for Williams scoring jaunt. Guard
Bronson Irwin
and tackle
Tyrus Thompson
took care of the linebackers, tight end
Geneo Grissom
joined center
Gabe Ikard
and guard
Adam Shead
to create a huge hole on the left side of the formation. And fullback
Trey Millard
took care of the safety and Williams' speed did the rest.
Another extremely well blocked touchdown. Ikard said it best early last week when he stated: "Anytime I look up and see someone running for a long touchdown, I think we did a pretty good job."
Well said.
Bonus section: Early glimpses
• Sooners fans got a look at what could be the OU's next quarterback-receiver connection when
Blake Bell
found true freshman
Sterling Shepard
for a 28-yard gain across the middle. Shepard lined up in the slot on the play, attacked the safety's cushion then broke wide open across the middle. If Bell had put a little more air under the ball, Shepard could have scored on the play.
• On running back
Roy Finch
's 15-yard touchdown run, freshman receiver
Durron Neal
pancaked his man with a ruthless block on the perimeter. It's a sign that Neal is competitive and hungry to earn more playing time.
• Redshirt freshman defensive tackle
Marquis Anderson
recorded a sack by collapsing the pocket and spinning off a double team. A solid move by Anderson who will have to rely on his quickness to emerge as a playmaker during his career.
• Fellow redshirt freshman
Jordan Phillips
made several plays on inside runs. He will be tough to move out of the middle once he gets comfortable with the expectations of playing defensive tackle in OU's system.
To continue reading this article you must be an Insider
August, 16, 2012
8/16/12
4:30
PM ET
NORMAN, Okla. -- It's clear Mike Stoops wants to get more speed on the field during his first season back in Norman as Oklahoma's defensive coordinator.
Cornerbacks have become safeties, safeties have become linebackers and linebackers have become defensive ends. Two of the latter are
P.L. Lindley
and
Rashod Favors
, two former linebackers who are battling to earn playing time at defensive end.
"P.L. Lindley and Rashod Favors are really starting to come on. They're strong guys who can run pretty good," defensive ends coach Bobby Jack Wright said. "They're giving us some pretty good depth at that position. Size-wise they aren't your prototypical defensive ends. You wouldn't recruit those guys as defensive ends but they're athletic enough they are going to be able to help us."
Lindley (6-foot-2, 240 pounds) is a redshirt freshman and Favors (6-1, 250) is a redshirt sophomore.
"They're average as linebackers but you move them to defensive end and they're pretty fast for defensive ends," Wright said. "And they're big enough they can hold their own in there. They're big enough and strong enough. Rashod is one of the strongest guys on the football team. He's like second in the bench press, so he's strong guy who can run."
With
David King
,
R.J. Washington
,
Chaz Nelson
and freshmen
Mike Onuoha
and
Charles Tapper
, the Sooners have six defensive ends battling to earn playing time this fall. For Lindley and Favors, getting familiar with the demands of a new position could be the difference between playing or learning from the sidelines.
"The problem you face is taking two guys who played a different position," Wright said. "There's a learning curve. They're working hard and they're going to give us some quality depth."
With the duo contributing to additional depth at defensive end, OU could have the option to bring back their four-defensive end package, a staple of the Sooners' defense on passing downs in 2011.
August, 7, 2012
8/07/12
1:30
PM ET
Wide receiver
Justin Brown
spoke with the media for the first time since transferring from Penn State. Brown flew in to Norman on Monday night, and was on the practice field Tuesday. Even though he wasn't in pads with the rest of the team, Bob Stoops praised Brown effusively.
"He looked very impressive," Stoops said. "I said to (wide receivers coach Jay) Norvell, 'Wow, he going to be special here.' "
Stoops also said that Brown "absolutely" would return punts this season, and called him one of the top 10 punt returners in the country in 2011.
[+] Enlarge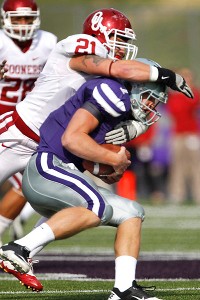 AP Photo/Orlin WagnerJunior linebacker Tom Wort has been fighting through various ailments during preseason practice.
Brown said it was "difficult" to leave his teammates at Penn State, but he's excited to be at a tradition-rich school like OU with a quarterback who can sling the ball like
Landry Jones
. You could tell that Brown is fired up to play with a QB with Jones' arm.
Per NCAA rules, Brown will be in shorts and shirts again tomorrow, then will be able to put on the pads.
More on Brown later.
• LB coach Tim Kish said that
Tom Wort
is less than 100 percent – not a good sign considering the Sooners have been in pads only a couple of days. Wort is battling an array of injuries, including to his back, shoulder and ankle – all injuries that Wort has dealt with in the past. Kish said he's giving
Jaydan Bird
equal reps to try and keep Wort as fresh as possible.
Wort has been terrific when he has been healthy. He dominated the game against Florida State last season. But too often, Wort hasn't been 100 percent. It's looking like he might have to play hurt this season.
Right now, Kish is working Wort, Bird,
Frank Shannon
and Caleb Gastulem at middle linebacker, and
Corey Nelson
, Joe Iblioye,
Aaron Franklin
and true freshman Erik Striker at outside linebacker. Kish said that Striker would not be redshirting this season, and could play a lot of special teams. "He's tough, physical," Kish said.
• Bobby Jack Wright noted that seniors
David King
and
R.J. Washington
are having "a heck of a camp" so far. "I'm really pleased with them," Wright said. But most of today's discussion dealt with the younger players.
Wright said that
Chuka Ndulue
"has separated himself" as the clear No. 3 defensive end behind starters Washington and King. Ndulue came on late in the season last year and clearly applied himself in the offseason. He's relatively new to football but the Sooners feel really good about his upside and he seems to be starting to realize some of that potential.
Wright also said he wants to play true freshmen
Charles Tapper
and
Mike Onuoha
. In talking with Wright, Washington and others, those two are among the most talented players at the position. Even more impressive for Tapper, he didn't even work out with the Sooners over the summer. Clearly, both guys have talent, so it will be the little things that decide if they play themselves out of a redshirt season. Either way, the future is bright at defensive end.
Wright also had glowing things to say about
P.L. Lindley
and
Rashod Favors
, who have moved to end from linebacker. He said the move had to do with their speed -- it's average for linebackers but excellent for defensive ends. He likes what they bring to the table.
It's pretty clear that Lindley, Favors and junior-college transfer
Chaz Nelson
are battling to be the Sooners No. 4 defensive end, but Tapper and Onuoha have the ability to make a run. The overall depth at the position is looking pretty good right now. Especially for a team replacing two NFL draft picks.
•
Aaron Colvin
is pumped about his return to cornerback. It's the position he prefers to play and he said it feels more natural at that spot. He did note that he will do whatever is asked. In other words, he's not digging his heels in about remaining at the position. But he wants to be a corner. Said he wishes his teammates still referred to "Colvin Island," which they termed when Colvin played the position as a freshman. He wants the one-on-one challenge.
Colvin is a difference maker at any position he plays. Don't be surprised if he joins
Demontre Hurst
to battle Oklahoma State's
Justin Gilbert
and
Brodrick Brown
and Texas'
Carrington Byndom
and
Quandre Diggs
for the right to be called the Big 12's top cornerback duo. This is a great year in the Big 12 for corners.
• Colvin, like pretty much every other Sooner who has been asked, had glowing things to say about
Sterling Shepard
. "He's the real deal," Colvin said.
To continue reading this article you must be an Insider
June, 19, 2012
6/19/12
12:00
PM ET
During the summer months, SoonerNation will take a closer look at each scholarship player on Oklahoma's roster in our Crimson Countdown series. We'll analyze each player's impact on the program since they arrived on campus, their potential impact this fall and their long-term impact in the daily series. Starting with No. 1 Tony Jefferson, the series will go in numerical order until our final analysis of No. 98 Chuka Ndulue.
No. 40 P.L. Lindley
Linebacker, 6-foot-2, 236 pounds
To continue reading this article you must be an Insider
March, 30, 2012
3/30/12
8:00
AM ET
Every weekday morning, a member of the SoonerNation gives his take on three things happening in the Sooner sports world.
1.
I really enjoyed visiting with
R.J. Washington
for the
story I wrote yesterday
. There's no doubt that Washington has grown up a lot in the last two years. Talent has never been the issue. I believe he could be in for a big senior season.
2.
Bob Stoops mentioned this week that
P.L. Lindley
has been working at defensive end. The Sooners had success converting
Ronnell Lewis
from a strong-side linebacker to a defensive end. Lewis obviously had more physical skill, but so far, Stoops like what he sees. Lindley could be a factor there in 2013 after Washington and
David King
graduate.
To continue reading this article you must be an Insider
March, 8, 2012
3/08/12
11:45
AM ET
The Sooners are set at linebacker for the next two years. But first-year position coach Tim Kish's reputed recruiting prowess will soon be put to the test.
[+] Enlarge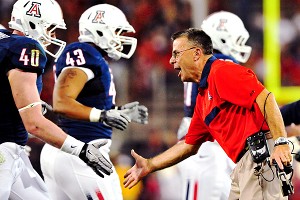 Chris Morrison/US PresswireTim Kish was known as a solid recruiter at Arizona, and he will need to start off with a bang for 2013.
Kellen Jones
, OU's most promising young linebacker, has
elected to transfer
and already has been granted his release. Sources say Jones enjoyed his time in Norman, but the coaches he was closest to -- Brent Venables, Willie Martinez and Ryan Reynolds -- left the staff after the Insight Bowl, prompting the rising sophomore from Houston to consider the transfer.
With OU's top four linebackers all being upperclassmen, it will be crucial that Kish restocks the position with quality in the upcoming recruiting class. Middle linebacker
Tom Wort
and weak-side linebacker
Corey Nelson
are both juniors. Joe Ibiloye, who is the favorite to start at nickelback, and OU's most experienced reserve,
Jaydan Bird
, are seniors.
To continue reading this article you must be an Insider
February, 22, 2012
2/22/12
10:30
AM ET
Under Bob Stoops, linebacker has always been a strength on the OU defense. Next season should be no different. In fact, if everything goes according to plan, linebacker might the strength of the entire team.
What Oklahoma has
: The Sooners boast a pair of two-year starters, and another linebacker Bob Stoops touted as the MVP of last spring.
[+] Enlarge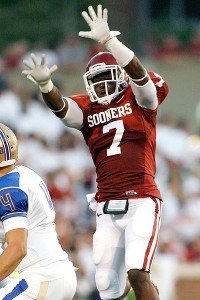 J.P. Wilson/Icon SMIJunior Corey Nelson will take over for Travis Lewis at weakside linebacker for the Sooners.
Tom Wort
is back after an injury-plagued sophomore season. Wort dealt with an array of injuries, but still managed to finish fourth on the team with 71 tackles. When healthy, Wort was dynamic, underscored by his performance at Florida State where he finished with eight tackles, 2.5 for loss, a sack and an interception. Problem was, Wort was not as dynamic when he was banged up, which was the case much of last season.
To continue reading this article you must be an Insider
December, 26, 2011
12/26/11
7:30
AM ET
Bowl season is the time for younger players to show what they can do in practice.
Who has impressed so far?
"Quentin Hayes is coming along at safety," said cornerback Demontre Hurst. "He's been making a lot of plays now. He's getting in a lot, and the coaches have been dialing in with him about how to prepare. He's taking advantage of it and improving. I see him getting better."
Quarterback
Landry Jones
said he's liked what he's seen from freshman wideout
Kameel Jackson
, who is expected to start in the Insight Bowl with
Jaz Reynolds
out with a kidney injury.
Linebacker Tom Wort singled out a pair of freshman linebackers.
"I like P.L. Lindley," Wort said. "He's big guy, being really physical. Kellen Jones always seems to be improving."
Running back
Brennan Clay
said a couple of front-seven defenders have caught his eye.
"Frank Shannon will be a baller. I'm excited to see him out there," Clay said. "Geneo Grissom. Even though he got to play, I'm excited to see him."
One Thing To Know: Big 12 Recruiting
BIG 12 SCOREBOARD
Saturday, 8/30
Sunday, 8/31