Oklahoma Sooners:

Nick Saban
March, 12, 2014
Mar 12
1:15
PM ET
Twitter can be such a beautiful thing, but it can also be an outlet for impulse emotions and knee-jerk reactions that can leave you embarrassed and backtracking.
Oklahoma running backs coach Cale Gundy is on the backtracking front after
taking a shot at Alabama coach Nick Saban on Twitter
Tuesday night, when he went after Saban's backing of the now tabled 10-second proposal that had most offensive coaches in a real tizzy.
Here's what Gundy tweeted from his account (
@OU_CoachGundy
):
Looks like someone came up short again. You better take that SEC country somewhere else. Let's Play Faster. #Boomer
You don't need to be
Albert Einstein
to figure out the subject of Gundy's tweet. And Gundy didn't have to be an Einstein to realize that he might want to retract those electronic shots he fired. Within an hour of throwing that tweet together, Gundy deleted it and add an apology (which has also since been deleted):
I apologize for my last tweet. My passion for OU football is crazy. I respect the great college football teams. #Boomer Sooner

— Cale Gundy (@OU_CoachGundy)
[+] Enlarge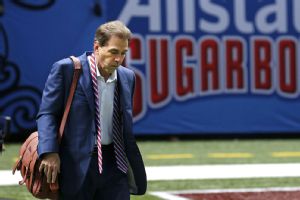 AP Photo/Patrick SemanskyNick Saban hasn't responded to Cale Gundy's tweet, and it's unlikely he will.
I get it. Gundy wanted poke fun at Saban and the fact that he stands with the controversial proposal that was created to slow down no-huddle offenses. He wanted to jab him for not getting something he'd like to see implemented at the college level. And he also wanted to point at the guy his team beat by two touchdowns in the Allstate Sugar Bowl. Saban's team was the favorite to win its third consecutive BCS national championship, and people are out for blood when you fail to meet expectations.
It makes sense because OU likes to run the hurry-up, and its offense left the Crimson Tide's defense panting down on Bourbon Street. I'm all for having fun on Twitter and showing that you aren't a robot coach, but you have to be careful poking the bear that is Nick Saban. We don't know when Saban will get a rematch with the Sooners or Gundy, but you'd better believe this is something that will be in the back of his mind the next time that opportunity comes.
Saban might not publicly respond to Gundy, but he'll be thinking about it. His team will know. The people around him will know. And he'll wait until he gets his chance to strike.
Maybe, he'll just retaliate by taking it out on the hurry-up offenses he faces in 2014. I'm sure he's anxious to make on on-field statement.
February, 6, 2014
Feb 6
5:30
AM ET
The Early Offer is RecruitingNation's regular feature, giving you a daily dose of recruiting in the mornings. Today's offerings: Alabama's 2014 class is special, but is it the best class ever? Who were my biggest winners Wednesday, and what can we look forward to with the class of 2015?
Special class for Bama
To continue reading this article you must be an Insider
January, 3, 2014
Jan 3
5:00
AM ET
1. Oklahoma quarterback
Trevor Knight
came of age Thursday night in the Allstate Sugar Bowl, which is more than anyone can say about anyone in Alabama's secondary. A young group of defensive backs, riddled with injuries, cost the Crimson Tide on a big stage. Knight threw for four touchdowns in the No. 11 Sooners' stunning 45-31 upset. Oklahoma got seven sacks against an Alabama offensive line that allowed only 10 all season. You can't blame all of those on the absence of injured right guard
Anthony Steen
.
2. Anyone still think Bob Stoops has lost a step? Oklahoma finished the season with consecutive wins over top-six teams, one on the road against an in-state rival (No. 6 Oklahoma State) and this one on a neutral field against a two-time defending national champion (No. 3 Alabama). And Oklahoma did it by scoring the most points a Nick Saban team has allowed in seven seasons at Alabama. Saban is 4-0 in BCS Championship Games at LSU and Alabama, and 1-2 in BCS bowls that don't involve a crystal football.
3. Florida State defensive coordinator Jeremy Pruitt called Auburn senior fullback
Jay Prosch
"the guy that makes them go." Pretty impressive for a guy with no carries and five catches all season. Prosch, a Mobile native, went unrecruited by SEC schools. When a family illness two years ago compelled him to try to transfer near home, Auburn offered a scholarship. "It was a huge opportunity for me, and an honor," Prosch said. "Now that I've played in this conference and had a year of success, I really feel great about it."
January, 2, 2014
Jan 2
11:00
AM ET
NEW ORLEANS -- Thursday night's Allstate Sugar Bowl (8:30 p.m. ET, ESPN) matchup between No. 3 Alabama and No. 11 Oklahoma features two of the most storied programs in college football history. Here's a preview of one of the most intriguing games of the bowl season:


Who to watch:
Alabama's
AJ McCarron
, who, with two national titles, is one of the winningest quarterbacks in the history of the game. Even though the Crimson Tide came up just short of advancing to another national championship game, McCarron has put together another fabulous season. He was a first-team Walter Camp All-American, won the Maxwell Award and finished second in the Heisman voting. On top of owning virtually every passing record at Alabama, McCarron also has a career record of 36-3 as the Crimson Tide's starting quarterback. A win over the Sooners in his collegiate swan song would cap the finest quarterbacking career in Alabama history in fine fashion.
What to watch:
How Oklahoma performs against the preeminent program from the preeminent conference in college football. Even though the SEC has reeled off seven straight national titles, Oklahoma coach Bob Stoops has questioned why the SEC is accepted as college football's top conference, even calling it "propaganda." Stoops also has suggested the SEC's defensive reputation has been overhyped, because of substandard quarterbacking in the past. Stoops, however, has never disrespected Alabama, and this week called the Crimson Tide the best team in the country despite their loss to Auburn. Still, the fact remains, the Big 12's reputation will be squarely on the line this game, especially after Baylor's disastrous showing against Central Florida in the Tostitos Fiesta Bowl. Oklahoma's reputation will be on the line, too. The Sooners can prove on the national stage they're on their way back to standing alongside the nation's elite programs. Or they -- and the Big 12 -- will take yet another perception hit heading into the College Football Playoff era, where perception will be paramount.
Why to watch:
This will pit two of the most tradition-rich programs in college football history. Alabama and Oklahoma have combined for 17 national championships, including four in the BCS era. Despite their histories, the Crimson Tide and Sooners have met only four times before: the 1963 Orange Bowl, 1970 Bluebonnet Bowl and then a home-and-home in 2002-2003, which the Sooners swept. Nick Saban and Stoops, however, have faced each other only once, in the 2003 national championship game when Saban was at LSU. The Tigers won that game 21-14.
Prediction:
Alabama 41, Oklahoma 17. The Sooners have thrived as the underdog, both in the past, and here late this season. But Alabama is another animal, and Oklahoma, which has been inconsistent offensively all season, will struggle to move the ball against linebacker
C.J. Mosley
& Co.
January, 2, 2014
Jan 2
10:00
AM ET
NEW ORLEANS -- "The King" tweeted it best.
"What's great about playing Bama," legendary former Oklahoma coach Barry Switzer wrote on Twitter this week, "is they are the team to find how good you are or how far you have to go."
[+] Enlarge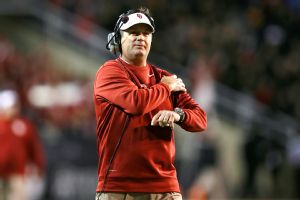 AP Photo/Tony GutierrezHow good are Bob Stoops' Sooners? We'll find out in the Sugar Bowl against Alabama.
Thursday night in the Allstate Sugar Bowl (
ESPN, 8:30 ET
), the Sooners will play in the ultimate barometer game against third-ranked Alabama.
It's a game that will reveal where the Sooners are, relative to the Crimson Tide. And just how far they have to go.
"How could it not be that?" Oklahoma coach Bob Stoops asked. "They're as good a football team as we've played in 15 years.
"So it's definitely that."
Under coach Nick Saban, the Crimson Tide have become the standard-bearers in college football. Since 2009, Alabama has won three national championships, and only the wildest ending in college football history prevented the Tide from playing for another.
"They're obviously the program the last five years that has set the bar in college football," Sooners co-offensive coordinator Jay Norvell said. "Is it any more of a benchmark than any other game? Probably so."
Under Stoops, Oklahoma once set the bar in college football. At the turn of the millennium, the Sooners played for three national titles in five years, and captured the championship in Y2K with a defensive flattening of Florida State in the Orange Bowl.
Like the Tide of now, the Sooners of then rolled in top-five recruiting classes every February. And every April, Oklahoma produced a lion's share of first-round draft picks.
But that was then.
And in the present, the Sooners have fallen on hard times -- at least according to the towering expectations that apply to the likes of an Alabama or an Oklahoma.
"We win 10 games every year," said center
Gabe Ikard
, "and people feel that we've fallen off."
True, the Sooners haven't fallen off into a canyon like their Red River brethren (even though Texas did dismantle Oklahoma this year in Dallas). But in Norman, 10-win seasons minus the championships ring hollow.
It has been six seasons since the Sooners seriously contended for a national title past October. And after seizing six Big 12 championships over a span of nine seasons, Oklahoma has only one outright conference title since 2008.
This November, once they fell 41-12 to Baylor -- yes, the same Baylor that Central Florida roasted Wednesday night in the Tostitos Fiesta Bowl -- the Sooners weren't even a factor in the Big 12 race, much less the national one.
At the moment, Alabama owns RecruitingNation's No. 1 class, while Oklahoma's just barely cracks the top 25. Last year alone, the Crimson Tide furnished the NFL with three first-round draft picks. The Sooners, meanwhile, have had just one first-rounder (OT Lane Johnson) since 2010.
But just because the results have tapered off in Norman doesn't mean the expectations have.
And against Alabama, the Sooners will find out where they stand.
"This is definitely going to show what kind of team we have right now," said Oklahoma receiver
Jalen Saunders
. "What type of players we have at OU. Where we stand nationally."
Lately, the Sooners haven't stood quite as tall.
As a testament to Stoops' unrivaled, long-term consistency, Oklahoma still managed to grind out 10 victories in 2012 despite having no running game and a shaky defense. But whenever the Sooners faced a quality opponent last season, they were vanquished. Kansas State out-executed them in the Big 12 opener, Notre Dame smashed them in the fourth quarter, and Texas A&M quarterback
Johnny Manziel
, well, he just made them look ridiculous in an AT&T Cotton Bowl rout.
As a result, Oklahoma opened 2013 outside the top 10 in the preseason polls for the first time since Stoops' second year.
Even though the Sooners stunned Oklahoma State in the 2013 Big 12 regular-season finale to sneak their way into the BCS, Las Vegas oddsmakers have pegged them as 16½-point underdogs against the mighty Tide. That, by the way, is the third-largest point spread in BCS history, behind only this year's Baylor-UCF Fiesta Bowl and the 17-point line Oklahoma was handed over Connecticut in the 2010 Fiesta Bowl.
In other words -- at least according to Vegas -- the gap between Alabama and Oklahoma right now is roughly equal to the gap between Oklahoma and Connecticut then.
"They're a great, great team," Stoops said of the Tide. "Great talent across the board."
When facing great talent, however, comes great opportunity. To ascend back atop college football's summit, the Sooners have to start somewhere. They'll find no more opportune setting than the Sugar.
"They've been so dominant," said Oklahoma running back
Brennan Clay
, "that if we come out with a victory, it would definitely say we're a national championship-contending-type team."
The Sooners can't secure a national championship overnight. And they certainly can't on Thursday night. But they can send a message. And in doing so, also can launch their climb back to the top.
"Winning this game would be big," Ikard said. "Big for recruiting, big for the program, big for the fan base.
"It would show that we're still one of the premier, top-five programs in the country."
The Sooners haven't been a top-five program lately. But in New Orleans they get to find out how good they really are.
And just how far they have to go.
December, 10, 2013
12/10/13
12:00
PM ET
December, 10, 2013
12/10/13
8:00
AM ET
Talk is cheap, but it's never left the hype machine feeling shortchanged.
As if an Allstate Sugar Bowl featuring two of college football's most prestigious programs wasn't intriguing enough, we get to rehash a good old-fashioned war of words in the weeks leading up to the Jan. 2 showdown in New Orleans between No. 3 Alabama and No. 11 Oklahoma.
Bob Stoops, the Sooners longtime coach, hasn't been bashful in his criticism of the Southeastern Conference, of which the Crimson Tide are a charter member. He's called it an overrated, top-heavy league with a history of overblown defensive prowess. And that's just what he's said on the record in the past year or so.
[+] Enlarge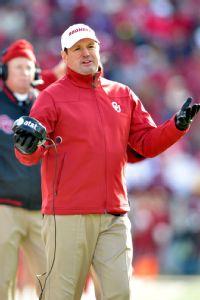 Jackson Laizure/Getty ImagesOklahoma's Bob Stoops gets a chance to make a statement against the SEC's Alabama Crimson Tide.
The last seven BCS national champions be damned, Stoops has been on a one-man mission to change the narrative surrounding college football's most dominant conference. He's shouted at the gates of Mike Slive's castle over and over again, and rather than send one of the commissioner's meager lords to answer Stoops' cries, the doors have opened and Alabama has come to call.
The Tide, owners of three of the last four national championships and arguably the best coach in college football, will represent the league in a game that many fans of the SEC hope shuts Stoops up once and for all.
Only don't count on it.
When Stoops was asked Sunday about his history of opining on the SEC it was as if he misunderstood the premise.
"What comments?" he asked in return.
Well let's see. You could start with the part about his seeing the SEC's dominance being sold as "propaganda." Or you could point to his comments about the league's poor defense in which he sarcastically mocked teams for struggling to defend Texas A&M, meanwhile neglecting how Oklahoma was blown out by the Aggies in the Cotton Bowl last season, 41-13. But instead the reporter in question noted how Stoops said that the bottom of the SEC was overrated.
"I'm not playing the bottom half," Stoops responded. "If the SEC is Alabama, there is nothing to talk about, right? If you want to say the SEC is Alabama, then sure, they're the ones that have won all the national championships, or most of them. Now, if you want to play in the bottom half, that's a different story. But we're not playing the bottom half, are we? So there's not a lot to talk about, is there? "
Stoops, however, failed to realize that when he initially made his disparaging comments about the bottom half of the SEC, Auburn and Missouri were included among that group after coming off dreadful seasons in which they combined for two wins in league play. But Auburn beat Alabama only a few weeks ago and on Saturday it bested Missouri in the conference title game. The bottom of the bottom half is now set to play Florida State in the VIZIO BCS National Championship Game in Pasadena, Calif.
The last time Stoops went to the Big Game he lost to SEC champ Florida in 2009. In 2004 the Sooners lost to USC and the year before they lost to an SEC team again in LSU, who happened to be coached by Alabama's Nick Saban at the time.
Just don't look for Saban to take up for the SEC against Stoops and Oklahoma this time around. Providing bulletin board worthy quotes isn't a part of his M.O. He'll let the game on the field do the talking. The most you'll get from him was the blunt response he gave during the offseason: "I've got more important things to do than sit around and read what Bob Stoops has to say about anything."
But leave it to Bob's brother, Mike, who coaches the Sooners defense, to smooth the waters somewhat. Maybe he thought we'd had enough gossip already.
"I think they have great programs," he said of the SEC. "The athletes they have down there, the coaches they have down there, it's rated as the top conference in college football for many years, having won seven national championships, having a chance to win eighth. They've got great athletes. Every time you step on the field with a Southeastern Conference team, they're very well coached and they play very hard. They're very complete when you look at any of these top Southeastern Conference teams."
But one Stoops doesn't speak for all, and when brother Bob goes toe-to-toe with one of the SEC's best in Alabama, he'll either answer his critics or eat his words.
February, 23, 2013
2/23/13
6:21
PM ET
The trek from Manvel, Texas to Tuscaloosa, Ala., is roughly nine hours.
On Friday, ESPN Watch List tight end
Koda Martin
and his father, Manvel (Texas) High School head coach Kirk Martin, made that journey -- with a stop in Baton Rouge, La., added in for good measure -- so that Koda could attend Alabama junior day on Saturday.
To continue reading this article you must be an Insider
Spring Game Wrap-Up
BIG 12 SCOREBOARD
Saturday, 8/30
Sunday, 8/31