Oklahoma Sooners:

Nick Lamaison
September, 2, 2012
9/02/12
3:30
PM ET
By
SoonerNation staff
| ESPN Insider
After Oklahoma's game every week this season, the SoonerNation staff will look at the most impressive thing from the game, the biggest concern from the game and an interesting storyline moving forward.
On
Oklahoma's 24-7 win over UTEP
:
Jake Trotter
:
[+] Enlarge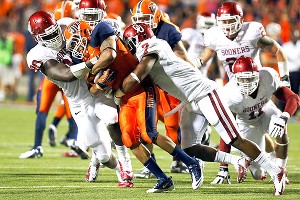 Jim Cowsert/US PresswireThe Oklahoma defense struggled to contain UTEP's running game.
• The most impressive thing from OU's 24-7 win over UTEP was the secondary. The Sooners gave up some yards on the ground. But they gave up almost nothing through the air, holding UTEP quarterback
Nick Lamaison
to 39 yards passing on 23 attempts. Cornerbacks
Aaron Colvin
and
Demontre Hurst
were stingy in coverage, and safeties
Tony Jefferson
and
Javon Harris
were aggressive without letting anything get behind them. The secondary has the potential to be the strength of this team, and they sure looked like it Saturday.
• The biggest concern is the running game. Yes, the Sooners finished with 205 yards on the ground, but most of that came in the fourth quarter after the UTEP defense got worn down. For the Sooners to resemble an offensive juggernaut, they have to run the ball more consistently. And you better believe they'll face tougher run defenses than UTEP's.
• The most interesting storyline going forward is how quickly the newcomers at receiver can assimilate into the passing game.
Landry Jones
looked out of sync with his new targets, Penn State transfer
Justin Brown
and true freshman
Trey Metoyer
. Both players have big-play potential and figure to make this offense more dangerous once they get more comfortable in the scheme.
Brandon Chatmon
:
• The most impressive thing from the Sooners' 24-7 win over UTEP was their pass defense. OU allowed 48 passing yards as Miners quarterback Nick Lamaison finished 6 of 23 for 39 yards and was sacked twice. Poor numbers for a player who had eyes on outplaying Landry Jones on Saturday. While the Sooners allowed 207 rushing yards, OU's defense didn't allow a point, thanks in large part to its pass rush and secondary. The Miners were 3-of-16 on third-down conversion attempts, which speaks to quality pass defense.
• The biggest concern after the season opener should be OU's special teams. The Sooners allowed a blocked punt to be returned for a touchdown and nearly had a blocked field goal returned for another score. And you can't blame youth because there were several veterans on those special-teams units. Special teams can often be the difference in big games so OU needs to shore up those units in a hurry.
• The most interesting storyline moving forward for the Sooners is their passing attack. The Sooners never really got into a rhythm and their offensive line deserves a share of the blame. Jones never seemed comfortable and confident in his receivers and had to move around in the pocket a lot more than most would have anticipated against the Miners. Don't be surprised if there are some changes for OU's offense -- winning a starting job out of preseason camp doesn't mean you've secured your starting spot. The competition never stops. And, based on Saturday night, it shouldn't.
Bob Przybylo
:
September, 2, 2012
9/02/12
9:30
AM ET
Analyzing the finer points of Oklahoma's 24-7 win Saturday at UTEP:
• I had high hopes for OU's special teams. But this was the most disastrous special teams performance in a long time. The Sooners had a punt blocked for a touchdown, a field goal blocked and repeatedly turned
Michael Edwards
loose trying to cover punts. Had UTEP's field-goal kicking not been even worse, the Sooners might have lost. It's too soon to write off OU's special teams.
Michael Hunnicutt
did nail a 38-yarder, and
Tress Way
otherwise had a strong night punting, pinning UTEP inside the 20 three times. But let's not act like OU's special teams issues have been solved either. Special teams didn't get OU beat Saturday. But they almost certainly will down the line if they don't improve.
[+] Enlarge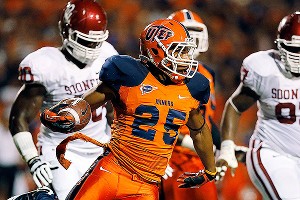 Jim Cowsert/US PresswireUTEP running back Nathan Jeffery killed the Sooners on the ground, but was dinged up late in the game.
• Had OU's offense been much crisper, we'd probably be harping more on how improved Landry Jones' footwork is. Jones' work with QB tutor George Whitfield this offseason has really paid off. Jones would not have been able to deliver the 68-yard bomb he threw across his body to
Kenny Stills
along the opposite sideline last season. "After that TD, I told Landry, 'You look great,'" Stills said. "He worked really hard in the offseason, and he looks great and has a lot of confidence." Jones got outside the pocket more times in one game than he did all of last season. On one play in the second quarter, Jones sidestepped the blitz, then delivered an off-balance strike to
Dominique Whaley
. Had Whaley not dropped the pass, he might have scored.
• Considering he's been one of OU's most consistent playmakers over the last two seasons, it's crazy to think that
Roy Finch
didn't get a single offensive snap Saturday. Not one. The Sooners had designed a package for Finch in the slot full of screens and reverses, but didn't go to it once. They didn't give him a look in the backfield, either. I asked co-offensive coordinator Jay Norvell why Finch was relegated to the sidelines once again, especially on a night in which the offense struggled to make plays. "We have a lot of playmakers that can do a lot with the ball," Norvell said. "Roy is going to have to work harder to where he gets himself in the mix." Evidently, Finch is still not getting it done in practice. Until he does, the Sooners are not going to play him. No matter how many plays he's made in the past.
• Whaley returned from last year's broken ankle to mixed results. He ran for 54 yards on 11 carries, but didn't display the same elusiveness and power that made him one of college football's best stories in 2011. "I felt great ankle-wise, conditioning-wise," he said. "But my performance could have been a lot better." It might take a couple of games for Whaley to find his footing. He started to run harder as the game wore on. That was a positive sign.
• More positive was the play of Whaley's backup, junior-college transfer
Damien Williams
, who was OU's best back on this night. Williams ran for 104 yards on nine carries, including a 65-yard touchdown in the fourth quarter. Williams broke tackles, and showed plenty of elusiveness in the open field. "We're excited to complement Dom with Damien," Bob Stoops said.
• The Sooners brought back the "Diamond" formation after a one-year hiatus. The formation, which was so effective late in 2010, was shelved last season. But offensive coordinator Josh Heupel reintroduced the package, this time using fullbacks
Trey Millard
and
Jaydan Bird
and either Whaley or Damien Williams. The Sooners caught UTEP off-guard on playaction off the package, as Jones hit Stills on a post pattern inside the Miners 5. Whaley, however, was flagged with a chopblock, wiping out the play. "I saw a defender who outweighed me," Whaley said, "so I decided to go for the chop." Guard
Adam Shead
was still engaged with the defender, though, resulted in the penalty. It will be interesting to see how much the Sooners use the Diamond going forward. But if it can augment what was an inconsistent running game Saturday, it should become a mainstay.
• Three times when the game was still in doubt, the Sooners turned to Belldozer on third-and-short. Three times, the Sooners got first downs. Bob Stoops said he would have liked to use the Belldozer more, but because of the inconsistency of the offense, OU rarely was in third-and-short. More times, the Sooners were in third-and-long. For the Belldozer to be utilized, OU has to do more on first and second down.
• OU was awful early on in its perimeter blocking on the bubble screens. For those plays to work,
Justin Brown
and
Trey Metoyer
can't whiff on cornerbacks. A couple of times, that got Whaley clocked. Eventually, that will lead to turnovers and injuries.
• The Sooners added a new wrinkle to the offensive play-calling: placards. Unlike Oregon, which is quite creative in its placards to signal in plays, OU's were quite ordinary, using only numbers and colors. I'm not sure if the placards slowed down OU's offensive tempo. But if they did, they need to be revisited. When the Sooners were going fast, they moved the ball. When they weren't, they didn't.
• UTEP's
Nathan Jeffery
nearly became the first back to rush for more than 200 yards against OU since Missouri's Brad Smith in 2002. Jeffery, who also returned the blocked punt for a TD in the first quarter, was sensational, finishing with 177 yards on 21 carries. "I'm disappointed we didn't play the run game better," said defensive coordinator Mike Stoops. "We bent a little, but we didn't give up any points. It's good to be tested. We don't have to hear everybody telling us how good we are." Otherwise, though, the defense was pretty stout. The secondary, which was spectacular, didn't give up any big pass plays, and outside Jeffery's 71-yard run, the defense made UTEP earn its way down the field. Welcome back, Mike Stoops.
• The unsung play of the game? Caleb Gastelum's tackle on UTEP's fake punt in the fourth quarter. That all but sealed OU's win.
• Despite the hype of this freshmen class, very few made it onto the field. CB
Gary Simon
, LB
Eric Striker
and DE Michael Onuoha all watched this game from the sidelines. Defensive end
Charles Tapper
didn't get in until late in the game. Running back
Alex Ross
made the trip, but didn't play either. He's a strong redshirt candidate. The three freshmen who did play – WRs Trey Metoyer,
Durron Neal
and
Sterling Shepard
-- made little impact. Neither Neal nor Shepard recorded a catch in limited action. Despite his sterling spring, Metoyer struggled to assimilate into the offense. He finished with four catches for 21 yards. Metoyer did make a circus catch along the sideline that would have resulted in a TD, but he couldn't get the first foot in bounce. "The timing was bad," he said. "We just weren't connecting." Honestly, this should have been expected. Jones' rapport with his freshmen and Penn State transfer Justin Brown will improve. Developing chemistry only comes through playing games together.
• Speaking of Brown, while he didn't very involved in the offense (4 catches, 32 yards) he flashed off his potential as a punt returner. Breaking tackle after tackle, Brown weaved his way through the UTEP coverage for a 26-yard punt return. Brown has the potential to go the distance at any time. The Sooners have needed more breakaway threats on special teams. Brown appears to be just that.
• You have to admire how hard
David King
played in his first start at defensive tackle. With
Casey Walker
and
Stacy McGee
both in Norman, King carried the line by disrupting UTEP's pass protection with his quickness. Play after play, Miners QB
Nick Lamaison
had to back peddle then throw the ball away because King and others were in his face. Despite never coming off the field, King played a spirited game all night, finishing with three tackles, including one for loss that forced UTEP to settle for a field goal attempt on its first drive. King also had a game-high two QB hurries. UTEP had success running Jeffrey up the middle, but a lot of that transpired because OU's ends and linebackers didn't close on the bend-back run quickly enough. OU's d-line is hurting for depth. Think about where they'd be without King, and his ability to swing to tackle in a pinch.
To continue reading this article you must be an Insider
September, 2, 2012
9/02/12
1:15
AM ET
EL PASO, Texas – It was ugly. But it's a win. The
Sooners finally pulled away from UTEP in the fourth quarter to win 24-7
.
It was over when
: OU running back
Damien Williams
went over right tackle, cut back across the field, then raced 65 yards for a touchdown, giving the Sooners a 24-7 lead with 2:55 to play. The Sooners entered the fourth quarter clinging to a 10-7 lead.
Game ball goes to
: UTEP running back
Nathan Jeffrey
, who kept the Miners in the game into the fourth quarter. Jeffrey rushed for 177 yards on 21 carries, nearly becoming the first back in a decade to run for more than 200 yards against the Sooners. Jeffrey also scored UTEP's only touchdown, scooping up a blocked punt and racing 24 yards in the first quarter.


Stat of the game
: If the Miners had a reliable field goal kicker, they might have won the game. UTEP missed all three of its field goal attempts, from 45, 31 and 41 yards out.
Dakota Warren
missed the first two.
Steven Valadez
misfired on the third, which would have tied the game late in the third quarter.
Unsung hero
: Defensive tackle
David King
, who spearheaded OU's consistent pass rush up the middle. The Sooners were without both of their starting in defensive tackles
Stacy McGee
(suspended) and
Casey Walker
(personal issue), but King, who flipped from end to tackle two weeks ago, made sure that
Nick Lamaison
never found a rhythm, as the UTEP quarterback completed just 6 of 23 passes for 39 yards.
What we learned about this team
: The Sooners have a long way to go to become a Big 12 title contender, much less a national championship one. Especially on the offensive side of the ball. UTEP ranked 104th in the country last season in total defense, but stymied the Sooners for three-and-a-half quarters. The running game was sporadic, and
Landry Jones
looked out of sync with his new receiving corps. If the Sooners are going to score with the likes of West Virginia and Oklahoma State, they are going to need to make a lot of improvement.
September, 1, 2012
9/01/12
11:20
PM ET
EL PASO, Texas – This what not the kind of start Oklahoma was hoping for the 2012 season. After a sluggish first half, the Sooners are tied with UTEP 7-7 at halftime.
Stat of the half
: Miners QB
Nick Lamaison
has completed just 3 of 13 passes for 17 yards. The OU secondary has committed two defensive pass interference penalties (one by
Aaron Colvin
, one by
Gabe Lynn
) but otherwise the unit has been stout.


Player of the half
:
Kenny Stills
has been the only thing OU's had going offensively. The junior wideout has four catches for 104 yards and a touchdown. The rest of the receiving corps? Two catches for 11 yards. Off a busted play, Stills broke open down the sideline 68 yards for the Sooners' only score. It was the longest catch of Stills' career.
What's working for the Sooners
: After a shaky opening drive, the OU defense has been stingy.
David King
, who two weeks ago was moved from end to tackle, has led a disruptive pass rush up the middle, preventing Lamaison from generating any rhythm. After giving up 58 yards on the opening drive, the Sooners have allowed just 39 total yards.
What's not working for the Sooners
: Head coach Bob Stoops said all preseason he expected the kicking game to be a team strength. So far, it's been a disaster. The Miners blocked a punt and returned it for a touchdown in the first quarter. Then in the second quarter, they blocked Michael Hunnicutt's 44-yard field goal attempt.
What OU needs to do to win
: The first half smacks of the offensive problems that plagued the Sooners late last season. Quarterback
Landry Jones
has looked mostly sharp, but has been out of sync with his new receivers, Penn State transfer
Justin Brown
and true freshman
Trey Metoyer
. The Sooners could take some of the pressure off Jones by establishing the run, which they failed to do in the first half.
August, 27, 2012
8/27/12
12:30
PM ET
Campus location
: El Paso, Texas
[+] Enlarge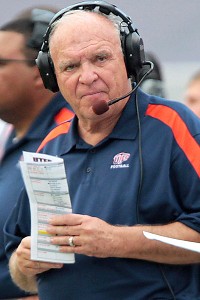 Troy Taormina/US PresswireMike Price is 45-52 in his first eight seasons as head coach at UTEP.
Nickname
: Miners
Conference
: Conference USA
All-time record vs. OU
: 0-2
To continue reading this article you must be an Insider
June, 12, 2012
6/12/12
10:00
AM ET
Sept. 1, 2012: At The University of Texas at El Paso
2011 record
: 5-7 |
2011 conference record
: 2-6 (Conference USA)
Oklahoma all-time against UTEP
: 2-0
Top returners
: QB
Nick Lamaison
, WR
Mike Edwards
, C
Eloy Atkinson
, DT
Germard Reed
, DT
Marcus Bagley
, DE
Horace Miller
, LB
Jamie Irving
, LB
Josh Fely
, S
Richard Spencer
, P
Ian Campbell
To continue reading this article you must be an Insider
Stoops, Players Want To Effect Change
BIG 12 SCOREBOARD
Thursday, 9/3
Friday, 9/4
Saturday, 9/5