Oklahoma Sooners:

NFL draft
March, 14, 2013
3/14/13
2:00
PM ET
In January, linebacker
Tom Wort
stunned everyone from the fans to the Oklahoma coaches when he revealed he was skipping his senior year of college to enter the NFL draft. Wort struggled to adjust to a new scheme and new position coach, as the Sooners de-emphasiszed the linebacker position the second half of the season to try and combat the spread offenses of the Big 12. After OU's pro day Wednesday, Wort spoke with SoonerNation in his first interview since deciding to declare for the draft:
SoonerNation:
What went into the decision to leave, how did you make it?
[+] Enlarge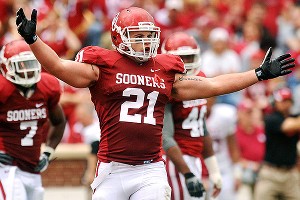 Mark D. Smith/US PresswireLinebacker Tom Wort admitted that the 2012 season was tough, but he said it has always been his dream to play in the NFL.
Tom Wort:
The fact I graduated was a huge part of it. I came to OU to get a degree and play football. I just thought it was my time to take my shot at the next level.
SN:
I don't think there's any question last season was an adjustment for you with the new scheme, the new coaching staff defensively. Did that play into the decision at all?
Wort:
Somewhat, but for the most part, I just wanted to get to that next level. It's been my dream. I had the opportunity, I got my degree, so I decided to take it.
SN:
When did you make your decision to come out?
Wort:
Right after the Cotton Bowl. I took about a week, and then came and talked to coach [Tim] Kish and told him, and then got ready for training.
SN:
How did he and coach [Bob] Stoops react?
Wort:
I talked to coach Bob Stoops, Coach Kish first. He said he understood and wished me the best.
December, 18, 2012
12/18/12
7:52
PM ET
NORMAN, Okla. --
Tony Jefferson
would rather not talk about the upcoming NFL draft -- and whether he'll be part of it.
But one thing is clear: Oklahoma's junior free safety is doing his homework as he prepares to make the impending decision.
Jefferson admitted Tuesday that he would file paperwork with the NFL draft advisory committee, a common step for college underclassmen to determine a draft projection. Cornerback
Aaron Colvin
said he, too, will file paperwork, and receiver
Kenny Stills
and fullback
Trey Millard
are expected to do the same.
[+] Enlarge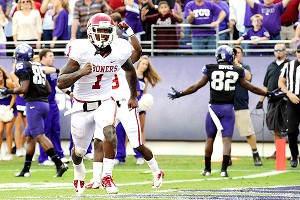 Cal Sport Media via AP ImagesJunior safety Tony Jefferson is considering all options as he decided whether or not to declare for the NFL draft.
Jefferson, however, also revealed that he has studied what other safeties he'd be up against, what he'd have to do to get his degree (he still has a semester left) if he came out, and the contract differences between first-, second- and third-round picks under the NFL's relatively new collective bargaining agreement.
"You don't want to make a decision not thinking about money," Jefferson said. "There's a big money drop from the first to the second, and the second to the third. I've done my investigation on that part."
At this point, it's still murky where Jefferson would go in the draft, which is why he's turned in his tape to the advisory committee. Even though the OU defense has been up and down, Jefferson has been its most consistent performer. The All-Big 12 selection leads the Sooners with 113 tackles despite playing with a bum ankle for much of the season.
ESPN Scouts Inc. ranks Jefferson
as the fifth-best eligible safety at the moment, and 49th prospect overall. ESPN's Mel Kiper Jr. has Jefferson as the second-ranked junior safety behind Florida's
Matt Elam
, but notes that either player has a shot of sneaking into the first round.
"I don't think anyone that's a first-round pick, they can pass that up," Jefferson said. "That would be hard to pass up. Second round, I don't know."
Defensive coordinator Mike Stoops, however, indicated that he thought Jefferson could improve his stock by returning for his senior season. But Stoops also said he wouldn't get in Jefferson's way if he wanted to go pro.
"Players, they've got to decide what's best for them for whatever reason," said Stoops, who will also lose seniors
Javon Harris
and
Demontre Hurst
from his secondary after the Cotton Bowl. "I always think you gain growth and your stock goes up if you stay in school, but that's my feeling. You can't protect yourself against injury, that's the only unknown I think you don't like to factor in when you tell a player he can become a better player by staying in school.
"But Tony knows what he has to work on to become a better player regardless of where it's at. Those are things Tony and I will discuss whatever he decides to do."
Jefferson said he would consult Stoops and others, but that the decision will ultimately be his.
"It's gonna fall into my hands, what I feel like," Jefferson said. "Of course, I'll ask. But it's going to depend on me.
"I don't think any one person is going to sway me either way."
May, 1, 2012
5/01/12
4:05
PM ET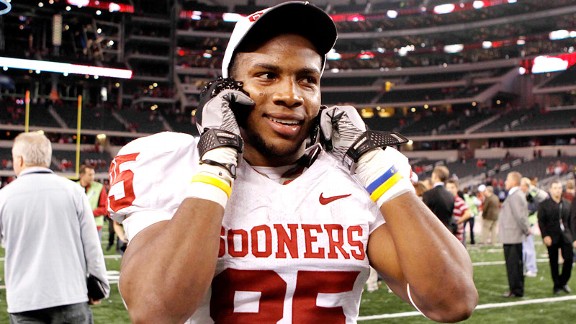 Brett Davis/US PresswireFormer OU receiver Ryan Broyles was one of three Sooners to be drafted by Detroit in 2012.
From Steve Owens to Billy Sims to
Barry Sanders
, the
Detroit Lions
have always had an affinity for drafting players from Oklahoma. But never anything like this.
Over the weekend, the Lions drafted three players from OU -- receiver
Ryan Broyles
in the second round, defensive end
Ronnell Lewis
in the fourth and outside linebacker
Travis Lewis
in the seventh. It's believed to be the first time the Lions have taken three players from one school in the same draft since 1958.
SoonerNation quizzed Lions beat writer
Dave Birkett of the Detroit Free Press
(you can follow him on Twitter at
@davebirkett
) about this haul and how each Sooner might fit in Motown.
1.
Was it simply coincidence the Lions ended up drafting three OU players, or was there something about OU that intrigued them?
Birkett
: Coincidence. That's not to say they don't like and value Oklahoma players and the program - they do. But drafting Ryan Broyles, Ronnell Lewis and Travis Lewis was about each player's individual fit in Detroit more than their ties to Oklahoma. Still, it's impressive to think this is the first time in more than 50 years they've taken three players from one program in the same draft.
Matthew Emmons/US Presswire
Former OU linebacker Travis Lewis will need to stand out on special teams in the NFL.
2.
The Lions obviously have needs on defense. Why then did they take Ryan Broyles with their second pick, and do they believe he'll be ready to go for minicamp?
Birkett
: They caught a lot of flack from fans for passing on defensive needs to take Broyles in Round 2, but he was their highest-ranked player, they stuck with their board and he does fill a need as a No. 4 receiver. As for minicamp, no, it's doubtful he'll be ready next month and he could open training camp on the physically unable to perform list. They're deep enough at receiver they can bring him along slowly, but they expect him to contribute this fall.
3.
How will Broyles fit in on an offense with so many receiving weapons already in place?
Birkett
: Initially, Broyles will be the Lions' No. 4 receiver behind
Calvin Johnson
,
Nate Burleson
and
Titus Young
. If he's healthy, he should handle punt-return duties, too - an area the Lions struggled in last year. Ideally, Broyles will be a weapon from the slot position for the next six or eight years.
4.
The Lions run a 4-3, but given his skill set, seemingly everyone projected that Ronnell Lewis would be drafted into a 3-4 defense. How do you see the Lions utilizing Lewis in the 4-3?
Birkett
: The Lions play their defensive ends in a wide-9 technique, so size isn't always an issue. It's more important that their pass rushers have a quick first step and the motor to pursue plays all over the field. Playing the run is secondary for the Lions' defensive line. Lewis might have a hard time cracking the rotation initially, but he should be a key contributor on all cover and return teams as a rookie.
5.
What are the odds that Travis Lewis makes the team after falling all the way to the seventh round in the draft?
Birkett
: Lewis probably has to earn a job on special teams, but he's got a shot to make the 53-man roster. The Lions return all three of their starters at linebacker and spent a fifth-round pick on
Doug Hogue
last year. Backup
Ashlee Palmer
has been a core special-teamer the last two years, and they traded up to get another linebacker,
Tahir Whitehead
, in the fifth round this year. Training camp will be important to Lewis.
April, 26, 2012
4/26/12
11:00
AM ET
This weekend won't resemble Oklahoma's NFL draft class of 2010, when Sam Bradford, Gerald McCoy, Trent Williams and Jermaine Gresham all went in the first round.
That said, several Sooners with pro aspirations leave Norman with higher ESPN NFL draft rankings than high school recruiting rankings. Breaking down the OU draft class through that prism:
Frank Alexander
March, 28, 2012
3/28/12
4:30
PM ET
It's been a long journey for
Ronnell Lewis
. In the span of five years, the former Oklahoma defensive end has progressed from eight-man football in Dewar, Okla., to being an early-entry NFL draft prospect.
[+] Enlarge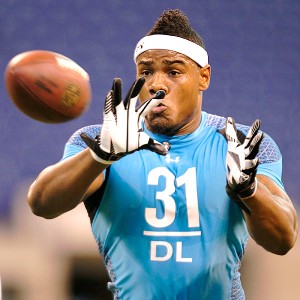 AP Photo/Michael ConroyRonnell Lewis has been projected to go as high as the second round in next month's NFL draft.
Needless to say, the NFL combine was an eye-popping experience for the small-town NFL hopeful.
"When I walked in the stadium it was crazy," Lewis said. "I was like, 'I'm on this turf, about to do my thing [at the combine].' I had to bring my 'A' game, show up, show out and I felt like I did that."
Many players let the realization of "the biggest job interview of their lives," as the combine is often called, become a burden. Not Lewis.
"I lot of guys were stressed out," Lewis said. "Like 'I should have done this, should have done that,' but I was like 'Man, y'all are complaining but you probably didn't even have to be here.' I was calling my family back home and telling them it's crazy and amazing being around these NFL coaches and getting to meet all the different athletes that were there. It was a great feeling.
"It's a once-in-a-lifetime opportunity."
February, 28, 2012
2/28/12
9:30
PM ET
Several Sooners made themselves some money during the NFL combine in Indianapolis. Seven former Oklahoma standouts participated in the seven-day combine as teams and draft prospects prepare for the NFL draft which will be held on April 26, 27, 28.
Top Performers
Tight end
James Hanna
was one of the stars of the combine, ranking as the fastest tight end with his 4.49 time in the 40-yard dash along with top ten rankings in the three-cone drill (6.76 seconds) and bench press (24 reps).
Tom Pennington/Getty Images
James Hanna flashed his excellent speed near the end of the 2010 Bedlam game.
Hanna's stellar numbers surprised many and will likely force NFL teams to go back and give his game film a closer look with the goal of figuring out if Hanna was under-utilized at OU or if his workout numbers simply don't translate to the field.
Cornerback
Jamell Fleming
was another Sooner with a terrific showing during workouts. He could explode up draft boards with his solid 40-yard dash time, strong bench press numbers and excellent broad jump.
Fleming was also solid in on-field drills and could have cemented himself a spot on Day Two (second or third round).
Solid Showings
Defensive end/linebacker
Ronnell Lewis
had a solid showing, topping all linebackers in the bench press (36 reps) and running a 4.68 time in the 40-yard dash.
Receiver
Ryan Broyles
, who is still recovering from his torn ACL last November, impressed in his lone physical test, with 21 bench press reps at 225 pounds, which was second among receivers.
Tackle
Donald Stephenson
was the fastest offensive lineman at the combine, clocking a 4.94 time in the 40-yard dash. He showed excellent athleticism but will be looking to improve his 19 reps in the bench press at OU's pro day.
Matthew Emmons/US Presswire
Travis Lewis will likely run the 40-yard dash again at OU's Pro Day in March.
Can't Wait Until Pro Day
Linebacker
Travis Lewis
was very solid overall but ran a disappointing 4.88 time in the 40-yard dash which will be held against him unless he improves his time at OU's pro day. Lewis did impress in other areas with a 10-foot, 2-inch broad jump, which ranked sixth amongst linebackers, solid bench numbers and a 36-inch vertical.
Defensive end
Frank Alexander
didn't workout at the combine due to a previously undiscovered heart condition, according to his Twitter page.
Complete Summary of Results
Broyles
: second among receivers with 21 reps at 225 pounds.
Fleming
: 4.53 in the 40; second among cornerbacks with 23 reps at 225 pounds; 34-inch vertical; 10 foot, 5-inch broad jump, ranking fourth among cornerbacks.
Lewis
: 4.68 in the 40; 36 reps at 225 pounds, tops among linebackers; 31-inch vertical; 7.09 3-cone drill; 4.4 20-yard shuttle; 9-foot, 3-inch broad jump.
Travis Lewis
: 4.88 in the 40; 22 reps at 225 pounds; 36-inch vertical; 10-foot, 2-inch broad jump
Stephenson
: 4.94 in the 40, the fastest time among offensive linemen; 19 reps at 225 pounds; 35.5-inch vertical; 9-foot, 4-inch broad jump; 7.52 time in the three cone drill; 4.78 seconds in the 20-yard shuttle.
Hanna
: 4.49 in the 40, the fastest time among tight ends; 24 reps at 225 pounds, fourth among tight ends; 36-inch vertical; 6.76 three-cone drill, second among tight ends; 4.11 20-yard shuttle, second among tight ends; 11.43 60-yard shuttle.
Alexander
: Attended the combine but unable to participate in drills due to injury.
February, 25, 2012
2/25/12
5:06
PM ET
Former Oklahoma tight end James Hanna, who caught 52 passes for 720 yards and 9 touchdowns during his collegiate career, had an impressive showing at the NFL combine today. Here's an excerpt from ESPN Insider's NFL draft blog

:
Oklahoma TE James Hanna (6-3¾, 252) turned some heads with a strong workout. Hanna posted a 4.49-second 40-yard dash, a 36-inch vertical jump, and a 10-foot-2 broad jump. He did drop two passes early on, but Hanna regained his composure and fared better as drills progressed.
Hanna's 40-yard dash was first among the tight ends at the combine. And he wasn't the only Sooner to impress. Left tackle Donald Stephenson, who started two years at OU, ran a 4.94 40-yard dash, the fastest among all the offensive lineman.
It will be interesting to see where Hanna and Stephenson get drafted in April.
February, 10, 2012
2/10/12
5:35
PM ET
By
SoonerNation Staff
| ESPN.com
Steve Muench from Scouts Inc. includes former Oklahoma defensive end
Frank Alexander
among his
list of mid-to-late-round players

who have stood out recently and which teams could be interested in the skills they bring to the table.
Muench thinks the Detroit Lions could be a fit for Alexander. Here's a part of his evaluation:
Alexander doesn't bend the edge or close on the quarterback as well as Sooners teammate Ronnell Lewis, but he has the potential to develop into an effective left end or wave/depth player in a base four-man front.
Read the rest of the story here
.

February, 7, 2012
2/07/12
11:10
AM ET
By
SoonerNation Staff
| ESPN.com
Seven Oklahoma players have been invited to participate in the 2012 NFL Scouting Combine from Feb. 22-28 at Lucas Oil Stadium in Indianapolis. Here's the list:
January, 30, 2012
1/30/12
12:45
PM ET
By
SoonerNation Staff
| ESPN.com
January, 13, 2012
1/13/12
1:40
PM ET
By
SoonerNation Staff
| ESPN.com
Steve Muench of Scouts Inc.
took a look at the top pass-rushers
in the NFL draft and included Oklahoma's
Ronnell Lewis
among the group. His blog post is for people with ESPN Insider subscriptions, but here are a few sentences about the Sooners' defensive end, who had 5.5 sacks in 2011.
There are some questions surrounding Lewis, who had problems staying healthy and was suspended for the final two games of the 2011 season. However, he has the skill set to develop into a productive NFL edge-rusher if he can stay healthy and prove his character.
Read the rest of the blog post here
.
January, 10, 2012
1/10/12
2:30
PM ET
By
SoonerNation Staff
| ESPN.com
Steve Muench of Scouts Inc.
took an early look
at three underclassmen who made the best choices in regards to the NFL draft, and three who made the wrong choice. He includes Oklahoma quarterback
Landry Jones
, who decided to return for his senior season at OU, among the "good decisions."
Here's a snippet of what
he wrote about the Sooners' signal-caller
:
Jones was a potential top-10 pick coming into the season, but could have fallen all the way out of the first round if he stayed in the 2012 class. Now he has a chance to compete with USC's Matt Barkley to be the top quarterback on the 2013 board and solidify a very high grade.
What do you think? Did Jones make the right call?
January, 5, 2012
1/05/12
5:23
PM ET
By
SoonerNation Staff
| ESPN.com
Oklahoma quarterback
Landry Jones
, the school's all-time leading passer,
announced Thursday that he is returning to school
for his senior year, while defensive end
Ronnell Lewis
, a highly-rated outside linebacker,
decided to enter the NFL draft
.
Here's what Oklahoma coach Bob Stoops had to say about both:
On Jones
:
"We know the positive influence Landry has on and off the field with our team. We're excited that he's coming back to build on what has already been an outstanding career. We expect another great year from him and like the fact that he's determined to be even better."
On Lewis
:
"Ronnell leaves with our best wishes. He managed several challenges while playing here, but always worked hard and gave us his very best effort. He has the skill to be a successful NFL player, and we feel he'll do well there."
Overvalued And Undervalued
BIG 12 SCOREBOARD
Saturday, 8/30
Sunday, 8/31