Oklahoma Sooners:

Nathan Hughes
February, 5, 2014
2/05/14
11:00
AM ET
Oklahoma is poised to add several recruits into the fold on Wednesday with an eye on creating the foundation of a future championship squad. Yet, recruiting is an inexact science as some projected stars rise to meet those high expectations while others struggle to make a difference in the Big 12. Thus, it's the perfect time to look back at OU's past five recruiting classes. On Wednesday, we begin with a review of the Class of 2011 including recruits who exceeded expectations, recruits who were solid signees and ones who were complete busts.
There was a lot of hope for this class when these players signed in February 2011, but the class as a whole has let down the Sooners. The class was ranked No. 11 nationally by ESPN.com.
Transcendent figures
Linebacker Franklin Shannon:
The No. 48 safety in the nation, Shannon made an immediate impact after a redshirt season. He forced his way onto the field as a redshirt freshman in 2012 and led OU in tackles as a sophomore in 2013. Shannon started in 15 games in his first two seasons and has 132 tackles, including 10.5 tackles for loss, heading into his junior year.
Bull's-eye
[+] Enlarge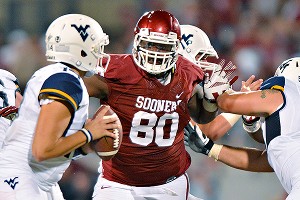 Jackson Laizure/Getty ImagesDefensive tackle Jordan Phillips is one of the few players who has panned out from Oklahoma's 2011 recruiting class.
Defensive tackle Jordan Phillips
: Phillips was emerging as a major force in the middle of the Sooners defense before a back injury this season. The No. 119 player in the ESPN 150 in 2011, Phillips has the talent to exceed expectations if he returns to full health.
Defensive tackle Jordan Wade:
He replaced the other Jordan after a grayshirt season, and then redshirted in 2012. As a redshirt freshman in 2013, Wade was one of the heroes of OU's 11-win season as he stepped in for Phillips and held his own in the middle of OU's defense. The No. 103 player in the ESPN 150, Wade has a bright future ahead of him.
Completely missed the mark
Offensive lineman Nathan Hughes:
The No. 101 player in the ESPN 150, Hughes played several positions before leaving the program before the 2013 season.
Running back Brandon Williams:
The No. 35 player in the ESPN 150, Williams made an impact as a freshman but elected to transfer to Texas A&M after his first season.
Running back Danzel Williams:
The No. 64 player in the ESPN 150, Williams redshirted in 2011, then left the program before the 2013 season. He never made an impact for the Sooners.
Overall grade: D-
More than half of this class is no longer in the program, including both Williams, Hughes, receiver
Trey Metoyer
, receiver
Kameel Jackson
, quarterback
Kendal Thompson
, linebacker
Kellen Jones
and defensive back
Bennett Okotcha
. Only Shannon and a pair of Jordans kept this class from being an F in one of the worst classes of the Bob Stoops era.
August, 14, 2012
8/14/12
3:30
PM ET
By
SoonerNation staff
| ESPN.com
SoonerNation writer Jake Trotter chatted with readers on Monday about Oklahoma football and recruiting. Here's the full transcript. If you didn't get your question answered, send it to the SoonerNation mailbag.
Here are a few highlights from the chat:
Jay (Wichita): What is the word on Jalen Saunders? Why is he getting so many reps, do the coaches have information that he will be cleared to play?
Jake Trotter: Two pretty good sources told us on Sunday that Saunders had NOT yet heard back from the NCAA on his waiver request. The coaches obviously feel decent about his chances, else they wouldn't be playing him on the second team. But no official word yet. Could come any day now.
Billy Joe Bob (Enid): If called into action, will Ty Darlington, Derek Farniok, Nila Kasitati, Kyle Marrs, and Nathan Hughes be able to play at a high level?
Jake Trotter: The second team offensive line is a concern now. Nila Kasitati is practicing, but only a couple weeks from having a heart procedure. OU's other most experienced interior reserve, Austin Woods, is going through chemo. Darlington could emerge as Gabe Ikard's backup at center -- he's gotten some 2nd team reps there. Don't see Farniok, Marrs or Hughes being a factor this season.
Brett (RI): Any word on how the tight ends are looking this year and how they will factor into the offense?
Jake Trotter: They're going to really on Brannon Green to be this year's Brody Eldridge. He's not going to be a big factor in the passing game, but they'll ask him to run block a lot. I expect Trey Millard to get time at tight end in one-back sets. Taylor McNamara could add a catch here or there.
Dig (Doug): How big of a game is the Texas Tech game this year?
Jake Trotter: Big in the sense that's it a dangerous game. OU has never played well in Lubbock, and Tech has to feel confident coming of its win last season. It's also the week before Texas. I would like Tech's chances a lot more, though, if they hadn't beaten OU last season. Sooners should be focused for this one.
June, 21, 2012
6/21/12
12:00
PM ET
During the summer months, SoonerNation will take a closer look at each scholarship player on Oklahoma's roster in our Crimson Countdown series. We'll analyze each player's impact on the program since he arrived on campus, his potential impact this fall and his long-term impact. Starting with No. 1 Tony Jefferson, the daily series will go in numerical order until our final analysis of No. 98 Chuka Ndulue.
No. 44
Nathan Hughes
Defensive end, 6-foot-6, 248 pounds
February, 23, 2012
2/23/12
10:30
AM ET
Defensive end was one of the strengths of Oklahoma's defense in 2011.
Frank Alexander
was consistent and productive during his senior season while
Ronnell Lewis
used his unmatched athletic ability to terrorize Big 12 offenses.
But Both players are gone.
Competition will be the name of the game at defensive end this spring as several players -- some with experience, some with potential -- will battle to replace Alexander and Lewis in the starting lineup.
To continue reading this article you must be an Insider
December, 9, 2011
12/09/11
9:00
AM ET
Jake Trotter answers readers' questions about Oklahoma football in his mailbag every Friday. Got a question for Jake?
Submit it here.
[+] Enlarge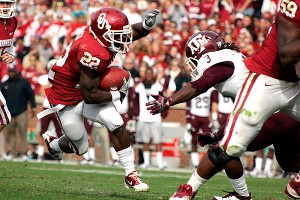 J.P. Wilson/Icon SMISophomore running back Roy Finch didn't make a big impact in 2011 until walk-on Dominique Whaley went down with injury.
Michael in Long Beach, Calif., writes:
Jake, I don't want to overstate the collapse by the Sooners, but is it safe to say that last year's remarkable freshman class didn't evolve as expected in their sophomore years?
Jake Trotter:
Michael, it's fair to say that class as a whole failed to elevate its game to the level everyone thought it might. Fullback
Trey Millard
was an all-conference selection, but nobody else from that class --
Kenny Stills
, Tony Jefferson, Corey Nelson,
Roy Finch
, Aaron Colvin -- had that kind of season. All of those guys are really good players, who are going to be the core of this team going forward. But we probably should have waited to see what would happen before declaring it the greatest class of the Bob Stoops era.
---
Jason Kirkpatrick in Angleton, Texas, writes:
Hi Jake, what is your take with the team coming back with OU minus
Landry Jones
next year? How good do you think this team can be and win conference? Thanks, Jason
Jake Trotter:
I don't know that I see this team -- with or without Landry -- contending for a national championship next season, but it will certainly be talented enough to win the Big 12. Oklahoma State must replace
Brandon Weeden
and
Justin Blackmon
, Baylor could lose Robert Griffin III and Texas still has no offense. Kansas State, West Virginia and TCU will be solid, but OU should right there with any team in the league.
---
Lance Norris in Phoenix writes:
Mike Stoops back to Norman, it's all the buzz. What are you hearing?
Jake Trotter:
I'm hearing there is a decent chance Stoops comes back as OU's secondary coach and co-defensive coordinator along with Brent Venables (assuming he doesn't leave), but there are some obstacles that have to be resolved first. Remember, there is no opening on the OU staff at the moment. Someone will have to leave or be fired for Stoops to return, and Bob Stoops has never fired an assistant during his tenure at OU. Mike Stoops has other options, too. He is being courted by Nebraska and Ohio State, among others. And those places actually have vacancies. But if one pops up in Norman, look for Bob to make a strong push to bring his brother back. Stay tuned.
---
Chad in Edmond, Okla., writes:
I've been thinking recently about how OU hasn't been a juggernaut rushing, but instead focuses on passing. I know with Landry and Sam Bradford passing should be a priority. But there has been so much offensive line and running back talent come through recently that it confuses me as to why OU can't run the ball. What I want to know is, are the running issues something to do with how the players are coached or more towards the scheme? Shouldn't it be easier to run with the talent that OU consistently has? I see that as being one of the biggest problems. I would like to know your opinion. Thanks.
Jake Trotter:
Chad, growing up I was a fan of the Miami Dolphins during the Dan Marino era. Miami scored a ton of points then. But no matter what the Dolphins did, no matter who they signed or drafted, no matter how much they talked about it, they could never run the ball with any consistent effectiveness. Why? I believe it was because of their mentality. They never could develop the mentality of a hardnosed run team. They never could shake the mentality they were a finesse team. They didn't really believe they could impose their will on the ground. And there wasn't really a commitment to see it through. I see OU having a similar mentality now. The talent is there to run the ball. I'm not sure the right mentality is at the moment. Until that changes, running the ball is going to continue to be a struggle.
---
Clayton in Sherman, Texas, writes:
Everyone keeps saying we don't have a tight end. What about the two freshmen on the roster from last year's class?
Max Stevenson
and Hughes. If we pick up three more like you all say in your recruiting news, we will have more on the roster than we have now, right?
Jake Trotter:
Stevenson has never played a down and is recovering from a pectoral injury. I'm not sure which Hughes you are referring to, but Nathan Huges is a defensive end, and John-Phillip Hughes is a walk-on. If
Austin Haywood
doesn't make it back -- and based on who OU is recruiting, I'm skeptical he will -- the Sooners would be left with only one returning scholarship tight end, who hasn't been practicing because of injury. Which is why tight end is a definite need. That's why the Sooners are bringing in two tight ends in
Laith Harlow
and junior college transfer
Brannon Green
. And they're still recruiting a few others.
Stoops, Players Want To Effect Change
BIG 12 SCOREBOARD
Thursday, 9/3
Friday, 9/4
Saturday, 9/5