Oklahoma Sooners:

Les Miles
February, 23, 2013
2/23/13
6:21
PM ET
The trek from Manvel, Texas to Tuscaloosa, Ala., is roughly nine hours.
On Friday, ESPN Watch List tight end
Koda Martin
and his father, Manvel (Texas) High School head coach Kirk Martin, made that journey -- with a stop in Baton Rouge, La., added in for good measure -- so that Koda could attend Alabama junior day on Saturday.
December, 14, 2012
12/14/12
3:33
PM ET
All Sierra College wide receiver
Courtney Gardner
wants to do is play football.
After sitting out the 2012 season to deal with academic issues, he desperately wants to get back onto the field.
The question is where will he go? LSU? Test the waters of the NFL draft? Gardner doesn't know, but he's not going to stop working.
To continue reading this article you must be an Insider
November, 20, 2012
11/20/12
2:00
PM ET
Despite last season's loss, the Bob Stoops era has featured many memorable games and moments against Oklahoma State. SoonerNation ranks the Top 10 Bedlam moments in the Stoops era for the Sooners:
1. Mike asks Les if he wants more
The week of Bedlam in 2003, OSU coach Les Miles said the game would feature "maybe the best team in college football" and "a darn good football team" and "we're going to figure out which one is which." The Stoops brothers didn't care for the comment. In the fourth quarter, with the Sooners on their way to a convincing 52-9 victory, defensive coordinator Mike Stoops stepped from the sideline and stared across the field, raising his arms, then his palms, as if he were asking Miles, "You want some more?"
To continue reading this article you must be an Insider
May, 4, 2012
5/04/12
9:15
AM ET
STILLWATER, Okla. -- Mike Gundy remembers what happened the last time Oklahoma State shook up the Bedlam rivalry.
Gundy was an assistant on Les Miles' staff back in 2001 when the Cowboys knocked off the defending national champion Sooners on their home field as four-touchdown underdogs. In 2002, Miles did it again, beating the No. 4 Sooners in Stillwater, 38-28. The Sooners' noisy neighbors to the north woke them up to a rivalry that would turn one-sided again very soon.
"The first two years I was here with Les and we beat them, they didn't really consider us a factor. I obviously don't have any proof of that, but I'm sure when they looked at their schedule, they were looking more at Texas and Nebraska and people like that. ... I don't think their players every really paid much attention to us," Gundy said. "It's been so one-sided here for the last 100 years, or however long; it's been a bigger factor for the fans than it was the players.
"That changed in 2003 up through now. They, in my opinion, were very aware of that game. Last year is only going to add to that."
[+] Enlarge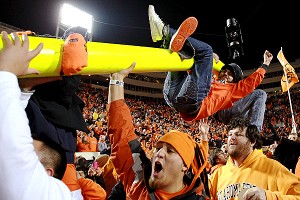 Ronald Martinez/Getty ImagesOklahoma State beat rival Oklahoma for the first time in eight years on its way to winning the Big 12 title in 2011, and fans celebrated the moment.
Oklahoma coach Bob Stoops? Well, he strongly disagrees with that assessment.
"Everyone calls it a rivalry for all these years, now you're saying it's now become one? I don't understand that. When wasn't it a rivalry?" he said. "Like I didn't need to last year? What year didn't I need to win it?"
Valid points from Stoops, but the facts support Gundy's assumption. After the 2002 loss, the Sooners won next eight Bedlams battles. Only three of the eight wins were by single digits, even though a rising Oklahoma State program was ranked in five of the eight meetings.
Just like 2001 and 2002, Gundy says the Cowboys' emphatic 2011 win "throws fuel on the fire" of Bedlam, a Big 12 rivalry gaining fast on Red River as the Big 12's most nationally relevant game.
Last season, the balance of power in the state shifted. When receiver
Isaiah Anderson
goes home to Wichita Falls, Texas, he sees more orange than ever before. It's on car bumpers, the fronts of shirts and emblazoned across hats.
With a 44-10 Cowboys romp in Boone Pickens Stadium capped by a field storming, Oklahoma State announced its arrival.
"Oklahoma's not the only team in Oklahoma anymore. They can't call it the Sooner State," Anderson said.
This was no fluke win. It was no blip of an upset that put a late-season blemish on Oklahoma's record. This was two in-state rivals playing for everything, and Oklahoma State walked away as 34-point victors.
"I said it then: If not now, then when? When is that gonna happen?" offensive coordinator Todd Monken said. "We got them here, everything's on the line, we've had a bye week, we're playing good football. We're healthy. They weren't."
The Sooners had taken home seven Big 12 titles since 2000, and even with injuries to leading receiver Ryan Broyles and running back
Dominique Whaley
, they had positioned themselves for an eighth. Oklahoma State said, "No. This one's ours."
Oklahoma State had won games, sure. It had won bunches of them -- 29 in the past three seasons, including a school-record 11 in 2010. What it hadn't won? The big one.
"The bully is the bully until you beat up the bully," Monken said. "You can't say you've arrived until you actually win it."
Fans mobbed players to celebrate as they ripped down the goalposts.
Middle-aged alums hopped the field's 8-foot wall and hugged players such as
Justin Gilbert
, who said he couldn't take a step without someone thanking him and his teammates.
In one night, Oklahoma State ended eight years of frustration.
"Hopefully, now in our players' minds and our fans' minds, we're not the whipping boy anymore," offensive lineman
Jonathan Rush
said. "We can play. It's not like we have a curse that we'll never win that game. Now we can believe. It's doable."
It also booked its first trip to the BCS and, most importantly, won its first outright conference title.
"If we beat Iowa State and lost to OU, it's not the same," Monken said, referencing a double-overtime loss to the Cyclones that cost OSU a shot at the national title but didn't deter its Big 12 title hopes. "Yeah, we might have gone on and played in the Sugar Bowl, but it wouldn't have been the same because you didn't win the league. You didn't win the title. You can't say, 'Hey, we're conference champs.' And you did it against OU, who, let's face it, has had the upper hand for years."
The Sooners had the upper hand on more than just Oklahoma State. OU and Texas combined to win 10 of the 15 Big 12 titles before last season. No one except the Sooners and Longhorns had won the former Big 12 South since Texas A&M in 1998.
Then, all of a sudden, the Big 12's Red River dominance came to an end.
"I think what that's done is kind of broke the ice a little bit," Gundy said. "The people that follow football in this part of the country, I think they enjoyed watching Oklahoma State win this league, because of the dominance the other two schools have had."
It's no longer impossible to surpass Oklahoma and Texas. The road to the Big 12 title was easier in the former Big 12 North, but when the Big 12 eliminated divisions in 2011 after being trimmed to just 10 teams, concern arose that no one would be able to outperform OU or Texas over the course of a 12-game season.
A Big 12 North team could upset a team from the South in the Big 12 title game. Kansas State proved that with a mammoth upset in 2003. Colorado upset Texas in 2001. But outplay the Red River rivals for an entire season? Good luck with that.
A year later, Oklahoma State proved it can be done, and can be done emphatically. The Cowboys finished two games ahead of the Sooners after the Bedlam beatdown for state supremacy.
"Winning a BCS game in some way has changed all of their lives," Gundy said. "They just don't know it. It certainly changed mine and the people that coach here and work in their organization. It did theirs, too. They just don't know it yet."
December, 4, 2011
12/04/11
1:09
AM ET
STILLWATER, Okla. -- The proud Pokes finally did the deed.
The goalposts came down, and the Oklahoma State flags went up.
Red state? Blue state? For the first time since 2002, Oklahoma is an orange state.
The impact of Saturday's dominant
44-10
Oklahoma State win over Oklahoma was far-reaching. After voters from coast to coast slot LSU No. 1, they'll have to decide on No. 2: Alabama or Oklahoma State?
But on this night, the Cowboys had a chance to enjoy the simpler pleasures, too.
All that politicking and SEC mudslinging will last less than 24 hours.
This win on Saturday night? It'll last a whole year and bleed everywhere -- from coffee shops to elementary schools across Oklahoma.
Coach Mike Gundy says he's immune from the ever-present smack talk. But everybody else?
"I know it affects the players," Gundy said. "And coaches' families, their kids. I've got three kids that go to school, and all the coaches have kids. They want to win. That's what their dads do. That's just a fact. Whether you like it or not, there's legitimate reasons for us to win, so when they go in those restaurants, they don't have to listen to, 'Hey, y'all made it all the way to No. 2 in the country, but you still didn't beat OU.'"
[+] Enlarge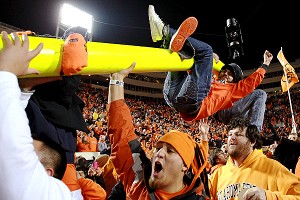 Ronald Martinez/Getty ImagesThis was only the 17th time Oklahoma State has beaten their in-state rivals Oklahoma.
They played this Bedlam rivalry for the 106th time on Saturday night. This was only the 17th time that Oklahoma State fans left with their heads held high.
"It's one thing to hear it around the rest of the state, but when you go home and you have to hear people talk to you about it, it makes it worse," said receiver
Justin Blackmon
, who hails from the heart of Sooner country. His hometown of Ardmore, Okla., is only about 80 miles south of Norman.
"I know they won't be able to talk," Blackmon said.
The simple truth: Wins like these are more special for the folks in orange. They don't see them quite as often, but that number is growing.
For a year, they'll relish the first outright conference title in school history and the first since they shared a conference crown in 1976.
Gundy called it the most gratifying football moment of his career, overtaking the first time he beat Texas in 2010.
"Nothing compares," said the career Cowboy, who has spent 21 years as a player, assistant and now head coach at Oklahoma State.
This one was special.
"We've earned their respect over the last four, five, six years, so it's different," Gundy said. "There were a number of years we didn't even have their respect. They respected us, and that helps, but still, you've gotta beat 'em. Otherwise it's always, OSU has got to this level or that level, but they've never beat OU."
And Gundy, in a fashion that turned the second half into a party atmosphere instead of a tense one, became the first coach since that coaching savant down in the Bayou, Les Miles, to knock off Oklahoma as the Cowboy-in-chief.
The Cowboys didn't beat Oklahoma. They beat the heck out of Oklahoma. The offensive line: "Phew, dominant," quarterback
Brandon Weeden
said with a shake of his head.
Weeden had enough time in the pocket for most of the night to craft each of his linemen a handwritten thank-you note to hand out in the postgame locker room, where Gundy obliged his team with
another one of his patented dance sessions
.
"I had no choice," he said. "I'm a YouTube sensation. There's no telling
what'll be on there next
."
That was only after a well-deserved Gatorade shower.
"God, that was cold," Gundy said.
Yeah, Oklahoma fans felt the same way.
Oklahoma State running backs
Jeremy Smith
and
Joseph Randle
-- who combined ran 22 times for 178 yards and four touchdowns -- found holes from the offensive line wide enough that if the two were Siamese twins, their numbers might not have been much different.
The last time Oklahoma State took the field, Iowa State fans stormed it. Saturday night, it was the Cowboys' turn, all before slapping on orange shirts and white hats declaring them "Big 12 Champions."
Fans braved the nine-foot drop from the stands to the field at Boone Pickens Stadium.
Weeden stopped and posed for an endless string of photos. Players celebrated among the mob.
"I had my helmet on, and I got slapped in the head so many times, I might have a concussion," Weeden joked.
He stopped and shook Pickens' hand after. Those hundreds of millions of dollars that Pickens handed over to the school he loves so much? BCS National Championship Game appearance or not, it's paying off.
Oklahoma State, for the first time, is the Big 12 champion.
"To see [the players] enjoy that, that's a huge thrill for me, because there's so much that goes into this," Gundy said. "I just want them to be able to enjoy it."
They will. And so will the rest of the Oklahoma State family.
Stoops, Players Want To Effect Change
BIG 12 SCOREBOARD
Thursday, 9/3
Friday, 9/4
Saturday, 9/5