Oklahoma Sooners:

Kelly Hilinksi
May, 18, 2012
5/18/12
2:00
PM ET
No position gets scrutinized more in the recruiting world than quarterback. A prime example of that was Oklahoma's pursuit to find the perfect signal-caller for its 2013 class. In most years, schools are only looking for one quarterback. It takes time and a lot of effort.
For the Sooners, it wasn't easy. There were a lot of bumps and turns in the road, but OU
landed one of its prime targets
in
Cody Thomas
(Colleyville, Texas/Heritage). Thomas, a four-star prospect, is ranked No. 11 as a pocket-passing quarterback and
verbally committed to the Sooners
on Tuesday even though he went public with the news on Thursday.
How did we get here? A timeline of Oklahoma's quarterback search for the class of 2013.
November 2011
: Quarterback
Tyrone Swoopes
(Whitewright, Texas/Whitewright) attends Oklahoma's victory against Texas A&M. It is on this weekend that Swoopes says his OU offer was implied, and he is clearly one of OU's top choices.
Tom Hauck for ESPN.com
Max Browne chose USC over Oklahoma on April 4.

Feb. 3, 2012
: A day before OU's first junior day, the Sooners make their first known offer at the position to four-star prospect
Max Browne
(Sammamish, Wash./Skyline).
Feb. 4
: OU's first junior day brings in two top quarterbacks. Swoopes is joined by top in-state signal-caller
Brayden Scott
(Tahlequah, Okla./Sequoyah). Swoopes is happy with the visit but not blown away by everything. Scott doesn't receive an offer but is told by OU quarterbacks coach Josh Heupel they will stay in contact.
Quarterback
Kelly Hilinski
(Sherman Oaks, Calif./Notre Dame) is invited initially before being asked by Heupel to stay home. Quarterback
J.T. Barrett
(Wichita Falls, Texas/Rider) is also invited but cannot attend.
Feb. 17
: Swoopes, ranked the No. 1 dual-threat quarterback in the country and coming off a fantastic visit at Texas' junior day, commits to the Longhorns. He is ranked No. 9 in the ESPN 150.
March 3
: On OU's second junior day, there is not much focus on quarterbacks. Barrett once again is invited but cannot make it.
Austin Robinson
(Houston/Bellaire Episcopal) is invited, but the distance keeps him from making the trip.
March 9
: Browne makes an unofficial visit to OU. He is given the red-carpet treatment by the staff. He is shown the Sooners' target board. It's Browne at No. 1 ... and then everybody else. Browne says he could not have had a better time and has OU and USC as his top two choices.
March 28
: A new name enters in Cody Thomas. Busy with baseball, Thomas manages to sneak in an unofficial visit on a Wednesday. He is not offered and is told by Heupel they will keep in touch.
May, 7, 2012
5/07/12
10:00
AM ET
Quarterback
Hayden Rettig
(Los Angeles/Cathedral) was getting tired of hearing questions about his health.
Rettig, who tore his right ACL and meniscus during his team's second game of last season, wanted to prove to everybody that he was 100 percent healthy. And at a quarterback academy event in California last month, he did just that, showing his mobility, arm strength and confidence. In other words, he showed he was back.
And the race to be Oklahoma's 2013 quarterback has now added one more participant.
[+] Enlarge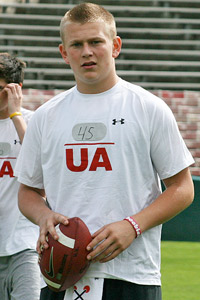 Gerry hamiltonOklahoma is expected to visit California quarterback prospect Hayden Rettig this month.
Spurred by that outing, the spring evaluation period has seen one top coach after another visit Rettig. And in the next couple of weeks, OU quarterbacks coach Josh Heupel is expected to be one of those visitors.
"You think of OU, and you think of all their good quarterbacks that have come from there lately," Rettig said. "I remember watching Sam Bradford. You see what he was able to do, and you know you can succeed."
Rettig is believed to be the fourth quarterback on Heupel and Oklahoma's radar for the class of 2013. Heupel has already had an in-person visit with
Brayden Scott
(Tahlequah, Okla./Sequoyah) and is expected to visit with
Cody Thomas
(Colleyville, Texas/Heritage) before the spring evaluation period ends on May 31.
It is likely Heupel will visit Rettig when he visits the other quarterback the Sooners are targeting,
Kelly Hilinski
(Sherman Oaks, Calif./Notre Dame), because the two schools are in close proximity of each other.
Rettig said Heupel first contacted his high school coach nearly three months ago. Since that time, Rettig has been in communication with Heupel, talking to the OU assistant as recently as last week. With no more health concerns, Rettig and the Sooners seem to be on the same page.
At 6-foot-3 and 205 pounds, Rettig is a four-star prospect and ranked the No. 12 pocket-passing quarterback in the nation.
If anybody thinks Rettig will have a problem going that far away home, just look at Chase, his older brother. Chase Rettig is the starting quarterback for Boston College and threw for 1,960 yards and 12 touchdowns last season.
"[California] is nice, but you can always go back in the summer or on spring break and things like that," Hayden Rettig said. "I want to go where I can play and compete for the spot."
Rettig has offers from Auburn, Boston College, Vanderbilt and UCLA, among others. He said it has been a crazy process, but he has enjoyed it because he didn't know how much attention he was going to receive after his injury. He threw for nearly 1,000 yards in the two games he played and was on his way to a stellar junior season, he said.
Rettig said it probably would have been one of his last plays of the game. Instead of getting out of bounds on a scramble, he tried to get a few more extra yards and that's when the injury occurred.
"I thought I broke my leg," he said.
April, 29, 2012
4/29/12
7:00
PM ET
If quarterback
Brayden Scott
(Tahlequah, Okla./Sequoyah) doesn't get an Oklahoma offer, it won't be because of a lack of effort.
Scott, 6-foot-2 and 200 pounds, was the first of OU's remaining quarterback targets to receive an in-person evaluation by the Sooners. OU quarterbacks coach Josh Heupel stopped by Sequoyah-Tahlequah Friday afternoon to watch Scott workout with his team and stayed for more than three hours.
[+] Enlarge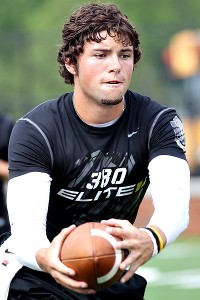 Tom Hauck for ESPN.comJunior quarterback Brayden Scott has offers from Arkansas, Memphis, Houston, Clemson, Arizona State and Arizona, among others.
"We did everything you can think of when it comes to being a quarterback," Scott said. "We did three-step, five-step, seven-step drops, throwing on the run, hitting stationary targets. Any and everything."
He also benched 225 pounds 10 times and took a little break to show off his athleticism by dunking basketballs in the school gym.
Scott didn't earn an OU offer Friday, but he said he is not worried about what the future holds. It is believed Heupel is going to watch all the quarterback finalists before making his decision and he is expected to watch
Kelly Hilinski
(Sherman Oaks, Calif./Notre Dame) in early May.
Scott said getting an opportunity to throw in a competitive environment at the Elite 11 QB regional camp in Atlanta the week before made him more in sync for Heupel's visit.
"It definitely helped because I threw really well in front of him," Scott said. "That was one of my better days, and it couldn't have happened at a better time."
Scott said he finished in the top 10 of the Elite 11 regional and will also be attending an Elite 11 regional event in Las Vegas on June 16. The goal remains the same for Scott, who hopes to earn the invite to the finals in July.
He also wants to be done with his recruitment by the Las Vegas event. Scott declined to comment on most of the conversation he had with Heupel because he promised Heupel he wouldn't say anything.
One thing Scott didn't get answered was the timetable on when a decision will be made.
"I really want to know and wanted to ask, but I didn't just want to throw it out there. There was no way to sneak it in, either, but that's OK," Scott said. "I'll just be ready."
And as much as Scott is hoping an OU offer is just around the corner, he won't have much downtime to contemplate things.
To continue reading this article you must be an Insider
April, 23, 2012
4/23/12
10:00
AM ET
Tahlequah (Okla.) Sequoyah football coach Brent Scott is normally more active in helping his players get recruited. He is usually calling coaches to try to help his players get noticed. But with his son, junior quarterback
Brayden Scott
, Brent has taken a backseat. He has answered questions about the process, but also has tried not to hover.
"I haven't been that much involved with Brayden's recruiting because I don't want to be that type of father," Brent Scott said.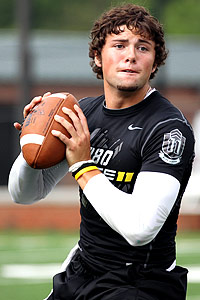 Tom Hauck/ESPNHSOklahoma quarterback target Brayden Scott competed in the Elite 11 QB regional camp in Atlanta over the weekend.
Though Brent isn't as active with his son's recruitment, he is very pronounced in the process because of all the coaches that are calling him. One of those coaches he has talked with frequently is Oklahoma quarterbacks coach Josh Heupel.
Brent Scott, who played quarterback at Oklahoma State, never considered OU as a potential home for his son, he said. But Heupel has been in contact with the Scott family since Brayden was in the eighth grade, and there is no doubt Brayden is on the Sooners' short list for a quarterback offer for the class of 2013.
And that would be perfectly fine with Brent.
"Coach Heupel has done a heck of a job, in my opinion, of handling everything," Brent Scott said. "From a coaching and parent standpoint, I don't have any problems."
This isn't the first time Heupel has come to the small eastern Oklahoma high school. Back when OU was searching for its quarterback for the class of 2008, Heupel visited Tahlequah Sequoyah to evaluate its star signal-caller Nathan Stanley.
Stanley signed with Ole Miss before transferring to Southeastern Louisiana, while the Sooners, of course, ended up choosing a quarterback from New Mexico named
Landry Jones
.
"What I remember is how thorough he was. Coach Heupel spends a lot of time evaluating. He doesn't rush the process," Brent Scott said. "After I saw Landry play, yeah, he probably was a little better than Nathan."
Heupel hasn't rushed the process for this class either, even if some OU fans had hoped the quarterback situation would be finalized at this point. After four-star quarterback
Max Browne
(Sammamish, Wash./Skyline) committed to USC, there was plenty of intrigue in how the Oklahoma coaches would react.
Instead of making an immediate offer, however, Heupel told three quarterback targets that they're in the conversation to be Oklahoma's next offer, but there would be no final decisions until he evaluated all of them in person.
Those quarterbacks -- Scott,
Cody Thomas
(Colleyville, Texas/Heritage) and
Kelly Hilinski
(Sherman Oaks, Calif./Notre Dame) -- are all set to be visited by Heupel during the evaluation period this spring, which ends May 31.
To continue reading this article you must be an Insider
Stoops, Players Want To Effect Change
BIG 12 SCOREBOARD
Thursday, 9/3
Friday, 9/4
Saturday, 9/5