Oklahoma Sooners:

Keith Patterson
October, 1, 2013
Oct 1
3:00
PM ET
Thanks for all your questions in today's chat. Here's
where you can find the full transcript
. If you didn't get your question posted, send it
to the mailbag
and you could see it on the Big 12 blog on Friday:
Michael (Flower Mound, TX):
Could Baylor really be the best in the Big 12?
Jake Trotter:
Sure, why not? They've looked like the best team so far along with Oklahoma. And they get the Sooners in Waco on Nov. 7.
Robert (El Paso):
I think Kliff Kingsbury has done a pretty good job so far, but he went for a fourth down against TCU that was ill-advised. What are your thoughts on Kliff so far?
Jake Trotter:
Kliff has been the Big 12 coach of the year so far, in my humble opinion.
ouwooferman (Houston):
Bigger environment: Playing at ND or BU?
Jake Trotter:
Notre Dame. Better team? Baylor.
Kyle (Iowa):
What do you think is key for Iowa State to upset Texas? Establishing a running game or will it be more on the defensive side of the ball?
Jake Trotter:
Getting
Aaron Wimberly
going. He's the sparkplug in that offense. If they can get him in space, they have a chance to move the ball.
Kevin (Reno, NV):
What took Dana Holgorsen so long to place
Clint Trickett
in the starting lineup? I thought he was penciled in when he arrived to Morgantown?
Jake Trotter:
Strange, right? I thought for sure Holgorsen would give Trickett a shot during the OU game when it had become evident WV was not scoring with [Paul] Millard at QB.
Jeff (Dallas):
Better Defense - OU or TCU?
Jake Trotter:
Slight edge to TCU when all its guys are healthy.
JakeJones (OKC):
Which Big 12 team should be on upset alert this weekend?
Jake Trotter:
Texas. Iowa State found its offensive footing in Tulsa, and Ames on a Thursday night -- that's a setting nobody wants to deal with.
Larry (TX):
Which would you consider the better coaching job, USC or Texas (assuming Mack Brown gets smoked by OU)?
Jake Trotter:
Texas. More money. More support.
Ryan (Tyler, TX):
Jake, who will the Longhorns look to replace DeLoss Dodds?
Jake Trotter:
First name I thought of was Oliver Luck. Luck has a law degree from Texas.
Allen (Houston):
Still not buying Baylor. When they play these teams with athletes on D, they wont be putting up all those points. Same old Baylor, with a ceiling of 9 wins. Won't be shocked to see WVU beat them handily.
Jake Trotter:
There's always the possibility they become this year's 2012 West Virginia. I don't see it. This Baylor defense is better than last year's West Virginia defense. And this Baylor offense is more complete than last year's West Virginia offense, which really had just 3-4 players.
Jesse (SC):
Should a conference expansion occur, what teams would be the prime candidates for the Big 12?
Jake Trotter:
The only schools worth adding at this point would be in the ACC. But that would require the ACC crumbling before the Big 12.
Josh (Dallas):
Still taking a wait-and-see approach with the entire top 3. None are yet to have a performance against a quality team that makes you think they are playing on the level of a clear favorite. Thoughts?
Jake Trotter:
I think that's somewhat fair, but winning in Notre Dame is no small feat, even if the Irish are not as good as last season.
Drew (Houston):
Love the work Jake, definitely helps me get through the week until Saturday's games. Is it just me or do fans of other teams seem really upset that Baylor isn't an automatic "W" for their team anymore? Seems like any praise Baylor gets, they try to point out "they haven't played anyone" argument or bring up Baylor's past history claiming they've never finished close to the top of the B12 so they can't this year. While I agree they haven't been tested yet, they sure have obliterated the teams they've face, which is what great teams should do. I've got news for them, this Baylor squad is good and worth all of the attention it is getting.
Jake Trotter:
Some outside fans don't believe yet, which is somewhat understandable... what has Baylor ever done other than win 10 games in 2011? But per the eye test, this team is legit, and I think they will begin to prove that as the competition level rises.
Big Ferm (San Diego):
As a Baylor fan, it's time to quit talking about it and be about it. Will a convincing victory over WVU on Saturday legitimize the Bears as a real threat to win the Big 12?
Jake Trotter:
Baylor won't be legitimate in the eyes of many unless they beat OU Nov. 7. That will be their chance to win the doubters over, too.
Tony (Richmond, CA):
Has
Sterling Shepherd
now officially arrived?
Jake Trotter:
Thought he arrived last season?
Jon (Atlanta):
Considering Maryland blanked WVU, how much does that say about OK State?
Jake Trotter:
Maryland didn't face Trickett. He would have made a difference in that game, though not the ultimate outcome. But it doesn't bode well for OSU. The defense played OK, but didn't dominate an offense that had been completely inept previously.
Dillon (Bedford, PA):
Do you think Keith Patterson is due for a raise? It's early but the improvement in WV's defense is pretty amazing so far.
Jake Trotter:
It's amazing. The Mountaineers have been stout. Big test coming this weekend.
CJ (Norman):
What's your favorite NCAA football food?
Jake Trotter:
Ballgame food? Corndogs. Usually walk down from the press box during halftime of games I'm covering to get one.
September, 29, 2013
Sep 29
10:00
AM ET
The Sooners notched a big nonconference road win for the Big 12, West Virginia's defense came up big in an upset of Oklahoma State, and TCU finally found some offense against SMU.
What we learned about the Big 12 from Week 5:
[+] Enlarge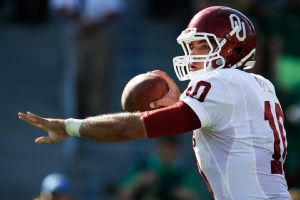 AP Photo/Darron CummingsQuarterback Blake Bell, making his second career start, was 22-of-30 passing for 232 yards and two touchdowns in leading Oklahoma past Notre Dame.
The Sooners are a different team with Bell:
This question has to be asked: How did
Blake Bell
not win the starting quarterback job during the preseason? Since taking over for
Trevor Knight
, Bell has been superb, leading the Sooners to a big 35-21 victory Saturday at Notre Dame. Bell completed 22 of 30 passes for 232 yards and two touchdowns for a Total QBR of 79.1 (scale of 0 to 100), which almost certainly will go up once the strength of Notre Dame's defense is factored into the equation. Bell also didn't turn the ball over, as OU controlled the game from beginning to end. Save for a Nov. 7 showdown in Waco, the Sooners' remaining slate doesn't look nearly as daunting as it did a month ago. With Bell running the show at this level, OU is very capable of winning every game left on its schedule.
The West Virginia defense appears legit:
The performance against Oklahoma State was the best by a West Virginia defense since joining the Big 12. The Mountaineers controlled the line of scrimmage to shut down OSU's vaunted running game, and the secondary laid the lumber, knocking receivers
Josh Stewart
and
Jhajuan Seales
out of the game with big hits. The 21 points, in fact, were the fewest scored by a Cowboys offense in a loss since the 2009 Cotton Bowl. West Virginia did give up 37 to Maryland a week ago, but the six turnovers from the West Virginia offense had a lot to with that. In holding the Bedlam schools to a combined 37 points, Keith Patterson's unit has now locked up, perennially, two of the Big 12's highest-scoring offenses. The Mountaineers will get their shot at another on Saturday in Waco, and Baylor's high-flying attack will provide the toughest test to date. But the West Virginia defense will give Baylor its toughest challenge yet as well.
Oklahoma State not the same offensively:
The Cowboys have basically played two teams with a pulse and scored only 21 points both times. The Pokes seems to really be missing former coordinator Todd Monken and running back Joseph Randle, maybe even more than anybody thought they would. The Cowboys never found a flow offensively in Morgantown with Mike Yurcich's play-calling, and Randle's successor,
Jeremy Smith
, finished with just 1 yard on 15 carries. Given
J.W. Walsh
's limitations throwing the ball downfield, it's been awhile since an Oklahoma State offense had this many vulnerabilities.
TCU offense gains confidence with new faces:
The Horned Frogs offense finally came alive late in the third quarter of a 48-17 win against SMU. And it came alive via plays from some new faces. True freshman
Ty Slanina
hauled in a 20-yard touchdown with four minutes left in the third quarter to break a 10-10 tie. On TCU's next possession, former Florida transfer
Ja'Juan Story
took a 56-yard pass to the house to ignite the rout. Then freshman
Cameron Echols-Luper
returned a punt 51 yards to set up another touchdown. Going into the SMU game, Slanina, Story and Echols-Luper had a combined five touches through three games. The trio, however, figures to be a big part of the Horned Frogs' attack going forward, including next weekend in Norman.
OU at Baylor looking like the Big 12's biggest game:
With the Cowboys' loss in Morgantown, OU-Baylor in Waco on Nov. 7 is looking more and more like the game of the year in the Big 12. Several other pivotal matchups remain (TCU-OU, the Red River Rivalry, Tech-OU, Baylor-OSU, Baylor-Tech, Bedlam). And there are still other teams (Tech, TCU, OSU, even Texas) that could play their way to the top of the conference title race. But as of today, OU-Baylor is looking like the game that will have more conference title implications than any other.
Alabama, Oklahoma To Meet In Sugar Bowl