Oklahoma Sooners:

Joe Mathis
August, 2, 2012
8/02/12
10:00
AM CT
Every Thursday, SoonerNation releases the Sooner Intel, a sneak peek inside Oklahoma Sooners football recruiting with news and notes on the latest happenings around the program. Talk about it on our forum. A few things discussed in this week's update:
• Why Oklahoma's newest commitment chose the Sooners over a regional school
• Will OU now look at interior offensive lineman for the class of 2013?
• Tim Kish has already made an impact on a top 2014 linebacker
To continue reading this article you must be an Insider
April, 16, 2012
4/16/12
3:30
PM CT
Bob Przybylo answers readers' questions about Oklahoma football and basketball recruiting in his mailbag every Monday. Got a question for Bob? Send it to his mailbag at bprzybyloespn@gmail.com.
Jack in Oklahoma City asks
: We now have two defensive end commits, but we've offered so many more. Are we done at this spot for this class?
Bob Przybylo
: Most likely not. It believe Oklahoma's target has been to get three defensive ends for the class of 2013.
D.J. Ward
(Lawton, Okla./Lawton) and
Matt Dimon
(Katy, Texas/Katy) are a great start and OU is in good position with a number of quality ends.
To continue reading this article you must be an Insider
April, 3, 2012
4/03/12
12:10
PM CT
By
SoonerNation staff
| ESPN.com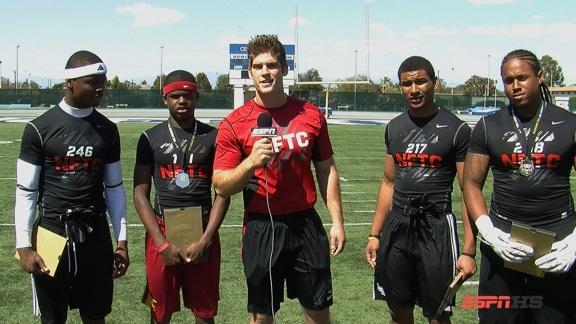 Upland's (Upland, Calif.)
Joe Mathis
, Marcos de Niza's (Tempe, Ariz.)
Priest Willis
, and Rancho Cucamonga's (Rancho Cucamonga, Calif.)
Tahaan Goodman
and
Chris Hawkins
receive invitations to "The Opening" following the Los Angeles NFTC.
March, 31, 2012
3/31/12
12:30
PM CT
Call it a sign of the times. At last weekend's Nike Football Training Camp event in Irving, Texas, there were a lot of recruits interested in Oklahoma but not necessarily that many prospects that have offers from the Sooners.
Sunday marks the second NFTC event, this time at Cerritos College in Los Angeles. And though it is 1,350 miles to go from Norman, Okla., to Los Angeles, this weekend arguably brings more impact when it comes to the OU recruiting scene.
Here are some prospects to watch:
To continue reading this article you must be an Insider
March, 20, 2012
3/20/12
3:30
PM CT
By
SoonerNation Staff
| ESPN.com
SoonerNation recruiting writer Bob Przybylo chatted with readers Monday. Here's the full transcript. If you didn't get your question answered, send it his mailbag at bprzybyloespn@gmail.com.
Here are a few highlights from the chat:
Derrin (Plano, TX): Now that OU and Justin Manning are now "on the same page". Will the defensive tackle make his commitment sooner rather than later?
Bob Przybylo: No, not at this time. Manning just came back from LSU's junior day, and he seems pretty content to wait. He has mentioned waiting until December. I have no idea if he can last that long, but the Sooners need to show constant interest in Manning. Do not want him to be one that gets away.
Tony (Richmond, CA): The Sooners appear to be in a battle with USC for both Max Browne and Joe Mathis. How do you rate OU's chances of landing these two top recruits?
Bob Przybylo: Pretty good on both fronts and actually better with Browne than for Mathis. Nebraska is a big-time player, too, for Mathis and his cousin, Su'a Cravens. Mathis does want to visit OU in the summer so don't rule him out. Browne's relationship with Josh Heupel is really good and only got better from the visit.
Jose (El Paso, TX): Who do you feel will be stepping up for the wide receivers this year?
Bob Przybylo: I'm one of the frontrunners for the Kameel Jackson bandwagon. Loved what I saw late last year, and simply got that feeling he's gonna be a name to remember. As for the 2012 stellar group, I don't think there's a thing Durron Neal cannot do on a football field.
Lon Kruger (Norman, OK): Who's the biggest sleeper recruit in the state this year and can I sign him?
Bob Przybylo: A couple of weeks ago would have said the 2012 in-state class is done. However, it will be interesting to see what happens at Tulsa and the coaching change there. PF Dre Wright (Lawton, Okla./Eisenhower) would be a huge 'get' if he were to leave Tulsa. Wright improved immensely in his senior season.
March, 20, 2012
3/20/12
1:30
PM CT
Oklahoma has a number of top defensive ends as targets for its 2013 class. So when one decides to not attend OU's Red-White game, that should be enough for the Sooners to move on, right?
Wrong. Even though
Joe Mathis
(Upland, Calif./Upland) will not be at OU on April 14, that doesn't mean the Oklahoma coaches are done pursuing Mathis or that Mathis is no longer considering the Sooners.
Mathis, 6-foot-4 and 250 pounds and on the ESPNU Watch List, had been contemplating for the last month between seeing OU's spring game or Nebraska's spring game. Since they're on the same date, he could only pick one and said last week he will visit the Cornhuskers.
To continue reading this article you must be an Insider
February, 17, 2012
2/17/12
10:30
AM CT
The Sooners extended several new offers to 2013 prospects this week. Bob Przybylo breaks down the most recent Oklahoma offers by position:
• Former Oklahoma defensive coordinator Brent Venables let it be known that he loved to get his cornerbacks from the Dallas Metroplex area.
To continue reading this article you must be an Insider
February, 16, 2012
2/16/12
10:30
AM CT
It's not every day that junior defensive end
Joe Mathis
(Upland, Calif./Upland) picks up an offer from a high-profile college, but it sure feels that way.
Mathis, 6-foot-3 and 240 pounds, has seen his offer total increase dramatically in the last week as powerhouse schools like Oklahoma, USC and Nebraska have been added to his list.
Last week, OU assistant coaches Tim Kish and Bobby Jack Wright called Upland High to let Mathis know he was being offered. A couple of hours later, the process was repeated with the Nebraska coaching staff.
To continue reading this article you must be an Insider