Oklahoma Sooners:

Jason White
April, 24, 2013
4/24/13
8:00
AM ET
During a simulated scrimmage in Oklahoma's first practice of the spring in full pads,
Blake Bell
used his BellDozing legs to escape the pocket, but the right-hander was rolling to his left to escape the rush.
Bell, channeling his inner Brett Favre, tried to find a receiver on the right side of the field, throwing across his body to try and make the throw. The toss predictably floated and was intercepted.
"He just shook his head," Sooners coach Bob Stoops said. "A classic example where it has sting a little bit and you've got to learn. Hopefully he's learned a valuable lesson since then, that you can't be careless with the football."
That's the bad news.
The good news is Stoops has seen plenty of evidence to suggest Bell absolutely learned his lesson from that early throw. The proof was in every throw from that point forward.
"Since that day, you haven't seen a mistake like that," Stoops said. "Just being smart with the football is such a big deal."
In fact, it's the biggest deal for Stoops. For a yet-undecided quarterback competition, Bell's ability to take care of the ball bodes well for him keeping his status as the likely heir to four-year starter
Landry Jones
.
"The important part for all of them will be decision-making," Stoops said. "Who can make the right reads and decisions and getting the football where it needs to be."
He outplayed his younger competition,
Trevor Knight
and
Kendal Thompson
,
in the Sooners' spring game,
completing 14-of-23 passes for 213 yards and a pair of scores, validating a strong spring that left him looking like the Sooners' best option. Most importantly, he didn't turn the ball over, and both Knight and Thompson couldn't say that after the Sooners' spring finale.
Those 213 passing yards are one short of doubling Bell's total passing yards in 2012, but most college football fans know him best as the BellDozer, bulling his way to 24 rushing touchdowns over the past two seasons in the Sooners' signature short-yardage package.
"He's always been able to throw the football well, we've just chosen his role to this point has been short yardage and goal line, getting the extra blocker when you're running your quarterback," Stoops said. "Plus, he's a big strong guy to fall forward and get a yard when there isn't one there. He throws a great deep ball."
Oklahoma's rarely employed a mobile quarterback, but that seems likely to change this season as the Sooners' personnel no longer fits the statuesque style of Jones or predecessors like Heisman Trophy winners Sam Bradford and Jason White who helped Oklahoma win eight Big 12 titles since Stoops' arrival.
"All our guys, when we recruit them, it's all about how they throw, not how they run. We're just fortunate that this group of guys, along with throwing the football, have the ability to run, too," Stoops said. "We'll see what that other dimension can do for us."
February, 11, 2013
2/11/13
10:30
AM ET
NORMAN, Okla. -- We know there will be a different starting quarterback at Oklahoma next season.

What we don't know is who that quarterback will be.

Whatever happens, this figures to be perhaps the most intriguing quarterback derby of the Bob Stoops era.


January, 2, 2013
1/02/13
9:00
AM ET
IRVING, Texas -- For each of the past two seasons,
Landry Jones
began the season on the short list for the Heisman Trophy with a team ranked in the top 10, including a nod as the nation's preseason No. 1 team in 2011.
Each season, Jones piled up bushels of yardage but never more than 10 wins -- and, most importantly, no national titles or national championship game appearances.
[+] Enlarge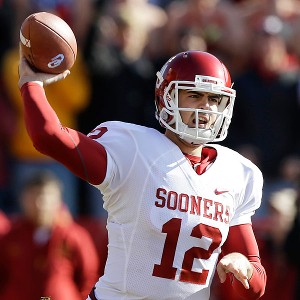 AP Photo/Charlie NeibergallLandry Jones leaves Oklahoma as the latest in a line of great quarterbacks at the school.
"Everybody wants to have that chance to play in that championship game. Everybody wants to be an All-American. Everyone wants to win the Heisman, but there's only a select few that actually get to do it, and those things were definitely left on the table for me," Jones said. "I wish I'd been able to accomplish them, but sometimes it doesn't work out like that. I've always wanted to be in New York and do all those things, but sometimes it doesn't work out that way."
Thing is, for Oklahoma quarterbacks it very often does work out like that. Jones' offensive coordinator, Josh Heupel, won a national title in 2000. Predecessor Jason White won a Heisman and played in national title games in 2003 and '04. Even the man Jones replaced in 2009, Sam Bradford, has a Heisman statue outside Owen Field and played in the BCS National Championship Game to cap the 2008 season.
Jones didn't do any of those things, but he'll leave Norman as the No. 3 passer in FBS history and will log his 50th start on Friday night at Cowboys Stadium. It's the same place his career began, when Bradford's essentially ended with a shoulder injury in the 2009 season-opening loss to BYU.
"I'm just really thankful. Not too many people get to play 50 games in their college career," Jones said. "I'm just really thankful for what I've been able to do and the position God's put me in to be on this team and play as much as I have."
Jones acknowledged the high standards of Oklahoma fans, which have often led to criticism when he fell short of the sky-high expectations established by the quarterbacks before him under Bob Stoops, and legendary coaches and players before Stoops who won the program's first six national titles.
Jones was very, very good, but made the fatal mistake of not being quite as good as Bradford, the man who left Oklahoma as the No. 1 pick in the NFL draft, despite that shoulder injury that provided the opportunity for Jones to play 50 games.
After No. 50 is done, Jones will be gone, handing the torch to the man behind him, likely
Blake Bell
. This week, Jones certainly sounded like a man who's enjoyed his opportunities and is ready for the next step of his life.
"At this place, you know what Monday's going to look like, you know what Tuesday's going to look like, but I don't know what the next chapter of my life's going to look like. You could be first round, first pick, or you could go as a free agent," Jones said. "You just never know, and never know what teams are going to do and who they're going to pick up and what your future's going to look like. It's exciting to walk out and see where you end up, and what God has in store for you."
November, 29, 2012
11/29/12
8:30
AM ET
NORMAN, Okla. -- The last two weeks,
Landry Jones
has delivered two of the best quarterback performance of the Bob Stoops era at Oklahoma, leading the Sooners to a pair of fourth-quarter, come-from-behind victories. Considering the QBs that have passed through Norman since Stoops' arrival, that's saying something. Two of them won Heismans. Another won a national title.
SoonerNation ranks the Top 10 quarterback performances of the Stoops era, factoring in the moment, the pressure and the opponent:
[+] Enlarge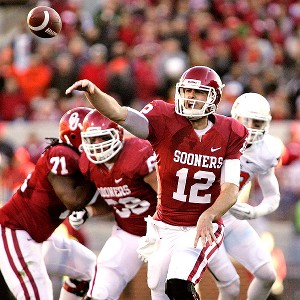 Brett Deering/Getty ImagesLandry Jones threw for 500 yards and three touchdowns in his final home game as a Sooner.
1.
Landry Jones at West Virginia, 2012 (OU, 50-49)
Stat line:
38-of-51, 554 yards, 6 TDs, 1 INT
Analysis:
Not only did Jones set and tie all sorts of records, he became the first Stoops QB to lead the Sooners on a fourth-quarter, come-from-behind, game-winning TD drive. On top of that, Jones audibled to the winning TD pass to
Kenny Stills
.
2.
Sam Bradford
vs. No. 5 Texas, 2008 (Texas, 45-35)
Stat line:
28-of-39, 387 yards, 5 TDs, 2 INTs
Analysis:
The Sooners lost, but this was still the best game of Bradford's career. With the OU defense hemorrhaging in the second half, Bradford kept the Sooners in the game.
Colt McCoy
and
Jordan Shipley
just made a couple more plays.
3.
Landry Jones vs. No. 22 Oklahoma State, 2012 (OU, 51-48)
Stat line:
46-of-71, 500 yards, 3 TDs, 1 INT
Analysis:
The only Stoops QB with a fourth-quarter, come-from-behind, game-winning TD drive delivered his second last weekend in Bedlam.
Blake Bell
scored the tying TD, but that drive was all Jones, who completed 10 passes on the 17-play drive that sent the game to overtime, where the Sooners prevailed.
4.
Josh Heupel vs. No. 1 Nebraska, 2000 (OU, 31-14)
Stat line:
24-of-30, 300 yards, 1 TD, 1 INT
Analysis:
This was the win that changed the way the nation viewed OU football. Heupel was as big a reason as any for the victory. His 34-yard loft to Curtis Fagan that sparked the comeback in the second quarter might have been the Sooners' most crucial completion in over a decade.
5.
Sam Bradford at No. 11 Oklahoma State, 2008 (OU, 61-41)
Stat line:
30-of-44, 370 yards, 4 TDs, 0 INTs, 1 rushing TD (OU, 61-41)
Analysis:
Because of how loaded the Big 12 South was, people forget how dangerous the Cowboys were in '08. But playing with an injured hand that forced him to take every snap out of the shotgun, Bradford quarterbacked -- and cartwheeled -- the Sooners to the shootout victory that sent them to the Big 12 title, and ultimately BCS title game and Bradford to the Heisman.
6.
Landry Jones at No. 10 Oklahoma State, 2010 (OU 47-41)
Stat line:
37-of-62, 468 yards, 4 TDs, 3 INTs
Analysis:
This was the best game of Jones' career until this month. Yes, Jones was picked off three times. But with the Big 12 South Division on the line, he delivered in the fourth quarter when it counted, tossing touchdown passes to Cam Kenney and James Hanna 29 seconds apart to stave off the Cowboys.
7.
Jason White at No. 22 Texas A&M, 2004 (OU, 42-35)
Stat line:
19-of-35, 292, 5 TDs, 0 INTs
Analysis:
The week before, OU rode Adrian Peterson to a narrow victory in Stillwater. In College Station, with the Aggies focused on swarming Peterson, the Sooners rode White's arm. The 2003 Heisman winner threw three TDs in the second half, including the decisive 39-yarder to Mark Bradley with 6:43 left in the game.
To continue reading this article you must be an Insider
May, 15, 2012
5/15/12
2:30
PM ET
Jason in Oklahoma City writes
: Excluding the 2000 team that won the title, I would think that the 2004 team and the 2008 team were probably the best teams in the stoops era. So if you had
Sam Bradford
,
Jermaine Gresham
,
DeMarco Murray
, Chris Brown,
Gerald McCoy
, Duke Robinson,
Phil Loadholt
and
Nic Harris
go up against Jason White,
Adrian Peterson
,
Mark Clayton
,
Jammal Brown
,
Brandon Jones
,
Dan Cody
,
Donte Nicholson
and
Antonio Perkins
, who do you think would come out on top? I think it would be a good game, but I think the 2004 team had a little more talent.
What's your opinion
?
Jake Trotter
: We saw what happened with the '04 Sooners when they were matched up against an offensive juggernaut in the Orange Bowl against USC. Sure, there were some turnovers that helped ignite the rout. But OU was overmatched.
Not once were the '08 Sooners ever overmatched. They lost in a shootout to Texas, then couldn't get going offensively in the BCS title game vs. Florida, and even then, still had a chance in the fourth quarter. Against Texas, OU lost its defensive captain in linebacker Ryan Reynolds and never recovered. Against Florida, OU, which had the No. 1 red zone offense in college football, was stuffed twice inside the Gator 10.
The '08 Sooners would have trouble containing Peterson, and most certainly would give up some Jason White passes downfield. But I think the Bradford hurry-up, with all those weapons like Gresham, Murray and slot specialist
Ryan Broyles
would be too much firepower for the '04 Sooners to handle.
Big 12 2015 Recruiting Overview
BIG 12 SCOREBOARD
Thursday, 9/3
Friday, 9/4
Saturday, 9/5