Oklahoma Sooners:

Jason Verrett
November, 7, 2013
Nov 7
9:00
AM ET
Welp, it finally happened. I finally lost to a guest picker. And to a 14-year-old, no less. Thanks, Caymen. I thought you weren't going to embarrass me?
Anyway, this reporter's pride is on the line again. This week's guest picker submission:
My name is Claire Stallings and I would love to one day be a guest picker for you. It's about time a lady shows these men how to pick a perfect week! I love the Big 12 and of course Baylor. I worked for the team all through college and I am that girl who knows more about Baylor football than most of the men on campus. I think it would be interesting to throw a girl into the "man's world." Don't worry, I can hold my own. #GirlPower
The last time a girl challenged me to something, I was destroyed by my wife in a 5K. So this is my shot at redemption. #BringTheNoiseClaire.
Tonight, Max and national writer Mark Schlabach will be in Waco for Oklahoma-Baylor. Saturday, Brandon will drive to Stillwater to check out Kansas-Oklahoma State. Due to my horrific picking, I've been benched for the weekend.
To the Week 11 picks:
SEASON RECORD
Trotter last week:
2-2 (.500)
Guest picker (14-year-old Caymen) last week:
3-1 (.750)
Trotter overall:
43-14 (.754)
Guest picker overall:
29-11 (.725)
THURSDAY


Baylor 52, Oklahoma 34:
The Sooners' best chance in this game is to pound the ball, wear out the clock and keep Baylor's high-powered offense on the sidelines. But without star fullback
Trey Millard
, I'm skeptical OU can pull off such a game plan. The Sooners have no viable tight end, and none of their other fullbacks are capable receiving threats off play-action. OU's remaining firepower keeps the game interesting into the second half. But a Sooners defense playing two freshman linebackers finally capitulates to the overwhelming speed of the Baylor offense, as the Bears make a statement they belong in the national title picture.
Claire's pick:
The media (including you, Jake) keeps saying K-State laid out the blueprint on how to beat Baylor, but then again, Mack Brown made it clear that OU is far from invincible. Between Baylor's dynamic receiving duo,
Antwan Goodley
and
Tevin Reese
, along with
Lache Seastrunk
and
Bryce Petty
's Heisman-worthy performances, this pick was easy. #GoingTarpless.
Baylor 56-35
SATURDAY


West Virginia 26, Texas 23:
I find it strange the voters still haven't put Texas back in the Top 25 polls. I actually had the Longhorns ranked 14
th
in the ESPN power ranking, the highest of the 19 voters in the ESPN poll. But this is a tough spot for Texas. West Virginia has been a far better team in Morgantown than away from it. The Mountaineers also have a ton of momentum from last week's comeback overtime win over TCU, with a bowl appearance in their sights. Texas QB
Case McCoy
comes back to earth a bit and the Longhorns get caught peeking ahead to next week's clash with Oklahoma State, as
Charles Sims
runs wild again to hand Texas its first Big 12 loss.
Claire's pick:
The Horns will win if they keep the ball with
Malcolm Brown
and
Johnathan Gray
. But they have to make sure Case doesn't make too many mistakes on the road. If they are not careful, West Virginia will upset Texas, just like they did to OSU. #TexasStayawayfromBriles.
Texas 31-28


Kansas State 37, Texas Tech 34:
With receivers
Tyler Lockett
and
Tramaine Thompson
back in the fold, the Wildcats are finally firing on all cylinders offensively. QBs
Daniel Sams
and
Jake Waters
have been terrific lately, and, much to Bill Snyder's satisfaction, have been taking care of the ball, too. Tech has had a great run. But turnover-prone teams usually don't fare well against Snyder-coached teams, and only six offenses in college football have turned the ball over more times than the Red Raiders. As a result, K-State continues its late-season push and hands Tech a third straight defeat.
Claire's pick:
I grew up in a Tech-loving family from Midland, Texas. I have lost sleep over this pick, and I may lose friends and a chunk of my inheritance after this is published. Unfortunately, the clock has struck midnight for Cinderella, and they are beginning to look reminiscent of last year's West Virginia squad. #SorryDad.
K-State 38-35


TCU 19, Iowa State 13:
Will either side have enough players left to actually stage the game? Iowa State figures to be without running back
Aaron Wimberly
, who's been its best offensive player, and could be without QB
Sam B. Richardson
, too. TCU cornerback
Jason Verrett
and running back
B.J. Catalon
are questionable on a team that also will be missing running back
Waymon James
and receiver
Brandon Carter
. The difference in this game proves to be TCU QB
Casey Pachall
, who finally showed signs of returning to his old self last week.
Claire's pick:
This is the "Battle of Who Could Care Less" between two struggling teams. TCU's players are dropping like flies. TCU barely wins, but for sure is not making a bowl. #NotYallsYear #ByeFelicia.
TCU 14-10


Oklahoma State 55, Kansas 9:
Kansas has been hanging tough in Big 12 play. That ends here. The Cowboys have finally found their identity offensively with
Clint Chelf
at QB and the tough-running
Desmond Roland
at tailback. Oklahoma State keeps rolling in its return to the thick of the Big 12 title race.
Claire's pick:
I have always liked Kansas -- they have great school colors for game-day outfits. But that is all they have. Chelf is a real threat and the Cowboys' backfield has exploded these past few games -- they might actually steal the Big 12 title right out of Baylor's little paws. #ButPleaseDont.
Oklahoma State 56-14
October, 31, 2013
Oct 31
11:00
AM ET
Happy Halloween, dear readers. To commemorate this frightful holiday, here's a look at the Big 12 teams, coaches and players who might have a few things in common with some classic horror movie villains.
Michael Myers ("Halloween"): Oklahoma Sooners
[+] Enlarge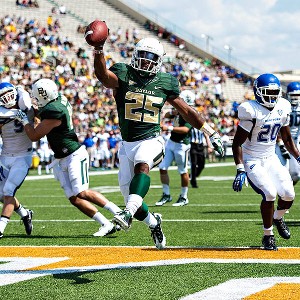 Jerome Miron/USA TODAY SportsWith 869 yards, Baylor back Lache Seastrunk leads the Big 12 in rushing.
The villain that just will not die. Deal them a couple body blows -- losing
Corey Nelson
,
Jordan Phillips
and
Trey Millard
-- and they just keep going. Got blown out by Texas and lived another day to light up Texas Tech. Like Myers, too, this Sooners team still has a bit of a faceless identity on both sides of the ball.
Freddy Krueger ("A Nightmare on Elm Street"): Texas Tech Red Raiders
While you're busy dreaming of the always-dreamy Kliff Kingsbury, his red-dressed team will destroy you in your sleep. Makes up for its human vulnerabilities with lots of razors. Got burned in a previous life by its last head coach.
The Alien ("Aliens"): Baylor Bears
Pretty much a perfect fit here. Highly evolved and truly deadly. Loaded up with blades from head to toe and pumping with yellowish-green acid blood. There's really no way of preparing for its wrath, and it'll kill you much faster than the average human villain.
Jaws ("Jaws"): Texas Longhorns
The big fish of the Big 12 is finally playing with some bite after lurking in the water early on. Like most murderous sharks, they're catching people by surprise and playing like they have nothing to lose.
Ghostface ("Scream"): Oklahoma State Cowboys
Who's behind the mask?
J.W. Walsh
or
Clint Chelf
? Despite some identity confusion, this is still a strong, durable bad guy who wields a knife. Not to be underestimated.
Jason Voorhees ("Friday The 13th"): TCU Horned Frogs
Keep the cool masks (helmets) on, Horned Frogs. This season is starting to get ugly.
Zombies ("Dawn of the Dead"): Iowa State Cyclones
Injuries keep piling up for the Cyclones but they're as motivated and hungry as ever. They might be 1-6, but they're never dead.
Edward Scissorhands ("Edward Scissorhands"): Baylor RB Lache Seastrunk
This makes too much sense. Both possess fantastic natural weapons, wild hairstyles and, most important, a heart of gold.
Predator ("Predator"): TCU CB Jason Verrett
Dangerous, well-built, awesome dreadlocks. Intercepts and breaks up so many passes that it's possible he has thermal imaging vision.
Stay Puft Marshmallow Man
(
"Ghostbusters"
)
: Baylor G Cyril Richardson
Richardson isn't 100-feet tall, but the best lineman in the Big 12 does destroy everything in his path.
Centaur ("The Chronicles of Narnia"): Texas Tech TE Jace Amaro
Wanted to go with Bane here, which is also very complimentary, but alas there is already
photographic proof
that Amaro is half man, half horse. "Narnia" isn't a horror movie but just go with it, OK?
Dracula ("Dracula"): Kansas State coach Bill Snyder
Though he's typically revered for being a wizard, it's not unfair to see a few parallels between the oldest coach in FBS (74) and the undead. He's not a bloodsucker, but he has admitted to eating only one meal a day, typically at Taco Bell.
Beetlejuice ("Beetlejuice"): West Virginia coach Dana Holgorsen
The bravado and the hair make this a good fit. Have to imagine Beetlejuice's salesmanship in the model graveyard is a lot like how Hologorsen recruits, right?
Dr. Evil ("Austin Powers: International Man of Mystery"): Texas coach Mack Brown
Not a horror, but both are eccentric masterminds with outgoing, friendly demeanors. Always plotting world domination. Dr. Evil demands $100 billion, and Texas has made that much in Brown's tenure. Wanted sharks with laser beams at quarterback, ended up with an ill-tempered sea bass.
Pile Of Crap ("Envy"): Kansas Jayhawks
Well, you know, this is
pretty self-explanatory
. "Envy," about a man inventing a magical spray that makes piles of crap disappear, isn't a horror movie. But it is a horrible movie.
Can you think of any more Big 12 horror villains? Disagree on any? Just furiously angry because you don't get that we're joking? We welcome your suggestions in the comments below.
And last but certainly not least, it's time to pay tribute to the art of dressing children up like Big 12 coaches. It's an annual tradition of which we can all be proud.
The runaway champion of 2013 is
Kliff Kingsbury Kid
. Brilliant job, son. Way to keep your swag up. You'll learn to keep your V-necks deep as you get older. Only thing missing might be some
PB&J sandwiches
.
Past champions include
Dana Holgorsen Kid
,
Bill Snyder Baby
and who could forget the irresistible
Mark Mangino Baby
. This is truly becoming an art form, people.
October, 19, 2013
Oct 19
7:00
AM ET
Texas Tech will attempt to avoid the same fate it handed West Virginia last season, TCU and Oklahoma State will look to jump back into the Big 12 race, Oklahoma will try to bounce back from last week's disaster and Iowa State will hope to somehow slow Baylor:
Those, among others, will be the storylines to watch in Week 8 of the Big 12:
[+] Enlarge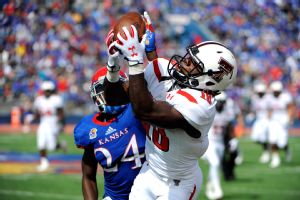 John Rieger/USA TODAY SportsEric Ward is one of several Texas Tech wide receivers that are dangerous after the catch.
Texas Tech at West Virginia, 11 a.m. CT (FS1):
Despite the juggling at quarterback, Texas Tech is the second-highest scoring offense in the Big 12. One major reason why is that the Tech pass catchers are averaging 214 yards after the reception per game. According to ESPN Stats & Info, that's second-best among teams from BCS conferences. As long as
Davis Webb
(or
Baker Mayfield
or
Michael Brewer
) continue spreading the ball around and avoid the big turnover, the Red Raiders stand a good chance of improving to 7-0.
TCU at Oklahoma State, 11 a.m. CT (FOX):
Two struggling offenses face off against one another in what essentially is a de facto Big 12 title elimination game. The Cowboys are coming off an open week in which they emphasized getting back on track offensively, but TCU features the best defense in the Big 12 led by the league's best defensive player, cornerback
Jason Verrett
. The Horned Frogs will likely bring the heat on Oklahoma State QB
J.W. Walsh
, who is completing just 36 percent of his passes against the blitz. That's 18 percentage points below the FBS average, according to ESPN Stats & Info. If the Frogs can get to Walsh, they'll figure to have a shot in the fourth quarter.
Oklahoma at Kansas, 2:30 p.m. CT (ESPN):
This week, Charlie Weis relinquished some of his power in the offensive game-planning to his assistants. The Jayhawks are last in the league in scoring but have talent in QB
Jake Heaps
and running back
James Sims
. If Kansas can jump to the kind of first-quarter lead it held against Texas Tech two weeks ago, then it has a chance to make this a 60-minute game. The Oklahoma defense is adjusting to life without two of its best three players, linebacker
Corey Nelson
and defensive tackle
Jordan Phillips
, who are both out for the season. The Oklahoma offense, meanwhile, has yet to score more than 20 points in a Big 12 game this season.
Iowa State at Baylor, 7 p.m. CT (ESPNU):
The Cyclones have made opposing offenses earn their touchdowns this season. Iowa State is one of only 11 FBS teams that have not allowed a touchdown in three plays or less. That figures to change against Baylor, though. The Bears have already scored 12 touchdowns in three plays or less this season, which, according to ESPN Stats & Info, leads the nation. Even though Kansas State limited Baylor to half its scoring average last week, the Bears still scored a pair of touchdowns on two-play drives.
October, 17, 2013
Oct 17
9:00
AM ET
Last week, Tyler, the K-State fan from California who is getting married this weekend, flaked out on being the guest picker.
Or so I thought.
I assumed Tyler's bride-to-be was getting on his case about focusing on his picks instead of his wedding. Sure, getting married is a big deal. But being the guest picker? Way bigger deal.
Turned out, my correspondence kept getting dumped into his spam folder. And once this was cleared up, Tyler pleaded for another early wedding present. What can I say? I'm a romantic.
From Tyler:
So I missed out on my chance to be the guest picker last week, and Trotter let me have it in the Week 7 predictions. You'll have to excuse me for making my wedding a bigger priority than being the guest picker. As they say, a happy wife is a happy life, and as a K-State fan, I need all the happiness I can get. Fortunately, Jake gave me a second chance to get my priorities straight before I tie the knot.
When I thought Tyler was blowing off the blog, Curtis from Washington D.C., stepped in as the guest picker. It was a rough week for Curtis, whose Sooners took it on the chin in a Red River wipeout. I just hope he was stuck in that military office with no TVs so he didn't have to witness it.
This weekend, the Big 12 team will be canvassing the conference landscape. Brandon will be in Stillwater for TCU-Oklahoma State; Max will head to Waco for Iowa State-Baylor; and I will be reunited with my favorite league mascot -- "The Mountaineer" -- in Morgantown for Texas Tech-West Virginia. Have the deer jerky ready, Jon.
Congratulations, too, to Tyler and his bride, who will be honeymooning in France.
To the Week 8 picks:
SEASON RECORD
Trotter last week:
3-1 (.750)
Guest picker (Curtis in Washington D.C.) last week:
2-2 (.500)
Trotter overall:
33-11 (.750)
Guest picker overall:
19-8 (.704)
SATURDAY


Texas Tech 21, West Virginia 20:
Last season, the Mountaineers were in a spot similar to where Tech is now. And the Red Raiders thrashed West Virginia in Lubbock, sending the Mountaineers into a tailspin that lasted the rest of the season. As a result, the Red Raiders are very aware just how precarious this 1,500-mile road trip back is. Tech, however, appears to have more staying power than last season's Mountaineers, who were really just a three-man show. These Red Raiders have more defense and more depth, and sneak out of Morgantown with their biggest win of the season yet.
Tyler's pick:
Eventually, Kliff Kingsbury is going to turn Tech into a team that can consistently compete for a Big 12 championship. His youth and coaching style will be a magnet for blue-chip recruits. Unfortunately, inexperience trumps hype here.
West Virginia, 34-31


Oklahoma State 16, TCU 13:
If the Cowboys couldn't move the ball against West Virginia or Kansas State, why would anyone have confidence they'll be able to against the best defense in the Big 12? Cornerback
Jason Verrett
and Co. will have Oklahoma State's receivers on lockdown, not that QB
J.W. Walsh
has been able to get them the ball anyway lately. The problem is, TCU can't score, either.
Tyler's pick:
TCU fans can't wait to have QB
Casey Pachall
back, as the offense continues to struggle without him. TCU's defense keeps the first half close, but Oklahoma State pulls ahead with
Jeremy Smith
rushing for 100 yards and a score.
OSU, 24-17


Oklahoma 30, Kansas 17:
Bob Stoops is 14-0 the week after Texas with an average margin of victory of 27 points. Stoops, however, doesn't have Josh Heupel, Jason White, Sam Bradford or Landry Jones at quarterback this time. And Texas showed this Oklahoma defense isn't anything special without linebacker
Corey Nelson
or tackle
Jordan Phillips
, who are both out for the season. The Sooners win. But their problems on either side of the ball remain very evident as Kansas keeps this one relatively close.
Tyler's pick:
After Oklahoma takes out its frustrations, Charlie Weis calls the Jacksonville Jaguars to see if they'll be needing a new offensive coordinator.
OU, 54-3


Baylor 66, Iowa State 28:
The scariest part for the rest of the Big 12 about Baylor's win over K-State last week? The Bears were sluggish offensively -- and they still scored 35 points. Who knows if this is the best offense in Big 12 history? But it certainly is the fastest scoring. Iowa State is one of 11 teams in college football that has yet to allow a touchdown in three plays or fewer. That changes Saturday.
Tyler's pick:
As a K-State fan, I am required to comment about how amazing Bill Snyder is. Since K-State is off this week, we will add the Snyder love here. Last week, he showed the country how to beat Baylor. Unfortunately for Iowa State, Snyder doesn't coach the Cyclones. If Snyder coached the talent Texas and OU had, he'd have five national championships.
Baylor, 58-35
October, 14, 2013
Oct 14
10:00
AM ET
Texas was on its deathbed; now it's a contender. The Oklahoma schools, once bastions of quarterbacking, suddenly have issues there. West Virginia's defense is better than its offense. TCU can't score. Kansas State can't buy a win. And the teams picked to finish fifth and seventh in the conference are the only ones without a loss.
If the second half of the Big 12 season is anything like the first, who knows what might happen? Good luck guessing which game will ultimately decide the conference race, too.
Before the season, Bedlam looked most likely to be that game. Now, another showdown the very same day could end up overshadowing it.
Bedlam decided the Big 12 in 2011. It decided the Big 12 South in 2010. But will anything more than bragging rights be on the line this time? That will depend on whether either team can solve quarterback problems that plagued both in their losses.
[+] Enlarge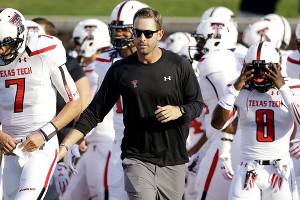 AP Photo/LM OteroKliff Kingsbury's calm, cool demeanor has resonated with his players, as Texas Tech is one of two undefeated teams in the Big 12.
After
Trevor Knight
was ineffective in two lackluster wins to begin the season, the Sooners turned to
Blake Bell
. The Belldozer took care of the ball and made plays in the fourth quarter in wins over Notre Dame and TCU. But he did neither in a 36-20 loss to Texas that shook up the league race. According to QBR, Bell's Texas performance was the worst by a Big 12 quarterback this year, raising questions about whether he's the answer for the Sooners after all.
Oklahoma State is in a similar raft.
J.W. Walsh
took the starting job from
Clint Chelf
two series into the opener against Mississippi State. But the past two games, including a loss at West Virginia, have seen the Cowboys flatline offensively. Oklahoma State, in fact, failed to get a single first down the second half against Kansas State until a late game-winning drive. Like the Sooners, the Cowboys can't run the ball lately, because they can't get anyone to take their downfield passing game seriously.
That hasn't been a problem in Waco, which is one of the reasons why Baylor has ascended to conference favorite status. Every one of Tevin Reese's six touchdown receptions has gone for more than 40 yards. Five of Antwan Goodley's six touchdown catches have gone for at least 60. As a result, 32 of Baylor's 40 touchdown drives have taken less than two minutes.
While Oklahoma and Oklahoma State could still turn things around, Texas and Texas Tech could wind up being the biggest roadblocks to Baylor's first Big 12 title.
Despite playing two true freshmen quarterbacks, the Red Raiders have spread the ball around as well as anyone in the league, claiming four of the Big 12's top eight receivers. Tech also leads the conference in third-down defense. Back-to-back road trips to West Virginia and Oklahoma the next two weeks will shed more light on whether the Red Raiders are ready to contend.
A week ago, virtually everyone had written the Longhorns off as possible Big 12 contenders. Then they pulled off the biggest Red River upset in 17 years to move to 3-0 in the league standings. Texas' rushing attack looked formidable, and quarterback
Case McCoy
looked poised. If that continues, who knows? Maybe Texas will be playing for the conference title at Baylor in the season finale.
The season's first half is done. Much is yet to be decided.
But as we gear up for the second half, below is a breakdown of the Big 12 at midseason:
Offensive MVP:
Baylor junior quarterback
Bryce Petty
has picked up where Robert Griffin III and Nick Florence left off, posting an Adjusted QBR of 95.1. That's second only to Heisman frontrunner
Marcus Mariota
of Oregon. Thanks in large part to Petty's precision passing, the Bears led the nation with a scoring average of 63.4 points per game.
Defensive MVP:
The Horned Frogs haven't had the kind of the season they'd hoped for so far. But that's to no fault of cornerback
Jason Verrett
, who has been lights out. Even with opposing quarterbacks leery about throwing his direction, Verrett leads the Big 12 in passes defended. And even with a tender shoulder, he has continued to be one of the surest tackling cornerbacks in the league.
Biggest Surprise:
The Red Raiders were picked to finish seventh in the Big 12. But seven weeks into the season, they join Baylor as the league's only teams still without a loss. Amazingly, Texas Tech has gotten to 6-0 rotating true freshman quarterbacks
Baker Mayfield
and
Davis Webb
, who, despite some rocky moments, have been solid.
Biggest Disappointment:
In ESPN.com's preseason player poll, the league's players tabbed TCU as the team to beat. The Horned Frogs, however, have already been defeated three times. TCU has faced a difficult schedule, and the injuries to quarterback
Casey Pachall
and defensive end
Devonte Fields
have really hurt. But at the season's midway point, the Frogs are already just one loss away from falling completely out of the conference title hunt.
Newcomers Of The Year:
West Virginia running back
Charles Sims
was the Big 12's preseason pick for newcomer of the year, and for good reason. But the impact of Texas Tech true freshmen quarterbacks Mayfield and Webb has been greater. Mayfield is 5-0 as a starter. Webb, who quarterbacked Tech to a win over Iowa State over the weekend, also threw the game-winning touchdown pass to beat TCU.
Coach Of The Year:
In his first year as its coach, former Texas Tech quarterback Kliff Kingsbury has resurrected his alma mater. The Red Raiders have already taken on the personality of their cool, confident coach, who has Tech at 6-0 for the first time since 2008.
Best Game:
Most of the intriguing matchups in the Big 12 will come later in the season. But so far, the most entertaining game in the league has been Texas' 31-30 victory at Iowa State. Yes, the game had some questionable officiating. And some questionable low blocking. But it was also wonderfully compelling, from Texas coach Mack Brown staving off disaster to Paul Rhoads rallying his team during a fiery postgame news conference.
October, 10, 2013
Oct 10
9:00
AM ET
It was mass panic this week on the Big 12 blog.
I had a guest picker lined up: Tyler, a K-State fan in California who is getting married. He pulled at my heartstrings with this submission:
Jake, I'm getting married on the 19th. How about an early wedding present for a Big 12 fan raised in Manhattan, Kan., now living in Pac-12 country?
Well, Tyler flaked out. Either the fiancée was getting on him about focusing more on the wedding and less about Big 12 football, or he got too depressed to send his picks in after his 'Cats fell to 0-2 in Big 12 play.
I was, however, able to secure another guest picker at the final hour in Curtis, an OU fan in Washington, D.C., who submitted the following:
I'm in Washington, D.C., in the middle of a year-long military deployment, and while I can't say exactly what it is I do, suffice it to say the schedule is not conducive to going to a lot of live games. In fact, every other weekend I'm stuck in a room that we can't even take a phone into. That said, through lurking on various Big 12 message boards when I'm not on duty, I am eminently qualified to pick games.
Last week, Big 12 officials helped derail my upset special, as Texas escaped Ames with a controversial victory. West Ham not only scored its first road goal, but stunned Tottenham 3-to-nil to hand me yet another defeat. Bollocks!!
I'm feeling a bounce-back week, though.
To the Week 7 picks:
SEASON RECORD
Trotter last week:
4-2 (.667)
Guest picker (David in England) last week:
5-1 (.833)
Trotter overall:
30-10 (.750)
Guest picker overall:
17-6 (.739)
SATURDAY


TCU 44, Kansas 3:
Led by All-American cornerback
Jason Verrett
, TCU is playing championship-level defense, even without a healthy Devonte Fields, who will
undergo season-ending surgery
. If only the Horned Frogs could find a way to muster just a little more offense, this could be a dangerous team the second half of the season. Kansas could barely move the ball with playmaking running back
Tony Pierson
. Without him, it becomes a long day for the Jayhawks in Fort Worth against this TCU defense.
Curtis' pick:
While Kansas has shown some signs of life, they will face a TCU defense far better than any they've seen.
TCU, 45-13


Texas Tech 31, Iowa State 23:
Iowa State has somewhat had Tech's number recently, winning two of the last three, including the 41-7 stunner in Lubbock the week after the Red Raiders had upset Oklahoma in 2011. Coach Kliff Kingsbury, however, seems to have the Red Raiders on more solid ground than Tommy Tuberville did. The quarterback position continues to be a moving part due to injuries, but thanks to the defense, that hasn't cost the Red Raiders yet. The Cyclones, meanwhile, should arrive in Lubbock angry after the way they lost to Texas last week. They also bring an offense that is rapidly improving, thanks to the healthy return of center
Tom Farniok
and emergence of speed-demon running back
Aaron Wimberly
. As a result, Iowa State hangs around. But the Cyclones come up short in the fourth quarter again against a Tech defense that continues to buck up in the red zone. By the way, this pick should please Iowa State fans, and concern Red Raiders. I'm 0-4 picking Iowa State games this year.
Curtis' pick:
A little tough to pick this game as there's still no word on who Texas Tech will have under center. Iowa State suffered a controversial loss last week after getting jobbed by the refs, so Paul Rhodes will have his team fired up for this one. The Cyclones are usually good for one upset a year, and this will be their week.
Iowa State, 31-28


Oklahoma 34, Texas 16:
There's not much to like about the Longhorns in this game. Texas enters without starting quarterback
David Ash
or much momentum after a lackluster victory at Iowa State last Thursday. The Longhorns are lacking identity, and have shown little heart recently against the Sooners, as Oklahoma has completely run Texas out of the Cotton Bowl before halftime the last two years. Usually, the pressure is on the favorite in this game. But because of the way Texas has lost to OU the last two games, and because of Mack Brown's tenuous standing in Austin, all the pressure is on the Horns. The Sooners have their vulnerabilities. The offense has sputtered at times. The defense will be without linebacker
Corey Nelson
, who is out for the year with a torn pectoral muscle. But the Cotton Bowl seems to bring out the best in the Sooners and the worst in the Longhorns. This game is no different.
Curtis' pick:
They should just rename this game the "Texas Turkey Shoot." While most OU fans would love to see Mack Brown finish out the final seven years of his contract, this game will be his last in the series. (Oh, and in front of a home "sellout" crowd, Oklahoma State drops a heartbreaker to "Bye", 10-3). Boomer Sooner!
OU, 50-13


Baylor 55, Kansas State 19:
The Bears have looked virtually unbeatable through four games. The offense has been unstoppable and the defense quietly has been sound since November of last year. But this will be Baylor's first game away from Floyd Casey Stadium. And it's worth nothing that the Bears have won just one Big 12 road game in their last nine tries -- the lone victory being at Kansas. This Baylor team, however, is at another level. This is the best defense Art Briles has had, and the offense has no weaknesses. And even though Bill Snyder has a solid defensive game plan in place, the Bears still drop off 50-plus to secure their first Big 12 road win in two years.
Curtis' pick:
It's tough to find a superlative to apply to Baylor's offensive output this year, but their defense has also played pretty darn well. KSU isn't playing the mistake-free football characteristic of a Bill Snyder coached team, and their offense isn't built to get into a shootout. The only upset here is if Baylor doesn't drop another 60-point performance.
Baylor, 63-27
October, 7, 2013
Oct 7
11:00
AM ET
Taking stock of Week 6 in the Big 12:
Team of the week:
Baylor. This is starting to get ridiculous. Despite the uptick in opponent, the Bears scored more than 70 points for the third consecutive week, becoming the first FBS team to do so since 1930. The offense has overshadowed how well the defense has also been playing. Baylor, which gave up 70 in Morgantown last year, limited West Virginia to just two offensive touchdowns through three quarters. By that point, the Bears led 66-21. Can anyone stop these guys?
Disappointment of the week:
West Virginia. Nobody really expected the Mountaineers would go to Waco and win as four-touchdown underdogs. But this was a litmus test for a defense that had been pretty solid through the first month of the season. Well, the West Virginia defense failed the test miserably, giving up a Big 12-record 864 yards of offense. Baylor had four turnovers and committed 100 yards' worth of penalties. And the Bears still scored 73 points.
[+] Enlarge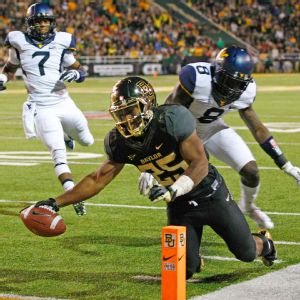 AP Photo/Jose YauBaylor's Lache Seastrunk contributed 172 of Baylor's whopping 468 rushing yards against West Virginia.
Big (offensive) men on campus:
Baylor's offensive line. West Virginia coach Dana Holgorsen said afterward he'd never seen a line establish the line of scrimmage the way the Bears did. Up front,
Spencer Drango
,
Cyril Richardson
,
Stefan Huber
,
Desmine Hilliard
and
Kelvin Palmer
paved the way for Baylor to rack up 468 yards on the ground against a defensive front that held Oklahoma State running back
Jeremy Smith
to just 1 yard on 15 carries a week ago. The Bears have been unstoppable so far, in large part because their offensive line has been paving lanes as well as any line in college football.
Big (defensive) men on campus:
Shaun Lewis
and
Jason Verrett
. The Oklahoma State linebacker and TCU cornerback showed over the weekend why they're all-conference-caliber players. Lewis led the Cowboys with eight tackles, forced a fumble, recovered a fumble and intercepted a pass late in the fourth quarter. Lewis also chased down Kansas State quarterback
Daniel Sams
with a shoestring tackle in the open field on the Wildcats' final drive that kept the clock ticking. Verrett, meanwhile, was fabulous in a losing effort at Oklahoma. Verrett had six tackles and two pass breakups, and he basically blanketed any receiver that lined up on his side of the field. TCU's defense dominated the Sooners in the third quarter, which allowed the Horned Frogs to climb back into the game despite a 13-0 halftime deficit.
Special-teams players of the week:
Travis Britz
and
Kip Daily
. The Kansas State duo came up with a huge play at Oklahoma State with 2:45 to go in the first half. Britz jumped up and blocked Ben Grogan's 43-yard field goal attempt, and Daily grabbed the deflection and raced 65 yards for the touchdown that gave the Wildcats a 14-10 lead (Oklahoma State won the game 33-29). Daily is having quite the season. Three weeks ago, he was the Big 12's Defensive Player of the Week after picking off two passes against UMass. Placekickers
Michael Hunnicutt
and
Ryan Bustin
get honorable-mention honors here. Hunnicutt set an Oklahoma record with his 49th career field goal. After missing a 32-yard field goal at Kansas, Bustin bounced back to connect on four field goals and six extra points as Texas Tech routed the Jayhawks 54-16.
Play of the week:
After getting completely shut down in the second half, the Sooners' offense finally got the play to put TCU away. With OU holding on to a 13-10 lead in the fourth quarter, running back
Brennan Clay
got a carry to the left and then cut it back right 76 yards for a touchdown to basically put the game away with 4:37 to play. "We set it up the whole day," Clay said. "The [linebackers] were going over the top and the O-line did a great job just pressing the play, and I was fortunate enough to make the cut backdoor and the safety was a little flat-footed. I made a stutter step and just took it to the crib."
Stat of the week:
After six weeks, Baylor QB
Bryce Petty
leads the nation in opponent-adjusted Total QBR, which takes into account the strength of the opposing defenses faced. Petty has a score of 97.7 (0-100 scale, 50 is average). Oregon's
Marcus Mariota
is second (96.8) followed by Georgia's
Aaron Murray
(95.6).
Quote of the week:
"70 points, I guess, isn't enough." – Petty, on those who still doubt the Bears' offense
October, 4, 2013
Oct 4
9:00
AM ET
NORMAN, Okla. -- Oklahoma turns its attention to conference play after recording the most impressive non-conference win by a Big 12 team against Notre Dame last weekend. TCU visits Oklahoma Memorial Stadium with an eye on putting itself back into the Big 12 title race.
Here are some storylines, players to watch and a prediction:
Storylines
[+] Enlarge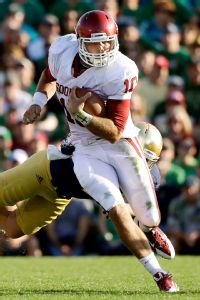 AP Photo/Darron CummingsBlake Bell has six TD passes and no interceptions in two games as OU's starting quarterback.
Avoiding a letdown.
The Sooners have to stay focused on the Horned Frogs, who have a quality defense and enough talent to make OU pay if they are overlooked. TCU knows what it is like to win in Norman and could have more urgency than the Sooners with the understanding that another Big 12 loss could eliminate their hopes of competing for a conference title.
Another test for Blake Bell.
The junior quarterback has been simply outstanding in his first two games as the Sooners' starter. Bell was 49 of 67 for 645 yards, six touchdowns and zero interceptions while leading OU to wins over Tulsa and Notre Dame. TCU brings one of the best secondaries the Sooners will face this season to Norman on Saturday. It will test Bell's accuracy and the ability of the receivers to get open.
Boykin will test the Sooners.
TCU quarterback
Trevone Boykin
is the most dynamic running quarterback the Sooners have faced this season. He can make the OU defense pay with his arm and legs, but if the Sooners' defensive front can create pressure, it could force Boykin into a game-changing mistake or two.
Players to watch
Linebacker Corey Nelson:
The veteran has taken his game to another level as a senior, with 21 tackles, second on the squad. OU will need him to continue to show his versatility with Boykin taking snaps, as those two are likely to meet up in the open field more than once. Nelson needs to win those individual battles and have success bringing down Boykin when he blitzes.
Receiver Lacoltan Bester.
TCU has talented cornerbacks in
Jason Verrett
and
Kevin White
, who could match up with receivers
Jalen Saunders
and
Sterling Shepard
. If that's the defensive plan for the Horned Frogs, Bester will have to take advantage of the opportunities he has to make plays as OU's third receiving option.
OU offensive line.
The Sooners have done a great job protecting Bell in the past two games, allowing just one sack. But TCU presents another challenge as the Horned Frogs enter the game leading the Big 12 with 15 sacks, and elite defensive end
Devonte Fields
could see action Saturday after missing last weekend's win over SMU.
Reason for concern:
TCU is going to try to force Bell and the Sooners to make mistakes. The Horned Frogs have forced 12 turnovers this season, No. 1 in the Big 12, so Bell will have to continue to do a terrific job protecting the football.
Prediction:
OU 34, TCU 24. The Horned Frogs play well and challenge the Sooners deep into the fourth quarter, but a couple of key plays from Bell and key stops by the OU defense helps the Sooners pull away in the final 15 minutes. Saunders proves he is one of the Big 12's top receivers with two touchdowns against the Horned Frogs' stellar secondary.
September, 30, 2013
Sep 30
9:00
AM ET
This week's Power Rankings feature a new No. 1, as last week's No. 1 takes a tumble:
1. Oklahoma (4-0, 1-0 Big 12, last week 3):
The Sooners take over the top spot after delivering the most impressive Big 12 win of the season. Notre Dame is not the same team as last season, but the Irish hadn't lost in South Bend since October of 2011. OU has been a different team since
Blake Bell
took over at quarterback, and Bell was fabulous Saturday, throwing for two touchdowns without a turnover while churning out first downs with his arm and his legs. The OU defense is clearly better, too, picking off QB
Tommy Rees
on Notre Dame's first two possessions, with linebacker
Corey Nelson
returning one for a touchdown. The Sooners were clearly a team overlooked in the preseason, and, after five weeks, are looking like a clear Big 12 favorite along with Baylor.
2. Baylor (3-0, 0-0 Big 12, last week 2):
After the off week, the Bears' offense will get its first real challenge this weekend from West Virginia's defense that appears to be the most improved unit in the league. Baylor has been unstoppable so far, but the level of competition is about to undergo an uptick. Can the Bears keep it up? They've shown no signs they can't.
3. Texas Tech (4-0, 1-0 Big 12, last week 4):
Despite having the week off, the Red Raiders move up a spot with Oklahoma State's loss. The big question in Lubbock is who will be starting at quarterback for Tech come Saturday against Kansas.
Baker Mayfield
?
Davis Webb
?
Michael Brewer
, who has been progressing well from the back injury? The Red Raiders have been solid defensively, and the skill talent is legit. If Tech can get better play from its quarterback, this team could be a handful -- even for OU and Baylor.
4. West Virginia (3-2, 1-1 Big 12, last week 8):
What a difference a week makes. The Mountaineers produced the most impressive in-conference win of the season with a 30-21 victory over preseason favorite Oklahoma State. West Virginia's defense continues to play at a high level (Maryland's 37 points were somewhat of an anomaly because of West Virginia turnovers) and
Clint Trickett
sparked the offense with his energy and leadership. West Virginia's offense is still pretty limited, but at least it no longer looks completely inept with Trickett at quarterback. The Mountaineers can't score with Baylor this weekend, but maybe they can slow the Bears down? Nobody thought West Virginia could slow Oklahoma or Oklahoma State, either, though Baylor's offense is at another level. We'll see.
5. Texas (2-2, 1-0 Big 12, last week 5):
The Longhorns have a couple of interesting games looming. Thursday, Texas travels to Iowa State, which looked much better offensively in a 38-21 win at Tulsa this past Thursday. Then, Texas gets surging Oklahoma in Dallas. This figures to be the defining two-game stretch of the season for the Longhorns. Win the next two, and the season -- as well as Mack Brown's status in Austin -- looks totally different than it did two weeks ago. The off week could not have come at a better time for the Longhorns, giving acting defensive coordinator Greg Robinson another week to acclimate to his defense and quarterback
David Ash
another week to recover from the head injury that knocked him out of the Ole Miss and Kansas State games.
6. TCU (2-2, 0-1 Big 12, last week 6):
Did TCU's offense finally uncover an identity during a rainy fourth quarter against SMU? The Horned Frogs poured on 31 points in the final quarter and did it with some new faces, as
Ty Slanina
,
Ja'Juan Story
and
Cameron Echols-Luper
all factored into the scoring onslaught in the first real action of their TCU careers. The Horned Frogs can really turn their season around with a win in Norman this weekend. That won't be easy, though, if All-American cornerback
Jason Verrett
(shoulder) and defensive end
Devonte Fields
(foot) can't play.
7. Oklahoma State (3-1, 0-1 Big 12, last week 1):
The Cowboys plummet six spots after an uninspiring performance in Morgantown. It was just one loss, but it was a loss that exposed weaknesses across the board. For the first time in seemingly forever, Oklahoma State's kicking game is awful. The Cowboys' secondary gave up 320 yards to a West Virginia passing attack that previously had been completely futile. And on the other side of the ball, when the Mountaineers dared QB
J.W. Walsh
to beat them deep, he couldn't do it. That allowed West Virginia to stuff the Cowboys' running game, which also doesn't appear to have that bell-cow running back Oklahoma State has been accustomed to featuring. The Cowboys are better than they looked at West Virginia -- but how much better?
8. Kansas State (2-2, 0-1 Big 12, last week 7):
Bill Snyder maintains the Wildcats will stick with the two-quarterback system, which has yielded mixed results. K-State has moved the ball better when
Daniel Sams
has been in at quarterback. But when he's in, the Wildcats are virtually no threat to pass. Sams has 29 rushes and only four passing attempts. Is Sams really that poor of a passer? Maybe it's time for K-State to find out.
9. Iowa State (1-2, 0-0 Big 12, last week 10):
It's hard to believe a center could make that much of a difference. But the return of
Tom Farniok
sure seemed to do wonders for Iowa State's offense, which finally got going in a 38-21 win at Tulsa. The Cyclones also finally involved running back
Aaron Wimberly
, who ignited the running game with Iowa State's first 100-yard performance in more than a year. With former blue-chip junior-college transfer
E.J. Bibbs
emerging now at tight end, QB
Sam Richardson
no longer appears to be on his own. Jack Trice will be rocking Thursday night for the Longhorns, as Iowa State has a chance to land a signature win to build off of for the rest of the season.
10. Kansas (2-1, 0-0 Big 12, last week 9):
The Jayhawks have a winning record but have been mostly unimpressive. Can they turn around the offense against Texas Tech? That will hinge almost entirely on quarterback
Jake Heaps
, who has talent but has been unable to find any rhythm so far with a collection of unproven wideouts. If the Jayhawks can be competitive this weekend, it will be a good sign they are moving in the right direction. If they get blasted, it could be a long season, especially with Iowa State and West Virginia seemingly having found their stride.
Four Downs: Week 15