Oklahoma Sooners:

Jared Kaster
May, 15, 2014
5/15/14
10:30
AM ET
Earlier Thursday, we concluded our 22-round draft of current Big 12 players. Below are the three lineup outcomes of that draft, and as you can see, each of us went in different directions.

Like the St. Louis Rams, Max and Brandon built up their defensive lines before worrying about the rest of their rosters. While I grabbed the best quarterback in the league and surrounded him with protection and weapons.
After each lineup, read our final takes on our teams. Then, decide who drafted best in the weekly Big 12 poll.
BRANDON CHATMON'S TEAM
OFFENSE
DEFENSE
What Brandon says about his team:
"Offensively, as soon as Petty was gone with the first pick I knew I wouldn't take a quarterback until my final pick. Knight could be the steal of the draft. Versatility is the name of the game with the rest of the offense. We can put Pierson and Smallwood in the backfield and go read option or really ruin your Saturday and throw Daje back there in the Diamond. When you bring more guys in the box, you leave Seales and Lockett one-on-one. Or we can just go five wide and you can try to cover running backs who run routes like receivers with your linebackers. And an experienced offensive line will be the foundation of it all. Defensively, it would be wise for opposing quarterbacks to tell their families to stay home when facing this group. We're going to man up and have our mail forwarded to the opposing backfield and make you want to take your ball and go home. And with a secondary full of coverage guys, I'm not concerned about the back end of the defense holding up. We'll win more battles than we lose. By the final whistle, my team will have earned the moniker 'Chatmon's chaos creators' with Tapper, Reed, Brown, Hunter, Alexander and Robertson living in your backfield."
MAX OLSON'S TEAM
OFFENSE
DEFENSE
What Max says about his team:
"You do not want to play against my team. That was my goal going in, and I constructed exactly the team I wanted. I have a great QB in Webb who gets to throw to Goodley, one of the nation's best receivers, and he'd help Jaxon Shipley put up Jordan Shipley numbers. I have the two-back punch of Linwood and Gray. I have Hill, who can do everything, and a good line. We're going to spread the ball around like crazy. Good luck stopping that. On defense, you have Fields, Oakman and Grissom all rushing the passer. That's deadly. We can go three-man fronts or even put Oakman in the middle, letting the 6-foot-8 stud swat your passes down. And while you're worrying about him and Grissom, you have the Big 12's best defensive player [Fields] coming after you. Hager and Shannon will hold it down at the second level, and the secondary is full of playmakers. This is a fun team, plain and simple, and one that can frustrate the heck out of anybody."
JAKE TROTTER'S TEAM
OFFENSE
DEFENSE
What Jake says about his team:
"Max and Brandon are good at talking smack. I'll give them that. But my players do their talking on the field. Once I was fortunate to land reigning Big 12 Offensive Player of the Year Bryce Petty as my quarterback, my goal was two-fold: to keep him upright from pressure off the edge; and, to surround him with firepower. I accomplished both ends, and then some. I wasn't able to get either of the two elite receivers in the league in Goodley or Lockett. But I put together the best overall receiving corps in Grant, Shepard and Bundrage, who could all deliver 1,000-yard receiving seasons in 2014. On top of that, I snagged the best pass-catching tight end on the board in Bibbs, as well as Brown, so that we can pound the ball between the tackles when we need. Speaking of tackles, aware that Brandon and Max were focused almost solely on their pass rush in the early rounds, I also added two of the most reliable pass-protecting bookends in the league in Drango and Williams. Defensively, I can bring pressure, too, with Mueller and Striker, who last season respectively placed second and fourth in the Big 12 in sacks. Castleman and Britz are roadblocks, Heeney and Dawson are tackle machines and my entire secondary has All-Big 12 potential. We don't talk. We just dominate."
May, 15, 2014
5/15/14
9:00
AM ET
Following up on NFL draft weekend,
we've been conducting our own draft
, picking from current Big 12 players to fill out three 22-man lineups.
Below is a recap of the first 15 rounds of the draft from the past two days, followed by rounds 16-22.
As another reminder, this is NOT a Top 25 player ranking. It's only an exercise in determining where the value of the league lies, and the different strategies to putting a team together from the league's present talent pool.
Jake Trotter:
Brandon Chatmon:
Max Olson:
Round 16
Olson: WR/RB Tyreek Hill, Oklahoma State
Chatmon: OLB Pete Robertson, Texas Tech
Trotter: OLB Brandon Golson, West Virginia
Analysis: "To combat the offensive attacks I would face in the Big 12, I'm going with a 3-4 on defense. Golson, who led the Big 12 in forced fumbles last season, is another playmaking outside linebacker who would fit in nicely in this scheme opposite Striker." -- Trotter
[+] Enlarge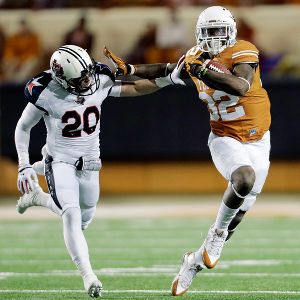 AP Photo/Eric GayGetting potential Big 12 rushing leader Johnathan Gray in the 17th round could be a big steal for Max Olson.
Round 17
Trotter: LB Paul Dawson, TCU
Chatmon: C Dominic Espinosa, Texas
Olson: RB Johnathan Gray, Texas
Analysis: "I ended up getting a potential All-Big 12 running back in the 17th round. So I feel pretty good about that. Gray should be healthy for the opener, and he leads all returning Big 12 rushers with 86 rushing yards per game last season." -- Olson
Round 18
Olson: OT Troy Baker, Baylor
Chatmon: SS Quentin Hayes, Oklahoma
Trotter: OG Mark Glowinski, West Virginia
Analysis: "I wanted a safety who is comfortable in holding his own in coverage, while also having the ability to make plays all over the field. Hayes is the guy. With Worley, Shepherd, White, Barnett and Hayes in the secondary, I can unleash the rest of my defense on the quarterback and feel comfortable about my secondary holding its own against anyone." -- Chatmon
Round 19
Trotter: OG Nila Kasitati, Oklahoma
Chatmon: WR Tony Pierson, Kansas
Olson: SS Terrell Burt, Baylor
Analysis: "With Max and Brandon hoarding centers, I needed to attack the interior of my offensive line. Kasitati can excel manning either guard or center, and Glowinski is one of the league's top returning guards." -- Trotter
Round 20
Olson: OT Halapoulivaati Vaitai, TCU
Chatmon: WR Jhajuan Seales, Oklahoma State
Trotter: WR Quenton Bundrage, Iowa State
Analysis: "The guys I wanted for my second guard spot weren't available at this round, so I'm going with the mammoth "Big V" Vaitai (6-foot-6, 308 pounds) and moving one of my other tackle selections inside. I ended up with a fairly good offensive line, which was pretty much my plan going in." -- Olson
Round 21
Trotter: CB Nigel Tribune, Iowa State
Chatmon: WR Wendell Smallwood, West Virginia
Olson: LB Nick Kwiatkoski, West Virginia
Analysis: "I picked up Bundrage in the previous round to seal up what I feel is the best all-around receiving corps, even if I didn't get Goodley or Lockett. Tribune, the only true freshman to play for Iowa State in the past two seasons, is a corner with a ton of upside and, paired with Kevin Peterson, should provide me plenty of tenaciousness against the pass." -- Trotter
Round 22
Olson: WR Jaxon Shipley, Texas
Chatmon: QB Trevor Knight, Oklahoma
Trotter: C Jared Kaster, Texas Tech
Analysis: "I just got the steal of the draft, and I knew I would wait until the final round to do so. As soon as Jake snapped up Petty, I knew I would be content with Davis Webb or Trevor Knight and wouldn't draft a quarterback until the final round. The fact that Max opted for Webb made things even better for me as Knight has the versatility to run a run-heavy offense or spread things out and use his arm. He fits perfectly with the versatility I was striving for with each pick." -- Chatmon
May, 1, 2014
5/01/14
4:30
PM ET
With spring ball done, we're
reexamining and re-ranking the positional situations of every Big 12 team
, continuing Thursday with the offensive line. These outlooks will probably look different in August. But here's how we see them post-spring:
1. Oklahoma (pre-spring ranking: 1):
The Sporting News has listed the Sooners as its preseason No. 1 team in the country, due in large part to Oklahoma's offensive line. That might be going overboard, but the Sooners have a wealth of experience and depth returning up front, which includes four starters. They'll get even deeper once guard
Tyler Evans
is cleared this summer, as expected (he was running this spring). Evans has missed the past two seasons with knee injuries but was a three-year starter before getting hurt.
[+] Enlarge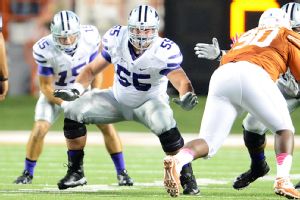 John Albright/Icon SMIAfter losing both offensive tackles from last season, Kansas State is switching All-Big 12 guard Cody Whitehair to left tackle.
2. Kansas State (2):
K-State responded to losing both tackles from last season by swinging All-Big 12 guard
Cody Whitehair
to left tackle and slotting juco transfer
Luke Hayes
at right tackle. With
B.J. Finney
entering his fourth year as the starting center and more juco offensive line help arriving in the summer, the Wildcats should be more than solid up front.
3. Texas (3):
The Longhorns will feature one of the eldest lines in the Big 12, with its projected starting front comprising two seniors and three juniors. Right guard
Taylor Doyle
emerged this spring at the biggest question spot, but Texas has other options inside with
Rami Hammad
,
Curtis Riser
and the versatile
Kent Perkins
. Center
Dominic Espinosa
is the anchor of this group, which will be asked to establish itself with the running game in Charlie Strong's first season.
4. Baylor (4):
The Bears are still waiting for left tackle
Spencer Drango
to return from last season's back injury, but right tackle
Troy Baker
showed no lingering effects of the knee injury he suffered last spring. With the depth inside and with
Kyle Fuller
locking up the center job, there are no weaknesses with this cast -- provided Drango gets healthy and gets back to the field.
5. Oklahoma State (5):
The Cowboys are also waiting for their left tackle to return from an injury he suffered last season.
Devin Davis
has NFL potential but has been slow to recover from an ACL tear last preseason. The Cowboys seemed to also be in a fix at center with their top-two players at the position from last fall moving on from the program with eligibility still remaining. But
Paul Lewis
slid over from guard this spring and stabilized that spot.
Daniel Koenig
is an All-Big 12 caliber player and capable of playing tackle or guard. He'll continue to man left tackle, at least until Davis returns.
6. Texas Tech (6):
Tech received some welcome news during spring ball with starting right tackle
Rashad Fortenberry
being granted an extra year of eligibility. The Red Raiders have one of the best returning tackles in the league on the left side in
Le'Raven Clark
, and two juco tackles they're high on in
Shaq Davis
and
Dominique Robertson
. With
Jared Kaster
and
Alfredo Morales
also returning as starters inside, Tech's offensive line should be much better than last season's.
7. West Virginia (7):
The Mountaineers have the league's most reliable one-two punch at guard in
Quinton Spain
and
Mark Glowinski
, who have 38 career starts together. The rest of the line, however, is a question. Left tackle
Adam Pankey
impressed coach Dana Holgorsen early in the spring and won a starting job before the Gold-Blue Game. If Pankey pans out, the Mountaineers could be a load up front.
8. Iowa State (8):
The Cyclones had disastrous luck with the health of their offensive line last season, but that should pay off in 2014 with so many different players having gotten experience. Left tackle
Brock Dagel
has immense upside, and center
Tom Farniok
is an All-Big-type player. But the Cyclones were especially pumped with the development of sophomore right guard
Daniel Burton
, who is physical and one of the smartest players on the team. If they get better luck with good health, this could wind up being a very a tough and balanced unit.
9. TCU (9):
The Horned Frogs welcomed the return of tackle
Tayo Fabuluje
, who left the team before the start of the season last fall. Fabuluje, however, missed several practices with an ankle injury, allowing redshirt freshman
Joseph Noteboom
to move ahead of him on the depth chart. Fabuluje will have a chance to earn his spot back in the spring opposite
Halapoulivaati Vaitai
, who replaced Fabuluje last season. But the way the 2013 season went, the Horned Frogs can't have too many reliable offensive tackles. Juco transfer
Frank Kee
impressed during the spring and should lock down a starting spot at guard next to center
Joey Hunt
, who did a nice job of adapting to the new offense during the spring. With 6-foot-7, 350-pound
Matt Pryor
also likely to fit in somewhere in the rotation, the Frogs will definitely be bigger up front than they were in 2013 -- and probably better, too.
10: Kansas (10):
Because he can get in and out of the pocket,
Montell Cozart
winning the starting job should help the offensive line. The fact that new offensive coordinator John Reagan is also an offensive line coach should be a boost, as well. The Jayhawks have several battles up front that will continue into the fall, including center, where walk-on
Joe Gibson
made a huge impression during the spring.
February, 21, 2014
2/21/14
3:50
PM ET
As we wait for the start of spring ball, we're examining and ranking the positional situations of every team, continuing Friday with offensive line. Some of these outlooks will look different after the spring. But here's how we see the offensive lines at the moment:
1. Oklahoma:
The Sooners lose their captain in All-American
Gabe Ikard
, who kept the line together through several moving pieces. Those pieces, however, are almost all back.
Tyrus Thompson
and
Daryl Williams
are steady veterans at tackle. Inside, guards
Dionte Savage
and
Nila Kasitati
both started the Sugar Bowl, and former starter
Tyler Evans
returns after sitting out the last two years with injury. The Sooners also have been grooming Ikard's replacement at center in
Ty Darlington
, who has played well in a reserve role the last two years. Even without Ikard, this is a seasoned unit.
[+] Enlarge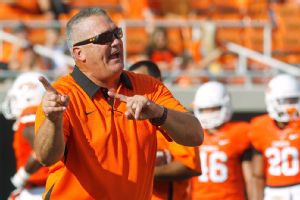 AP Photo/Sue OgrockiJoe Wickline's move from the OSU staff to Texas is an important storyline in the Big 12.
2. Kansas State:
The Wildcats will be stout inside. Guard
Cody Whitehair
and center
BJ Finney
are All-Big 12 caliber. Veteran starters
Cornelius Lucas
and
Tavon Rooks
are gone at tackle, but Bill Snyder signed two of the top 15 juco tackles in the country in
A.J. Allen
and
Luke Hayes
. If Allen and Hayes can solidify the bookends, K-State could be stout up front.
3. Texas:
The Longhorns return veteran center
Dominic Espinosa
, who has 39 career starts. But with three starters gone, the Longhorns really need the light to come up for
Desmond Harrison
. The talent is there, and if Harrison can put it all together, he'll give Texas a much-needed bookend on the left side. There's potential elsewhere in freshman guard
Rami Hammad
and sophomore tackle
Kent Perkins
, who could both earn starting roles this spring. The biggest addition to this group will be new assistant Joe Wickline, who worked magic with the offensive lines in Stillwater.
4. Baylor:
The Bears need left tackle
Spencer Drango
to make a healthy recovery from his back injury. After Drango was injured in November, Baylor struggled at times to keep quarterback
Bryce Petty
upright. Departing unanimous All-American guard
Cyril Richardson
is irreplaceable, though
Desmine Hilliard
had a solid sophomore season at right guard. Sophomore
Kyle Fuller
looks ready to take over at center, but the Bears will need another piece or two to emerge. The skill talent is in place for the Baylor offense to keep humming. How the players up front perform will determine whether it will.
5. Oklahoma State:
The key for the Cowboys here will be a healthy return of left tackle
Devin Davis
. Davis might have been Oklahoma State's best lineman last season, but suffered a torn ACL during a preseason that knocked him out for the year. Davis has NFL ability, and if he resumes his role, that will allow
Daniel Koenig
to move back to right tackle. The O-line in Stillwater was something never to worry about because of Wickline's masterful track record of mixing and matching to get a right fit. It will be interesting to see how the line performs next season with Wickline now at Texas.
[+] Enlarge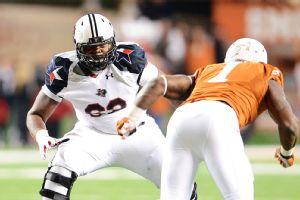 John Albright/Icon SMITexas Tech's Le'Raven Clark is one of the best offensive tackles in the Big 12.
6. Texas Tech:
The Red Raiders have an NFL talent in left tackle
Le'Raven Clark
, who earned All-Big 12 honors as a sophomore. Despite Clark, the Red Raiders line struggled last year, giving up 33 sacks (second-worst in the Big 12). But it should be improved in 2014. Juco tackles
Dominique Robertson
(ESPN JC 50) and
Shaq Davis
are on the way, and 2013 RT starter
Rashad Fortenberry
could be back, too, if the NCAA grants him a medical hardship waiver. Losing guard
Beau Carpenter
to dismissal hurts, but
Baylen Brown
has starting experience. Brown,
Alfredo Morales
,
James Polk
and center
Jared Kaster
all return after combining for 31 starts along the interior last season.
7. West Virginia:
The good news is that the Mountaineers should be superb inside.
Quinton Spain
is one of the best returning guards in the league, and
Mark Glowinski
had a solid season at the other guard spot. Tackle, however, is the biggest question on the entire squad going into the spring, outside QB. Coach Dana Holgorsen said Friday that guard
Marquis Lucas
would be swinging to the outside to compete with
Adam Pankey
,
Marcell Lazard
and
Sylvester Townes
.
8. Iowa State:
A healthy
Tom Farniok
at center would go a long way in stabilizing an inconsistent offensive line that gave up a Big 12-high 38 sacks last season. Farniok was never healthy last year, and it showed. The Cyclones are excited about the potential of
Brock Dagel
as a cornerstone at left tackle.
Jacob Gannon
will battle
Jake Campos
for the other tackle spot, while
Jamison Lalk
,
Oni Omoile
and juco transfer
Wendell Taiese
will compete for the guard spot opposite
Daniel Burton
. Under the new offensive regime, this line could enjoy huge improvement from 2013.
9. TCU:
The line was one of many reasons why the TCU offense struggled so much in 2013. Getting
Matt Pryor
on the field would be a big help. Pryor is massive at 6-foot-7, 350 pounds, and could fill a need a tackle. Getting Tayo Fabuluje back after a year away from football could help, too, assuming he's not too rusty. Juco guard
Frank Kee
, who chose the Horned Frogs over Oklahoma, could fill a spot inside immediately. True freshman
Ty Barrett
, the prize in a hotly contested recruiting battle, could challenge for time quickly, too.
10. Kansas:
John Reagan takes over at offensive coordinator and line coach, and he'll have some talented newcomers to weave into the rotation.
Devon Williams
and
Keyon Haughton
both arrived as three-star guards from Georgia Military College. Haughton is already on campus and could start right away. Freshman
Jacob Bragg
, the No. 3 center recruit in the country, could vie for time immediately, too, at the vacancy at center (2013 backup center
Dylan Admire
has moved to fullback/tight end).
Will Eagles' Gamble On Bradford Pay Off?
BIG 12 SCOREBOARD
Thursday, 9/3
Friday, 9/4
Saturday, 9/5