Oklahoma Sooners:

Gus Jones
February, 3, 2014
2/03/14
11:00
AM ET
Oklahoma is poised to add several recruits on Wednesday with an eye on creating the foundation of a future championship team. Yet recruiting is an inexact science. Some projected stars rise to meet high expectations while others struggle to make a difference in the Big 12. Thus it's the perfect time to look back at OU's last five recruiting classes. On Monday we begin with a review of the Class of 2009, including recruits who exceeded expectations, recruits who were solid signees, and those who were busts.
When OU signed this group in February 2009, it looked like a quality class that could feature some future stars. Yet the best and most productive players signed were afterthoughts on signing day. The class was ranked No. 11 nationally by ESPN.com.
Transcendent figures
Center Gabe Ikard:
A high school tight end who developed into an All-Big 12 interior lineman, Ikard is the perfect example of terrific evaluation by OU. He didn't have the traits to become an elite tight end, but ESPN.com's No. 19 ranked tight end had intelligence, a physical nature and toughness that made him perfect for a move inside. He earned 50 career starts after a redshirt season in 2009 and earned All-Big 12 first-team honors in each of his final three seasons.
[+] Enlarge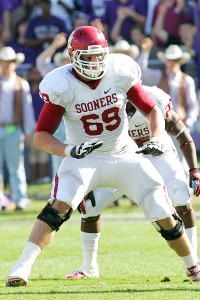 Rick Yeatts/Getty ImagesLane Johnson was unranked coming out of Groveton, Texas, but became the No. 4 pick in the NFL draft in 2013.
Tackle Lane Johnson
: The unknown Johnson went from afterthought to NFL top-five draft pick. He played several positions in junior college, then lined up at tight end, defensive end and tackle at OU before being selected No. 4 overall by the Philadelphia Eagles in the 2013 NFL draft. He was solid and versatile during his two years as a starting tackle for the Sooners.
Cornerback Demontre Hurst:
A three-year starter, Hurst was consistent and durable during his time as a cornerback for the Sooners. The No. 58-ranked cornerback in the nation, Hurst finished his career with 178 tackles and 33 pass breakups after stepping on campus with minimal fanfare.
Bull's-eye
Safety Javon Harris:
The No. 32-ranked safety in the nation, Harris was a two-year starter and contributor on special teams throughout his career. He finished with 162 career tackles and nine interceptions in 44 career games (21 starts).
Defensive end Ronnell Lewis:
Lewis, No. 83 in the ESPN 150, would have exceed expectations if he had remained in school for all four seasons. He was on the path to have a dominant senior season but chose to leave early. Nonetheless he was a force on special teams as soon as he stepped on campus then developed into a quality defensive end as a junior. He had 118 tackles, including 20.5 tackles for loss, and started at least one game during each of his three seasons, finishing with 14 starts in 34 games.
Guard Tyler Evans:
The No. 25 offensive guard in the nation, Evans started in 29 games in three seasons as a Sooner before knee injuries derailed his career. If every offensive lineman the Sooners recruited turned out like Evans, they'd be pretty happy.
Defensive tackle Jamarkus McFarland:
As the No. 54 player in the ESPN 150, McFarland shouldered a lofty ranking and expectations to match Gerald McCoy and Tommie Harris when he arrived on campus. He fell short of that duo, but he was a valuable asset during his final three seasons with the Sooners. He started 22 games and had at least 20 tackles for three consecutive seasons.
Safety Gabe Lynn:
Another guy who had high expectations as the No. 80 player in the rankings and another guy who started games in each of his final three seasons. Lynn never became a star, but he was a key piece in an OU defense that ranked among the Big 12's best during his final two seasons. He had 116 tackles and four interceptions in 44 career games (25 starts).
Completely missed the mark
Linebacker Gus Jones:
The No. 8 inside linebacker never stepped on the field at OU. He transferred after one semester in Norman.
Overall grade: B
Not an outstanding recruiting class, but far from a bad class. Some of the projected stars turned out to be just starters, but hidden gems such as Ikard, Johnson and Hurst elevated this grade above average. A class that won a lot of games, but the lack of skill-position stars meant it wasn't strong enough to be the foundation of a national championship run.
December, 19, 2012
12/19/12
12:00
PM ET
Recruiting is far from an exact science. If a college program brings in 25 recruits in a class and 18 or more develop into contributors on the field, that 72 percent success ratio makes for a great class. On Tuesday, SoonerNation looked at the five best evaluations by the Sooners since 2006. Today, we'll take a closer look at the five worst evaluations since 2006.

1. Defensive end David Anderson, Class of 2007: Anderson was a late addition to OU's class and picked the Sooners over Iowa State, Kansas State, Louisville and others. The Sooners didn't start showing strong interest until January because they needed to fill a need.

OU career: Anderson never made an impact at OU and decided to leave the team after a redshirt season. He simply decided he didn't want to play football.

ESPN.com scouts take out of HS: NA

Anderson is No. 1 because.... the Sooners brought him in to fill numbers and add bodies along the defense line. Yet it didn't pay off because Anderson decided he didn't want to continue his football career. Thus, the Sooners might have well saved the scholarship. It was a considerable risk and didn't prove to be worth taking.

2. Defensive end Jonte Bumpus, Class of 2007: The Sooners took a chance on Bumpus, who was very raw and undersized. It didn't pay off. Fortunately for the Sooners they haven't lacked talent at the position in recent years.

OU career: Bumpus left OU after a redshirt season and limited action in 2008. He eventually ended up playing football at Western Carolina.

ESPN.com scouts take out of HS: "Right now getting after the quarterback is his strong point, but he needs to add bulk and improve against the run at him and he can be a good all around end."

Bumpus is No. 2 because.... he wasn't highly pursued by other schools and wasn't a chance the Sooners needed to take. Additionally, he wasn't exceptionally productive in high school. The reasons to hesitate on bringing him in outweighed the reasons to secure his signature.

3. Tackle Britt Mitchell, Class of 2008. A lightly regarded prospect, Mitchell picked the Sooners early in the recruiting process. He picked OU over Texas A&M, Baylor and others.

OU career: Mitchell left Norman shortly after he arrived then flirted with entering the military before ending up playing football at UTEP.

ESPN.com scouts take out of HS: "Mitchell is intriguing because he such a monster of a kid. While his size allows him to smother and push opponents around. at times it also seems his size can be a bit of an obstacle. He will need to play a little more under control and continue to learn to operate in his big frame. Mitchell should be tracked because he has a good upside and could develop into a real beast."

Mitchell is No. 3 because.... his size (6-foot-7, 300 pounds) would intrigue anyone. Yet, clearly he was unsure what he wanted to do with his future. Uncertainty and the commitment it takes to play football at Oklahoma are polar opposites. The Sooners would have been better off going after a different prospect with a different mindset.

4. Linebacker Gus Jones, Class of 2009: The Sooners thought they had a diamond in the rough in Jones, who picked OU over Missouri, Texas Tech, Wyoming and others.

OU career: Jones left OU after a redshirt season and ended up at Division II Northeastern State University in Tahlequah, Okla.

ESPN.com scouts take out of HS: "Very strong tackler with great pop on contact but can overrun ball carriers and can tackle high. Overall, Jones could play at the 235-pound range in college while retaining his quick-twitched burst and explosiveness between the tackles. Good prospect potentially sliding under the radar. Should be a stud on special teams as well."

Jones is No. 4 because.... the Sooners probably didn't have to take a chance on Jones, who didn't feel like he fit in during his time in the program. He left because he wanted to play and likely could see that his opportunities to play would be limited in Norman. If he could see that so early in his OU career, why couldn't the Sooners see it before bringing him in?

5. Receiver Tyler Stradford, Class of 2007: The Sooners signed Stradford over Southern Miss, UConn, Memphis and others. Obviously OU felt it had found a diamond in the rough in Stradford, but it was wrong.

OU career: Stradford transferred to North Texas after a redshirt season in Norman. He never made a major impact with the Mean Green.

ESPN.com scouts take out of HS: "Stradford reminds us a little of former Eagles WR Todd Pinkston in terms of build, speed and overall skills, but lets hope that Stradford is tougher. Speed is good, not great. Overall, Stradford has upside and once more polished, could become a nice prospect at the next level."

Stradford is No. 5 because.... it's easy to see why the Sooners took a shot in the dark with Stradford since he had good athleticism for a receiver his size (6-foot-2, 185 pounds). Nonetheless, it's likely the Sooners had plenty of other quality options outside of Stradford. They took a shot and lost out on this signee.
Top Position Battles Heading In To Spring
BIG 12 SCOREBOARD
Thursday, 9/3
Friday, 9/4
Saturday, 9/5