Oklahoma Sooners:

Florida State Seminoles
January, 13, 2014
1/13/14
10:30
AM ET
By
Brett Perrotta, ESPN Stats & Info
| ESPN.com
With the door closed on the 16-year reign of the BCS, we dove into the 72 BCS bowl games to find the 10 most memorable moments of the BCS era.
10. Utah's hook-and-ladder:
The first team ever dubbed a "BCS Buster" was the Urban Meyer-coached and
Alex Smith
-led Utah Utes in 2004. In the 2005 Fiesta Bowl, Utah led Pittsburgh 28-7 late in the third quarter and lined up at the Panthers' 18-yard line. Smith swung it left to Steven Savoy, who lateraled to
Paris Warren
, who ran it in for the score as the Utes completed a 12-0 season.
9. Peerless Price down the sideline:
Tennessee led Florida State 14-9 with 9:29 remaining in the fourth quarter in the 1999 Fiesta Bowl with the first BCS Championship on the line. UT quarterback
Tee Martin
found Price down the right sideline, and Price took it the distance for a 79-yard score. Price had 199 receiving yards for the winning Vols, the most ever in the BCS title game.
8. Ginn's costly return:
Ohio State received the opening kickoff from Florida in the 2007 BCS Championship game, and
Ted Ginn
Jr. wasted no time in getting the game's first score on a 93-yard return. What will always be remembered, however, is that Ginn suffered a foot injury on the ensuing celebration and was out for the rest of the Buckeyes' 41-14 loss.
7. Warrick's juggling score:
Though the championship of the 1999 season was marked by Virginia Tech freshman QB
Michael Vick
, it was Florida State's
Peter Warrick
who was named the most outstanding player. He had a punt return for a touchdown in the second quarter, and his juggling catch on a 43-yard score midway through the fourth served as the dagger.
6. Vince Young, Part I:
Facing Michigan in the 2005 Rose Bowl, Young was responsible for all five Texas touchdowns in a 38-37 win. Though he had runs of 60, 23 and 20 yards, the most impressive was a 10-yard run in which Young escaped the tackle of Michigan lineman Pat Massey before scampering to the right pylon.
5. Dyer isn't down:
Tied at 19 with Oregon with just more than two minutes remaining in the 2011 BCS Championship Game, Auburn running back
Michael Dyer
appeared to be tackled for a short gain at the Auburn 45-yard line. Having rolled over the defender, Dyer was never ruled down, and ended up gaining 37 yards on the play before he was taken down at the Oregon 23-yard line. Auburn would win on a field goal as time expired.
[+] Enlarge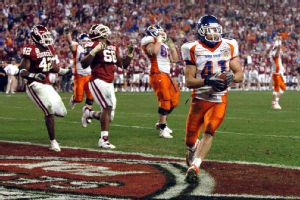 Steve Grayson/WireImageIan Johnson's two-point conversion run in overtime propelled Boise State over heavily favored Oklahoma in the 2007 Fiesta Bowl.
4. Winston to Benjamin:
Trailing Auburn 31-27 in the final BCS Championship Game, Heisman Trophy winner
Jameis Winston
drove the Noles 78 yards in less than a minute to the Auburn 2-yard line. Receiving the snap with 17 seconds left in a wild fourth quarter, Winston threw a perfect pass to
Kelvin Benjamin
, who brought it down for the game-winning score to complete an undefeated season.
3. Was it pass interference?
Some will remember Maurice Clarett's game-saving strip of
Sean Taylor
, but the lasting legacy of the game is the dubious pass interference call in overtime. Miami led 24-17 and Ohio State faced fourth-and-3 from the 5-yard line.
Glenn Sharpe
was called for pass interference, giving the Buckeyes new life in a game they would win 31-24.
2. Boise State's trick plays:
In the 2007 Fiesta Bowl, Boise State trailed heavily favored Oklahoma 35-28 with 18 seconds left and facing fourth-and-18 from the 50-yard line. Jared Zabransky completed a pass to Drisan James just short of the first down, but he lateraled it to Jerard Rabb, who took it the rest of the way for the tying touchdown. In overtime, down 42-35 on fourth down, wide receiver Vinny Perretta completed a 3-yard pass to
Derek Schouman
for a touchdown. Chris Petersen elected to go for two, and Zabransky faked a throw to his right before handing it behind his back to Ian Johnson on the Statue of Liberty play for the winning two-point conversion. Johnson would propose to his girlfriend, a Boise State cheerleader, on the sideline after the game.
1. Vince Young, Part II:
After a Longhorns touchdown and key fourth-down stop, undefeated Texas trailed undefeated USC 38-33 with 26 seconds remaining and faced fourth-and-5 from the 9-yard line, with the 2005 BCS championship on the line. Vince Young dropped back to pass but saw nobody open, and immediately sprinted for the right pylon for the title-winning score in the marquee game of the BCS era.
November, 18, 2012
11/18/12
11:00
AM ET
ORLANDO, Fla. -- ESPN 150 safety
Marcell Harris
(Orlando, Fla./Dr. Phillips) announced on Friday he has moved his college decision to Nov. 29. The announcement will be on ESPNU's "Recruiting Nation," which airs at 5 p.m. ET.
The four-star athlete will chose between Florida, Florida State, Texas and Oklahoma. Harris said he wanted to wait until after Thanksgiving to make his decision.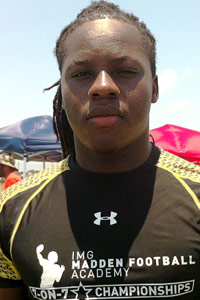 Derek Tyson/ESPN.comMarcell Harris is rated the No. 7 safety in the nation and the No. 68 overall player in the ESPN 150.
"That's why I was waiting until after Thanksgiving," Harris said. "So I could sit down, enjoy Thanksgiving and talk about some other things with my coaches, because I didn't get to talk to my coaches before all of this and everything else. So it will be a great time to sit down with everybody."
November, 16, 2012
11/16/12
1:21
PM ET
ESPN 150 safety
Marcell Harris
(Orlando, Fla./Dr. Phillips) has finalized his plans to make a college decision. The 6-foot-1, 207-pound four-star prospect will make his verbal commitment on ESPNU's "Recruiting Nation" on Nov. 29 between 5-6 p.m. ET.
Harris, the No. 7-ranked safety in the country, will choose between Florida, Florida State, Oklahoma and Texas. The Under Armour All-American has officially visited all four of his finalists.
To continue reading this article you must be an Insider
October, 31, 2012
10/31/12
12:30
PM ET
ORLANDO, Fla. -- ESPN 150 safety
Marcell Harris
(Orlando, Fla./Dr. Phillips) has set his college decision date for Nov. 16.
The 6-foot-1, 207-pound safety will chose between Florida, Florida State, Oklahoma and Texas. Harris hyperexented his knee in Dr. Phillips game last Thursday. The injury isn't severe and will only keep him out a few weeks, but Harris said it was enough for him to rethink his recruiting strategy.
[+] Enlarge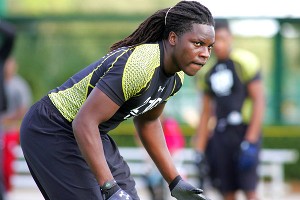 Miller Safrit/ESPN.comMarcell Harris is ranked the No. 66 overall prospect in the ESPN 150.
"I took four official visits to Texas, Oklahoma, Florida State and Florida," Harris said. "I don't think there will be a fifth one with everything that's going on. My recruiting has been going pretty good. I've been talking with my coaches almost everyday. I think I'll have my decision by Nov. 16."
To continue reading this article you must be an Insider
February, 6, 2012
2/06/12
3:25
PM ET
By
SoonerNation Staff
| ESPN.com
ESPN The Magazine and RecruitingNation compiled the past five years (2007-11) of ESPNU 150 rankings and then crowned college football's
top 10 recruiting programs
.

Here's how they did it:
Our methodology was simple: We re-tallied the scores following signing day and ranked the schools based on total number of ESPNU 150 recruits (there have been 900) hauled in over the last six years. Of course, like success on the field, recruiting is cyclical -- and fans of programs both on and off this list might look back on Feb. 1, 2012 as the day their team began its rise (or fall) on the trail.
Here's the top-10:
1. Florida
2. Texas
3. USC
4. Alabama
5. Florida State
6. Notre Dame
T-7. Georgia
T-7: LSU
9. Miami
T-10. Ohio State
T-10. Oklahoma
Here's what it says about Oklahoma:
Top states: Texas (14), Oklahoma (seven)
Surprise state: California (three)
Oklahoma continues to reel in the relatively small amount of ESPNU 150 talent produced in the Sooner State, signing its top two 2012 recruits: WR Sterling Shepard (Oklahoma City) and RB Alex Ross (Jenks). That puts the Sooners at 7-for-13 since 2007. Bob Stoops also went into Florida (No. 2 OC Ty Darlington of Apopka) and Missouri (WR Durron Neal of St. Louis) for the first time in the past six years.
December, 10, 2011
12/10/11
5:48
PM ET
Delray Beach (Fla.) American Heritage defeated Madison (Fla.) Madison County 30-3 on Saturday afternoon in the FHSAA Class 3A state championship game in Orlando, Fla.
Junior running back
Greg Bryant
rushed for 243 yards and three touchdowns on the afternoon. American Heritage head coach Doug Socha summed up running back Greg Bryant's performance.
"He's awesome, it starts up front with our offensive line," Socha said, "but Greg is very special, obviously."
Exhausted from his 39-carry performance, the 5-foot-11, 200-pound bruising running back talked about the win after the game.
"It feels real good, I'm about to go celebrate with my team," Bryant said. "Once I get in a rhythm I just keep going. All that hard work paid off in the end."
With early scholarship offers from LSU, Florida State, Georgia, Oklahoma, Alabama and Florida, Bryant is expected to be one of the top running backs not only in the state but the country next season.
Bryant, who said distance will not be a factor in his recruitment, talked about Oklahoma, the most recent school to offer him.
"I like Oklahoma, they run the ball a lot," he said. "They do a lot with the running backs and they have a good running back history. I like them a lot. I'd like to get out to Oklahoma and visit there soon."
Florida was the first team to offer Bryant and he said he likes the pro-style system that Florida has implemented since Will Muschamp took over.
"Florida is starting to run the ball a little bit more," Bryant said. "Coach Aubrey [Hill] said they will be in the pro-style, so I like that, too."
With Charlie Weis having left Florida to take the head coaching job at Kansas, Bryant said the departure won't change how he feels about the Gators.
"It won't affect me," Bryant said. "It's just the way they run their program -- I like their program. One person can't change it."
Bryant said he talks to Oklahoma and LSU the most and is intrigued by the thought of playing for the Tigers.
"LSU, I mean they are in the national championship game, so I like that," Bryant said. "They throw the ball, they have a good defense. I just like the program."
Bryant, who said he won't decide what school he will attend until sometime next year, said his decision will come down to where he feels the most comfortable.
"Be comfortable where I'm at, somewhere where I can play as soon as I get there," he said. "I want to have a good relationship with the coaches. I just want it to feel like family."
Bryant, along with
Adam Lane
(5-7/206, Winter Haven, Fla./Winter Haven),
Kelvin Taylor
(5-11/205, Belle Glade, Fla./Glades Day),
Ryan Green
(5-11/190, St. Petersburg, Fla./St. Pete Catholic) and Georgia commit
Derrick Henry
(6-3/231, Yulee, Fla./Yulee), is among the top running backs in the state for 2013.
Stoops, Players Want To Effect Change
BIG 12 SCOREBOARD
Thursday, 9/3
Friday, 9/4
Saturday, 9/5