Oklahoma Sooners:

Everett Golson
June, 6, 2014
6/06/14
5:30
AM ET
The Early Offer is RecruitingNation's regular feature, giving you a dose of recruiting in the mornings. Today's offerings: Notre Dame's recruiting efforts for 2015 suffered a major setback when ESPN 300 quarterback Blake Barnett decommitted. So where do the Irish turn now at the quarterback spot? Plus, could Oklahoma, Oklahoma State and Texas' loss be Arkansas' gain?
September, 26, 2013
9/26/13
8:00
AM ET
NORMAN, Okla. -- Everyone remembers the final score.
Notre Dame left Oklahoma Memorial Stadium with a
30-13 win
over the Sooners last October. Yet, in the halls of the Switzer Center, Oklahoma coaches, players and staff remember the fourth quarter. And how they came up short when it mattered.
[+] Enlarge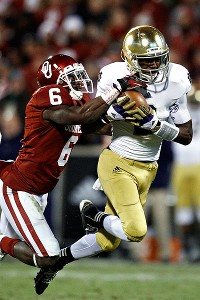 AP Photo/Sue OgrockiNotre Dame receiver Chris Brown's 50-yard reception in the fourth quarter of last season's matchup took the air out of Oklahoma Memorial Stadium.
"That game was 10-6 going into the fourth quarter," OU coach Bob Stoops said. "It ends up 13-13 and then they made every play after that, whether it be the interception, the long pass, whatever."
ND outscored the Sooners 20-7 in the final quarter, scoring 17 unanswered points to win the game. OU quarterback
Blake Bell
, playing his role as the Belldozer in the Sooners' short yardage package, scored on a 1-yard run to tie the game at 13. The Sooners had renewed hope, and excitement filled the stadium. Two plays later, ND quarterback
Everett Golson
hit
Chris Brown
for a 50-yard reception, sucking the life out of the stadium before Golson capped off the drive and recaptured the lead with a 1-yard touchdown run.
A Manti Te'o interception ended OU's next possession and all hope was lost as the Sooners watched Notre Dame finish off the win with a field goal and Theo Riddick touchdown.
"We watched the fourth quarter from last year and that's really what stuck out in our mind," cornerback
Aaron Colvin
said. "They kind of dominated us in the fourth quarter last year. I feel like if we finish strong this year, we'll have a good chance of winning."
The Sooners know they were a key play or two away from beating the Fighting Irish in 2012. Stoops expects turnovers, third-down conversions and offensive balance to be the keys to the game. If OU holds up in those areas and the game remains close in the fourth quarter like last season, the Sooners are hopeful the outcome changes.
"At the end of the day, if you're in that situation, you want to be the ones making the plays down the stretch that win the game," Stoops said. "Last year they made all the plays down the stretch in the last six minutes of the game and that's what changed the game. It was a 13-13 game with six minutes to go and they make all the plays at the end."
May, 30, 2013
5/30/13
8:00
AM ET
NORMAN, Okla. -- Going into the summer, the trip to South Bend looked like the toughest game on Oklahoma's schedule. But following the stunning
dismissal of quarterback
, is that still the case?
SoonerNation takes a closer look at OU's schedule, ranking the games from toughest to easiest:
To continue reading this article you must be an Insider
December, 20, 2012
12/20/12
9:00
AM ET
NORMAN, Okla. --
Johnny Manziel
has won the Heisman. Beaten Alabama. Led the SEC in rushing.
But what has impressed Oklahoma's defenders the most?
[+] Enlarge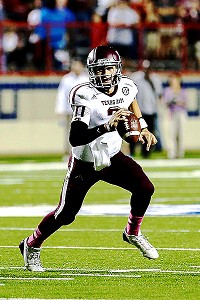 Kevin Jairaj/US PresswireTexas A&M quarterback Johnny Manziel presents a challenge for the Sooners with his arm and legs.
The Texas A&M quarterback's verified, blue-checkmarked Twitter account.
"Dude. I was like, 'Ahhhhh,' said OU safety
Tony Jefferson
, replaying his expression when he noticed Manziel's blue checkmark. "And he's only a freshman. That's tight, though."
Since learning they would be playing Texas A&M in the Cotton Bowl, the Sooners have had to watch "Johnny Football" become a national celebrity. After becoming the first freshman to capture the Heisman, Manziel did the Top 10 list on the "Late Show with David Letterman" and appeared on "The Tonight Show with Jay Leno," where he hung out with actress Megan Fox.
HarperCollins is actually publishing an ebook on Manziel the day after Christmas. And in the last month, Manziel's Twitter account has ballooned from 30,000 followers to more than 164,000, earning him the coveted blue checkmark.
"It's extra motivation," said OU defensive end
David King
. "We've had to sit around here for a month and watch ESPN and all they talk about is 'Johnny Football,' or 'Johnny Heisman,' or whatever they call him now. We sit around and we get tired of watching it. The whole national media is scrutinizing our defense and that we can't stop the run. We're underdogs in this game. We have a lot to prove and on Jan. 4 we'll be ready to play."
Yet the Sooners also realize stopping Johnny Football will be their biggest challenge of the season to date.
On his way to winning the Heisman trophy, Manziel threw for 3,419 yards and 24 touchdowns, and rushed for an SEC-best 1,181 yards and 19 touchdowns to break Cam Newton's SEC single-season total offense record.
What ultimately delivered Manziel the Heisman, though, was his performance at Alabama. Facing the top-ranked Crimson Tide, Manziel led the Aggies on touchdown drives on their first three possessions to give Texas A&M an early 20-0 lead. He finished 24 of 31 passing for 253 yards and two touchdowns, and ran for another 92 yards, as the Aggies toppled Alabama 29-24.
"He can create so many issues," said OU defensive coordinator Mike Stoops. "He can run you ragged. I've never seen anyone improvise and create like he can."
Such quarterbacks have given the Sooners fits in the past. Collin Klein's patient mobility doomed OU earlier this season. Notre Dame's
Everett Golson
and Oklahoma State's
Clint Chelf
gashed the Sooners on the ground, too.
But with all attention on Manziel, the OU defense also realizes the opportunity is there to gain a little respect for itself.
"Winning the game and doing it on the defensive side of the ball would give us that nod," King said. "We have to stop him.
"If we do, we'll win the game."
October, 28, 2012
10/28/12
3:30
PM ET
Any hope of Oklahoma inserting itself back into the BCS title hunt vanished on Saturday with a
30-13 loss to Notre Dame
at Oklahoma Memorial Stadium. The Irish made plays when they needed them and the Sooners did not as OU suffered its second home loss of the season. Here is a closer look at several key plays in the loss:
Sooners fail to convert on third-and-3 at Notre Dame 11-yard line
[+] Enlarge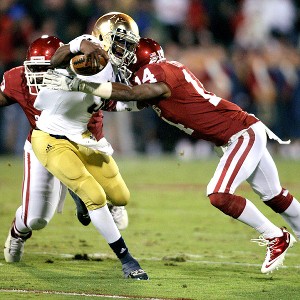 J.P. Wilson/Icon SMINotre Dame quarterback Everett Golson beat the Sooners through the air and with his feet.
This was a critical play for many reasons. (1) OU had cruised down the field for the second straight possession to open the game and didn't want to have just three points to show for it. (2) It was an opportunity for the Sooners offense to gain confidence they could make key plays when they needed them against the Irish. (3) It was an early sign that ND was comfortable dropping in coverage to try to stop OU.
To continue reading this article you must be an Insider
October, 27, 2012
10/27/12
10:57
PM ET
Fifth-ranked Notre Dame sent a message to the rest of college football with a
30-13 win
over No. 8 Oklahoma at Oklahoma Memorial Stadium on Saturday night. Here's a closer look at what happened and what it means for both teams.
How the game was won:
In the trenches. Notre Dame shut down OU's run game while rushing for 215 yards of its own. The Fighting Irish offensive and defensive lines manhandled the Sooners as Notre Dame improved to 8-0.


The game was over when:
Irish kicker
Kyle Brindza
hit a 46-yard field goal to give Notre Dame a 23-13 lead with 3:22 remaining. The Irish tacked on a late touchdown to win by 17 points.
Turning point:
After OU tied the game at 13 midway through the fourth quarter, the Irish stormed back on their next possession, sparked by a 50-yard reception from
Chris Brown
. It was a remarkable response to the Sooners.
Everett Golson
's 1-yard touchdown run capped the drive and secured the win.
Stat of the game:
0.6. That's the yards-per-carry average for Oklahoma. The Irish run defense was highly regarded when they arrived in Norman. And they didn't disappoint, holding OU to 15 yards on 24 carries.
Player of the game:
Manti Te'o
. The Notre Dame linebacker was all over the field for the Irish. He sealed the victory with his fourth-quarter interception and finished the game with 11 tackles, one sack and one interception. He played like a Heisman candidate, leaving his mark on the game with his aggression and hustle.
Unsung hero of the game:
Golson. The redshirt freshman quarterback showed exceptional maturity and savvy. He made plays when they were there, tossed the ball out of bounds when they weren't. He finished 13-of-25 for 177 yards with zero turnovers and added 11 rushes for 64 yards and one touchdown. He didn't play like a first-year player.
What Notre Dame learned:
Brian Kelly's rebuilding job appears to be nearing completion. Programs are built on wins like this. With a road win against the Sooners, Kelly's team made its case earn a spot in the BCS title game. And, at the very least, Irish fans must be thrilled with the progress of Kelly's program during his third season in South Bend.
What Oklahoma learned:
Winning home games against top-25 opponents isn't as easy as it seemed under Bob Stoops. After heading into the season undefeated against top-25 teams at Oklahoma Memorial Stadium under Stoops, the Sooners suffered their second loss to a Top-25 opponent this year. No. 3 Kansas State knocked off the Sooners on Sept. 22.
What it means:
The Irish are for real. Notre Dame is making a strong case to rise to No. 2 in the BCS standings. With wins over Stanford, Michigan, Michigan State and OU, the Irish have a solid résumé and can make a case for a spot in the BCS title game.
October, 25, 2012
10/25/12
4:30
PM ET
The nation will be watching when No. 8 Oklahoma hosts No. 5 Notre Dame at 7 p.m. CT Saturday at Oklahoma Memorial Stadium. Here are storylines to keep an eye on:
1. Can the Sooners run the football?
Notre Dame's run defense provides a challenge the Sooners have not seen this season. Opponents average 3.4 rushing yards per carry and the Irish have not allowed a rushing touchdown through seven games including wins over Michigan, Michigan State and Stanford, teams known for their ability to run the ball.
To continue reading this article you must be an Insider
October, 25, 2012
10/25/12
10:00
AM ET
SoonerNation's
Jake Trotter
and
ESPN.com Notre Dame
football writer
Matt Fortuna
answer questions about No. 8 Oklahoma's matchup with No. 5 Notre Dame this weekend:
1. Who is under greater pressure to win?
Jake Trotter:
There's a ton of pressure on Notre Dame to win. Outside of the Brady Quinn years, the Irish haven't really been a factor in the national title picture in almost 25 years. This is their chance. But there might be even more pressure on the Sooners. The game is at home, and Oklahoma has a reasonably legitimate shot at getting to the national title if it can get past this game. The fan base is getting antsy. Another 10-2 or 9-3 season will only augment that.
Matt Fortuna:
Weird as it may sound, I think Notre Dame is playing with house money at this point. The Irish have seven wins already -- which no one saw happening -- and have games left against Pitt, Boston College and Wake Forest. Ergo, they are likely at least a 10-win, BCS-bowl-bound team right now. Steal one in Norman, and now we're looking at an 11-0 Notre Dame team going into its regular-season finale at USC.


2. Can OU run the ball on Notre Dame?
Trotter:
The Sooners have been running the ball well since inserting junior college transfer
Damien Williams
into the starting lineup. If they're able to run the ball on Notre Dame, too, the game is basically over. More likely it'll be tough sledding against a front seven loaded with future pros. But if Williams and fullback
Trey Millard
can keep the Irish honest as threats to run, that should take enough pressure off quarterback
Landry Jones
and the passing game.
Fortuna:
If the Sooners can run the ball, the Irish can kiss their upset hopes goodbye. But Notre Dame has been outstanding against the run and has not allowed a rushing touchdown all season (nine straight games dating back to last season). Oklahoma needs to establish a ground threat early to open things up for Landry Jones and the passing game, which is where the Sooners have the biggest advantage.
July, 16, 2012
7/16/12
9:00
AM ET
For the first time in 46 years, Notre Dame is coming to Oklahoma. The two proud programs will meet for the 10th time in Norman on Oct. 27. Even though the game is still months away, SoonerNation checked in with
ESPN.com Notre Dame blogger
Matt Fortuna to talk about what figures to be one of OU's biggest non-conference home games of the Bob Stoops era.
Jake Trotter
: Notre Dame plays so many high-profile games. So how big is this game in Norman for the Irish and their fans?
Matt Fortuna
: Jake, at this stage of the summer I would say this one is right up at the top with the annual USC game. (Irish fans would like nothing more than to knock a potentially undefeated Trojans team out of the title race in the regular-season finale.) Notre Dame and Oklahoma are two of the 10 winningest programs in college football history. Great traditions, great uniforms and great history between each other. The fact they haven't played each other in so long adds to the intrigue, but the history shouldn't be lost. Those far older than us will recall that the Irish snapped the Sooners' 57-game winning streak in 1957, a streak that began following another loss to Notre Dame, in the 1953 opener. Oklahoma has never beaten Notre Dame at home, but the Sooners' 40-0 win in 1956 marks the biggest home defeat in Irish history.
[+] Enlarge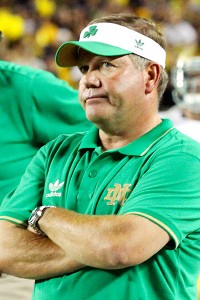 AP Photo/Bill FundaroBrian Kelly is 16-10 in two seasons coaching Notre Dame.
Trotter
: Other than annual tilts with rivals USC and Michigan, OU will be Notre Dame's biggest road game since when?
Fortuna
: I was in the stands for it, but the first one that comes to mind would be the 2007 game at Penn State. Notre Dame crushed its former independent rival a year earlier in South Bend, the schools' first meeting since Penn State joined the Big Ten. The 2007 game, following the Irish's blowout loss to Georgia Tech a week earlier, had a lot riding on it at the time. Jimmy Clausen, then in just his second week of college football, was making his first career start, and the now-infamous Beaver Stadium "White House" made its debut across the entire stadium. The game itself? A bit of a snoozer, so here's hoping the Irish's trip to Norman lives up to the hype.
Trotter
: Who will be quarterbacking the Irish on Oct. 27?
Fortuna
: Thanks for easing into this one. I have marked
Andrew Hendrix
as the starter since Brian Kelly said it would be an open competition at the beginning of the spring, but
Everett Golson
's strong spring game -- coupled with the other three's turnovers -- makes me think more and more that he could be the guy come Week 1.
Tommy Rees
' experience gives him a shot, but his lack of mobility, last year's turnovers and this spring's arrest will probably make it an uphill battle for him.
Trotter
: What has to happen for Notre Dame to have a chance of knocking off the Sooners?
Fortuna
: As always, it comes down to limiting the mistakes on the offensive end. And, once again, that comes back to quarterback play. The Irish probably should have won 10 or 11 games last season but shot themselves in the foot so often by giving the ball away. If they can limit the turnovers and get some of their running backs and slot receivers into open space, they will give themselves a chance at pulling the upset. (They also better hope Charlie Weis doesn't share any secrets with the Sooners during their matchup the preceding week.)
Trotter
: Where can OU most exploit Notre Dame?
Fortuna
: Simply, the secondary.
Jamoris Slaughter
and
Zeke Motta
are good safeties, but Notre Dame is breaking in two cornerbacks with no starting experience this season. Could Slaughter play some emergency corner? Sure, but that's less likely now that
Austin Collinsworth
, the Irish's third safety, is probably out for the year with a shoulder injury. If Notre Dame's talented front seven can't generate enough pressure on
Landry Jones
, and if Jones plays the way we all think he is capable of playing, that could spell trouble for the Irish.
Will Eagles' Gamble On Bradford Pay Off?
BIG 12 SCOREBOARD
Thursday, 9/3
Friday, 9/4
Saturday, 9/5