Oklahoma Sooners:

Dreamius Smith
October, 21, 2013
Oct 21
3:00
PM ET
Here are the unsung heroes in the Big 12 for Week 8:
Baylor defensive end Shawn Oakman:
The Bears defense was outstanding in Baylor's 71-7 win over Iowa State, and the sophomore played a key role with five tackles including two for loss, one quarterback hurry and one sack. He has recorded a sack in two of three Big 12 games and provides an athletic presence on the perimeter of BU's defensive line. Frankly, the entire Bears defense should get the unsung hero label for the entire season. After all, BU's offense wouldn't be averaging 64.7 points per game if the defense didn't keep giving them the ball back.
Iowa State safety Jacques Washington:
The senior has been performing at an All-Big 12 level for the majority of the season. He had 12 tackles including 11 solo stops, one tackle for loss and one pass breakup in the Cyclones 71-7 loss. Washington has recorded double-digit tackles in three of ISU's six games this season. It's never a good omen to have a safety with a bunch of tackles each week but imagine where the Cyclones would be without him.
[+] Enlarge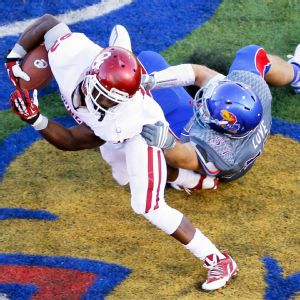 AP Photo/Orlin WagnerOklahoma RB Roy Finch made the most of his touches against Kansas on Saturday.
Kansas cornerback JaCorey Shepherd:
The junior finds his way onto this list for the second consecutive week as he keeps making plays for the Jayhawks defense. He was solid in coverage and finished with four tackles, one forced fumble and one interception in KU's 34-19 loss to Oklahoma. Shepherd is one of the foundations of a much improved KU defense.
Oklahoma running back Roy Finch:
The senior provided a spark for the Sooners despite limited touches. He averaged 8 yards per touch from the line of scrimmage and added 29 kick return yards. He finished with a team-high 93 all-purpose yards in OU's 34-19 win. Finch is a game-breaking player whom the Sooners need to get more involved in the offense if they hope to improve their 22.5 points per game average in Big 12 action.
Oklahoma State running back Rennie Childs:
The true freshman running back provided a terrific spark for the Cowboys running game. He led OSU with nine carries for 45 yards including a 7-yard touchdown to seal the 24-10 win over TCU. He finished with 79 all-purpose yards after coming in the second half to spark the offense. Childs could be the answer for an OSU running game searching for answers during the heart of Big 12 play.
TCU safety Elisha Olabode:
The senior did everything he could to prevent the Horned Frogs' fourth loss of the season. Olabode had seven tackles including six solo stops, one forced fumble and one interception in TCU's 24-10 loss to Oklahoma State. Olabode is one of the main reasons TCU features one of the Big 12's top secondaries.
Texas Tech receiver Bradley Marquez:
It's unusual to call a guy who had eight receptions for 112 yards unsung, but that's what happens when you line up beside
Jace Amaro
, one of the best tight ends in college football. Seven of Marquez's eight catches resulted in a Red Raiders first down in TTU's 37-27 win over WVU. Marquez has been a quiet, yet consistent, threat for the Red Raiders offense throughout the season and took it up another notch with playmaker
Jakeem Grant
sidelined.
West Virginia running back Dreamius Smith:
The Mountaineers' offense showed signs it could be finding a rhythm, and Smith is part of the reason. The junior finished with 16 carries for 89 yards and two touchdowns in WVU's 37-27 loss to Texas Tech. Fellow running back
Charles Sims
has been a playmaker for the Mountaineers' offense for the majority of the season so if Smith can emerge as a consistent threat it will provide a solid 1-2 punch and make getting the passing game going a lot easier.
October, 21, 2013
Oct 21
9:00
AM ET
There was little change in this week's power rankings, as the favorites held serve:

1. Baylor (6-0, 3-0 Big 12, last week 1):
The No. 8-ranked Bears got some major help in the national title picture over the weekend, as LSU, Louisville, Texas A&M, Clemson and South Carolina all got knocked out of the mix. That really leaves only Alabama, Oregon, Florida State, Missouri, Ohio State and Miami (Fla.) ahead of Baylor in the pecking order at the moment. Missouri will have to beat Alabama to get the title game, and Baylor has a decent chance of passing the Buckeyes, due to the weakness of the Big Ten. The Bears, however, have virtually no shot of passing Oregon or Florida State. Those are the two teams Baylor fans need to begin rooting against.
2. Texas Tech (7-0, 4-0, LW 2):
The faith Kliff Kingsbury showed in true freshman QB
Davis Webb
on Saturday was extraordinary. Webb's second-quarter fumble at the West Virginia 1-yard line completely changed the complexion of the game, but that didn't shake Kingsbury's confidence in his quarterback. And, even though Texas Tech's defense had shut down West Virginia on four straight drives and led by a field goal, Kingsbury put the game on Webb's arm by calling two third-down pass plays in the final two minutes. Webb completed both passes, which should also give him plenty of self-confidence heading into this weekend's road tilt at Oklahoma.
3. Texas (4-2, 3-0, LW 3):
Was the dominant performance against Oklahoma a one-game anomaly? The Longhorns have the talent to make a run at the Big 12 title. Maybe they have the identity now, too. If Texas keeps pounding the ball between the tackles with
Johnathan Gray
and
Malcolm Brown
, that will continue to set up one-on-one opportunities for
Mike Davis
downfield. As the Sooners found out, such a formula could make the Longhorns formidable the final month and a half of the season.
4. Oklahoma State (5-1, 2-1, LW 5):
The Cowboys finally turned the offense back over to
Clint Chelf
and not a moment too soon, as
J.W. Walsh
threw another two interceptions in the first quarter. But, in reality, Oklahoma State's offense would be best off utilizing both quarterbacks going forward. The Cowboys hit their stride offensively last season only when they used Chelf as the base quarterback, then brought in the Walsh package in certain situations. Chelf's arm strength can get the ball to Oklahoma State's talented receivers downfield, which, in turn, opens up the running game. But Walsh brings savvy, toughness and leadership -- and he can make plays with his legs. Perhaps that quarterback blend will finally ignite this offense, which looks pretty rough at the halfway point of the season.
5. Oklahoma (6-1, 3-1, LW 4):
The Sooners' downfield passing game continues to be incompetent, as Oklahoma completed just two passes longer than 16 yards at Kansas. One of those was a reverse pass from
Lacoltan Bester
to
Sterling Shepard
. That's two straight games in which QB
Blake Bell
has completed only one pass downfield. The Sooners were able to grind out 235 yards on the ground, but that was against a Kansas defense missing its best player (linebacker
Ben Heeney
). If the Sooners can't complete passes downfield against man coverage, they have little chance of getting to double-digit wins.
6. West Virginia (3-4, 1-3, LW 7):
West Virginia has begun to show some life offensively. The Mountaineers gained 473 yards of offense against a Texas Tech defense that has been pretty solid. At one point, the Mountaineers scored on five straight possessions.
Clint Trickett
is all over the place with his throws, but at least he makes things happen. Running back
Charles Sims
is a star, and backfield mate
Dreamius Smith
is legit, too. The schedule also eases up considerably for the Mountaineers, as West Virginia has already faced four of the top five teams in the league. If the offense keeps developing, this could still be a bowl team. That wouldn't be a bad season, either, considering the offensive firepower the Mountaineers had to replace from last season.
7. Kansas State (2-4, 0-3, LW 8):
The Wildcats have not played poorly despite their 0-3 start in the league, but with Oklahoma and Texas Tech still on the schedule, K-State almost has to beat West Virginia at home this weekend if it's going to advance to a bowl. The good news is that starting receivers
Tyler Lockett
and
Tramaine Thompson
are expected back, which should be a big boost to QBs
Daniel Sams
and
Jake Waters
.
8. TCU (3-4, 1-3, LW 6):
The Horned Frogs are beginning to stake their claim as one of the worst offenses in Big 12 history. Switching coordinators or switching quarterbacks -- Gary Patterson tried both Saturday -- isn't going to make any difference, either. Even with the best defense in the Big 12, the Horned Frogs will be in danger of missing out on a bowl game if they don't beat Texas this weekend. QB
Casey Pachall
is close to returning, but not even he can salvage this dumpster fire of an offense.
9. Iowa State (1-5, 0-3, LW 9):
After three straight promising performances, the Cyclones took a step back in Waco, Texas. Nobody expected Iowa State to win, but to get completely annihilated was disappointing, as coach Paul Rhoads called the game a "fiasco." Now, yet again, the quarterback position has become a moving part.
Sam B. Richardson
is so banged up the Cyclones considered shutting him down for the season. Rhoads replaced Richardson with
Grant Rohach
in the second quarter to no avail. The No. 1 obstacle that's kept Iowa State from becoming more than a .500 program has been the inability to find a long-term answer at quarterback. Dating back to last November, the Cyclones have put their chips on Richardson being that answer. Now, who knows what direction they'll go.
10. Kansas (2-4, 0-3, LW 10):
Now that the Jayhawks have burned the redshirt of freshman QB
Montell Cozart
, they might as well turn the offense over to him.
Jake Heaps
just isn't getting it done, as he completed five of 13 passes for 16 yards against Oklahoma.
Sixteen yards
. It's not all on Heaps: The Kansas receiving corps is terrible. But that's all the more reason to go with Cozart, who can at least make plays with his feet.
August, 30, 2013
Aug 30
4:00
PM ET
In today's mailbag, we discuss
Trevor Knight
, Kansas State's opener and my indomitable Big 12 fantasy team. Quick reminder, keep your mailbag submissions to less than 75 words, if you want them to be posted. I received a few novellas this week.
To the 'bag:
BaylorBear13 in Houston writes:
This is a little late, but Jake and Brandon, welcome to the Big 12 blog! Thank you for all the work that y'all do; it doesn't go unnoticed! Looking forward to a fun season with you guys!! Go Big 12!
Jake Trotter:
Thanks for the kind greeting, Bear. We're excited to be here.
---
Rhonda in Hanford, Calif., writes:
What can you tell me about Trevor Knight?
[+] Enlarge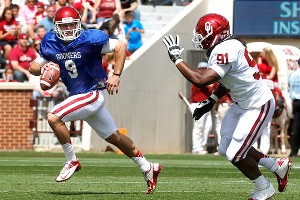 AP Photo/Sue OgrockiTrevor Knight's straight-line speed has drawn some early comparisons to Colin Kaepernick.
Jake Trotter:
I had a conversation with a recent former OU player who said Knight reminds him of Colin Kaepernick. I think that's a decent comparison. Knight has tremendous straight-line speed. If he catches a seam, he's gone, just like Kaepernick.
---
KSU1999 in Oklahoma writes:
I can't understand why I'm a little worried and please help me feel better -- for crying out loud it's NORTH DAKOTA STATE! I know they are champions and return a lot of starters but it's an FCS team. Hopefully I'm just super paranoid. Question is, should I be this paranoid?
Jake Trotter:
You sound like a paranoid person anyway, but I'm here to help. I picked K-State to win, but the game makes me a little nervous for the Wildcats, too. The Bison are an FCS powerhouse and have beaten Colorado State, Minnesota and Kansas the last three years. This is not an FCS team you want to trifle with. By the way, the Big 12 scheduled some of the better teams in the FCS this weekend. Northern Iowa (Iowa State) and Wofford (Baylor) can both play, too.
---
Mr. Sims in Morgantown writes:
Mr. Trotter, by skimming
through the article on the fantasy draft
, I said whoever took me was going to win, then I get there and see you have
Kevin White
and
Dreamius Smith
, too? You my friend will find a lot of happiness with those picks. Now just make your way to Morgantown please. The Mountaineer keeps bugging me about giving you Big 12 bloggers deer jerky. That guy loves him some roasted meat.
Jake Trotter:
I agree, my Big 12 fantasy team looks like a juggernaut, especially with you in my flex. My guess is that Chatmon and Olson will be battling it out for second place. I actually tired the Mountaineer's jerky at Big 12 media days. It had some kick.
---
Ryan writes:
Which teams according to their schedules do you believe will get off to the hottest start in the Big 12?
Jake Trotter:
Baylor is the team that could really benefit. The Bears will be favored in at least six of their first seven games. If the Bears can jump out to 7-0, they become a Big 12 contender, even if the November schedule turns brutal.
---
Dylan Grensky in Tulsa, Okla., writes:
If a team from the Big 12 (OSU, TCU, Texas or OU) manages to win out, what do you think the chances are they move past an unbeaten Ohio State? And how likely is it the BCS puts a one-loss SEC team ahead of them?
Jake Trotter:
All four of the Big 12 teams you mentioned would have marquee non-conference wins in the scenario you lay out (OSU over Mississippi State, TCU over LSU, Texas over Ole Miss and BYU, OU over Notre Dame). So that would help. The Big Ten meanwhile doesn't appear to have any other powerhouse teams, so a Big 12 unbeaten would have a chance to slip in over Ohio State thanks to strength of schedule. It's difficult, however, to envision the SEC getting snubbed out of title game appearance even if the SEC champ had one loss. More likely, in your scenario, it would be the SEC vs. either Ohio State or a Big 12 undefeated.
Alabama, Oklahoma To Meet In Sugar Bowl