Oklahoma Sooners:

Derrick Strait
January, 13, 2014
1/13/14
10:00
AM ET
After 16 years, the BCS era is finally over. Next season, college football will have a playoff instead.
With the BCS done, we've come up with our Big 12 all-BCS era team (1998-2013) below:
Offense
[+] Enlarge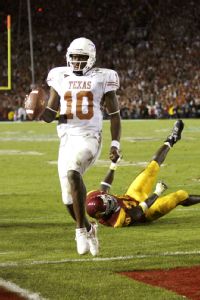 Scott Clarke/Getty ImagesWith Vince Young at the helm, Texas won a national title and Rose Bowl.
QB: Vince Young, Texas (2003-05) --
Young led Texas to its first national title in 35 years with an unforgettable performance in the Rose Bowl against USC. The Heisman runner-up also became the first QB in college football history to throw for 3,000 yards and run for 1,000 in the same season.
RB: Ricky Williams, Texas (1998) --
Williams was part of the BCS era for only one season, but what a season it was. He rushed for 2,327 yards and won the Heisman Trophy going away. Only Wisconsin's
Ron Dayne
has more career rushing yards than Williams (6,279).
RB: Adrian Peterson, Oklahoma (2004-06) --
Despite battling injuries throughout his career, Peterson still was a beast in college. After rushing for 1,925 yards while leading the Sooners to the national title game, he finished second in the '04 Heisman voting, even though there was still a stigma then in voting for a freshman.
WR: Michael Crabtree, Texas Tech (2007-08) --
Crabtree became the first two-time winner of the Biletnikoff Award, given to the nation's top receiver. In '08, he and QB
Graham Harrell
led the Red Raiders to an upset of Texas and a No. 2 ranking in the polls.
WR: Justin Blackmon, Oklahoma State (2009-11) --
Blackmon became the second and only other two-time winner of the Biletnikoff. In his final two seasons, he finished with 233 receptions, 3,304 receiving yards and 38 touchdowns, and he helped propel the Cowboys to their first Big 12 title in '11.
TE: Chase Coffman, Missouri (2005-08) --
Coffman had a monster statistical college career for a tight end with 247 catches for 2,659 receiving yards and 30 touchdowns. He won the '08 Mackey Award, given to the nation's top tight end. Missouri won 37 games during the four years Coffman was in the lineup.
OT: Jammal Brown, Oklahoma (2001-04) --
Brown was a unanimous All-American and a three-time All-Big 12 selection. He became the fifth Sooner to win the Outland Trophy, awarded to the nation's top interior lineman.
OT: Russell Okung, Oklahoma State (2007-09) --
In Okung's final two seasons, Oklahoma State led the Big 12 in rushing yards. The Cowboys were also third in the country in '07 in fewest sacks allowed with Okung at left tackle. He was a unanimous All-American and Outland finalist in '09 and became the sixth overall pick in the '10 NFL draft.
OG: Cyril Richardson, Baylor (2010-13) --
Richardson became Baylor's seventh all-time unanimous All-American. The Outland finalist was also a key piece on the nation's highest-scoring offense this season.
OG: Justin Blalock, Texas (2003-06) --
Though a guard in the NFL, Blalock actually started 50 games for Texas, most coming at right tackle. He was a three-time, first-team All-Big 12 selection and a consensus All-American in 2006.
C: Dominic Raiola, Nebraska (1998-2000) --
Raiola was the inaugural winner of the Rimington Award, named after former Nebraska center Dave Rimington, which recognizes the best center in college football. He was an Outland finalist and a consensus All-American.
APB: Darren Sproles, Kansas State (2001-04) --
One of the most prolific all-purpose performers in college football history, Sproles finished his career with 6,812 all-purpose yards. Among his 39 consecutive starts, his most memorable performance came in the '03 Big 12 championship, when he had 235 yards rushing and 88 receiving, as K-State upset top-ranked Oklahoma 35-7.
Defense
DE: Brian Orakpo, Texas (2005-08) --
Orakpo captured the '08 Nagurski Award as the most outstanding defensive player in the country, and the Lombardi Award, given to the best college lineman or linebacker. He also was the Big 12 Defensive Player of the Year and a consensus All-American while piling up 11 sacks his senior year.
DE: Von Miller, Texas A&M (2007-10) --
Out of a hybrid defensive end/linebacker role, Miller led the nation with 17 sacks in '09. He was a two-time All-American and won the Butkus Award in '10 as the nation's top linebacker.
DT: Ndamukong Suh, Nebraska (2005-09) --
There was no more dominant defensive player in college football during the BCS era. Suh finished fourth in the Heisman voting in '09 and won several national awards, including the Outland, Lombardi, Nagurski (most outstanding defensive player)and Bednarik (defensive player of the year). He was also a unanimous All-American and the Big 12 Defensive Player of the Year.
DT: Tommie Harris, Oklahoma (2001-03) --
Harris was a force from the beginning as a freshman on the OU defensive line. He won the Lombardi his junior year, and he was a two-time consensus All-American, garnering unanimous honors in '03.
LB: Derrick Johnson, Texas (2001-04) --
Johnson was a menacing linebacker for the Longhorns, earning consensus All-American honors in '03 and unanimous honors in '04. He was also a three-time, first-team All-Big 12 selection, and won the Butkus (best linebacker) and Nagurski awards as a senior. Johnson finished his career with 458 tackles.
LB: Rocky Calmus, Oklahoma (1998-2001) --
Calmus played a major role in OU's resurgence under Bob Stoops. He won the Butkus in '01 and was a finalist for the Nagurski and Bednarik. A three-time All-Big 12 pick, Calmus led the Sooners in tackles in all three of those seasons.
LB: Teddy Lehman, Oklahoma (2000-03) --
Lehman too won the Butkus, beating out Johnson for the award in '03. He also was Big 12 Defensive Player of the Year, captured the Bednarik, was a unanimous All-American and played in two national championship games.
[+] Enlarge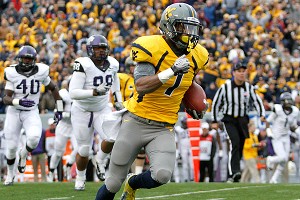 Justin K. Aller/Getty ImagesWest Virginia receiver and returner Tavon Austin had a huge 2012 season.
CB: Terence Newman, Kansas State (1999-2002) --
Newman was a solid player for Bill Snyder his first three seasons, then broke out as a senior. Newman was the Big 12 Defensive Player of the Year, a unanimous All-American and the Thorpe winner, given to college football's top defensive back.
CB: Derrick Strait, Oklahoma (2000-03) --
A four-year starter, Strait finished with a school-record 52 career pass breakups. He also won the Thorpe, and was a unanimous All-American.
S: Roy Williams, Oklahoma (1999-2001) --
Nicknamed "Superman," Williams was the Big 12's most dominating defensive player until Suh came along. He won the Thorpe and Nagurski in '01, and was the Big 12 Defensive Player of the Year and a unanimous All-American the same season. He also famously skied over the Texas offensive line to force the game-clinching interception to earn his moniker.
S: Michael Huff, Texas (2002-05) --
Huff became the first Longhorn to win the Thorpe, and was the leader of the '05 national championship defense. He was also a unanimous All-American that season.
Special teams
K: Mason Crosby, Colorado (2003-06) --
Crosby was three-time, first-team All-Big 12 selection, and twice was a consensus All-American even though he never won the Lou Groza Award, given to the nation's top kicker. He was also the Big 12 Special Teams Player of the Year as a junior, and converted 66 field goals in his career.
P: Quinn Sharp, Oklahoma State (2009-12) --
Sharp became the first three-time All-American in Oklahoma State history, and he earned All-American honors both as a punter and a kicker. He was twice named the Big 12 Special Teams Player of the Year. In his career, he made 50 of 59 field goals, averaged 45.9 yards per punt and missed only one extra point.
KR: Tavon Austin, West Virginia (2012) --
Austin was in the Big 12 only one season, but he was unstoppable that one season. On top of being one of the most dangerous kick returners in the country, Austin had 1,289 yards receiving and 643 rushing, and finished second in the country in all-purpose yards.
PR: Ryan Broyles Oklahoma (2008-11) --
On top of being a prolific punt returner, Broyles was one of the most efficient receivers in college football history. He finished his career with an FBS-record 349 receptions, and was a two-time consensus All-American before a knee injury cut his senior season short.
November, 20, 2012
11/20/12
2:00
PM ET
Despite last season's loss, the Bob Stoops era has featured many memorable games and moments against Oklahoma State. SoonerNation ranks the Top 10 Bedlam moments in the Stoops era for the Sooners:

1. Mike asks Les if he wants more

The week of Bedlam in 2003, OSU coach Les Miles said the game would feature "maybe the best team in college football" and "a darn good football team" and "we're going to figure out which one is which." The Stoops brothers didn't care for the comment. In the fourth quarter, with the Sooners on their way to a convincing 52-9 victory, defensive coordinator Mike Stoops stepped from the sideline and stared across the field, raising his arms, then his palms, as if he were asking Miles, "You want some more?"
March, 27, 2012
3/27/12
10:00
AM ET
Derrick Strait is back in Norman. A cornerback on the 2000 national championship team and winner of the 2003 Nagurski and Thorpe awards, Strait has been brought back as a defensive quality control assistant on Bob Stoops' staff. Strait answered questions about how he landed his new gig:

Jake Trotter: Why did you decide to get back into coaching?
Derrick Strait: Just feeling like I wanted to be around football again. The best way to do that is coaching.

Trotter: Did you call coach (Bob) Stoops about it?
Strait: I called him, and asked him if anything was open, or if he heard anything to let me know.

Trotter: How does it feel now you're on the staff?
Strait: I'm just happy to be here and ready to get started. Get the ball rolling.

Trotter: How has football changed since you last played?
Strait: It's a lot of different offenses nowadays than it was back then. Back then it was a lot of power and running, it wasn't spread out. You have to have guys that can get out there and make plays.

Trotter: Have you gotten to hang out with any of the players?
Strait: Yeah, I'm around them, talk to them in practices, or when they come watch film and stuff. I do what I can, right now anyways.

Trotter: What's it like to be watching instead of playing?
Strait: Yeah. It's hard to watch, just looking, not being a part of it. At the same time, it's exciting to be around football again in general.

Trotter: How is it going with Mike Stoops?
Strait: It's exciting. It's pretty much nothing has changed. He's still the same guy. Mike wants the best out of you, and expects you to go out and do your job. Seeing him get after guys in the meeting room, out there on the field. Everything is the same.
March, 2, 2012
3/02/12
1:03
PM ET
Three former Oklahoma players and Arizona's former secondary coach have joined the Sooners coaching staff.
Joe Jon Finley (offensive quality control), Derrick Strait (defensive quality control), Joey Halzle (offensive graduate assistant) and Ryan Walters (defensive graduate assistant) are the newest additions to the OU staff, it was announced on the Sooners' official
Twitter feed
today.
Finley was a two-time honorable mention All-Big 12 tight end at OU from 2004-2007.
Strait, a consensus All-American cornerback as a senior at OU, won the Nagurski (best defensive player) and Thorpe (best defensive back) Awards in 2003. He was also named Big 12 Conference Defensive Newcomer of the Year in Oklahoma's 2000 National Championship season.
Halzle, a junior college transfer quarterback, backed up Heisman-winner Sam Bradford from 2006-2008 for the Sooners.
Walters comes to OU after serving as the secondary coach for Arizona in 2011 under Mike Stoops. He was the youngest football assistant coach in the Pac-12 Conference. He started 33-games at Colorado before joining the Arizona staff in 2010 as the defensive graduate assistant.
January, 12, 2012
1/12/12
3:30
PM ET
Mike Stoops is
joining his brother Bob's staff
as the co-defensive coordinator at Oklahoma. Former Jim Thorpe Award winner Derrick Strait, one of the best players Mike Stoops ever coached at OU, spoke to SoonerNation about the move.
Jake Trotter:
What do you think about Mike coming back?
Derrick Strait:
I think it's a good idea. The pass defense wasn't up to par like it should be. I think he'll come in and do a great job.
JT:
What will Mike bring to the table?
[+] Enlarge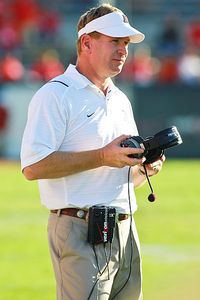 Chris Morrison/US PresswireMike Stoops will return to Oklahoma as the secondary coach and co-defensive coordinator.
DS:
His attitude and what he expects from you as a player. There's something about him that brings out the best in the players. He puts you in the right situation.
JT:
It seems like the players enjoyed playing for him at OU?
DS:
You like playing for him. He doesn't put you in bad situations. He never put you in a situation where you didn't feel comfortable with the game plan. We trusted in what he was saying. He trusted us enough. And he put you in the right situations. We didn't have guys out there confused about anything. A lot of games this season it seemed the secondary was in limbo with what it should do. With us, it was more like we knew what we were doing and were confident about it. There was no second-guessing.
JT:
You thought the secondary this season played confused at times?
DS:
They just didn't look as sure as needed to be in some games.
JT:
How critical is that when you're the last line of defense?
DS:
When you're the last line of defense, you have to be confident in the things do. When you're thinking, you play slower, that's when guys get behind you. That's when big plays happen. You can't afford that in the secondary.
JT:
How intense was Mike when you played?
DS:
More or less, it's all about how you receive what he's saying. Not how he's saying it. You can't take it personally. He's not telling you something to hurt you. You just have to take it in stride.
JT:
What is your advice to the current defensive backs?
DS:
Just listen. If you don't feel comfortable, just ask him. He does a great job teaching you, explaining the defense and how it should work. I sat next to him in the meeting room, and always asked questions.
JT:
How did Mike and Brent Venables get along?
DS:
They got along good. If there were any arguments, it was over a situation. It was never personal. They were both good guys. They worked great together, actually. I hope coach Venables stays.
Will Eagles' Gamble On Bradford Pay Off?
BIG 12 SCOREBOARD
Thursday, 9/3
Friday, 9/4
Saturday, 9/5