Oklahoma Sooners:

Daytawion Lowe
May, 12, 2014
5/12/14
4:30
PM ET
Seventeen Big 12 players heard their names called during the 2014
NFL draft
. Many other Big 12 alums will have a chance at the next level as undrafted free agents.
Below is a list of undrafted players who reportedly have agreed to free agent deals. This is not a final list, as teams are still working to sign undrafted free agents. But these are the players we know of so far.

Baylor

Iowa State

Kansas

Kansas State

Oklahoma

Oklahoma State

TCU

Texas

Texas Tech

West Virginia
January, 7, 2014
1/07/14
1:00
PM ET
Here are the Big 12's unsung heroes during the bowl season:
Baylor defensive tackle Andrew Billings:
The Bears true freshman defensive tackle was active in the biggest game of his young career. He finished with 10 tackles including 0.5 tackle for loss in Baylor's 52-42 loss to UCF in the Tostitos Fiesta Bowl. Billings' three solo tackles led all Bears defensive linemen. If he continues to develop and has a jump in production as a sophomore, he could start becoming a force in the middle of Baylor's defense in 2014.
[+] Enlarge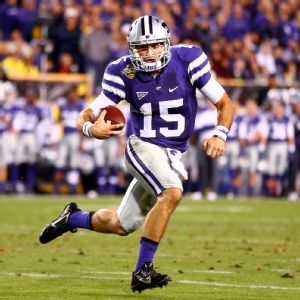 Mark J. Rebilas/USA TODAY SportsKansas State QB Jake Waters threw for 271 yards and three TDs in the bowl win over Michigan.
Kansas State quarterback Jake Waters:
The Wildcats signal caller was overshadowed by a stellar performance from
Tyler Lockett
(10 receptions, 116 yards, three touchdowns). But Waters was pretty good in his own right, particularly on third down. He finished with a 100 raw QBR (scale of 0-100 with 50 being average) on third-down plays during the Wildcats' 31-14 win over Michigan in the Buffalo Wild Wings Bowl. Waters was 4 of 7 for 44 yards and one touchdown and added three carries for 25 yards. He was the main reason KSU converted 7 of 11 third down attempts. Waters' strong play at the end of the year is one reason the Wildcats should be right in the mix to be crowned the Big 12 preseason favorite.
Oklahoma receiver Lacoltan Bester:
The senior had the quietest 100-yard receiving game of the bowl season. He finished with six receptions for 105 yards and one touchdown in OU's 45-31 win over Alabama in the Allstate Sugar Bowl. While fellow receivers
Sterling Shepard
and
Jalen Saunders
were combining for two touchdowns, Bester made the Crimson Tide pay whenever they focused too much on the Sooners' top two receivers.
Oklahoma State safety Daytawion Lowe:
The Cowboys fifth-year senior was all over the field in his final game. He finished with seven tackles and three pass breakups in OSU's 41-31 loss to Missouri in the AT&T Cotton Bowl. Lowe showed his versatility against the Tigers' running and passing game despite the loss.
Texas defensive end Cedric Reed:
The junior joined running back
Malcolm Brown
and defensive end
Jackson Jeffcoat
as one of the few bright spots in the Longhorns' 30-7 loss to Oregon in the Valero Alamo Bowl. Reed finished with four tackles, one sack and one forced fumble. If he decides to return for his senior season, he provides an exceptional foundation for Charlie Strong's first defense.
Texas Tech receiver Jakeem Grant:
Quarterback
Davis Webb
was the star of the National University Holiday Bowl leading the Red Raiders to a 37-23 win over Arizona State. But Grant, the sophomore dynamo, was a big play waiting to happen. He finished with 125 all-purpose yards, including six receptions for 89 yards and two touchdowns. Grant has unique speed and quickness and should be one of the Big 12's top playmakers in 2014.
December, 7, 2013
12/07/13
7:00
AM ET
Here are five things we'll be watching when Oklahoma visits Oklahoma State (noon ET, ABC).
[+] Enlarge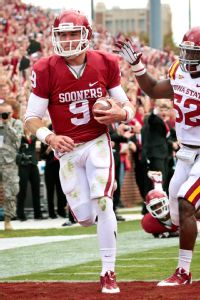 Brett Deering/Getty ImagesTrevor Knight rushed for 123 yards against Iowa State and 82 at Kansas State to spark the Sooners.
How will Trevor Knight play?
The Sooners quarterback played his best game of the season in a 41-31 win over Kansas State two weeks ago. With his quickness, speed and running skills, Knight can create problems for any defense. But he will have to play well and take good care of the football for OU to win.
Will Caleb Lavey or Justin Gilbert put a stamp on their bids for Big 12 defensive player of the year?
Lavey has been the foundation of OSU's strong defense throughout the season. His veteran presence and versatility is key. Gilbert has realized the potential he's shown since his true freshman season, becoming an NFL-level player before our eyes. One or the other could make a strong case for player of the year consideration with a strong final game at Boone Pickens Stadium.
Can OU's running game take over the game?
The Sooners' ground game has been terrific, and Knight brings an added dimension with his running skills. OU has the potential to really test the physical nature of OSU's defense with its quarterback run game, the physical style of
Brennan Clay
and open-field brilliance of
Roy Finch
.
Does Clint Chelf deserve All-Big 12 quarterback consideration?
Why not? If he leads the Cowboys to another win over a top 25 opponent and continues to play well doing so, Chelf would have an argument as good as Baylor's
Bryce Petty
. Simply put, Chelf has played his best during the biggest stretch of the year for OSU.
Will an unknown emerge as a Bedlam hero?
Last year it was Clay, who won the game with an overtime touchdown run that left Cowboys safeties
Shamiel Gary
and
Daytawion Lowe
reeling. Who could it be this year?
December, 5, 2013
12/05/13
11:00
AM ET
As the calendar turned to November, the quarterback positions at Oklahoma and Oklahoma State remained fluid. Cowboys quarterback
J.W. Walsh
and Sooners quarterback
Blake Bell
had each had their stellar moments, earning player of the week honors at different points in the year, and each quarterback had stumbled in their team's lone loss.
[+] Enlarge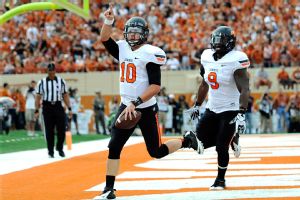 Brendan Maloney/USA TODAY SportsClint Chelf (10) has been a different quarterback since regaining the starting job. He had 15 scores in November.
One month later, both offenses enter the regular season finale with a different level of confidence. And different starting quarterbacks.
Clint Chelf
has stepped in for Walsh and played as well as any quarterback in the nation in the last four games.
Trevor Knight
is coming off back-to-back games in which he has given OU fans a glimpse of the talents that helped him earn the starting quarterback role to start the season. Both quarterbacks began the season as the opening day starter then were replaced for a stretch during the middle of the season before regaining their starting spot.
Their road has been similar but their journey has been much different.
Chelf had plenty of success in 2012, starting the final six games and throwing 14 touchdown passes. He appeared poised to be the man in the Pokes backfield heading into the season. But he lost his starting job within minutes of the opening kickoff against Mississippi State and was left wondering what happened as Walsh started the next five games. Even as OSU played its worst game of the season in a 30-21 loss to West Virginia, Chelf remained on the sidelines helplessly watching. The time on the bench, however, did not change Chelf's approach.
"He was the same Clint from when he was starting to when he wasn't starting." OSU safety
Daytawion Lowe
said. "Same Clint. Practiced hard, kept the same work ethic. Didn't slack off any."
Chelf's second chance came against TCU, but he was very average while leading OSU to wins over the Horned Frogs and Iowa State. But he's been a different quarterback in November, leading OSU to wins over Texas Tech, Kansas, Texas and Baylor.
"Whether playing or not, he was always the same," OSU receiver
Charlie Moore
said. "Same as he was when he wasn't playing. Now he's making huge plays. That's just who he is. It's been cool to see him persevere, get his shot and do well at it."
Chelf's 94.4 adjusted QBR (on a scale of 0-100 with 50 being average) was the best in the nation in the month of November. The senior has proven he can play his best in the Cowboys' biggest games while helping the offense become more explosive and balanced.
"He kept a positive mindset, and it all worked out for him," OSU running back
Desmond Roland
said. "He's been a great role model and leader for our team. And he's taken the offense to another level."
[+] Enlarge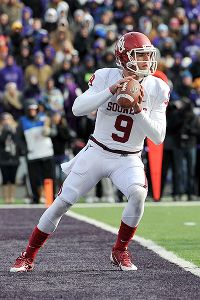 Peter G. Aiken/Getty ImagesTrevor Knight has improved his passing in recent weeks.
In Norman, Knight's journey has been much different. The redshirt freshman made his first collegiate start on opening day. It was clearly an overwhelming experience that ultimately resulted in him losing his starting spot to Bell. But while Bell was playing, Knight was improving in practice and preparing like he was still the starter.
"It is tough preparing and knowing that you're not going to, for sure, be in," Knight said. "But you gotta have that strong mindset, that thick skin because you never know when your opportunity is going to arise. You have to find stuff to be competitive in when you do get those few reps in practice."
Thus, the Sooners young quarterback was ready when Bell was knocked out of the game against ISU, stepping in and looking like a completely different player against the Cyclones and looking even better in his first road start, a 41-31 win over Kansas State in OU's last game.
"You can tell when a player starts to see things clearer," OU co-offensive coordinator Jay Norvell said. "When you first get to play, you're excited and everything goes so fast. I think we saw that slow down [against K-State], he was really focused, I think he saw the plays that were coming and had a good idea what he wanted to do against the defense he saw."
Knight has played his best football in OU's last two games, with an 86.4 adjusted QBR in wins over ISU and KSU. His QBR ranks second only to Chelf among Big 12 quarterbacks during that span.
Now the two quarterbacks meet in Bedlam playing their best football.
"I think all players, it's just about getting into a groove," OU defensive coordinator Mike Stoops said. "Once they are more comfortable in who they are, and you can tell by the way they play, they just seem to be more in a rhythm and very comfortable and seeing things very well."
December, 3, 2013
12/03/13
9:30
AM ET
STILLWATER, Okla. -- Oklahoma State has won a Big 12 title. And been to a BCS bowl.
The Cowboys have the Big 12's best record over the last five seasons. And defeated Texas three straight times in Austin.
[+] Enlarge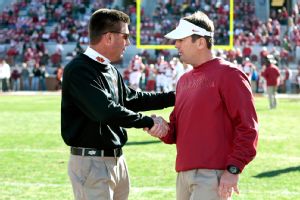 Brett Deering/Getty ImagesWhile Mike Gundy (left) has raised Oklahoma State's profile, he is just 1-7 against Bob Stoops and OU.
Since the turn of the century, the Big 12 has always been about the Big 2 -- Oklahoma and Texas.
But spurred by Boone Pickens' dollars and Mike Gundy's coaching, Oklahoma State is on the verge of turning that into a Big 3.
Only one obstacle remains for the Cowboys: consistently vanquishing their in-state rival.
This weekend in Stillwater, Oklahoma State and Oklahoma will stage the 108th meeting of the Bedlam rivalry. The Sooners have lost only 17 of those meetings, making Bedlam the most lopsided in-state rivalry in college football history.
"It's a rivalry," Cowboys guard
Brandon Webb
said. "But we haven't won too many times in that rivalry."
With opulent facilities, a substantial uptick in recruiting, assistant coaching salaries commensurate to the nation's top programs, exciting schemes and a galvanized, expanding fan base, Oklahoma State's rise has been rapid in Gundy's nine years as head coach.
"Oklahoma State has come a long way in football," Gundy said. "Our goal nine-and-a-half years ago was year-in, year-out, on a daily basis, when we went to play a football game, to have a chance to win. And not go to a stadium and the fans feel like we don't have a chance to win. I think we're at that point. … The program is at a different level nationally."
Oklahoma State, however, won't go any further nationally until it can overcome its local problem.
Under Gundy, the Cowboys are 1-7 against the Sooners, preserving the lopsidedness of the series, while also preventing Oklahoma State from climbing to the lofty perch where Oklahoma has comfortably resided since Bud Wilkinson agreed to coach the Sooners after the Second World War.
"They're standing in our way," said Webb, whose father Terry was an All-American guard for Oklahoma in the early 1970s and one of countless Sooners who finished their careers unblemished in Bedlam. "If they can beat us every time, it's not good. We've got to beat them to get to where we want to be. It's something we have to overcome."
Saturday, the Cowboys have a prime opportunity to accomplish just that.
Oklahoma State is a double-digit favorite in Bedlam for the first time since odds makers began keeping track. And with a victory, the Cowboys can clinch their second Big 12 title and Fiesta Bowl appearance in three years.
To the players, the stakes are still higher.
"It's not just another game at all," said Cowboys defensive tackle
Calvin Barnett
, who grew up in Tulsa, Okla. "This is not just for the Big 12 championship, not just to finish the season out winning, not just for a BCS game. It's about people knowing there's not just one dominant team in Oklahoma."
For seven decades, there was just one dominant team. From 1946-2009, Oklahoma won Bedlam by double digits a stunning 43 of 63 times.
"We've made it a very competitive game," said safety
Daytawion Lowe
, an Oklahoma City native who chose the Cowboys over Oklahoma coming out of high school. "Back when I watched the game growing up, it used to be blowouts. The last five years, it's been very competitive."
[+] Enlarge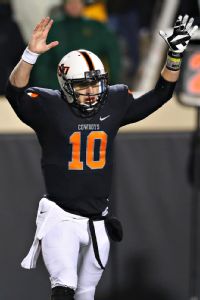 Ronald Martinez/Getty ImagesClint Chelf and the Cowboys will earn a second Big 12 title with a Bedlam win.
So competitive that two of the last three games have been decided on the final possession, with the Cowboys actually landing the lone blowout victory.
"That's what's changing," Webb said. "People say we used to be afraid of OU. But we're not afraid anymore."
After losing a wild shootout in 2010, Oklahoma State came back to destroy the Sooners 44-10 in 2011 to seize the program's first outright conference title in 63 years.
Last year in Norman, the underdog Cowboys showed no fear and thoroughly outplayed Oklahoma for three quarters, before the Sooners stormed back to win in overtime. It was the first time in 12 years the Cowboys played Oklahoma to within 27 points in Norman.
"It's been a give and take where people that watch it, when you went to the stadium, you didn't know who was going to win," Gundy said. "There was a time … where I'm not sure that was (true)."
Gundy downplayed the significance of specifically beating Oklahoma, noting the goals at Oklahoma State are now bigger and broader.
"Our goal is to win our conference," Gundy said. "Then (let) the chips fall based on how the country feels about us. … getting into the (College Football Playoff)."
But winning the conference requires beating Oklahoma more than once a decade. The Sooners, after all, have captured eight Big 12 titles in the last 13 years. Winning the conference also requires being more than just competitive with Oklahoma, which once constituted Bedlam success in Stillwater not long ago.
"Oklahoma has a ton of tradition and has been good for a long time," Cowboys wide receiver
Charlie Moore
said. "Hopefully 50 from years now, people will say the same about Oklahoma State."
To get there, the Cowboys must first beat Oklahoma.
Starting first with Saturday.
"You can only change it one year at a time," Barnett said. "We're going to try and help change that this year."
November, 25, 2012
11/25/12
1:30
PM ET
Many Sooners called it one of the best games of their careers. Others called it special. No matter what words are chosen to describe Bedlam, one thing is certain. This year's Bedlam was unlike any other.
Oklahoma knocked off Oklahoma State, 51-48, in overtime at Oklahoma Memorial Stadium on Saturday to keep the Sooners' Big 12 championship hopes alive. Several big plays changed the game but here are five critical plays that helped decide Bedlam.
[+] Enlarge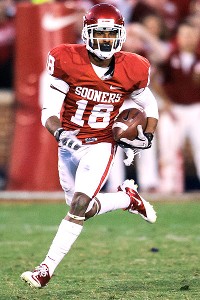 William Purnell/Icon SMIAfter missing the first few games of the season, Jalen Saunders has provided a spark for the Sooners.
Jamarkus McFarland's first-down stop after OU's turnover on downs
November, 21, 2012
11/21/12
8:00
AM ET
1. Can OSU win in Norman?
With all the success he's had during his career in Stillwater, Mike Gundy is still searching for his first win in Norman, Okla. as a head coach. And OU coach Bob Stoops is 5-1 against the Cowboys during his tenure.


During the Cowboys' last trip to Norman in 2009, they appeared to have their best chance of giving Gundy his first win with the Sooners playing a makeshift offensive line in the midst of a disappointing 8-5 season.
To continue reading this article you must be an Insider
August, 21, 2012
8/21/12
2:00
PM ET
November 24, 2012
: Oklahoma State
2011 record
: 12-1 |
2011 conference record
: 8-1 (Big 12)
OU's all-time against Oklahoma State
: 82-17-7
Top returners
: RB
Joseph Randle
, FB
Kye Staley
, WR
Josh Stewart
, WR
Tracy Moore
, OG
Lane Taylor
, DT
Nigel Nicholas
, LB
Shaun Lewis
, LB
Alex Elkins
, CB
Brodrick Brown
, CB
Justin Gilbert
, S
Daytawion Lowe
, P/K
Quinn Sharp
Key losses
: QB Brandon Weeden, WR Justin Blackmon, WR Josh Cooper, C Grant Garner, RT Levy Adcock, DE Jamie Blatnick, DE Richetti Jones, S Markelle Martin
2011 statistical leaders
(*returners)
Rushing
: Joseph Randle* (1,1193 yards)
Passing
: Brandon Weeden (4,328 yards)
Receiving
: Justin Blackmon (1,336 yards)
Tackles
: Daytawion Lowe* (97)
Sacks
: Jamie Blatnick (8)
Interceptions
: Justin Gilbert*, Brodrick Brown* (5)
What they're saying
: "Our facilities gave us a chance a number of years ago. We've had tremendous continuity with our coaching staff. We had a plan and we were able to stick with it, particularly in recruiting and our thought process and how we wanted to approach it, the type of young men we were looking for, try to be very detailed in how they fit in our style of play and what kind of character they had and whether football and graduation and things that we think would contribute to success was really important to that particular player. And sustaining it, again, it comes down to recruiting and having quality people in our organization." – head coach Mike Gundy
Three things to watch
:
1.
The
Oklahoma State Cowboys
went from having the oldest starting quarterback in college football to one of the youngest. All eyes will be on true freshman
Wes Lunt
, who won the starting job in the spring. Lunt figures to go through growing pains. But whether the Cowboys can be viable Big 12 title contenders depends on how fast he grows up.
2.
There may not be a better corner duo in the country than Justin Gilbert and Brodrick Brown. Physical and fast, Gilbert and Brown will allow defensive coordinator Bill Young to focus the rest of his defense on stuffing the run. If they play up to their potential, OSU might have its best defense in 15 years.
3.
Who will be OSU's primary pass-catcher now that Justin Blackmon is gone? The Cowboys don't have a lot of production returning at receiver with Josh Cooper also gone. Then again, nobody had heard of Blackmon two years ago when the Cowboys were trying to replace Dez Bryant.
To continue reading this article you must be an Insider
Stoops, Players Want To Effect Change
BIG 12 SCOREBOARD
Thursday, 9/3
Friday, 9/4
Saturday, 9/5