Oklahoma Sooners:

Cyril Richardson
October, 31, 2013
Oct 31
11:00
AM ET
Happy Halloween, dear readers. To commemorate this frightful holiday, here's a look at the Big 12 teams, coaches and players who might have a few things in common with some classic horror movie villains.
Michael Myers ("Halloween"): Oklahoma Sooners
[+] Enlarge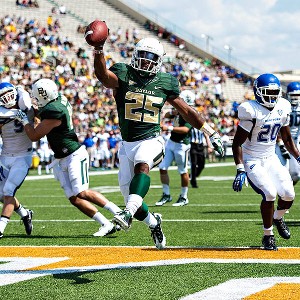 Jerome Miron/USA TODAY SportsWith 869 yards, Baylor back Lache Seastrunk leads the Big 12 in rushing.
The villain that just will not die. Deal them a couple body blows -- losing
Corey Nelson
,
Jordan Phillips
and
Trey Millard
-- and they just keep going. Got blown out by Texas and lived another day to light up Texas Tech. Like Myers, too, this Sooners team still has a bit of a faceless identity on both sides of the ball.
Freddy Krueger ("A Nightmare on Elm Street"): Texas Tech Red Raiders
While you're busy dreaming of the always-dreamy Kliff Kingsbury, his red-dressed team will destroy you in your sleep. Makes up for its human vulnerabilities with lots of razors. Got burned in a previous life by its last head coach.
The Alien ("Aliens"): Baylor Bears
Pretty much a perfect fit here. Highly evolved and truly deadly. Loaded up with blades from head to toe and pumping with yellowish-green acid blood. There's really no way of preparing for its wrath, and it'll kill you much faster than the average human villain.
Jaws ("Jaws"): Texas Longhorns
The big fish of the Big 12 is finally playing with some bite after lurking in the water early on. Like most murderous sharks, they're catching people by surprise and playing like they have nothing to lose.
Ghostface ("Scream"): Oklahoma State Cowboys
Who's behind the mask?
J.W. Walsh
or
Clint Chelf
? Despite some identity confusion, this is still a strong, durable bad guy who wields a knife. Not to be underestimated.
Jason Voorhees ("Friday The 13th"): TCU Horned Frogs
Keep the cool masks (helmets) on, Horned Frogs. This season is starting to get ugly.
Zombies ("Dawn of the Dead"): Iowa State Cyclones
Injuries keep piling up for the Cyclones but they're as motivated and hungry as ever. They might be 1-6, but they're never dead.
Edward Scissorhands ("Edward Scissorhands"): Baylor RB Lache Seastrunk
This makes too much sense. Both possess fantastic natural weapons, wild hairstyles and, most important, a heart of gold.
Predator ("Predator"): TCU CB Jason Verrett
Dangerous, well-built, awesome dreadlocks. Intercepts and breaks up so many passes that it's possible he has thermal imaging vision.
Stay Puft Marshmallow Man
(
"Ghostbusters"
)
: Baylor G Cyril Richardson
Richardson isn't 100-feet tall, but the best lineman in the Big 12 does destroy everything in his path.
Centaur ("The Chronicles of Narnia"): Texas Tech TE Jace Amaro
Wanted to go with Bane here, which is also very complimentary, but alas there is already
photographic proof
that Amaro is half man, half horse. "Narnia" isn't a horror movie but just go with it, OK?
Dracula ("Dracula"): Kansas State coach Bill Snyder
Though he's typically revered for being a wizard, it's not unfair to see a few parallels between the oldest coach in FBS (74) and the undead. He's not a bloodsucker, but he has admitted to eating only one meal a day, typically at Taco Bell.
Beetlejuice ("Beetlejuice"): West Virginia coach Dana Holgorsen
The bravado and the hair make this a good fit. Have to imagine Beetlejuice's salesmanship in the model graveyard is a lot like how Hologorsen recruits, right?
Dr. Evil ("Austin Powers: International Man of Mystery"): Texas coach Mack Brown
Not a horror, but both are eccentric masterminds with outgoing, friendly demeanors. Always plotting world domination. Dr. Evil demands $100 billion, and Texas has made that much in Brown's tenure. Wanted sharks with laser beams at quarterback, ended up with an ill-tempered sea bass.
Pile Of Crap ("Envy"): Kansas Jayhawks
Well, you know, this is
pretty self-explanatory
. "Envy," about a man inventing a magical spray that makes piles of crap disappear, isn't a horror movie. But it is a horrible movie.
Can you think of any more Big 12 horror villains? Disagree on any? Just furiously angry because you don't get that we're joking? We welcome your suggestions in the comments below.
And last but certainly not least, it's time to pay tribute to the art of dressing children up like Big 12 coaches. It's an annual tradition of which we can all be proud.
The runaway champion of 2013 is
Kliff Kingsbury Kid
. Brilliant job, son. Way to keep your swag up. You'll learn to keep your V-necks deep as you get older. Only thing missing might be some
PB&J sandwiches
.
Past champions include
Dana Holgorsen Kid
,
Bill Snyder Baby
and who could forget the irresistible
Mark Mangino Baby
. This is truly becoming an art form, people.
October, 11, 2013
Oct 11
4:00
PM ET
In today's mailbag, Red Raiders and Bears delight in their undefeated starts while other fan bases search for answers.
To the 'bag:
Andrew in NYC writes:
As exciting as the Baylor offense has been, why haven't there been any comparisons to the WVU team last year? We all saw where they went once they started playing real teams. Any chance we see a similar meltdown this year with the Bears?
Jake Trotter:
The difference is that last year's West Virginia team was really a three-man show with
Geno Smith
, Stedman Bailey and Tavon Austin. From the offensive line to the depth of the receiving corps, this Baylor offense is way more complete. Baylor's defense is also far superior to West Virginia's 2012 unit. I get the comparison. But this Baylor team has more staying power.
rtXC1 in Denison, Texas, writes:
Hey, love the work you are putting in! Am I the only person left that believes playing
Tyrone Swoopes
against OU is unnecessary? If Major Applewhite can create a good gameplan -- getting the five RBs 50-plus total touches, including
Daje Johnson
and
Jalen Overstreet
-- AND STICK TO IT, then
Case McCoy
CAN win this game and many more. Playing Swoopes, with his current state of poor mechanics (thanks a lot Whitewright coaches), could be as counterproductive as playing Ash was in 2011, and potentially hurt his confidence. The only thing he'd really add is the zone-read element, which Gray and Overstreet could run just as well. What's best for Texas is to follow the gameplan. Thoughts?
Jake Trotter:
I enjoy insightful mailbag submissions like this. Texas fans who believe Swoopes is the answer are just not being realistic. There's a reason he hasn't stepped on the field yet. He's just not ready. For all their issues, the Longhorns still have enough offensive playmakers to stay in the game Saturday. It's about putting them in good positions to make plays -- something Applewhite has struggled to do.
Andy in Austin, Texas, writes:
Jake, I was wondering if you could investigate as to why Overstreet hasn't seen more on-the-field time in the "Wild Horn" formation. Since McCoy seems to lack serious mobility, why hasn't this package been seen more? Will OU be seeing it Saturday?
Jake Trotter:
The Longhorns should be pulling out all the stops in this game. Fake field goals, double reverse passes -- whatever is still in the holster. I would give the Overstreet package (if the Horns still have it in the playbook) a shot early, as well, just to test how OU defends it and see if there's something that can be exploited.
Larry in Austin, Texas, writes:
Hi, Jake. When
Mack Brown
leaves at the end of the season, do Applewhite and (Greg) Robinson get shown the door as well?
Jake Trotter:
Yes. As Hawk Harrelson would put it, they gone.
Blake Bell in Norman, Okla., writes:
I think I need a new nickname. I've heard "Bellthrowzer" and "Bellicopter." But what about the "Bellista?" On the other hand, the "Wrecking Bell" sign at the last game was pretty good. So what do you recommend?
Jake Trotter:
You have a great nickname. Why do you need another?
Darrell in Huntsville, Ala., writes:
This week you said Art Briles would be an excellent hire for Texas. Wouldn't Briles be an excellent hire for any program?
Jake Trotter:
Probably, but I feel like he would be an especially good fit for Texas. Briles knows the state. Because of his background, he has relationships with virtually every high school coach in the state. And I think Briles would do a better job of getting the right players to Austin than the Mack Brown regime has done in recent years.
Sic 'em in Birmingham, Ala., writes:
I had a Twitter conversation with a USC fan the other day. He wanted USC to pursue Briles with everything they had, and was convinced Briles would leave if they offered him enough. Thoughts?
Jake Trotter:
If Briles were going to leave, I think he'd leave for Texas ahead of USC.
Big Ferm in San Diego writes:
Jake, welcome aboard the Baylor Bandwagon. Like
Lache Seastrunk
, it's moving at breakneck speeds and pancaking haters like
Cyril Richardson
does defenders. Most talking heads in the media believe OU is the conference favorite because of its victory over the Irish. Too bad the Bears didn't schedule Notre Dame. They would've hung 70 on them.
Jake Trotter:
I've been talking up the Bears since the preseason, but so far they have exceeded even my expectations. If I had to pick the Baylor-OU game today, I would pick the Bears.
Jack in Waco, Texas, writes:
I am a little confused how OU can be ahead of Baylor in your power rankings. That being said, I'm still a big fan of the blog since you guys took over, great job!
Jake Trotter:
Thanks, Jack. The answer is simple. OU has two wins that are better than any Baylor victory. The Sooners have also won away from home. That gives them the edge at the moment, even though Baylor has looked unstoppable through four games. But if the Bears are just as impressive in Manhattan as they have been in Waco, I'll have to rethink my rankings.
Prescott in The Woodlands, Texas, writes:
I know Baylor is planning to take off the tarp for the final game at Floyd Casey Stadium. Would they consider removing it for Oklahoma in November?
Jake Trotter:
Sure, if they sell enough tickets.
Mo in Dallas writes:
There has been a lot of hate on Baylor's schedule. Why doesn't Alabama receive the same hate?
Jake Trotter:
Come again? Alabama has beaten Virginia Tech, Texas A&M and Ole Miss. Alabama has also won three national titles in four years. I'm assuming those might be reasons why.
Alex in Austin, Texas, writes:
Which do you think is more explosive, the '05 Texas offense or this Baylor offense?
Jake Trotter:
I'm placing a moratorium on questions like this until after Baylor plays Oklahoma.
Travis the Tech fan in Houston writes:
Mr. Trotter, I don't know why there has been so much bickering among Tech and Baylor fans on the Bears' legitimacy. Tech and Baylor have a lot more in common than what you would think. If anything we should be finding a way to work together to vanquish all who challenge us. Go Bears (not on Nov. 16, though).
Jake Trotter:
Get your guns up, Baylor fans.
Casey Parkhurst in Fort Worth, Texas, writes:
Do you think Texas Tech is a contender in the Big 12?
Jake Trotter:
Sure, the Red Raiders are a contender. The defining game will be at Oklahoma in two weeks. If Tech wins that game, then the Red Raiders could be playing for a Big 12 title in Arlington. Remember, Tech has had OU's number lately, too. Dating back to 2005, the Red Raiders are 4-4 against the Sooners.
Clint in Houston writes:
Tech is currently ranked 32nd in recruiting per ESPN, which is interesting. On one side, we have a new coach. On the other, we have an extremely energetic and passionate staff, and the team is rolling. Do you see us climbing the recruiting rankings before the end of the season?
Jake Trotter:
The Red Raiders already have 21 commitments, so there's not much room to rise. That said, this has been an excellent recruiting effort by Kliff Kingsbury and his staff. Tech fans should be very excited.
Mike writes:
Let me say, I really like this season's version of the Big 12 coverage! It's a major upgrade to what was already an excellent read. Do you think that, given the right upsets, an undefeated Big 12 champion could leap over ALL the one-loss teams to make the title game?
Jake Trotter:
Given the absolute right upsets, maybe. But a one-loss Oregon or Alabama would be tough to unseat.
Greg in Richardson, Texas, writes:
Jake, now that we are six weeks in, can you compare the Big 12 to the Big Ten? Will an undefeated Big 12 team be more deserving of a title shot than an undefeated Big Ten team?
Jake Trotter:
I give the Big 12 a slight edge over the Big Ten. But deserving or not, an undefeated Ohio State would get in over an undefeated Big 12 team. An undefeated Michigan, however, would not.
Alex in Ames, Iowa, writes:
Hey, Jake. You've been doing a great job on the blog so far (except those ISU picks... yikes). Anyway, after the gut-wrenching, anger-inducing controversial loss to Texas, we saw anger, confusion, and a TON of passion not only from Paul Rhoads, but fans and players, as well. Does this loss energize the team the rest of the year? Or did it drain them?
Jake Trotter:
Thanks, Alex, and sorry about the weekly Iowa State jinx. This really could go either way. But knowing what kind of coach Rhoads is and knowing how his players respond to him, my guess is they'll play with some energy Saturday.
Bullet in Stillwater, Okla., writes:
Since our offense hasn't scored much this year, I've been getting out of shape. Do you think we'll have a new coordinator next year? Mike Gundy needs to get me back in game shape.
Jake Trotter:
I would give
Clint Chelf
a shot and see if that changes anything first.
Matt in Wamego, Kan., writes:
As a diehard KU fan I am a believer in always supporting and backing your team. However, I am starting to get very frustrated. Especially seeing teams like Baylor, Louisville and Northwestern, who were once the laughing stock of college football, now building winning programs. Please help me. I am tired of being ready for basketball season in mid-September. What will take to at least make my Jayhawks relevant again?
Jake Trotter:
The right coach. Not saying Charlie Weis isn't the right coach. He's been there less than two years. But what do the three undefeated teams in the league all have common? The right coach. Mark Mangino proved you can have success at Kansas. But it starts with the head man.
John in San Jose, Calif., writes:
TCU's three losses are to three top 20 teams that are a combined 15-1. TCU has been in all three games, too. Is an 8-4 finish in reach, considering four remaining games are at home and TCU has shown it can play well on the road?
Jake Trotter:
It's not out of reach, but it's going to be pretty tough. The Frogs still have to go to Oklahoma State and face Baylor. They obviously would have to win one of those two games and then run the table. Not impossible. But not likely, either, given how inconsistent the offense has been.
Joe in Gauley Bridge, W.V., writes:
Is it totally unreasonable for me as a fan to expect West Virginia to win at least nine or 10 games a year and compete for the Big 12 title yearly? I don't want to be mediocre, I want to be the best.
Jake Trotter:
That was probably reasonable in the Big East. It's not reasonable in the Big 12. What you're suggesting is what Oklahoma has basically accomplished in the Bob Stoops era. West Virginia's program is just not on that level.
October, 7, 2013
Oct 7
11:00
AM ET
Taking stock of Week 6 in the Big 12:
Team of the week:
Baylor. This is starting to get ridiculous. Despite the uptick in opponent, the Bears scored more than 70 points for the third consecutive week, becoming the first FBS team to do so since 1930. The offense has overshadowed how well the defense has also been playing. Baylor, which gave up 70 in Morgantown last year, limited West Virginia to just two offensive touchdowns through three quarters. By that point, the Bears led 66-21. Can anyone stop these guys?
Disappointment of the week:
West Virginia. Nobody really expected the Mountaineers would go to Waco and win as four-touchdown underdogs. But this was a litmus test for a defense that had been pretty solid through the first month of the season. Well, the West Virginia defense failed the test miserably, giving up a Big 12-record 864 yards of offense. Baylor had four turnovers and committed 100 yards' worth of penalties. And the Bears still scored 73 points.
[+] Enlarge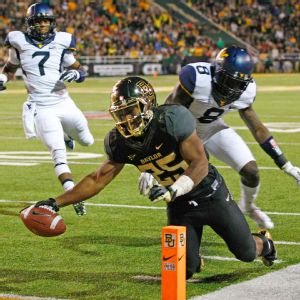 AP Photo/Jose YauBaylor's Lache Seastrunk contributed 172 of Baylor's whopping 468 rushing yards against West Virginia.
Big (offensive) men on campus:
Baylor's offensive line. West Virginia coach Dana Holgorsen said afterward he'd never seen a line establish the line of scrimmage the way the Bears did. Up front,
Spencer Drango
,
Cyril Richardson
,
Stefan Huber
,
Desmine Hilliard
and
Kelvin Palmer
paved the way for Baylor to rack up 468 yards on the ground against a defensive front that held Oklahoma State running back
Jeremy Smith
to just 1 yard on 15 carries a week ago. The Bears have been unstoppable so far, in large part because their offensive line has been paving lanes as well as any line in college football.
Big (defensive) men on campus:
Shaun Lewis
and
Jason Verrett
. The Oklahoma State linebacker and TCU cornerback showed over the weekend why they're all-conference-caliber players. Lewis led the Cowboys with eight tackles, forced a fumble, recovered a fumble and intercepted a pass late in the fourth quarter. Lewis also chased down Kansas State quarterback
Daniel Sams
with a shoestring tackle in the open field on the Wildcats' final drive that kept the clock ticking. Verrett, meanwhile, was fabulous in a losing effort at Oklahoma. Verrett had six tackles and two pass breakups, and he basically blanketed any receiver that lined up on his side of the field. TCU's defense dominated the Sooners in the third quarter, which allowed the Horned Frogs to climb back into the game despite a 13-0 halftime deficit.
Special-teams players of the week:
Travis Britz
and
Kip Daily
. The Kansas State duo came up with a huge play at Oklahoma State with 2:45 to go in the first half. Britz jumped up and blocked Ben Grogan's 43-yard field goal attempt, and Daily grabbed the deflection and raced 65 yards for the touchdown that gave the Wildcats a 14-10 lead (Oklahoma State won the game 33-29). Daily is having quite the season. Three weeks ago, he was the Big 12's Defensive Player of the Week after picking off two passes against UMass. Placekickers
Michael Hunnicutt
and
Ryan Bustin
get honorable-mention honors here. Hunnicutt set an Oklahoma record with his 49th career field goal. After missing a 32-yard field goal at Kansas, Bustin bounced back to connect on four field goals and six extra points as Texas Tech routed the Jayhawks 54-16.
Play of the week:
After getting completely shut down in the second half, the Sooners' offense finally got the play to put TCU away. With OU holding on to a 13-10 lead in the fourth quarter, running back
Brennan Clay
got a carry to the left and then cut it back right 76 yards for a touchdown to basically put the game away with 4:37 to play. "We set it up the whole day," Clay said. "The [linebackers] were going over the top and the O-line did a great job just pressing the play, and I was fortunate enough to make the cut backdoor and the safety was a little flat-footed. I made a stutter step and just took it to the crib."
Stat of the week:
After six weeks, Baylor QB
Bryce Petty
leads the nation in opponent-adjusted Total QBR, which takes into account the strength of the opposing defenses faced. Petty has a score of 97.7 (0-100 scale, 50 is average). Oregon's
Marcus Mariota
is second (96.8) followed by Georgia's
Aaron Murray
(95.6).
Quote of the week:
"70 points, I guess, isn't enough." – Petty, on those who still doubt the Bears' offense
October, 7, 2013
Oct 7
9:00
AM ET
This week's Power Rankings after a weekend in which there were no upsets:

1. Oklahoma (5-0, 2-0 Big 12, last week 1):
The Sooners currently have the top-ranked defense in the Big 12. However, on Sunday they learned they'd likely be without linebacker
Corey Nelson
for the rest of the season. Nelson, who suffered a partially torn pectoral muscle, had been one of the defense's three most valuable players. Can the Sooners overcome his loss? The answer to that question will go a long way in determining whether OU emerges with the Big 12 title.
2. Baylor (4-0, 1-0, LW 2):
West Virginia coach Dana Holgorsen said he'd never seen an offensive line establish the line of scrimmage the way Baylor did Saturday night. Quarterback
Bryce Petty
and
Lache Seastrunk
are getting the headlines, and for good reason, but Baylor's offensive line is another reason it has been putting up points in record fashion. Led by All-American guard
Cyril Richardson
, Baylor's line is one of the best units in the country. Just ask Holgorsen.
3. Texas Tech (5-0, 2-0, LW 3):
Texas Tech is beginning to look like last season's Oklahoma State, which had to shuffle through three different quarterbacks because of injuries.
Michael Brewer
finally returned to the field from a back injury, but not before starter
Baker Mayfield
left with an undisclosed knee injury. The Oklahoma State offense survived its QB injury shuffle. Can the Red Raiders follow suit?
4. Oklahoma State (4-1, 1-1, LW 7):
The Cowboys won, but it has been four seasons since an Oklahoma State offense has looked anywhere near this discombobulated.
J.W. Walsh
engineered the game-winning touchdown drive, but the offense was largely ineffective otherwise, as the Cowboys went the entire second half without a first down until that drive. Oklahoma State's intermediate and downfield passing game has fallen off a cliff, as Walsh had only two completions go for more than 15 yards (though he should have had a third that
Josh Stewart
dropped). This has allowed opponents to zero in on Oklahoma State's rushing game, which has been poor since the opener against Mississippi State. If the Cowboys don't make a QB change and give
Clint Chelf
a chance, or find some way for Walsh to be more effective through the air, they stand little chance of contending in the Big 12.
5. Texas (3-2, 2-0, LW 5):
The Longhorns' season and Mack Brown's tenure at Texas comes down to one game. If the Longhorns somehow knock off Oklahoma, the conversation in Austin changes. If the Longhorns get blasted like they have the past two seasons, the conversation is effectively done. And, for all intents and purposes, the season is, too.
6. TCU (2-3, 0-2, LW 6):
It's a shame this TCU defense can't be paired with a more effective offense. Even though the Horned Frogs opened at Oklahoma with seven straight three-and-outs, the defense somehow kept the Frogs in the game. I was told over the weekend that QB
Casey Pachall
is ahead of schedule on his recovery from a broken forearm -- but he is still weeks away from actually returning. Until then, TCU will have to find a way to generate a little offense. And with the way its defense is playing, that would still be enough to win most games.
7. West Virginia (3-3, 1-2, LW 4):
It's about time to end the honeymoon with the West Virginia defense. The Mountaineers were completely and utterly torched in Waco, 73-42. The last time West Virginia gave up that many points was in 1904, when Michigan beat the Mountaineers 130-0. This Baylor game was almost as bad. West Virginia is definitely improved defensively, but good defenses don't give up 73 points, regardless of who they are facing.
8. Kansas State (2-3, 0-2, LW 8):
KSU coach Bill Snyder finally gave QB
Daniel Sams
a chance Saturday in Stillwater to run the offense. You have to wonder when he might give Sams a chance again. Sams moved the chains but turned the ball over four times, which ultimately proved to be K-State's downfall. Sams showed he's capable of being an effective Big 12 quarterback, but Snyder is not a coach who will tolerate turnovers from his quarterback.
9. Iowa State (1-3, 0-1, LW 9):
What a bummer it's been to be an Iowa State fan this year. I don't know which was worse, losing twice in overtime in hoops to Kansas, getting bounced from the NCAA tournament by Aaron Craft's leaning jumper or falling to Texas the way the Cyclones did Thursday. Iowa State has shown rapid improvement offensively the past two games, but it's a challenge finding five more wins on the schedule that will get the Cyclones to a bowl game.
10. Kansas (2-2, 0-1, LW 10):
Even if Charlie Weis didn't call for the fake punt, it's on him for even giving punter
Trevor Pardula
an option to take off that deep in his own territory. The Jayhawks probably wouldn't have beaten Tech anyway, but the botched fake punt ensured that they wouldn't. With running back
Tony Pierson
now out indefinitely, the Jayhawks will be without their best offensive weapon now, too.
September, 9, 2013
Sep 9
3:00
PM ET
Here's a look at some of the Big 12's unsung heroes in Week 2.
Entire offensive line, Baylor:
Anytime you gain 781 yards -- including 329 rushing yards with just 13 yards lost rushing -- the big guys up front deserve a lot of credit. Led by All-America candidate
Cyril Richardson
, the Baylor offensive line is better than people think and has been for several seasons. As explosive as BU's offense is, it would struggle to get off the ground without a quality group of linemen.
Running back Darrian Miller, Kansas:
Looks like the Jayhawks found another one. KU already features terrific running backs in
James Sims
and
Tony Pierson
, but Miller showed he's a name to watch with 14 carries for 72 yards in the Jayhawks' 31-14 win over South Dakota. If Miller continues to emerge, it will allow Charlie Weis to get even more creative when divising ways to get the ball to his various playmakers in Lawrence.
Receiver Tramaine Thompson, Kansas State:
His two-reception, 46-yard performance on offense wasn't earth-shattering. Yet Thompson single-handedly sparked the Wildcats in KSU's 48-27 win over Louisiana-Lafayette. He opened the third quarter with a 94-yard kickoff return for a touchdown., then returned ULL's next punt 79 yards to the ULL 3-yard line. Thompson finished with 234 all-purpose yards.
Safety Quentin Hayes, Oklahoma:
Sooners defensive coordinator Mike Stoops has praised the athleticism and range of Hayes in the OU secondary. The junior finished with eight tackles and a forced fumble in OU's 16-7 victory over West Virginia. His versatility and coverage skills could help make the Sooners' secondary even better than last year's unit.
Safety Zack Craig, Oklahoma State:
The senior safety quietly played a key role in the Cowboys' 56-35 win over Texas San-Antonio. Craig, a backup safety, finished with seven tackles and two pass breakups, including a pass breakup that led to a
Shaun Lewis
interception. At one point, the Pokes were without both starting safeties because of injury and Craig stepped in to fill the void. He brings a veteran presence to OSU's secondary and special teams.
Receiver Mike Davis, Texas:
Overshadowed by the Longhorns' defensive collapse in Provo, Davis is off to a superb start in his senior season. He had eight receptions for 114 yards and two touchdowns in UT's 40-21 loss to BYU. If Davis continues to consistently produce, it should open up opportunities for UT's running backs.
Defensive tackle Terrell Lathan, TCU:
Lathan stepped in and stepped up after
Chucky Hunter
was injured during TCU's 38-17 win over Southeastern Louisiana. The sophomore had four tackles, including two tackles for loss and one sack. If the backup defensive lineman continues to progress, he could provide quality depth along the defensive front for TCU.
Receiver Bradley Marquez, Texas Tech:
The junior had just two receptions for 94 yards and one touchdown in the Red Raiders' 61-13 victory over Stephen F. Austin. But Marquez could be a key piece in Kliff Kingsbury's offense with defenses focusing on
Eric Ward
,
Jace Amaro
and
Jakeem Grant
. Marquez has the speed and athleticism to make defenses pay if they leave him one-on-one.
Receiver Kevin White, West Virginia:
He didn't play a perfect game in his first outing in a WVU uniform, but the junior college transfer showed signs he could emerge as a playmaker who will test Big 12 defenses this season. He finished with seven receptions for 80 yards and one fumble in WVU's 16-7 loss to Oklahoma. White is big, athletic and physical, so it won't be easy for Big 12 defenses to match up with him, giving Dana Holgorsen another one-on-one mismatch to exploit in 2013.
Note: Iowa State did not play in Week 2.
August, 7, 2012
8/07/12
3:00
PM ET
November 10, 2012
: Baylor
2011 record
: 10-3 |
2011 conference record
: 6-3 (Big 12)
OU's all-time against Baylor
: 20-1
Top returners
: WR
Terrance Williams
, WR
Tevin Reese
, TE
Jordan Najvar
, OT
Cyril Richardson
, CB
K.J. Morton
, S
Ahmad Dixon
Key losses
: QB Robert Griffin III, RB Terrance Ganaway, WR Kendall Wright, C Phillip Blake, OG Robert T. Griffin, DT Nicolas Jean-Baptiste, DT Tracy Robertson, LB Elliot Coffey
To continue reading this article you must be an Insider
Will Steven Parker follow family?