Oklahoma Sooners:

Cornelius Lucas
May, 12, 2014
5/12/14
4:30
PM ET
Seventeen Big 12 players heard their names called during the 2014
NFL draft
. Many other Big 12 alums will have a chance at the next level as undrafted free agents.
Below is a list of undrafted players who reportedly have agreed to free agent deals. This is not a final list, as teams are still working to sign undrafted free agents. But these are the players we know of so far.

Baylor

Iowa State

Kansas

Kansas State

Oklahoma

Oklahoma State

TCU

Texas

Texas Tech

West Virginia
May, 8, 2014
5/08/14
1:30
PM ET
The NFL draft is here.
It all begins tonight at 8 p.m. (ET) and the draft will continue through Saturday. Several Big 12 players should be selected in the next three days, so here is a team-by-team NFL draft primer, which includes each school's top prospect, one sleeper/value pick and a list of each potential draftee. All projections are courtesy of
ESPN Insider's draft board

, and the potential draftees listed are players with an ESPN.com Scouts Inc. ranking of 31 or above. All draft projections are listed by day, i.e. Day 1 (Round 1), Day 2 (Rounds 2 and 3) and Day 3 (Rounds 4, 5, 6 and 7).
Baylor

Top prospect:
G
Cyril Richardson
. The Bears' All-American guard is projected to be an early Day 3 selection and could provide quality depth (or even start) during his first NFL season.
Sleeper pick:
WR
Tevin Reese
. Slated as a late Day 3 selection, Reese could surprise with his speed and take the top off NFL defenses, particularly on a team with a strong running game.
Other potential draftees (projected selection):
RB
Lache Seastrunk
(Day 3), S
Ahmad Dixon
(Day 3), CB
Demetri Goodson
(Day 3).
Iowa State

Top prospect:
LB
Jeremiah George
. The Cyclones' undersized but athletic linebacker didn't wow scouts with his measurables but it would be unwise to brush him off as a player unable to make an impact on Sundays. He's projected to go late on Day 3 and could, at the very least, carve out a special teams role.
Sleeper pick:
None.
Other potential draftees:
None.
Kansas
No Jayhawk is projected to be drafted or has a ESPN.com Scout's Inc. rating of 31 or above.
Kansas State

Top prospect:
S
Ty Zimmerman
. He was extremely productive during his time at KSU and is projected to go late on Day 3.
Sleeper pick:
OT
Cornelius Lucas
. Projected to be a late Day 3 selection, Lucas would be worth taking a flyer on for most NFL teams due to his mammoth size (6-foot-8, 316 pounds).
Other potential draftees:
None.
Oklahoma

Top prospect:
CB
Aaron Colvin
. Projected to come off the board early on Day 3, Colvin would be drafted much higher if he hadn't torn his ACL during Senior Bowl practices. It's quite possible some team will eventually get Day 1 or Day 2 production from Colvin if they're patient with his recovery.
Sleeper pick:
FB
Trey Millard
. Another Sooner coming off an ACL injury, Millard is the type of guy who won't get any headlines this weekend but will end up playing 10 years in the league as a key contributor on offense and special teams. He projected to be drafted on Day 3.
Other potential draftees:
WR
Jalen Saunders
(Day 3), RB
Damien Williams
(Day 3), C
Gabe Ikard
(Day 3).
Oklahoma State

Top prospect:
CB
Justin Gilbert
. Gilbert is projected to go in the first round and is considered one of the top cornerback prospects in the draft. He's likely to be the first Big 12 player selected.
Sleeper pick:
WR
Josh Stewart
. His physical attributes aren't going to make NFL scouts drool, but Stewart seems to consistently find ways to make plays and could initially make an impact as a returner. He's projected to be a late Day 3 selection.
Other potential draftees:
None.
TCU

Top prospect:
CB
Jason Verrett
. The elite cover cornerback sits right alongside Gilbert among the draft's top cornerbacks. He's projected to join Gilbert as a first-round selection.
Sleeper pick:
None.
Other potential draftees:
None.
Texas

Top prospect:
DE
Jackson Jeffcoat
. He finished his Texas career with an extremely productive senior season. He's projected to be an early Day 3 selection.
Sleeper pick:
WR
Mike Davis
. He has a bunch of talent and upside but never really became a difference maker in the Big 12. Davis is projected to be selected on Day 3 and could be a steal if his NFL team can push him to maximize his potential.
Other potential draftees:
OG
Trey Hopkins
(Day 3), DT
Chris Whaley
(Day 3).
Texas Tech

Top prospect:
TE
Jace Amaro
. The Big 12's biggest mismatch creator could transition into an individual matchup nightmare in the NFL as well. He's projected to go early on Day 2 and will give some NFL team a unique weapon.
Sleeper pick:
DT
Kerry Hyder
. The former foundation of the Red Raiders' defensive line is expected to be drafted late on Day 3. He's the type of player NFL teams can draft and hope for the best because he does have some NFL traits that could earn him a spot on a roster.
Other potential draftees:
None.
West Virginia

Top prospect:
HB
Charles Sims
. It's quite possible Sims would be projected to go higher if the overall value of running backs as a whole was not trending down. One of the most versatile running back prospects, Sims is projected to be selected on Day 2.
Sleeper pick:
DE
William Clarke
. The lanky defensive end prospect is projected to be drafted early on Day 3. His athleticism and instincts could make in him Saturday steal.
Other potential draftees:
None.
March, 31, 2014
3/31/14
9:00
AM ET
Pro day season has come and gone. Draft-eligible players returned to school this month and hit the weight room and practice field to give NFL scouts a taste of their potential. Here's a rundown of how the Big 12's top draft prospects fared as well as a few who surprised.

TCU (March 6)
Big name:
CB
Jason Verrett
. A total of 26 NFL teams had reps at the Horned Frogs' pro day, and you know many of them came for Verrett. He didn't look to improve his 40 time from the NFL combine (4.38), but he did show off a 39 ½-inch vertical and benched 19 reps.
Sleeper:
QB
Casey Pachall
. While he'll have to answer lots of questions about his off-field issues, Pachall's on-field work at pro day was encouraging. He checked in at 6-foot-3½ and 216 pounds, ran his 40 in the mid-4.9s and completed 62 of 72 passes, according to the Fort Worth Star-Telegram.

Kansas State (March 11)
Big name:
S
Ty Zimmerman
. Though 20 Kansas State players worked out at pro day, Zimmerman was not one of them. He's still recovering from labrum surgery and reportedly plans to hold a workout next month to show his progress.
Sleeper:
OT
Cornelius Lucas
. Hard to project how things will play out for Lucas, a mammoth tackle at 6-8 and 316 pounds, after he discovered a stress fracture in his left foot at the NFL combine. He's supposed to be out up to eight weeks but plans to work out along with Zimmerman on April 28.

Oklahoma (March 12)
Big name:
CB
Aaron Colvin
. The Sooners had 28 NFL organization represented at their pro day, but a few key players were still on the mend. Colvin, who suffered a torn ACL at the Senior Bowl, did not work out but hopes to be running again by late April and vowed his recovery is ahead of schedule.
Sleeper:
C
Gabe Ikard
. While Ikard elected to stand by his combine numbers, which were strong for his position group, he did use the pro day to show in position drills just how athletic an interior lineman he can be for an NFL club. Running back
Damien Williams
also made a solid impression, and receiver
Jalen Saunders
drew mixed reviews after poor shuttle times.

Oklahoma State (March 13)
Big name:
CB
Justin Gilbert
.
The Steelers have the No. 15 pick, so it made sense that Mike Tomlin and his GM were among the many coaches in Stillwater to scout Gilbert. He stood by his 4.37 in the 40 from the NFL combine but did agility drills and reportedly wowed in his position drills. He's a first-rounder, no doubt.
Sleeper:
WR
Josh Stewart
. Well, OK, he's not much of a sleeper. But Stewart had work to do to raise his stock, and pro day should've helped. He improved his 40 slightly, from 4.69 at the combine to 4.59 at pro day, and showed what he can do as a receiver and returner. Safety
Daytawion Lowe
also made a good impression.

Texas Tech (March 14)
Big name:
TE
Jace Amaro
. The All-America tight end tried to secure a spot in the first round with improvements in the 40 (4.68) and vertical, and at 6-5 and 266 pounds he evoked comparisons to
Vernon Davis
from one 49ers scout.
Sleeper:
CB
Bruce Jones
. He's undersized at 5-7 and 183 pounds, but Jones did grab some attention at pro day with a run of a 4.5-second 40 time and team-best vertical of 41 inches.

Kansas (March 14)
Big name:
RB
James Sims
. A dozen scouts showed up for the Jayhawks' pro day, and the highlight was probably Sims busting off a run of 4.56 seconds in the 40. The 6-foot, 205-pound back was not invited to the NFL combine and told the Lawrence Journal-World he felt good about the numbers he put up.

Baylor (March 19)
Big names:
OT
Cyril Richardson
, RB
Lache Seastrunk
, S
Ahmad Dixon
. Richardson shed 20 pounds after his senior season, which had to encourage NFL scouts, and he did nothing at his pro day to diminish his chances of being a top-50 pick. Seastrunk was as explosive as expected, with a time of 4.37 in the 40 and a 4.36 second shuttle, and tried to show off his pass-catching ability. Dixon ran a 4.64 in the 40 at the NFL combine and improved that to 4.48 at pro day.
Sleeper:
TE
Jordan Najvar
. At nearly 6-6 and 280 pounds, Najvar certainly has the size to make the NFL. His speed had been a question mark, but his reported best for pro day was 4.86 seconds in the 40.

West Virginia (March 21)
Big name:
RB
Charles Sims
. A nice showing at the NFL combine (40 time: 4.48) meant Sims needed only to do positional drills, and he drew good reviews for his pass-catching ability despite small hands.
Sleeper:
DE
Will Clarke
. Knowing it's possible he'll be asked to play outside linebacker in an NFL scheme, Clarke worked out at both end and linebacker on pro day and tried to show what he can bring to pass coverage as a nearly 6-6, 268-pound defender.

Iowa State (March 25)
Big name:
LB
Jeremiah George
. After a subpar showing at the combine, George had a nice day in front of 30 NFL officials. He hit 4.69 in the 40-yard dash, posted a big improvement in his broad jump and was solid in positional work.
Sleeper:
CB Jeremy Reeves. How's this for a success story? Reeves played at ISU from 2010-12, missed last season with a pectoral injury and showed up to pro day to prove he's still got it. He had a crazy good day: 4.29-second 40, 43-inch vertical, 11½-foot broad jump. The New York Jets signed him on Friday.

Texas (March 26)
Big name:
DE
Jackson Jeffcoat
. Like most other top prospects, Jeffcoat stuck with his NFL combine testing numbers. The 6-3, 253-pound end demonstrated his coverage ability in position drills amid talk that he might have to be a 3-4 outside linebacker at the next level.
Sleeper:
CB
Carrington Byndom
. Questions about the three-year starter's speed were put to rest when he ran his 40 in 4.37 seconds. Byndom was happy with his positional drills and is starting to line up meetings.
February, 6, 2014
2/06/14
6:00
PM ET
Twenty-five Big 12 players
have been invited to the NFL Scouting Combine
in Indianapolis Feb. 19-24. The NFL released the invite list Thursday afternoon. The Big 12 players are below:
Quarterbacks
Running backs
Fullbacks
Tight ends
Wide receivers
Offensive linemen
Defensive linemen
Linebackers
Defensive backs
Long snapper
Kicker
Punter
Notable omissions:
November, 11, 2013
11/11/13
11:00
AM ET
Taking stock of Week 11 in the Big 12:
Teams of the week:
For the first time this season, we're recognizing two teams here, as both Baylor and Kansas State snagged the biggest wins of their seasons in impressive fashion.
The Wildcats jumped to a 35-10 lead at then-No. 25 Texas Tech, then coasted to a 49-26 rout. QBs
Daniel Sams
and
Jake Waters
produced the two-highest Big 12 Adjusted QBRs of the week (98.4 and 94.9), while
John Hubert
, who had a 63-yard touchdown run on the opening drive, finished with a season-high 157 rushing yards.
Baylor was equally dominant in a 41-12 win Thursday night over Oklahoma. QB
Bryce Petty
kept his Heisman campaign alive with three touchdowns passes and two touchdown runs. Baylor's defense put the clamps on the Sooners, holding them to just 237 yards, the lowest output from an OU offense since 2007.
Disappointment of the week:
Oklahoma traveled to Waco with a chance to gain an upper hand over the Big 12's favorite. Instead, the Sooners were exposed as a second-tier team in the conference. OU was especially dreadful offensively.
Blake Bell
completed just 15 of 35 passes with two interceptions for a raw QBR score of 5.9 (scale 0-to-100). The Sooners averaged only 2.6 yards per carry on the ground, as well, with just one run going for more than 10 yards. With games at Kansas State and Oklahoma State still looming, the Sooners could be on the verge of their worst season since 2009.
[+] Enlarge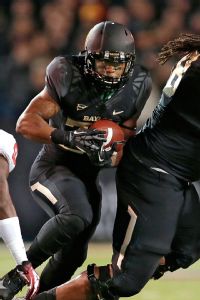 AP Photo/Tony GutierrezThird-team running back Shock Linwood had his third 100-yard game for Baylor on Thursday.
Big (offensive) men on campus:
Baylor running back
Shock Linwood
, TCU receiver/quarterback
Trevone Boykin
and the Kansas State offensive line.
With
Lache Seastrunk
banged up and
Glasco Martin
injured, Linwood kept the Baylor ground game rolling without a hitch, piling up 182 yards while averaging 7.9 yards per carry. Despite being Baylor's third-team tailback, Linwood astonishingly is second in the Big 12 with an average of 89.3 rushing yards per game.
Back in the role he was always meant for, Boykin was excellent at Iowa State as a receiver and change-of-pace quarterback. He scored three touchdowns on five carries, including a one-yard keeper in the final minute to lift TCU to a 21-17 win. Boykin also had four receptions.
Finally, K-State's offensive line obliterated Texas Tech up front, setting the tone for the Wildcats in Lubbock. Behind
Cornelius Lucas
,
Cody Whitehair
,
BJ Finney
,
Keenan Taylor
and
Tavon Rooks
, the Wildcats rolled up 291 yards on the ground with an average of almost seven yards per carry.
Big (defensive) men on campus:
Texas defensive ends
Jackson Jeffcoat
and
Cedric Reed
, Oklahoma State defensive tackle
Calvin Barnett
, Baylor safety
Ahmad Dixon
and Kansas State safety
Ty Zimmerman
.
The Longhorns gave up 40 points in Morgantown, but Jeffcoat and Reed were swarming West Virginia's backfield all night. The two combined for three sacks, two forced fumbles and two fumble recoveries, as the defense gave the Texas offense excellent field position for most of the game.
Barnett spearheaded another strong defensive effort from the Cowboys in a 42-6 win over Kansas. Barnett had five tackles, two tackles for loss and a sack.
Dixon led Baylor's shutdown effort of the Sooners. He had a team-high 8½ tackles, a tackle for loss and a pass breakup, as Oklahoma failed to score a touchdown until late in the third quarter.
Zimmerman gutted out a shoulder injury to lead the Wildcats defensively. He had a couple of big hits, and a 43-yard interception return to provide the exclamation point in Lubbock.
Special-teams players of the week:
Oklahoma State returner
Justin Gilbert
, Iowa State returner
DeVondrick Nealy
and Texas kicker
Anthony Fera
.
With former Oklahoma State great Barry Sanders in attendance, Gilbert pulled off his best Sanders impression, taking the opening kickoff 100 yards for a touchdown.
Nealy opened the third quarter against TCU with a 98-yard TD return that tied the game.
As he has been all year, Fera was clutch in Texas' overtime win at West Virginia. He converted all five of his extra points and all four of his field goals, including the 24-yarder in the final seconds to send the game to overtime. Fera has missed only one field goal attempt all season, and the four makes at West Virginia were a career-best.
Play of the week:
With 59 seconds to play, Texas faced fourth-and-7 trailing West Virginia 40-37. Out of a timeout, QB
Case McCoy
stepped into the blitz and delivered a first-down strike to
Jaxon Shipley
a yard ahead of the marker. Fera ended the drive with a game-tying field goal, then the Longhorns prevailed in overtime to win their sixth straight game.
Stat of the week:
After surrendering an average of 7.0 yards per carry in losses to BYU and Ole Miss, the Texas defense has held its past six opponents to a combined average of 3.2, with nobody topping more than 4.0 in a game.
Quote of the week:
"We're not a tradition. But we're going to be here awhile, the way this thing is going." -- Baylor defensive coordinator Phil Bennett, after the Bears' 41-12 win over Oklahoma
Top Position Battles Heading In To Spring
BIG 12 SCOREBOARD
Thursday, 9/3
Friday, 9/4
Saturday, 9/5