Oklahoma Sooners:

Chucky Hunter
May, 15, 2014
5/15/14
1:30
PM ET
Though the 2014 NFL draft ended just last weekend, ESPN Insider Todd McShay posted his
way-too-early 2015 mock draft

on Wednesday.
McShay had three Big 12 players going in his mock first round: Baylor QB
Bryce Petty
15
th
overall to the Houston Texans, TCU DE
Devonte Fields
25
th
overall to the San Francisco 49ers and Oklahoma LB
Eric Striker
29
th
overall to the Green Bay Packers.
Though we have almost a full year to go, here are some of other top Big 12 prospects for the 2015 draft (in alphabetical order):
[+] Enlarge

John Albright/Icon SMIMalcom Brown might be the best DT in the Big 12 this season and could make NFL scouts take notice.
Others to watch:
RB
Malcolm Brown
, Texas; DT
James Castleman
, Oklahoma State; C
Dominic Espinosa
, Texas; C
Tom Farniok
, Iowa State; ILB
Bryce Hager
, Baylor; FS
Chris Hackett
, TCU; LB
Ben Heeney
, Kansas; DT
Chucky Hunter
, TCU; FS
Karl Joseph
, West Virginia; DE
Ryan Mueller
, Kansas State; DT
Jordan Phillips
, Oklahoma; DT
Davion Pierson
, TCU; OG
Quinton Spain
, West Virginia; OT
Tyrus Thompson
, Oklahoma; CB
Kevin White
, TCU; OG
Cody Whitehair
, Kansas State
May, 15, 2014
5/15/14
10:30
AM ET
Earlier Thursday, we concluded our 22-round draft of current Big 12 players. Below are the three lineup outcomes of that draft, and as you can see, each of us went in different directions.

Like the St. Louis Rams, Max and Brandon built up their defensive lines before worrying about the rest of their rosters. While I grabbed the best quarterback in the league and surrounded him with protection and weapons.
After each lineup, read our final takes on our teams. Then, decide who drafted best in the weekly Big 12 poll.
BRANDON CHATMON'S TEAM
OFFENSE
DEFENSE
What Brandon says about his team:
"Offensively, as soon as Petty was gone with the first pick I knew I wouldn't take a quarterback until my final pick. Knight could be the steal of the draft. Versatility is the name of the game with the rest of the offense. We can put Pierson and Smallwood in the backfield and go read option or really ruin your Saturday and throw Daje back there in the Diamond. When you bring more guys in the box, you leave Seales and Lockett one-on-one. Or we can just go five wide and you can try to cover running backs who run routes like receivers with your linebackers. And an experienced offensive line will be the foundation of it all. Defensively, it would be wise for opposing quarterbacks to tell their families to stay home when facing this group. We're going to man up and have our mail forwarded to the opposing backfield and make you want to take your ball and go home. And with a secondary full of coverage guys, I'm not concerned about the back end of the defense holding up. We'll win more battles than we lose. By the final whistle, my team will have earned the moniker 'Chatmon's chaos creators' with Tapper, Reed, Brown, Hunter, Alexander and Robertson living in your backfield."
MAX OLSON'S TEAM
OFFENSE
DEFENSE
What Max says about his team:
"You do not want to play against my team. That was my goal going in, and I constructed exactly the team I wanted. I have a great QB in Webb who gets to throw to Goodley, one of the nation's best receivers, and he'd help Jaxon Shipley put up Jordan Shipley numbers. I have the two-back punch of Linwood and Gray. I have Hill, who can do everything, and a good line. We're going to spread the ball around like crazy. Good luck stopping that. On defense, you have Fields, Oakman and Grissom all rushing the passer. That's deadly. We can go three-man fronts or even put Oakman in the middle, letting the 6-foot-8 stud swat your passes down. And while you're worrying about him and Grissom, you have the Big 12's best defensive player [Fields] coming after you. Hager and Shannon will hold it down at the second level, and the secondary is full of playmakers. This is a fun team, plain and simple, and one that can frustrate the heck out of anybody."
JAKE TROTTER'S TEAM
OFFENSE
DEFENSE
What Jake says about his team:
"Max and Brandon are good at talking smack. I'll give them that. But my players do their talking on the field. Once I was fortunate to land reigning Big 12 Offensive Player of the Year Bryce Petty as my quarterback, my goal was two-fold: to keep him upright from pressure off the edge; and, to surround him with firepower. I accomplished both ends, and then some. I wasn't able to get either of the two elite receivers in the league in Goodley or Lockett. But I put together the best overall receiving corps in Grant, Shepard and Bundrage, who could all deliver 1,000-yard receiving seasons in 2014. On top of that, I snagged the best pass-catching tight end on the board in Bibbs, as well as Brown, so that we can pound the ball between the tackles when we need. Speaking of tackles, aware that Brandon and Max were focused almost solely on their pass rush in the early rounds, I also added two of the most reliable pass-protecting bookends in the league in Drango and Williams. Defensively, I can bring pressure, too, with Mueller and Striker, who last season respectively placed second and fourth in the Big 12 in sacks. Castleman and Britz are roadblocks, Heeney and Dawson are tackle machines and my entire secondary has All-Big 12 potential. We don't talk. We just dominate."
May, 15, 2014
5/15/14
9:00
AM ET
Following up on NFL draft weekend,
we've been conducting our own draft
, picking from current Big 12 players to fill out three 22-man lineups.
Below is a recap of the first 15 rounds of the draft from the past two days, followed by rounds 16-22.
As another reminder, this is NOT a Top 25 player ranking. It's only an exercise in determining where the value of the league lies, and the different strategies to putting a team together from the league's present talent pool.
Jake Trotter:
Brandon Chatmon:
Max Olson:
Round 16
Olson: WR/RB Tyreek Hill, Oklahoma State
Chatmon: OLB Pete Robertson, Texas Tech
Trotter: OLB Brandon Golson, West Virginia
Analysis: "To combat the offensive attacks I would face in the Big 12, I'm going with a 3-4 on defense. Golson, who led the Big 12 in forced fumbles last season, is another playmaking outside linebacker who would fit in nicely in this scheme opposite Striker." -- Trotter
[+] Enlarge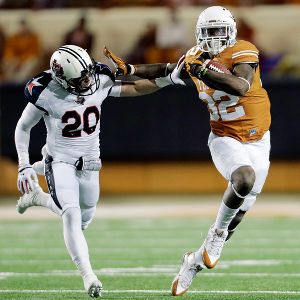 AP Photo/Eric GayGetting potential Big 12 rushing leader Johnathan Gray in the 17th round could be a big steal for Max Olson.
Round 17
Trotter: LB Paul Dawson, TCU
Chatmon: C Dominic Espinosa, Texas
Olson: RB Johnathan Gray, Texas
Analysis: "I ended up getting a potential All-Big 12 running back in the 17th round. So I feel pretty good about that. Gray should be healthy for the opener, and he leads all returning Big 12 rushers with 86 rushing yards per game last season." -- Olson
Round 18
Olson: OT Troy Baker, Baylor
Chatmon: SS Quentin Hayes, Oklahoma
Trotter: OG Mark Glowinski, West Virginia
Analysis: "I wanted a safety who is comfortable in holding his own in coverage, while also having the ability to make plays all over the field. Hayes is the guy. With Worley, Shepherd, White, Barnett and Hayes in the secondary, I can unleash the rest of my defense on the quarterback and feel comfortable about my secondary holding its own against anyone." -- Chatmon
Round 19
Trotter: OG Nila Kasitati, Oklahoma
Chatmon: WR Tony Pierson, Kansas
Olson: SS Terrell Burt, Baylor
Analysis: "With Max and Brandon hoarding centers, I needed to attack the interior of my offensive line. Kasitati can excel manning either guard or center, and Glowinski is one of the league's top returning guards." -- Trotter
Round 20
Olson: OT Halapoulivaati Vaitai, TCU
Chatmon: WR Jhajuan Seales, Oklahoma State
Trotter: WR Quenton Bundrage, Iowa State
Analysis: "The guys I wanted for my second guard spot weren't available at this round, so I'm going with the mammoth "Big V" Vaitai (6-foot-6, 308 pounds) and moving one of my other tackle selections inside. I ended up with a fairly good offensive line, which was pretty much my plan going in." -- Olson
Round 21
Trotter: CB Nigel Tribune, Iowa State
Chatmon: WR Wendell Smallwood, West Virginia
Olson: LB Nick Kwiatkoski, West Virginia
Analysis: "I picked up Bundrage in the previous round to seal up what I feel is the best all-around receiving corps, even if I didn't get Goodley or Lockett. Tribune, the only true freshman to play for Iowa State in the past two seasons, is a corner with a ton of upside and, paired with Kevin Peterson, should provide me plenty of tenaciousness against the pass." -- Trotter
Round 22
Olson: WR Jaxon Shipley, Texas
Chatmon: QB Trevor Knight, Oklahoma
Trotter: C Jared Kaster, Texas Tech
Analysis: "I just got the steal of the draft, and I knew I would wait until the final round to do so. As soon as Jake snapped up Petty, I knew I would be content with Davis Webb or Trevor Knight and wouldn't draft a quarterback until the final round. The fact that Max opted for Webb made things even better for me as Knight has the versatility to run a run-heavy offense or spread things out and use his arm. He fits perfectly with the versatility I was striving for with each pick." -- Chatmon
May, 13, 2014
5/13/14
9:15
AM ET
By
ESPN.com staff
| ESPN.com
The NFL draft came and went it, but we thought it would be fun -- and possibly revealing -- to conduct a draft of our own of returning Big 12 players. We stole a version of this idea from our colleagues at the ACC blog, who apparently had stolen it before that from the guys over at the Big Ten site.
Anyway, the rules are fairly simple. All players currently on a Big 12 roster are eligible. No departing seniors or early entrees to the draft. No incoming freshmen or jucos scheduled to arrive in the summer. The premise is to fill out a 22-man lineup.
[+] Enlarge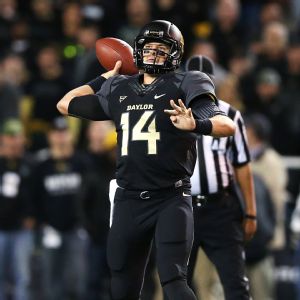 Matthew Emmons/USA TODAY SportsBryce Petty accounted for 46 touchdowns last season.
As you'll be able to see, the strengths of the league quickly begin to manifest (last year it was cornerback; guess where it is this year) as a run on a certain position ignites early. You'll also be able to see the positions that got put off for later, seemingly due to a lack of high impact relative to other positions, or to an indiscernible difference between players of the same position (just like with the NFL draft, where are the running backs?).
Keep in mind, this is NOT a top-25 player ranking. It's only an exercise in determining where the value of the league is, and the different ways of putting together teams from the current pool of players.
Rounds 1-7 are below. We'll pick up with Round 8 on Wednesday.
Round 1
Jake Trotter:
QB
Bryce Petty
, Baylor
Brandon Chatmon:
WR
Tyler Lockett
, Kansas State
Max Olson:
DE
Devonte Fields
, TCU
Analysis:
"There's really no wrong answer when it comes to choosing one of the Big 12's elite defensive ends. Went with Fields because reports of his comeback this spring were consistently encouraging and we know he has All-America potential." -- Olson
Round 2
Olson:
WR
Antwan Goodley
, Baylor
Chatmon:
DE
Charles Tapper
, Oklahoma
Trotter:
LT
Spencer Drango
, Baylor
Analysis:
"In the first round, I got the league's top returning QB. With plenty of WRs still on the board, and Brandon and Max going all in on their pass rush, I went ahead and snagged the league's top pass-blocking tackle to protect Petty's blindside. Let's just hope that back is 100 percent by August." -- Trotter
Round 3
Trotter:
OLB
Eric Striker
, Oklahoma
Chatmon:
DE
Cedric Reed
, Texas
Olson:
DE
Shawn Oakman
, Baylor
Analysis:
"After securing a big play receiver and returner, I'm looking to create pressure on the quarterback. Tapper and Reed should help get it done. Both guys have the ability to win their individual battles consistently, yet haven't maxed out their potential either. A solid 1-2 punch to build my defense around." -- Chatmon
Round 4
Olson:
QB
Davis Webb
, Texas Tech
Chatmon:
LT
Le'Raven Clark
, Texas Tech
Trotter:
DE
Ryan Mueller
, Kansas State
Analysis:
"Did I reach for my quarterback here? You could make the argument, especially if you're a
Trevor Knight
lover. But Webb is precisely the kind of quarterback I wanted to run my offense. He has a ton of poise and confidence for a sophomore." -- Olson
Round 5
[+] Enlarge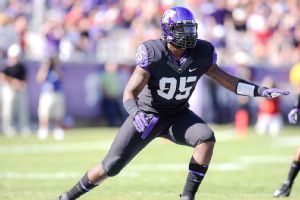 Jerome Miron/USA TODAY SportsDevonte Fields' comeback this spring has been impressive.
Trotter:
RT
Daryl Williams
, Oklahoma
Chatmon:
DT
Malcom Brown
, Texas
Olson:
LB
Frank Shannon
, Oklahoma
Analysis:
"Really wanted Brown here to complete a monster defensive line. Good job, BC. Instead I went with Shannon, who's probably the best of the available linebackers (though this is a risk pick with his status currently in limbo). This defense is going to be loaded at every level. You'll see." -- Olson
Round 6
Olson:
CB
Quandre Diggs
, Texas
Chatmon:
DT
Chucky Hunter
, TCU
Trotter:
WR
Jakeem Grant
, Texas Tech
Analysis:
"I'm loading up on defensive lineman. I want to create havoc for any quarterback who steps on the field against Brown, Hunter, Tapper and Reed. I like creating nightmares." -- Chatmon
Round 7
Trotter:
WR
Sterling Shepard
, Oklahoma
Chatmon:
CB
Daryl Worley
, West Virginia
Olson:
SS
Sam Carter
, TCU
Analysis:
"In Grant and Shepard, I snatched up two of the league's budding stars at receiver for Petty. I'll have to come back and get some bigger receivers later. But good luck blitzing Petty against this offensive line with those two dynamos operating out of either slot." -- Trotter
May, 5, 2014
5/05/14
3:00
PM ET
With spring ball done, we're
re-examining and re-ranking the positional situations of every Big 12 team
, continuing Monday with defensive line. These outlooks will look different in August. But here's how we see them post-spring:
[+] Enlarge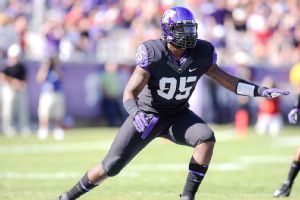 Jerome Miron/USA TODAY SportsWith a healthy and productive Devonte Fields this fall, TCU's defensive line could be an elite unit.
1. TCU (pre-spring ranking: 2):
Devonte Fields
appears to be back, which is a scary proposition for the rest of the Big 12. The 2012 Big 12 AP Defensive Player of the Year basically had a fruitless sophomore campaign, which ended with season-ending foot surgery. But this spring, defensive coordinator Dick Bumpas noted that Fields was making the plays he did as a freshman All-American. Even without Fields, this would be a good D-line, headlined by veteran tackles
Chucky Hunter
and
Davion Pierson
. But with Fields playing up to his potential, this line could be elite.
2. Oklahoma (1):
Not only did the Sooners return the entire line that destroyed Alabama in the Allstate Sugar Bowl, they've added three redshirt freshmen who are clamoring for playing time.
Charles Walker
is the most athletic tackle on the roster, and he ran the fastest tackle 40 time (4.67 seconds) of the Bob Stoops era. Tackle
Matt Romar
quietly emerged this spring and could be on the verge of taking away snaps from some of the veterans inside.
Ogbonnia Okoronkwo
showed this spring he's yet another Sooner capable of getting to the quarterback off the edge. There's a debate on the best D-line in the league. There's no debate on the deepest, with Oklahoma capable of going three-deep across the board.
3. Baylor (6):
Coach Art Briles believes he has one of the best defensive lines in the country, and there's reason to believe he might be right. The Bears made the biggest jump on this list, thanks to the development of end
Shawn Oakman
and emergence of tackle
Javonte Magee
. Briles called the 6-foot-9 Oakman "unblockable" during the spring. Oakman already flashed plenty of potential last season as a sophomore, finishing sixth in the league with 12.5 tackles for loss. Magee, who might be the most highly-touted high school defender Briles has ever signed, sat out his freshman season while dealing with a personal issue. But he established himself this spring and could beat out returning starter
Beau Blackshear
. With former four-star signee
Andrew Billings
(who played as a true freshman) also poised for a big year at the other tackle spot, Briles could indeed be proven correct in the fall.
4. Texas (3):
The Longhorns boast two of the league's blue-chip defensive linemen in end
Cedric Reed
and tackle
Malcom Brown
. But whether this unit rises to the top of the league will hinge on the supporting cast. If athletic end
Shiro Davis
and run-stuffing tackle
Desmond Jackson
play up to their potential, and the Longhorns can get a boost from incoming freshmen
Derick Roberson
and
Poona Ford
, this could be a foundational positional unit in Charlie Strong's first season.
5. Kansas State (4):
Like Texas, the Wildcats have two blue-chip pieces returning up front in All-Big 12 end
Ryan Mueller
and tackle
Travis Britz
. They're banking they'll soon be adding a third in
Terrell Clinkscales
, who will be arriving to Manhattan shortly. Clinkscales, whom the Wildcats snatched away from Nebraska, was the nation's No. 4-rated juco DT, and at 315 pounds, could be the run-stuffer K-State currently lacks.
6. Oklahoma State (5):
With so much turnover elsewhere, the Cowboys will be counting on their line to be their anchor defensively.
There's reason to believe it could be that and more.
Sam Wren
received votes for Big 12 Defensive Newcomer of the Year last season, while
Emmanuel Ogbah
garnered consideration for Big 12 Defensive Freshman of the Year. Throw in promising redshirt freshmen
Vili Leveni
,
Ben Hughes
and
Vincent Taylor
, who all showed signs this spring they might be ready to contribute, along with veterans
James Castleman
,
Ofa Hautau
and
Jimmy Bean
, and Oklahoma State could have the anchor up front it needs while the rest of the defense retools.
7. West Virginia (7):
This will probably be the weakest area of West Virginia defense, but with their talent at linebacker, the Mountaineers don't have to be great up front.
Dontrill Hyman
,
Christian Brown
and
Kyle Rose
are currently the starters coming out of the spring. But the player to watch up front is sophomore
Darrien Howard
, who rapidly progressed since having his redshirt pulled late in 2013. If Howard develops into an impact player, he could give the Mountaineers a huge jolt up front.
8. Texas Tech (9):
The Red Raiders tried to get by this spring while awaiting the horde of defensive line help set to arrive this summer. All told, the Red Raiders signed four juco D-linemen, only one of which –
Keland McElrath
-- enrolled early (McElrath was hobbled by a stress fracture all spring to boot). To be better up front, Tech, which ranked ninth in run defense last fall, will need at least a couple of its juco transfers to hit.
9. Kansas (10):
Keon Stowers
quietly has become as one of the better tackles in the league. He was the defensive MVP of Kansas' spring game after collecting eight tackles from his defensive tackle spot, and he was voted captain for a second straight year. Stowers and linebacker
Ben Heeney
will lead a defense that returns nine starters and could surprise after gaining confidence from playing Oklahoma and Texas tough last season.
10: Iowa State (8):
The Cyclones took it on the chin this spring, with projected D-line starters
Rodney Coe
and
David Irving
both getting kicked off the team. Iowa State got a boost shortly after spring ball ended when 2013 starting tackle
Brandon Jensen
changed his mind about leaving the team. The Cyclones should be solid at end with
Cory Morrissey
and
Mitchell Meyers
, but even with Jensen's return, interior line depth is a major concern.
March, 20, 2014
3/20/14
10:00
AM ET
The 2013 season featured one of the most competitive races for Big 12 Defensive Player of the Year, with at least a half-dozen defenders in the mix.
Ultimately, Texas defensive end
Jackson Jeffcoat
and TCU cornerback
Jason Verrett
shared the award. Both are now gone, leaving the race wide open again in 2014. But the league will still have several formidable candidates for the award.
[+] Enlarge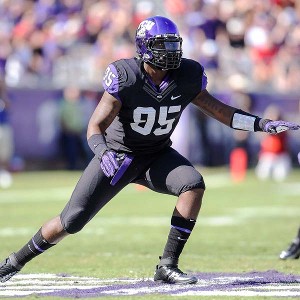 Jerome Miron/USA TODAY SportsTCU's Devonte Fields had a sophomore season to forget, but has the talent to be one of the Big 12's best defensive players.
Going into last season, returning TCU defensive end
Devonte Fields
was actually the favorite to grab the honor. After all, as a true freshman in 2012, he captured the Associated Press' Defensive Player of the Year award in the league (Kansas State linebacker Arthur Brown won the coaches' honor). But after wreaking havoc as a rookie, Fields was not a factor in his second year. He was slapped with an offseason suspension that sidelined him in the opener against LSU. When he returned, he looked out of shape and was hardly the same player. And then Fields suffered a foot injury that ultimately forced a season-ending procedure in October. Despite a disappointing sophomore campaign, he still has the talent to be one of the most destructive defensive forces in college football.
Fields isn't the only league defender coming back who is capable of getting to the quarterback.
Kansas State end
Ryan Mueller
, Texas end
Cedric Reed
and Oklahoma linebacker
Eric Striker
ranked second, third and fourth in the Big 12 behind Jeffcoat in sacks last season.
In his first season as a starter, Mueller emerged from nowhere to become one of the best all-around defenders in the conference. He led the Wildcats in sacks, tackles for loss, quarterback hurries and forced fumbles. In a league stacked at defensive end, Mueller became a first-team All-Big 12 selection.
Reed was just as prolific as Mueller, but was overshadowed playing alongside Jeffcoat. Reed led the Big 12 in forced fumbles, and was virtually unblockable around the edge by the end of the season. Reed considered an early jump to the NFL, but elected to return to anchor coach Charlie Strong's first defense at Texas.
But as good as Mueller and Reed were, no Big 12 defender had a stronger finish to the season than Striker. In his first year as a starter, the sophomore flashed signs of his potential in September, hammering Notre Dame quarterback
Tommy Rees
on the game's third play to force a pick-six. By the bowl season, not even two-time defending national champion Alabama could contain him. Striker racked up three sacks in the Allstate Sugar Bowl, and jarred the ball loose from Crimson Tide quarterback
AJ McCarron
in the final minute that led to an Oklahoma touchdown to seal the stunning win.

Several other players in the conference are capable of breaking into the Big 12 Defensive Player of the Year discussion. The Baylor defensive line duo of tackle
Andrew Billings
and end
Shawn Oakman
is stacked with potential. Oklahoma's
Geneo Grissom
finally unlocked his with three sacks and a touchdown fumble recovery return in the Sugar Bowl, and could be primed for a big senior season. Fellow Sooners defensive end
Charles Tapper
was the only underclassman to earn first-team All-Big 12 honors last season. Texas'
Jordan Hicks
could be as good as any linebacker in the league if he could ever stay healthy. And on top of Fields, the TCU defense features safety
Sam Carter
and tackle
Chucky Hunter
, who have been stalwarts in the Big 12 the last two years.
But only five players can be included in this poll. And Baylor inside linebacker
Bryce Hager
, who has as much experience as any player in the league, netted the final slot. Hager will be a three-year starter, and he led the Big 12 in tackles his sophomore season, in which he earned second-team all-conference honors. Hager repeated the honor last year despite missing the final month of the season with a hernia injury that required offseason surgery. When healthy, Hager is as sure a tackler as any returning defender in the league.
Now, it's your chance to weigh in: Of Hager, Fields, Mueller, Reed and Striker, who is the best bet to capture Big 12 Defensive Player of the Year honors next season?
February, 24, 2014
2/24/14
3:00
PM ET
As we wait for the start of spring ball, we're examining and ranking the
positional situations of every team in the Big 12
, continuing Monday with defensive line. Some of these outlooks will look different after the spring. But here's how we see the defensive lines at the moment:
[+] Enlarge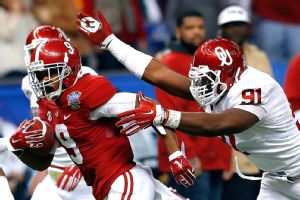 Kevin C. Cox/Getty ImagesOklahoma end Charles Tapper will lead the Big 12's best defensive line in 2014.
1. Oklahoma:
D-line began as a weakness but quickly turned into a strength under first-year position coach Jerry Montgomery. End
Charles Tapper
was an All-Big 12 selection as a sophomore, and tackle
Jordan Phillips
was on his way to earning similar honors before a back injury ended his season prematurely. Both players are back. So is
Geneo Grissom
, who had three sacks in the bowl win over Alabama. Nose guard
Jordan Wade
earned a starting role late in 2013, and
Chuka Ndulue
will be a starter for a third season. Basically, the entire rotation returns. If Phillips rebounds from the injury, this could prove to be Oklahoma's finest D-line since 2009, when NFL All-Pro
Gerald McCoy
roamed the middle.
2. TCU:
DE
Devonte Fields
, the Associated Press' Big 12 Defensive Player of the Year as a freshman in 2012, had an empty season in 2013 thanks to a suspension, then a season-ending foot injury. If Fields can return to the player he was, TCU will be formidable up front.
Chucky Hunter
was a second-team All-Big 12 pick inside last season, and he'll be flanked by an array of experienced tackles in
Davion Pierson
and
Tevin Lawson
, who were all part of the rotation last season. Ends
Terrell Lathan
,
James McFarland
and
Mike Tuaua
, who combined for 11 sacks in 2013, all return as well. Even with DT
Jon Lewis
giving up football, TCU's D-line figures to be as deep as any in the league.
3. Texas:
Cedric Reed
, one of the best sack men in the Big 12 last season, returns after giving the NFL a cursory thought. The Longhorns have to replace Big 12 co-Defensive Player of the Year
Jackson Jeffcoat
on the other side, but ESPN 300 recruit
Derick Roberson
, the No. 8 DE in the Class of 2014, could help right away. The Longhorns should also be stout inside, with run-stuffing tackles
Malcom Brown
and
Desmond Jackson
back to clog the middle.
4. Kansas State:
Ryan Mueller
, who was eighth nationally with 11.5 sacks last season, comes back after a breakout All-Big 12 season.
Travis Britz
is an all-conference-caliber tackle and gives K-State one of the better one-two punches on the D-line in the league. Joining them will be
Terrell Clinkscales
, who was the No. 4 junior college DT in the 2014 class. The Wildcats pried Clinkscales away from Nebraska, and at 315 pounds he could be the perfect complement to Britz, who relies more on quickness.
[+] Enlarge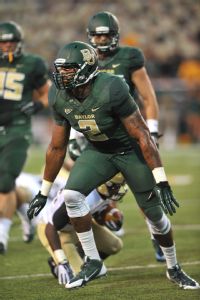 John Rivera/Icon SMIBaylor defensive end Shawn Oakman will play a bigger role next season.
5. Oklahoma State:
The Cowboys lose two-time All-Big 12 tackle
Calvin Barnett
.
James Castleman
, however, will be a three-year starter, and end
Jimmy Bean
had a career night in the Cotton Bowl with three tackles for loss. The key to the Cowboys fielding one of the better lines in the league again will be whether
Ben Hughes
,
Vincent Taylor
and/or
Vili Leveni
can emerge inside after redshirting in 2013. All three are promising prospects, especially Taylor, who was an ESPN 300 recruit in the 2013 class.
6. Baylor:
The Bears feature two of the more intriguing defensive linemen in the league. DE
Shawn Oakman
, a former Penn State transfer with tremendous length at 6-foot-9, finished sixth in the league with 12.5 tackles for loss last season, but he tailed off in Big 12 play. Baylor will ask him to play a much bigger role along the line, and he has the potential to give the Bears a unique playmaker there. On the inside, Baylor will lean more on
Andrew Billings
, who was part of the DT rotation as a freshman. If both Billings and Oakman play up to their vast potential, Baylor could be a handful up front.
7. West Virginia:
The Mountaineers lose two of three starters along the D-line, including second-team All-Big 12 end
Will Clarke
. West Virginia is hoping for big things from DE
Kyle Rose
, who played a lot as a sophomore.
Dontrill Hyman
will likely fill a starting role on the other side, though he could get pushed for time by
Eric Kinsey
and
Noble Nwachukwu
, who both will be in their third year in the program. The Mountaineers will lean on
Christian Brown
and
Darrien Howard
at nose guard. Howard was an ESPN 300 recruit last year and played as a freshman. There's some talent and potential here.
8. Iowa State:
Like Texas Tech, Iowa State loaded up on immediate defensive line help, signing three juco defensive ends in
Dalyou Pierson
,
Terry Ayeni
and
Gabe Luna
, who is enrolled already for spring ball. Those three together with All-Big 12 honorable-mention selection
Cory Morrissey
and sophomore
Mitchell Meyers
should give Iowa State a solid rotation at end.
Rodney Coe
, who started the last four games, will anchor the Cyclones inside.
9. Texas Tech:
The Red Raiders lose their two best defensive linemen in
Kerry Hyder
and
Dartwan Bush
, and Tech got pushed around up front anyway last season. Coach Kliff Kingsbury recognized this deficiency and signed four juco defensive linemen, all of whom have a chance to play immediately. Of the returning linemen,
Branden Jackson
was by far the most productive, totaling nine tackles for loss and four sacks as a starter.
10. Kansas:
Despite also losing two starters, the Jayhawks have experience up front. Defensive captain
Keon Stowers
is back after manning the middle in 2013.
Ben Goodman
returns as well in Kansas' "buck" role, and he is coming off a very solid sophomore season. Goodman's backup,
Michael Reynolds
, and rotation players
Tedarian Johnson
and
Ty McKinney
give the Jayhawks depth.
Stoops, Players Want To Effect Change
BIG 12 SCOREBOARD
Thursday, 9/3
Friday, 9/4
Saturday, 9/5