Oklahoma Sooners:

Carl Blair
June, 10, 2012
6/10/12
1:30
PM ET
With
Carl Blair
's decision to leave the program, Oklahoma is left without a returning backup for starting point guard
Sam Grooms
.
Spring signee
Isaiah Cousins
(Mount Vernon, N.Y./Mount Vernon) could fit the bill. At 6-foot-4, Cousins could bring excellent size to the position behind Grooms, who is listed at 6-foot-1.
"He's very good off the dribble, very good at creating for others, he has good size at the point guard spot," OU coach Lon Kruger said recently. "Sam is the only point guard we have returning so it's good he can step in and play there."
Cousins picked OU over offers from Virginia Tech, Xavier, Dayton and Rhode Island. He brings the versatility to play point guard and shooting guard. The Sooners already have
Steven Pledger
returning at shooting guard along with incoming freshmen
Buddy Hield
and Je'lon Hornbeak at that position, making point guard a perfect fit for Cousins.
[+] Enlarge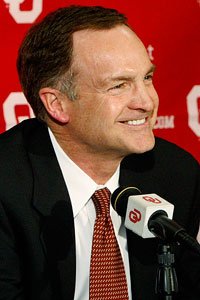 AP Photo/Sue OgrockiOklahoma coach Lon Kruger is excited about his new point guard Isaiah Cousins
Carl Blair, Grooms' backup last season, elected to leave the program after his junior season and is likely headed to Prairie View A&M.
Two-sport standouts?
Incoming freshman football players
Gary Simon
and
Charles Tapper
didn't leave their excellence on the football field during their prep careers. Both Oklahoma signees were standouts on the basketball court after spending the fall on the gridiron.
Tapper starred as a power forward for Baltimore City College High School and spent a portion of his career playing AAU basketball alongside
Aquille Carr
on the Baltimore Elite AAU team.
Simon was named player of the year while averaging 18.4 points per game for St. Petersburg (Fla.) Gibbs as a senior. He's said he would like to play basketball at OU.
Sooners basketball coach Lon Kruger would welcome the duo with open arms but is uncertain if either player will join his squad this season.
"[We're] not sure," Kruger said when asked if they would join his squad after football. "We heard a couple of them had interest in coming out and if that works out, great. We love people that play more than one sport."
Greener pastures?
More than 400 players have elected to transfer since the end of the college basketball season in early April.
Oklahoma coach Lon Kruger isn't too surprised by all of the transfers nationwide.
"I think it's a statement on society in general," Kruger said. "If you look at young people, they're changing summer AAU teams all the time. It used to be that freshmen go in, and it's going to be a matter of time, they pay their dues.
"Kids don't think like that today. They go in right now and if they aren't playing the role they want to, they'll go somewhere else to play that role. Often times I think it's a reflection of young people not making a decision on a college for all the right reasons."
February, 25, 2012
2/25/12
10:00
AM ET
For the first time this month, Oklahoma enters a game with a happy vibe after winning its first contest since Jan. 28 with a
77-64 victory over Oklahoma State
on Wednesday.
The Sooners hope to carry that winning momentum to Waco, Texas, as they take on
No. 14 Baylor Saturday
at 12:47 p.m. CT. The Bears have struggled in recent weeks, going 2-3 in their past five games with losses to Kansas, Kansas State and Missouri.


Key to OU win
: Hitting perimeter shots. If Baylor plays zone like they did in the first meeting, the Sooners can count on
Steven Pledger
to shoot well (42.9 percent from three-point line) but OU will need
Cameron Clark
,
Carl Blair
,
Tyler Neal
and, most importantly,
Sam Grooms
to shoot the ball well from the perimeter.
Key to BU win
: Limiting the Bears' open looks from beyond the arc. Perry Jones,
Pierre Jackson
and
Quincy Miller
will probably draw most of the attention but
Brady Heslip
and
Anthony Jones
can make OU pay if the Sooners leave them open.
Stat line that will tell the tale
: Baylor's field goal percentage. Allowing teams to shoot 50 percent or higher has become too commonplace for OU. If they can keep the Bears below 50 percent shooting their chances to win improve significantly because it means the Sooners forced Baylor to take difficult shots.
Sooners X factor
: Sam Grooms. Baylor is going to force the OU point guard to make outside shots. If he can do it, it will take the Bears out of their defensive game plan.
Bears X factor
: Quincy Miller. The freshman had a subpar game in the first meeting (five points) but he averages 12.0 points per game. He has the size and talent to make a huge impact on Saturday.
February, 11, 2012
2/11/12
12:30
PM ET
If Oklahoma has any hopes of playing in the postseason, the Sooners need to put together a string of wins to earn a postseason tournament bid if they are unable to win the Big 12 Tournament.
Their first opportunity arrives on Saturday when the Sooners (13-10, 3-8) visit Texas Tech (7-16, 0-11) at 7 p.m. CT at United Spirit Arena in Lubbock, Texas.
Key to OU win
: Limiting bad possessions. The Sooners have looked back on their losses to Iowa State and Missouri with regret because they know a small number of possessions likely cost them the game.


Key to TT win
: Containing
Steven Pledger
. When the junior guard is shooting the ball well, OU becomes a much tougher team. The Sooners' road win at Kansas State was sparked by Pledger's shooting. The Red Raiders must limit his open shots.
Stat line that will tell the tale
: OU's points off turnovers. The Red Raiders play good defense and tends to muddy up the game and force opponents to play low-tempo. If the Sooners can create turnovers and get out in transition, they should win.
Sooners X factor
:
Carl Blair
. Blair's active nature on defense helps create turnovers while making the overall team defense quicker during his time on the floor.
Cyclones X factor
:
Jordan Tolbert
. OU did a good job against Tolbert in the first meeting, holding to five points on 1 of 10 shooting. He's been inconsistent in Big 12 play but a scoring outburst from him could scare the Sooners.
February, 6, 2012
2/06/12
10:40
AM ET
Things aren't getting any easier for the
Oklahoma Sooners
.
No. 4 Missouri comes to Norman
, Okla., on Monday night to take on Lon Kruger's team at 6 p.m. CT at the Lloyd Noble Center. The Tigers are coming off a intense win over Kansas on Saturday while OU suffered a disappointing loss to Iowa State.
Missouri won the first meeting between the two teams, 87-49, on Jan. 3 in Columbia, Mo.


Key to OU win:
The Sooners point guard duo of
Sam Grooms
and
Carl Blair
will have to play well, limit turnovers and get some steals of their own if OU expects to knock off the Tigers.
Key to Mizzou win:
The Tigers will need to take advantage of their superior athleticism and depth by attacking the Sooners with defensive pressure and up tempo offense, much like they did in the first meeting.
Stat line that will tell the tale:
OU assists. It never fails, the Sooners success and execution on offense can be traced by their number of assists. If that number is low, it means the Tigers defense is overwhelming OU.
Sooners X factor:
Carl Blair. Blair will be critical in this game with his defense, intensity and ability to help relive the ball-handling pressure on Sam Grooms.
Tigers X factor:
Ricardo Ratliffe
. The senior shoots a ridiculous 74.7 percent from the field and when he's scoring inside and being active on the boards, it makes Missouri that much harder to beat.
January, 17, 2012
1/17/12
10:35
AM ET
Crazy as it sounds, Oklahoma faces another big test when it hosts Texas Tech at the Lloyd Noble Center on Tuesday night.
A win gives the Sooners even more momentum as they progress deeper into conference play but a home loss to Texas Tech would erase all the good feelings from
Saturday's win over No. 18-ranked Kansas State
.


Texas Tech is the only team in the league under .500 for the season (7-9) and winless (0-4) in Big 12 Conference play.
Key to OU win:
The Sooners need to control tempo. OU would like to play the game in the 70s with a high tempo. If point guards
Sam Grooms
and
Carl Blair
, who should get his second start of the season, can win the backcourt battle, OU will like its chances.
Key to TT win:
Defense. The Red Raiders are allowing 66.8 points per game, a full two points more than they score per outing (64.6). Texas Tech isn't going to outscore anyone so they will have to play physical defense and hope for a poor shooting night from the Sooners.
Stat line that will tell the tale:
Texas Tech's field goal percentage. The Red Raiders haven't shot better than 40 percent in four losses during Big 12 play. If they shoot better than 40 percent on Tuesday the game becomes much together to win for the Sooners.
Sooners X factor:
Cameron Clark
. The sophomore responded well to coming off the bench for the first time this season against Kansas State. His athleticism could be a spark for OU against the Red Raiders.
Red Raiders X factor:
Jaye Crockett
. The sophomore forward provides scoring and rebounding off the bench for the Red Raiders. He had 19 points and eight rebounds in Texas Tech's loss to Texas A&M on Saturday.
January, 14, 2012
1/14/12
5:14
PM ET
Days before Oklahoma faced Kansas State with the Sooners looking to win their first Big 12 Conference game, guard
Carl Blair
didn't mince words.
"I think people feel like they can come in here and it's going to be easy for them," Blair said. "Next game we have to make a statement."
Statement made.
The Sooners defeated No. 18-ranked KSU
, 82-73, at the Lloyd Noble Center on Saturday afternoon, improving to 11-5 overall and 1-3 in the Big 12.


For the first time since conference play began on Jan. 3, the Sooners looked like the squad that went 10-2 in non conference play. The Sooners shot 54.9 percent (28 of 51 from the field) for the game and 70 percent (14 of 20 from the field) in the second half.
OU had 12 steals and 30 points off turnovers as its defense was much more active than it was in conference losses to Kansas, Missouri and Oklahoma State.
January, 13, 2012
1/13/12
12:47
PM ET
Oklahoma needs a win badly.
The Sooners began their season with a 10-2 non-conference record but enter
Saturday's game with No. 18 Kansas State
on a three-game losing streak.
Losing its first three Big 12 Conference games was extremely disappointing as OU felt like it simply lost the physical battle in defeats at the hands of to Missouri, Kansas and Oklahoma State. They let those teams push them off their spots and knock them out of their offensive flow with physical defense.


Against KSU, the Sooners can expect much of the same.
Key to OU win:
The Sooners must compete and fight back. Or, better yet, initiate the battle by striking first. One of OU's problems in its first three games has been they are reacting to the other team's aggressiveness instead of making them react to them.
Key to KSU win:
Physical play and balanced scoring. Four different Wildcats average at least 9.2 points per game, making it difficult to focus on stopping one particular offensive threat.
Stat line that will tell the tale:
OU's shooting percentage. After three straight games shooting under 40 percent, the Sooners have to get back on track shooting the ball. They need to get quality shots and make them.
Sooners X factor:
Carl Blair
. After playing arguably his best game of the season in OU's Bedlam defeat, Blair plans to continue to be aggressive against the Wildcats. His 20 points and 10 rebounds was one of the few bright spots for OU against OSU. If he continues to play with passion, it should rub off on his teammates.
Wildcats X factor:
Thomas Gipson
. The first Wildcat freshman to record a double-double since Michael Beasley, Gipson has seen his minutes fall since mid-December. But he's a threat to make an impact at 6-foot-7, 275 pounds. If he plays physical and rebounds the ball well, he could present problems for the Sooners.
January, 9, 2012
1/09/12
9:43
PM ET
STILLWATER, Okla. -- For the second straight game, Oklahoma let one scoring run lead to a disappointing conference loss.
With a dominating run to end the first half,
Oklahoma State knocked off OU
, 72-65, on Monday night at Gallagher Iba Arena. OSU outscored the Sooners 14-2 in the final five minutes of the first half.
OSU led 21-20 with 4:53 left in the opening 20 minutes when guard
Keiton Page
sparked the Cowboys run. The senior scored eight points including two 3-pointers to spark OSU to a 34-22 halftime lead and get the GIA crowd up and involved in the game.


OU never recovered.
The Sooners didn't get closer than eight points until 44 seconds remained in the game as OU dropped to 0-3 in Big 12 Conference play after going 10-2 in non-conference action.
January, 7, 2012
1/07/12
5:53
PM ET
Kansas coach Bill Self didn't feel like his team
outplayed Oklahoma in the Jayhawks' 72-61 win
over the Sooners at the Lloyd Noble Center on Saturday afternoon.
Except for a 11-minute stretch to begin the second half. And that was more than enough.
After battling the No. 15-ranked Jayhawks head-to-head for the first 20 minutes, even taking their 34-33 halftime lead. The Sooners then came out flat to open the second half with careless turnovers and poor shooting. KU went on a 29-6 run to take a 62-40 lead with 8:41 left.


OU outscored KU 55-43 in the other 28:41 of the game.
Player of the Game:
Carl Blair
. The senior point guard provided a solid spark for OU off the bench. He scored 11 points on 2 of 3 shooting along with 3 assists and one turnover in 12 minutes of action. If Blair can provide similar production for the rest of the Big 12 schedule, he will provide allow OU to go small and matchup better with some of the league's quicker teams.
Unsung Hero:
Romero Osby
. The junior was solid with nine points and nine rebounds but ended up with a team-high five turnovers. But Osby should have been more aggressive, particularly in the second half as KU began to pull away. The transfer from Mississippi State is a mismatch for most big men with his athleticism and needs to take advantage of that more often.
Key Stat:
48. KU finished the game with 48 points in the paint. The Jayhawks got several dunks and layups thanks to their penetration and offensive rebounding.
Key Stat, Part II:
14. The Jayhawks had 14 steals which helped contribute to their 48 points in the paint and 50 percent shooting (29 of 58 field goal attempts).
Quotable: "Not only did we turn it over, but we turned it over with them shooting layups, which is the worst of both worlds, of course." - OU coach Lon Kruger on the Sooners carelessness with the ball in the first 10 minutes of the second half.
"I think we came out kind of flat on both ends of the court. We made a couple of costly turnovers. Like Coach said, they equal points on the other end for them. So I think that's really where it started." - Osby on KU's second half run.
"I thought that the 10 minutes, or whatever it was, to start the second half was probably the best run we've had all year. I thought our defense was active and we got our hands on balls and we were able to get out in transition. We're pretty good when we get out in transition." - KU coach Bill Self
Up Next:
at Oklahoma State on Monday at 6 p.m.
December, 1, 2011
12/01/11
7:45
PM ET
The
loss of
Calvin Newell Jr.
is an unexpected blow to the Sooners. The sophomore guard was emerging as one of the better players on the squad as OU's second-leading scorer at 13 points per game. While Newell did not start a game this season, he provided a great scoring spark off the bench through the first five games.
Expect Newell's decision to transfer to open up additional playing time for
Carl Blair
and
Tyler Neal
.
Blair, a senior point guard, could see more time in the backcourt alongside point guard
Sam Grooms
. A lineup featuring Grooms and Blair would allow OU to continue to put defensive pressure on opposing teams in the backcourt. It would also allow Grooms to share the ball handling duties
Stoops, Players Want To Effect Change
BIG 12 SCOREBOARD
Thursday, 9/3
Friday, 9/4
Saturday, 9/5