Oklahoma Sooners:

Caleb Lavey
December, 7, 2013
Dec 7
7:24
PM ET
STILLWATER, Okla. -- The ground rumbled and the frozen earth quaked.
And even though the ending was seismic, the result was not.
[+] Enlarge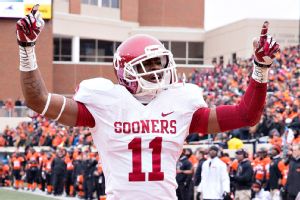 Richard Rowe/USA TODAY SportsOklahoma State again had to watch the Sooners celebrate a Bedlam win.
Yet again, Oklahoma ripped the heart out of its in-state rival.
Another phenomenal Bedlam victory for the Sooners. Another catastrophic Bedlam loss for the Cowboys.
Despite shuffling through three quarterbacks and not scoring an offensive touchdown until the final 19 seconds, Oklahoma ruined Oklahoma State's Big 12 title and BCS-bowl hopes with a
33-24
victory Saturday.
"The feeling in the locker room is a bad feeling right now," Oklahoma State running back
Desmond Roland
said. "We had it right on the line, and we couldn't finish it."
This one, however, was most disastrous in a long line of Bedlam disappointments for the Cowboys.
Oklahoma State had everything on the line this time.
A chance for its second Big 12 title in three years.
A chance at a top-five finish and a Fiesta Bowl berth.
And, perhaps most important, as a double-digit Bedlam favorite for the first time since Vegas began keeping track, the most golden of opportunities at home to send a message that Oklahoma State was finally on equal ground with the Sooners.
Instead, Oklahoma downed the Cowboys in the final seconds for the third time in the past four years.
"A tough one to swallow," Oklahoma State linebacker
Caleb Lavey
said.
Maybe the fact a magnitude-4.5 earthquake struck Boone Pickens Stadium just as the Cowboys were attempting a second-quarter field goal should have been a sign.
Ben Grogan
made the kick. But fate, yet again in this rivalry, would not be wearing orange.
With starting quarterback
Trevor Knight
out and backup
Kendal Thompson
erratic,
Blake Bell
returned from his sarcophagus to lead the Sooners on a game-winning touchdown drive in the final two minutes, capped by a 7-yard scoring strike to
Jalen Saunders
in the corner of the end zone with 19 seconds remaining.
It was Oklahoma's first offensive touchdown of the game.
And it was the only one the Sooners would need, as linebacker
Eric Striker
delivered the exclamation point by scooping up a fumble and returning it for a touchdown as time expired.
"We like to have the pressure on us, the defense," Lavey said. "That's something you wish you could have back. But that's not gonna happen."
The Cowboys would like to have several plays back.
On their first from scrimmage, Roland broke free around the edge for an apparent 75-yard touchdown. But wideout
Charlie Moore
was flagged for holding, and the play was called back.
"We didn't look like the normal Oklahoma State offense," Roland said. "We moved the ball the whole game, but we couldn't capitalize. I feel like we could have put up more points than we did."
The Cowboys entered Bedlam red-hot offensively, especially quarterback
Clint Chelf
, who had the highest QBR of any signal-caller in the nation in the month of November. But in sub-10-degree temperatures, Chelf lost his rhythm. And he completed just 2 of 10 passes on third down without a conversion against Oklahoma, causing several promising drives to stall out.
"Our mental focus just wasn't there," Roland said.
[+] Enlarge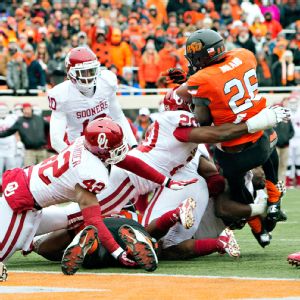 Richard Rowe/USA TODAY SportsThe Sooners' defense and special teams kept Oklahoma in the game.
Eventually, the Sooners took advantage.
Later in the first quarter, with Oklahoma State up 7-0 and seemingly in control, Saunders, who sparked Oklahoma's fourth-quarter comeback last season with a punt-return touchdown, weaved through defenders before dashing right for a 64-yard punt-return score.
In the third quarter, Oklahoma State regained control. With Knight out with a separated non-throwing shoulder, the Sooners failed to get a first down their first four drives of the half. And when Chelf hit a wide-open Roland for a 15-yard wheel-route touchdown, it looked as if the Cowboys would finally put the game away.
Instead, the Sooners answered again with a 37-yard reverse from Saunders, who took the ball to the Oklahoma State 7. After the drive stalled, Bob Stoops called his first successful fake field goal in 11 years, and holder
Grant Bothun
flicked the ball on the run to place-kicker
Michael Hunnicutt
for a touchdown to again tie the game.
"Did Bob make some great calls? You bet," Oklahoma State coach Mike Gundy said of his counterpart. "We lost the kicking game. When you do that, it's always tough to win."
The Cowboys, as they have five other times in Bedlam since 2000, lost the final two minutes, too. Ultimately dooming them again.
After going up 24-20 on Roland's 1-yard touchdown plunge with 1:46 remaining, all the Big 12's best defense had to do was keep Oklahoma's third-string quarterback out of the end zone.
Instead, Bell came alive. He found
Sterling Shepard
for two big pass plays, then forced a defensive pass interference.
For a moment, it looked as if Oklahoma State had made the winning play that had eluded the program in Bedlam for so many years.
Justin Gilbert
appeared to come down with an interception, but the ball popped out at the last moment, and Gundy didn't challenge the incompletion.
Five plays later, Oklahoma did what it's usually done to the Cowboys.
"It hurts," said Oklahoma State cornerback
Kevin Peterson
, who originally committed to the Sooners coming out of high school.
"Feels like a missed opportunity."
Oklahoma State's biggest Bedlam miss yet.
December, 7, 2013
Dec 7
7:00
AM ET
Here are five things we'll be watching when Oklahoma visits Oklahoma State (noon ET, ABC).
[+] Enlarge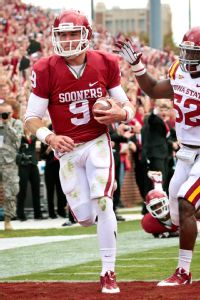 Brett Deering/Getty ImagesTrevor Knight rushed for 123 yards against Iowa State and 82 at Kansas State to spark the Sooners.
How will Trevor Knight play?
The Sooners quarterback played his best game of the season in a 41-31 win over Kansas State two weeks ago. With his quickness, speed and running skills, Knight can create problems for any defense. But he will have to play well and take good care of the football for OU to win.
Will Caleb Lavey or Justin Gilbert put a stamp on their bids for Big 12 defensive player of the year?
Lavey has been the foundation of OSU's strong defense throughout the season. His veteran presence and versatility is key. Gilbert has realized the potential he's shown since his true freshman season, becoming an NFL-level player before our eyes. One or the other could make a strong case for player of the year consideration with a strong final game at Boone Pickens Stadium.
Can OU's running game take over the game?
The Sooners' ground game has been terrific, and Knight brings an added dimension with his running skills. OU has the potential to really test the physical nature of OSU's defense with its quarterback run game, the physical style of
Brennan Clay
and open-field brilliance of
Roy Finch
.
Does Clint Chelf deserve All-Big 12 quarterback consideration?
Why not? If he leads the Cowboys to another win over a top 25 opponent and continues to play well doing so, Chelf would have an argument as good as Baylor's
Bryce Petty
. Simply put, Chelf has played his best during the biggest stretch of the year for OSU.
Will an unknown emerge as a Bedlam hero?
Last year it was Clay, who won the game with an overtime touchdown run that left Cowboys safeties
Shamiel Gary
and
Daytawion Lowe
reeling. Who could it be this year?
December, 6, 2013
Dec 6
9:00
AM ET
Oklahoma State is hoping to represent the Big 12 in a BCS bowl game for the second time in three years. Oklahoma is hoping to play spoiler. Oh, and they're in-state rivals who played an overtime thriller in 2012. This should be fun.


Oklahoma visits Boone Pickens Stadium in Stillwater, Okla., to take on Oklahoma State on Saturday
(Noon ET, ABC)
. Here are some storylines, interesting stats, players to watch and a prediction:
Storylines
Can Trevor Knight match his performance at Kansas State?
The Sooners redshirt freshman quarterback was outstanding against the Wildcats. He used his quickness and speed to create havoc as a runner while being accurate and decisive as a passer. If he plays that way against the Cowboys, he will create problems for their defense.
Will OSU continue to dominate at home?
The Cowboys have outscored opponents by 28.4 points per game while going 5-0 at Boone Pickens Stadium. OSU is 18-1 at home in its past 19 games, so winning in Stillwater is harder than many people realize.
Who wins the turnover battle?
Whoever wins the turnover battle probably will win the game, particularly if the chilly weather makes everything harder on the offenses. OSU has forced 22 turnovers during its seven-game win streak, while OU has forced 16 turnovers in its nine wins.
Key stats, courtesy ESPN Stats & Information
[+] Enlarge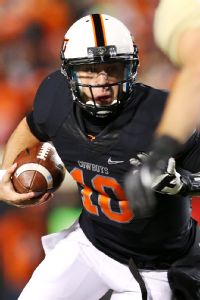 Ronald Martinez/Getty ImagesClint Chelf has been extremely productive of late, and that could be the key to Saturday's outcome.
Sooners yards per carry before contact:
OU's rushing offense has been simply outstanding, as a veteran offensive line has paved the way to excellence. The Sooners have gained 1,752 rushing yards before contact, ranking No. 1 in the Big 12. Their 3.6 yards per carry before contact also sits atop the conference. But in their two losses, OU has averaged 37.5 rushing yards before contact and 1.1 rushing yards per carry before contact. It's clear OU's offensive line will need to play well if the Sooners hope to win.
Clint Chelf's running:
OSU quarterback
Clint Chelf
isn't known for his running ability, but the Cowboys have used his mobility to terrorize defenses. Chelf is averaging 5.4 rushing yards before contact and has gained 258 total rushing yards before contact, ranking second on the team. OSU will look to continue to pick and choose the times to unleash Chelf, while OU likely will have a plan to stop his running.
Players to watch
OSU linebacker Caleb Lavey:
The senior is making a strong case for Big 12 defensive player of the year. He has done it all for the Pokes this season, from tackles to interceptions to tackles for loss. He has 82 tackles this season and can cap off his player-of-the-year campaign with a strong game against an OU rushing offense that is one of the conference's best.
OU linebacker Dominique Alexander:
The true freshman has played remarkably well in his first season in crimson and cream. He has 25 tackles in OU's past three games and will need to play well if the Sooners hope to force the Cowboys to throw by taking their running game out of the equation.
OSU quarterback Chelf:
He has played as well as any quarterback in the nation during the past four weeks, accounting for 15 touchdowns and 305.8 yards per game. If he continues to operate the Cowboys' attack that efficiently, it might not matter what OU does.
OU receiver Jalen Saunders:
The Sooners are going to need Saunders and his running mates at the receiver spot to create opportunities to make big plays. OSU will come out to stop OU's running game, likely leaving one-on-one opportunities on the outside. If OU hopes to win, the Sooners' receivers must win the majority of those battles.
Prediction:
OSU 34, OU 24. Both running games will have success, but the Cowboys' ability to keep OU's defense honest through the air without turning the ball over will be the difference.
December, 5, 2013
Dec 5
10:15
AM ET
Two games left. A conference title up for grabs. Here we go. The Big 12 storylines to keep an eye on this weekend:
1. Crowning a champion
: The Big 12 didn't need a big prime-time showdown at AT&T Stadium to end up with a marquee final weekend of conference play. The league's schedule makers should get holiday bonuses for their work this year, pitting the Big 12's four best teams against each other on championship weekend with a conference title on the line. Odds are Oklahoma State wraps it all up with a victory over Oklahoma, but if the Sooners pull the upset all eyes will be on Texas-Baylor to decide who gets the trophy.
[+] Enlarge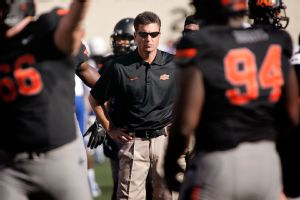 Brett Deering/Getty ImagesMike Gundy has Oklahoma State are focused on beating Oklahoma and earning their second Fiesta Bowl trip in three years.
2. Can the Pokes do it again?
Mike Gundy likened Oklahoma State's run in the month of November to playoff football. You've got to win one game to make the next one count. The Cowboys control their own destiny now thanks to the beatdowns they handed Texas and Baylor in back-to-back weeks, and they get the Sooners at home in Stillwater. Now they have to capitalize and secure their second Fiesta Bowl trip in three years.
3. Day of the underdog:
Texas fans will be unabashedly rooting for Oklahoma on Saturday. Yep, seriously. They have to. Even
Case McCoy
admitted he's pulling for a Sooners victory, even if it makes him "sick to my stomach." The Sooners have a chance to play spoiler and knock OSU from atop the Big 12 standings. If they pull that off, can Texas notch an even more surprising victory in Waco? The Longhorns have embraced the underdog role ever since starting 1-2.
4. Finishing Baylor's dream season
: The loss to OSU knocked Baylor out of the national title hunt, damaged its hopes of playing in a BCS bowl and might've killed Bryce Petty's chances of winning the Heisman. Yet the Bears still have a ton to play for this weekend. This can still go down as the best season in school history, especially if Baylor wins a share of the Big 12 title.
5. Who's the DPOY?
Good luck finding a consensus about who should win the Big 12's Defensive Player of the Year honor this season, and this weekend might not change that much. Still, several candidates have a chance to make a strong final impression, including Oklahoma State linebacker
Caleb Lavey
and cornerback
Justin Gilbert
as well as Texas defensive end
Jackson Jeffcoat
.
6. Oklahoma's next BMOC
:
Trevor Knight
is another guy who could definitely use a strong finale to help his reputation not only for 2013 but, more importantly, for the offseason and beyond. Knight is coming off nice performances against Iowa State and Kansas State. An upset win over OSU could do wonders for proving he is Oklahoma's quarterback of the future.
7. Mack Brown: What's on the line?
Who knows what this Baylor game means for Brown's future at Texas, other than this: If Texas wins, good luck firing a coach who brings a Big 12 trophy home after leading his team from 1-2 to 9-3. And if the Bears win a blowout, well, buckle up for another rumor-filled week in Austin.
8. December weather
: Introducing the X factor in both of this weekend's Big 12 games: Winter Storm Cleon. The high and low for Stillwater on Saturday are 28 and 17. Waco is expecting freezing rain and temperatures in the high 20s. We could be in for some very messy, conservative football.
9. Closing out The Case
: It's a historic weekend for Baylor, which plays its final home game at 63-year-old Floyd Casey Stadium on Saturday. The last time a current Big 12 school opened a brand-new stadium was 1980, when West Virginia built Milan Puskar Stadium. The Bears are breaking out retro uniforms and expect the largest crowd ever in stadium history.
10. The Sunday bowl shakeout
: The bowl projections for the Big 12's six bowl-eligible teams are somewhat obvious at this point but could be in for a big shakeup depending on how these final two games play out. You know the committees of the AT&T Cotton, Valero Alamo and Buffalo Wild Wings Bowls will be watching closely and could face difficult decisions if we see some upsets.
November, 25, 2013
Nov 25
3:00
PM ET
With only two weeks left to the regular season, we debate some pressing questions, including the Big 12's most underrated player and which of many injuries to key players had the biggest impact on the conference season:
Is there anyone else who should be considered for Big 12 offensive player of the year and/or All-Big 12 quarterback, other than Baylor's Bryce Petty?
[+] Enlarge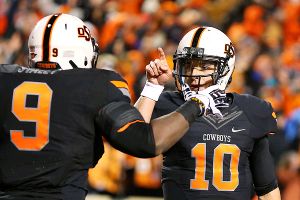 Ronald Martinez/Getty ImagesOklahoma State's Clint Chelf got a late start, but is finishing strong.
Jake Trotter:
Oklahoma State quarterback
Clint Chelf
should be considered. Chelf has been on fire here down the stretch. Will it be enough to unseat Petty, who has put up big numbers all year? Probably not. After all, Chelf watched two-and-a-half Big 12 games from the sidelines. But the fact he's even entered this conversation underscores just how phenomenal he's been since taking over the starting job in mid-October.
Brandon Chatmon:
His strongest competition for offensive player of the year is Kansas State's
Tyler Lockett
. Imagine the Wildcats' season if Lockett was healthy and available for games against Oklahoma State and Baylor. He combined for 25 receptions for 515 yards against Texas and Oklahoma, so I'm guessing he would have stepped up against the Cowboys and Bears as well.
Max Olson:
A case can be made for Chelf, who ranks No. 4 nationally in adjusted QBR since becoming Oklahoma State's starting quarterback. He might be the favorite had Mike Gundy given him the job earlier. But Petty is still No. 1 for now. If Texas Tech hadn't fallen into its four-game slump and was just a game or two back in the Big 12 race,
Jace Amaro
would merit consideration.
Who at this moment is your Big 12 defensive player of the year?
Trotter:
Oklahoma State middle linebacker
Caleb Lavey
has been the heart and soul of the top defense in the Big 12. He's also had a fabulous season, ranking fifth in the league in tackles and tackles for loss and tied for second in interceptions. To me, he's been the defensive player of the year in this league.
Chatmon:
No player has clearly cemented himself as the favorite for this award, but I'm going with Oklahoma State cornerback
Justin Gilbert
. He's taken his game to another level as a senior with six interceptions, returning two for scores against Iowa State and Texas. After a subpar junior year, he's been all business as a senior.
Olson:
There's still time for a new favorite to rise to the top of the heap, but right now I'd go with the best player of the best defense in the Big 12. To me, that's Gilbert. Not just because of his six interceptions, but because he's playing at an elite level against elite competition this month. If Gilbert shuts down the Sooners, I'm fine with him winning the honor.
Who is the most underrated player in the league?
[+] Enlarge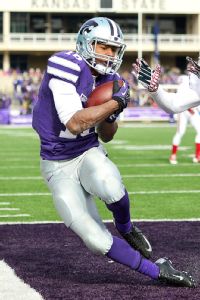 Jasen VinloveUSA TODAY SportsKansas State's Tyler Lockett averages 162.2 all-purpose yards per game.
Trotter:
Kansas State wide receiver Tyler Lockett might not get any votes for Big 12 offensive player of the year, but he should be on everyone's ballot for All-Big 12 wide receiver alongside Baylor's
Antwan Goodley
. Lockett has always been a tremendous returner. But he's developed into a tremendous receiver, too. He leads the Big 12 with 162.2 all-purpose yards per game. Nobody else even comes close to that.
Chatmon:
His team struggled, but West Virginia's
Charles Sims
did not. The Houston transfer has been one of the Big 12's toughest players to defend with his ability to gain tough yards, break the big run and catch the ball out of the backfield from his running back spot. He's averaged 5.8 yards per touch from the line of scrimmage this season.
Olson:
He's one of the Big 12's best, but I can't help but think that
Ryan Mueller
doesn't get enough attention. The Kansas State defensive end now has 10.5 sacks and 17 tackles for loss, and he'll likely finish in the top 10 nationally in both categories. He's a worthy candidate for DPOY, but because K-State fell off the national radar early on this season, he still seems a bit underappreciated.
Which one injury had the biggest impact on this Big 12 season?
Trotter:
I don't think Baylor would have won at Oklahoma State with just one of its injured players, and I doubt the Bears will lose again without any of them, either. So I'll go with Oklahoma linebacker
Corey Nelson
. The Sooners were playing great defense early in the season with Nelson leading the way. After he suffered the season-ending pectoral tear, they were never the same on that side of the ball, especially the following week against Texas.
Chatmon:
It would have been interesting to see if Baylor could have finished off its dream season with a healthy
Lache Seastrunk
. I think Saturday's result proved the Bears running back, not Petty, was the foundation that the Bears' offense was built upon.
Shock Linwood
is a superb player and appears to be a future star, but he's not Lache Seastrunk.
Olson:
I agree with Brandon on Seastrunk for the same reasons he laid out. Two more worth mentioning: Losing the always reliable and speedy
Tevin Reese
has been a setback for Baylor. The way he can stretch a defense and stress a defense created lots of opportunities all over the field for the Bears. And we'll never know how much
David Ash
could have helped Texas, as he seemed poised for a big year.
November, 18, 2013
Nov 18
9:00
AM ET
The only change in the power ranks comes at the bottom:
1. Baylor (9-0, 6-0 Big 12, last week 1):
Is there any team at any level of football that seems less worried about a 14-0 deficit? The Bears have to be one of the best vertical passing teams in college football history. Who knows, maybe
the
best. Baylor now has 27 pass plays that have gone for at least 40 yards. Nobody else in college football has more than 16. As a result, QB
Bryce Petty
is on pace to shatter Colt Brennan's season passing efficiency record set in 2006. With another big game in Stillwater, Petty could set himself up for a trip to New York while lifting the Bears firmly into third ahead of Ohio State in the BCS standings.

2. Oklahoma State (9-1, 6-1 Big 12, LW 2):
As Texas found out, the Cowboys are stout on every level defensively. Tackle
Calvin Barnett
is ferocious up front, linebacker
Caleb Lavey
is in on seemingly every play and corner
Justin Gilbert
is one of the best cover men in college football. All three should be on every first-team All-Big 12 ballot, and Lavey, the heart and soul of this team, should be the front-runner for Big 12 Defensive Player of the Year. This is the only unit in the conference with a chance against Baylor.
3. Texas (7-3, 6-1 Big 12, LW 3):
Over the weekend, Oklahoma State handed coach Mack Brown his most lopsided home loss in 16 years in Austin. Now, barring a miracle upset in Waco on Dec. 7, the Longhorns are staring down a regular-season finish of 8-4 -- at best. That record would not bode well for Brown's future at Texas, even after a gallant recovery from the early-season disaster.
4. Kansas State (6-4, 4-3 Big 12, LW 4):
As Bill Snyder said, the Wildcats didn't play their best against TCU. But they played just well enough to win. Perhaps they were peeking ahead to this weekend, which will be the game of the year for K-State. If the Wildcats can take out Oklahoma, they will likely end the regular season on a six-game winning streak, go to a solid bowl and carry tons of momentum into next season.
5. Oklahoma (8-2, 5-2 Big 12, last week 5):
The Sooners once believed that
Trevor Knight
was their QB of the future. He just might be, after all. In relief of injured QB
Blake Bell
, Knight looked the best he has all year against Iowa State. He completed 8 of 14 passes and rushed for 123 yards and a touchdown while delivering a respectable adjusted QBR of 74.8. It's time for the Sooners to turn the offense back over to Knight and see what he can do down the stretch.
6. Texas Tech (7-4, 4-4 Big 12, LW 6):
The Red Raiders brought their A-game to Arlington and still got beat by 29 points. But that was more indicative of how explosive Baylor is. If the Red Raiders play the same way in Austin on Thanksgiving night, they stand a good chance to finally get off this November schneid.
7. West Virginia (4-7, 2-6 Big 12, LW 7):
You don't just waltz into Memorial Stadium in Lawrence, Kan., and expect to stroll out with a victory. Oh wait, you do?
8. TCU (4-7, 2-6 Big 12, LW 8):
The Horned Frogs fought hard against K-State, but came up short again. Now, as coach Gary Patterson put it, they'll have to settle for turning the Baylor game in two weeks into a bowl.
9. Kansas (3-7, 1-6 Big 12, LW 10):
Congratulations to the Jayhawks. Nobody outside the KU program believed that the 27-game Big 12 losing streak would be snapped. Well,
almost nobody
. Iowa State is up next. And if the Jayhawks win Saturday, it will be called a winning streak.
10. Iowa State (1-9, 0-7 Big 12, LW 9):
Forgive Iowa State fans for storming the court after a November basketball victory against Michigan. The Cyclones haven't had much to cheer about in awhile.
November, 4, 2013
Nov 4
9:00
AM ET
And then there were four in the conference race:
1. Baylor (7-0, 4-0 Big 12, last week: 1):
The Bears have been complaining about a lack of national respect. Thursday night against Oklahoma, they have their chance to gain that respect. It should be noted, though, that Baylor has never played in a game with major conference and national title implications on the line -- and the whole country watching. The Sooners have played in dozens of these games. Are the Bears ready to shine in the spotlight? We're about to find out.

2. Oklahoma State (7-1, 4-1 Big 12, last week: 5):
Look who's back in the thick of the Big 12 title conversation. On Saturday, the Cowboys delivered the most impressive Big 12 win of any team this season, dominating Texas Tech before a record crowd in Lubbock. Behind linebackers
Caleb Lavey
and
Shaun Lewis
, the OSU defense continues to perform at a high level, as they limited Tech to just three touchdowns in 17 possessions. The OSU offense is now beginning to click, too, with QB
Clint Chelf
making the big plays he did down the stretch like last season and backs
Desmond Roland
and
Rennie Childs
reviving the running game. The Cowboys are the only contender that get Baylor at home, and they have dominated the Bears in Stillwater. OSU still has to go to Austin on Nov. 16. But the Cowboys just proved they can win big games on the road.
3. Texas (6-2, 5-0 Big 12, last week: 2):
It wasn't a work of art, but Texas took care of business against Kansas. Next up is a sneaky-tough road game in Morgantown. West Virginia has been a much tougher team at home. The Mountaineers knocked off Oklahoma State and led Texas Tech by double digits in the second half before succumbing in the fourth quarter. West Virginia will also be playing with plenty of momentum after its overtime win at TCU. A showdown with Oklahoma State in Austin looms the following weekend. But Texas needs to escape Morgantown first.
4. Oklahoma (7-1, 4-1 Big 12, last week: 3):
After struggling in conference play,
Blake Bell
seemed to turn a corner with a determined performance in last week's win over the Red Raiders. To have any chance of scoring with Baylor, the Sooners are going to need a similar effort from their quarterback. The running game should be able to pile up yards. And the OU secondary will give Baylor's speedy receivers their biggest challenge yet. But to pull off the upset as double-digit underdogs in Waco, Bell will have to make the same kind of throws downfield he delivered against Tech.
5. Texas Tech (7-2, 4-2 Big 12, last week: 4):
Considering the Red Raiders were picked to finish seventh in the Big 12 in the preseason, this has already been a banner first season for coach Kliff Kingsbury. But the past two weeks, Tech's flaws have been exposed. The defense hasn't been able to stop the run without overloading the box. True freshman QB
Davis Webb
is making true freshman mistakes. And the depth doesn't seem to be there for Tech to be sound covering punts and kicks. This is still a good team. But as it turned out, just not yet good enough to contend for the conference title.
6. Kansas State (4-4, 2-3 Big 12, last week: 6):
Since the return of receivers
Tyler Lockett
and
Tramaine Thompson
, the Wildcats have featured an efficiently balanced offensive attack. K-State threw for 221 yards and ran for 227 while picking apart Iowa State's defense. The K-State run defense has been excellent the past month, too. This is not a team anyone will want to face this last month of the season.
7. West Virginia (4-5, 2-4 Big 12, last week: 7):
What a win for Dana Holgorsen's bunch. The Mountaineers seemed to be dead in the water after falling behind 17-3 in Fort Worth. But behind running back
Charles Sims
and an eight-minute stretch where the Mountaineers forced TCU into three turnovers in five plays, West Virginia emerged with a crucial overtime victory. Had the Mountaineers lost, more questions would have surfaced about Holgorsen's status in Morgantown. Instead, West Virginia is in great shape to make a bowl game, which would be a solid season for a team that had to replace Geno Smith, Tavon Austin and Stedman Bailey.
8. TCU (3-6, 1-5 Big 12, last week: 8):
When does basketball season start? Wait, nevermind.
9. Iowa State (1-7, 0-5 Big 12, last week: 9):
The Cyclones have not posed much of a threat offensively when running back
Aaron Wimberly
has not been in the lineup. If they can get him back from a hamstring injury, they could still pick up a couple of Big 12 wins down the stretch, which would give this program some momentum heading into next season.
10. Kansas (2-6, 0-5 Big 12, last week: 10):
The Jayhawks have not rolled over in Big 12 play, which has to be an encouraging sign for coach Charlie Weis. It would be huge for the program for that effort to manifest tangibly in the form of an actual win. If Kansas keeps playing hard, it just might get it.
September, 25, 2013
Sep 25
12:00
PM ET
September, 25, 2013
Sep 25
8:00
AM ET
More than ever we are seeing a growing number of freshmen make instant impacts across the college football landscape. Here is a look at a few freshmen that could make a difference for their respective Big 12 programs in 2014.
To continue reading this article you must be an Insider
Alabama, Oklahoma To Meet In Sugar Bowl