Oklahoma Sooners:

Brian Bosworth
May, 23, 2014
5/23/14
12:00
PM ET
If you're going to start talking about calling travels and calling charges, maybe you shouldn't watch mixtape tour basketball.
Wouldn't you agree?
March, 6, 2014
3/06/14
12:30
PM ET
Today, the National Football Foundation
announced the names on the 2014 ballot
for induction into the College Football Hall of Fame. Of the 75 players and six coaches, nine come from current Big 12 programs. The 2014 College Football Hall of Fame class will be announced in May and will be inducted at the 57th NFF Annual Awards Dinner in December.
Here are the seven players from Big 12 programs on the ballot:
Brian Bosworth, Oklahoma, Linebacker
: Two-time consensus first-team All-America pick (1985-86). Set school record for tackles in a game (22) and named Butkus Award winner in 1985 and '86. Led Sooners to three consecutive Orange Bowls and 1985 national championship.
Troy Davis, Iowa State, Tailback
: Two-time consensus first-team All-American and two-time Heisman Trophy finalist. First player in NCAA history to rush for more than 2,000 yards in two seasons. Big 12 Player of the Year in 1996 holds nearly every rushing record at Iowa State.
Randy Hughes, Oklahoma, Defensive Back
: 1974 first-team All-American and member of 1974 national championship team and three Big Eight championship teams. Finished fourth on OU's career interceptions list (14). NFF National Scholar-Athlete in 1974.
Bob McKay, Texas, Offensive Tackle
: 1969 consensus first-team All-American helped the Longhorns to national championship and unbeaten season at Cotton Bowl in senior season. Member of two SWC championship teams and 1969 all-conference selection.
Zach Thomas, Texas Tech, Linebacker
: Two-time first-team All-American, earning unanimous honors in 1995. Two-time consensus SWC Defensive Player of the Year (1993, '94) who led the Red Raiders to the 1994 SWC title. Ranks fifth all time at Tech with 390 career tackles.
LaDainian Tomlinson, TCU, Tailback
: Unanimous first-team All-American in 2000 and Doak Walker Award winner in 2000. WAC Offensive Player of the Year in 1999 led TCU to consecutive co-WAC title. Holds 15 school records and is TCU's all-time leading rusher.
Ricky Williams, Texas, Running Back
: Two-time unanimous first-team All-American and 1998 Heisman Trophy winner. Finished his career as the NCAA's all-time leading rusher and won back-to-back NCAA rushing titles. Big 12 Offensive Player of the Year in 1998 left Texas with 46 school records.
Here are the two coaches:
Jim Carlen, West Virginia (1966-69), Texas Tech (1970-74), South Carolina (1975-81)
: Led teams to eight bowl games and 13 winning seasons in 16 years as a head coach. National Coach of the Year in 1973. Three-time Southwest Conference Coach of the Year. Coached Heisman Trophy winner George Rogers at South Carolina.
Pete Cawthon Sr., Texas Tech (1930-40)
: Led Tech to four Border Conference titles in 11 seasons at the helm. Led 1938 team to a 10-0 regular season and the school's first-ever Cotton Bowl appearance. Boasts the highest win percentage (69.3) among Tech coaches with terms of three years or more.
May, 9, 2013
5/09/13
8:00
AM ET
On Tuesday,
Oklahoma's Rod Shoate was selected to the College Football Hall of Fame
and will be inducted in December. One of the players Shoate edged out was fellow former OU linebacker Brian Bosworth, who was also nominated.
In honor of Shoate's selection and one of college football's most tradition-rich programs for the position, SoonerNation ranks the top 10 linebackers in OU history:
October, 25, 2012
10/25/12
7:30
AM ET
NORMAN, Okla. -- Oklahoma coach Bob Stoops has called Saturday's showdown with Notre Dame the school's most anticipated home game since the Sooners took on top-ranked Nebraska 12 years ago.
SoonerNation breaks down the 10 home games in Oklahoma history that have been considered the most anticipated, including this weekend's Notre Dame game:
1. 1971:
No. 1 Nebraska 35, No. 2 Oklahoma 31
[+] Enlarge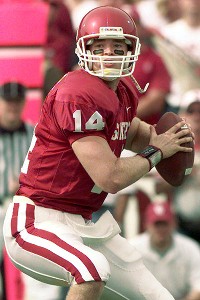 AP Photo/Jerry LaizureQuarterback Josh Heupel and the Sooners beat Nebraska at home in 2000 and went on to win the national title.
The buildup:
The headline on the "Sports Illustrated" cover the week of the game read, "Irresistible Oklahoma Meets Immovable Nebraska." Media around the country were billing it as the biggest game in college history.
The result:
The clash lived up the hype, with stars on both sides coming through with spectacular plays. The Sooners held a fourth-quarter lead, but Nebraska prevailed with a late game-winning drive. Dave Kindred of the Louisville Courier-Journal famously led his game story with: "They can quit playing now, they have played the perfect game."
2. 1953:
No. 1 Notre Dame 28, No. 6 Oklahoma 6
The buildup:
One of the best games of the '52 season was OU-Notre Dame. The Sooners lost 27-21 in South Bend, Ind., but Billy Vessels ran wild to solidify his Heisman Trophy campaign. The offseason anticipation in Norman for the '53 game was off the charts, as it would be the first time Notre Dame -- or any big-time program for that matter -- traveled to Oklahoma.
The result:
The Sooners fell to the Irish. It would be four years, however, before they would lose again.
3. 2000:
No. 3 Oklahoma 31, No. 1 Nebraska 14
The buildup:
After years of mediocrity, Bob Stoops had the Sooners back in the national spotlight. But how it performed against mighty Nebraska would determine whether OU was truly back.
The result:
The Sooners fell behind 14-0, but roared back for a convincing victory. OU went on to capture the school's seventh national championship.
4. 1985:
No. 5 Oklahoma 27, No. 2 Nebraska 7
The buildup:
The Sooners had the best defense in college football, while the Huskers led the nation in scoring. The winner would be in the driver's seat to go to the Orange Bowl play for a national championship.
The result:
The Nebraska offense failed to score against Brian Bosworth and Tony Casillas, as the Huskers' only points came off a late defensive touchdown when the game was no longer in doubt. The Sooners later beat Penn State in the Orange Bowl to bring home the national title.
5. 1975:
No. 7 Oklahoma 35, No. 2 Nebraska 10
The buildup:
The Sooners were defending national champions, but were coming off a shocking loss to Kansas. OU had dominated the previous three meetings, but the Huskers were suddenly confident they could topple the Sooners.
The result:
OU proved it was still the top dog in the Big Eight and destroyed the Huskers. The dominating victory catapulted the Sooners back into the national championship picture, and win over Michigan in the Orange Bowl delivered the school's second consecutive national title.
6. 2012:
No. 8 Oklahoma vs. No. 5 Notre Dame
The buildup:
This weekend, ESPN's "College GameDay" returns to Norman for the first time in four years for a game with major national title implications. The university expects a record crowd, and tickets are being sold online at astronomical costs.
The result:
Time will tell. The winner of the game will be firmly in the national championship picture.
7. 2008:
No. 5 Oklahoma 65, No. 2 Texas Tech 21
To continue reading this article you must be an Insider
October, 10, 2012
10/10/12
12:30
PM ET
NORMAN, Okla. -- Former Oklahoma coach Barry Switzer, who went 9-5-2 against the Longhorns, reminisces with SoonerNation about his Red River Rivalry tenure, and gives his thoughts on this weekend's OU-Texas game:
SoonerNation:
Your most memorable OU-Texas game:
Barry Switzer:
The one that sticks out is my first victory against Texas in 1973, which was also my first year as head coach. We scored half-a-hundred on them (OU won 52-13) – the most points ever put on a Darrell Royal team. We had a great football team. It's fun going into the game knowing we were really better than Texas. I never was concerned. I knew we had a great football team with the Selmon brothers, Rod Shoate, Joe Washington. We had a great offense, a great defense. We had just come off a 7-7 tie at USC. We were so much better, we should have won the game.
[+] Enlarge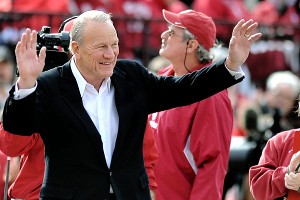 Mark D. Smith/US PresswireFormer Oklahoma coach Barry Switzer says this season's Red River Rivalry game is a toss up.
SN:
The best Texas player you ever coached against:
Switzer:
Earl Campbell. He had that God-given ability. He was the best in high school, best in college, best in the pros. He did it at every level. Had all the physical talents and toughness. Just gifted. Some people got it, and some people don't. He had it early on. The Marcus Duprees and Earl Campbells and Adrian Petersons are so gifted and talented, and fortunate to have type of gift.
SN:
The second-best Texas player you ever coached against:
Switzer:
We dominated them in the 80s, so there wasn't anyone in that era that concerned us. It's always the quarterback or running back that makes a difference. Other than Earl, no one else really ever stood out that brought fear into your heart. They didn't have anyone jumping over the field like a Barry Sanders or Joe Washington, where you're thinking, 'Hell, we'll never get him down.'
SN:
The best individual performance by an OU player in the Cotton Bowl you coached:
Switzer:
We had a couple of them. I think really for me, defensively (linebackers) Rod Shoate (1974) and Brian Bosworth (1985) had two of the greatest defensive performances. They dominated those games, Shoate one year, Bosworth another.
Big 12 2015 Recruiting Overview
BIG 12 SCOREBOARD
Thursday, 9/3
Friday, 9/4
Saturday, 9/5