Oklahoma Sooners:

Brandon Golson
May, 15, 2014
5/15/14
10:30
AM ET
Earlier Thursday, we concluded our 22-round draft of current Big 12 players. Below are the three lineup outcomes of that draft, and as you can see, each of us went in different directions.

Like the St. Louis Rams, Max and Brandon built up their defensive lines before worrying about the rest of their rosters. While I grabbed the best quarterback in the league and surrounded him with protection and weapons.
After each lineup, read our final takes on our teams. Then, decide who drafted best in the weekly Big 12 poll.
BRANDON CHATMON'S TEAM
OFFENSE
DEFENSE
What Brandon says about his team:
"Offensively, as soon as Petty was gone with the first pick I knew I wouldn't take a quarterback until my final pick. Knight could be the steal of the draft. Versatility is the name of the game with the rest of the offense. We can put Pierson and Smallwood in the backfield and go read option or really ruin your Saturday and throw Daje back there in the Diamond. When you bring more guys in the box, you leave Seales and Lockett one-on-one. Or we can just go five wide and you can try to cover running backs who run routes like receivers with your linebackers. And an experienced offensive line will be the foundation of it all. Defensively, it would be wise for opposing quarterbacks to tell their families to stay home when facing this group. We're going to man up and have our mail forwarded to the opposing backfield and make you want to take your ball and go home. And with a secondary full of coverage guys, I'm not concerned about the back end of the defense holding up. We'll win more battles than we lose. By the final whistle, my team will have earned the moniker 'Chatmon's chaos creators' with Tapper, Reed, Brown, Hunter, Alexander and Robertson living in your backfield."
MAX OLSON'S TEAM
OFFENSE
DEFENSE
What Max says about his team:
"You do not want to play against my team. That was my goal going in, and I constructed exactly the team I wanted. I have a great QB in Webb who gets to throw to Goodley, one of the nation's best receivers, and he'd help Jaxon Shipley put up Jordan Shipley numbers. I have the two-back punch of Linwood and Gray. I have Hill, who can do everything, and a good line. We're going to spread the ball around like crazy. Good luck stopping that. On defense, you have Fields, Oakman and Grissom all rushing the passer. That's deadly. We can go three-man fronts or even put Oakman in the middle, letting the 6-foot-8 stud swat your passes down. And while you're worrying about him and Grissom, you have the Big 12's best defensive player [Fields] coming after you. Hager and Shannon will hold it down at the second level, and the secondary is full of playmakers. This is a fun team, plain and simple, and one that can frustrate the heck out of anybody."
JAKE TROTTER'S TEAM
OFFENSE
DEFENSE
What Jake says about his team:
"Max and Brandon are good at talking smack. I'll give them that. But my players do their talking on the field. Once I was fortunate to land reigning Big 12 Offensive Player of the Year Bryce Petty as my quarterback, my goal was two-fold: to keep him upright from pressure off the edge; and, to surround him with firepower. I accomplished both ends, and then some. I wasn't able to get either of the two elite receivers in the league in Goodley or Lockett. But I put together the best overall receiving corps in Grant, Shepard and Bundrage, who could all deliver 1,000-yard receiving seasons in 2014. On top of that, I snagged the best pass-catching tight end on the board in Bibbs, as well as Brown, so that we can pound the ball between the tackles when we need. Speaking of tackles, aware that Brandon and Max were focused almost solely on their pass rush in the early rounds, I also added two of the most reliable pass-protecting bookends in the league in Drango and Williams. Defensively, I can bring pressure, too, with Mueller and Striker, who last season respectively placed second and fourth in the Big 12 in sacks. Castleman and Britz are roadblocks, Heeney and Dawson are tackle machines and my entire secondary has All-Big 12 potential. We don't talk. We just dominate."
May, 15, 2014
5/15/14
9:00
AM ET
Following up on NFL draft weekend,
we've been conducting our own draft
, picking from current Big 12 players to fill out three 22-man lineups.
Below is a recap of the first 15 rounds of the draft from the past two days, followed by rounds 16-22.
As another reminder, this is NOT a Top 25 player ranking. It's only an exercise in determining where the value of the league lies, and the different strategies to putting a team together from the league's present talent pool.
Jake Trotter:
Brandon Chatmon:
Max Olson:
Round 16
[+] Enlarge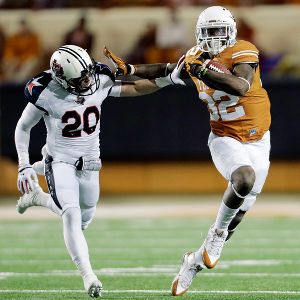 AP Photo/Eric GayGetting potential Big 12 rushing leader Johnathan Gray in the 17th round could be a big steal for Max Olson.
Round 17
Round 18
Round 19
Round 20
Round 21
Round 22
Weirdest Recruiting Violations
BIG 12 SCOREBOARD
Thursday, 9/3
Friday, 9/4
Saturday, 9/5