Oklahoma Sooners:

Brandon Beaver
January, 25, 2012
1/25/12
3:30
PM ET
We're a week away from national signing day and with each day, Oklahoma's 2012 class is starting to get more clear. There is still a lot to be determined at this point. Bob Przybylo answers all your recruiting questions. Have a question? Send it to his mailbag at bprzybyloespn@gmail.com.
Charles in Oklahoma City asks: Is Tim Kish a good hire in terms of recruiting?
January, 25, 2012
1/25/12
9:00
AM ET
Three thoughts this morning:
1. Now that Tim Kish has officially been
hired as Oklahoma's new linebackers coach
, I assume he will take over scouting and recruiting the West Coast because of his familiarity with the region. Brandon Chatmon looked at
some top prospects
Kish recruited at Arizona, but I wonder if being at a big time program like Oklahoma will amplify his recruiting skills and turn him OU's go-to recruiter. On another note, maybe it didn't mean anything, but on the day Kish was hired, cornerback target
Brandon Beaver
-- who three weeks ago was practically begging for a Sooner offer -- announced that he wouldn't be taking an official visit to OU. Did the Sooners simply move on from the defensive back after gaining some intel from their new assistants Kish and Mike Stoops? Or did Beaver decide he wanted to stay in the Pac-12?
2. We're still waiting on the NCAA to clear top OU recruits
Trey Metoyer
and
Taylor McNamara
, and by the looks of a new page on
SoonerSports.com
, that hasn't happened yet. How long can the NCAA keep these kids out of class until they're too far behind to catch up? Classes at OU started on Jan. 17.
3.
Last week in this space
, I predicted that
Jamell Fleming
would be the first Sooner taken in the 2012 NFL draft. So how about another prediction? Here we go: In 2012, Oklahoma's leading rusher will be ...
Damien Williams
. Williams, a junior college tailback originally from San Diego who played at Arizona Western College, is still uncommitted and will be choosing from OU, Arizona State and Texas Tech. I'm not sold that
Dominique Whaley
will be ready to play this season and I think the Sooners have a void that Williams could fill immediately. His coach told Bob Przybylo on Tuesday that he has great hands, too, and that's a plus with running backs coach Cale Gundy.
To continue reading this article you must be an Insider
January, 23, 2012
1/23/12
10:42
PM ET
The loss of cornerback
Kevin Peterson
(Wagoner, Okla./Wagoner) on Monday night means one thing for Oklahoma's 2012 cornerbacks: they're going to be Mike Stoops' kids.
In the last two weeks, the two high school cornerbacks that committed when former defensive backs coach Willie Martinez was at OU have left the program.
The other cornerback, junior college signee Kass Everett (Philadelphia/Pierce College), didn't have a choice in the matter but said he is ready to see what Mike Stoops brings to the table.
[+] Enlarge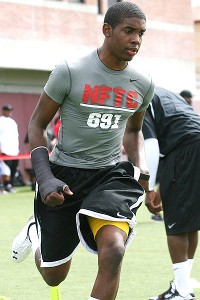 Tom Hauck for ESPN.comCornerback Brandon Beaver is one of five defensive backs the Sooners are looking at for the class of 2012.
Peterson and four-star cornerback De'Vante Harris (Mesquite, Texas/Horn) did have a choice and both decided to look elsewhere. Harris committed to Texas A&M last week, while
Peterson switched to Oklahoma State
on Monday night.
Harris had a tight bond with Martinez, and though at the time it was incredibly shocking, the move has started to make more sense in the last week.
The hope with Peterson, though, was that his familiarity with Mike Stoops was going to keep Peterson solid with the Sooners even though Brent Venables had left to become the defensive coordinator at Clemson.
Stoops had offered Peterson when Stoops was coaching at Arizona, but Peterson said the relationship wasn't that tight.
"We had talked before, but I never really had that type of relationship with Coach [Mike] Stoops," Peterson said." I definitely didn't have that relationship with Stoops that I had with Coach Martinez."
Since taking over, Mike Stoops has hit the ground running in trying to find defensive backs. Cornerbacks were a need before Peterson leaving, and now they're even a bigger priority.
OU is looking at five cornerbacks at the moment though that could change as the week progresses:
Colin Blake (San Antonio/Brandeis)
: Blake officially de-committed from Texas A&M on Saturday during his official visit to TCU.
Blake visited OU on Dec. 16 and also took a trip to Florida State on Jan. 13. For a while, it has appeared that it's a three-team race between the Sooners, Horned Frogs and Seminoles.
One bonus for OU is the fact teammate
Kyle Marrs
was the first commit to OU in the 2012 class. Blake, 6-foot-2 and 180 pounds, is a three-star prospect.
Brandon Beaver (Compton, Calif./Dominguez)
: Funny how things work out as it was Harris that got the ball rolling for Beaver to start getting looked at by the Sooners. Beaver was originally recruited by Venables but Mike Stoops has taken over.
A mis-communication between Beaver and OU didn't allow Beaver to make an official visit to Norman, Okla., last weekend. Beaver intended to visit Arizona but said he is no longer going to do that. He hopes to visit OU this weekend.
Beaver got to know a lot of the OU commits at the U.S. Army All-American Bowl and has been talking to them constantly on Twitter. At 6-foot-1 and 185 pounds, he is a four-star prospect.
Kentrell Brice (Ruston, La./Ruston)
: Brice, an Oregon State commit, is a rather new name to be on the watch. OU thought enough of Brice for Bob Stoops to visit the school Monday although no official visit has been confirmed at this point.
To continue reading this article you must be an Insider
January, 23, 2012
1/23/12
8:21
PM ET
Cornerback
Kevin Peterson
(Wagoner, Okla./Wagoner) never intended to decommit from Oklahoma. But the Sooners program he committed to Dec. 18 was not the Sooners program he would have been going to in the fall.
Peterson decommitted from OU Monday night and has committed to Oklahoma State .
In the month since his commitment OU, a lot of changes have happened with the Sooners coaching staff with former defensive backs coach Willie Martinez leaving the program and former defensive coordinator Brent Venables taking the same position at Clemson. It made Peterson rethink things.
To continue reading this article you must be an Insider
January, 23, 2012
1/23/12
10:50
AM ET
With more than a week until national signing day, there are still plenty of unanswered questions regarding Oklahoma's 2012 class. Bob Przybylo answers all your recruiting questions. Have a question? Send it to his mailbag at bprzybyloespn@gmail.com.
Jon in Lawton, Okla., asks:
I saw
Colin Blake
de-committed over the weekend. How good are OU's chances with him?
To continue reading this article you must be an Insider
January, 20, 2012
1/20/12
4:37
PM ET
By
Greg Biggins
| ESPN Insider
Brandon Beaver
(Compton, Calif./Dominguez) was set to visit Oklahoma this weekend but some miscommunication with the Sooner coaching staff has the corner now staying home.
Beaver has taken official visits to Utah, Washington and Nebraska. He was scheduled to visit OU this week and has a final visit set up with Arizona next weekend.
"Coach [Brent] Venables was the coach recruiting me and he's no longer at Oklahoma," Beaver said. "Once he left, I lost all communication with them so I never got a flight booked or an itinerary sent to me. I had no idea he was leaving, at least give me a heads up or something.
To continue reading this article you must be an Insider
January, 19, 2012
1/19/12
1:32
AM ET
NORMAN, Okla. – When Bob Stoops brought his brother back to Norman, he envisioned recapturing the magic that generated some of the best defenses in Oklahoma history.
Instead, Stoops will now have to hire a linebacker coach.
Wednesday night, co-defensive coordinator Brent Venables
announced that he has left Oklahoma
to become the defensive coordinator at Clemson, leaving the Sooners with another coaching vacancy.
In
hiring Mike Stoops
last week, Bob Stoops believed he was getting the band back together.
With Mike Stoops calling the defense and Venables co-coordinating, the Sooners ranked third nationally in fewest yards allowed in 2003. In 2001, Oklahoma ranked fourth.
[+] Enlarge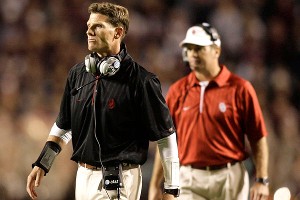 Brett Davis/US PresswireBrent Venables has been on the Oklahoma staff since Bob Stoops took the job in 1999.
And in the 2000 national championship game, the Stoops brothers and Venables devised a defensive game plan for the ages as the Sooners kept Florida State's high-powered offense from scoring.
Too much time, however, had passed. And Bob Stoops' hopes proved to be short-lived. After Venables and Mike Stoops took a recruiting trip together to Florida, Venables and his wife flew to Clemson. And the allure of a new challenge, a massive pay raise and the chance to call his own defense again won out.
Because of the success the Sooners endured while Mike Stoops was the senior partner in the relationship, Venables was never fully appreciated by the Oklahoma fan base. Moreover, the explosion of Big 12 offenses after Mike Stoops left made it virtually impossible to produce top five defenses.
But Venables still coordinated some gems that helped catapult the Sooners to Big 12 championships in '06, '08 and '10.
In 2008, the Sooners wiped out second-ranked Texas Tech by holding one of the nation's top offenses to a single touchdown in the first half. OU went on to play for a national championship that season.
But perhaps his most memorable coaching job came in the final game of the '10 regular season against Oklahoma State. Faced with the task of slowing down the high-powered Cowboys, Bob Stoops and Venables elected to revamp the entire defense, going to a 3-4 scheme. The shift stunned the Cowboys, and Oklahoma State managed only three offensive touchdowns as Oklahoma prevailed.
But as much as the Sooners will miss Venables as a coordinator and linebackers coach, they will miss him just as much as an ace recruiter.
Ronnell Lewis
,
Demontre Hurst
,
Tom Wort
,
Corey Nelson
, Austin Box,
Jamell Fleming
and DeMarco Murray are just a few of the standouts Venables had a hand in recruiting to Norman in recent years.
He also was the assistant who secured two of OU's top verbal commitments in this recruiting class: safety
Eric Striker
and running back
Daniel Brooks
. Venables also was the primary assistant recruiting California cornerback
Brandon Beaver
, who is scheduled to visit OU this weekend.
Bob Stoops tried to get the band back together. With his brother and Venables blazing the recruiting trail as a tandem, then forging those ferocious defenses again on the field.
Instead, the Stoopses will be on their own. Turned out, the band didn't get back together.
January, 16, 2012
1/16/12
6:00
PM ET
By
Greg Biggins
| ESPN Insider
Defensive back
Brandon Beaver
(Compton, Calif.) took a visit to Utah this past weekend and said he liked it a lot more than he expected. Are the Utes a serious player now?
[+] Enlarge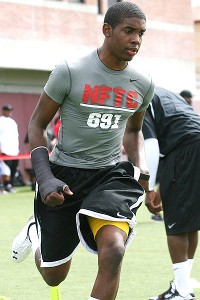 Tom Hauck for ESPN.comCornerback Brandon Beaver enjoyed his visit to Utah and will visit Oklahoma this weekend.
"To be honest, I really didn't see myself going to Utah before the trip," Beaver said. "I was thinking mostly about Washington and Oklahoma, but Utah is right up there now too. It surprised me how great it was, and I fit in very well with everyone I met. I was comfortable there, that's the key word for me -- I felt comfortable, and it felt like home.
"I learned a lot about the team and what kind of program they have. I got to know the coaches better, and I got along really well with the players. Ryan Lacy was my host, and he was real cool. We were hoping to go snowmobiling but there wasn't enough snow, so we just went tubing instead, but that was a lot of fun. Utah is definitely under consideration, and I'm going to give them a strong look."
To continue reading this article you must be an Insider
January, 16, 2012
1/16/12
10:30
AM ET
Another week, another big announcement regarding Oklahoma recruiting. Following back-to-back disappointing weeks with Mario Edwards (Denton, Texas/Ryan) and De'Vante Harris (Mesquite, Texas/Horn), Mike Stoops' return to the OU coaching staff brings good news for Sooners fans. Bob Przybylo answers your recruiting questions each week. Have a question? Send it to his mailbag at bprzybyloespn@gmail.com.
To continue reading this article you must be an Insider
January, 12, 2012
1/12/12
1:28
PM ET
Though the recent departure of four-star cornerback
De'Vante Harris
(Mesquite, Texas/Horn) is a big blow to Oklahoma 2012 defensive backs class, it hasn't really impacted the Sooners' standing in the rankings.
The Sooners
dropped to No. 10 in the latest ESPN class rankings
released on Thursday. But once again, it was a case of what another team did more than what OU failed to do.
California had a huge recruiting weekend, picking up one big-time commit after another at the U.S. Army All-American Bowl and vaulted from No. 19 to No. 8.
In the last set of rankings, it was Georgia who scored some quality prospects to jump OU.
While it's nice the Sooners haven't fallen too far behind, it would be nice for OU fans if they had something to celebrate.
Nothing has changed with OU's class, where clearly the strength of the group is on offense. The Sooners' top 11-ranked recruits are on offense, including all four in the ESPNU 150.
And if the Sooners are going to make a leap up in the rankings, it will most likely happen because of the offense once again as OU is in the hunt for third-ranked prospect
Dorial Green-Beckham
(Springfield, Mo./Hillcrest) and offensive tackle
Zach Banner
(Lakewood, Wash./Lakes), ranked No. 123. Green-Beckham's final five are OU, Arkansas, Texas, Missouri and Alabama, while Banner's top three are OU, USC and Washington.
The Sooners are also in the mix for a couple of three-star running backs in
David Smith
(Midlothian, Ill./Bremen) and Boston College commit
Akeel Lynch
(Athol Springs, N.Y./St. Francis). Both are making official visits to OU this weekend and Smith has narrowed his choices down to OU or West Virginia.
On defense the name to watch is cornerback
Brandon Beaver
(Compton, Calif./Dominguez). A four-star defensive back, Beaver is ranked No. 20 at the position and is making an official visit to OU next weekend.
January, 7, 2012
1/07/12
4:44
PM ET
One day after Oklahoma secondary coach Willie Martinez was rumored to be leaving for a jobs at either Illinois or Kansas, cornerback
De'Vante Harris
, the Sooners' top defensive recruit,
de-committed
.
It's not difficult to connect the dots.
Harris has not yet given his reasons for
disclosing Saturday via Twitter
that he is no longer committed to the Sooners. But something dramatic must have occurred to lead Harris to make such a stunning announcement.
[+] Enlarge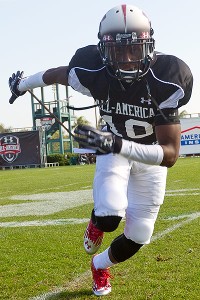 Davide De Pas for ESPN.comLongtime Oklahoma commit De'Vante Harris shocked his high school coach by decommitting from the Sooners on Saturday.
Harris had been among the biggest OU cheerleaders from this class, talking up the Sooners to other prospective recruits. At one point, he even had
"OU" shaved onto the side of his head
. His future teammates were unaware of his decision,
his high school coaches had no idea about his change of heart
-- nobody knew that Harris was on the outs with OU. He was in Florida all week for the Under Armour All-America game and appeared in good spirits.
But Martinez was Harris' primary recruiter. And it's possible Harris was told Martinez would no longer be with the OU staff. That would explain Harris' sudden change of heart.
Safety Tony Jefferson re-tweeted Harris' de-commitment, then added "why?" It's unclear if Harris then contacted Jefferson. But moments later, Jefferson tweeted this: "Idk if there's coaches changes or not at OU. But I wish they would tell the players. We would like to kno too! Haha"
Jefferson then tweeted, "if he wanna go let EM. Gotta go where is best for him. No hard feelings." To which Harris thanked Jefferson.
The worst kept secret in Norman is that Mike Stoops wants back on the OU staff. The Sooners want him back, too. Should Martinez depart for Illinois or some other job, it's probable that Mike Stoops will summarily be named his replacement.
As for Harris, who knows? Maybe Mike Stoops can talk him into giving the Sooners another look, though Harris figures to be a hot commodity as one of the nation's top five uncommitted cornerbacks.
If the Sooners can't reel him back in, it will be another major blow in terms of recruiting on the defensive side of the ball. In the last week, the No. 1-ranked prospect in the nation
Mario Edwards
(Denton, Texas/Ryan)
basically eliminated OU
from his favorites.
Also this week, former linebacker targets
Quanzell Lambert
(Sicklerville, N.J./Timber Creek) and
Brian Nance
(Euless, Texas/Trinity) committed to Rutgers and Baylor, respectively. There are no questions about how stacked the Sooners' offensive class is for 2012, but the defense has been a big concern with less than a month to National Signing Day.
The secondary class appeared to be in good shape, especially after the Sooners made progress with the nation's No. 20 cornerback in
Brandon Beaver
(Compton, Calif./Dominguez). But one of the reasons Beaver became interested in OU was because of Harris, who has become one of Beaver's close friends. Harris was one of the first people Beaver contacted after talking with defensive coordinator Brent Venables on Monday.
Beaver is still set to visit OU on Jan. 20, and is also friends with OU commits wide receiver
Derrick Woods
(Inglewood, Calif./Inglewood) and tight end
Taylor McNamara
(San Diego/Westview). All three competed in the U.S. Army All-American Bowl on Saturday afternoon, the same time that Harris announced his de-commitment. It's unclear what bearing Harris' decision will have on Beaver's recruitment. Beaver tweeted Saturday that he plans to wait until signing day to announce his college choice.
To continue reading this article you must be an Insider
January, 3, 2012
1/03/12
4:34
PM ET
By
Greg Biggins
| ESPN Insider
Defensive back
Brandon Beaver
(Compton, Calif./Dominguez) was all set to take his last visit to Utah and then decide the following Monday. Those plans now have changed.
Beaver already has visited Washington and Nebraska and has taken multiple unofficial visits to UCLA. The athlete will still visit the Utes (Jan. 13) but has added a new school to his list.
"I just got offered by Oklahoma Monday night," Beaver said. "It's crazy, I've never talked to Oklahoma in my life, and then out of the blue, they decide to offer. I don't know if they just watched some recent film on me or if they talked to some people who watched me, but I'm definitely excited about it, and I'm going to visit there (Jan. 20).
To continue reading this article you must be an Insider
January, 3, 2012
1/03/12
2:07
PM ET
SAN ANTONIO -- Oklahoma commit
Durron Neal
(St. Louis, Mo./DeSmet) is one of the athletes not worried about making a commitment announcement during Saturday's U.S. Army All-American Bowl. Throughout the week, the four-star receiver has focused on the uncommitted players, serving as an unofficial recruiter for OU.
On Tuesday, Neal said he's targeted three players -– five-star receiver
Dorial Green-Beckham
(Springfield, Mo./Hillcrest), four-star offensive tackle
Zach Banner
(Lakewood, Wash./Lakes) and four-star cornerback
Brandon Beaver
(Compton, Calif./Dominguez) -– in his quest to earn his recruiting stripes.
"Those are the three I've really been working on because they all have OU high," Neal said. "Every time they have a conversation, I try to throw OU in there. I'm just trying to help out the program and get us more athletes.
To continue reading this article you must be an Insider
Big 12 2015 Recruiting Overview
BIG 12 SCOREBOARD
Thursday, 9/3
Friday, 9/4
Saturday, 9/5