Oklahoma Sooners:

Bill Snyder
May, 10, 2013
May 10
12:24
PM CT
Inspired by
Florida's "#ComePlayWRFortheJoker" campaign
, our recruiting writers looked at other ways schools can sell themselves on the trail. Here's a look at recruiting pitches for the Big 12:

Baylor Bears
What they're selling:
The new 45,000-seat, $250-million on-campus stadium that will open in 2014. Recruiting is an arms race, and players like fancy stadiums and locker rooms, and Baylor's upgrade puts them finally on the same level playing field as everybody else in the Big 12.
What they're missing:
Help on defense -- specifically at defensive line and defensive back.

Iowa State Cyclones
What they're selling:
Paul Rhoads. He grew up miles from the campus and has helped turn around Iowa State with a physical and fundamentally sound style of football.
What they're missing:
A true home-run threat at receiver.

Kansas Jayhawks
What they're selling:
Charlie Weis. He's taken risks (juco infusion), repaired relationships with area high school coaches and widened KU's recruiting pool.
What they're missing:
Wins. When you've won only one conference game in three years, a little bit of everything is missing.

Kansas State Wildcats
What they're selling:
Bill Synder. The plan has worked for years in Manhattan. K-State doesn't care how many stars a player has attached to his name, a player only earns an offer from K-State unless Snyder personally signs off on it after a lengthy review. It's a plan that produced a No. 1 BCS ranking and a Big 12 championship in 2012.
What's missing:
I've been told by coaches for years that the most difficult position to recruit is defensive tackle. That's why you often see even average defensive tackles rack up double-digit offers, and finding good depth at defensive tackle has been very difficult to do at K-State.

Oklahoma Sooners
What they're selling:
Oklahoma is proud of its football tradition, and few schools can match the Sooners' track record for success, facilities and ability to prepare you for the next level.
What they're missing:
A renewed focus on evaluating players. It's what differentiated Bob Stoops' staff when they started, and it's how they found players like Sam Bradford, Josh Heupel, Juaquin Iglesias and Donald Stephenson. All at the time were considered to be three-star recruits but wound up being impact players for the Sooners.

Oklahoma State Cowboys
What they're selling:
Their ability to evaluate and develop offensive talent.
What they're missing:
Elite players in the Lone Star State. With the best facilities in the conference, it might be just enough to get kids to visit.

Texas Longhorns
What they're selling:
Few in the nation can offer up the type of atmosphere, fan base, tradition and total student-athlete package like Texas can.
What they're missing:
A true a difference-maker at quarterback. The last two Heisman Trophy winners have come from Texas high schools, and the Longhorns didn't recruit one heavily and recruited the other as an athlete.

TCU Horned Frogs
What they're selling:
The Horned Frogs recruit to their style of smash-mouth play on both sides of the ball and don't care how many stars a recruit has. It hurts them some in the recruiting rankings, but it helps them win a lot of ball games.
What they're missing:
BCS conference depth. Heading into their second season in the Big 12 after a 7-6 season, the biggest thing the Horned Frogs need to do is to build the roster to be able to compete year in and year out in the BCS conference.

Texas Tech Red Raiders
What they're selling:
The Red Raiders went through a transition that brought Kliff Kingsbury to Lubbock, and the early reception has been nothing short of positive.
What they're missing:
The Red Raiders have never had issues putting up points on people, but under Tommy Tuberville and Mike Leach there was little defense being played.

West Virginia Mountaineers
What they're selling:
WVU is a force in the Atlantic region, can recruit well in Pennsylvania and is arguably one of the best schools at identifying offensive talent in the JC ranks.
What they're missing:
The 2014 class will have to be all about rebuilding in Morgantown, as the needs are mounting while several impact players have moved on.
October, 24, 2012
10/24/12
12:15
PM CT
Today at ESPN.com, we're talking No. 2 in the BCS. Who deserves the nod? I made the case for Kansas State. Here's what I had to say:
If you peruse the Bowl Championship Series rules long enough, you'll find a nice little tidbit that says if you're ranked third in the BCS standings, you go to a BCS bowl. No questions asked.
Most refer to this as the "Kansas State Rule," after Kansas State was relegated to the Alamo Bowl after the 1998 season, being passed up for two-loss No. 8 Florida and No. 4 Ohio State, despite sitting at No. 3 in the standings.

Not much has changed since then, apparently. Bottom line: The Wildcats are short on style and long on substance.
You want blowouts that turn into second-half exhibitions? Well, Kansas State can't provide what Oregon can, but it did embarrass Miami in Week 2 and did the same to West Virginia last week.
You want quality wins, big games with substance? Kansas State has you covered. The Wildcats have the best win of any team in the country this season, going on the road and beating No. 8 Oklahoma, the first team to do so as a ranked team against Bob Stoops.
Last week, the Wildcats demolished the Mountaineers in Morgantown, thrusting quarterback
Collin Klein
to the front of the Heisman pack and demoting
Geno Smith
to an afterthought in the race for now.
Before the BCS polls had been updated this week, the Wildcats had three road wins against top-25 teams, thanks to a win against Iowa State a week earlier. That was more than any team in the country and more than the rest of the undefeated teams combined.
We know Florida can defend the Swamp, but its road wins against Texas A&M and Tennessee pale in comparison to what Kansas State has done on the road.
It certainly made an impact on Dana Holgorsen, the Mountaineers' coach.
"There's a whole bunch of things that stand out about them. They're one of the best teams -- maybe the best team -- in the country, I don't know," Holgorsen said. "Time will tell."
It will, but unlike Oregon, Kansas State has already done its heavy lifting. The Ducks still have to beat USC, Oregon State and Stanford to stay unbeaten.
Kansas State will be favored the rest of the way, and has a great shot to complete an undefeated season.
The biggest complaint about the BCS is it doesn't allow teams to prove their worth on the field. Kansas State has done that so far this season, and it deserves a chance to prove itself on the biggest stage in college football: the BCS National Championship Game.
And who will finish at No. 2? I made the case for OU or Kansas State to find themselves in the title game by year's end, likely facing Alabama.
Just win, baby. That's what Kansas State does. What else can you ask? It already has road wins against Big 12 title contenders Oklahoma and West Virginia, and who's going to challenge the Wildcats now? K-State hosts fellow overachiever Texas Tech this week, but Texas is the lone Top 25 team left on the Wildcats' schedule after that, the same Texas team that's lost to Kansas State in six of the past eight meetings and hasn't beaten the Wildcats since 2003. K-State will be favored in every game the rest of the season, and has to underachieve to lose a game. Anyone want to bet a Bill Snyder-coached team does that?
What about Oklahoma?
The Sooners are the nation's best team in the red zone, but one singular stumble this season, the only time they failed to score on 33 tries, came on a fumble inside the 5-yard line on a snap to Blake Bell. Oklahoma lost to No. 3 Kansas State by five. That's the definition of a fluke. Since then, the Sooners have demolished all challengers by 21, 42 and 45 points. This week, they get to play undefeated No. 5 Notre Dame and may have two or three more ranked opponents in their final six games. They need help from K-State, but by season's end, Oklahoma could have as good a résumé as any one-loss team in America.
September, 23, 2012
9/23/12
1:15
AM CT
NORMAN, Okla. --
Tre Walker
climbed the wall in the southeast corner of Owen Field just to reach a few loved ones Saturday. He had to hug somebody, and couldn't wait until his pads were off to do it.
While the Kansas State linebacker took care of his business there, a "K-S-U" chant echoed through Norman after Bill Snyder's Wildcats finished making history. Walker was climbing to get off the field, but the rest of his team never wanted to leave after Kansas State's
24-19 victory over Oklahoma
. Coaches and players hugged and high-fived.
Kansas State and Oklahoma players both had glassy eyes, for very different reasons.
"I mean, I was shocked," defensive end
Adam Davis
said.
Sure, the Kansas State faithful knew they
could
win. But that they
would
? History shot disapproving glances the way of anyone who believed otherwise.
Oklahoma was a perfect 14-0 versus ranked teams at home under Bob Stoops, dispatching opponents by an average of 28.2 points dating all the way back to 1999. The Wildcats hadn't beaten the seven-time Big 12 champs in the regular season since 1997.
Those stats, though, hadn't reached Davis. And he was still shocked. So were the raucous 85,276 Sooners fans in attendance who provided the best Big 12 atmosphere to date.
"It feels like you're on top of the world," Davis said of the postgame party on the field.
The big names on Saturday will attract plenty of attention.
Landry Jones
' shortcomings.
Collin Klein
's toughness and passing prowess, highlighted by a 12-yard completion on third-and-11 to
Tramaine Thompson
that all but iced the game in the final minutes.
[+] Enlarge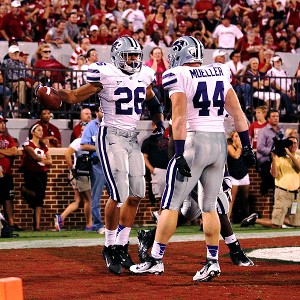 Matthew Emmons/US PresswireJarell Childs (26) celebrates with Ryan Mueller after recovering a Landry Jones fumble in the end zone for Kansas State's first touchdown.
The real story? A dogged defense that harassed Jones into two game-breaking turnovers and got lucky with a third when a low snap scooted past
Blake Bell
, leaving the Belldozer broken down on the way back to the sideline instead of into the end zone.
Snyder, ever the exploiter of weaknesses, saw a big one in Jones that plenty of others saw, too.
Asked if Jones was "spooked," Davis replied: "I noticed it in the first half. When we'd get upfield, he'd start jabbing his feet real quick and moving. That let us know that he don't like nobody in his blind side, and we tried to attack it all night."
The Wildcats succeeded. They flushed Jones from the pocket in the first quarter and linebacker
Justin Tuggle
, playing defensive end on that particular play as part of a specialized package, caught Jones from behind and stripped the ball.
Jarell Childs
scooped it up just a yard in front of the goal line and scored.
Kansas State's defense believed.
"What we did all week was worked on trying to flush him out of the pocket, because we know he ain't good with pressure," Davis said. "If we get to his blind side, he's going to get jittery and try to move out the pocket and scoot up and stuff. We tried to get our D-tackles to cause pressure on the edge and try to get him."
The Wildcats notched two sacks, but the constant pressure had Jones looking mediocre for most of the night. His second turnover came when tackle
Vai Lutui
lunged at Jones from his knees. Jones threw off his back foot and promptly sailed a probable completion into the waiting arms of Kansas State safety
Ty Zimmerman
.
"It was a little bit of a struggle offensively. ... Our defense, I think, created the turnovers that took place, by and large," Snyder said. "I thought they did a heck of a job."
Snyder was a cool customer holding a hot cup of coffee with cream and sugar, taking sips while he answered questions after the victory in his Cotton Bowl windbreaker on a brisk fall night in Oklahoma. At one point during the conference, a cricket flew in and landed an inch from Snyder's left eye. He broke an answer for only a moment to swat away the pest.
Nothing could get to the unflappable SnyderCats on this night.
"When you play somebody as good as an Oklahoma team, it really does mean something special to them, and they feel good about it," Snyder said.
Snyder's demeanor wouldn't have been much different if the 14-point underdogs had gotten waxed by 30, like so many teams at Owen Field before them. Still, his message to the team remained consistent.
"He said he was very proud of us," Davis said with a grin.
Expecting maybe something a little more dramatic?
"Yes, we were, but you never really know what to expect," Davis said.
Well, that just wouldn't be very Snyder. Saturday's win, though? Doing what no team had ever done before and getting outgained in total yardage while doing it?
Could anybody else but Snyder do that?
September, 21, 2012
9/21/12
3:45
PM CT
It's mailbag day. So let's get started. If you have any questions, email Brandon Chatmon at
bchatmonespn@gmail.com
.
Will OU ever be a run-first team again? With the talent, I think it is time. -Dalie Hand (Via Twitter @hand7711)
Well, Dalie, I'd say that's unlikely. With
Kenny Stills
,
Trey Metoyer
and
Justin Brown
on the outside and Heisman candidate
Landry Jones
at the trigger, I don't know that now would be the time to become a run-first team. Why?
To continue reading this article you must be an Insider
September, 18, 2012
9/18/12
10:00
AM CT
The purple people in Manhattan, Kan., let out one collective, offended sigh a few weeks before the season began.
Bill Snyder's 10-win team brought back its core, but the college football pundits weren't buying it. Kansas State started the season outside the top 20, and the Big 12 media didn't believe it was among the league's top half.
[+] Enlarge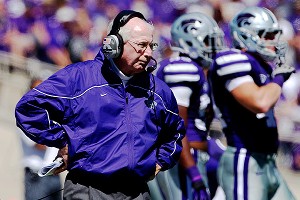 AP Photo/Orlin WagnerBill Snyder and K-State can show that they are Big 12 contenders with a win at Oklahoma on Saturday.
That's not to say that the exasperated sigh wasn't justified. Three weeks into the season, though, Kansas State has proven itself in a league full of unknowns.
No game illustrated that more than the 52-13 embarrassment of Miami on Sept. 8, but the Wildcats will have another shot Saturday night when they travel to Norman, Okla., to face the Big 12 favorite Sooners, currently the nation's No. 6 team.
Oklahoma knows what's coming, too.
"They're an excellent team. Preparation for them is always complicated. Coach [Snyder] has got a big playbook," Oklahoma coach Bob Stoops said. "The way they use the quarterback and all the different ways they run and play action, there's a lot to work on. It's always a tough preparation and they always play well and play hard."
For Kansas State, there literally could not be a better stage in the Big 12 on which to prove tself.
Stoops has never lost to a ranked team at home as coach of the Sooners, going 14-0 in 13 seasons.
Kansas State is 3-0, but it has not been a cruise to its No. 15 ranking. FCS member Missouri State hung with the Wildcats for nearly three quarters in the season opener, keeping the game tied at 9-all until midway through the third. A 35-point fourth quarter provided a 51-9 final score that didn't raise eyebrows only on those who didn't see the sloppy first three quarters.
The Wildcats thoroughly dominated Miami in a game that did turn heads, but just a week later, the Wildcats let North Texas make them sweat through nearly three quarters. The Mean Green's botched extra point was the only reason Snyder's team led in the third quarter.
All of those struggles will be quickly forgotten if the Wildcats come away with a win Saturday night in Norman. They'd join an elite club of just three teams overall that have beaten Stoops' teams in Norman. Stoops disposed of the 77 other teams that visited his home stadium.
Those three losses, though? It's safe to say the Sooners were far from inspired in those performances, all losses to unranked teams. When a challenger goes to Norman, Oklahoma answers. A year ago, Oklahoma was the only team to convincingly beat the Wildcats in the regular season, trouncing them 58-17. That was in Manhattan. It's time for a return visit.
Will there be another Sooners beatdown Saturday night? Or will the Wildcats escape with a win and loads of respect that last year's team didn't get to keep as the calendar turned to 2012?
Opportunity awaits.
August, 23, 2012
8/23/12
9:00
AM CT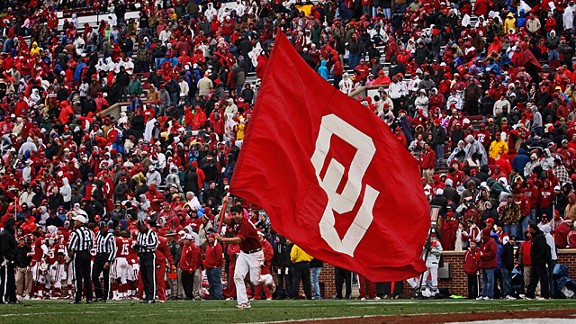 Brett Deering/Getty ImagesThe Sooners face difficult match ups against Kansas State, Texas and West Virginia but should still come out on top in the Big 12.
Our
weekly prediction series is over,
and that means my projections for every Big 12 team are complete.
Here's how I'm predicting each Big 12 season to finish this year:
1. Oklahoma: 11-1 (8-1):
The Sooners clinched the Big 12 heading into the final weekend, but I picked the Sooners to stumble on the final step to the national title. It's worth noting that I began these predictions before the offensive line injuries racked the Sooners' depth, so in retrospect, a loss might come earlier. Tough tests await against Kansas State and Texas, not to mention the trip to West Virginia.
2. West Virginia: 10-2 (7-2):
I picked the Mountaineers to beat Texas in Austin but lose to TCU and Oklahoma at home. Some rough losses, but some memorable moments and another 10-win season with a good shot to grab an at-large bid to the BCS. Not a bad first year in the Big 12.
2. Kansas State: 10-2 (7-2):
I'm higher on K-State than most and significantly less skeptical.
Collin Klein
does it ugly but gets it done, and the defense will be better than people think. Also, this is Bill Snyder we're talking about, bringing back 17 starters from a 10-win team. Close wins and other factors aside, think about that last sentence for a bit and tell me you really think K-State is finishing sixth in this league.
4. Texas: 9-3 (6-3):
An inconsistent offense will cost the Longhorns a few games this year, but this is still a salty squad that will have a shot at making a run to a national title in 2013 if the quarterback position progresses. So far, I'm not all that encouraged by what I'm hearing out of UT camp, but we'll learn a lot about the Horns on their trip to Stillwater at the end of September. I picked the Horns to win it by 17.
5. TCU: 8-4 (5-4):
I'm skeptical of how TCU will handle the transition, but the offense will be fine. How will the defense handle the move?
Kenny Cain
needs some help at linebacker. I picked the Frogs to start 7-0, but then lose four games before knocking off the Big 12 champion Sooners. The final five games of the season are just brutal for the Frogs.
5. Oklahoma State: 8-4 (5-4):
OSU's got tons of upside, but the depth at the top of the Big 12 is going to be difficult. The Pokes might just as easily finish first in the league rather than here, but like Texas, Oklahoma State is setting up for a huge 2013.
7. Baylor: 6-6 (3-6):
Baylor's going to be better than a six-win team, but like Oklahoma State, will fall victim to simply playing in a league with better teams at the top of the league. The offense will be there, but RG3 won't. Baylor's still a good team, but a step back is inevitable. The defense is better, but not good enough.
8. Texas Tech: 5-7 (2-7):
I was a little surprised here. Yes, I did think Texas Tech would get back to a bowl this spring and summer. As I went through the schedule, though, I just didn't see the wins. Ultimately, that Nov. 24 showdown versus Baylor will decide who goes to the postseason and who doesn't. In a different league, I do think Texas Tech is a 7-8-win team. This isn't a different league.
9. Iowa State: 4-8 (2-7):
Iowa State might spring an upset to get to 5-7, but I don't see Iowa State knocking off Iowa in Iowa City, and even Tulsa in the season opener is far from a gimme. The Cyclones are underdogs at home, too. I wouldn't be shocked to see the Cyclones spring another bowl appearance on us, but I don't see six wins. ISU is good enough to win six, but not good enough for me to pick them to win six, if that makes sense.
10. Kansas: 3-9 (0-9):
KU will be more competitive this year, and I feel similar to the Jayhawks as I do with Iowa State in some ways. I expect Kansas to win a conference game this year. I really do. I just don't know who it's going to be, and I didn't have the guts to pick it. My top candidates are: at home against TCU on Sept. 15, at Texas Tech on Nov. 10 and Iowa State at home on Nov. 17.
Want my picks for every week this season? Here you go:
July, 19, 2012
7/19/12
1:10
PM CT
The Big 12 has released the league's preseason poll, as voted on by a panel of media covering the conference.
Here's how the media picked the Big 12 to play out in 2012 (first-place votes in parentheses):
1. Oklahoma (32) -- 396 total points
2. West Virginia (7) -- 339
3. Texas -- 291
4. Oklahoma State -- 267
5. TCU (1) -- 260
6. Kansas State (1) -- 257
7. Baylor -- 162
8. Iowa State -- 121
9. Texas Tech -- 116
10. Kansas -- 46
Total points are on a system of 10 points for a first-place vote, nine points for a second-place vote, etc.
I'll have some thoughts on the poll next week when I return from vacation, and I'll also reveal my own personal ballot later on this month.
My one thought for now? Doubting Bill Snyder? Beware, voters. I'm shocked. More on Monday.
Until then, what did you think of the media's picks for 2012?
July, 10, 2012
7/10/12
10:30
AM CT
Our series on coaches marches on today. Today, we're looking more at the coaching jobs themselves, and less about the men who currently reside within them.
Who has the Big 12's best? It all factors in history, facilities, recruiting base, fan base etc. What are the best jobs in the league? Here's how I'd rank them.
1. Texas:
Ready-made recruiting base. The Longhorns are the flagship program in a state full of talented kids who (most of them, anyway) would die for an offer to wear the burnt orange. They've got a big fan base and college sports' biggest budget. What more could you ask for? Oh, a crazy awesome city surrounding your campus? Texas has that, too; this is arguably the best job in the nation.

2. Oklahoma:
The Sooners are a national power with a huge fan base and lots of money. Being just under three hours up the road from Dallas pays off in recruiting, too. Winning isn't automatic here (ask John Blake), but it's a lot easier than at most places. The gap between these two and the rest of the league? Enormous.
3. Oklahoma State:
Ain't nothin' wrong with a sugar daddy. T. Boone Pickens has helped elevate this program off the field and Mike Gundy turned it into a big winner on the field. OSU's facilities are impeccable, and its proximity to Texas allows it to reel in some top talent from the state.
4. West Virginia:
This is the only team on our list that truly has an entire state behind the program. That pays off, even if it's a small one like West Virginia. Being a historic winner helps, too. Big 12 membership will pay off in facility upgrades soon, too.
5. Texas Tech:
Tech's facilities are nice and the Red Raiders often get first dibs on the declining-but-still-underrated talent in West Texas. Winning big is possible, and the rowdy fan base provides a nice home-field advantage. Look out for that wind and lack of an indoor facility, though. Lubbock has a reputation as a small town, but it's actually one of the league's biggest with a population of well over 200,000. It's not the prettiest city, but there's more there than most think.
6. Baylor:
Waco's proximity to the metroplex makes it a nice draw for recruits, and though the city isn't a huge draw, the campus is nice and the facilities are strong. A small fan base is the biggest negative. It's never fun for coaches or players to play home games in atmospheres that feel like neutral-site games. It happens too often at Baylor.
7. TCU:
TCU has the same problem as the Bears, and we'll see if Big 12 membership fixes its home field getting flooded by opposing fans in Texas. Being located in the DFW metroplex is huge, and the facilities are in the process of a major upgrade that will be done soon. Gary Patterson winning for a decade gives this job a big upgrade for the next guy, too.
8. Kansas State:
Bill Snyder did the impossible and turned K-State into a power (albeit briefly), but no one else seems to be able to win in Manhattan. It's a tiny town in central Kansas, and unless you're arguably the greatest coach in the history of the game, nobody else has been able to consistently win there. The fan support is outstanding and way underrated, but taking the job has to give any coach pause, even if Snyder's done everything he can to make the program a winner for the next guy.
9. Kansas:
An apathetic fan base that seems more interested in basketball is the biggest problem with the KU job. It's the only school in the Big 12 that prefers the roundball. Mark Mangino proved you could win big there, but even he had trouble winning consistently. The stadium is quiet and underwhelming, but its proximity to Kansas City offers some nice payoff in recruiting -- if you can beat out Mizzou.
10. Iowa State:
Iowa State holds the distinction of being the only truly "little brother" program in its own state, and that lands it at the bottom of our list. ISU is way north in the Big 12, and in a state that has little football talent. Best of luck convincing top Texas talents to sign up for Iowa winters. Feign offense at the "little brother" tag, but Iowa has 11 conference titles, 22 consensus All-Americans and a Heisman Trophy. Iowa State has two titles, three All-Americans and no Heisman. It's not close. Iowa's also won 14 bowl games, compared to three for ISU. That said, Paul Rhoads is doing an unbelievable job in Ames. So did Dan McCarney.
May, 6, 2012
5/06/12
11:00
AM CT
Everybody, the Kentucky Derby is tomorrow!
Sorry, I can't do it. I really can't stand horse racing. Alas, our boys on the Big Ten blog handicapped the league title race, and for those of you who
do
like horse racing, here's how I'd slot the Big 12 if all 10 teams were making the nervous walk to the track right now.
We'll take it from the top.

Oklahoma: 8-to-1 odds
As I've written before, this thing is wide open, and nobody's going to walk into the 2012 season feeling too confident about their chances. That said, Oklahoma has the closest thing to a truly complete team. The Sooners have an experienced quarterback with lots of weapons around him at the skill positions, along with a solid offensive line. OU's defense should be one of the league's best, and the Sooners have been in this position plenty of times. They are a narrow favorite in a loaded Big 12, but the Sooners have enough upside to sneak into the national title game, too.

Kansas State: 10-to-1
Deep down, I don't think I truly believe Kansas State is the Big 12's second-best team (WVU), but I do believe in Bill Snyder, and the Wildcats have very, very few variables. That's a far cry from the two new teams in the league, who both have huge questions on defense and bigger questions about their ability to handle a more difficult schedule. That considered, there's no doubt in my mind Kansas State has the second-best chance to take home the league title. Kansas State is the little engine that could -- that keeps on chugging, seemingly oblivious to the spread offenses all around it.

West Virginia: 12-to-1
Speaking of high-powered offenses, West Virginia might well have the best in the entire Big 12. It's loaded at receiver and running back, and
Geno Smith
might be the best quarterback in the league. He'll get a chance to prove it this fall. In the meantime, WVU's got to make sure its defense is ready to give its offense a chance to outscore folks across the Big 12.

TCU: 15-to-1
TCU has plenty of question marks on a depleted defense without projected starters, but its offense will be as good as any in the Big 12. The Horned Frogs still can't answer their biggest question -- How will they handle the jump from non-AQ to a major conference? -- until they actually do it. TCU's floor seems pretty high, but can it actually win the Big 12 in its first season?

Texas: 15-to-1
Texas has the most upside of any team in the Big 12, but 2012 seems more likely as a set up for a title run in 2013. It's hard to see Texas running the table or going 11-1, but if the top of the league gets muddled and 9-3 is good enough to win the league? These Longhorns will be physical mudders. Pray for losses raining down on everybody, UT fans. There's nobody in the Big 12 Texas can't beat, but does it have enough offense to beat them all?

Oklahoma State: 20-to-1
Oklahoma State's defense, an underrated unit in 2011, will be much better, and its running backs will be some of the best in the league. Emerging weapons like
Josh Stewart
, Blake Jackson and
Charlie Moore
will make names for themselves in 2012, but how far can OSU really get with a true freshman at quarterback? Look out for OSU and Texas in 2013, though.

Baylor: 45-to-1
Aaaaand here's your big drop-off from the legitimate Big 12 title contenders. Baylor's a good team. It might even be a borderline top 25 team. But the Big 12 is so, so stacked at the top. You don't win 10 games, lose a Heisman winner, the Big 12's leading rusher and receiver, and
then
go win the Big 12. I'd be pretty surprised if Baylor didn't make a bowl game, though.

Texas Tech: 55-to-1
Tech wants to prove it's back, but find me a spot where Tech is better than Baylor. The quarterbacks are close, and
Seth Doege
's been better when he's played, but
Nick Florence
is due for a big year at Baylor. Tech's focus for now needs to be staying healthy and getting back into bowl games, not fighting for a Big 12 title.

Iowa State: 75-to-1
Iowa State might sneak into a bowl game again, too. They're good enough. This is still a team that's come pretty close to maxing out its talent the past few seasons and won seven games twice. That's legitimately impressive, but not anything close to Big 12 title contention. This season's team should be solid, though. The battle between Baylor, Tech and Iowa State to grab the last bowl bid or two is going to be really heated.

Kansas: 125-to-1
Charlie Weis has made some nice moves to get KU moving in the right direction, but if the Jayhawks go from 2-10 to Big 12 champs, I'll get a three-foot tattoo of a Jayhawk on my chest. That's a promise.
April, 23, 2012
4/23/12
4:30
PM CT
The BCS brass -- aka conference commissioners -- are set to meet again this week to discuss the future of college football's postseason. On Monday, several Big 12 coaches took a swipe with their input on what, if any, changes should be ushered into the game.
Last year's SEC rematch in the BCS Championship Game -- and Oklahoma State's snubbing -- rubbed plenty of folks the wrong way, and Texas coach Mack Brown was the most adamant about bringing change. He's not sure what he wants, he just wants something else.
"I'm hoping it's something different than what we've got now. I'm not really sure what I think would be best," Brown said on Monday's Big 12 coaches teleconference.
[+] Enlarge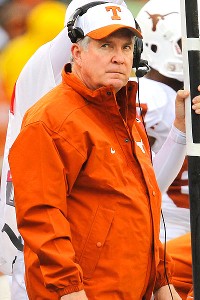 Sarah Glenn/Getty ImagesPerhaps no coach in college football wants a change to the BCS system more than Texas' Mack Brown.
For now, it looks like all eight- and 16-team playoff options are off the table, but the BCS as it currently stands had Brown fired up.
"I don't like our current system. I don't like the fact that last year two teams played twice. I do not feel like the BCS really gives credence to, really, strength of schedule," he said. "We've had some teams play in the BCS that played some poorer teams and still had an opportunity to play. I don't like the fact that we compete between BCS and non-BCS, as far as who plays. I understand that that's the money cycle, but I'd rather see the best teams play at the end."
TCU, who will join the Big 12 in 2012, went undefeated in 2010 and beat Wisconsin in the Rose Bowl but was denied a chance at playing fellow undefeated Auburn, which took home the national title.
"I'd rather have different means to evaluate the best teams in the end," Brown said. "I think the best teams should play at the end. That's more fair to the coaches, that's more fair to the players and that's more fair to the fans."
One problem for some in the process? Nobody can seem to agree on what to call a new postseason, even if it's four teams playing for the right to be called champion.
"I'm not for a playoff, because it would ruin the bowl system, and I don't believe it would be good for student-athletes," Oklahoma coach Bob Stoops said.
However, later on, he expressed his preference for the plus-one, which could just as easily be referred to as a playoff.
"I'd like to see the plus-one," he said. "If they do so, I'd like to see the four teams that qualify as the per se 'playoff teams' participate in two of the BCS bowls and then rotate it every two years, which bowls are hosting the playoff teams and which ones aren't, and then the plus-one after it."
Stoops often looks back fondly on his bowl week experiences as a defensive back at Iowa and doesn't want to rob future players of a week in the sun during winter with light practices, red-carpet treatment and a week spent solely with teammates.
"Anything that eliminates the bowls would in the long run not be positive for college football," Stoops said.
As for the elder statesman of the Big 12 coaches, Bill Snyder? He's staying out of the argument.
"I don't have any startling estimations in regards to what will happen and don't really have any major preference as far as playoff versus the system," Snyder said. "I can't imagine it's getting into an eight or 16-team playoff."
January, 18, 2012
1/18/12
11:30
AM CT
Bill Snyder famously returned to Kansas State with the intention of "calming the waters" and restoring stability to Kansas State's program.
Well, it appears the seas at Kansas State are notably less stormy these days, fresh off a 10-win season and returning a team with the pieces to win a Big 12 title.
Down south in Oklahoma, though, the seas look a bit rockier.
[+] Enlarge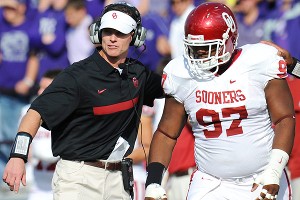 Peter G. Aiken/Getty ImagesThe fastest way for Brent Venables to get his own team is by leaving Oklahoma and heading to Kansas State.
Willie Martinez was let go to make room for Mike Stoops, whose arrival paved the way for what can only be classified as a demotion for Brent Venables. He's gone from the man in charge of Oklahoma's defense since 2004 to the man sharing coordinator duties with Stoops, the exact spot he sat in back in 2003.
Between now and then, head coaching opportunities have surfaced but were never consummated.
Now, it's a little different.
The new arrival at Oklahoma has Venables mulling a reported offer from Clemson, an unthinkable move in any other scenario. In this situation, it's understandable. Stoops, through no one's fault, now stands as a rather large deterrent to Venables ever becoming a head coach.
Until, well, Monday.
News out of Clemson has been quiet, and Monday night, a report surfaced that
sent Kansas State DC Chris Cosh to South Florida.
October, 27, 2011
10/27/11
2:23
PM CT
Two offenses. Two speeds. One ball.
Even the most casual fan will see a vast difference in the way Oklahoma's offense operates and the way Kansas State moves the ball.
The Wildcats?
"Methodical," says quarterback
Collin Klein
, offering up a solid euphemism for the slow offensive pace Kansas State has ridden to a 7-0 start.
[+] Enlarge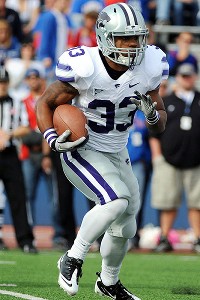 John Rieger-US PRESSWIRERunning back John Hubert is third in the Big 12 in carries and a crucial piece of Kansas State's ball-control approach on offense.
Said the squad's self-deprecating humorist on the sidelines, coach Bill Snyder: "It's just kind of the nature of the way we do things. We're probably not smart enough to figure it out as fast as other people."
Oklahoma? When the Sooners get rolling, they're arguably faster than any offense in the country. On at least a handful of occasions per game, TV viewers will miss the first half of an Oklahoma play during a brief instant replay.
Despite the differences, the goals are identical.
"At the end of the day, you're trying to wear them down," said Oklahoma coach Bob Stoops.
Said Klein: "It gives our defense rest and enables us to wear down opposing defenses."
Both have succeeded in different ways. The undefeated Wildcats lead the nation in time of possession. That's welcome news for a simple reason.
"We think it's a good thing if the ball's in our hands. The longer period of time you have it in your hands, maybe that's a good thing," Snyder said. "We think fewer bad things can happen when you've got possession of the ball and if you're not turning it over."
Sound, uncomplicated reasoning.
Trips to the end zone are the ultimate goal for both teams, but while K-State looks to shorten the game and keep its defense off the field as long as possible, Oklahoma lengthens it and maximizes what opposing defenses have to do when they're on the field.
Both philosophies, though, boil down to that ever-present coaching buzzword.
"It still gets down to execution," Stoops said, citing a stretch of seven possessions during last week's loss to Texas Tech in which the Sooners committed two turnovers and had four three-and-outs. "No matter what you're trying to gain an advantage off of, getting guys when they don't have their feet in the ground, you still have to execute. ... Hopefully, they're not quite set and ready to play defense, so hopefully you have an opportunity to gain an advantage."
Said Snyder: "Possession time is a positive thing if you do something with the possession time."
His team has just under 35 minutes of it per game, but ranks last in the Big 12 (and 88th nationally) in total offense. But think of it this way: No team puts opposing defenses on the field more than Kansas State and no defense has been on the field less this season than the Wildcats'. K-State is best known for its rushing duo of Klein and running back
John Hubert
, who have carried the ball a combined 273 times and rank first and third in the Big 12 in carries.
Oklahoma ranks fourth nationally in total offense with a unit known for its pass attack led by
Landry Jones
and receivers
Ryan Broyles
and
Kenny Stills
. Its time of possession? Just under 29 minutes per game, which ranks 77th nationally and seventh in the Big 12.
Both work, and K-State is the team without a loss.
The question on Saturday: Which works better?
October, 26, 2011
10/26/11
12:31
PM CT
Visitors to Kansas State's facility on Tuesday were in for a surprise.
In the trophy case for the Governor's Cup, which K-State took home again on Saturday after beating Kansas, stood a new trophy.


It should be familiar for fans of both Kansas State and its opponent this week: Oklahoma.
The 2003 Big 12 Championship trophy found a home in a featured spot in the Wildcats facilities.
"When I got here, the lights were out, so I have no clue what's in the trophy case outside," coach Bill Snyder told reporters. "If there's something else in there, I have no awareness of it."
Believe the intensely detail-oriented coach at your own risk.
Team officials said they were "not sure" who moved the trophy, but either way, it should be a little added reminder of what could be ahead of Kansas State on Saturday.
Kansas State earned the trophy by beating a team some considered to be one of the best in college football history, and did it convincingly.
The two-touchdown underdogs beat Oklahoma in Kansas City, 35-7, to advance to the BCS. Despite the loss, Oklahoma played for a national title, where it lost to LSU, 21-14.
This week?
Kansas State is a 14-point underdog.
October, 13, 2011
10/13/11
11:45
AM CT
Here's what I'm watching for in Saturday's games.
1. Have mercy, Oklahoma.
At this point, it's mostly just curiosity. It won't get any worse for Kansas this year, but I remember checking my phone on the field at the Cotton Bowl last Saturday and seeing OSU led 35-7 at the end of the first quarter. I shouldn't have been surprised. I was. Oklahoma's winning this game. The biggest question is by how much.
2. Whaddaya got, Wrecking Crew? Especially you guys at the back.
There's no reason Texas A&M should be this bad defending the pass. It's a definite anomaly. The Aggies rank last nationally and are giving up 113 more yards per game through the air than in 2010, but it is second nationally in sacks. Want to prove you're not that bad? Shutting down or slowing down Baylor will do it.
3. Baylor's front seven.
Meanwhile, Texas A&M is fully capable of running over just about anybody in the league, and definitely Baylor. The Bears rank 82nd nationally in rush defense, and that could mean a big day for
Christine Michael
and
Cyrus Gray
.
4. Kansas State's time of possession.
Caring about this stat has gone out of style everywhere but Manhattan, it seems. The Wildcats average 35:56 a game, which is almost three full minutes more than anyone in the league. Tech, meanwhile, is one of seven Big 12 teams under the 30-minute mark. Will a win in this stat mean a win on the scoreboard?
5. Does home field matter...at all?
Can the crowd in Kansas do anything to help stave off an ugly loss for the Jayhawks?
6. Which side is more desperate?
Iowa State needs this game to keep its hopes of a bowl game alive. If Missouri loses, the possibility of missing the postseason becomes very real, too. Win and the Tigers may get some momentum moving forward. This is a classic case of a must-win for both sides. That usually produces great football.
7. Henry Josey.
I'm guessing most of you didn't know the man who started the season as Missouri's third-string running back is leading the Big 12 in rushing. He's been outstanding. That's what happens when you average more than 10 yards a carry. Will Missouri keep handing him the ball as its other backs get back to health?
8. Texas' pass rush.
There's no truth to rumors that
Landry Jones
consuming both a corn dog and a fried Snickers in the backfield last week, but he had enough time to do it if he wanted to. The Longhorns can't let Oklahoma State's quick-release offense do the same.
Brandon Weeden
must be pressured, or OSU will roll in this one easily.
9. Case McCoy and David Ash.
How will the distribution between these two Texas quarterbacks look? Ash is the more physically impressive quarterback, but he made big, big mistakes against Oklahoma's experienced defense. These guys have to play well and move the ball consistently for the Horns to pull the upset.
10. OSU stays consistent?
The Cowboys, outside of a game last year without
Justin Blackmon
, was the Big 12's most consistent team a year ago. That's been the case again this year, and OSU has won seven consecutive road games. Texas has never lost the week after the Red River Rivalry under
Mack Brown
, but this is likely the toughest team the Horns have seen in that 13-game stretch. Austin is generally a tough place to play, but OSU made it look easy last year. Will this year look the same?