Oklahoma Sooners:

Big 12 Take Two Tuesday
July, 1, 2014
7/01/14
10:30
AM ET
It's
Take Two Tuesday
, when we give our opinions on a topic related to the Big 12.
Today's topic: Who could be the third receiver to earn All-Big 12 honors alongside Kansas State's
Tyler Lockett
and Baylor's
Antwan Goodley
in 2014?
Take 1: Brandon Chatmon — Texas Tech's Jakeem Grant
Grant is arguably the Big 12's most explosive player. The Red Raiders receiver is a quick, dynamic playmaker who will be one of the focal points of Kliff Kingsbury's offensive attack this fall.
[+] Enlarge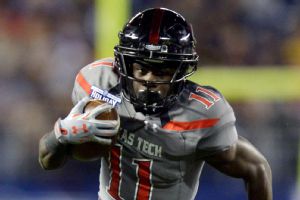 Kirby Lee/USA TODAY SportsJakeem Grant is only 5-foot-6, but should put up huge numbers in Texas Tech's offense.
And, with Texas Tech losing 45 percent of its 2013 receptions in Jace Amaro and Eric Ward, it should be Grant's time to shine. At 5-foot-6, 160 pounds, Grant isn't going to overwhelm defenders with his size the way Amaro did, or outmuscle defenders with his bulk and ball skills the way Ward did, but he can be a one-on-one mismatch who is difficult to stop.
The junior receiver seems ready to handle a bigger role in the attack after a strong spring, and he had some of his best games against Tech's best competition in 2013, recording 29 receptions for 313 yards in a four-week stretch against Baylor, Oklahoma, Oklahoma State and Kansas State.
After making 65 catches last season -- a total that ranks third among the Big 12's returning pass-catchers -- Grant could approach the 100-reception mark this season with the stability of
Davis Webb
as the lone guy under center for Texas Tech and a larger piece of the passing offense on his shoulders. That means Grant's name could be next to Lockett and Goodley when postseason honors are handed out in December.
Take 2: Jake Trotter -- Oklahoma's Sterling Shepard
Grant is a fabulous, electric talent. He was awesome in the National University Holiday Bowl, when he reeled in two touchdown passes. And he might have been even better during the spring, when he was dominant on several occasions, including Tech's spring game, when he hauled in five catches for 105 yards and a touchdown.
[+] Enlarge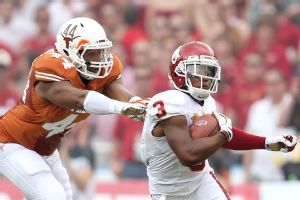 Matthew Emmons/USA TODAY SportsOklahoma's Sterling Shepard caught 65 passes for 796 yards and seven touchdowns last season.
But I'm going with Oklahoma's Sterling Shepard here, who has a longer track record of consistent excellence.
Sure, Grant had better overall numbers last year. But Shepard's statistical shortfall had more to do with Oklahoma's inconsistent quarterback play than his ability. Even as the Sooners rotated through three quarterbacks to varying success, Shepard found a way to make an impact. He made the game-clinching touchdown catch in the victory over Notre Dame. He helped set the tone in the victory at Kansas State by snagging the opening-drive touchdown. He caught seven passes for 112 yards in the Sooners' stunning win at Oklahoma State. And he caught a touchdown in the Allstate Sugar Bowl victory over Alabama.
With
Jalen Saunders
gone, Shepard will take over as the Sooners' go-to receiver. And with quarterback
Trevor Knight
finally asserting himself in the Sugar Bowl, Shepard should have a passer equipped to get him the ball.
The Sooners also have no other returning receiver with more than 18 career receptions, which means Shepard will be targeted early and often. At the same time, there figures to be enough receiving talent surrounding Shepard that defenses won't be able to completely key on him. Oklahoma's balance with its rushing attack should also free up Shepard.
Grant might have a higher ceiling because of his athleticism and big-play potential. Grant also could put up bigger numbers in Kliff Kingsbury's high-flying, pass-first offense.
But outside Lockett and Goodley, there is no more reliable receiver in the league than Shepard, who has been Mr. Dependable since the moment he stepped on Oklahoma's campus. That is why I'm predicting he will be the one to finish All-Big 12 at receiver alongside stalwarts Lockett and Goodley.
June, 17, 2014
6/17/14
10:30
AM ET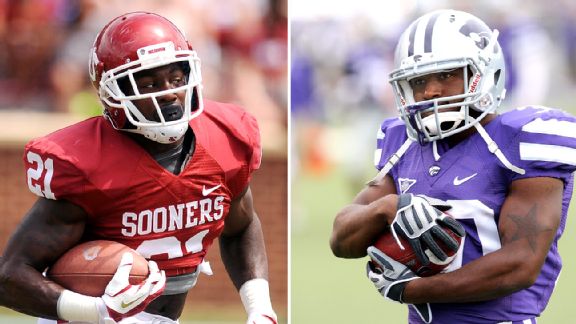 USA TODAY Sports, Icon SMIBoth OU's Keith Ford and Kansas State's DeMarcus Robinson are unproven and at the forefront of two RB battles.
It's
Take Two Tuesday
, when we give our opinions on a topic related to the Big 12.
Today's topic: Which is the Big 12's most compelling running back competition?
Take 1: Brandon Chatmon -- Oklahoma

It will be fun to watch the battle to get the bulk of the carries at Oklahoma.
The Sooners' running backs room is full of talent, but it's largely unproven. Sophomore
Keith Ford
has shown toughness and a physical running style, fellow sophomore
Alex Ross
has exceptional physical gifts and the Sooners added a pair of true freshmen,
Joe Mixon
and
Samaje Perine
, who will be right in the thick of the battle for playing time.
If someone steps up during preseason camp and locks down the job, that would be ideal for the Sooners, but the best-case scenario is two or more running backs forcing the coaches to find a role for them this fall. And that's not out of the question because Mixon is extremely versatile, Perine brings terrific size, Ross brings size and speed and Ford looks like the most complete back of the group.
Yet, even with all the talent, the Sooners will enter the season with Ford as the most productive returnee after recording 4.6 percent of OU's total rushing yards (134 rushing yards) as a true freshman. There are unknowns abound at the position from Ford's fumble troubles to Ross' inconsistency to the freshmen's transition into college football.
It could be a boom-or-bust situation. I can't wait to see it play out in 2014.
Take 2: Jake Trotter -- Kansas State

Brandon opted to go with a running back competition loaded with intriguing options. I'll go the other way.
The biggest hole on K-State's roster going into the preseason is at running back.
John Hubert
manned the position for the Wildcats for the last three years, rushing for 2,965 yards and 28 touchdowns.
His departure has left K-State with virtually no experience returning at running back.
DeMarcus Robinson
, in fact, is the team's most seasoned returning rusher with just 11 career carries for 45 yards.
During the spring, neither Robinson nor
Jarvis Leverett
showed they're necessarily the answer at the position, making running back the position to watch in Manhattan this August. The rest of the offense appears to be in place. At quarterback,
Jake Waters
surged the end of last season and was sharp and confident again this spring.
Tyler Lockett
is one of the best receivers in the country and the offensive line should be stout with All-Big 12 performers
BJ Finney
and
Cody Whitehair
.
The Wildcats, however, likely won't contend for a Big 12 title unless a playmaker emerges at running back.
Robinson and Leverett will get more chances to show what they can do. But so will incoming freshman
Dalvin Warmack
, who rushed for 4,500 yards and 70 touchdowns and averaged almost 9 yards per carry during his final two years in high school.
If the answer at running back emerges, this K-State offense will be complete. But until that happens, this competition will remain compelling.
May, 27, 2014
5/27/14
10:50
AM ET
It's
Take Two Tuesday
, when we give takes on a burning topic related to the Big 12.
Tuesday's topic: Texas is primed to become the third Big 12 school to serve beer at football games; should other Big 12 schools consider following suit?
Take 1: Jake Trotter – Yes
This also got asked in
last week's mailbag
, but as I wrote then, I don't have a problem with it, as long as it's done in a responsible manner.
[+] Enlarge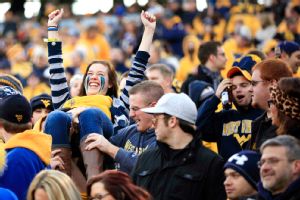 AP Photo/Christopher JacksonWest Virginia reported $750,000 in revenue from beer sales in 2012 and believes allowing sales in the stadium has helped curtail binge drinking prior to games.
Selling beer at football games actually can curb the binge drinking that occurs in the parking lots before and during halftime of games. West Virginia claims it curbed binge drinking once it began serving beer at its football games, while preventing anyone from leaving the stadium during the game to go back to the tailgating area.
By serving beer, West Virginia also reportedly generated $750,000 in alcohol sales during the 2012 season. And while the money was coming in, West Virginia's alcohol-related incidents decreased.
Last week in Oklahoma City, I was at the Big 12 baseball tournament, which also began selling beer for the first time. There wasn't even a hint of an incident, at least while I was there.
At college sporting events, people are going to drink, whether that's tailgating in the parking lot or at the taps in the stadium. But in the stadium, at least the drinking can be managed.
With the concessionaries assuming liability, like they have at West Virginia, there's very little to lose. But there's a whole lot to gain -- both in the monetary windfall as well as a reduction of the drinking-related problems that can occur outside the stadiums.
Take 2: Brandon Chatmon – No
Here I am to rain on your parade.
Without a doubt, adding alcohol sales to the equation will bring more revenue to Big 12 schools who decide to start selling beer and/or wine in their stadiums. And there are some positives in relation to fan behavior including the ability to monitor sales. Yet, alcohol and college students are always a combustible mixture.
When it comes to adding alcohol sales in Big 12 stadiums, the question is simple: Why change anything?
College football is as popular as ever, the gameday fan experience is second to none and, in this post-realignment world, universities are making more money than they ever have. It's never easy to turn away additional revenue and some schools, most notably West Virginia and Louisville, have had some success maintaining a terrific atmosphere with alcohol sales in their stadiums.
The main reason to keep alcohol sales out of stadiums is to maintain the current atmosphere. College stadiums should remain as family friendly as possible. Selling alcohol would increase the number of people inside the stadium who have had a drink or two. That's not to say a drink or two, for most people, will completely change everything about the stadium atmosphere, but it would have an impact.
And the additional revenue, after most schools have seen added millions from TV deals after realignment, isn't worth the added hassle.
May, 13, 2014
5/13/14
1:30
PM ET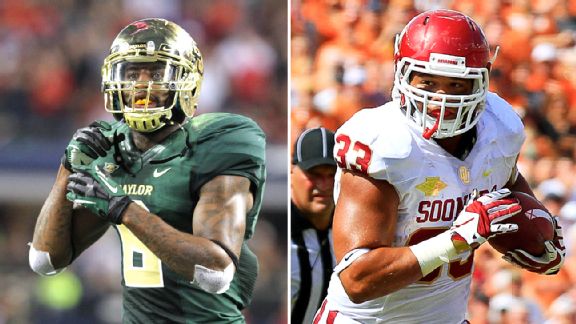 Icon SMIAhmad Dixon and Trey Millard both need time but could find homes in the NFL.
It's
Take Two Tuesday
, when we give our takes on a burning topic in the league.
Today's Take Two topic: There were five Big 12 players taken in the seventh round of the NFL draft; which of them has the best chance to succeed in the NFL?
Take 1: Max Olson -- Baylor safety Ahmad Dixon, Dallas Cowboys

You couldn't help but feel for Dixon, who sat in the great Waco barbecue joint Vitek's throughout Saturday with a room full of family and friends, all of them wondering why his name hadn't been called yet.
A difficult weekend ended with a dream come true: A chance to play for the Dallas Cowboys after being selected in the seventh round.
It was easy to see why Dixon was so emotional, to the point of crying on his conference call with reporters. The former five-star recruit was the 248th selection in the draft and must've gone far later than he'd expected.
But if the Cowboys are patient, and Dixon catches on quickly in minicamp and training camp, he'll have a future in the league. He's a fiery safety who has range and hits hard, and in time he can work his way into the Dallas secondary as more of a down safety.
First, he'll have to prove his worth on special teams. That's where his ability to run and hit without holding back will make him an asset. Having a close friend on the team in
Terrance Williams
(and, at least for now,
Glasco Martin
) means Dixon will have guys looking out for him.
The chip on Dixon's shoulder after going in the final round shouldn't be underestimated, either. This is a guy who wants to be great, and gets to do so for his childhood favorite team. He's got a lot to prove, but I wouldn't bet against him.
Take 2: Jake Trotter -- Oklahoma fullback Trey Millard, San Francisco 49ers

Like Max, I think Dixon has a chance to stick in Dallas. But I really think the 49ers got a steal in Millard -- the top all-around fullback in the draft -- with the 245th overall pick.
Despite being a three-time All-Big 12 selection, Millard's draft stock fell after he suffered a season-ending torn ACL in late October against Texas Tech.
But Millard is going to a franchise with a roster so loaded it has the luxury of being able to "redshirt" injured players while giving them their first year to rehabilitate. Last year, San Francisco drafted South Carolina
Marcus Lattimore
, who was still coming back from a gruesome knee injury. In this draft, the 49ers took two other players in similar predicaments in Clemson offensive lineman
Brandon Thomas
(fourth round) and Florida Atlantic cornerback
Keith Reaser
(fifth round), who also had ACL surgeries.
In San Francisco, Millard be given plenty of time to get back to 100 percent for the 2015 season. And with a full bill of health, he has the ability to effectively block in the run game, grab passes in the flat and even occasionally carry the ball -- he averaged 5.5 yards per carry during his college career -- all of which will make him an asset in the San Francisco backfield. The 49ers are one of the few remaining teams in the NFL that love to pound the ball between the tackles. Heck, they even used their second round pick on physical Ohio State ball-carrier
Carlos Hyde
, even with Lattimore and Frank Gore already on the roster.
Bruce Miller
, the 49ers' current starting fullback, signed a three-year extension in March. But Millard could carve out a role as an H-back, considering the 49ers didn't nab such a player for their pistol attack with any of their 12 picks this year.
Though he was one of the last picks to go off the board, Millard was an excellent player in college. If he can get back to his previous form, he has a chance to be a pretty good pro for a seventh-round selection, too.
May, 6, 2014
5/06/14
10:30
AM ET
It's
Take Two Tuesday
, when we give our takes on a burning question in the league.
Today's Take Two topic: Which potential Big 12 draftee will be the biggest steal for a team during the NFL draft? (Note: Day 2 or Day 3 prospects only)
Take 1: Max Olson
[+] Enlarge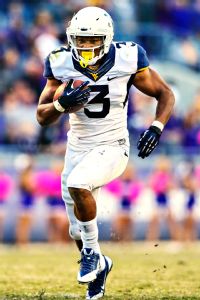 Kevin Jairaj/USA TODAY SportsCould former West Virginia tailback Charles Sims be a steal for an NFL team?
If West Virginia running back
Charles Sims
lands with the right team, he'll have a chance to make a lot of other organizations look stupid for passing on him.
In today's NFL, where you better have two good backs even if you have
Adrian Peterson
, Sims has the potential to be a special commodity. He probably would've been drafted off his resume at Houston, but what Sims achieved in his lone season at West Virginia opened a lot of eyes and should've significantly boosted his stock.
What he'll bring to the table for whomever drafts him is all-purpose playmaking. You will not find another back in this draft who has 2,000 receiving yards on their resume. Big 12 defenses knew they had to stop Sims and he still went for a combined 1,496 yards rushing and receiving in 2013.
Last week, Todd McShay had Sims going to the Baltimore Ravens at the end of the third round, with the 99th pick, in a
three-round mock

with Mel Kiper Jr. That would be one heck of a fit, with Sims as the explosive counterpart to an aging
Ray Rice
. But with his acceleration and instincts, Sims makes for an ideal fit for any number of NFL schemes.
There are no first-round caliber rushers in this draft. It's likely whoever drafts Sims will do so with the intention of making him a complementary piece, someone who can spell the feature back and give a jolt to the offense.
And that's a good plan, but don't be shocked if Sims ends up outperforming expectations. This is the guy who, by the end of October, you'll wish you had on your fantasy team.
Take 2: Brandon Chatmon
Oklahoma cornerback
Aaron Colvin
was making waves and rising up draft board before tearing his ACL during Senior Bowl practices in January. His injury could make him a bargain-basement steal for any NFL team.
Whoever selects Colvin shouldn't count on him this fall but they would earn the dividends in the long term by getting first- or second-round production from a player who fell down draft boards and out of the minds of some NFL scouts and GMs in January.
Colvin's incredible competitiveness and a hunger to succeed which will help him be an impact player in the NFL despite lacking the ideal bulk at the cornerback position. He's very good in coverage, a willing tackler and has the versatility to play safety if needed. With the NFL moving to a more pass happy league with an aim on spreading teams out and forcing mismatches with receivers, Colvin would be a terrific addition to any defense.
When we look back at the 2014 NFL draft five years from now, Colvin will be the Big 12's best steal because, most likely, he will exceed expectations for the pick used to select him. Most teams aren't in a position to wait for Colvin to return to his pre-injury form, but one of the teams that are afforded that luxury will land a gem in the OU cornerback this weekend.
March, 25, 2014
3/25/14
10:00
AM ET
It's Take Two Tuesday again, when we give our takes on a burning question in the league.
Today's Take Two topic: Who has the best chance of jumping up and challenging Big 12 favorites Baylor and Oklahoma for the conference crown?
Take 1: Max Olson -- Texas
Oklahoma and Baylor should both be considered top-10 squads in 2014, there's no dispute about that. They're in terrific shape going forward. But the way this league is set up, it's hard to see either emerging undefeated by December.
The team best built to challenge them is Texas, at least on paper. Remember, for all its flaws in 2013, the Longhorns were two quarters away from winning the Big 12 despite major injuries and inconsistent quarterback play. They lose key pieces, but could come back better than expected.
That's because there's a new sheriff in town. Charlie Strong is dedicated to changing the mentality of this program and bringing back the toughness and accountability that went missing in recent years. He put together an impressive staff and brought in a revered strength coach. This program is undergoing big changes.
And there's enough talent on board to sustain another run at a conference title. Joe Wickline and Shawn Watson will build an offense around the run game trio of
Malcolm Brown
,
Johnathan Gray
and
Joe Bergeron
, and there's good depth at receiver and on the line. What Texas needs most is a full year from
David Ash
, but
Max Wittek
seems likely to become the insurance option there.
If Texas is going to challenge the league favorites, it'll be with a defense that brings back leaders at all three levels (
Cedric Reed
,
Steve Edmond
,
Quandre Diggs
) and is full of experienced talent. This is a unit that will line up a bunch of different ways and cause a lot of problems.
Revamping this Texas program will take time, but the Longhorns could have enough to make another run in 2014.
Take 2: Jake Trotter -- Kansas State
[+] Enlarge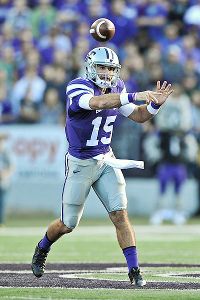 Peter G. Aiken/Getty ImagesJake Waters was one of the nation's most effective quarterbacks during the second half of last season.
The Longhorns certainly have the talent and supporting cast to seriously compete for a Big 12 title. But until they find the answer at quarterback -- and I'm dubious they will in Strong's first season – it's hard to see them doing so.
The
Kansas State Wildcats
have no such issues. And they too have the surrounding cast to make a run at the Bears and Sooners for the league championship.
After struggling early,
Jake Waters
settled in at quarterback the last half of the season and cut talented playmaker
Daniel Sams
out of the rotation. From Oct. 26 on, Waters produced the 13
th
-best Adjusted QBR in the country, according to ESPN Stats & Info, while leading the Wildcats to wins in six of their final seven games (he threw for 348 yards and three touchdowns in the lone loss, too).
Besides Waters, K-State also boasts one of the top wide receivers in the nation in the uncoverable
Tyler Lockett
, who had the third-most receiving yards in college football during the same Oct. 26-on stretch.
On the other side, Bill Snyder replenished his defense with a trio of ESPN JC 50 signees in defensive tackle
Terrell Clinkscales
, outside linebacker
D'Vonta Derricott
and cornerback
Danzel McDaniel
, who should fill the slots in the lineup where the Wildcats have holes.
K-State will have to earn its way into the conference title chase, with road trips to both Baylor and Oklahoma. But K-State gets the Longhorns in the Little Apple, where it hasn't lost to Texas since 2002.
The Wildcats also get defending national runner-up Auburn in Manhattan, Kan., earlier in September. If they topple the Tigers in that Thursday night clash, the rest of the Big 12 will quickly realize that K-State is a legitimate contender.
March, 18, 2014
3/18/14
10:00
AM ET
Once again, it's Take Two Tuesday, when we give our takes on a burning question related to the Big 12.
Today's topic: Which Big 12 redshirt freshman defender will have the biggest breakout season in 2014?
Take 1: Brandon Chatmon
Something tells me that Big 12 reporters and editors alike will have to become diligent in our spelling of the name
Ranthony Texada
.
The TCU cornerback has a name that will draw early attention but I have a feeling his game will start to garner more and more attention during his first season on the field for the Horned Frogs.
At 5-foot-10 but only 160 pounds, Texada isn't going to be an overwhelming physical force on the perimeter for TCU. But size limitations didn't stop two-time All-Big 12 cornerback
Jason Verrett
.
Texada has exceptional speed which could help him to overcome any size or strength concerns, especially if he's competitive and aggressive. He has the physical tools to step in for Verrett alongside
Kevin White
as the Horned Frogs starting cornerback duo. Once he gets comfortable and starts to mature, he could become a breakout defender.
Make no mistake, Texada will have early bumps in the road as teams try to attack him as the potential weak link in an superb TCU secondary. He hasn't even secured the starting job yet but his physical tools will be tough to overlook. If he has the mental toughness and competitive nature to shake off getting picked on constantly, he could be a key contributor on TCU's defense and help lessen the blow of losing one of the top cornerbacks in the nation.
Take 2: Jake Trotter
Texada might be the Big 12 redshirt freshman defender most likely to secure a starting job coming out of the spring.
But ask any Oklahoma player who the most impressive redshirt freshman in closed practices was last fall, and you'll pretty much get the same answer -- defensive tackle
Charles Walker
.
In December, cornerback
Zack Sanchez
called Walker a "monster."
Center
Gabe Ikard
used the word "animal," and said Walker might be "the most explosive guy" on the entire team.
Nothing over winter workouts curbed the hype, either, as Walker was clocked running the 40-yard dash in 4.67 seconds, shattering the Oklahoma DT record in the Bob Stoops era set by All-American Tommie Harris (4.80) in 2003.
"Charles has really been impressive," Stoops said. "He had a great fall. He's up to about 300 pounds now, light on his feet. So Charles really has a bright future. He's going to be a big factor in that defensive line."
It will be interesting to see where Walker fits into the D-line rotation, considering the Sooners bring everyone back from last season. Returners
Chuka Ndulue
and
Jordan Wade
both made starts inside, and
Jordan Phillips
was having an All-Big 12 caliber season through the first four games before suffering a season-ending back injury.
Yet even with those players back, it might be difficult -- if not impossible -- to keep Walker off the field. And if his rapid development continues, Walker could turn into one of the more menacing defensive tackles in the entire league.
February, 25, 2014
2/25/14
10:00
AM ET
It's Take Two Tuesday, where we give our takes on a burning question in the league.
Today's Take Two topic: Which player has the biggest gripe about being left off our Big 12 Mount Rushmore
Take 1: Jake Trotter
The player with the biggest gripe is Texas running back
Ricky Williams
.

Plenty of people have taken up his cause and filled up my Twitter timeline and email inbox, asking why the 1998 Heisman winner who also broke the FBS career rushing record was omitted.
My reply: Who then would you take off?
Nobody would argue that
Vince Young
doesn't belong after his magical season that put Texas over the national championship hump for the first time in 35 years. Oklahoma's dominance of the conference under Bob Stoops warranted the Sooners at least one spot on Rushmore. So if
Adrian Peterson
came off, he'd have to be replaced by some other Sooner.
Ndamukong Suh
is the only defensive player, and while the Big 12 has been an offensive conference, the Rushmore wouldn't feel legitimate without at least one defender. What about Williams over
Robert Griffin III
? Well, no player has had a bigger impact on his school -- or the entire Big 12 -- than RG III, who with his coach transformed Baylor from the laughingstock of the league to one of its premier programs.
But if Rushmores included five spots, Williams would have been on mine, and here's why: by coming back to school, winning the Heisman and leading Texas to a 9-3 record (a year after the Longhorns went 4-8), he expedited Mack Brown's rebuilding project in Austin. Two years later, the Longhorns would go on to win 10 or more games in nine consecutive seasons, culminating with the national title.
Without the rapid turnaround in '98, who knows if the national title happens in '05? Williams' Heisman season gave Brown the credibility to recruit the best talent in the country. And that's why Williams has a gripe.
Take 2: Brandon Chatmon
Big 12 folklore is full of players who are worthy of their place on the conference's Mount Rushmore and Ricky Williams has a stronger case than most. Yet former Oklahoma State receiver
Justin Blackmon
was the biggest snub.
Has he been the best receiver in Big 12 history? No,
Michael Crabtree
will have some say in that. Is he the most productive player left off the original foursome? No. Did he hoist the Heisman Trophy? Not even close.
But he's the biggest snub because he fits the criteria to land on our Big 12 Mount Rushmore. OSU's first Big 12 championship in 2011 was built upon his shoulders, as the Cowboys went 23-3 in his final two seasons. He won back-to-back Biletnikoff Awards as the nation's top receiver with 232 receptions for 3,304 yards and 38 touchdowns combined in 2010 and 2011. And he had at least 100 receiving yards in every game he played in 2010, a 12-game streak that is the best in the FBS since 2004, with only BYU's
Austin Collie
(11 games in 2008) joining Blackmon in double digits.
So, while Blackmon isn't a name that immediately comes to mind, he helped take a football program to new heights, dominated opponents with his individual brilliance and had the ability to take over games from the receiver position in a way that has been rarely seen since the Big 12 was formed in 1996.
Stoops, Players Want To Effect Change
BIG 12 SCOREBOARD
Thursday, 9/3
Friday, 9/4
Saturday, 9/5