Oklahoma Sooners:

2013 OU Report Card
December, 18, 2013
12/18/13
11:00
AM ET
Jay Boulware had a solid first season as Oklahoma's special teams coach. The special teams helped win multiple games during OU's march to the Allstate Sugar Bowl yet they weren't a dominant unit that did everything well.
Here is a unit-by-unit report card for the Sooners' special teams:

Placekicking:
A. Remember the days when each OU field goal attempt was an adventure?
Michael Hunnicutt
has put those days in the past. He hit 23 of 26 attempts, including 21 of 22 from inside 40 yards. He also hit 41 of 42 extra point attempts. Hunnicutt's average attempt came from 33.2 yards, so his long-distance ability wasn't tested much but his accuracy and ability to be automatic on closer kicks cannot be overlooked. His 23 field goals led the FBS and his 26 field goal attempts was second among FBS kickers.
Punting:
C+.
Jed Barnett
had games where he played a key role in the Sooners winning the field position battle but he didn't finish among the Big 12 leaders in several of the main punting categories. Barnett averaged 41.64 yards per punt, sixth in the Big 12, and was last in the conference in net punting at 35.17 yards per punt. The junior college transfer did rank No. 3 in the Big 12 in punts inside the 10 yard line (13.6 percent). Barnett wasn't terrible by any stretch of the imagination but he wasn't a game-changing weapon either.
Kickoffs:
A. Easily the most overlooked contributor on the squad,
Nick Hodgson
was very good. He led FBS and the Big 12 in yards per kickoff (64.3) while his kickoff touchback percentage (65.6 percent), ranked first in the Big 12 and No. 7 among FBS kickoff specialists. OU decided to focus on simply getting touchbacks and taking opportunities out of the hands of kick returners and Hodgson executed that plan with precision.
Kickoff coverage:
C-. The Sooners were bad on kickoff coverage, allowing 23.68 yards per kick return, ranking No. 8 in the Big 12 and No. 106 among FBS teams. Opponents' average starting position was 26.7 yard line, meaning they had to go, on average, 73.3 yards to score against OU's defense. Because its kick coverage was subpar, OU was better off going for touchbacks than allowing the opportunity to return a kickoff while trying to pin opponents inside the 25-yard line.
Kickoff return:
B. The Sooners averaged 22.76 yards per kickoff return, ranking fourth in the Big 12. Running back
Roy Finch
was the biggest threat, averaging 27.5 yards per return on 14 returns. The senior returned 28.6 percent of his returns for 30 yards or more. It wasn't a unit that put fear into the heart of opponents but Finch,
Trey Franks
and
Brennan Clay
consistently put OU in pretty good position to begin drives.
Punt coverage:
F. OU allowed 16.33 yards per punt return, ranking ninth in the Big 12 and No. 117 among FBS teams. Yikes. The Sooners are lucky their horrible punt coverage didn't cost them a game. It's an area that must improve in 2014.
Punt return:
A+. As bad as OU's punt coverage was, the punt return game was better. That unit actually turned the momentum of games around, particularly with
Jalen Saunders
' punt returns for touchdowns against Iowa State and Oklahoma State. Saunders averaged 16.78 yards per punt return, second in the Big 12 and No. 7 in the FBS.
Overall:
B. Hodgson, Saunders and Hunnicutt are stars but OU's coverage units were average or below average. Nonetheless, the Sooners won some games thanks to their special teams.
December, 17, 2013
12/17/13
11:00
AM ET
Oklahoma's defense was the foundation of the team's drive to the Allstate Sugar Bowl. Mike Stoops' unit finished atop the Big 12 in passing yards allowed and total yards allowed while making sure the Sooners had the chance to win every game they played, even with constant uncertainty at quarterback. The defensive line was surprisingly good, the linebackers were much more productive than in 2012 and the secondary replaced several starters with relative ease.
Here are the position-by-position grades for the Sooners' defense.
[+] Enlarge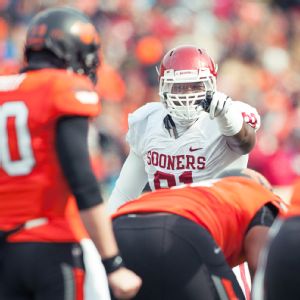 AP Photo/Brody SchmidtOklahoma defensive end Charles Tapper had 5.5 sacks in his first season as starter.
Defensive line:
B+. The defensive line entered the season as the biggest question mark on the entire team. New defensive line coach Jerry Montgomery's group ended the season as anything but the weak link of a defense that was among the Big 12's best. Sophomore defensive end
Charles Tapper
has realized his potential, going from raw talent to All-Big 12 performer during his first season as a starter. Redshirt freshman
Jordan Wade
stepped in for injured starter
Jordan Phillips
and held his own, while the overall depth and production of the defensive line moved up a notch under Montgomery. It's not a dominant unit but it was solid and productive this season, and OU wouldn't have led the Big 12 with 336.3 yards allowed per game without strong play up front.
Linebackers: A-. OU's linebackers showed terrific improvement in 2013. Junior Frank Shannon and freshman Dominique Alexander, the Big 12 defensive newcomer of the year, finished 1-2 in tackles. Shannon played through nicks and bruises to finish with 85 tackles while Alexander finished with 75 stops after being thrust into the starting role against Texas. Add linebacker/defensive end hybrid Eric Striker to the mix and the linebackers were among the most productive groups on the squad. The versatility of Shannon and Alexander and Striker's pass rushing skills are one reason the Sooners finished second in the Big 12 and No. 13 among FBS teams in third-down conversion percentage at 32.5 percent.
Cornerbacks: A-. Two-time All-Big 12 performer Aaron Colvin is an "A+++" performer. He showed toughness, leadership and exceptional coverage skills as a senior. With Colvin on the other side, redshirt freshman Zack Sanchez was constantly picked on by opponents but held up well and, most importantly, displayed the competitive nature every cornerback needs to succeed. Behind Colvin and Sanchez, freshman Stanvon Taylor and sophomore Cortez Johnson both made starts and earned valuable experience while providing quality depth. And nickelback Julian Wilson was stellar in his first season as a starter while tying for the team lead with three interceptions. OU led the Big 12 with 198 passing yards allowed per game, largely because of quality play from its cornerbacks and Wilson.
Safeties: A-. As good as the cornerbacks were, the safeties held their own in the defensive backfield. OU's safeties were better in coverage this season than in 2012 while limiting big plays in the running and passing game. Gabe Lynn and Quentin Hayes weren't dominant forces in the secondary but they were very good and played key roles while helping the Sooners to their 10-2 record.
December, 16, 2013
12/16/13
11:00
AM ET
Unlike previous campaigns, Oklahoma's offense was not the envy of the rest of the Big 12 this season. The Sooners running game was second to none and provided a foundation that allowed OU to stay in games, control the ball and create opportunities in its passing game. But it's lack of explosiveness through the air, leading to poor offensive balance, made this year's offense one of the worst in Norman, Okla. in recent memory. Yet the Sooners limited turnovers and mental mistakes while running the ball well enough to earn 10 wins, which should quiet critics considering a double-digit win season was unexpected heading into the season.
Quarterback: C+. Where are all the Landry Jones haters now? A quick glance at the Sooners passing stats (186.67 ypg, No. 99 in FBS) makes this grade seem way too high. But a quick glance at the win column makes everything clear. OU never got consistency from the position, as Blake Bell and Trevor Knight each had their moments of success and failure. Bell was the starter in Sooners' losses to Texas and Baylor, and looked uncomfortable in both games, but played a key role in road wins at Notre Dame and Oklahoma State. And Knight showed flashes of big-time upside but also showed the inexperience of a redshirt freshman. Through it all the Sooners found a way to get 10 wins and the quarterbacks played a key role in that success. A significant drop off from Jones yet OU finished the regular season with the exact same record Jones led them to as a senior.
[+] Enlarge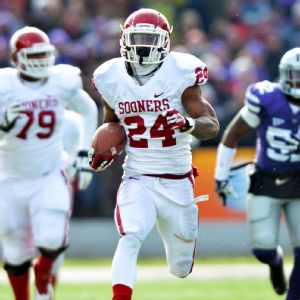 Jackson Laizure/Getty ImagesSenior Brennan Clay led a cadre of Oklahoma running backs which helped the Sooners rush for over 3,000 yards as a team this season.
Running back: A+. Who knows how the Sooners' season would have ended up if it wasn't for a talented and deep group of running backs led by Brennan Clay. The senior led the Sooners with 913 rushing yards, averaging 5.78 yards per carry, but Damien Williams (553 rushing yards) and Roy Finch (347 rushing yards) joined him as quality threats in the backfield. The Sooners running backs brought a physical running style and game-breaking ability which helped offset OU's ugly passing attack.
Receiver: B-. The quarterbacks shouldered a bunch of the blame for OU's passing troubles, but the Sooners receivers deserve their share of the burden. Jalen Saunders performed like an "A" student and Sterling Shepard wasn't far behind. After those two playmakers, the Sooners receivers left plenty to be desired. Lacolton Bester had good moments but wasn't the constant threat that Saunders and Shepard were in 2013 and the overall depth seemed nonexistent as young players such as Durron Neal never emerged as difference makers at the receiver spot.
Offensive line: A-. OU rushed for nearly 3,000 yards yet didn't feature a single 1,000-yard rusher, speaking volumes for the offensive line. The only reason the Sooners' starting front didn't get a A+ was lackluster efforts against Texas and Baylor, helping to contribute to OU's only losses. Center Gabe Ikard was the anchor and star of the offensive front, but tackle Daryl Williams made an overlooked but valuable contribution as the other all-Big 12 level performer on the squad. Tackle Tyrus Thompson, guard Nila Kasitati, guard Bronson Irwin and guard Adam Shead each played well while helping pave the way for OU's running game and limiting opponents to 15 total sacks.
Overall: B-. The lack of balance keeps this grade from being higher but OU averaged more than 31.8 points and 5.84 yards per game, ranking them in the top half of the Big 12. The Sooners running game was superb and overcame the passing game struggles while protecting the football. OU's offense is not an national championship-level offense, but it's not as bad as it appeared at various times either.
Stoops, Players Want To Effect Change
BIG 12 SCOREBOARD
Thursday, 9/3
Friday, 9/4
Saturday, 9/5