Oklahoma Sooners:

2013-OU-Baylor
November, 7, 2013
11/07/13
10:00
AM ET
Baylor is tired of people questioning the legitimacy of its exceptional numbers, both offensively and defensively, while Oklahoma wants to remind everyone it has been the class of the Big 12 for the past decade. The eyes of the Big 12 will be on Waco, Texas when the No. 10 Sooners visit the No. 6 Bears on Thursday.


Here are some storylines, stats to know, players to watch and a prediction:
Storylines
Who wins the tempo battle?
Baylor would like to run a bunch of plays and have a bunch of possessions. The Sooners would like to slow the game down, control the tempo, convert third downs and end time-consuming drives with touchdowns. The team that gets its wish should feel good about its chances.
Big plays on offense
. The Bears' quick-strike ability strikes fear into the heart of any defense. They can be held down for a series of plays or even a series of possessions then reel off back-to-back big plays that result in touchdowns. The Sooners use their running game to set up big plays in the air. If OU somehow has more big plays on offense than Baylor, the Sooners will have a leg up in this one.
Who makes the quarterback uncomfortable?
The Sooners have done a terrific job protecting the passer but Baylor leads the league in sacks per game with 3.29. The Sooners defense used pressure to help slow Texas Tech in their 38-30 win last week so expect both defenses to try to make the quarterback uncomfortable in the pocket.
Stats to know via ESPN Stats and Information
Lache Seastrunk's 503 yards before contact.
They're rarely talked about but the Bears have been superb in the trenches, evidenced by Seastrunk averaging 5.24 yards before contact this season. It's a scary number for Mike Stoops' defense as it prepares to deal with Baylor's speed on the outside. It's possible OU slows the Bears' passing attack and it doesn't even matter thanks to Seastruck and the offensive line.
Blake Bell on play action.
The Sooners quarterback is more efficient on play-action plays. He's 30 of 43 attempts (69.77 percent) for 410 yards, four touchdowns and one interception. OU will try to establish its running game and Baylor should fully expect a power running game plan so it will probably load the box with defenders. Bell must make them pay if he hopes to lead the Sooners to a win.
Bryce Petty against the blitz.
OU wanted to be much more aggressive defensively this season and have had a lot of success dictating to offenses with Eric Striker's pass rushing skills. Yet Petty handles blitzes extremely well. He's completed 13 of 21 passes for 238 yards and one touchdown against five rushers, 5 of 9 passes for 126 yards and two touchdowns against six rushers and 2 of 2 for 51 yards and one touchdown against seven rushers. Blitz at your own peril, OU.
Sterling Shepard's yards after catch.
The Sooners are going to need some big plays from their offense, regardless of how well they play defensively. Shepard could be a key playmaker as he leads the squad with 234 yards after catch this season. Along with Jalen Saunders, OU's offense will need to have its receivers make some plays in the open field if they hope to win.
Players to watch
OU Linebacker Eric Striker
: For the second straight game it will be important for Striker to consistently win his one-on-one battle and get pressure on Petty or force the Bears to double team him, thus opening opportunities for teammates.
Baylor receiver Tevin Reese:
It's just hard to match up with Reese's quickness and speed. The Sooners like to challenge receivers and play man coverage but Reese could make them pay.
Oklahoma offensive line:
The Sooners offensive front must play well. No other group will have more pressure on it than those five players. The game plan will be centered around them helping control the game.
Baylor safety Ahmad Dixon:
The senior can set the tone by being physical early and will play a key role with his versatility. He'll have to be careful as he rides the line between being active in the run game without being sucked up by play action.
Prediction
Baylor 35, Oklahoma 24:
The Bears defense, the overlooked star of their undefeated start, will step up big with several key stops on third down. While OU's defense will slow Baylor more than any other defense has this season, the Sooners won't get enough points to keep up with Baylor.
November, 7, 2013
11/07/13
8:00
AM ET
NORMAN, Okla. -- Oklahoma will enter Thursday night's Top-10 matchup against Baylor as underdogs.
The Sooners will also step on the field with plenty of confidence.
[+] Enlarge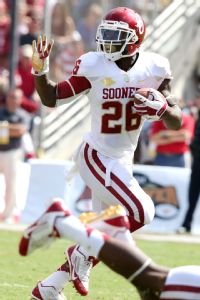 Matthew Emmons/USA TODAY SportsDamien Williams and the Oklahoma running backs will be key in the matchup with Baylor.
"Nobody has the type of players we have," Sooners running back
Damien Williams
said. "They haven't seen anybody like us. We're an explosive offense, we have a lot of weapons on offense and we're ready to get after it."
The Bears have reeled off an 7-0 start while beating opponents by an average of 48 points but they haven't seen anything similar to what the Sooners will bring to Waco, Texas. Oklahoma holds the clear edge in experience with tough games against West Virginia, Notre Dame, TCU and Texas Tech on its road to 7-1.
Baylor is the only team ranked in the BCS top 15 that has not faced a ranked opponent and its strength of schedule is ranked No. 113 in the FBS. Buffalo is the only Baylor opponent that has won at least 70 percent of their games this season compared to the three Sooners' opponents (Notre Dame, Texas, Texas Tech) that have won at least 70 percent of their games.
"We play a tough schedule at Oklahoma," co-offensive coordinator Jay Norvell said. "We get tested early, and I think it benefits us this time of year. We understand that, and I think we've been in this situation before, and now I think we will benefit from having tough opponents."
Baylor's schedule can be questioned but the improvement of its defense cannot. Its offense has gotten all of the attention but the Bears have been putting up eye-popping numbers on that side of the ball for several seasons. The Bears defense is the biggest area of growth the program has seen since last season. BU ranks No. 1 in the Big 12 in points allowed (15.9), yards per play (4.17), yards per rush (3.04) and passing yards (177.29).
"The defense is a big part of this success," Norvell said. "I know offensively they've gotten a lot of notoriety for what they've done scoring a lot of points, but their success on defense is a big part of why they're undefeated right now."
Those athletes you see on the Bears offense? They've been adding more and more of those type of playmakers on defense in recent years. Safety
Ahmad Dixon
brings a physical tone to the defense, linebackers
Bryce Hager
and
Eddie Lackey
make plays all over the field and defensive end
Shawn Oakman
has lived in opponents' backfields this season.
"It's the part of their team that hasn't been talked about nearly as much as it deserves," coach Bob Stoops said. "It's not surprising, they have like seven seniors on their defense and they are in the top part of the league in about every category. They are very aggressive and very disciplined in how they play you so they are playing well."
November, 6, 2013
11/06/13
1:00
PM ET
NORMAN, Okla. -- Just the thought of his defense spending the majority of the game on the field makes Mike Stoops uncomfortable.
"If we play 90 to 100 snaps, it's not good," the Oklahoma defensive coordinator said. "You can't win a game against Baylor playing 90 to 100 snaps. That's not a game you want to be in."
[+] Enlarge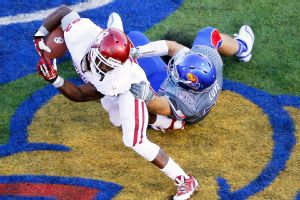 AP Photo/Orlin WagnerRoy Finch and the Oklahoma offense must stay on the field to keep Baylor's high-powered offense on the sidelines.
Oklahoma's offense could be its best defense when it meets Baylor at Floyd Casey Stadium on Thursday. By running the ball, controlling the tempo and keeping the Bears' offense on the sideline, the Sooners' offense could be the difference.
"You hope that your offense can control the football and that you can control the tempo of the game," Stoops said.
It's a formula that has worked before against the Bears. Kansas State held BU to 58 offensive plays in its 35-25 loss to the Bears on Oct. 12. Not surprisingly, the Wildcats held the Bears to season lows in plays (58), yards (446), touchdowns (5) and plays of 10 yards or more (12).
Giving
Bryce Petty
,
Lache Seastrunk
,
Antwan Goodley
and the rest of the Baylor playmakers too many opportunities to make plays will result in big plays and plenty of points. It's simply unavoidable. But limiting their offensive plays and opportunities can make their offense look human and make the ultimate goal of winning the game within reach.
Fortunately for the Sooners, this game plan fits right in line with the approach that has carried them to a 7-1 record. Opponents average 63.8 offensive plays against the Sooners this season, five plays per game less than any other Big 12 team. It's a big reason why OU sits atop the conference in yards allowed per game (314.3) and ranks second behind the Bears in points allowed (18.8).
The Sooners average 234 rushing yards per game and have leaned on that running game to carry the offense this season while their passing game has been inconsistent. Running the ball, controlling the clock and converting on third downs is a formula the Sooners used to defeat Texas Tech, 38-30, in their last game.
"If we can limit the opportunities they get by not turning it over and converting on third downs we help our cause," OU co-offensive coordinator Jay Norvell said. "It's not a complicated formula, but it's important that we get the type of execution we had a week ago."
Ideally, OU will have to find a way to get a lead then use its running game and short-passing game to run out the clock while Petty and company helplessly watch from the bench. The approach has been widely discussed in the halls of the Switzer Center over the past week as the Sooners know their offense and defense must work as one unit to slow the Bears' explosive attack.
"The short passes have to be like runs," Norvell said. "They've [OU receivers] got to be catch the ball no nonsense and get up the field, no dancing, and that's the mentality we have to play with. We've got to make a three-yard catch eight yards and a six-yard catch nine yards. We've got to get the first down first and then worry about making something flashy happen."
OU is converting just 40.7 percent of its third down conversion attempts, ranking fifth in the conference. But the Sooners have improved in recent weeks, converting 14 of 28 attempts combined against Texas Tech and Kansas in back-to-back weeks. Like any big game, making key plays in key moments will decide the outcome.
"It's critical that we stay ahead of the chains, not get in third and long," quarterback
Blake Bell
said.
In its lone loss to Texas, on third down OU had to gain six or more yards on 50 of its 59 plays against the Longhorns. It averaged -0.31 yards per play on third down. Quite simply, the Sooners won't win if they have another performance like they did against the Longhorns.
"Staying on the field obviously comes down to your first- and second-down plays," guard
Bronson Irwin
said. "I think getting yards on those plays puts you at third-and-manageable, whereas if you're at third-and-long your percentages for staying on the field are going to be a little lower. I think being effective and efficient on first and second downs is going to be a huge part of this game."
The moral of the story? OU wants to make this game ugly because its not sure it can win pretty. It's an approach that has been pushed upon them by the struggles of its passing game but one the Sooners have grown to embrace.
"That's kind of the mentality we have," Norvell said. "This team has become a blue collar team. We kind of felt that way in the spring, and we've got a fighter's mentality. We're going to pound on you for four quarters and then try to win it in the fourth. That's the way we've got to be, and that's okay. It doesn't matter how pretty it is. If we end up on the right side of the ledger that's really all that matters."
November, 6, 2013
11/06/13
11:00
AM ET
How can No. 6 Baylor survive its first big test and improve to 8-0? What must No. 10 Oklahoma achieve in order to be the first to defeat these Bears? Here's our take on what it's going to take for either team to emerge victorious on Thursday night.
Three keys to beating Oklahoma

1. Run the ball right at the Sooners.
Texas used this blueprint to hand OU its lone loss this season as two Longhorn running backs (
Johnathan Gray
,
Malcolm Brown
) rushed for more than 100 yards. While the Sooners rank third in the Big 12 in rushing yards allowed (134.75), they've allowed 200 rushing yards or more to Kansas, Notre Dame and Texas. Baylor has the talent with
Lache Seastrunk
and depth with
Glasco Martin
and
Shock Linwood
to test the Sooners, particularly with
Jordan Phillips
and
Corey Nelson
no longer manning the middle of OU's defense.
2. Make Blake Bell uncomfortable in the pocket.
The Longhorns defense harassed Bell into mental mistakes in the Sooners' lone loss. Bell's 4.3 adjusted QBR was the 13th worst QBR by a quarterback and the worst in the Big 12 this season. The junior never looked comfortable or confident in the pocket as he completed just 46.2 percent of his passes with two interceptions. If Baylor can get similar pressure on Bell, it could force similar mistakes.
3. Make the Sooners play from behind.
Oklahoma's offense is considerably better when playing with a lead. The Sooners can remain committed to their running game while using their success on the ground to make teams pay with play action passes. Running backs
Brennan Clay
,
Damien Williams
and
Roy Finch
give the Sooners one of the deepest groups of runners in the Big 12. And Bell can make defenses pay with his legs as well. OU's passing attack has been the most inconsistent part of the squad in 2013, so if the Bears make the Sooners have to throw to get back in the game, they have to like their odds on coming out on top.
-- Brandon Chatmon
Three keys to beating Baylor

1. Put the defense to the test.
Baylor takes immense pride in the progress its defense has made in 2013. But that defense has faced just one top-50 scoring offense (Kansas State, 49th) and four that rank 92nd or worse. Maybe this Oklahoma offense (ranked 55th) isn't the great unit that finally tests just how sturdy this Bear defense really is, but it has enough firepower at running back and receiver to challenge Baylor's back seven. Baylor's defense has pitched a first-quarter shutout in five of its seven wins. If Oklahoma finds a way to get on the scoreboard early, how will its opponent respond?
2. Slow Seastrunk and the rushing attack.
Three of the five teams that beat Baylor last held the offense to less than 120 rushing yards. Kansas State, the only team to play the Bears close this year, held them to 114 rushing yards and Seastrunk to 59 on 12 carries. Baylor has the luxury of throwing the more than capable duo of Martin and Linwood in if Seastunk can't get going, but that would be a victory for OU's defense and greatly help its chances. That unit must find ways to make Bryce Petty's job more difficult and get Art Briles and playcaller Phil Montgomery out of their run-pass rhythm.
3. Take it to the fourth quarter.
Petty has attempted four passes in fourth quarters this season. Seastrunk has two rushing attempts. The average score of a Baylor game after three quarters is 55-10. These guys have not been tested. The Sooners have to prey on that and try to wear out the Bears if they get the opportunity. Maybe those run lanes start opening up more late. Maybe Petty, after 30 throws, starts losing some accuracy. OU needs an advantage in this department. But, really, the simple truth about beating Baylor is this: The Bears won't lose unless they show up flat, make mistakes and start beating themselves. Oklahoma is going to need an excellent game plan and, probably, a lot of help.
-- Max Olson
November, 5, 2013
11/05/13
10:00
AM ET
NORMAN, Okla. -- Oklahoma football players aren't used to this scenario.
When the Sooners walk down the visitors tunnel Thursday night, they will emerge onto the turf at Floyd Casey Stadium as clear underdogs. Baylor hosts OU in Waco, Texas, in a battle of Top 10 teams that could end up as the game that decided the Big 12 title race when all is said and done.
[+] Enlarge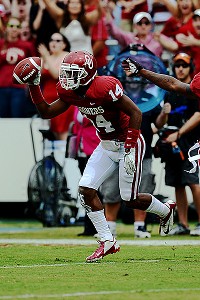 Matthew Emmons/USA TODAY SportsSenior Aaron Colvin believes the Sooners play well when doubted, as long as they stay focused.
"It becomes a challenge, makes the game more exciting," safety
Quentin Hayes
said of being an underdog. "We just have to go out and play Sooner football. It is what it is."
Odds makers have made the Bears two touchdown favorites, as Baylor has looked as good as any team in the nation while reeling off a 7-0 start.
Even though they can count the number of times they've entered a game as underdogs on one hand, several Sooners seem to cherish the underdog role.
"I think this team thrives off the underdog role," defensive end
Geneo Grissom
said. "We almost feel disrespected being an underdog. We feel like we can play with anyone in this conference. It motivates us and helps us thrive."
Under Bob Stoops the Sooners have excelled in similar situations. OU is 4-2 in road games against AP top 10 teams under Stoops, including a 3-1 mark since 2010. The Sooners also are undefeated when facing back-to-back AP Top 10 opponents, having swept Kansas State and Nebraska in 2000 and Texas and Iowa State in 2002 under Stoops. OU defeated then-No. 10 Texas Tech 38-30 in its last game, Oct. 26.
Simply put, when questions about their chances to win arise, the Sooners tend to rise to the occasion.
"I think we do," cornerback
Aaron Colvin
said. "I feel like we play well when we're in that underdog role. Personally, I love the underdog role. I feel like I've been in it my whole life."
Several times in recent years, the Sooners have taken their game to another level when many doubted their chances to win. Florida State (2011), Oklahoma State (2009, 2010) and Kansas State (2011) are prime examples. OU won those four games by an average of 21 points.
Against No. 12 Oklahoma State in 2009, the unranked Sooners were winding down a five-loss regular season with a makeshift offensive line, yet they shut out the Cowboys in Norman, their 27-0 win dashing OSU's hopes of a BCS berth. In Bedlam 2010, No. 9 Oklahoma State was expected to win again before the No. 13 Sooners dashed their Big 12 title hopes with a 47-41 win in Stillwater. In 2011, top-ranked OU went to Doak Walker Stadium to earn a 23-13 win over No. 5 FSU in a matchup of Top 5 teams. Later that season, the team traveled to Manhattan, Kan., with a No. 9 ranking after having lost to Texas Tech and hammered No. 8 Kansas State, 58-17.
Don't go putting the much-anticipated matchup with Baylor in the win column, however. The past three times OU has been an underdog, they've proved their doubters right. In Bedlam 2011, No. 3 Oklahoma State got its revenge for the previous two seasons with a dominant, 44-10 win. Last year, No. 5 Notre Dame pulled away from the Sooners in the fourth quarter of a 30-13 win, and No. 9 Texas A&M dominated the second half of its 41-13 Cotton Bowl triumph to hand OU two of its three 2012 losses.
But make no mistake -- several Sooners feel disrespected by being the underdog heading into any game.
"I do feel pretty disrespected," Colvin said. "Not necessarily because of their opinion or them picking us to lose, but just some of the things they might say about us, or the point deficit they think we might lose by. Whatever it is, we can't worry about it, and that's my job as a leader to make sure we aren't worried about it."
November, 5, 2013
11/05/13
9:00
AM ET
NORMAN, Okla. -- This week, the
Baylor Bears
have visions of a conference championship dancing in their heads. And why not? Baylor has completely thrashed the opposition so far.
But to win their first Big 12 title, the Bears will have to deal with the league's old bully Thursday night, the one who, year after year, is waiting to tussle with the league's next up-and-comer.
[+] Enlarge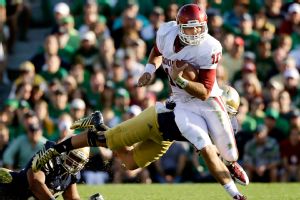 AP Photo/Darron CummingsBlake Bell will have to help generate enough offense to keep up with Baylor on Thursday night.
Since Bob Stoops' arrival, the Sooners have captured eight Big 12 championships in the past 14 seasons. Over the same span, Texas and Kansas State have two titles. No one else has more than one, and no one has dominated a league like OU has in that time.
Almost as impressive, in the six years Oklahoma didn't win the title, the Sooners were in the mix well into November in three of them.
Once more, Oklahoma has maneuvered its way into the Big 12 title picture this season past the end of daylight saving time. The Sooners could take command of the conference race -- yet again -- by taking out the budding Bears.
"It's always been hard -- evidenced that there's not a whole bunch of people that got a whole bunch of 'em," Stoops said Monday, referring to Big 12 championships. "You just count up how many everybody has, and not everybody has a whole bunch.
"It's never been easy."
But Stoops and his Sooners have seemingly made it look so.
While they haven't played for a national title in five years, their sustained model of consistent dominance remains the envy of college football.
Since 2000, nobody from a power conference has as many league titles as Oklahoma. The only schools that come close are Ohio State and USC, which both claim seven. The Trojans, however, had two of their conference titles vacated; the Buckeyes lost one.
No else has more than five.
How have the Sooners accomplished what no other program has managed to match?
"First, it's about consistently having good players and schemes and good [assistant] coaches that put it all together," Stoops said. "Two, it's the methodical way in how we approach the spring, the summer and go through the season, how we try and build our team, how we prepare and work to make ourselves better as we go through the year."
In the face of adversity, the resilient Sooners have almost always found a way to persevere and get better.
Last year, Oklahoma opened the Big 12 with a home loss to Kansas State. But the Sooners bounced back by running rest of the table in the league, including a pair of come-from-behind, fourth-quarter victories over West Virginia and Oklahoma State, to share the league title with K-State.
In 2010, Oklahoma debuted at No. 1 in the BCS standings but lost twice over the following three weeks, making them long shots to win the Big 12. Instead, the Sooners rallied and upset Oklahoma State 47-41 on the road in the regular-season finale to win the Big 12 South. Then they recovered from a 17-0 deficit to knock off Nebraska in the final Big 12 championship game.
Two years before that, Oklahoma and its record-setting offense came up short in a wild shootout with the Longhorns. But the Sooners rebounded by annihilating second-ranked Texas Tech a month later to ascend back up the BCS standings to edge out Texas in a three-way tiebreaker for the Big 12 South.
Oklahoma's most improbable conference run came in 2006. On the day before the first preseason practice, Stoops booted starting quarterback Rhett Bomar from the team for receiving improper benefits from a local car dealership. With no other viable alternative, Oklahoma had to move wide receiver Paul Thompson back to quarterback. The Sooners struggled initially, losing two games early in the season, including a 28-10 defeat to Texas. But they rebounded, grinding out eight straight wins to secure another Big 12 crown.
Not everything has gone Oklahoma's way this season either.
Last month, the Sooners fell apart as heavy favorites in a shocking defeat to Texas. They've also lost three of their best players -- fullback
Trey Millard
, defensive tackle
Jordan Phillips
and linebacker
Corey Nelson
-- to season-ending injuries.
This week, they head to Baylor, which features the nation's highest-scoring offense and a pair of Heisman hopefuls in quarterback
Bryce Petty
and running back
Lache Seastrunk
. Dating back to last year, the Bears have reeled off 11 victories in a row, coming by an average margin of more than five touchdowns.
As a result, the Sooners are better than two-touchdown underdogs -- just the third time they've been a double-digit 'dog under Stoops.
"It'll be a big challenge for us," Stoops said.
Then again, history has proved it's never wise to count Oklahoma out.
Especially in a Big 12 race.
November, 4, 2013
11/04/13
2:30
PM ET
The Big 12 has featured some prolific wide receiver tandems over the years.
Baylor's
Tevin Reese
and
Antwan Goodley
, however, have a chance to top that list.
[+] Enlarge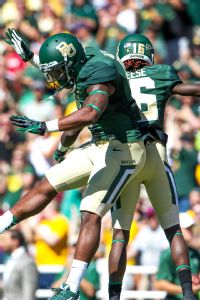 Jerome Miron/USA TODAY SportsAntwan Goodley and Tevin Reese rank 1-2 in the Big 12 in receiving yards per game.
This season, Reese is second in the Big 12 with 118 yards receiving a game. He trails only Goodley, who leads the league with an average of 128 yards receiving. They are a big reason why the Bears are on pace to break the FBS records for points (56.0) and yards (624.9) per game that were set by Army in 1944 and Houston in 1989.
Depending on how they finish, Reese and Goodley could wind up becoming the best duo in Big 12 history. But they aren't the only big-time duos in the Big 12 this year.
Kansas State's
Tramaine Thompson
and
Tyler Lockett
have been lighting it up since returning from injury. The last two weeks the two have totaled five touchdown catches.
Jalen Saunders
and
Sterling Shepard
lead the Sooners with five touchdowns apiece. Texas Tech's
Eric Ward
and
Jakeem Grant
are fifth and sixth in the league in receiving. Oklahoma State's
Josh Stewart
and
Tracy Moore
are beginning to warm up with
Clint Chelf
at QB. And
Jaxon Shipley
and
Mike Davis
have been stalwarts in this league for years.
But who are the best tandems ever to play Big 12? We lay it out below.
Tight ends were not included (sorry Jermaine Gresham and Chase Coffman). The tandems were evaluated on what they accomplished together, not on whether their careers simply overlapped (eliminating Jeremy Maclin and Danario Alexander, for example); and, this is a list for duos, not singles, trios or quartets (apologies to Rashaun Woods, and the 2008 Oklahoma and 2010 Baylor receiving corps).
To the list:
1. Stedman Bailey and Tavon Austin, West Virginia (2012):
In their only year in the league, this tandem was one-two in the Big 12 in receiving, combining for 224 receptions and 2,914 receiving yards. Bailey himself had 25 receiving touchdowns; nobody else in the league had more than 13. Austin, meanwhile, also rushed for 344 yards in one game at running back. As Bailey tweeted out earlier Monday morning on this topic, "case closed."
2. Michael Crabtree and Danny Amendola, Texas Tech (2007):
Crabtree got all the headlines in 2007 on his way to winning his first of two Biletnikoff awards. But out of the slot, Amendola quietly put up 109 receptions for 1,245 yards, as Tech went 9-4.
3. Jordan Shipley and Quan Cosby, Texas (2008):
Shipley and Cosby starred on one of the three best Big 12 teams that didn't win a conference title. The two each had 1,000 receiving yards and double-digit TDs from QB Colt McCoy, as the Longhorns finished the year 12-1, their only loss coming on Crabtree's game-winning touchdown in the final seconds in Lubbock. The two were also prolific on special teams, with Shipley's kick return touchdown sparking Texas' 45-35 comeback win over Oklahoma.
4. Justin Blackmon and Josh Cooper, Oklahoma State (2011):
As with Crabtree-Amendola, Blackmon got all the attention on his way to a second Biletnikoff award. But Cooper was a pivotal piece in OSU's first Big 12 title team, as he racked up 71 receptions out of the slot. Blackmon, of course, had a monster year with 121 catches and 18 touchdowns.
5. Kendall Wright and Terrance Williams, Baylor (2011):
Reese was actually the third wheel to this duo, which shined with RGIII at quarterback. Wright was an All-American with 108 catches, 1,663 yard and 14 touchdowns. Williams was big time, too, finishing fifth in the Big 12 in receiving before taking over the No. 1 role in 2012.
6. Ryan Broyles and Kenny Stills, Oklahoma (2010):
Broyles led college football with 131 receptions on his way to becoming the all-time FBS leader in career catches. Stills broke OU's freshman single-season receiving record, as the Sooners stormed back to capture the Big 12 crown after a pair of midseason losses.
7. Kerry Meier and Dezmon Briscoe, Kansas (2008):
It might be difficult to remember now, but the Jayhawks used to play some ball. Meier tied Crabtree for second in the league with 97 receptions. Briscoe trailed only Dez Bryant with 1,402 receiving yards. This was an underrated duo.
8. Quincy Morgan and Aaron Lockett, Kansas State (1999):
On one of the first passing teams in the Big 12, Morgan and Lockett shined. Morgan had 42 receptions for 1,007 yards and nine touchdowns and was a first-team all-conference selection. Lockett, Tyler Lockett's uncle, was a second-team all-league pick for the Wildcats, who went 11-1 and finished the year ranked sixth in the polls.
9. Mark Clayton and Travis Wilson, Oklahoma (2004):
Clayton carried the moniker of best receiver in OU history until Broyles came around. Because of Adrian Peterson, Clayton's numbers dipped in '04, but he was still an All-American with 66 catches. Wilson led the Sooners with 11 TD grabs, as OU advanced to a second consecutive national championship game.
10. Jarrett Hicks and Joel Filani, Texas Tech (2005):
Neither might be a household name around the Big 12 anymore, but these two were both first-team All-Big 12 selections in '05 along with Iowa State WR Todd Blythe.
November, 4, 2013
11/04/13
10:00
AM ET
NORMAN, Okla. -- Mike Stoops was fuming.
His Oklahoma defense had just given up 424 yards to Baylor in the Sooners' 42-35 victory in Norman a year ago.
"It was a tough night defensively, in a lot of areas," OU's defensive coordinator said at the time.
[+] Enlarge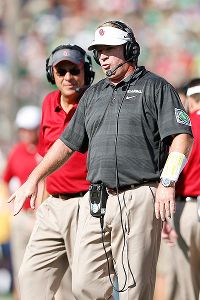 Joe Robbins/Getty ImagesMike Stoops says Oklahoma has to deal with the room Baylor creates on the field.
Roughly a year later, his tune has changed.
"I kind of laugh at it now," Stoops said. "I came in here and I didn't feel very good about. It's funny, I thought we did a decent job a year ago, we were worried about giving up 450 yards and everybody said how bad we played."
In a lot of ways, the Sooners defense had a strong showing that night. Their run defense was horrible, allowing 252 yards on 51 carries, but their pass defense was superb, limiting BU to 172 passing yards while holding Nick Florence to a 36.4 completion percentage. The Sooners allowed BU to gain just 5.05 yards per play on that night, more than a full yard less than any other defense and almost a full two yards less than Baylor's 6.94 yards per play average in 2012.
"f you can hold them to numbers like that, you have a great chance to win," Stoops said. "And that's what we were able to do a year ago."
It could serve as a blueprint for how OU hopes to slow the Bears this season.
Everyone talks about the speed Baylor's offense brings to the table. And there's no doubt, most defenses have spent a lot of time reading the names Goodley and Reese on the back of the jersey instead of the Baylor on the front as receivers
Antwan Goodley
and
Tevin Reese
have proven their abilities to stretch defenses while averaging 23.5 and 25 yards per reception, respectively.
But the genius of Baylor's offense is its use of space to take advantage of that speed. Their wide splits, with receivers lining up outside the numbers, create one-on-one situations that match up their speed with defenders ill-equipped to handle it. The isolation created by the formation limits the ability to provide help. In other words, against BU, a weak link can break the entire chain.
"That, to me, is what is stressful about it," Stoops said. "They create so much room on the football field, which most people don't do. It's hard to get underneath help because the splits are so wide, so everything is isolated."
Worst yet, it makes it difficult for defenses to disquise their blitzes and create confusion and chaos for the offense, which has been one of the staples of OU's defense this season.
"That's the whole concept of what they do," Stoops said. "They spread you so they know what's coming. It takes forever to come [blitz] from width, you try to disguise and time things up but they are very good at understanding where you're coming from because of their splits."
OU's answer last season was to challenge the Baylor receivers with a lot of man-to-man coverage and force them to make competitive plays when the ball was in the air. Their game of "our man against your man, let's see who is best" paid off with the Bears' season-low 172 yards and a Sooners' win. There's no reason to expect the Sooners to change that approach, particularly since their secondary is better in pass coverage this season than last year's group.
"As a defense, we challenged a lot of plays," cornerback
Aaron Colvin
said. "Last year they were kind of like they are this year, just explosive plays coming out of nowhere. I feel like we limited that last year and I know as a secondary we did a lot of good things in that game."
Lache Seastrunk
and the rest of the Bears' rushing attack could provide a game-changing element. BU rushed for 252 yards but it was on 51 carries, an average of 4.95 yards per carry, and Florence's 24-yard run was the longest run of the game. Those are numbers the Sooners could probably live with. A yards per carry average that pierces five yards by a wide margin or several long runs would make OU's chances of giving up big numbers on the ground but still winning much more difficult.
"Their ability to run the football is really what makes it all go," Stoops said. "The run-pass conflict they give you is consistent, it's repetitive and it's good."
If all this makes it sound like Baylor's offense is impossible to stop, that's because it has been. The Bears will enter the showdown with the Sooners ranked No. 1 nationally in points (63.9), yards (718.4), yards per play (9.06), passing yards (417.29) and yards per pass attempt (13.28).
"You can't stop them from doing anything, you just have to try to challenge them," Colvin said. "That's what we'll try to do as a defense, try to make every play a challenging play."
The bottom line is pretty simple. The Sooners can't worry about numbers against Baylor.
"This isn't about yards," Stoops said. "It's going to be about stops, turnovers and not giving up huge plays consistently throughout the game."
Stoops, Players Want To Effect Change
BIG 12 SCOREBOARD
Thursday, 9/3
Friday, 9/4
Saturday, 9/5