Q&A: Former two-sport star Brandon Jones
May, 24, 2012
5/24/12
10:00
AM ET
Assuming he doesn't pursue a pro baseball career out of high school, four-star quarterback and recent OU verbal commitment
Cody Thomas
(Colleyville, Texas/Heritage) could become the first in awhile to play both football and baseball for the Sooners.
The last to do it?
Brandon Jones
, who started at both wide receiver and centerfielder for the Sooners.
The New York Yankees drafted Jones in 2001 out of high school in the 28th round. But Jones stuck with his commitment to play football and baseball with the Sooners. A thumb injury prevented Jones from playing baseball his junior season, but a year later he was taken by the
Tennessee Titans
in the third round of the 2005 NFL draft. Jones finished his five-year NFL career with 27 starts, 113 catches and nine touchdowns. Jones, who now resides in Norman, Okla., spoke with SoonerNation about his experience as a two-sport athlete, his favorite memories at OU in each sport, and what advice he would give to Thomas:
[+] Enlarge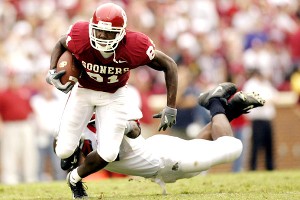 Ronald Martinez/Getty ImagesFormer Oklahoma receiver Brandon Jones caught 27 passes for 345 yards in 2004.
SoonerNation
: How tough was it deciding whether to go to OU or sign with the Yankees?
Brandon Jones
: It wasn't really that tough. I had already made my mind up. I had committed to OU, I was gonna play football and baseball there. At the time as I was taking my visits, I was sitting down with both programs. So I had my mind made up. But when baseball season came around the Yankees were on me heavy. I would tell them, I don't understand why you're here. I'm committed to OU. But they drafted me anyway to try and make me change my mind. While the decision wasn't too hard, it was very flattering as a baseball player. Me and my mom discussed it, and she said, you've gotten by without money in the past, you might as well go to school. Really my mom made the decision, which was good because I was only 18 years old. But I wonder what it would have looked like had I gone.
SN
: What was it like playing both sports for OU?
Jones
: That was really tough. Really tough. OU football, they're hard. Nobody works harder in the world than OU football. So that made it hard. You get your outcome of the season in the offseason. That's how you know your season is going to turn out. The workouts in football were hard. So I was having to deal with football workouts, then play baseball. It will probably be easier for (Thomas). I hope it's easier. I had a rotten apple in my ear. Bob Stoops was cool with me playing baseball. He said, as long as you're out there playing, I'm fine with it. But if you're sitting the bench you might as well be here working out. But (a former OU assistant coach), he made it real rough on me. He was in my ear telling me, 'Brandon you're going to lose your position if you keep playing baseball,' that type of that stuff. If I missed a workout, he would act like that was not an excuse -- and we'd be playing a series in Arizona. I guess that was understandable back then. We were stacked at the wide receiver position. So I guess it made sense to weed somebody out.
SN
: Did you think about saying something to Stoops about what the other coach was saying?
Jones
: I didn't feel like I was in that place. It's one of those times when you're a young boy in college, one of those things where they got me on a chain. I didn't want to say anything that would affect me playing any kind of way. I played (baseball) my freshman and sophomore years, but tore ligaments in my thumb in the (football) national championship game against LSU. That was my last year playing baseball. I got my (football) draft grade, and it said I could have gone in the fourth round. After I got that draft grade, and I couldn't do anything on the baseball diamond because of the thumb, I decided to try and make it in football. I actually thought about leaving early for the NFL draft because of what I was going through, but I had to have surgery, so that cut that out.
SN
: So if you had been healthy going into your junior year you would have played baseball, even though you obviously had possibilities with the NFL draft?
Jones
: I definitely would have played baseball that year. I wanted that to be my breakout year. I was looking forward to it, and I definitely wanted to play because it was a draft year. I know I would have played had I not gotten hurt, because baseball was my first love. It's what I love to do. Football, it came more naturally to me. But I didn't eat, breathe and sleep football. Baseball I did. (Former OU All-American tackle)
Jammal Brown
, one of my best friends, we couldn't watch the same TV, because he eats, sleeps and breathes football. I can't watch it. But I can watch baseball all day. That's how I know I would have gone with baseball. It's always been my first love.
SN
: Had you been drafted in baseball as a junior, would you have signed, or would you have stayed at OU and played football your senior year?
Jones
: Honestly I would have tried to do both. (Former Texas running back)
Cedric Benson
played baseball during the summer then came back and played football. So guys do that and come back. I mean who didn't look up to Bo Jackson or
Deion Sanders
. I thought that was so cool. So I would have taken my chances with it.
SN
: So, your favorite OU baseball memory?
Jones
: You only play so many games at Bricktown, but we got to play Arizona State there my freshman year. They had
Dustin Pedroia
and
Andre Ethier
in their lineup. I hit a home run that day. It was just great, to have the local fans there in Bricktown, playing against a nationally-ranked team.
Top Position Battles Heading In To Spring
BIG 12 SCOREBOARD
Thursday, 9/3
Friday, 9/4
Saturday, 9/5