Przybylo's Mailbag: Approach not changing
April, 27, 2012
4/27/12
12:00
PM ET
Bob Przybylo answers readers' questions about Oklahoma football and basketball recruiting in his mailbag every week. Got a question for Bob? Send it to his mailbag at bprzybyloespn@gmail.com.
Jerry in Tulsa, Okla., asks
: I see we have been very active in California this week. I get the approach, but I feel like we're going to be missing out on some top kids in Oklahoma and Texas if things continue this way. What do you think?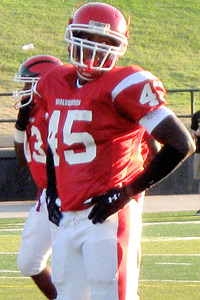 Bob Przybylo/ESPN.comOklahoma defensive end commitment D.J. Ward is No. 93 in the ESPN 150.
Bob Przybylo
: This non-regional approach by the Sooners brings out strong emotion from both sides of the fan base. Some love going national like this, while others are afraid of not protecting the usual territories.
This spring evaluation period goes until the end of May and we are just now approaching the end of April. I think that is a key thing to keep in mind. This week California prospects were obviously high on the priority list.
You know somewhere in this time frame that Texas will be the No. 1 priority for the OU coaches. The Sooners haven't lost out on any Texas high school recruits this class because of a lack of interest being shown.
OU attacked the very best Texas kids early, and for the most part, the Longhorns were able to snatch those prospects up. There are still a lot of quality Texas high school recruits on the board, and May will be an interesting month.
As for Oklahoma high school kids, the Sooners have the commitment of No. 1-ranked
D.J. Ward
(Lawton, Okla./Lawton). They could very soon have the commitment of No. 2-ranked
Stanvon Taylor
(Tulsa, Okla./East Central), and quarterback
Brayden Scott
(Tahlequah, Okla./Sequoyah) is in the mix at quarterback. The Sooners are doing just fine in their own backyard.
---
Josh in Oklahoma City asks
: The weather took away what should have been a big recruiting weekend for the spring game. What are some dates we need to be looking forward to in the future?
Bob Przybylo
: In terms of actual on-campus dates, this will be a pretty quiet month. There will be some unofficial visits by some recruits, but there isn't a planned big recruiting weekend coming up.
OU coaches are out on the road doing their spring evaluations, and because of their thorough evaluations, this spring is a little bit different than at some other schools. You haven't heard much from Texas regarding this period, but the Sooners could find a strong portion of this year's class through this process. The recruits might not commit that early, but this could be where that bond is formed.
But dates to look forward to are certainly June 2-4 for the Oklahoma camp in Norman, Okla. There will be some quality 2013 prospects for sure, but this is a huge showcase time for the cream of the crop in Oklahoma and Texas for 2014. It's always a good look at the future.
---
Aaron in Denton, Texas, asks
: I like keeping track of the defensive backs. I know we need five for this class. I see Stanvon Taylor being one. Who is one guy you have high on the priority list?
Will Eagles' Gamble On Bradford Pay Off?
BIG 12 SCOREBOARD
Thursday, 9/3
Friday, 9/4
Saturday, 9/5