Early Offer: Where do Irish turn now?
June, 6, 2014
Jun 6
5:30
AM ET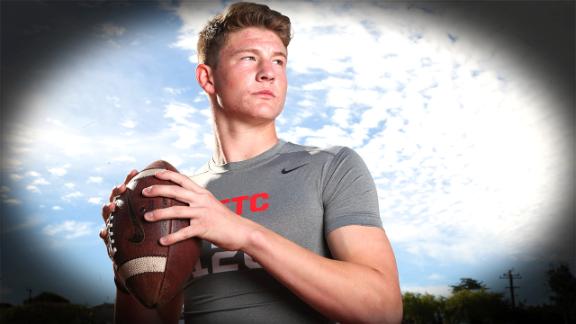 The Early Offer is RecruitingNation's regular feature, giving you a dose of recruiting in the mornings. Today's offerings: Notre Dame's recruiting efforts for 2015 suffered a major setback when ESPN 300 quarterback Blake Barnett decommitted. So where do the Irish turn now at the quarterback spot? Plus, could Oklahoma, Oklahoma State and Texas' loss be Arkansas' gain?
To continue reading this article you must be an Insider
Insider
Playoff Top Four: Week 6
Heather Dinich and Ivan Maisel look at who belongs in the playoffs after five weeks of the season.
Playoff Top Four: Week 6
VIDEO PLAYLIST
SOONERNATION RECRUITING NEWS
OKLAHOMA FB RECRUITING SCORECARD
Big12Conference

Big 12 Conference


ICYMI - #Big12 Commissioner Bowlsby shares the latest developments on the new NCAA governance structure & autonomy - https://t.co/Pswndt4Ji5
4 minutes ago

OU_Football

Oklahoma Football


Looking at a tough road ahead, the #Sooners are preparing for TCU. http://t.co/KnrMjntzcP http://t.co/W6r3jqjf3u
19 minutes ago

Big12Conference

Big 12 Conference


ICYMI - @WVUSports' Oliver Luck discusses his role on the @CFBPlayoff Selection Committee - http://t.co/u9hQQ2BesN via @CampusInsiders
34 minutes ago

OU_Football

Oklahoma Football


Had a great time. I'll kick it with y'all later. I'm signing off. #Boomer
about an hour ago

OU_Football

Oklahoma Football


.@Willie_Dutch I don't want to fight any Eric Strikers.
about an hour ago

OU_Football

Oklahoma Football


.@TWATLS I've seen it on YouTube. Pretty impressive.
about an hour ago

OU_Football

Oklahoma Football


.@Dylan_Hartsook @wesleyhorky @jedbarnett44 That would only happen if it was a bad snap.
about an hour ago

OU_Football

Oklahoma Football


.@bj_flatley Versace Tan.
about an hour ago

OU_Football

Oklahoma Football


.@Tuppers_ I have been. Best trip of my life.
about an hour ago

OU_Football

Oklahoma Football


.@LogieJohnson Won't happen.
about an hour ago

OU_Football

Oklahoma Football


.@Joe_Peregrin Probably a one-time thing.
about an hour ago

OU_Football

Oklahoma Football


.@erickstorey62 Your questions are awesome.
about an hour ago

OU_Football

Oklahoma Football


.@imindenialler Golf and FIFA.
about an hour ago

OU_Football

Oklahoma Football


.@tdunning Eric Striker and @gsooner45 can both kick pretty long field goals.
about an hour ago

OU_Football

Oklahoma Football


.@katykinng I personally enjoy listening to The Eagles more.
about an hour ago

OU_Football

Oklahoma Football


.@JeebsAlexander Their pretzels and roasted corn.
about an hour ago

OU_Football

Oklahoma Football


.@imindenialler @TWay36 was a big role model to me.
about an hour ago

OU_Football

Oklahoma Football


.@salmanH96 Colorado.
about an hour ago

OU_Football

Oklahoma Football


.@da_trufOU I gorilla slam @TheALexRoss all of the time.
about an hour ago

OU_Football

Oklahoma Football


.@RobertWesleyOU Yes, it's my biggest mistake today.
about an hour ago

OU_Football

Oklahoma Football


.@erickstorey62 How did you know?
about an hour ago

OU_Football

Oklahoma Football


.@BBrohannon Oklahoma girls. @CalleyScott
about an hour ago

OU_Football

Oklahoma Football


.@Soonerguys I try to sleep.
about an hour ago

OU_Football

Oklahoma Football


.@RealNTurner Peanut butter and honey.
about an hour ago

OU_Football

Oklahoma Football


.@da_trufOU Not really. I'm not 6'7".
about an hour ago

OU_Football

Oklahoma Football


.@salmanH96 Inside Man or The Departed.
about an hour ago

OU_Football

Oklahoma Football


.@RuizMaria15 A childhood dream coming true.
about an hour ago

OU_Football

Oklahoma Football


.@K_Watson36 I sit there sometimes.
about an hour ago

OU_Football

Oklahoma Football


.@nolanmyers99 Smart Start.
about an hour ago

OU_Football

Oklahoma Football


.@nurse423 West Virginia or K-State.
about an hour ago

OU_Football

Oklahoma Football


.@kendraloveswho I eat Chipotle on Thursdays.
about an hour ago

OU_Football

Oklahoma Football


.@JordanNassir Jason White.
about an hour ago

OU_Football

Oklahoma Football


.@da_trufOU Team Chicken Express, but I like Canes sauce.
about an hour ago

OU_Football

Oklahoma Football


.@JacobPowell12 Don't get to play much anymore, but I was an 8.
about an hour ago

OU_Football

Oklahoma Football


.@matt_hombre Just happy we got the win.
about an hour ago

OU_Football

Oklahoma Football


.@OsamahTahir 100 duck sized horses.
about an hour ago

OU_Football

Oklahoma Football


.@da_trufOU I've always wanted to do a drop kick.
about an hour ago

OU_Football

Oklahoma Football


.@Josh_HeupelDerp I really like them both, but Taco Bueno's party burritos take the cake.
about an hour ago

OU_Football

Oklahoma Football


.@AndrwMagnus I would hope the offensive line, but I'd be on Stoops' side.
about an hour ago

OU_Football

Oklahoma Football


.@Cameron1058 No, I never had an arm like him.
about an hour ago

OU_Football

Oklahoma Football


.@EpitomeofSooner My 2nd FG at Owen Field. Hit the upright and went in.
about an hour ago

OU_Football

Oklahoma Football


.@ChaseMcDonald3 Vinatieri because of his clutchness.
about an hour ago

OU_Football

Oklahoma Football


.@da_trufOU I'd like to see it experimented with a little bit more.
about an hour ago

OU_Football

Oklahoma Football


.@danieldelagarz No, they call me Michael.
about an hour ago

OU_Football

Oklahoma Football


.@TRP6604 Grew up going to games here.
about an hour ago

OU_Football

Oklahoma Football


.@_williamclark_ I love old Joe Washington highlights.
about an hour ago

OU_Football

Oklahoma Football


.@da_trufOU They loved it.
about an hour ago

OU_Athletics

Oklahoma Sooners


Can't make it out to the @OU_Volleyball game tonight at 7p.m.? Be sure to watch them on @FSSouthwest! http://t.co/WatWqxnFcc
about an hour ago

OU_Football

Oklahoma Football


.@SoonerManAaron Played receiver in high school.
about an hour ago

OU_Football

Oklahoma Football


.@aj_irby Treat them both the same.
about an hour ago

OU_Football

Oklahoma Football


.@RossonSeth @joshimbriani Too many to name for strong. But Daniel Brooks or Jordan Thomas for fastest.
about an hour ago

OU_Football

Oklahoma Football


.@marcwryals Every day. Norvell is gettin me right.
about an hour ago

OU_Football

Oklahoma Football


.@Kenziee_mc I've had a lot of good ones. I really enjoyed Negotiation with Buckley.
about an hour ago

OU_Football

Oklahoma Football


.@marcwryals Yeah, I wear a different cleat on my kicking foot than my plant foot.
about an hour ago

OU_Football

Oklahoma Football


.@RobbieHarbin I got excited. I thought @tmcnamara88 was going to get his first touchdown.
about an hour ago

OU_Football

Oklahoma Football


.@CP_145 I listen to Aer.
about an hour ago

OU_Football

Oklahoma Football


.@DJGarrettEbs I would sure hope so.
about an hour ago

OU_Football

Oklahoma Football


.@bmrsnrcf8 Both are good teams. More experience this year.
about an hour ago

OU_Football

Oklahoma Football


.@michaeldewell 52 against Kansas State.
about an hour ago

OU_Football

Oklahoma Football


.@C_Wayne25 Whataburger. Not even close. HBCB.
about an hour ago

OU_Football

Oklahoma Football


.@MorganDallas4 My first name is Stephen.
about an hour ago

OU_Football

Oklahoma Football


.@dundizzle14 We've messaged back and forth a little bit.
about an hour ago

OU_Football

Oklahoma Football


.@Soonermike I've done it once.
about an hour ago

OU_Football

Oklahoma Football


.@CF7_Era Hopefully we won't need it.
about an hour ago

OU_Football

Oklahoma Football


.@LilJoeBANGBANG It's @DerrickDoubleU.
about an hour ago

OU_Football

Oklahoma Football


.@soonerclone No longer exist.
about an hour ago

OU_Football

Oklahoma Football


.@Jonmorris5507 I guess we'll see.
about an hour ago

OU_Football

Oklahoma Football


.@RealMcCoyTalk I was Riff Raff last year, but we'll be on the road this year.
about an hour ago

OU_Football

Oklahoma Football


.@soonerclone Adam Vinatieri.
about an hour ago

OU_Football

Oklahoma Football


.@Maxisaballa Both were really special.
about an hour ago

OU_Football

Oklahoma Football


.@AlgerRyan I grew up an OU fan, so it's a huge honor.
about an hour ago

OU_Football

Oklahoma Football


.@DrMattParker No, it's not a factor.
about an hour ago

OU_Football

Oklahoma Football


.@CStruiksma Whoever is on the schedule that week.
about an hour ago

Big12Conference

Big 12 Conference


#Big12VB: Watch @kstatesports take on @KUVolleyball in Lawrence on @ESPN3 / WatchESPN at 6:30 p.m. CT - http://t.co/FMwSL8EaOB
about an hour ago

OU_Football

Oklahoma Football


.@EpitomeofSooner "Hope I can make this extra point."
about an hour ago

OU_Football

Oklahoma Football


.@joshimbriani 4 FGs against Iowa State on a windy day.
about an hour ago

OU_Football

Oklahoma Football


.@_LucasMartin__ 6th grade.
about an hour ago

OU_Football

Oklahoma Football


.@jamesfraschilla Bunyan.
about an hour ago

OU_Football

Oklahoma Football


.@Onikuno Just treat every kick the same.
about an hour ago

OU_Football

Oklahoma Football


.@JdVrat10 Would have been punny.
about an hour ago

OU_Football

Oklahoma Football


.@mrko_84 Pirates because they haven't made the playoffs in a while.
about an hour ago

OU_Football

Oklahoma Football


.@JimmyJamesCoxx Really excited. Should be a great atmosphere.
about an hour ago

OU_Football

Oklahoma Football


.@mikedimitry Texas since I grew up in Dallas. But, I love both games.
about an hour ago

OU_Football

Oklahoma Football


.@JimQuillen I enjoy it if the fans enjoy it.
about an hour ago

OU_Football

Oklahoma Football


.@SocialnnSports I'm playing in my home city.
about an hour ago

OU_Football

Oklahoma Football


.@AntBigG79 I try and treat every game with the same focus.
about an hour ago

OU_Football

Oklahoma Football


.@Maxisaballa Yeah, I played mostly midfield.
about an hour ago

OU_Football

Oklahoma Football


.@_AaronMoore_ Scoring the touchdown.
about an hour ago

OU_Football

Oklahoma Football


.@timmyd_lightful Senior year of high school when I played receiver.
about an hour ago

OU_Football

Oklahoma Football


.@_LucasMartin__ Any of the 32.
about an hour ago

OU_Football

Oklahoma Football


.@sambohd29 Game - 53. Practice - 63.
about 2 hours ago

OU_Football

Oklahoma Football


.@maxsonsmith A huge honor.
about 2 hours ago

OU_Football

Oklahoma Football


Hey it's Michael Hunnicutt here. Taking over the @OU_Football twitter for the next hour. Throw some questions this way.
about 2 hours ago

OU_Track

Sooner T&F & XC


.@TiffanyAByrd -- way to go for getting the juice bar up & running! Thanks to Spike Club for your continued support! http://t.co/YVDkoO3sRx
about 2 hours ago

OU_Football

Oklahoma Football


Join us tonight at 6 p.m. as @Hunnicutt08 takes over this Twitter account! http://t.co/zPJ8i0k7BX
about 3 hours ago

Jake_Trotter

Jake Trotter


Wait, what??!? RT @USFCollin: According to USF's @MJFarrell, Red Panda has retired.
about 3 hours ago

Geraldini93

Gerald McCoy


Outback Citrus Park tonight at 6 p.m. Going live in 20 mins. See you there!! Great food, autographs and pics. Come out and have a good time!
about 3 hours ago

Big12Conference

Big 12 Conference


#Big12VB: Here's a look at tonight's #Big12 matches on tap. http://t.co/9corQyI1IU
about 3 hours ago

Big12Conference

Big 12 Conference


#Big12VB: Interview with @OU_Volleyball's Kierra Holst, the #Big12 Offensive Player of the Week - https://t.co/gTq9fnM7JO
about 3 hours ago

OU_Football

Oklahoma Football


The #Sooners have won 50 straight games when scoring 40+ points.
about 4 hours ago
BLOG ARCHIVE:
CATEGORIES: