Ranking Oklahoma's position groups
August, 12, 2013
8/12/13
9:00
AM ET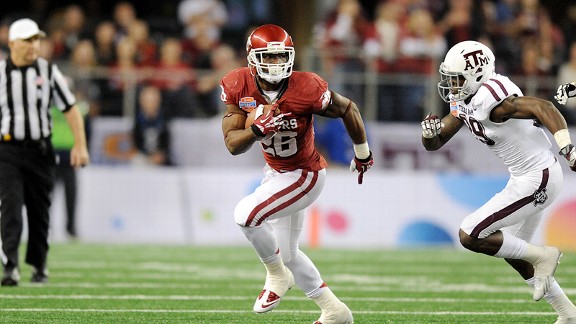 AP Photo/Cal Sport MediaSenior Damien Williams is one of a deep stable of Oklahoma running backs that are capable of making an impact for the Sooners this season.
It's an unusual role for Bob Stoops' program as Oklahoma prepares for 2013 season with minimal expectations to insert itself into the BCS title hunt. The Sooners have several talented, deep position groups and other position groups full of uncertainty. Here's a look at OU's position groups ranked from strongest to weakest.



To continue reading this article you must be an Insider

Welcome

!

We see that you are not an ESPN Insider. Upgrade today and gain access to our exclusive coverage.

ESPN The Magazine subscribers

Need more information?
Top Returning Players: Big 12
Top Returning Players: Big 12
VIDEO PLAYLIST
Top Returning Players: Big 12

Top Returning Players: Big 12

Scouts' Take: Best TE Class

Scouts' Take: Best TE Class

Top Returning Players: Big Ten East

Top Returning Players: Big Ten East

As the college football world gets ready for spring football, Toni Collins and ESPN Big Ten reporter Chantel Jennings discuss who are some of the top returning players in the new Big Ten East division.

Tags: Big Ten East

,

Michigan State Spartans

,

Ohio State Buckeyes

,

Penn State Nittany Lions

,

Michigan Wolverines

,

Braxton Miller

,

Christian Hackenberg

,

Connor Cook

,

Jeremy Langford

,

Shilique Calhoun
OKLAHOMA FB RECRUITING SCORECARD
WinCraft Oklahoma Sooners Premium Pennant Shop »
oklahomabuzztap

Oklahoma Sooners


Sooners Illustrated (Scout) >> OU bounced from Big 12 tournament http://t.co/1wj3zw1T3g
about an hour ago

oklahomabuzztap

Oklahoma Sooners


Sooner Scoop (Rivals) >> Sooners make valiant comeback bid, but fall short http://t.co/XSvybMKplM
about 2 hours ago

oklahomabuzztap

Oklahoma Sooners


Sooner Scoop (Rivals) >> Spangler's dream of playing in Big 12 tourney comes true http://t.co/rx3GOqXQ5V
about 2 hours ago

oklahomabuzztap

Oklahoma Sooners


Sooner Scoop (Rivals) >> SCOOPHD: Sooners Future at QB in Their Backyard? http://t.co/kcg1QMwdAG
about 2 hours ago

oklahomabuzztap

Oklahoma Sooners


Sooner Scoop (Rivals) >> SCOOPHD: A Two-Fer at South Oak Cliff http://t.co/OtdxpVXT8l
about 2 hours ago

oklahomabuzztap

Oklahoma Sooners


The Norman Transcript >> Bears too tough to beat a third time http://t.co/IRg2aR5pX6
about 2 hours ago

oklahomabuzztap

Oklahoma Sooners


The Norman Transcript >> Spring cleaning time for Sooners http://t.co/FJl66Op9r2
about 2 hours ago

oklahomabuzztap

Oklahoma Sooners


OU Insider >> Sooners fall in Big 12 quarters http://t.co/jYQzcw43WR
about 2 hours ago

oklahomabuzztap

Oklahoma Sooners


News On 6 - KOTV >> Cold-Shooting Sooners Fall To Baylor In Big 12 Tournament http://t.co/iWFaigCU1T
about 2 hours ago

oklahomabuzztap

Oklahoma Sooners


News On 6 - KOTV >> Westbrook, Durant lead Thunder past Lakers http://t.co/ClA9QI2nux
about 2 hours ago

oklahomabuzztap

Oklahoma Sooners


News On 6 - KOTV >> Sam Houston beats ORU 70-61 in Southland tourney http://t.co/2bl2xM17zh
about 2 hours ago

oklahomabuzztap

Oklahoma Sooners


News On 6 - KOTV >> Baylor holds on to down No. 17 Oklahoma, 78-73 http://t.co/9pLJHrZ6eR
about 2 hours ago

oklahomabuzztap

Oklahoma Sooners


News On 6 - KOTV >> Woodard, Tulsa beat Tulane 70-49 in C-USA tourney http://t.co/uOAlTRaLjg
about 2 hours ago

oklahomabuzztap

Oklahoma Sooners


News On 6 - KOTV >> No. 16 Iowa State beats K-State in Big 12 tourney http://t.co/aIYPuGsC53
about 2 hours ago

oklahomabuzztap

Oklahoma Sooners


News On 6 - KOTV >> No. 10 Kansas beats Oklahoma State, 77-70 in OT http://t.co/6SLZzaIxED
about 2 hours ago

oklahomabuzztap

Oklahoma Sooners


News On 6 - KOTV >> Gilbert, Lowe draw interest at OSU Pro Day http://t.co/hxaU9cY3DO
about 2 hours ago

oklahomabuzztap

Oklahoma Sooners


News On 6 - KOTV >> Pistorius photographed in bloodied prosthetics http://t.co/aKbYWnatWF
about 2 hours ago

oklahomabuzztap

Oklahoma Sooners


News On 6 - KOTV >> Danny Lee riding confidence at Copperhead http://t.co/lIz4ZWYRWC
about 2 hours ago

oklahomabuzztap

Oklahoma Sooners


News On 6 - KOTV >> Wiggins leads Jayhawks into Big 12 semifinals http://t.co/R3JwcE5d14
about 2 hours ago

oklahomabuzztap

Oklahoma Sooners


News On 6 - KOTV >> Ex-CEO of Fiesta Bowl gets 8 months in prison http://t.co/tqdurYK6R9
about 2 hours ago

oklahomabuzztap

Oklahoma Sooners


News On 6 - KOTV >> Federer beats Anderson to reach Indian Wells semis http://t.co/y0J2oKLMfa
about 2 hours ago

oklahomabuzztap

Oklahoma Sooners


News On 6 - KOTV >> No. 21 UConn sweeps No. 19 Memphis with 72-53 win http://t.co/3FIBkktbOp
about 2 hours ago

oklahomabuzztap

Oklahoma Sooners


News On 6 - KOTV >> Revis, Sproles, Smith, Harrison, Tuck on move http://t.co/s3w030BkQE
about 2 hours ago

oklahomabuzztap

Oklahoma Sooners


News On 6 - KOTV >> McDermott scores 35, No. 14 Creighton beats DePaul http://t.co/DRiCYhL96n
about 2 hours ago

oklahomabuzztap

Oklahoma Sooners


News On 6 - KOTV >> Baylor holds on to down No. 17 Oklahoma, 78-73 http://t.co/guqm4LN1Iv
about 2 hours ago

oklahomabuzztap

Oklahoma Sooners


News On 6 - KOTV >> Former Fiesta Bowl chief sentenced in scheme http://t.co/5XhF1nByw3
about 2 hours ago

oklahomabuzztap

Oklahoma Sooners


News On 6 - KOTV >> That's More Like It: Thunder Clobbers Hapless Lakers http://t.co/CQuZPs2NvN
about 2 hours ago

oklahomabuzztap

Oklahoma Sooners


News On 6 - KOTV >> Jayhawks Outlast Cowboys In Overtime http://t.co/kz8l4U5oYJ
about 2 hours ago

oklahomabuzztap

Oklahoma Sooners


News On 6 - KOTV >> High School Basketball State Tournament Highlights http://t.co/KQnQotFNKO
about 2 hours ago

oklahomabuzztap

Oklahoma Sooners


News On 6 - KOTV >> Oklahoma State Football Wraps Up Annual Pro Day http://t.co/gyxFYQ3gjg
about 2 hours ago

oklahomabuzztap

Oklahoma Sooners


News On 6 - KOTV >> Thunder's Brooks: Roberson Will Start http://t.co/zVlpoOMiCn
about 2 hours ago

oklahomabuzztap

Oklahoma Sooners


Oklahoma Sooners (Official Site) >> OU's Rally Not Enough to Top Baylor http://t.co/C4lTvArjHv
about 2 hours ago

oklahomabuzztap

Oklahoma Sooners


Oklahoma Sooners (Official Site) >> Regular Season Finale in Columbus http://t.co/CIfP3CcfgK
about 2 hours ago

oklahomabuzztap

Oklahoma Sooners


Oklahoma Sooners (Official Site) >> Sooners Head to Border Olympics http://t.co/mlPivsnIXz
about 2 hours ago

oklahomabuzztap

Oklahoma Sooners


Crimson and Cream Machine >> Oklahoma Sooners Baseball Hosts Belmont In A Three-Game Series http://t.co/VzajsikJuq
about 2 hours ago

oklahomabuzztap

Oklahoma Sooners


Crimson and Cream Machine >> Third Time's A Charm For The Baylor Bears, Advance to Semis With 78-73 Win Over The http://t.co/EpxM8XaO7Q
about 2 hours ago

oklahomabuzztap

Oklahoma Sooners


Crimson and Cream Machine >> Seeding On The Line For Sooners In Kansas City http://t.co/i1fDCm6r6m
about 2 hours ago

oklahomabuzztap

Oklahoma Sooners


The Oklahoman >> OU basketball notebook: Buddy Hield says Sooners are a team that will get hot http://t.co/YAWAiU4o0y
about 3 hours ago

oklahomabuzztap

Oklahoma Sooners


The Oklahoman >> OU football notebook: Blake Bell doesn't miss blue jersey http://t.co/BRaUtrZYSI
about 3 hours ago

oklahomabuzztap

Oklahoma Sooners


The Oklahoman >> Baylor's skill, size too much for OU http://t.co/dhcNcDEZLm
about 3 hours ago

oklahomabuzztap

Oklahoma Sooners


The Oklahoman >> Oklahoma football: Bob Stoops urges lawmakers to maintain funding for Children's Hospital http://t.co/bZzFzo9w5w
about 3 hours ago

oklahomabuzztap

Oklahoma Sooners


The Oklahoman >> Big 12 basketball tournament: K-State's Bruce Weber says league lacking respect http://t.co/HxdcA7x01O
about 3 hours ago

oklahomabuzztap

Oklahoma Sooners


The Oklahoman >> Oklahoma basketball: Slow start dooms Sooners in loss to Baylor http://t.co/pL6l5Fy8En
about 3 hours ago

oklahomabuzztap

Oklahoma Sooners


The Oklahoman >> Big 12 basketball Q&A: Associate Commissioner John Underwood http://t.co/ehi3GJ9V2x
about 3 hours ago

oklahomabuzztap

Oklahoma Sooners


OU Sooners - The Oklahoman >> Big 12 Basketball Live: Oklahoma vs. Baylor http://t.co/4LHRq5hj79
about 3 hours ago

Big12Conference

Big 12 Conference


#Big12MBB Wendell Barnhouse reports on Texas' quarterfinal romp over West Virginia. http://t.co/kEMPvFVJ1O
about 6 hours ago

Big12Conference

Big 12 Conference


For information on tomorrow's #Big12MBB spirit rallies and fan fests, visit @VisitKC's website: http://t.co/Mol6hqDyZY
about 8 hours ago

Big12Conference

Big 12 Conference


.@WVUhoops coach Bob Huggins: We were 6th in the best league in the country. - we've gotten better and better overall this year. #Big12MBB
about 8 hours ago

Big12Conference

Big 12 Conference


Take a look back at @TexasMBB's 66-49 victory over WVU in our photo gallery: http://t.co/dYKLbjZt2O #Big12MBB
about 8 hours ago

OU_Athletics

Oklahoma Sooners


RT @OU_MBBall: #Sooners 1 of 4 teams picked by CBS/Turner for NCAA March Madness Confidential all-access. 4-man crew will be w/ OU for enti…
about 8 hours ago

Big12Conference

Big 12 Conference


#Big12MBB: More from Felix: Our league is very competitive - anyone can beat anyone on any given night. We didn't want it to happen to us.
about 8 hours ago

Big12Conference

Big 12 Conference


.@TexasMBB's Javan Felix: We wanted to get back to being aggressive from the beginning. I think we did a good job of that. #Big12MBB
about 8 hours ago

Big12Conference

Big 12 Conference


#Big12MBB: Get LIVE postgame analysis and press conferences from @TexasMBB and @WVUhoops here: http://t.co/mVlGyGE5YR
about 9 hours ago

Big12Conference

Big 12 Conference


#Big12MBB FINAL: @TexasMBB defeats @WVUhoops 66-49 in the final quarterfinal matchup of the day. http://t.co/zk4Y1PeceE
about 9 hours ago

Big12Conference

Big 12 Conference


#Big12MBB: Final media timeout comes w. 3:22 remaining and @TexasMBB is in front 60-36 over @WVUhoops.
about 9 hours ago

Big12Conference

Big 12 Conference


#Big12MBB: 7:58 remaining and @TexasMBB has stretched the lead to 54-24 over @WVUhoops. Jonathan Holmes has 20 pts, 7 reb, 3 assists.
about 9 hours ago

Big12Conference

Big 12 Conference


#Big12MBB: At 15:22 of the 2nd half, @TexasMBB maintains a 46-22 cushion over @WVUhoops. UT continues its hot shooting - now at 59% overall
about 9 hours ago

Big12Conference

Big 12 Conference


#Big12MBB: The 2nd half has begun between @TexasMBB and @WVUhoops. Tune in on your Big 12 Network affiliate or WatchESPN/ESPN3!
about 10 hours ago

SoonerScoop

SoonerScoop.com


RT @Eddie_Rado: For the football fans ... some post practice tidbits before the #Sooners head for Sprrrrinnng Braaake 2k14. http://t.co/1Sb…
about 10 hours ago

SoonerScoop

SoonerScoop.com


Kruger, Sooners react to quarterfinals loss to Baylor Thursday night. Just not enough makes in the end. via @RJ_Young http://t.co/oawIb43waF
about 10 hours ago

Big12Conference

Big 12 Conference


#Big12MBB: @TexasMBB shot 50% in the first half. Jonathan Holmes leads the Longhorns with 11 pts.
about 10 hours ago

Big12Conference

Big 12 Conference


#Big12MBB: @TexasMBB leads @WVUHoops 35-14 at the half. http://t.co/g7AwmgUcRm
about 10 hours ago

Big12Conference

Big 12 Conference


#Big12MBB: @TexasMBB leads @WVUhoops 31-10 with 3:27 left in the first half. Javan Felix now has 10 pts, leading the Longhorns.
about 10 hours ago

Big12Conference

Big 12 Conference


RT @VisitKC: Spirit rallies Friday! @KUhoops at 4:10 & @CycloneMBB at 4:35 in @KCPLDistrict! #BIG12MBB http://t.co/HJJ6LypMXw http://t.co/Q…
about 10 hours ago

Big12Conference

Big 12 Conference


#Big12MBB: 6:53 left in the first half and @TexasMBB is ahead of @WVUhoops 23-8. 'Horns shooting 53% to the Mountaineers' 16%.
about 10 hours ago

Big12Conference

Big 12 Conference


#Big12MBB: 11:47 left in the 1st half and @TexasMBB continues to smother @WVUhoops -- the 'Horns are up 19-4. UT with 7 assists so far.
about 10 hours ago

Big12Conference

Big 12 Conference


#Big12MBB: With 15:52 left in the 1st, it's @TexasMBB off to a 12-0 start over @WVUhoops. Felix (5) and Holmes (7) w. the UT scoring.
about 10 hours ago

Big12Conference

Big 12 Conference


#Big12MBB: Here's the full #Big12 Network listings for tonight's game. The game is also available on @ESPN3. http://t.co/rMIu978PrP
about 11 hours ago

Big12Conference

Big 12 Conference


Our final #Big12MBB game of the night is underway at the @SprintCenter! Watch @TexasMBB and @WVUhoops on the #Big12 Network.
about 11 hours ago

Big12Conference

Big 12 Conference


#Big12MBB: @TexasMBB will start Taylor (G), Holland (G), Felix (G), Holmes (F) and Ridley (C). Tipoff coming up in seven minutes.
about 11 hours ago

Big12Conference

Big 12 Conference


#Big12MBB: Starters for No. 6 @WVUhoops include Dibo (F), Staten (G), Williams (F), Harris (G) and Adrian (F).
about 11 hours ago

Big12Conference

Big 12 Conference


.@BaylorMBB's Kenny Chery: We're at our best when we're sharing the ball. 16 assists today - that's the type of team we are. #Big12MBB
about 11 hours ago

Big12Conference

Big 12 Conference


Tonight's #Big12MBB games have been decided by an average of SIX points. We're about to see if @TexasMBB and @WVUhoops continue the trend!
about 11 hours ago

Big12Conference

Big 12 Conference


.@BUDREW on the #Big12MBB win: I thought our guys defended a lot better tonight. The first half was fun to watch because we executed well.
about 11 hours ago

OU_Athletics

Oklahoma Sooners


RT @OU_MBBall: #Sooners fall tonight, but the season is far from over! We'll have live coverage & reaction on Selection Sunday right here.
about 11 hours ago

Big12Conference

Big 12 Conference


Our final #Big12MBB game of the day features @TexasMBB and @WVUhoops! Tune in on the #Big12 Network. http://t.co/FAV3M74I6y
about 11 hours ago

Big12Conference

Big 12 Conference


#Big12MBB: @baylormbb circles up after its win over Oklahoma http://t.co/h3DFDXRkoc
about 11 hours ago

Big12Conference

Big 12 Conference


#Big12MBB FINAL: @BaylorMBB defeats @OU_MBBall, 78-73. BU will play the winner of tonight's game between UT and WVU. http://t.co/5DNVYNNWgQ
about 11 hours ago

SoonerScoop

SoonerScoop.com


RT @RJ_Young: FINAL: Baylor 78, No. 17 Oklahoma 73.
about 11 hours ago

Big12Conference

Big 12 Conference


#Big12MBB: With 18.1 to go @BaylorMBB has a 76-70 lead over @OU_MBBall after a Jordan Woodard basket trims BU's lead. Timeout OU.
about 11 hours ago

B_Bell10

Blake Bell


Happy Birthday @Jessa_Lanee Hope it's a good one!
about 11 hours ago

Big12Conference

Big 12 Conference


Another GREAT game at the 2014 #Big12MBB Championship, not that we're surprised! With 1:27 remaining @BaylorMBB leads @OU_MBBall 72-68.
about 11 hours ago

OU_Athletics

Oklahoma Sooners


RT @OU_MBBall: BUDDY!!! Another three from Buddy Hield makes it 72-68 with 1:27 to play.
about 11 hours ago

Big12Conference

Big 12 Conference


#Big12MBB: @BaylorMBB w. 3 scorers in double-figures: Chery (13), Austin (18), and Jefferson (13 pts, 10 reb) -- 13th double-double this yr
about 11 hours ago

Big12Conference

Big 12 Conference


#Big12MBB: Our final media timeout comes w. 3:44 to go and @BaylorMBB leading @OU_MBBall 69-59.
about 12 hours ago

Big12Conference

Big 12 Conference


#Big12MBB: With 7:54 left in regulation @BaylorMBB has a 61-50 edge over @OU_MBBall.
about 12 hours ago

OU_Athletics

Oklahoma Sooners


RT @OU_MBBall: 14-4 run for the #Sooners, who are now within 11. BOOMER!
about 12 hours ago

Big12Conference

Big 12 Conference


Photos from the @CycloneMBB vs. @kstatesports #Big12MBB game are now available, check them out! http://t.co/C2O14mdIHp
about 12 hours ago

Big12Conference

Big 12 Conference


#Big12MBB: With 11:31 to go @BaylorMBB maintains its lead over @OU_MBBall 56-45. Isaiah Austin leads the BU scoring w. 16 pts, 4 reb.
about 12 hours ago

Big12Conference

Big 12 Conference


#Big12 play starts tomorrow! MT @TTU_Baseball: #TexasTech getting workout in at Baylor Ballpark #WreckEm http://t.co/gCNmBjCWuh
about 12 hours ago

Big12Conference

Big 12 Conference


#Big12MBB: We are underway in the 2nd half between @BaylorMBB and @OU_MBBall! Tune in on your Big 12 Network affiliate or WatchESPN/ESPN3
about 12 hours ago

Big12Conference

Big 12 Conference


#Big12MBB: Check out these photos from today's game between @KUHoops and @OSUMBB: http://t.co/XRDTJG6Nui
about 12 hours ago

Big12Conference

Big 12 Conference


#Big12MBB: Stats from the 1st half - @BaylorMBB is controlling the boards, 22-14 and shooting 55% to @OU_MBBall's 39%.
about 12 hours ago

Big12Conference

Big 12 Conference


At the half @BaylorMBB leads @OU_MBBall 47-31. http://t.co/S34HuiM8xZ
about 12 hours ago

SoonerScoop

SoonerScoop.com


RT @RJ_Young: HALFTIME: Baylor 47, No. 17 Oklahoma 31. Buddy Hield leads the Sooners with seven points, two boards.
about 12 hours ago

Jake_Trotter

Jake Trotter


Baylor, my pick to win the Big 12 tourney, looking pretty good
about 13 hours ago

Big12Conference

Big 12 Conference


ICYMI, get the #Big12Insider's recap of the thrilling @KUHoops - @OSUMBB game from earlier here: http://t.co/YFPyZK3Pom
about 13 hours ago

Big12Conference

Big 12 Conference


#Big12MBB: @OU_MBBall answers with 2 quick baskets to trim @BaylorMBB's lead to 37-27. 3:30 left in the 1st half.
about 13 hours ago

Big12Conference

Big 12 Conference


#Big12MBB: Timeout @OU_MBBall at 4:06 of the 1st half as @BaylorMBB stretches its lead to 37-23 over the Sooners.
about 13 hours ago

Big12Conference

Big 12 Conference


.@HoopsTournament and ESPNU through the rest of the nation. it'll also be on ESPN3 with no blackout restrictions.
about 13 hours ago
BIG 12 SCOREBOARD
Saturday, 12/21
Monday, 12/23
Tuesday, 12/24
Thursday, 12/26
Friday, 12/27
Saturday, 12/28
Monday, 12/30
Tuesday, 12/31
Wednesday, 1/1
Thursday, 1/2
Friday, 1/3
Saturday, 1/4
Sunday, 1/5
Monday, 1/6
BLOG ARCHIVE:
CATEGORIES: