OU can't afford to miss on QB Hansen
April, 8, 2013
Apr 8
11:00
AM ET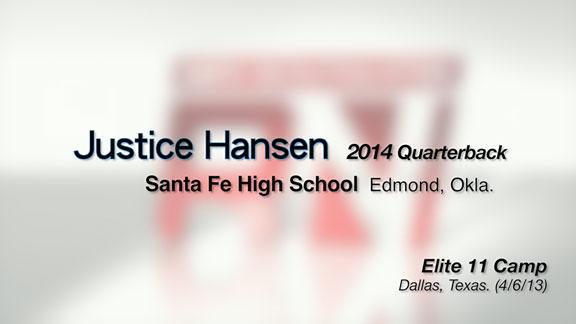 NORMAN, Okla. -- No school is ever going to get every top recruit it pursues. It's just not reasonable.
Some of those misses can be shrugged off. There are other options out there, and one recruit doesn't make or break a program.
To continue reading this article you must be an Insider
Welcome
!
We see that you are not an ESPN Insider. Upgrade today and gain access to our exclusive coverage.
ESPN The Magazine subscribers

Need more information?
Will Steven Parker follow family?
Steven Parker has family ties to both Oklahoma and Oklahoma State. Will he follow family or forge his own road?
Will Steven Parker follow family?
VIDEO PLAYLIST
Will Steven Parker follow family?

Will Steven Parker follow family?

Steven Parker has family ties to both Oklahoma and Oklahoma State. Will he follow family or forge his own road?

Can Oklahoma Run On Oklahoma State?

Can Oklahoma Run On Oklahoma State?

Oklahoma's running game has been the key to the Sooners' late-season success, but they now face one of the most daunting tasks in Oklahoma State's defense.

Tags: Conference Call

,

Big 12

,

Jake Trotter

College Football Conference Call

College Football Conference Call
OKLAHOMA FB RECRUITING SCORECARD
oklahomabuzztap

Oklahoma Sooners


Sooners Illustrated (Scout) >> Setting the stage - No. 17 OU at No. 6 OSU http://t.co/9S4b8c7Aqw
about an hour ago

oklahomabuzztap

Oklahoma Sooners


Sooners Illustrated (Scout) >> Knight gets off the canvas http://t.co/lIuYb93gph
about an hour ago

oklahomabuzztap

Oklahoma Sooners


News On 6 - KOTV >> Knowles takes lead in steer wrestling standings http://t.co/pX4dSLHq0M
about an hour ago

oklahomabuzztap

Oklahoma Sooners


News On 6 - KOTV >> Your Top Plays for Today http://t.co/1EHefpYd00
about an hour ago

oklahomabuzztap

Oklahoma Sooners


News On 6 - KOTV >> Boozer leads Bulls to 107-87 win over Heat http://t.co/OtCIjJx8QR
about an hour ago

oklahomabuzztap

Oklahoma Sooners


The Norman Transcript >> Bedlam, now more than ever, a rivalry game http://t.co/LYLXJUO4pl
about 2 hours ago

oklahomabuzztap

Oklahoma Sooners


The Norman Transcript >> Focus on defense pays off for Sooners in blowout victory over Islanders http://t.co/svdNiUQ8Sa
about 2 hours ago

oklahomabuzztap

Oklahoma Sooners


OU Insider >> J.R.'s 7 points to ponder - OSU http://t.co/d1Plg2mge1
about 2 hours ago

oklahomabuzztap

Oklahoma Sooners


News On 6 - KOTV >> Jaguars hand Texans 11th straight loss, 27-20 http://t.co/F5l19gb6U1
about 3 hours ago

oklahomabuzztap

Oklahoma Sooners


News On 6 - KOTV >> AP sources: Furcal agrees to deal with Marlins http://t.co/nY0h2bxzIg
about 3 hours ago

oklahomabuzztap

Oklahoma Sooners


News On 6 - KOTV >> Oklahoma Advances Past Alabama In NCAA Tournament http://t.co/lHHYdw00nM
about 3 hours ago

oklahomabuzztap

Oklahoma Sooners


News On 6 - KOTV >> No. 19 Louisville beat Cincinnati 31-24 in OT http://t.co/1ajaOGaqd2
about 3 hours ago

oklahomabuzztap

Oklahoma Sooners


News On 6 - KOTV >> Jaguars lead woeful Texans 24-17 after 3rd quarter http://t.co/s1bdfbxf4c
about 3 hours ago

oklahomabuzztap

Oklahoma Sooners


News On 6 - KOTV >> Pacioretty lifts surging Canadiens over Bruins 2-1 http://t.co/uasyysZ3Oz
about 3 hours ago

OU_Athletics

Oklahoma Sooners


RT @OU_Volleyball: Recap and stats from tonight's 3-1 First Round win over Alabama http://t.co/DteLnub7IB
about 3 hours ago

Big12Conference

Big 12 Conference


#Big12MBB: The #Big12/SEC Challenge continues tomorrow night with @BaylorMBB vs. Kentucky and @OSUMBB vs. South Carolina.
about 3 hours ago

Big12Conference

Big 12 Conference


#Big12MBB now leads the #Big12/SEC Challenge 4-2.
about 4 hours ago

Big12Conference

Big 12 Conference


#Big12MBB FINAL - @kstatesports defeats Mississippi 61-58. Thomas Gipson and Marcus Foster both with 15 points for the Wildcats.
about 4 hours ago

oklahomabuzztap

Oklahoma Sooners


Oklahoma Sooners (Official Site) >> OU Advances to Second Round With 3-1 Win http://t.co/omttVmv2SS
about 4 hours ago

oklahomabuzztap

Oklahoma Sooners


News On 6 - KOTV >> Jaguars lead woeful Texans 17-7 at halftime http://t.co/k0U8nZpupv
about 4 hours ago

oklahomabuzztap

Oklahoma Sooners


News On 6 - KOTV >> Knicks crush Nets in 1st meeting this season http://t.co/Ie9kHmyetd
about 4 hours ago

Jake_Trotter

Jake Trotter


Teddy Bridgewater won't win the Heisman, but that was a Heisman-worthy drive.
about 5 hours ago

oklahomabuzztap

Oklahoma Sooners


The Oklahoman >> OU football: An OU victory Saturday will be important — for this season and beyond http://t.co/gZiyCUGzvJ
about 5 hours ago

oklahomabuzztap

Oklahoma Sooners


The Oklahoman >> OU football notebook: Sooner center Gabe Ikard named Academic All-America of the Year http://t.co/yOiGDJmv6T
about 5 hours ago

OU_Football

Oklahoma Football


One of our favorite #Bedlam photos: http://t.co/wQeXxkUDSZ
about 5 hours ago

Big12Conference

Big 12 Conference


#Big12VB: @OU_Volleyball records a season-high 18 blocks in #NCAAVB win over Alabama tonight. Fifth straight victory for Sooners.
about 5 hours ago

soonerad

Joe Castiglione


RT @OU_Athletics: Advances to NCAA second round! "@OU_Volleyball: Sooners win! Holst with the kill to end Set 4, 25-23 and win the match 3-…
about 5 hours ago

OU_Athletics

Oklahoma Sooners


Advances to NCAA second round! "@OU_Volleyball: Sooners win! Holst with the kill to end Set 4, 25-23 and win the match 3-1 vs @AlabamaVBall"
about 5 hours ago

oklahomabuzztap

Oklahoma Sooners


News On 6 - KOTV >> Oral Roberts Univ. to return to Summit League http://t.co/MeRSTpc2Mc
about 5 hours ago

oklahomabuzztap

Oklahoma Sooners


News On 6 - KOTV >> Free tickets for Oklahoma St. basketball Friday http://t.co/T2nXmBlHFR
about 5 hours ago

oklahomabuzztap

Oklahoma Sooners


News On 6 - KOTV >> Jaguars lead Texans 7-0 after 1st quarter http://t.co/EsQH2AtJjv
about 5 hours ago

soonerad

Joe Castiglione


Congratulations to @OU_Volleyball on great first round win in NCAA Tourney. Sooners beat Alabama 3-1. #boomer
about 5 hours ago

Big12Conference

Big 12 Conference


#Big12VB: @TexasVolleyball sweeps Texas State in #NCAAVB first round for 20th straight win. UT faces Texas A&M Friday at 7 p.m. CT.
about 5 hours ago

Big12Conference

Big 12 Conference


#Big12VB: @OU_Volleyball defeats Alabama, 3-1, in #NCAAVB first round. Sooners face winner of Hampton/Stanford Friday at 9 p.m. CT.
about 5 hours ago

soonerad

Joe Castiglione


RT @OU_Volleyball: Sooners win! Holst with the kill to end Set 4, 25-23 and win the match 3-1 vs @AlabamaVBall #vbscores
about 5 hours ago

oklahomabuzztap

Oklahoma Sooners


The Oklahoman >> Oklahoma football: A look at what the future might hold for Blake Bell http://t.co/d1gPBp7ogh
about 5 hours ago

oklahomabuzztap

Oklahoma Sooners


The Oklahoman >> OU football: Sooner coaches continue to make pushes with high-profile recruits http://t.co/mtVrjJogmF
about 5 hours ago

Big12Conference

Big 12 Conference


#Big12MBB FINAL - @WVUhoops falls on the road at Missouri, 80-71. Juwan Staten led WVU with 16 points, 6 rebounds and 5 assists.
about 6 hours ago

Big12Conference

Big 12 Conference


#Big12MBB FINAL - @TCUBasketball defeats Mississippi State 71-61. Kyan Anderson led TCU with 16 pts. Karviar Shepherd recorded 16 rebounds.
about 6 hours ago

soonerad

Joe Castiglione


RT @GabeIkard: Honored to be the @CapitalOneAAA of the Year! Couldn't have done it without my family, friends, teammates, coaches, and fans…
about 6 hours ago

oklahomabuzztap

Oklahoma Sooners


News On 6 - KOTV >> Yanks flash cash: McCann, Ellsbury just the start http://t.co/KPPy6NIuYD
about 6 hours ago

oklahomabuzztap

Oklahoma Sooners


News On 6 - KOTV >> OSU Out To Prove 2011 Was Just The Beginning http://t.co/aUYsm9V4iB
about 6 hours ago

oklahomabuzztap

Oklahoma Sooners


The Oklahoman >> OU football: OU's recruiting class ranks No. 29 in the country by Rivals http://t.co/WEO8JrXg46
about 6 hours ago

oklahomabuzztap

Oklahoma Sooners


The Oklahoman >> OU basketball: Sooners rout Islanders behind D.J. Bennett http://t.co/7KLev2nTGD
about 6 hours ago

oklahomabuzztap

Oklahoma Sooners


The Oklahoman >> Bedlam football: A look at five key matchups http://t.co/JhFJAVPAPh
about 6 hours ago

oklahomabuzztap

Oklahoma Sooners


The Oklahoman >> OU basketball notes: Isaiah Cousins keeps streaking http://t.co/alu1Yz1OT8
about 6 hours ago

oklahomabuzztap

Oklahoma Sooners


Sooner Scoop (Rivals) >> OU defense turns up heat on TAMU-CC http://t.co/TS53ICriGn
about 7 hours ago

Big12Conference

Big 12 Conference


#Big12VB: @TexasVolleyball vs. Texas State in the #NCAAVB Championship first round starts now. Available on @LonghornNetwork.
about 7 hours ago

oklahomabuzztap

Oklahoma Sooners


News On 6 - KOTV >> UALR-Tulsa basketball doubleheader set in Tulsa http://t.co/dOdHV8VEs0
about 7 hours ago

oklahomabuzztap

Oklahoma Sooners


News On 6 - KOTV >> Zach Johnson takes lead in Sherwood swan song http://t.co/LHvBlnbXJz
about 7 hours ago

oklahomabuzztap

Oklahoma Sooners


News On 6 - KOTV >> Woods says meeting Mandela "inspiring time" http://t.co/TJu6B56dQE
about 7 hours ago

SoonerFootball

Sooner Football


CFN predicting a sad Saturday for the #Sooners http://t.co/tiGVtlnVWI
about 7 hours ago

oklahomabuzztap

Oklahoma Sooners


Crimson and Cream Machine >> Sooners Sink Islanders | Sights Set On D.C. Now http://t.co/oTwGeiDul6
about 7 hours ago

Big12Conference

Big 12 Conference


#Big12VB: @OU_Volleyball vs. Alabama in the #NCAAVB first round starts now. Live stream link - http://t.co/1w9bWdyZKY
about 7 hours ago

oklahomabuzztap

Oklahoma Sooners


News On 6 - KOTV >> Earnhardt wins 11th Most Popular Driver award http://t.co/KgDTxDT9au
about 8 hours ago

oklahomabuzztap

Oklahoma Sooners


The Oklahoman >> Oklahoma football: Adrian Peterson says it'd be cool to play in Dallas, Houston someday http://t.co/1DDWlU5x5K
about 8 hours ago

oklahomabuzztap

Oklahoma Sooners


The Oklahoma Daily >> Oklahoma beats Texas A&M- Corpus Christi 78-56 http://t.co/EaQgpbuSI5
about 8 hours ago

oklahomabuzztap

Oklahoma Sooners


Oklahoma Sooners (Official Site) >> Sooners Top Islanders, 78-56 http://t.co/ZaTVwUq7hC
about 8 hours ago

oklahomabuzztap

Oklahoma Sooners


News On 6 - KOTV >> Oklahoma pounds Texas A&M CC 78-56 http://t.co/8gI9tuAm5w
about 8 hours ago

oklahomabuzztap

Oklahoma Sooners


News On 6 - KOTV >> CB Colvin playing hurt for Sooners http://t.co/j1YlPcPuEQ
about 8 hours ago

oklahomabuzztap

Oklahoma Sooners


News On 6 - KOTV >> Only Duke can keep Heisman from Winston http://t.co/UnznvFAqWl
about 8 hours ago

oklahomabuzztap

Oklahoma Sooners


News On 6 - KOTV >> When it comes to World Cup draw, location matters http://t.co/grQqA1CkNw
about 8 hours ago

oklahomabuzztap

Oklahoma Sooners


News On 6 - KOTV >> OSU Announces Free Admission To Friday's Game Against South Carolina http://t.co/JQMDxRvdoM
about 8 hours ago

oklahomabuzztap

Oklahoma Sooners


OU Insider >> Sooners defeat Islanders http://t.co/JYeTrzDCaG
about 8 hours ago

AdrianPeterson

Adrian Peterson


No words to describe our devastating loss. For 95yrs the world was blessed with Mandela. Honor him w/ your courage, compassion and peace.
about 8 hours ago

SoonerFootball

Sooner Football


#Sooners center Gabe Ikard named Academic All-America of the Year | NewsOK http://t.co/ql9NUKglqh
about 9 hours ago

Jake_Trotter

Jake Trotter


Ice Bowl II #bedlam RT @CowboyFB_Elite: http://t.co/RqHp8pV5ks
about 9 hours ago

oklahomabuzztap

Oklahoma Sooners


Sooners Illustrated (Scout) >> OU with block party in easy win http://t.co/jaTnwWiZIP
about 9 hours ago

Big12Conference

Big 12 Conference


Video recap highlighting the SLANT youth education program part of the 2014 @FinalFour, hosted by the #Big12 - https://t.co/DQYJaeCBeZ
about 10 hours ago

roywilliams31

roy williams


RT @MMFlint: 1 was convinced Nelson Mandela would NEVER get out of prison. When he did, and became President, I decided right then anything…
about 10 hours ago

roywilliams31

roy williams


RT @itsgabrielleu: #RIPNelsonMandela Education and compassion are our only tools to combat ignorance and hate... Love &… http://t.co/w47aKc…
about 10 hours ago

oklahomabuzztap

Oklahoma Sooners


News On 6 - KOTV >> No charges for Heisman hopeful Jameis Winston http://t.co/zaPgEeJQnc
about 10 hours ago

oklahomabuzztap

Oklahoma Sooners


News On 6 - KOTV >> AP source: Dolphins' Martin talks to investigator http://t.co/ZVNhR8dTEt
about 10 hours ago

oklahomabuzztap

Oklahoma Sooners


News On 6 - KOTV >> Pats CB Dennard has probation extended to 3 years http://t.co/gsw7iL7hwB
about 10 hours ago

ESPNOklahoma

ESPN Oklahoma


Video: Big 12 Game of the Week http://t.co/GHV5OcsGcY
about 10 hours ago

OU_Athletics

Oklahoma Sooners


RT @OU_MBBall: #SOONERS WIN! OU improves to 7-1 with a 78-56 victory over Texas A&M-Corpus Christi (3-7). Hield 18 points, Cousins 12. OU …
about 10 hours ago

Big12Conference

Big 12 Conference


#Big12MBB - @OU_MBBall improves to 7-1 with 78-56 win over Texas A&M-Corpus Christi. Buddy Hield led all scorers with 18 points.
about 10 hours ago

SoonerScoop

SoonerScoop.com


RT @RJ_Young: FINAL: Oklahoma 78, Texas A&M-Corpus Christi 56. Buddy Hield led all scorers with 18 points.
about 10 hours ago

ctaylorou

Charlie Taylor


RT @WSJ: Breaking: Nelson Mandela, South African leader and apartheid foe, dies at 95. http://t.co/tYCeELTJqc
about 10 hours ago

oklahomabuzztap

Oklahoma Sooners


The Oklahoman >> Son of OU legend, former Duke All-America halfback Jay Wilkinson expected the Blue Devils to http://t.co/pCjSCZF2X9
about 10 hours ago

ctaylorou

Charlie Taylor


RT @NormanSchools: All Norman public schools will be closed tomorrow, Friday, Dec. 6, and all activities and events are cancelled, as well.
about 10 hours ago

Big12Conference

Big 12 Conference


Today's #Big12 Minute previews the league team's in #NCAAVB Championship action plus upcoming #Big12MBB-SEC games - https://t.co/pEx5x7LKWi
about 10 hours ago

SoonerScoop

SoonerScoop.com


RT @RJ_Young: Oklahoma with a 62-38 lead against TAMU-CC with 7:51 left to play.
about 10 hours ago

ctaylorou

Charlie Taylor


Thank you to all the #Sooner fans in the LNC this afternoon for cheering on @OU_MBBall Please drive home safe & slow #DedicatedSooners
about 10 hours ago

oklahomabuzztap

Oklahoma Sooners


Sooner Scoop (Rivals) >> SCOOPHD: The Next Big Star http://t.co/XsqV7oFLeS
about 10 hours ago

ctaylorou

Charlie Taylor


Congrats to @GabeIkard, the first Academic All-American of the Year in @OU_Football history: http://t.co/Wn302LCays"
about 10 hours ago

OU_Athletics

Oklahoma Sooners


RT @OU_Football: A tremendous honor for @GabeIkard, the first Academic All-American of the Year in #Sooners Football history: http://t.co/H…
about 11 hours ago

Big12Conference

Big 12 Conference


#Big12VB: @OU_Volleyball & @TexasVolleyball open #NCAAVB play tonight with first round action - http://t.co/LJOpZkvFl0
about 11 hours ago

oklahomabuzztap

Oklahoma Sooners


News On 6 - KOTV >> NASCAR changes Hall of Fame eligibility process http://t.co/d9BzSjeCw5
about 11 hours ago

oklahomabuzztap

Oklahoma Sooners


News On 6 - KOTV >> Attorney: Winston relieved no charges in sex case http://t.co/Dmfmkw3mIK
about 11 hours ago

oklahomabuzztap

Oklahoma Sooners


News On 6 - KOTV >> Correction: Ukraine-Boxing Politician story http://t.co/R4bh84ceRL
about 11 hours ago

Big12Conference

Big 12 Conference


Looking for links to help pass the afternoon? Here's plenty on football, basketball & more from #Big12Insider - http://t.co/RCGGmNp90p
about 11 hours ago

SoonerScoop

SoonerScoop.com


RT @elwinter: Huge subscriber day for @SoonerScoop - well done @RJ_Young, @CareyWWLS, and @Eddie_Rado
about 11 hours ago

SoonerScoop

SoonerScoop.com


RT @RJ_Young: HALFTIME: Oklahoma 42, Texas A&M Corpus Christi 24. Buddy Hield and Jordan Woodard lead all scorers with eight points.
about 11 hours ago

oklahomabuzztap

Oklahoma Sooners


The Oklahoman >> Sooners center Gabe Ikard named Academic All-America of the Year http://t.co/Lkam5Z9Kt1
about 11 hours ago

Big12Conference

Big 12 Conference


You know the #Big12FB title comes down to 2 games, but #Big12Insider has more details on crowning the champion - http://t.co/bMqnzyGluN
about 11 hours ago

Big12Conference

Big 12 Conference


More than 3K have signed up after just 1 day! RT @FinalFour Now tied to Final Four, SLANT program off to hot start http://t.co/qQT2HdL4Zo
about 11 hours ago

oklahomabuzztap

Oklahoma Sooners


News On 6 - KOTV >> Sooners Looking To Avoid Repeat Of 2011 In Stillwater http://t.co/Ey9aRDJJR6
about 12 hours ago

oklahomabuzztap

Oklahoma Sooners


News On 6 - KOTV >> Accuser in Winston case releases brief statement http://t.co/w9UpDe0ExL
about 12 hours ago

oklahomabuzztap

Oklahoma Sooners


News On 6 - KOTV >> McCann, Ellsbury just the start for Yankees http://t.co/o243aga5dD
about 12 hours ago
BLOG ARCHIVE:
CATEGORIES: