Q&A: Coach of OU commit Hatari Byrd
December, 11, 2012
12/11/12
2:00
PM ET
Fresno (Calif.) Central East first-year coach Justin Garza knew he was coming into a program loaded with talent. With three four-star defensive backs on the roster in
Hatari Byrd
,
Johnny Johnson Jr.
and
L.J. Moore
, expectations were high.
[+] Enlarge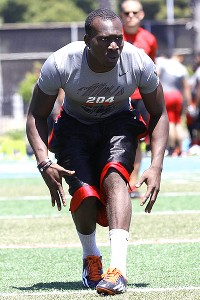 Tom Hauck for ESPN.comHatari Byrd will bring a physical presence to the Oklahoma secondary.
None of them disappointed as Fresno Central East reached the California Central Section championship before losing two weeks ago.
Garza said the media attention was crazy all season, but he said he is extremely proud of the way his players handled the pressure the entire way.
To continue reading this article you must be an Insider
Insider
Brian Bosworth Cage Confessional: Colin's Football Show
Watch as Brian 'The Boz' Bosworth jumps into the cage with Colin and talks mullets, action movies and what links him to Colin (and Kevin Bacon).
Brian Bosworth Cage Confessional: Colin's Football Show
VIDEO PLAYLIST
SOONERNATION RECRUITING NEWS
OKLAHOMA FB RECRUITING SCORECARD
Jake_Trotter

Jake Trotter


That sounded like the Texas coin toss fiasco
about an hour ago

Jake_Trotter

Jake Trotter


Penn State with a 57-play drive there to tie the game
about an hour ago

Jake_Trotter

Jake Trotter


What is Penn State doing??
about an hour ago

Big12Conference

Big 12 Conference


#Big12FB: Take a look at a social media rewind from today's #Big12 games - http://t.co/0JmEnEbpNg http://t.co/sBP853y6KA
about 2 hours ago

Jake_Trotter

Jake Trotter


How do you not get a FG attempt off there?
about 2 hours ago

Jake_Trotter

Jake Trotter


Hugh Frozen
about 2 hours ago

Big12Conference

Big 12 Conference


#Big12FB: @WVUfootball improves to 3-0 on the road with a 34-10 victory at Oklahoma State - http://t.co/jXbpvqCYjQ http://t.co/ehOJMdim1d
about 2 hours ago

OU_Athletics

Oklahoma Sooners


Sooner! ET @DAdams_28: Representing @OU_Football at the Grand Canyon today! #BOOMER http://t.co/upyD0Hh3Qg
about 2 hours ago

Big12Conference

Big 12 Conference


#Big12VB: @BaylorVBall erases a 0-2 deficit to def. @CycloneVB, 3-2.
about 2 hours ago

ctaylorou

Charlie Taylor


From Norman, OK for @TheChrisMadigan and Family #TheToast2014 http://t.co/hJsjLXkqXR
about 3 hours ago

Big12Conference

Big 12 Conference


#Big12FB HIGHLIGHTS: @kstatesports shuts out Texas, 23-0 - http://t.co/CtPQ6aI8ir http://t.co/gVMCJfGanH
about 3 hours ago

ctaylorou

Charlie Taylor


Great atmosphere @JimmyD2121 #ThirdDownForWhat
about 3 hours ago

ctaylorou

Charlie Taylor


Good game going in Knoxville.
about 3 hours ago

Big12Conference

Big 12 Conference


#Big12FB HIGHLIGHTS: @TCUFootball wins big against Texas Tech, 82-27 - http://t.co/au0k0o8S2A http://t.co/0LNcaHArxW
about 3 hours ago

iamstrick

John Strickland


@Jake_Trotter looking back… This was prophetic.
about 4 hours ago

Jake_Trotter

Jake Trotter


Think about this: Texas Tech ranked last among among Power 5 teams in defensive efficiency BEFORE today.
about 4 hours ago

Big12Conference

Big 12 Conference


VIDEO: #Big12FB - A record-setting day for @TCUFootball and Trevone Boykin - http://t.co/YVTExZfBYZ http://t.co/scJC1ZiUWK
about 4 hours ago

OU_Volleyball

Oklahoma Volleyball


OU pulls off biggest upset of the season at No. 2 Texas.Recap, stats and quotes here -> http://t.co/PUXniSM0G3 http://t.co/dV1DMOtm0w
about 4 hours ago

Jake_Trotter

Jake Trotter


How you score 82 points... http://t.co/95n6Vua27U
about 4 hours ago

Big12Conference

Big 12 Conference


#Big12FB - @WVUfootball's Clint Trickett with two TDs in the Mountaineers' win vs. OSU - http://t.co/36Ff8xuPWa http://t.co/68OD5TRGXB
about 4 hours ago

BChatmon

Brandon Chatmon


Netflix? RT @Mark_Schlabach: If replay officials got the wrong feed what were they watching?
about 4 hours ago

BChatmon

Brandon Chatmon


this true? RT @MikePereira: Just saw the interception that wasn't an interception at Penn State. Replay claimed they got the wrong feed????
about 4 hours ago

BChatmon

Brandon Chatmon


#whynot RT @max_olson: #TCU RB Aaron Green: "Boykin for Heisman. Why not, right?"
about 4 hours ago

BChatmon

Brandon Chatmon


it did snap White's 100-receiving yard streak at 7 & was easily the lowest output of the year. Dana thought he looked "dead-legged" today
about 4 hours ago

BChatmon

Brandon Chatmon


Outside of his TD, Kevin White looked human today. 3 receptions, 27 yards, TD for #WVU but, most importantly, 1 W
about 4 hours ago

BChatmon

Brandon Chatmon


More Gundy on #okstate offense: "Look at where we're at. We have a QB that's inexperienced and OL that's young and inexperienced."
about 4 hours ago

BChatmon

Brandon Chatmon


"It was a lot more challenging than the final score indicated, I think everybody agrees with that." HC Dana Holgorsen on WVU's 34-10 win
about 4 hours ago

BChatmon

Brandon Chatmon


"Everything offensively, to me, is alarming." #okstate HC Mike Gundy
about 5 hours ago

max_olson

Max Olson


Gary Patterson's opening statement, in its entirety, after TCU's 82-27 win. https://t.co/UtzTtu51iD
about 5 hours ago

BChatmon

Brandon Chatmon


it will be overlooked but S Jordan Sterns had a monster game for #okstate, 20 tackles (14 solo), love his competitiveness
about 5 hours ago

GotBoz44

Brian Bosworth


So prOUd of @OU_Volleyball ...winning in Austin is amazing..winning 3 sets to NONE..HUGE!!! BOOMER!!!
about 5 hours ago

BChatmon

Brandon Chatmon


re: previous tweet … Not even when they had 7 scoring drives in a row???
about 5 hours ago

BChatmon

Brandon Chatmon


O_O RT @max_olson: Gary Patterson: "I don't think we played well all day. If you want to win championship, you have to be better."
about 5 hours ago

TheChrisMadigan

Chris Madigan


John- the brother everyone wanted, best uncle in the world, son to be proud of & a loyal & true friend. #TheToast2014 http://t.co/7C2a2fsTY3
about 5 hours ago

BChatmon

Brandon Chatmon


Yo, TCU's drive chart though: TD, TD, FG, TD, TD, punt, FG, FG, FG, TD, TD, TD, TD, punt, TD, TD … Man, I hope my DVR worked properly lol
about 5 hours ago

OU_Volleyball

Oklahoma Volleyball


Sooners stun No. 2 Texas in straight sets! http://t.co/jeWqwRZMqb
about 5 hours ago

lindseeeeyyy

Lindsey Morrison


Boomer! "@OU_Volleyball: Sooners stun No. 2 Texas in straight sets! http://t.co/cAs8a81eBN"
about 5 hours ago

BChatmon

Brandon Chatmon


Just got back to the press box and … TCU 82, Texas Tech 27?? WUT?!?
about 5 hours ago

ctaylorou

Charlie Taylor


The biggest upset of the season in college volleyball! @OU_Volleyball defeats No. 2 Texas! BOOMER! http://t.co/qM1xY3Gn2v
about 5 hours ago

Big12Conference

Big 12 Conference


#Big12VB: @OU_Volleyball sweeps No. 2 @TexasVolleyball in Austin. It's the Horns' first loss of the season & snaps 34-match home win streak.
about 5 hours ago

Big12Conference

Big 12 Conference


#Big12VB: @OU_Volleyball sweeps No. 2 @TexasVolleyball in Austin. It's the Horns' first loss of the season & snaps 34-match home win streak.
about 5 hours ago

soonerad

Joe Castiglione


"@OU_Volleyball: Sooners stun No. 2 Texas in straight sets! http://t.co/WeQF2rnfLU" BOOOOOOMMMMMEERR!!!
about 5 hours ago

OU_Volleyball

Oklahoma Volleyball


Sooners stun No. 2 Texas in straight sets! http://t.co/jeWqwRZMqb
about 5 hours ago

Big12Conference

Big 12 Conference


#Big12VB: @OU_Volleyball sweeps No. 2 @TexasVolleyball in Austin. It's the Horns' first loss of the season & snaps 34-match home win streak.
about 5 hours ago

Jake_Trotter

Jake Trotter


Oof RT @KFlaherty247: #Kansas has thrown seven touchdowns this season. #TCU QB Trevone Boykin just threw seven in a game.
about 5 hours ago

Big12Conference

Big 12 Conference


#Big12FB Final: No. 10 @TCUFootball 82, @TTU_WreckEm 27. Horned Frogs set a new #Big12 record for most points scored in a conference game.
about 5 hours ago

Big12Conference

Big 12 Conference


#Big12Insider Just a reminder: Next Saturday, @TCUFootball (6-1, 3-1) at @WVUfootball (6-2, 4-1). Make your plans accordingly.
about 5 hours ago

Big12Conference

Big 12 Conference


#Big12Insider @TCUFootball with a TD run makes it 82-27. 82 is the most points scored in a game between Big 12 teams. Previous record was 77
about 5 hours ago

Big12Conference

Big 12 Conference


#Big12VB: No. 22 @kstatesports def. @WVUVolleyball, 3-2. Wildcats move to 19-3 overall and 6-3 in #Big12 play.
about 5 hours ago

Jake_Trotter

Jake Trotter


Touchdown, Horned Frogs. TCU 82, Texas Tech 27 http://t.co/VimMPV5NM8
about 5 hours ago

Jake_Trotter

Jake Trotter


TCU is playing quarterbacks now I've never even heard of.
about 5 hours ago

Jake_Trotter

Jake Trotter


Oklahoma's 77-0 win over Texas A&M is the record for most points in a game between Big 12 schools.
about 6 hours ago

Jake_Trotter

Jake Trotter


.@TCUCoachP will have plenty of time to check out the different Gatorade flavors this fourth quarter @mikefinger
about 6 hours ago

Jake_Trotter

Jake Trotter


The craziest part about this TCU score. The Frogs had 3 points until late in the fourth quarter in Lubbock last year.
about 6 hours ago

Jake_Trotter

Jake Trotter


OSU's Big 12 points record (84 vs. Savannah St in '12) in jeopardy.
about 6 hours ago

Jake_Trotter

Jake Trotter


TCU's 75 points, btw, is a new school record.
about 6 hours ago

Jake_Trotter

Jake Trotter


TCU 75, Texas Tech 27… and we will still have 10 minutes left to play. #mercyrule
about 6 hours ago

Big12Conference

Big 12 Conference


#Big12FB Final: @WVUfootball 34, @CowboyFB 10. Mountaineers move to 6-2 (4-1 Big 12) with No. 10 TCU coming to Morgantown next week.
about 6 hours ago

Big12Conference

Big 12 Conference


#Big12Insider End of 3rd Q and @TCUFootball Trevone Boykin's day is done after throwing 7 TD passes. #HeismanCandidate.
about 6 hours ago

Jake_Trotter

Jake Trotter


TCU safety Chris Hackett was just ejected. Would miss the first half at West Virginia, I believe.
about 6 hours ago

Big12Conference

Big 12 Conference


#Big12Insider Make it seven TD passes for @TCUFootball Trevone Bokin. 68-27 with 1:14 remaining in third quarter.
about 6 hours ago

Jake_Trotter

Jake Trotter


Do you give Mason Rudolph a shot next week?
about 6 hours ago

BChatmon

Brandon Chatmon


That will do it, Dravon Henry #pick6 for #WVU. Big W for WVU, sets up a great WVU-TCU matchup next week #WVUvsOKST
about 6 hours ago

Jake_Trotter

Jake Trotter


True freshman Dravon Henry with his second pick of the game.
about 6 hours ago

Jake_Trotter

Jake Trotter


Garman throws a pick-six. Ball game. Big win for West Virginia.
about 6 hours ago

Jake_Trotter

Jake Trotter


Could have hired Meacham 2 years ago RT @JustOSUThings: @Jake_Trotter @Upshawj84 at what point will gundy hire a real OC
about 6 hours ago

Big12Conference

Big 12 Conference


#Big12Insider Boykins' 6th – SIXTH – TD pass, a 57yder to Slanina, makes it 61-20 with 7:51 left in 3rd – THIRD – quarter.
about 6 hours ago

Jake_Trotter

Jake Trotter


To Heisman voters, Trevone Boykin's line today: http://t.co/nVx2IzbeKo
about 6 hours ago

Jake_Trotter

Jake Trotter


Are we sure it's all on the QB? RT @Upshawj84: @Jake_Trotter at what point will Gundy give another QB a chance?
about 6 hours ago

Jake_Trotter

Jake Trotter


Oklahoma State with a horrible play on fourth-and-6. Turnover on downs. Could be ball game. #WVUvsOKST
about 6 hours ago

Big12Conference

Big 12 Conference


#Big12Insider @TechAthletics quarterback Davis Webb on crutches heading to locker room.
about 6 hours ago

Big12Conference

Big 12 Conference


#Big12Insider Gray goes 91 to the house with short pass to give @TCUFootball 54-20 lead @TechAthletics. Boykin with 5 TD passes.
about 6 hours ago

Jake_Trotter

Jake Trotter


Hits keep coming RT @max_olson: Texas Tech QB Davis Webb is on crutches now and leaving the sideline.
about 6 hours ago

Jake_Trotter

Jake Trotter


I really thought Tech had a shot to hang with TCU a little bit today. Instead, Red Raiders getting obliterated.
about 6 hours ago

Jake_Trotter

Jake Trotter


Touchdown No. 5 for Trevone Boykin, although that was all Deante' Gray.
about 6 hours ago

Jake_Trotter

Jake Trotter


Oklahoma State was 0 of 8 on third down until that completion. #WVUvsOKST
about 6 hours ago

Big12Conference

Big 12 Conference


#Big12Insider Games in Stillwater and Fort Worth each scheduled for 2:30 p.m. WVU-OSU has 9:50 left in 4th Q; TTU-TCU 10:21 left in 3rd Q.
about 6 hours ago

Jake_Trotter

Jake Trotter


He should be. It's time people put him in the conversation RT @chrisgb00: @Jake_Trotter trevone boykin heisman contender?
about 7 hours ago

Jake_Trotter

Jake Trotter


Agreed RT @ESPNRittenberg: TCU's Trevone Boykin not only nation's most improved player but working his way into Heisman conversation
about 7 hours ago

Jake_Trotter

Jake Trotter


Josh Lambert. Give him the Heisman now.
about 7 hours ago

Jake_Trotter

Jake Trotter


Glenn Spencer has really done a terrific job bringing along this OSU D. Too bad this is OSU's worst offense since Gundy's first year in '05
about 7 hours ago

Jake_Trotter

Jake Trotter


Tech now -12 in turnover margin on the year. If it weren't for SMU and Michigan, the Red Raiders would probably top the country in TO margin
about 7 hours ago

Jake_Trotter

Jake Trotter


Trevone Boykin with 4 TD passes. The rout is on in Fort Worth, 47-20.
about 7 hours ago

Big12Conference

Big 12 Conference


#Big12Insider Last two games in Fort Worth against @TechAthletics, Jaden Oberkrom of @TCUFootball has kicked 10 FGs.
about 7 hours ago

BChatmon

Brandon Chatmon


Maybe @FauxHolgorsen should start returning punts too?
about 7 hours ago

BChatmon

Brandon Chatmon


West Virginia 17, Oklahoma St. 10 after 3WVU 59 plays, 366 yds, 6.2 yppOSU 51 plays, 334, yds, 6.5 ypp
about 7 hours ago

Jake_Trotter

Jake Trotter


Oklahoma State has now scored one offensive touchdown over the last nine quarters.
about 7 hours ago

J_ACER22

Jace Amaro


You're an absolute moron of any football Iq if you want webb benched in part for Mahomes. Shut up you have no idea what you're talking about
about 7 hours ago

Jake_Trotter

Jake Trotter


How does OKST give up the first down on a third-and-19 draw? #WVUvsOKST
about 7 hours ago

BChatmon

Brandon Chatmon


Jordan Stearns is having a ballgame… 14 tackles (9 solo) thus far#WVUvsOKST
about 7 hours ago

Big12Conference

Big 12 Conference


#Big12FB: @kstatesports' defense holds the Longhorns to under 200 yards total offense - http://t.co/Z7PwbfQPky http://t.co/IvTjYqN02I
about 7 hours ago

Jake_Trotter

Jake Trotter


Once again, Texas Tech killing itself by getting killed in the turnover battle
about 7 hours ago

Jake_Trotter

Jake Trotter


Wild first half in Fort Worth http://t.co/WSUGe2W892
about 7 hours ago

Big12Conference

Big 12 Conference


#Big12Insider @TCUFootball converts another fumble; Oberkrom ends half with 47yd FG. Leads @TechAthletics 37-20.
about 7 hours ago

Big12Conference

Big 12 Conference


#Big12Insider @TCUFootball converts fumble into 43yd Oberkrom FG to take a 34-20 lead on @TechAthletics with 48 seconds left in 1st half.
about 7 hours ago

BChatmon

Brandon Chatmon


Trickett 10/15, 165 yds, 2 TDAlford 4 rec, 109 yds, TDSmallwood 11 car, 80 ydsGarman 14/23, 176 yds, TD, INTWashington 4 rec, 74 yds
about 8 hours ago

Big12Conference

Big 12 Conference


#Big12Insider Halftime in Stillwater, @WVUfootball 14, @CowboyFB 10.
about 8 hours ago

BChatmon

Brandon Chatmon


West Virginia 14, Oklahoma St. 10 at halfWVU 34 plays, 250 yds, 7.4 ypp, 10 1st downsOSU 44 plays, 299 yds, 6.8 ypp, 16 1st downs
about 8 hours ago

pistolsguy

Pistols Firing


I love how it says Okla A&M on the back of the helmet. Perfect. http://t.co/TBlW1OvMm9
about 8 hours ago

BChatmon

Brandon Chatmon


I'd imagine both coaches will talk about third downs at halftime. #WVU is 2 of 7, #Okstate is 0 of 5 #WVUvsOKST
about 8 hours ago
BLOG ARCHIVE:
CATEGORIES: