Interesting week coming for DB Chandler
October, 2, 2012
10/02/12
12:00
PM ET
Even after Oklahoma started to show interest in the spring, it became apparent Lubbock, Texas, was going to be the future home of three-star cornerback
Maurice Chandler
(Lawton, Okla./Lawton).
Chandler, who is 6-foot and 185 pounds and is ranked No. 6 in Oklahoma, committed to Texas Tech in July following an impressive showing at Tech's camp.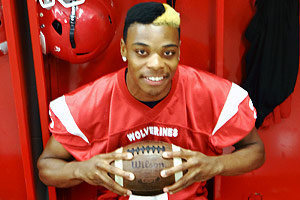 Bob Przybylo/ESPN.comIn-state cornerback recruit Maurice Chandler committed to Texas Tech in July.
But the interest OU defensive backs coach Mike Stoops showed before Chandler's commitment hasn't slowed down since Chandler has made his pledge.
To continue reading this article you must be an Insider
Insider
Drive Through: Mountaineers Have Eye On Upset
Hosting No. 4 Oklahoma this weekend, can West Virginia send the Sooners away with their first loss of the season?
Drive Through: Mountaineers Have Eye On Upset
VIDEO PLAYLIST
SOONERNATION RECRUITING NEWS
OKLAHOMA FB RECRUITING SCORECARD
Jake_Trotter

Jake Trotter


I have arrived in Manhattan #emaw http://t.co/l9rzHirgaY
7 minutes ago

McMurphyESPN

Brett McMurphy


Oklahoma wearing "Bring The Wood" uniforms at West Virginia Saturday http://t.co/LE9cRqFjXZ
15 minutes ago

OU_Football

Oklahoma Football


Thanks for all of your questions. If you have more just hit me up on my Twitter - @ZSanchez15.
30 minutes ago

OU_Football

Oklahoma Football


.@D_Scholly Oregon or Florida State.
31 minutes ago

OU_Football

Oklahoma Football


.@jdub_101eli Rich Homie and Lil Boosie.
32 minutes ago

OU_Football

Oklahoma Football


.@joofro4eva The alt reds.
33 minutes ago

OU_Football

Oklahoma Football


.@TylerBurton7 Drake's too soft for me. He makes good music, just too soft for me.
34 minutes ago

OU_Football

Oklahoma Football


.@dcwildcat97 Coach Wang.
34 minutes ago

OU_Football

Oklahoma Football


.@buddro77 I just really hate the color orange.
35 minutes ago

OU_Football

Oklahoma Football


.@Lexie_Moreno It's either Scarface or Training Day.
36 minutes ago

OU_Football

Oklahoma Football


.@TCooks237 There's too many to choose from. @Geneo_G definitely makes a case for number 1.
37 minutes ago

OU_Football

Oklahoma Football


.@TheRealRMJ96 @hadenbjones No.
37 minutes ago

OU_Football

Oklahoma Football


.@Kenziee_mc Criminal Justice.
38 minutes ago

OU_Football

Oklahoma Football


.@ChillSportsFan Strike.
38 minutes ago

OU_Football

Oklahoma Football


.@Tyler3Hoy Breaking Bad.
38 minutes ago

OU_Football

Oklahoma Football


.@BrockTrevor Bad ball by the QB, we both win.
39 minutes ago

OU_Football

Oklahoma Football


.@ChillSportsFan Strike and @sterl_shep3.
40 minutes ago

OU_Football

Oklahoma Football


.@BenWillcut My pops.
40 minutes ago

OU_Football

Oklahoma Football


.@NICOLEHEARD Friday Night Lights.
41 minutes ago

OU_Football

Oklahoma Football


.@legolasfan69 Depends on the night.
41 minutes ago

OU_Football

Oklahoma Football


.@Kdub419 Phone, my Bible, and @LChamberlain44.
42 minutes ago

OU_Football

Oklahoma Football


.@urbanite2004 Obo. @OgboOkoronkwo
42 minutes ago

OU_Football

Oklahoma Football


.@3b_beckham Golf. Wouldn't have to worry about no injuries.
43 minutes ago

OU_Football

Oklahoma Football


.@Soonerthanwyro @OU_CoachJerryM calls me Chico.
43 minutes ago

OU_Football

Oklahoma Football


.@hadenbjones Leavin' high school.
44 minutes ago

OU_Football

Oklahoma Football


.@ramurdock It's not suitable for Twitter.
45 minutes ago

OU_Football

Oklahoma Football


.@joe_dirty2152 Best defense in the country.
45 minutes ago

OU_Football

Oklahoma Football


.@danielrios_12 Every game I get to see my family.
46 minutes ago

OU_Football

Oklahoma Football


.@TLOMMT yeah, Captain Obvious.
46 minutes ago

OU_Football

Oklahoma Football


.@AlvaradoCristn Dallas Mavericks.
47 minutes ago

OU_Football

Oklahoma Football


.@Daftzak @rbi_3 22 pairs.
47 minutes ago

OU_Football

Oklahoma Football


.@RobertWesleyOU Appreciate it, Wes.
48 minutes ago

OU_Football

Oklahoma Football


.@ccbryant15 2 years.
48 minutes ago

OU_Football

Oklahoma Football


.@that_dude_MITCH Calvin Johnson.
49 minutes ago

OU_Football

Oklahoma Football


.@LChamberlain44 Yukiko Ueno. Just kiddin. It's you.
49 minutes ago

OU_Football

Oklahoma Football


.@auteri_tony 4.45.
51 minutes ago

OU_Football

Oklahoma Football


.@rbi_3 22.
51 minutes ago

OU_Football

Oklahoma Football


.@Soonermike Nah. I can't.
51 minutes ago

OU_Football

Oklahoma Football


.@MoCmb151 Lebron.
52 minutes ago

OU_Football

Oklahoma Football


.@coachtdiess Isaiah 40:31. Keep God first, even when things are going bad.
52 minutes ago

OU_Football

Oklahoma Football


.@Beddins2 @BigDBrooks_34
54 minutes ago

OU_Football

Oklahoma Football


.@MitchTaylor405 Never. Cause it means somethin.
about an hour ago

OU_Football

Oklahoma Football


.@danielbratcher4 A million.
about an hour ago

OU_Football

Oklahoma Football


.@_RyeGuy Denzel. You serious? I know you've seen Training Day.
about an hour ago

OU_Football

Oklahoma Football


.@RealNTurner I hate marshmallows.
about an hour ago

OU_Football

Oklahoma Football


.@jimbo_slice2k14 Golden Crisps.
about an hour ago

OU_Football

Oklahoma Football


.@jpitz04 Soccer. Especially the World Cup.
about an hour ago

OU_Football

Oklahoma Football


.@RJGreen7 Doernbecher Foams.
about an hour ago

OU_Football

Oklahoma Football


.@da_trufOU Hot. I hate cold weather.
about an hour ago

OU_Football

Oklahoma Football


.@LoganCullop The game itself.
about an hour ago

OU_Football

Oklahoma Football


.@wduncan1983 Probably Tyrus or Tap.
about an hour ago

OU_Football

Oklahoma Football


To catch you up, @ZSanchez15 is currently running this account until 7. Have a question?
about an hour ago

OU_Football

Oklahoma Football


.@Aub_Armstrong You should probably already know that answer. Talks our ear off.
about an hour ago

OU_Football

Oklahoma Football


.@JFranimal89 Keep grindin.
about an hour ago

OU_Football

Oklahoma Football


.@Soonerthanwyro @Takeflightchuck Made my job easier.
about an hour ago

OU_Football

Oklahoma Football


.@sambonlil3 all of em.
about an hour ago

OU_Football

Oklahoma Football


.@Trousdale_11 You gotta be louder next time.
about an hour ago

OU_Football

Oklahoma Football


.@Joswalt1 My confidence and my technique.
about an hour ago

OU_Football

Oklahoma Football


.@waynesworld731 Watermelon and Gold Fish.
about an hour ago

OU_Football

Oklahoma Football


.@IULentz Lions. BIG CATS. @sterl_shep3 @RealDNeal
about an hour ago

OU_Football

Oklahoma Football


.@TheHeathWells @KSTiLLS Yeah in a couple years in the NFL hopefully.
about an hour ago

OU_Football

Oklahoma Football


.@malloryjohnson_ The tradition and the fact that it was going to get better every year I was here.
about an hour ago

OU_Football

Oklahoma Football


.@TheGreatPatsby5 J's and Foams.
about an hour ago

OU_Football

Oklahoma Football


.@JamesMattRamage One horse sized duck.
about an hour ago

OU_Football

Oklahoma Football


.@DeBarrettBrooks Lil Boosie.
about an hour ago

OU_Football

Oklahoma Football


.@_mblancox The Cowboys, duh.
about an hour ago

OU_Football

Oklahoma Football


.@da_trufOU Notre Dame was pretty cool.
about an hour ago

OU_Football

Oklahoma Football


.@randhilliard918 The one this past week.
about an hour ago

OU_Football

Oklahoma Football


.@JellyKaques What?
about an hour ago

OU_Football

Oklahoma Football


.@DezGore88 I grew up playing baseball. My first love.
about an hour ago

OU_Football

Oklahoma Football


.@Tyler3Hoy Shep.
about an hour ago

OU_Football

Oklahoma Football


.@clarkehamlin14 Just stayin' on our game. Not buyin' into what other people have to say.
about an hour ago

OU_Football

Oklahoma Football


.@JamesMattRamage UTEP my RS Freshman year.
about an hour ago

OU_Football

Oklahoma Football


.@JJ6314 Hi, mom.
about an hour ago

OU_Football

Oklahoma Football


.@MatthewTaylor21 Best is @TheALexRoss. Worst... I have to go with Strike.
about an hour ago

OU_Football

Oklahoma Football


.@Tyler3Hoy My best friend that got killed in high school wore it.
about an hour ago

OU_Football

Oklahoma Football


.@JamesMattRamage Probably Diamond Dawgs.
about an hour ago

OU_Football

Oklahoma Football


.@_mickeydaniel Jordan.
about an hour ago

OU_Football

Oklahoma Football


.@BSorrell98 Chemistry is there. We trust each other a lot more than we did last year.
about an hour ago

OU_Football

Oklahoma Football


.@Rocket_Man623 I'd go with Peyton Manning.
about an hour ago

OU_Football

Oklahoma Football


.@bdub2283 I played receiver in high school.
about an hour ago

OU_Football

Oklahoma Football


.@EpitomeofSooner The constant spotlight. Being on an island basically by yourself.
about an hour ago

OU_Football

Oklahoma Football


.@cgrubb85 Aqib Talib.
about an hour ago

OU_Football

Oklahoma Football


.@MarkusDouglas21 @LChamberlain44 All the time.
about an hour ago

OU_Football

Oklahoma Football


.@kadler5 I love 'em. I think they're really dope.
about an hour ago

OU_Football

Oklahoma Football


.@23BryceWilliams Justin Brown back when I was on scout team.
about an hour ago

OU_Football

Oklahoma Football


.@BradyTrantham I'm neither. Flash.
about an hour ago

OU_Football

Oklahoma Football


Ready for your questions. http://t.co/nnlvpqf4IH
about an hour ago

OU_Football

Oklahoma Football


Zack Sanchez is here and ready to answer your questions. What do you want to know?
about an hour ago

CareyWWLS

Carey Murdock


#Sooners will wear alternate uniforms at West Virginia. Red helmets, white/cream shirt, red pants, black shoes.
about an hour ago

OU_Football

Oklahoma Football


Saturday. http://t.co/qBBewinfm9
about an hour ago

OU_Football

Oklahoma Football


Get ready for this look with Crimson pants for #Sooners on Saturday night. #Boomer http://t.co/bFq0emLRmv
about an hour ago

Jake_Trotter

Jake Trotter


Interesting RT @OU_Football: . @OU_CoachStoops just confirmed that #Sooners will wear alternate jerseys for WVU game. #Boomer
about an hour ago

OU_Football

Oklahoma Football


. @OU_CoachStoops just confirmed that #Sooners will wear alternate jerseys for WVU game. #Boomer
about an hour ago

OU_Football

Oklahoma Football


. @OU_CoachStoops just confirmed that #Sooners will wear alternate jerseys for WVU game. #Boomer
about an hour ago

OU_Athletics

Oklahoma Sooners


Bedlam and K-State tickets are now available for purchase! http://t.co/IjaqrsCaoC http://t.co/ZFw4qAdLPQ
about 2 hours ago

OU_Football

Oklahoma Football


OU is the only @AP Top 5 team to hold three opponents to under 21 points. Can we do it against four? #Boomer http://t.co/Qu5GikkvF8
about 2 hours ago

SoonerScoop

SoonerScoop.com


#Sooners #Rivals100 weekend visitor Kendall Sheffield full update coming. http://t.co/PCclWq33e2
about 2 hours ago

OU_Football

Oklahoma Football


NEW: K-State & Oklahoma State have returned tix for @OU_FootballKansas game also availableBUY NOW: http://t.co/Ze1k4eSkQd
about 2 hours ago

Big12Conference

Big 12 Conference


#Big12TEN Danielle Lund McNamara has been named the @TexasSports head women's tennis coach: http://t.co/TpzbHrjlbL
about 3 hours ago
BIG 12 SCOREBOARD
Thursday, 9/18
Saturday, 9/20
BLOG ARCHIVE:
CATEGORIES: