October, 24, 2014
Oct 24
8:00
AM ET
Happy Friday, everybody. Be safe this weekend, and may your team's odds be ever in your favor. Or, you know, something like that.
October, 23, 2014
Oct 23
6:18
PM ET
October, 23, 2014
Oct 23
8:00
AM ET
In case you missed it, the Royals took
Game 2
.
October, 22, 2014
Oct 22
2:30
PM ET
A closer look at one statistic worth keeping an eye on for each Big 12 team entering Week 9:
Baylor:
The problem with penalties is no one-week fluke. Yes, Baylor's
215
penalty yards against West Virginia were the most by any FBS team in the past decade. But the reality is, since 2010, Baylor leads the nation in penalties (8.05 per game), penalty yards (74.6) and offensive penalties (4.12).
Iowa State:
E.J. Bibbs
is establishing himself as one of the nation's top tight ends this season. After catching two more touchdowns against Texas on Saturday, he now ranks
first
nationally in TDs (six) and second in receptions (32) among tight ends. He's not putting up Jace Amaro-level numbers, but this year there simply aren't many like Bibbs in the Big 12 or elsewhere.
Kansas:
The Jayhawks are showing signs they're going to win a Big 12 game this year. One factor that's helping their cause: stingy goal-line defense. Opponents are scoring touchdowns on just
54.5
percent of their goal-to-go situations. That rate ranks second-best in the Big 12 behind TCU. Kansas has allowed six TDs, forced teams to settle for 12 field goals and recorded one takeaway. For comparison's sake, that's a dozen fewer TDs than Iowa State has given up in those situations.
Kansas State:
This one paid off big last week and has continued during Bill Snyder's return to K-State: Since 2009, the Wildcats are
No. 1
in the Big 12 at blocking field goals (seven) and extra points (eight).
Travis Britz
got No. 8 last week on the point-after attempt that would've tied the game against Oklahoma.
Oklahoma:
Michael Hunnicutt
had a rough day Saturday, but he's still one of the most consistent kickers in Big 12 history. Hunnicutt's
84.5 percent
career success rate on field goals ranks No. 3 among kickers in the past decade with more than 70 attempts.
Oklahoma State:
Against TCU, the Cowboys had undeniably one of their worst offensive performances of the Mike Gundy era. For only the third time in his tenure, OSU produced
zero
touchdowns in any phase of the game. The minus-33 scoring margin was OSU's worst since a 56-20 loss to Texas Tech in 2008 and fourth-worst in Gundy's 10 seasons, and the Pokes' 4.03 yards per play ranked fifth-worst.
TCU:
The Horned Frogs are now
91-3
under Gary Patterson when they hold a team to 17 points or fewer. After last Saturday's 42-9 win over Oklahoma State, the Frogs have now won their last 10 games against Big 12 teams when achieving that 17-or-under feat defensively.
Texas:
Offensive coordinator Shawn Watson's efforts to script the first 15 to 25 plays of a game are paying dividends for quarterback
Tyrone Swoopes
. He's completing
77 percent
of his passes in the first quarter this season, connecting on 40 of 52 attempts for 426 yards and 10.6 yards per completion. That's certainly helping him get into an early rhythm.
Texas Tech:
DeAndre Washington
is quietly putting together one of the best seasons by a Tech running back in years. He's averaging 5.55 yards per carry (No. 2 in Big 12), 88.8 yards per game (No. 3) and is on pace to become Tech's first 1,000-yard rusher since
1998
. Texas Tech is still passing on nearly 63 percent of its snaps, but Washington is making this run game go when he gets his touches.
West Virginia:
There are a ton of numbers we can throw around for
Kevin White
, the nation's leading receiver, but here's an impressive one: If he surpasses 100 receiving yards against Oklahoma State, he'll become just the second FBS receiver in the last decade to start a season with
eight
straight 100-yard games. The other guy? Another Dana Holgorsen prodigy, Justin Blackmon. He put up 100-plus in every game of his 2010 season.
October, 22, 2014
Oct 22
12:40
PM ET
Associated Press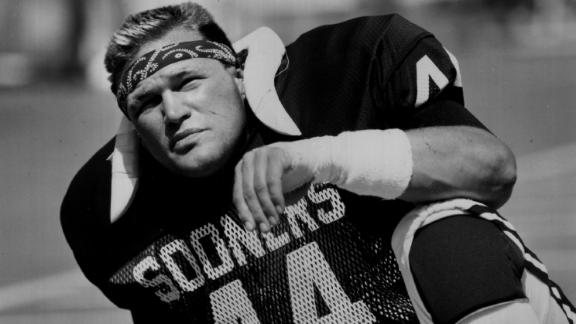 IRVING, Texas -- Kansas State coach Bill Snyder is among the 81 coaches and players up for election to the College Football Hall of Fame.
The National Football Foundation on Wednesday released the ballot for the class that will be announced Jan. 9. Former Heisman Trophy winners Rashaan Salaam of Colorado, Ricky Williams of Texas and Eric Crouch of Nebraska are among the 75 players from the Football Bowl Subdivision on the ballot.
Oklahoma linebacker Brian Bosworth and Southern California receiver Keyshawn Johnson are also up for election.
The NFF tweaked its rules for eligibility a few years ago to allow active coaches, such as Snyder, to be eligible for the election after they turn 75.
The 75-year-old Snyder is in his 23rd season at Kansas State. He has a record of 183-91-1.
October, 22, 2014
Oct 22
11:00
AM ET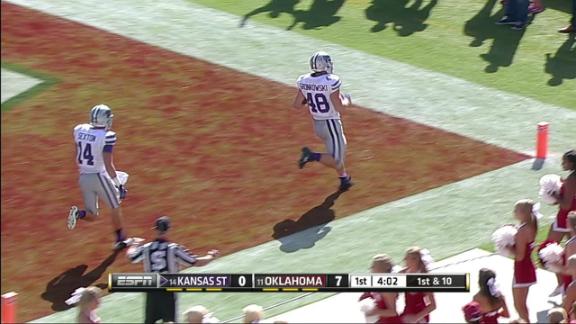 Offenses are getting harder and harder to defend.
Big receivers are becoming common, slot receivers are as quick as ever and quarterbacks can use their arm or their feet to create nightmares for defensive coordinators. Add the creative game-planning from Big 12 offenses and it can leave opposing coordinators at a loss for words.
Oklahoma defensive coordinator Mike Stoops is not at a loss for words but he is looking for answers, sounding off against the rule that allows offensive linemen to block three yards downfield even when the ball is thrown.
Several teams have done a great job of putting defenses in lose-lose situations by utilizing the rule with creative schemes used by multiple offensive systems from "Air Raid" offenses to run-based spread attacks. He never referenced any team specifically but Stoops clearly remains frustrated with how to defend teams that use run-pass plays that include offensive linemen past the line of scrimmage after OU's 31-30 loss to Kansas State, a team that has used the rule to create chaos for opposing defenses during the past few years.
"The linemen running down the field and trying to throw a pass when they're five yards down the field, to me is ridiculous," Stoops said on Tuesday evening. "Football has gotten to where it is stupid, letting guys run [running] plays then throw the ball. I'm just not a big fan of it -- it's lenient and all of a sudden it's three, four, five yards.
"Once you get to a certain point it's not even fair."
OU's disappointing loss to Kansas State included a Wildcats touchdown pass to
Glenn Gronkowski
(see below), so Stoops' words sound like sour grapes that lingered into OU's bye week even though he never referenced the Wildcats or any specific team while expressing his frustration with how the rule has been interpreted in recent years.
Rule 7, article 10 in the NCAA rulebook states:
Ineligible Receiver Downfield
ARTICLE 10. No originally ineligible receiver shall be or have been more than three yards beyond the neutral zone until a legal forward pass that crosses the neutral zone has been thrown.
PENALTY—Five yards from the previous spot.
"We're having a hard enough time [stopping it] and it just keeps expanding," Stoops said. "It's not supposed to be more than three yards but it seems like a very lax three yards."
The architect of the Sooners' defense is adamant about his hopes that the rule and issue will be revisited in the offseason as several different teams have been able to use the three-yard rule to their advantage in recent years, including Auburn in 2013, which ran a similar play to tie Alabama before the Tigers' field goal return that shocked the Crimson Tide.
The run-pass option package that K-State and quarterback
Jake Waters
uses to stress defenses creates a lose-lose scenario for safeties and linebackers, who must choose to stop the run with Waters or cover the pass while Waters simply reads the defender and choses whatever option the defender leaves free.
Stoops admitted there's not much any defense can do to stop the creative schemes like the ones KSU and Auburn built upon the rule and used with success.
"Complain … until they do something about it," Stoops said when asked how to stop it. "What is the gray area? They're allowed to be down there three yards but at three there should be a flag, that's how I look at it. It can't be gray, it's black or white."
October, 22, 2014
Oct 22
10:45
AM ET
The
updated ESPN 300 player rankings are now live
, and one of the primary Big 12 targets is the newly crowned top-ranked running back.
Soso Jamabo
said in September that he was gunning for the No. 1 spot at running back, and after several huge games, Jamabo has earned that spot, bypassing Kentucky running back
Damien Harris
. The hunter, however, is now the hunted, as Jamabo looks to maintain that spot. He'll have to fight off Harris, Oklahoma State commit
Ronald Jones II
, fast-rising
Chris Warren III
-- who jumped from 183 to 102 in the new rankings -- and several others.
Here are five things to know involving Big 12 recruiting:
October, 21, 2014
Oct 21
2:30
PM ET
It's amazing how things can change in a matter of 18 days. Earlier this month we took a look at the Big 12's
most efficient offenses based on the points per possession
of the top five teams in the conference.
Almost three weeks later, the list has transformed, much like the Big 12 standings. Here's a look at the overall efficiency of all 10 Big 12 offenses, with the help of ESPN Stats & Information, including each team's points per drive during the past three weeks.
T-1. Kansas State -- 3.11 points per possession overall
Key stat:
The Wildcats' success on third down has been a key to their efficiency. They convert 50 percent of their third-down conversion attempts.
Last three games:
KSU has been even better in recent weeks, averaging 3.53 points per possession in games against UTEP, Texas Tech and Oklahoma as
Jake Waters
has gotten comfortable in his dual-threat role.
Future outlook:
The Wildcats' running game has been solid but not spectacular, but KSU's efficient offensive numbers should continue with Waters' ability to provide a run-pass threat and
Curry Sexton
's emergence alongside
Tyler Lockett
.
T-1. Baylor -- 3.11
Key stat:
Baylor has gained 58 percent of the possible yards on its drives this season, best in the Big 12. The conference average is 46.7 percent.
Last three games:
As the competition has stepped up, Baylor's offense has slowed down. The Bears averaged 2.22 points per drive in games against Texas, TCU and West Virginia.
Future outlook:
In recent weeks, the Bears and
Bryce Petty
haven't displayed the consistency that made them the conference's most explosive offense. All the ingredients still remain for Baylor's elite production to return in the second half of the season.
3. TCU -- 2.79
Key stat:
The Horned Frogs are averaging 83.2 plays per game, ranking behind only Baylor and West Virginia in the Big 12. It's a clear sign TCU has made a smooth transition into its new up-tempo attack.
Last three games:
The Horned Frogs' offense has continued to be productive against Oklahoma, Baylor and Oklahoma State, averaging 2.54 points per drive in its last three games.
Trevone Boykin
has been at his best against increased competition.
Future outlook:
There's no reason to think TCU's offense will slow down any time soon with Boykin and a roster full of big-play running backs and receivers.
4. Oklahoma -- 2.51
Key stat:
The Sooners score touchdowns 73.3 percent of the time in the red zone, second in the Big 12.
Last three games:
OU averaged 1.95 points per drive against TCU, Texas and Kansas State as a lack of big plays has resulted in Sooners stumbles.
Future outlook:
More playmakers must emerge to join
Sterling Shepard
or the Sooners could tumble down this list.
5. West Virginia -- 2.43
Key stat:
Only 22 percent of WVU's drives have ended without a first down or touchdown. Only Baylor has a better percentage (21.3), and the conference average is 29.3.
Last three games:
The Mountaineers averaged 2.26 points per possession in games against Kansas, Texas Tech and Baylor.
Future outlook:
As long as
Clint Trickett
and
Kevin White
continue playing like the Big 12's best quarterback-receiver duo, the sky is the limit for WVU's offense.
6. Texas Tech -- 2.3
Key stat:
The Red Raiders have committed a turnover on 17 percent of their drives, worst in the Big 12.
Last three games:
Tech averaged 1.98 points per drive in games against Kansas, Kansas State and West Virginia.
Future outlook:
Kliff Kingsbury's offense would be just fine if it could cut down the turnovers and limit the penalties. Quarterback
Davis Webb
and a reborn running game make this offense one to keep an eye on.
7. Oklahoma State -- 2.12
Key stat
: The Cowboys have settled for field goals on 17 percent of their drives, worst in the Big 12.
Last three games:
OSU averaged 1.4 points per drive in games against Kansas, Iowa State and TCU.
Future outlook:
As the Cowboys look toward the second half of their season, the offensive line needs to steadily improve if the Pokes hope to rise up this list.
8. Iowa State -- 2.07
Key stat:
The Cyclones are averaging 4.96 yards per play, with only Kansas (4.6) averaging less yards per play.
Last three games:
ISU is getting better as the season progresses, averaging 2.5 points per drive in its last three games against Texas, Toledo and Oklahoma State.
Future outlook:
The Cyclones are starting to find a rhythm under new offensive coordinator Mark Mangino and could rise up this list in the second half of the season.
9. Texas -- 1.58
Key stat:
The Longhorns' average drive distance is 25.8 yards per drive, ranking ninth in the Big 12. The Big 12 average is 32.6, with West Virginia leading the conference at 39.5.
Last three games:
UT averaged 1.72 points per drive in games against Baylor, Oklahoma and Iowa State.
Future outlook:
Quarterback
Tyrone Swoopes
is coming along behind center after a poor start. If he continues to play like he did against Iowa State last Saturday, UT's offense could make some noise in the second half of the season.
10. Kansas -- 1.08
Key stat:
The Jayhawks have managed a touchdown on just 12.9 percent of their drives, worst in the Big 12. The conference average is 28.7 percent.
Last three games:
KU has averaged 1.09 points per drive in games against West Virginia, Oklahoma State and Texas Tech.
Future outlook:
The offense is on a upswing with
Michael Cummings
at quarterback under Clint Bowen. After struggles in Bowen's first game at WVU, KU averaged 1.33 points per drive against OSU and 1.5 points per drive against Tech in the past two weeks.
Son Of A Sooner