Roundtable: Roy Finch's touches in 2012
September, 6, 2012
9/06/12
8:00
AM ET
By
SoonerNation staff
| ESPN Insider
Every Thursday during the season, the SoonerNation staff will answer a roundtable question about OU football. Leave a comment or talk about it in our "There's Only One" forum.
Today's question:
How many touches will Roy Finch end up with this season?
[+] Enlarge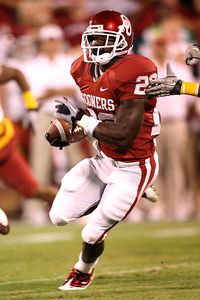 Nelson Chenault/US PresswireRoy Finch's playing time as a Sooners has been inconsistent.
• Roy Finch has been in the doghouse before. And yet, he seems to always emerge to boost the offense late in the season. I still think Finch makes an impact, and ends up with somewhere around 85 touches, which is still far less than his 145 last season. Finch's role is marginalized because he's now in the slot. But he'll find his way on the field again at some point and get at least enough touches to spark the offense.
To continue reading this article you must be an Insider
Insider
Getting It Done: Samaje Perine
Oklahoma running back Samaje Perine rushes for a five-yard touchdown, his third of the night, to lead OU to a win.
Getting It Done: Samaje Perine
VIDEO PLAYLIST
SOONERNATION RECRUITING NEWS
OKLAHOMA FB RECRUITING SCORECARD
SoonerSportsTV

Sooner Sports TV


ICYMI: We debuted our quad screen simulcast for @OU_Football at WVU Saturday. #Watch: http://t.co/gi2NH4cCd7 http://t.co/l6UYPUhmvn
about an hour ago

RJ_Young

RJ Young


Samaje Perine steals the show in 45-33 win over WVU: https://t.co/IZrJlXvtWz #Sooners
about an hour ago

Eddie_Rado

Eddie Radosevich


Trevor Knight caught the first touchdown pass of his career last night. He talked about it afterwards. http://t.co/06MJc5Ps3q #Sooners
about an hour ago

CoachDrhill12

Coach Drew Hill


Congrats to @samajp32 for his "ESPN Helmet Sticker" #Unmatched #TheresOnlyOne
about 8 hours ago

Jake_Trotter

Jake Trotter


For those who missed it live RT @DaneBeavers: HAIL MARY: http://t.co/QW3bzzgAQa
about 10 hours ago

Jake_Trotter

Jake Trotter


Double tweet of the night RT @CougCenter: Yeah. RT @GoldenBlogs: I hate college football.
about 10 hours ago

Jake_Trotter

Jake Trotter


Cal was up 31-13 in the fourth quarter and loses on a hail mary.
about 10 hours ago

Jake_Trotter

Jake Trotter


Cal was up 31-13 in the fourth quarter and losses on a hail mary.
about 10 hours ago

Jake_Trotter

Jake Trotter


Oh. My. Goodness!!! ZONA
about 10 hours ago

Jake_Trotter

Jake Trotter


Wow, how do you not call interference there?
about 10 hours ago

OU_Football

Oklahoma Football


And back to Norman we go.
about 10 hours ago

joelklatt

Joel Klatt


Regardless of how this #Oregon game ends up, it's safe to say that the most impressive team in country in 2014 has been @OU_Football
about 10 hours ago

joelklatt

Joel Klatt


Regardless of how this #Oregon game ends up, it's safe to say that the most impressive team in country in 2014 has been @OU_Football
about 10 hours ago

OU_Football

Oklahoma Football


And back to Norman we go.
about 10 hours ago

CFBONFOX

FOX College Football


#4 Oklahoma took down West Virginia on the road, 45-33. Here's a look at all the action! @drpepper #oneofakindplayshttps://t.co/hfSCxUtoVA
about 10 hours ago

Jake_Trotter

Jake Trotter


This is happening in Pullman right now... http://t.co/ZG4ayTlxvr
about 10 hours ago

SoonerScoop

SoonerScoop.com


#Sooners touted the unveiling of their new uniforms as #bringthewood. Bob Stoops brought Samaje Perine instead. https://t.co/4EcMfM9p0j
about 10 hours ago

Jake_Trotter

Jake Trotter


What we learned in the Big 12: Week 4: http://t.co/cWXvMYMypE
about 10 hours ago

CFBONFOX

FOX College Football


#4 Oklahoma took down West Virginia on the road, 45-33. Here's a look at all the action! @drpepper #oneofakindplayshttps://t.co/hfSCxUtoVA
about 11 hours ago

BChatmon

Brandon Chatmon


The helmet, in particular, far exceeded my expectations. The helmet is NICE http://t.co/HiXOBqqWfw
about 11 hours ago

RealDNeal

Durron Neal


Great team win. Came together as brothers and fought it out.
about 11 hours ago

treeflowers36

Dimitri Flowers


Great win! #SoonerNation ⭕️🙌
about 11 hours ago

BChatmon

Brandon Chatmon


Gotta say, I like the #sooners alternates… and, to be honest, I didn't expect to http://t.co/75ZAjbP5iR
about 11 hours ago

SoonerScoop

SoonerScoop.com


#Sooners have a look as we break down every key contributor tonight and rank their performance in #AtFirstGlance. https://t.co/CK8G83lxVO
about 11 hours ago

SoonerFootball

Sooner Football


This guy http://t.co/Ou957QWsXb
about 12 hours ago

OU_Football

Oklahoma Football


FULL COVERAGE: 'Rough Riders' Trample Mountaineers // http://t.co/ifkwskGZNz // http://t.co/3jsbn31Hsk
about 12 hours ago

OU_Football

Oklahoma Football


FULL COVERAGE: 'Rough Riders' Trample Mountaineers // http://t.co/ifkwskGZNz // http://t.co/3jsbn31Hsk
about 12 hours ago

Big12Conference

Big 12 Conference


#Big12FB HIGHLIGHTS: @OU_Football 45-33 win over @WVUfootball backed by 4 Samaje Perine TDs - http://t.co/0dnc24QEdJ http://t.co/iEmipmB6e9
about 12 hours ago

OU_Football

Oklahoma Football


WATCH: Highlights of the #Sooners big win! http://t.co/8LTUAkWFBV
about 12 hours ago

OU_Football

Oklahoma Football


WATCH: Highlights of the #Sooners big win! http://t.co/8LTUAkWFBV
about 12 hours ago

Jake_Trotter

Jake Trotter


There should be a Wikipedia entry on "Clemson-ing" after this game.
about 12 hours ago

OU_Football

Oklahoma Football


Oh... and also @trevor_knight9 CAUGHTa TD pass, and Alex Ross had a 100-yard kick-off return TD. What'd we miss?
about 12 hours ago

BChatmon

Brandon Chatmon


are you kidding me?? #FSUvsCLEM
about 12 hours ago

Jake_Trotter

Jake Trotter


Only Clemson...
about 12 hours ago

Jake_Trotter

Jake Trotter


Stoops on Perine: "Just outstanding. Great cuts, great vision. Just had a sensational night."
about 12 hours ago

OU_Football

Oklahoma Football


To recap: @OU_CoachStoops got his 100th Conference win, @Hunnicutt08 became the all-time scoring leader & @samajp32 was unstoppable.
about 12 hours ago

SoonerFootball

Sooner Football


Oklahoma rides freshman Samaje Perine's 4-TD night to win over WVU | AP #Sooners (Being updated…) http://t.co/djm88YqQxA
about 12 hours ago

SoonerFootball

Sooner Football


Oklahoma kicker Michael Hunnicutt sets OU career scoring record against West Virginia | DallasMorningNews #Sooners http://t.co/ZoTuXq9hKl
about 12 hours ago

SoonerFootball

Sooner Football


Samaje Perine superlatives: What they're saying about the #Sooners' freshman running back | NewsOK http://t.co/1qtCmD80Hk
about 12 hours ago

BChatmon

Brandon Chatmon


#sooners MT @ESPNStatsInfo: Bob Stoops got his 100th Big 12 win in OU's 45-33 over West Virginia, the first Big 12 coach to win 100 games.
about 12 hours ago

ESPNStatsInfo

ESPN Stats & Info


Oklahoma's Bob Stoops got his 100th Big 12 win in @OU_Football's 45-33 over West Virginia, the first Big 12 coach to win 100 games.
about 12 hours ago

OU_Athletics

Oklahoma Sooners


Thank you to all of the fans who cheered tonight from Morgantown and beyond!
about 12 hours ago

OU_Football

Oklahoma Football


FINAL: #Sooners 45, WVU 33 http://t.co/HZbfBAKwM1
about 12 hours ago

OU_Football

Oklahoma Football


FINAL: #Sooners 45, WVU 33 http://t.co/HZbfBAKwM1
about 12 hours ago

Jake_Trotter

Jake Trotter


Should be noted, too, for those that don't know that Perine is from the Austin, Texas, area.
about 12 hours ago

OU_Football

Oklahoma Football


As the #Sooners left the field, the crimson section went wild! http://t.co/XWRdea1SPq
about 12 hours ago

OU_Football

Oklahoma Football


.@sterl_shep3 with another 100-yard game! BOOMER! http://t.co/BFg43cR87c
about 12 hours ago

SoonerFootball

Sooner Football


"@OU_Football: Perine's final line. #wow http://t.co/fUEv2uwTUB" #BOOMER
about 12 hours ago

OU_Football

Oklahoma Football


Perine's final line. #wow http://t.co/f2dhA0ipAM
about 12 hours ago

Big12Conference

Big 12 Conference


#Big12FB: No. 4 @OU_Football 45, @WVUfootball 33. Stoops becomes first league coach to record 100 #Big12 regular season victories.
about 12 hours ago

BChatmon

Brandon Chatmon


O_O RT @ESPN_Big12: Oklahoma 45, West Virginia 33 FINAL ... #sooners true freshman running back Samaje Perine 34 carries, 242 yards, 4 TDs
about 12 hours ago

Big12Conference

Big 12 Conference


#Big12FB: No. 4 @OU_Football 45, @WVUfootball 33. Stoops becomes first league coach to record 100 #Big12 regular season victories.
about 12 hours ago

OU_Football

Oklahoma Football


FINAL: #Sooners 45, WVU 34 http://t.co/xB2KaD0b0c
about 12 hours ago

OU_Football

Oklahoma Football


FINAL: #Sooners 45, WVU 34 http://t.co/xB2KaD0b0c
about 12 hours ago

RJ_Young

RJ Young


FINAL: No. 4 Oklahoma 45, West Virginia 33. Samaje Perine finishes with 33 carries for 239 yards and four TDs. #Sooners
about 12 hours ago

OU_Football

Oklahoma Football


Bob Stoops becomes the first coach in Big 12 history to record 100 regular season Big 12 wins! #Boomer
about 12 hours ago

SoonerFootball

Sooner Football


Final from Morgantown: 45-33, #Sooners claim victory over the Mountaineers.
about 12 hours ago

OU_Football

Oklahoma Football


OU WINS! Sooners move to 4-0 on the year and 1-0 in the Big 12!
about 12 hours ago

SoonerFootball

Sooner Football


OU from the WVU 33 | 1st: Perine for 3 | 2nd: spike the ball to end the game.
about 12 hours ago

SoonerFootball

Sooner Football


1:24 | 2nd & 7: Perine gets 8
about 12 hours ago

Jake_Trotter

Jake Trotter


Per @MBrooks02: Only Marcus Dupree and Adrian Peterson have rushed more yards in a game as an OU true freshman than Perine tonight
about 12 hours ago

SoonerFootball

Sooner Football


OU from the WVU 44 | 1st: Perine for 3 | under 1:30 | timeout OU.
about 12 hours ago

OU_Football

Oklahoma Football


Sterling Shepard recovers WVU's onside kick. OU ball on the Mountaineer 44-yard line.
about 13 hours ago

SoonerFootball

Sooner Football


2:12 to go | WVU kicks off to OU: onside attempt: OU recovers
about 13 hours ago

OU_Football

Oklahoma Football


BOOMER!!!!!!
about 13 hours ago

OU_Football

Oklahoma Football


The play is confirmed and WVU's 2-point conversion attempt is unsuccessful. OU leads 45-33 with 2:12 remaining.
about 13 hours ago

SoonerFootball

Sooner Football


WVU 2 pt conversion fails; brings it to 45-33. 2:10 left to play.
about 13 hours ago

SoonerFootball

Sooner Football


TD stands
about 13 hours ago

SoonerFootball

Sooner Football


Being reviewed...
about 13 hours ago

OU_Football

Oklahoma Football


The Mountaineers' TD is under review.
about 13 hours ago

SoonerFootball

Sooner Football


WVU from the OU 11 | 1st: TD WVU.
about 13 hours ago

OU_Football

Oklahoma Football


Sideline chat. http://t.co/gnF3QuBdPX
about 13 hours ago

SoonerFootball

Sooner Football


WVU from the OU 22 | pass for first down
about 13 hours ago

SoonerFootball

Sooner Football


3:14 | WVU from the OU 38 | pass for 6 | 2nd: Rush gains 8
about 13 hours ago

SoonerFootball

Sooner Football


WVU from the OU 49 | 1st: rush for 5 | 2nd: Rush for 5
about 13 hours ago

Jake_Trotter

Jake Trotter


Disappointing for WVU, but no shame in this loss. With Bama, OU out of the way, Mountaineers could be primed to reel off a bunch of Ws
about 13 hours ago

SoonerFootball

Sooner Football


WVU from their 36 | 1st: pass near midfield.
about 13 hours ago

SoonerFootball

Sooner Football


WVU from their 25 | 1st: SACKED! (Striker) : FLAG; offsides. | 1st & 5: Rush for 6
about 13 hours ago

Jake_Trotter

Jake Trotter


Biggest winner tonight: OU alternate road white uniforms. Approval rating will be through the roof.
about 13 hours ago

SoonerFootball

Sooner Football


4:30 left to play | #Sooners kickoff to WVU: touchback
about 13 hours ago

Jake_Trotter

Jake Trotter


The Big 12 Offensive Freshman of the Year race between Perine and KD Cannon (who leads the nation in receiving) is going to be something.
about 13 hours ago

GabeIkard

Gabe Ikard


"The Sooners really looked sharp. Great win and I love those jerseys."-Everyone that was complaining about the jerseys in the 1st quarter
about 13 hours ago

Jake_Trotter

Jake Trotter


Only Quentin Griffin, DeMarco Murray, Jerald Moore and Steve Owens have rushed for more OU TDs in a game than Perine's 4 tonight.
about 13 hours ago

SoonerScoop

SoonerScoop.com


Oklahoma might have put it away with that 19-yard TD run by Perine. #Sooners 45, WVU 27 with 4:30 left to play.
about 13 hours ago

SoonerFootball

Sooner Football


PAT makes it 45-27. Perine with 4 TDs tonight. #Boomer
about 13 hours ago

OU_Football

Oklahoma Football


Perine now has 4 rushing TDs, becoming the first freshman to do so since Blake Bell in vs. Iowa in the Insight Bowl.
about 13 hours ago

OU_Football

Oklahoma Football


And the game is not over. http://t.co/S3vzJkH7Hm
about 13 hours ago

BChatmon

Brandon Chatmon


this seems timely lol: http://t.co/7YaDPedoca
about 13 hours ago

OU_Football

Oklahoma Football


PERINE SCORES AGAIN! The freshman rumbles in from 19 yards out to put OU up 45-27! 4:30 left in the game!
about 13 hours ago

Jake_Trotter

Jake Trotter


Tank puts it away with his FOURTH touchdown of the night. What a performance.
about 13 hours ago

SoonerFootball

Sooner Football


OU from the WVU 19 | 1st: Perine no gain | 2nd: Perine TD #SOONERS!!
about 13 hours ago

SoonerFootball

Sooner Football


Under 6:00. WVU has 3 timeouts. OU has 2
about 13 hours ago

RJ_Young

RJ Young


Samaje Perine has rushed for 210 yards on 29 carries. #Sooners
about 13 hours ago

SoonerFootball

Sooner Football


Our from the WVU 32 | 1st: Perine for 12
about 13 hours ago

Jake_Trotter

Jake Trotter


Last OU true freshman to rush for more than 200 yards in a game was Adrian Peterson in 2004.
about 13 hours ago

SoonerFootball

Sooner Football


OU from their 48 | 1st: Perine breaks it into the WVU 30s
about 13 hours ago

SoonerFootball

Sooner Football


8:51 in the 4th qtr | OU from their 35 | 1st: Perine for 9 | 2nd: Perine for inches | 3rd & 1: Perine for 4
about 13 hours ago

Jake_Trotter

Jake Trotter


Perine, Perine and Perine RT @ESPN_Big12: Taking helmet sticker nominations... Which #Big12 players deserve a helmet sticker this week?
about 13 hours ago

Jake_Trotter

Jake Trotter


This was the hit on Trickett RT @ScissorhandsOKC: MAN DOWN!!!!!! http://t.co/LL2pPWm3qf
about 13 hours ago

Jake_Trotter

Jake Trotter


Chuka Ndulue just crushed Trickett on that failed fourth down conversion.
about 13 hours ago
BIG 12 SCOREBOARD
Thursday, 9/18
Saturday, 9/20
BLOG ARCHIVE:
CATEGORIES: