2014 QB Coleman Key's stock soaring
June, 6, 2012
6/06/12
5:42
PM ET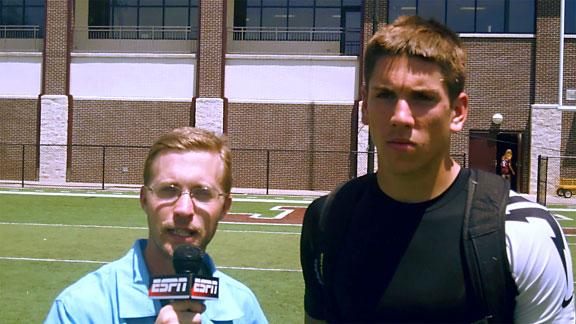 Quarterback
Coleman Key
(Broken Arrow, Okla./Broken Arrow) hasn't started a varsity high school football game yet.
He knows this. His coach reminds him and reporters of this in almost every interview. He has never even played a game at his current high school, transferring from Owasso, Okla., to Broken Arrow in the spring.
To continue reading this article you must be an Insider
Insider
Sooners Score ESPN 300 DE From VA
National recruiting analyst Craig Haubert projects the impact No. 13 defensive end Ricky DeBerry will have at Oklahoma.
Sooners Score ESPN 300 DE From VA
VIDEO PLAYLIST
OKLAHOMA FB RECRUITING SCORECARD
ctaylorou

Charlie Taylor


#okwx Norman http://t.co/s2Wnwj3bl2
15 minutes ago

Big12Conference

Big 12 Conference


#Big12FB: Glenn Gronkowski's 62-yard TD in week 8 is a #TotPlays finalist. Vote here - http://t.co/TJWISiAgC5https://t.co/FYh9Ih4JK6
25 minutes ago

ctaylorou

Charlie Taylor


Father-in-law has best Christmas gifts! @DunkinDonuts #needDunkininNorman http://t.co/UbsFKG8yC5
29 minutes ago

ctaylorou

Charlie Taylor


Norman Snow. #okwx http://t.co/4CN4iq3Hwy
34 minutes ago

Jake_Trotter

Jake Trotter


Sheriff Spencer… RT @Glenn_Spencer: Calling all Cowboys. We need you in Arizona! http://t.co/ExuisL1qV6
about an hour ago

OU_Football

Oklahoma Football


Happy Birthday, @ya_boy_ksmooth!
about an hour ago

roywilliams31

roy williams


Yes the other Roy does. #wrongROY "@Baby_Doll432: @roywilliams31 I Heard You Own A Trucking Company ? :D"
about 12 hours ago

SoonerFootball

Sooner Football


Why the Russell Athletic Bowl is Knight's chance to stake his claim to the starting QB position | NewsOK http://t.co/AegO3DfebY
about 12 hours ago

Big12Conference

Big 12 Conference


Vote for @WVUfootball's game-winning FG by Lambert for the #Big12FB #TotPlays winner - http://t.co/TJWISiAgC5https://t.co/EbAK6qkU5b
about 13 hours ago

SoonerSportsTV

Sooner Sports TV


The #Sooners made some new friends & caught up with an old one Friday at @GKTWVillage.Watch: http://t.co/tkNiIabSut http://t.co/8LKMWTL5Vr
about 14 hours ago

SoonerSportsTV

Sooner Sports TV


The #Sooners made some new friends & caught up with an old one Friday at @GKTWVillage.Watch: http://t.co/tkNiIabSut http://t.co/8LKMWTL5Vr
about 14 hours ago

OU_Football

Oklahoma Football


Great news - @OU_CoachStoops confirms all X-rays negative for DT Matt Romar, who was injured at practice today.
about 16 hours ago

SoonerSportsTV

Sooner Sports TV


It was a long road to Orlando for @OU_Football's equipment truck: http://t.co/3o95nK7EgO More at 5:30 CT @FSSouthwest http://t.co/FEEUVwB1BS
about 17 hours ago

OU_Football

Oklahoma Football


The Sooners had a special opportunity to make new friends today! http://t.co/80W8lt14Yb
about 17 hours ago

OU_Football

Oklahoma Football


The #Sooners rank 19th in the nation in total offense (480.5 ypg) and have 30+ points in their last 10 victories.
about 18 hours ago

OU_Football

Oklahoma Football


.@JessicaCoody talks with @OU_CoachHeupel to discuss the return of @trevor_knight9 and more: http://t.co/ZAS2znLCSk http://t.co/lyv3bB8C8S
about 19 hours ago

Jake_Trotter

Jake Trotter


Two starting Big 12 QBs (Ash, Trickett) were forced to give up football this year because of concussions.
about 19 hours ago

OU_Football

Oklahoma Football


Practice is wrapping up. Catch the Sooner Practice Report tonight on @FSOklahoma at 5:30 PM CT. http://t.co/HKG1AuBNRN
about 19 hours ago

SoonerSportsTV

Sooner Sports TV


Taping underway for first @OU_Football Practice Report show from Orlando. Tune in at 5:30 CT on @FSSouthwest. http://t.co/VRZDngNMKe
about 19 hours ago

Jake_Trotter

Jake Trotter


RT @CraigSmoak: Art Briles says Kendal Briles is officially Baylor's OC moving forward
about 19 hours ago

OU_Football

Oklahoma Football


Former #Sooners DB Corey Ivy catching up with @OU_CoachHeupel at practice. http://t.co/2TYI17DqUd
about 19 hours ago

Jake_Trotter

Jake Trotter


Though he didn't play his best late, Trickett really had a great year. Unfortunate about bowl. But he'll have bright future in coaching
about 19 hours ago

OU_Football

Oklahoma Football


Former #Sooners DB Corey Ivey catching up with @OU_CoachHeupel at practice. http://t.co/tGrO5sg3iP
about 19 hours ago

OU_Football

Oklahoma Football


Apologies, yes Corey Ivy was a DB for #Sooners
about 19 hours ago

CraigSmoak

Craig Smoak


Briles says as of right now new play-caller Kendal Briles will likely stay down on the field.
about 19 hours ago

Jake_Trotter

Jake Trotter


Clint Trickett retires from football http://t.co/A40WHWXg5T
about 19 hours ago

OU_Football

Oklahoma Football


PHOTOS: #Sooners honored to spend time, have fun with kids at @GKTWVillage: http://t.co/blhj3XHkZL http://t.co/DBay2Xpve8
about 19 hours ago

OU_Football

Oklahoma Football


Member of the 2000 national title team - Ontei Jones - checking out practice w @OU_CoachStoops & @OU_CoachGundy http://t.co/jTjR8RY3oT
about 20 hours ago

OU_Football

Oklahoma Football


Former #Sooners RB Corey Ivy catching up with @OU_CoachHeupel at practice. http://t.co/vnViD5R7lA
about 20 hours ago

Big12Conference

Big 12 Conference


The one-handed TD catch by @kstatesports' Sexton in week 6 is a #TotPlays finalist. Vote - http://t.co/TJWISiAgC5https://t.co/oeSojz5mn7
about 21 hours ago

OU_Football

Oklahoma Football


Former #Sooners & @Patriots great Ray Hamilton at practice today. http://t.co/2zWR1LjLQc
about 21 hours ago

Big12Conference

Big 12 Conference


#Big12FB bowl games begin in three days with three contests set for Monday, Dec. 29. Here's the full schedule: http://t.co/n4AFvOG7PP
about 21 hours ago

OU_Football

Oklahoma Football


PHOTOS: #Sooners honored to spend time, have fun with kids at @GKTWVillage: http://t.co/blhj3XHkZL http://t.co/DBay2Xpve8
about 21 hours ago

Geraldini93

Gerald McCoy


This pic is the best example I can give of what this Christmas has been like. Had such a blast with… http://t.co/WsbVetj4lC
about 23 hours ago

SoonerFootball

Sooner Football


Why the #Sooners have an edge in Orlando | NewsOK http://t.co/4NqW5N1HC5
about 23 hours ago

Big12Conference

Big 12 Conference


#Big12FB: @kstatesports' Lockett's week 5 58-yd punt return is a #TotPlays finalist. Vote - http://t.co/TJWISiAgC5https://t.co/oSNYeechfw
1 day ago

JessicaCoody

Jessica Coody


Well this was fun. Check out @bm_shakeit11 on the dance floor at Give Kids the World. http://t.co/VrUDbsujzW
1 day ago

OU_Football

Oklahoma Football


#Sooners busy bringing smiles to these faces on @RussellAthBowl trip http://t.co/ckpaZy5b3y
1 day ago

OU_Football

Oklahoma Football


This young man breaking down some hot dances moves with #Sooners http://t.co/oM4c8Rfyux
1 day ago

OU_Football

Oklahoma Football


. @BM_ShakeIT11 interviewing one of the many "celebrities" at Giving Kids the World! http://t.co/E2kJoVRUMq
1 day ago

OU_Football

Oklahoma Football


Nothing brings a smile to kids' faces quite like Eric Striker & large bunnies! #Sooners http://t.co/1MD5wqiRDk
1 day ago

OU_Football

Oklahoma Football


Visiting Giving Kids the World Village this am & meeting w media amidst palm trees! http://t.co/3up2bDkp2x
1 day ago

SoonerSportsTV

Sooner Sports TV


.@OU_Football and Clemson have met three times before. A look back: http://t.co/QKms7Cx63s http://t.co/8a5enZ4qKC
1 day ago

SoonerSportsTV

Sooner Sports TV


.@OU_Football and Clemson have met three times before. A look back: http://t.co/QKms7Cx63s http://t.co/8a5enZ4qKC
1 day ago

SoonerFootball

Sooner Football


#Sooners' offense should be at full strength for Russell Athletic Bowl | NewsOK http://t.co/vdWUz8nwTI
1 day ago

TiffanyAByrd

Tiffany Byrd


#SoonerFamilyChristmasDinner @B_Bell10 @connor_knight15 @BM_ShakeIT11 @trevor_knight9 @TyDarlington56 @codythomas_12 http://t.co/zrqosS3kDE
1 day ago

OU_Football

Oklahoma Football


Christmas dinner, complete with live music and a magician who blew more than a few minds. More to come... http://t.co/hvucYOEHeb
1 day ago

OU_Football

Oklahoma Football


SLICK! @AColvin_22 took some time to chat w/ @SoonerSportsTV. Also there's a photobomb. WATCH: http://t.co/ryli78Ccrr http://t.co/PCM7h4iWhb
1 day ago

OU_CoachStoops

Bob Stoops


Hope everyone had a great Christmas - be safe & enjoy the rest of the holiday season!
1 day ago

OU_CoachStoops

Bob Stoops


Hope everyone had a great Christmas - be safe & enjoy the rest of the holiday season!
1 day ago

OU_Football

Oklahoma Football


.@connor_knight15 now headlining the #RAB Photo Blog. http://t.co/blhj3XHkZL http://t.co/ZJqf1BDWat
1 day ago

ctaylorou

Charlie Taylor


Christmas movie marathon happening right now. http://t.co/geNKHTsIFU
1 day ago

OU_Football

Oklahoma Football


Christmas dinner, complete with live music and a magician who blew more than a few minds. More to come... http://t.co/hvucYOEHeb
1 day ago

Jake_Trotter

Jake Trotter


The college football quotes of the year have a strong Big 12 flavor: http://t.co/pogVMtEoWM
1 day ago

soonerad

Joe Castiglione


"@PioneersAD: @soonerad Merry Christmas! I trust all is well. God's great blessings to you & your family, my friend." Thanks/Happy New Year!
1 day ago

Jake_Trotter

Jake Trotter


The Thunder got themselves a center
1 day ago

OU_Football

Oklahoma Football


Practice photos – with more shots of @AColvin_22's visit – now up in the #RAB Photo Blog - http://t.co/blhj3XHkZL http://t.co/AHWTODSPr7
1 day ago

OU_Football

Oklahoma Football


That's right!! It's @AColvin_22!! We'll have lots more from Slick later today. #NFLSooners http://t.co/T0o3berxf8
1 day ago

OU_Football

Oklahoma Football


Special guest at practice today...Take a close look at the pic to find out who. http://t.co/uAZQyOoeXu
1 day ago

roywilliams31

roy williams


My Leila is trying out her new Minnie Mouse vanity.. #TeamWilliams #Family #Love http://t.co/njEkLR9G9c
1 day ago

roywilliams31

roy williams


Two of my babies. @mskag and Madison chillin.. love my family. #TeamWilliams http://t.co/VHopK4p4AU
1 day ago

Bdrumm1

Brandon Drumm


2 yr old boy loves his @OU_Athletics! Special autograph from @samajp32,on record breaking program,and #OU bedding! http://t.co/hm878Jg99r
1 day ago

OU_Athletics

Oklahoma Sooners


And to you! "@JRsBBQ: Merry Christmas to all our friends & especially our @OU_Athletics family many of who are in Orlando..."
1 day ago

carloronaldo

Carlo Ronaldo


Jumped on the bandwagon 23 years ago. @dallascowboys @EmmittSmith22 @Thromedamnball @roywilliams31 @DezBryant http://t.co/OHopvbC6pa
1 day ago

soonerprices

Terry Price


@OU_Athletics really pumped about my @SoonerSportsTV subscription that my wife and kids got me for xmas. http://t.co/tzI6u7p8r4
1 day ago

OU_Football

Oklahoma Football


Merry Christmas! Some of the #Sooners share their favorite Christmas memories: http://t.co/4MxsyVBtYt
1 day ago

Shane_Magness91

Shane Magness


New sign my dad made to hang over my door #Boomer @OU_Football @OU_Athletics @UofOklahoma http://t.co/ifKFdypHbd
2 days ago

jedbarnett44

Jed barnett


To the men and women serving our country who cannot be home for Christmas with their families, thank you for our safety! Merry Christmas!
2 days ago

OU_CoachHeupel

Josh Heupel


Merry Christmas from the Sooner Family to your family!
2 days ago

HL_Dockery_80

Heather Lynn Dockery


@OU_Athletics Merry Christmas OU gifts http://t.co/y94d8qn74V
2 days ago

aliciajoye

Alicia


I love this sign we had made for Ethan @FunstonWM @OU_Athletics #BoomerSooner #MerryChristmas http://t.co/iwUE5tpFCW
2 days ago

OU_Athletics

Oklahoma Sooners


Merry Christmas! Send us pics of your favorite #Sooners related gifts!
2 days ago

OU_Athletics

Oklahoma Sooners


Merry Christmas, Sooner Nation!https://t.co/EtYeRL4XuL
2 days ago

OU_Football

Oklahoma Football


We KNOW him! Merry X-mas from Fla. "@LAClippers: Merry Christmas to our fans, friends and family on the East Coast. http://t.co/bQE52riiiy"
2 days ago

OU_CoachB

Bill Bedenbaugh


Merry Christmas to all! http://t.co/BUlE3tSttq
2 days ago

OU_CoachB

Bill Bedenbaugh


Merry Christmas to all! http://t.co/BUlE3tSttq
2 days ago

stantay2

Stanvon Taylor


Having a good time out in Orlando with my brothers @zsanchez15 and @simply_shutdown ! We just some big… http://t.co/J0j0WL2z7R
2 days ago

OU_Football

Oklahoma Football


http://t.co/TmUuA9ujqV
2 days ago

ctaylorou

Charlie Taylor


Christmas Jammie's! http://t.co/5es7f5gXbY
2 days ago

OU_Football

Oklahoma Football


This hat. http://t.co/YUMSybNrKh
2 days ago

ZSanchez15

Zack Sanchez


Lil kid mode has been turned on .. We here babyyyy http://t.co/MuQTwKmRRT
2 days ago

rnolan66

Riley Nolan


Boomer from Disney World http://t.co/yJ9d6hd5Ki
2 days ago

OU_Football

Oklahoma Football


The #Sooners enjoying Disney World!! BOOMER!! http://t.co/mJgWxxdauo
2 days ago

mewisesooner

Bobby


@OU_Football Leaving Hollywood Studios and who do we run into??? BOOMER SOONER!!#BoomerSooner http://t.co/K73FIUx3PE
2 days ago

OU_Football

Oklahoma Football


OU is one of just 6 schools in all of college football with 3 or more Pro Bowl selections: http://t.co/rvUNQ9L7MC http://t.co/z8a5CMBqK5
2 days ago

cdaimler70

Christian Daimler


I'm going to Disney World!!!!!
2 days ago

OU_Athletics

Oklahoma Sooners


Photos, videos and words about @OU_Football's first two days in Orlando all in one place - Bowl Center: http://t.co/4cUnympJ9M
2 days ago

OU_Football

Oklahoma Football


The first practice from Orlando is in the books: http://t.co/zyxzLk0VYk
2 days ago

roywilliams31

roy williams


Baby had an allergic reaction to something. 😕 my current situation. She's doing better though, thank… http://t.co/R5y4PRWEfP
2 days ago

Jake_Trotter

Jake Trotter


But honestly, if your best 2-point play is a fade, just kick the extra point and go to overtime
2 days ago

Jake_Trotter

Jake Trotter


How good have the bowls this week been?
2 days ago

CollinsDeportes

Antonietta Collins


Talking #TCU w/ @Jake_Trotter : AP Coach of the yr and where he thinks TCU should be ranked next season..click away! http://t.co/bQGbw1ePL8
2 days ago

Big12Conference

Big 12 Conference


Happy Holidays to you and yours! Share the spirit with a customized greeting of your favorite #Big12 school - http://t.co/5ufglCk5cd
2 days ago

BaylorVBall

Baylor Volleyball


Baylor Nation, please welcome @RyanMcGuyre as the 9th BU Volleyball Coach in School History #SicEm http://t.co/ilcCdncRkl
2 days ago

OU_Football

Oklahoma Football


#RAB Photo Blog has been updated with shots from the #Sooners' first practice in Orlando - http://t.co/blhj3XHkZL http://t.co/eZS8f9OR8L
2 days ago

OU_Football

Oklahoma Football


#RAB Photo Blog has been updated with shots from the #Sooners' first practice in Orlando - http://t.co/blhj3XHkZL http://t.co/eZS8f9OR8L
2 days ago

Jake_Trotter

Jake Trotter


Scratch the Rockets off the list of possible title contenders RT @Chris_Broussard: Josh Smith has decided to join Houston
2 days ago

BChatmon

Brandon Chatmon


well-deserved RT @SportsCenter: TCU's Gary Patterson named AP college football coach of the year for 2nd time. http://t.co/rHN6jFModF
2 days ago
BIG 12 SCOREBOARD
Saturday, 12/27
Saturday, 12/20
Monday, 12/22
Tuesday, 12/23
Wednesday, 12/24
Friday, 12/26
Monday, 12/29
Tuesday, 12/30
Wednesday, 12/31
Thursday, 1/1
Friday, 1/2
Saturday, 1/3
Sunday, 1/4
Monday, 1/12
BLOG ARCHIVE:
CATEGORIES: