Video: Players to watch at WCWS
May, 29, 2012
5/29/12
2:30
PM ET
By
ESPN.com staff
| ESPN.com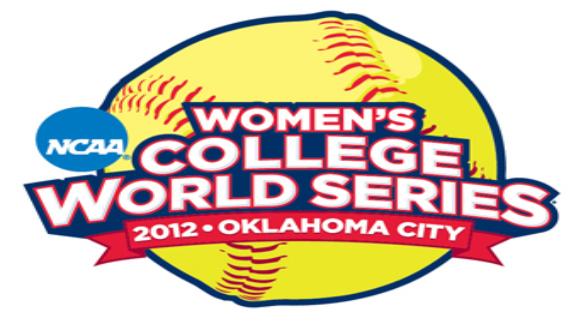 Stacy Nuveman-Deniz names three players to watch in the Women's College World Series, including Oklahoma star Keilani Ricketts.
For more on what to watch for in the WCWS, check out
Graham Hays' story
sizing up the field of teams.
College Football Top Plays: Week 12
Check out the top plays from Week 12 of college football.
College Football Top Plays: Week 12
VIDEO PLAYLIST
OKLAHOMA FB RECRUITING SCORECARD
Big12Conference

Big 12 Conference


#Big12SOC: Good luck to @TexasSoccer & @TechAthletics in NCAA #WCollegeCup 2nd rd. action today. http://t.co/V094HibeZc
16 minutes ago

Big12Conference

Big 12 Conference


#Big12FB: Cast your vote in the @sonicdrivein #TotPlays poll for a chance to win a My SONIC Card & #Big12 prizes - http://t.co/XoHlmX9omc
46 minutes ago

Big12Conference

Big 12 Conference


#Big12FB: Highlights from Thursday night's @kstatesports win over @WVUfootball - http://t.co/Jeq0FfGotC http://t.co/Nd4xb8wSkZ
about an hour ago

Jake_Trotter

Jake Trotter


Now taking Twitter questions for today's Big 12 mailbag. Fire away...
about an hour ago

OU_Football

Oklahoma Football


50 years ago today, the #Sooners scored 2 TDs in 3 min. span in the 4th quarter to defeat Nebraska 17-7.
about an hour ago

TexasWBB

Texas Longhorns WBB


TEXAS knocks off top-ranked Stanford on the road in overtime, 87-81!!! #HookEm http://t.co/GVrQicN33v
about 12 hours ago

AdrianPeterson

Adrian Peterson


Enjoy! https://t.co/AoIT318xAr
about 12 hours ago

BChatmon

Brandon Chatmon


Snyder says K-State "really did not play well" … hard to argue for a team that had 29 carries for 1 yard
about 12 hours ago

Jake_Trotter

Jake Trotter


Based on Bill Snyder's post game interview, K-State lost by 37 tonight.
about 12 hours ago

Big12Conference

Big 12 Conference


#Big12Insider In 3 games against @WVUfootball @kstatesports Tyler Lockett has 27 catches for 501 yards and 5 TDs. Also had punt return TD.
about 12 hours ago

Jake_Trotter

Jake Trotter


Says the million other teams Snyder has beaten RT @Rusty_Huff: @Jake_Trotter W. Va. handed them the game on a silver platter. Not impressed
about 12 hours ago

BChatmon

Brandon Chatmon


Kansas State 26, West Virginia 20 FINALTyler Lockett 321 all-purpose yards... 10 receptions, 196 receiving yardsWVU four turnovers
about 12 hours ago

Big12Conference

Big 12 Conference


#Big12FB: @kstatesports 26, @WVUfootball 20. Wildcats move to 6-1 in #Big12 and 8-2 overall.
about 12 hours ago

AdrianPeterson

Adrian Peterson


Ok Thanks, Enjoy!
about 12 hours ago

AdrianPeterson

Adrian Peterson


Lmk if that worked please?!
about 13 hours ago

Jake_Trotter

Jake Trotter


Grind State 26, West Virginia 20. Fighting Snyders have now won 46 in a row when leading at half. Incredible.
about 13 hours ago

AdrianPeterson

Adrian Peterson


https://t.co/AoIT318xAr
about 13 hours ago

Jake_Trotter

Jake Trotter


Ryan Mueller just destroyed Skyler Howard
about 13 hours ago

BChatmon

Brandon Chatmon


West Virginia drive chartPunt, fumble, punt, FG, FG miss, punt, INT, INT, TD, fumble, downs, TD
about 13 hours ago

BChatmon

Brandon Chatmon


K-State drive chartTD, punt, FG, fumble, punt, TD, half, punt, FG, punt, FG, FG miss, FG
about 13 hours ago

BChatmon

Brandon Chatmon


At least they called it both ways I guess
about 13 hours ago

Big12Conference

Big 12 Conference


#Big12FB: Cast your vote in this week's @sonicdrivein #TotPlays poll to win a My SONIC card & #Big12 prizes - http://t.co/XoHlmX9omc
about 13 hours ago

BChatmon

Brandon Chatmon


Jake Waters is 21/32 for 383 yards, one TDTyler Lockett is up to 304 all-purpose yards
about 13 hours ago

BChatmon

Brandon Chatmon


Exceptional throw by Jake Waters, right between the numbers allowing Lockett to catch it in stride. #backbreaker
about 13 hours ago

Jake_Trotter

Jake Trotter


That is a backbreaker for the Eers
about 13 hours ago

Jake_Trotter

Jake Trotter


Waters-to-Lockett
about 13 hours ago

Jake_Trotter

Jake Trotter


Baylor OT Spencer Drango and Texas DT Malcom Brown named 2 of 6 semifinalists for the Outland Trophy. Both well deserved.
about 13 hours ago

Big12Conference

Big 12 Conference


#Big12Insider It's not over in Morgantown: Mario Alford 54yd catch-and-run TD pulls @WVUfootball to within 23-17 with 7:23 to play.
about 13 hours ago

Jake_Trotter

Jake Trotter


Mario has wheels
about 13 hours ago

Jake_Trotter

Jake Trotter


Missed FGs keeping WVU in this one, even if by a hair.
about 13 hours ago

BChatmon

Brandon Chatmon


Tyler Lockett: 276 all-purpose yards (151 receiving, 66 punt return, 59 kick return) and one TD for #KState
about 13 hours ago

Big12Conference

Big 12 Conference


#Big12MBB posts 3-0 record today to improve to 21-3 on the year after @TCUBasketball win over UNO, 86-71.
about 13 hours ago

BChatmon

Brandon Chatmon


Welp, add Daryl Worley to Tyler Lockett's list of "Got em coach" victims… It's OK, Daryl, it's a long list...
about 13 hours ago

BChatmon

Brandon Chatmon


Kansas St 23, West Virginia 10 after 3#Kstate 45 plays, 269 yds, 6 ypp, 3 of 10 on 3rd#WVU 60 plays, 283 yds, 4.7 ypp, 4 turnovers
about 13 hours ago

Jake_Trotter

Jake Trotter


"Any more" RT @MLGUnbreakable: @Jake_Trotter anymore or any more?? Big difference lol
about 13 hours ago

WVUhoops

WVU Men\'s Basketball


WVU wins its first game of the @ESPN_PRTipOff, 91-65. WVU improves to 3-0 on the season and 6-1 all-time in Puerto Rico. #HailWV
about 13 hours ago

Jake_Trotter

Jake Trotter


I could not hate the One True Champion commercial anymore
about 14 hours ago

Jake_Trotter

Jake Trotter


West Virginia's ineptitude fielding punts this year has been unreal.
about 14 hours ago

BChatmon

Brandon Chatmon


Makes no sense at all RT @Jake_Trotter: I mean, what in the world are you doing there?
about 14 hours ago

Jake_Trotter

Jake Trotter


I mean, what in the world are you doing there?
about 14 hours ago

Big12Conference

Big 12 Conference


#Big12Insider Backup QB Skyler Howard leads @WVUfootball on impressive drive to cut @kstatesports lead to 20-10 with 6:24 in 3rd Q.
about 14 hours ago

BChatmon

Brandon Chatmon


Impressive stuff from Skyler Howard, stepped right into the lineup with ease. 4 of 4 for 56 yds and one TD on the drive
about 14 hours ago

Big12Conference

Big 12 Conference


ICYMI - The #Big12 will host a @NCAAWomensBKB Regional in 2016 & 2018 in addition to the @WFinalFour in 2017. http://t.co/UBQOHvC060
about 14 hours ago

Jake_Trotter

Jake Trotter


Skyler magic?
about 14 hours ago

Jake_Trotter

Jake Trotter


Uh-oh… RT @WVUIMGSports: .@TheSignalCaller says Skyler Howard is warming up. Clint Trickett headed to the locker room.
about 14 hours ago

Big12Conference

Big 12 Conference


#Big12Insider Following a @WVUfootball turnover, @kstatesports converts a field goal for a 20-3 lead with 9:29 left in third quarter.
about 14 hours ago

Jake_Trotter

Jake Trotter


People nationally just assume Baylor is going to thump K-State in the finale. Could be a really tough game for Bears. K-State is good.
about 14 hours ago

Big12Conference

Big 12 Conference


#Big12MBB - @TexasMBB outscores Iowa 47-27 in 2nd half to post 71-57 win at @2KClassic in NYC.
about 14 hours ago

Jake_Trotter

Jake Trotter


Btw, watched the first half drinking this... http://t.co/CIstTOg4WS
about 14 hours ago

BChatmon

Brandon Chatmon


#WVU halftime statsTrickett 11/23, 109 yds, INTShell 10 car, 31 ydsWhite 3 rec, 32 ydsJoseph 4 tk, 2 TFL
about 14 hours ago

CFBONFOX

FOX College Football


Just get the ball in his hands. Tyler Lockett takes the punt & CRUISES in for a TD! @drpepper #oneofakindplays http://t.co/40c7SWxXGz
about 14 hours ago

Jake_Trotter

Jake Trotter


Clint Trickett has not played well. But without that acrobatic tackle, it would be 24-3 K-State instead of 17-3. WVU not out of this yet
about 14 hours ago

BChatmon

Brandon Chatmon


K-State halftime statsWaters 11/14, 185 yds, TDTeam 13 car, -3 ydsLockett 4 rec, 60 ydsBryant 4 tk, 2 TFL, skJohnson 6 tk
about 14 hours ago

BChatmon

Brandon Chatmon


Kansas St. 17, West Virginia 3 at halfKSU 27 plays, 182 yds, 6.7 yppWVU 42 plays, 134 yds, 3.2 yppLockett 148 AP yds, TD
about 14 hours ago

OU_Football

Oklahoma Football


Stats on stats on stats. Game notes for Saturday: http://t.co/Yl5DDPFeCo http://t.co/Da5bIKNGDz
about 15 hours ago

Jake_Trotter

Jake Trotter


West Virginia scoring the last five weeks: 41, 34, 30, 16 and 3 tonight...
about 15 hours ago

BChatmon

Brandon Chatmon


Oh boy. Bad Clint Trickett has returned
about 15 hours ago

Jake_Trotter

Jake Trotter


Horrible pick by Trickett, but a phenomenal tackle. Saved a TD.
about 15 hours ago

BChatmon

Brandon Chatmon


Gonna miss watching Tyler Lockett next year, we've all been spoiled by No. 16 #thatswhathedoes
about 15 hours ago

Jake_Trotter

Jake Trotter


Lockett. So good.
about 15 hours ago

Jake_Trotter

Jake Trotter


Elijah Lee has a bright future in this league. True freshmen usually don't play for Snyder.
about 15 hours ago

BChatmon

Brandon Chatmon


12 carries, 0 yards for #Kstate
about 15 hours ago

Jake_Trotter

Jake Trotter


K-State had 32 penalties coming into tonight. Has seven in this game already.
about 15 hours ago

Jake_Trotter

Jake Trotter


K-State might wind up with more penalties tonight than the rest of the season combined.
about 15 hours ago

Jake_Trotter

Jake Trotter


In a league loaded at WR, Curry Sexton might be second-team All-Big 12. Having a tremendous year.
about 15 hours ago

Jake_Trotter

Jake Trotter


North Carolina up 14-7 on Duke. Intriguing because it would send Ga. Tech to ACC title game, and Ga. Tech would have better shot to beat FSU
about 15 hours ago

StaceyDales

StaceyDales


@ctaylorou @OU_WBBall @nflnetwork goosebumps Charlie!
about 15 hours ago

mdelaney78

Mary Delaney


@ctaylorou @OU_WBBall @StaceyDales @nflnetwork Can't wait! Such a deserved honor. She helped me become OU fan.
about 15 hours ago

BChatmon

Brandon Chatmon


You're kidding. First a Lockett fumble then that?
about 15 hours ago

Jake_Trotter

Jake Trotter


That made that Nigel King grab in Lawrence last week look pedestrian
about 15 hours ago

Jake_Trotter

Jake Trotter


No way that just happened
about 15 hours ago

Jake_Trotter

Jake Trotter


'Eers in biz
about 15 hours ago

Jake_Trotter

Jake Trotter


Lambert for Heisman
about 15 hours ago

Jake_Trotter

Jake Trotter


Nice throw by Waters. Should have been 14-0. K-State settles for the FG, leads 10-0.
about 15 hours ago

Big12Conference

Big 12 Conference


#Big12Insider End of first quarter in Morgantown and @kstatesports leads @WVUfootball 7-0. Wildcats are in control thus far.
about 15 hours ago

BChatmon

Brandon Chatmon


Kansas State 7, West Virginia 0 after 1KSU 14 plays, 135 yds, 9.6 yppWVU 20 plays, 65 yds, 3.2 yppWaters 7/8, 132 yds, TD
about 15 hours ago

Jake_Trotter

Jake Trotter


Danzel McDaniel and Karl Joseph might be the two hardest hitting DBs in the league
about 16 hours ago

BChatmon

Brandon Chatmon


We knew turnovers were going to be the key for #WVU, Mountaineers haven't solved recent turnover issues it seems (8 TOs in last 3 gms)
about 16 hours ago

Jake_Trotter

Jake Trotter


The Bill Snyder blueprint — wait for the opponent to beat itself.
about 16 hours ago

Jake_Trotter

Jake Trotter


When in doubt, throw to Kevin White
about 16 hours ago

CFBONFOX

FOX College Football


Wildcats strike first! Jake Waters connects with DeMarcus Robinson for a 7 yd TD. #12 Kansas State leads West Virginia 7-0 early. #KSUvsWVU
about 16 hours ago

BChatmon

Brandon Chatmon


Jake Waters was 4 of 5 for 65 yards and the 7-yard touch TD pass to Robinson for #Kstate on its scoring drive. Wildcats 2 of 2 on 3rd down
about 16 hours ago

ctaylorou

Charlie Taylor


Tomorrow we honor one of the best @OU_WBBall #Sooners @StaceyDales Magical night planned. #Raising21 @nflnetwork http://t.co/tmjQW8tnhB
about 16 hours ago

Jake_Trotter

Jake Trotter


K-State with the best third down offense in the Big 12, converts on a couple of big ones there. 7-0 Cats
about 16 hours ago

Jake_Trotter

Jake Trotter


K-State with the best first down offense in the Big 12, converts on a couple of big ones there. 7-0 Cats
about 16 hours ago

BChatmon

Brandon Chatmon


Losing Travis Britz would be huge for K-State, particularly with WVU possibly leaning on the run even more tonight
about 16 hours ago

Jake_Trotter

Jake Trotter


Big loss for K-State with DT Travis Britz having to be helped off the field.
about 16 hours ago

Big12Conference

Big 12 Conference


#Big12Insider What to watch: @kstatesports will be playing in its 6th Thursday night contest since 1992; the Cats are 3-2 under Bill Snyder.
about 16 hours ago

Big12Conference

Big 12 Conference


#Big12Insider @WVUfootball is 18-8 in night games since 2002, takes on @kstatesports on FS1.
about 16 hours ago

EricBaileyTW

Eric Bailey


ICYMI: It's a buyer's market for Kansas at #Sooners game. Cheapest ticket now on @StubHub is $9. Face value is $65. http://t.co/WkQ0pTQ8qV
about 16 hours ago

SoonerSportsTV

Sooner Sports TV


.@OU_CoachGundy, @OU_CoachWright talk keeping momentum going vs. Kansas. Coach's Corner at 6pm @FSOklahoma http://t.co/HeYEY4puEq
about 17 hours ago

OU_WBBall

Oklahoma Basketball


Tomorrow we honor Sooner legend @StaceyDales! Game vs. Bradley is at 7 p.m.; Dales ceremony at half. #Boomer http://t.co/WeU7teCadu
about 17 hours ago

Big12Conference

Big 12 Conference


#Big12FB: No. 12 @kstatesports (7-2, 5-1 #Big12) faces @WVUfootball (6-4, 4-3) at 7 p.m. ET/ 6 p.m. CT on @FOXSports1 http://t.co/HUDOPVQMIu
about 17 hours ago

Big12Conference

Big 12 Conference


#Big12FB: Check out highlights from week 12 action - https://t.co/DX04A0BMHM
about 17 hours ago

ESPNOklahoma

ESPN Oklahoma


Ranking Oklahoma's 2015 schedule http://t.co/R09NxJHo9p
about 18 hours ago

OU_Football

Oklahoma Football


Congrats to @GabeIkard for being named an @NCAA Today's Top 10 Award winner! http://t.co/X2jtTtxMsZ http://t.co/JkhK8PSd4L
about 19 hours ago

OU_Football

Oklahoma Football


Congrats to @GabeIkard for being named an @NCAA Today's Top 10 Award winner! http://t.co/X2jtTtxMsZ http://t.co/JkhK8PSd4L
about 19 hours ago

Big12Conference

Big 12 Conference


#Big12SOC: @TexasSoccer & @TechAthletics will compete in NCAA #WCollegeCup 2nd rd. action on Friday. #GoBig12 http://t.co/LPaa5qOGvn
about 19 hours ago

Big12Conference

Big 12 Conference


. @OU_Athletics' Ikard MT @NCAA: Student-athletes honored as Today's Top 10 Award winners: http://t.co/dyxv9ZSYuv http://t.co/MuznNHhd7D
about 19 hours ago

OU_Football

Oklahoma Football


CORRECTION on the earlier article about the Academic All- @Big12Conference team. There are 18 #Sooners on the list: http://t.co/TdA6u3dmws
about 20 hours ago
BIG 12 SCOREBOARD
Thursday, 11/20
Saturday, 11/22
BLOG ARCHIVE:
CATEGORIES: