Campaign trail: No. 3 Oklahoma
August, 12, 2014
Aug 12
12:31
PM ET
By
ESPN.com staff
| ESPN.com
Which teams will make the College Football Playoff? Ultimately, the selection committee will decide. But until then, there will be a lot of campaigning. What should the top four teams in the
ESPN's power rankings
be touting to fans and committee members? Each week during the season, we'll unveil a new campaign poster for a contender, starting today with a look at our top four teams.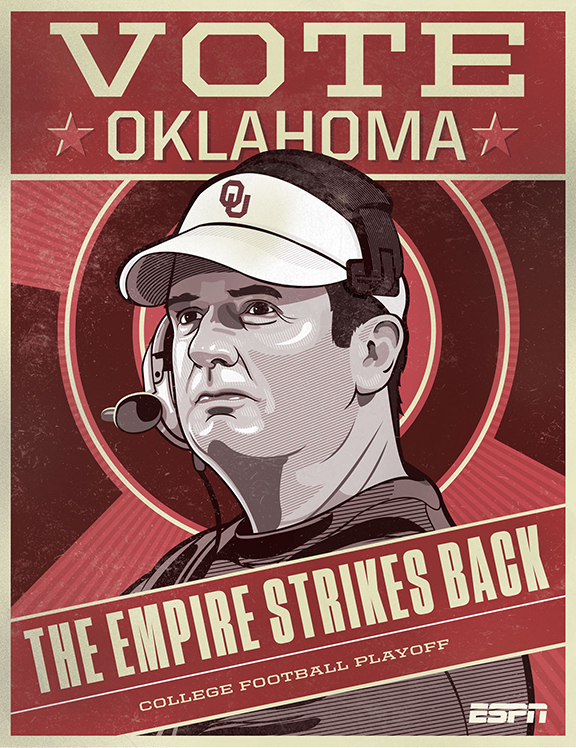 Illustration by Sam Ho
Drive Through: Sooners' Defense Looks Strong
Heather Dinich and Danny Kanell look at the dominant performance Oklahoma's defense had against Tennessee and whether or not it can pilot them to the playoffs.
Drive Through: Sooners' Defense Looks Strong
VIDEO PLAYLIST
SOONERNATION RECRUITING NEWS
OKLAHOMA FB RECRUITING SCORECARD
Nike Men's Oklahoma Sooners Coaches Performance White Polo Shop »
Jake_Trotter

Jake Trotter


Both are All-Big 12-caliber RT @Evan_Gentry35: @Jake_Trotter would you say ford out for OU or Worley out for WVU is a bigger loss?
5 minutes ago

Jake_Trotter

Jake Trotter


And yes, West Virginia will be facing off against one of the best WRs in the Big 12 in OU's Sterling Shepard.
6 minutes ago

Jake_Trotter

Jake Trotter


If Daryl Worley is out this weekend, would be a huge blow to West Virginia. Worley has been manning up on the other team's best WR
12 minutes ago

OU_MBBall

Oklahoma Basketball


Great to get back on the court today for team workouts (allowed 2 hours/week). Focus is DEFENSE! #Sooners http://t.co/npHTtrOSrV
41 minutes ago

H_Halgren94

Hailey Halgren


@OU_Athletics @Allstate #ItsGood2Be #Sooners @OUpom http://t.co/Gyk0Ict8xv
54 minutes ago

NCAAVolleyball

NCAA Volleyball


.@kstatesports' Taylor Johnson wants her involvement in sports to continue after graduation: http://t.co/TXHhm3tq0Y http://t.co/5mdkB2myJc
about an hour ago

shalgren1

susan halgren


@OU_Athletics @Allstate @OUpom #ItsGood2Be #Sooners http://t.co/15I3tRI6Ym
about 2 hours ago

SoonerSportsTV

Sooner Sports TV


Heading into a hostile environment, OU's offense knows it needs to establish the run early. Monday practice report: http://t.co/b42UGnurjz
about 2 hours ago

OU_Athletics

Oklahoma Sooners


Did you see that @JustinColeMoore is going to be at @OULloydNoble on Oct. 24? Get your tickets now: http://t.co/RzgnQJN8sG
about 2 hours ago

Big12Conference

Big 12 Conference


#Big12VB: League teams have a combined 71-15 (.826) record after three weeks of play. More in the weekly notes - http://t.co/uOD2wqMLJs
about 2 hours ago

Laner_Lu

Melanie Baer


@OU_Athletics @Allstate #ItsGood2Be #Sooners #SoonerBornAndSoonerBred http://t.co/vwa0e488Cw
about 2 hours ago

McSW3ARING3N

Michael Swearingen


@OU_Athletics @Allstate #itsgood2be #Sooners http://t.co/zi5eQX3L2B
about 3 hours ago

AJWinters3

AJ Winters III


@OU_Athletics @Allstate #itsgood2be #Sooners http://t.co/5SrkAbXSBK
about 3 hours ago

USTPoliSciProf

Jon Taylor, PhD


@OU_Athletics @Allstate #ItsGood2Be #Sooners http://t.co/cdjSL1dVrV
about 3 hours ago

crwshr

darrell price


@OU_Athletics #ItsGood2Be #Sooners http://t.co/pKFdNtAkOQ
about 3 hours ago

Sousterson

Matt


@Ou_Athletics @allstate #itsgood2be #sooners #BoomerSooner http://t.co/AwZaWkA6vs
about 3 hours ago

R_Pow1525

Rachel Powell


@OU_Athletics @Allstate #ItsGood2Be #Sooners http://t.co/Nbuv6vmfRX
about 3 hours ago

OU_Football

Oklahoma Football


.@OU_CoachNorvell: @RealDNeal has some real running ability after the catch and we need that.
about 3 hours ago

Bayano_19

Bayan Abdallat


@OU_Athletics @Allstate #ItsGood2Be #Sooners. http://t.co/xBs9A9O4rF
about 3 hours ago

metrSOONER10

Philip Lyons


@OU_Athletics @Allstate #ItsGood2Be #Sooners My friend took this great shot http://t.co/lvzi9Rs9ay
about 3 hours ago

samkevans91

Samantha Evans


@OU_Athletics @Allstate #ItsGood2Be #Sooners http://t.co/SJyCPWUf7Q
about 3 hours ago

ChrisPParrish

Chris Parrish


@OU_Athletics #itsgood2be #Sooners http://t.co/jAtv1YiTZJ
about 3 hours ago

OU_Football

Oklahoma Football


.@OU_CoachNorvell: We want our players to be able to play without thinking and play naturally.
about 3 hours ago

TylernoI

Porter


@OU_Athletics @Allstate #ItsGood2be #sooners Not my pic. Just had to share http://t.co/mAgLLypI1J
about 3 hours ago

ImBreeg

ImBreeg


@OU_Athletics @Allstate #ItsGood2Be #Sooners http://t.co/csRSQHVwzn
about 3 hours ago

jane_alsup

Jane


@OU_Athletics #itsgood2be #Sooners Saturday OU beats Tennessee with help of this gorgeous sunset http://t.co/0XMd4ySJAL
about 3 hours ago

ehenderson33

Emily Henderson


@OU_Athletics @Allstate #ItsGood2Be #Sooners That is one cool striped stadium!! http://t.co/79IUxHrGXY
about 3 hours ago

09okie

Tim Garrott


@OU_Athletics @Allstate #IsGood2Be #Sooners http://t.co/njjwUeD9kb
about 3 hours ago

meganklowe

Megan Lowe


@OU_Athletics @Allstate #ItsGood2Be #Sooners http://t.co/71GTv7f9na
about 3 hours ago

hollybeth_97

Holly Beth


#ItsGood2Be #Sooners @OU_Athletics http://t.co/VflheKyG6d
about 3 hours ago

haymac13

Hay Is Bae


@OU_Athletics @Allstate #ItsGood2Be #Sooners 🏈❤️ http://t.co/qgUE8e05Wr
about 3 hours ago

llawson08

Linda Lawson


@OU_Athletics @Allstate #ItsGood2Be #Sooners http://t.co/8Ea5jpS0NT
about 3 hours ago

MrsRexSeymour

Rachael Seymour


@OU_Athletics #ItsGood2Be #Sooners http://t.co/YptuGwU1Ej
about 3 hours ago

sailing_geek

Thomas Fondren


@OU_Athletics @Allstate #ItsGood2Be #sooners http://t.co/EtP5B2ousV
about 3 hours ago

BradyVardeman

Brady Vardeman


@OU_Athletics @Allstate #ItsGood2Be #Sooners http://t.co/jchy6VeXR4
about 3 hours ago

CoreyGodine

Corey Godine


@OU_Athletics @Allstate from the front of the student section! #ItsGood2Be #Sooners http://t.co/EY7GwwAQe1
about 3 hours ago

SHKY2D

Adam G.


@OU_Athletics @Allstate #ItsGood2Be #Sooners http://t.co/ntm7ImzqSn
about 3 hours ago

TrevorOnSports

Trevor Rogers


@Ou_Athletics @allstate #itsgood2be #sooners http://t.co/isq0tC2bIR
about 3 hours ago

OU_Football

Oklahoma Football


.@TheALexRoss: I just want to make plays out of the carries that I get.
about 3 hours ago

OU_Football

Oklahoma Football


Tyler Evans: We call @samajp32 the Tank because he's a big guy who can run you over.
about 3 hours ago

roywilliams31

roy williams


This is amazing! "@Kenny_Mossman: If you were at the game Saturday, here's that big pic we took. #Sooners http://t.co/wz7qRr8ufb"
about 3 hours ago

roywilliams31

roy williams


Coach would know best. I have no problem with it. #Boomer "@TravisTeague12: @roywilliams31 thoughts on stoops comparing striker to you?"
about 4 hours ago

OU_Football

Oklahoma Football


.@samajp32: I look for contact for the most part. I'm not one of the juking guys. I just lower my shoulder.
about 4 hours ago

BChatmon

Brandon Chatmon


OU running game should remain strong http://t.co/ydmZpqJgpV #Sooners
about 4 hours ago

OU_Football

Oklahoma Football


.@OU_CoachHeupel: @samajp32 is a really good blocker, he catches the ball well out of the backfield. He's a complete player.
about 4 hours ago

SoonerFootball

Sooner Football


Can you find yourself in this gigapixel image of #StripeTheStadium? #Sooners http://t.co/cSP4dHolsQ
about 4 hours ago

TardisThievery

Brian Barnes


@OU_Athletics @Allstate A typical Saturday night in Norman... #ItsGood2Be #Sooners http://t.co/Db2xnphgIC
about 4 hours ago

AshleyTrumbo

?Ash?


@OU_Athletics @Allstate #ItsGood2Be #Sooners http://t.co/X1l34Qj2Ic
about 4 hours ago

McKLeighann

mckenzie


@OU_Athletics @Allstate #ItsGood2Be #Sooners http://t.co/HWLZOrwr4R
about 4 hours ago

CameronRicheson

Cameron Richeson


@OU_Athletics @Allstate #ItsGood2Be #Sooners!!! ⭕️🙌 http://t.co/NBTLy3dfR7
about 4 hours ago

itsjessieb_

Jessie.


@OU_Athletics @Allstate #ItsGood2Be #Sooners http://t.co/kBf9k30jC0
about 4 hours ago

thePoole29

Phil Macrotch


@OU_Athletics @Allstate #ItsGood2Be #Sooners http://t.co/kTogXlsebx
about 4 hours ago

BChatmon

Brandon Chatmon


3 #Big12 teams were among 6 total teams from Power 5 conferences that were eliminated in this week's Eliminator: http://t.co/zPsIS46R4V
about 4 hours ago

ctaylorou

Charlie Taylor


Fun things #Sooners do: @OU_Athletics: Tag yourselves in the photo from Sat.! Click here: http://t.co/OhVcwzbU8T http://t.co/c8q5EMtjto"
about 4 hours ago

Gingellberry

Garrett Gingell


@OU_Athletics @Allstate #ItsGood2Be #Sooners http://t.co/M74vcR29Yj
about 4 hours ago

BrownKassidi

kassidi brown


@OU_Athletics @Allstate #ItsGood2Be #sooners http://t.co/Mbo5URIniq
about 4 hours ago

SteveJohns20

Steve Johns


@OU_Athletics #ItsGood2Be and #Sooners Son & grandson with the King! http://t.co/iOYnzHvYc3
about 4 hours ago

KymberlynDyAnn

k


@OU_Athletics @Allstate #ItsGood2Be #Sooners http://t.co/neMovgeg9F
about 4 hours ago

JoelJimenez94

Joel Jimenez


@OU_Athletics @Allstate #ItsGood2Be #Sooners http://t.co/LTLoJc39q9
about 4 hours ago

PeteMoris

Pete Moris


. @OU_CoachStoops says he handles football, not game production. Job security for @ctaylorou !! http://t.co/CVbY4GDbFX
about 4 hours ago

JoelJimenez94

Joel Jimenez


@OU_Athletics @Allstate #ItsGood2Be #Sooners http://t.co/aWm9rlxMHV
about 4 hours ago

Jordyn_casey

jordyn


@OU_Athletics @Allstate #ItsGood2Be #Sooners http://t.co/DLRCfCjkdd
about 4 hours ago

Nobody1300

Jeff


@OU_Athletics @Allstate #ItsGood2Be one of the #Sooners when the Schooner goes by http://t.co/6ydzN0c1DO
about 5 hours ago

BChatmon

Brandon Chatmon


#Big12 questions? Submit them here for my Tuesday mailbag: http://t.co/EI18kTkBQY
about 5 hours ago

ASAP_Brocky__

Brock.


@OU_Athletics @Allstate #ItsGood2Be #Sooners http://t.co/eACMQ40Zgr
about 5 hours ago

OU_Athletics

Oklahoma Sooners


Show us your best photos from Saturday using #ItsGood2Be and #Sooners. Your tweets could help win $150K in scholarships from @Allstate!
about 5 hours ago

OU_Football

Oklahoma Football


.@JWilson_2 talks about his pick 6 & the game against @WVUfootball in today's one-on-one with @Dusty94_TheRush: http://t.co/WXzzxjtFrA
about 5 hours ago

Jake_Trotter

Jake Trotter


OU forged new defense out of 2012 WVU debacle: http://t.co/YlChegH0sj
about 6 hours ago

ChrisMWilliams

Chris Williams


Rhoads: "We are glad Jacob is back with the Cyclone football family. We are behind Jacob 100 & will continue to support him…"
about 6 hours ago

BobbyLaGesse

Bobby La Gesse


ISU just released a statement saying Jacob Gannon has returned to the team after being diagnosed with anxiety disorder.
about 6 hours ago

SoonerScoop

SoonerScoop.com


Monster notebook from Bob's presser today. Knight too cautious? Mixon in the wrong, AD, updated Ford info. https://t.co/zqzODltq0Z …
about 6 hours ago

OU_Football

Oklahoma Football


.@_DAlexander1 had a season-high 12 tackles on Saturday, including one tackle for loss. http://t.co/iH9iSjQXza
about 6 hours ago

ESPN_Big12

ESPN Big 12


OU running game should remain strong http://t.co/I0cFitQsyo
about 6 hours ago

OU_Athletics

Oklahoma Sooners


Ready to find & tag yourselves in that awesome panoramic photo from Saturday? Do so here: http://t.co/RMzoWwmUKu http://t.co/PUfdB6ia6m
about 6 hours ago

OU_Athletics

Oklahoma Sooners


Ready to find & tag yourselves in that awesome panoramic photo from Saturday? Do so here: http://t.co/RMzoWwmUKu http://t.co/PUfdB6ia6m
about 6 hours ago

SoonerFootball

Sooner Football


RB Alex Ross will get the call with Keith Ford ruled out against West Virginia | DallasMorningNews #Sooners http://t.co/E66X5LrvMz
about 6 hours ago

SoonerFootball

Sooner Football


Bob Stoops: 'We have to make some improvements' on third down | NewsOK #Sooners http://t.co/gipABzpagV
about 6 hours ago

SoonerFootball

Sooner Football


Bob Stoops said Joe Mixon used 'poor judgment' in attending pep rally | NewsOK #Sooners http://t.co/cnebEKR39a
about 6 hours ago

OU_Athletics

Oklahoma Sooners


It's time to vote for your favorite @OU_Football moment: http://t.co/nuejBOSQnc // "Magic" Hook 'n Ladder or Marshall's Miracle Pick 6?
about 7 hours ago

OU_Football

Oklahoma Football


.@trevor_knight9 is ready for Saturday. Check out his one-on-one with @Dusty94_TheRush // http://t.co/86IpLzkw3t
about 7 hours ago

SoonerScoop

SoonerScoop.com


http://t.co/CCVqwEsuGG - @CassiusPeat Enjoys Change of Pace @ #OU http://t.co/wK99aUAVcB #Sooners Make Big Impression http://t.co/srycH4pR0X
about 7 hours ago

ESPNOklahoma

ESPN Oklahoma


Early-season pros and cons for OU http://t.co/Tp6ZmcbMj9
about 7 hours ago

Jake_Trotter

Jake Trotter


K-State is encouraging fans to arrive early for Thursday night's game vs. Auburn. Parking lots will be open at 1:30.
about 7 hours ago

Big12Conference

Big 12 Conference


Today's #Big12Minute recaps weekend action in #Big12SOC and #Big12VB, where several teams are off to hot starts - https://t.co/gq3TcGicEx
about 7 hours ago

BChatmon

Brandon Chatmon


#WVU QB Clint Trickett, #Baylor WR KD Cannon, Texas DT Malcom Brown highlight the #Big12 nonconference review http://t.co/e9fJLdinh6
about 7 hours ago

Big12Conference

Big 12 Conference


#Big12VB: In the top 10 nationally - @TexasVolleyball blocks (2nd) & hitting percentage (8th). @BaylorVBall assists (10th) & kills (10th).
about 7 hours ago

OU_Football

Oklahoma Football


.@CBSSports was here today to work on a feature about @trevor_knight9. We'll let you know when it's available. http://t.co/cERa1ckSbZ
about 7 hours ago

Big12Conference

Big 12 Conference


#Big12VB: @TechAthletics and @TexasVolleyball are two of 15 undefeated teams nationally.
about 7 hours ago

OU_Football

Oklahoma Football


With the 24-point victory on Sat., OU has now defeated its first 3 opponents to open a season by 20+ points for the first time since 2008.
about 7 hours ago

Big12Conference

Big 12 Conference


#Big12VB: Latest @AVCAVolleyball poll - 2. @TexasVolleyball, 24. @KUVolleyball. RV - @kstatesports, @OU_Volleyball, @CycloneVB.
about 8 hours ago

AdrianPeterson

Adrian Peterson


http://t.co/TFagJi6px3
about 8 hours ago

Jake_Trotter

Jake Trotter


Kansas State almost won that 1969 game against Penn State, but lost 17-14.
about 8 hours ago

Jake_Trotter

Jake Trotter


RT @TylerDreiling: Auburn is the highest ranked non-conference team to visit #KState since 1969. The team? Joe Paterno/No. 2 Penn State
about 8 hours ago

JLMcCuistion

Josh McCuistion


#Sooners RT @Volquest_Paul: After watching this OU-Tenn game again, I'm beginning to think Knight might be best QB Vols will face this year.
about 8 hours ago

AdrianPeterson

Adrian Peterson


http://t.co/TFagJi6px3
about 8 hours ago

OU_Football

Oklahoma Football


For today's press conference with @OU_CoachStoops: http://t.co/uSPj8ScAdH http://t.co/dwmX5RnEVe
about 8 hours ago

OU_Football

Oklahoma Football


For today's press conference with @OU_CoachStoops: http://t.co/uSPj8ScAdH http://t.co/dwmX5RnEVe
about 8 hours ago

SoonerScoop

SoonerScoop.com


Former #Sooners standout weighs in on an #OU commit he saw over the weekend. https://t.co/hpEZSoexRu
about 8 hours ago

Big12Conference

Big 12 Conference


#Big12VB: @WVUVolleyball's Anderson along with @CycloneVB's Conaway & @kstatesports's Zumach earn weekly awards - http://t.co/GK4dmVZ1dV
about 8 hours ago

SoonerScoop

SoonerScoop.com


#Sooners http://t.co/CCVqwEsuGG - Sights and Sounds: Rocky Top http://t.co/lUb2OMw6M3 @Eddie_Rado with incredible @ScoopHD footage as always
about 8 hours ago
BIG 12 SCOREBOARD
Friday, 9/12
Saturday, 9/13
BLOG ARCHIVE:
CATEGORIES: